Happy Friday! I wanted to share with y'all what I think the Best Essential Oils For Beginners are! I've been using essential oils for almost 9 years now. I have tried several different brands, but none compare to doTERRA in my opinion. So that is the only brand I now use. I will be referencing one of their blends but other than that you can get the rest from whatever brand you love!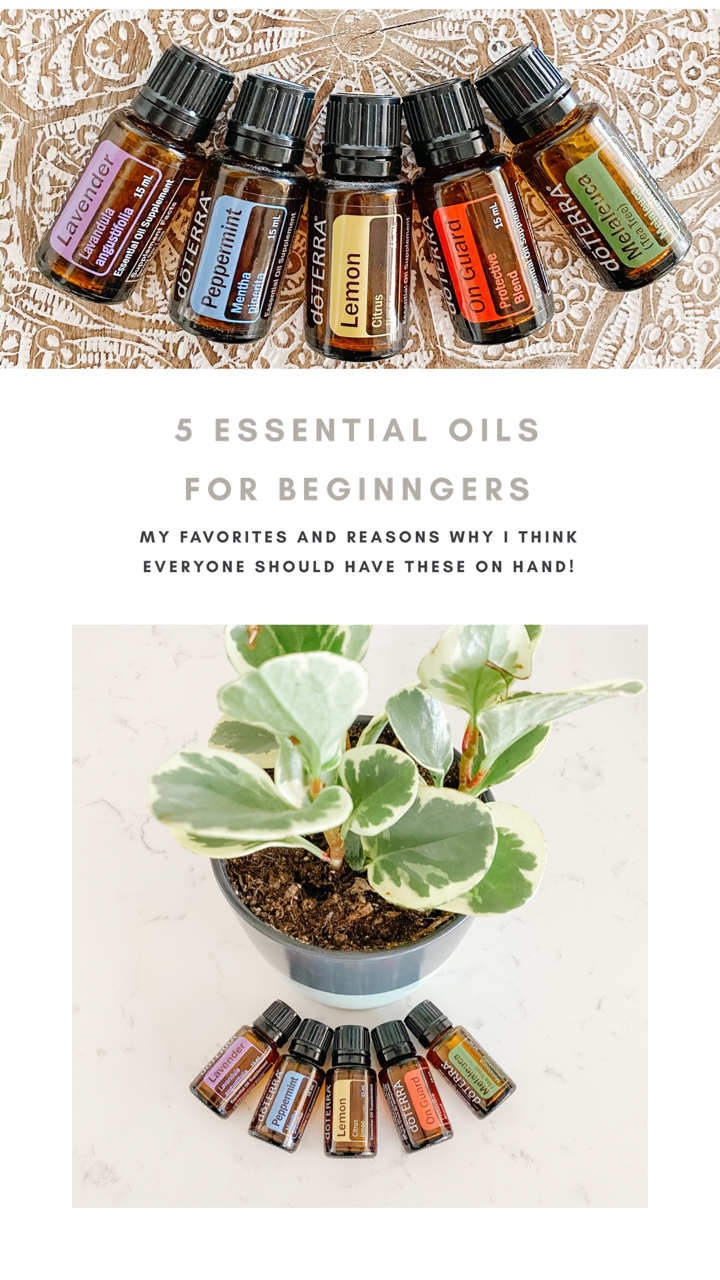 I use essential oils every single day to replace candles, build our immune systems, kill germs, clean with and so much more! So today I am going to be sharing my 5 favorite essential oils that I think everyone should have on hand. I chose these based on what I use on a daily basis, so this is just my opinion as I am sure others would have more to add to the list!
On Guard
On Guard is the number one oil we use at our house! I diffuse it every single day and night to purify the air. I also rub it on the bottoms of our feet and down our spines to promote a healthy immune system! Another way we use On Guard is through all of the On Guard products doTERRA offers. Including: laundry detergent, hand sanitizer, all purpose cleaner, hand wash, softgel capsules (to take internally) and beadlets (small capsules – this is what I give to Skyia, my 3 year old). On Guard is a blend of Wild Orange Peel, Clove Bud, Cinnamon Leaf, Cinnamon Bark, Eucalyptus Leaf, and Rosemary Leaf/Flower essential oils. All are amazing oils that have cleaning and purifying properties and aid in a healthy immune system!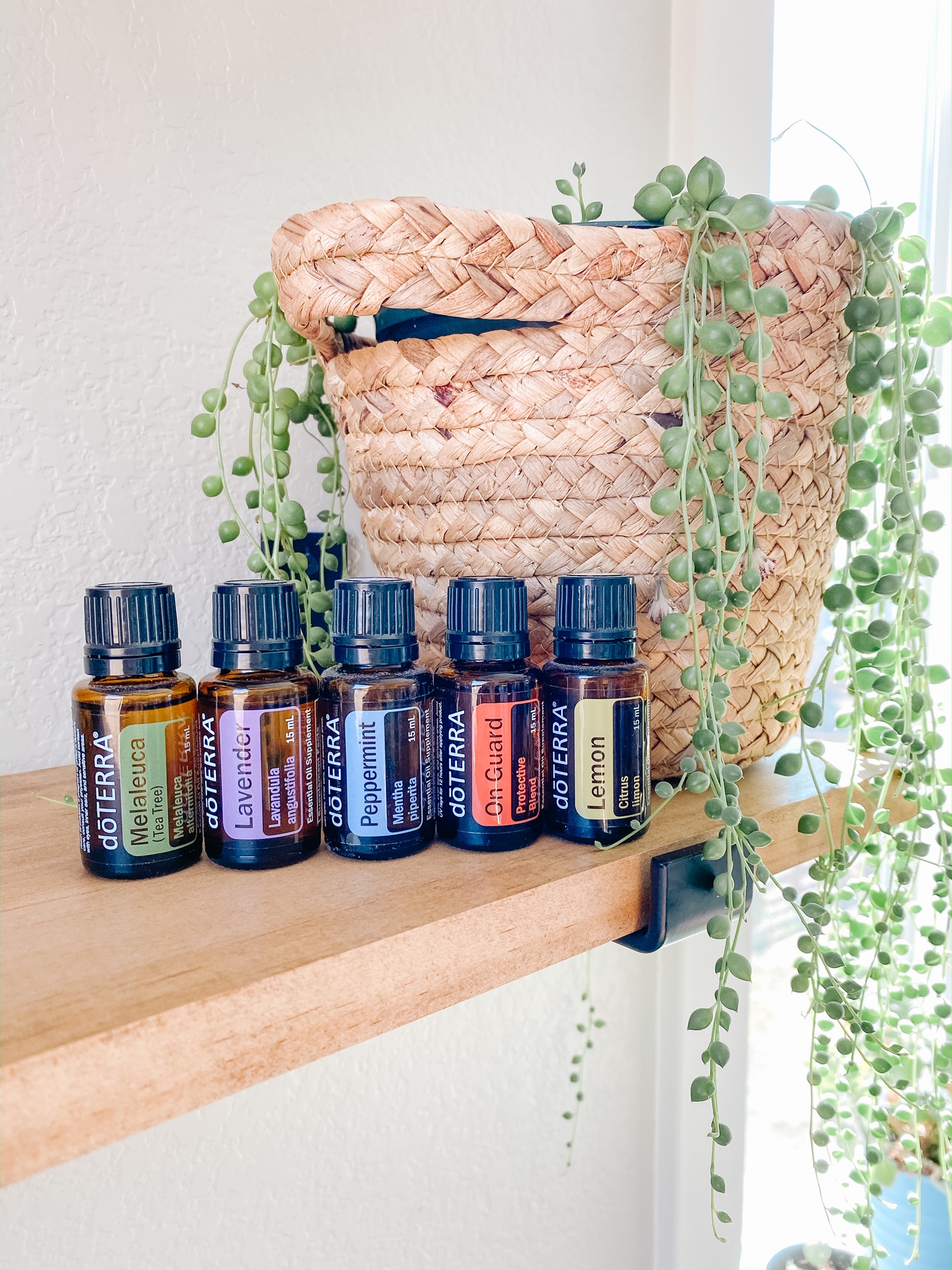 Lavender
Lavender has been around for thousands of years! It was once used as a perfume in ancient times as well as a relaxation tool. There are several reasons I love Lavender. The biggest being that it is incredible for burns, especially sunburns . I can't even tell you how many times this has saved me when getting sunburnt. I have never used a product that makes a sunburn heal so quickly like lavender does. Another, more obvious reason I love this oil is because of the smell. I love the smell of lavender so I put this one in our baths and diffuse it regularly. Since it is supposed to help with relaxation I use it in the evenings mostly.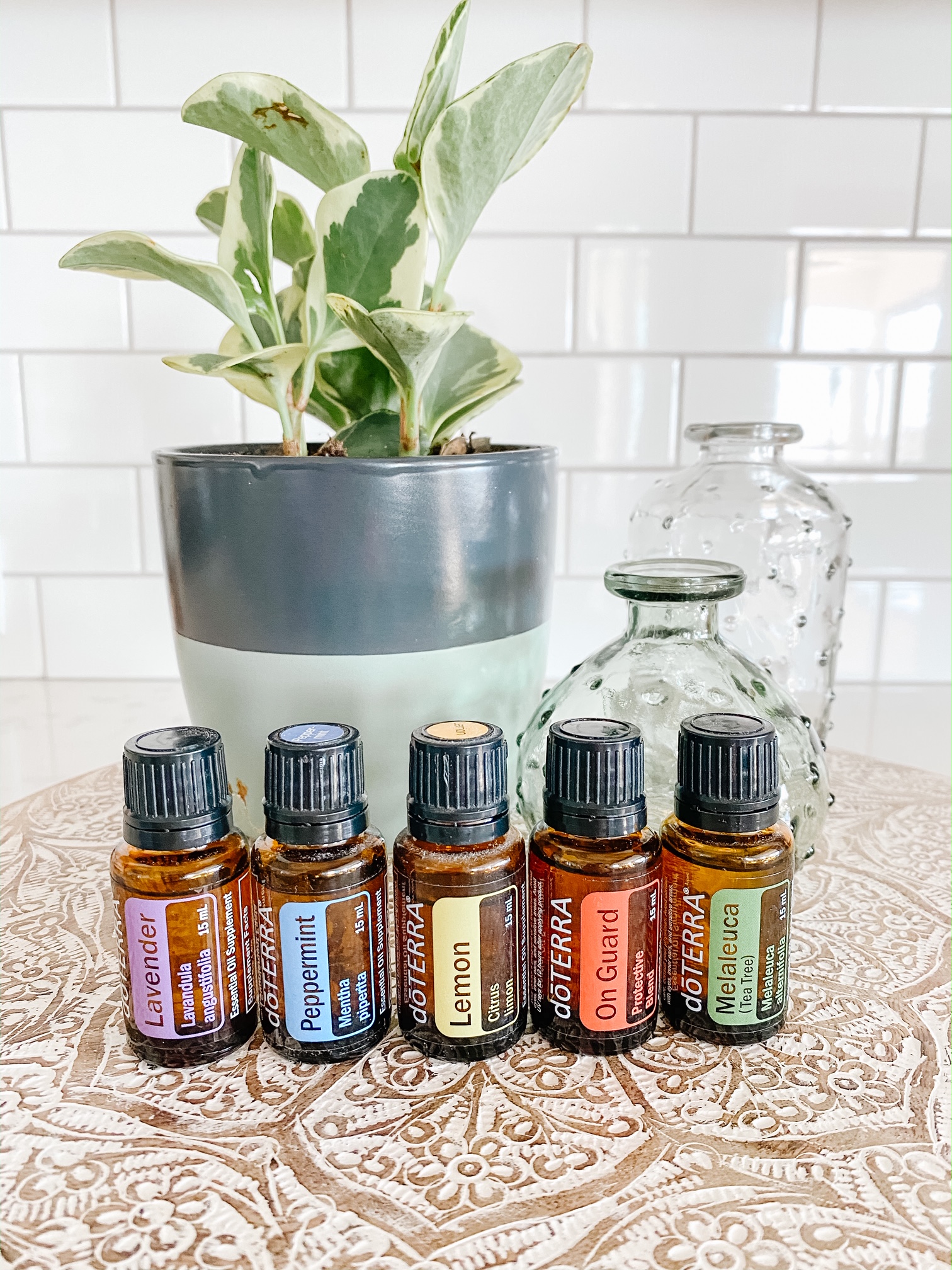 Peppermint
Peppermint is such a versatile essential oil! It can be used in so many ways. From insect deterrent to muscle strain, this oil covers it all! My favorite ways to use peppermint are in my diffuser and in my water. Whenever I am feeling sleepy but still need to get some work done I quickly add some peppermint to my diffuser for an easy "pick me up". It's such an invigorating smell that wakes you right up! I also love adding it to my water to deal with digestion issues. I have had stomach issues for years and peppermint is so good for an upset stomach and aids in digestive health.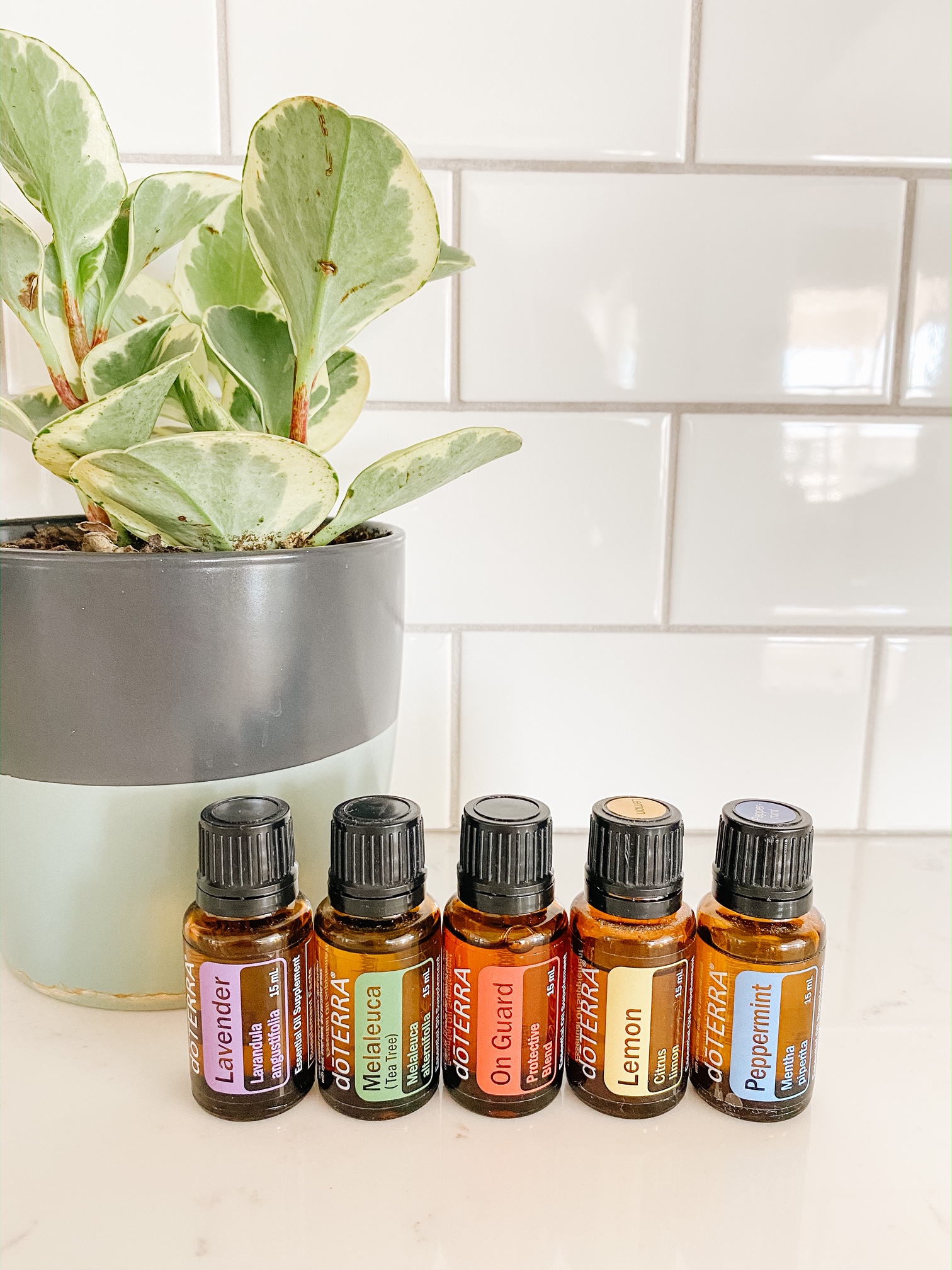 Lemon
Lemon essential oil might be my favorite cleaning hack of all time! I use it to replace magic erasers and products like Goo Gone. It does an amazing job at cleaning off sticky residue and also stubborn marks (like sharpie) that don't want to budge. It is also a great air and surface purifier as it is a natural cleaning agent. Another reason I love lemon is because it's such a refreshing scent to diffuse! I mix it often with lavender or peppermint, depending on what mood I am in.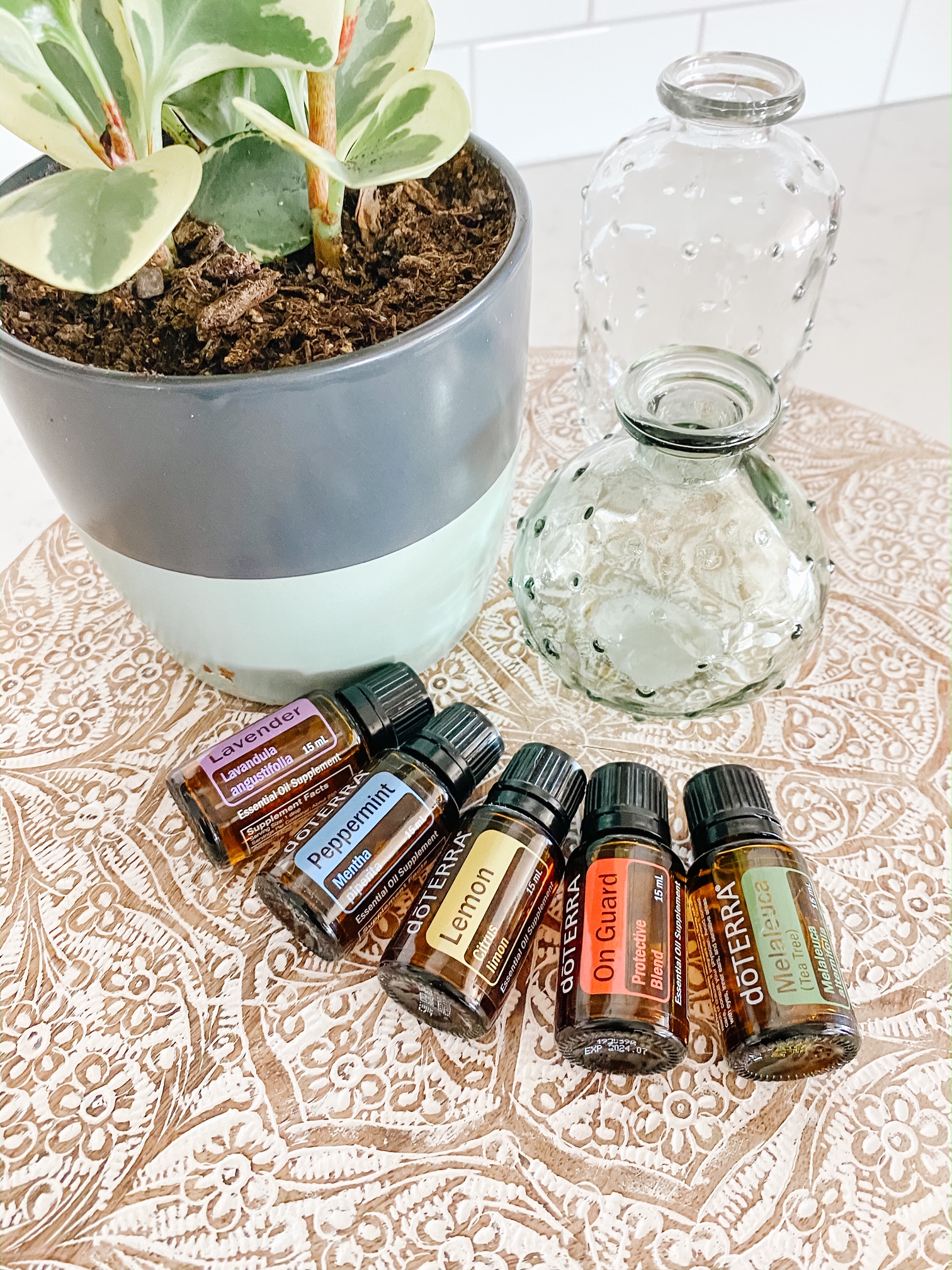 Melaleuca (Tea Tree)
Melaleuca (Tea Tree) is an oil I have been using for the past 9 years! It was the first essential oil I discovered and I was hooked! I mainly use it for cuts, scrapes, canker sores, acne and lice prevention. It has been proven to prevent lice so I add 1 drop to my shampoo when I wash my hair. I also put it on minor cuts and scrapes because it is a good natural antibacterial. Plus, it aids in helping wounds heal quicker!
For those of you that are just starting to use essential oils, I am so happy you are joining us in leading healthier lives! If you want to know more about doTERRA please don't hesitate to reach out either here (through our email) or through messaging us on Instagram! I am also happy to answer any questions that you have about essential oils in general! I have seen so many amazing benefits to essential oils and I am always happy to share my experiences and 9 years of knowledge with y'all! If you are interested in learning more and you haven't already checked out Rachel's post about her favorite essential oils, make sure to check it out here! I hope you enjoyed learning what I believe are the Top 5 Best Essential Oils For Beginners!
See our Disclosure here.