Happy Monday, friends! We had a busy weekend celebrating Kaylee's birthday, and meeting up with some good friends! The kids had so much fun hanging out at Kaylee's house on Saturday! I love how close our kids are in age! It makes getting together so much easier. They are getting to an age where they can entertain themselves now too which is so nice!
Today I'm sharing some of my most commonly used essential oils! Kaylee shared about her favorite diffuser blends here, and how she stays healthy using oils here. I use a couple of different ones than she does so I thought I'd share my favorites and how I use them as well!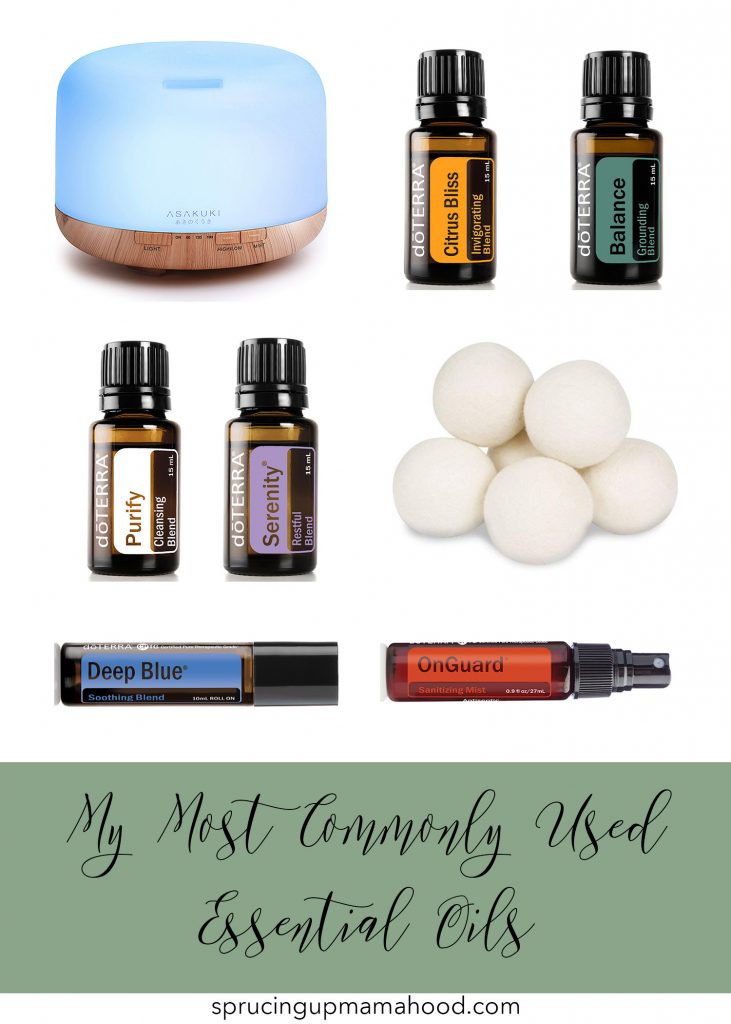 Essential Oils I Diffuse
One of my favorite ways to use essential oils is to diffuse them! I recently bought this diffuser that Kaylee recommended and I am obsessed with it! It holds so much water so it lasts all day long! It was also inexpensive (about $25) and blends in well with my decor. I use a few different oil blends, depending on my mood and the time of day:
Morning: I like to diffuse fresh citrusy oils in the morning. Some of my favorites are Citrus Bliss, and Arise.
Day: During the day, I like blends that are not too overwhelming, like Balance and Align.
Night: Every night before bed I turn on the diffuser in my bedroom. The smell of the oils definitely relaxes me and is such a nice way to end the day! Some of my favorites for bed time are Serenity, Anchor, or a mix of Lavender and Roman Chamomile.
Essential Oil Roller Bottles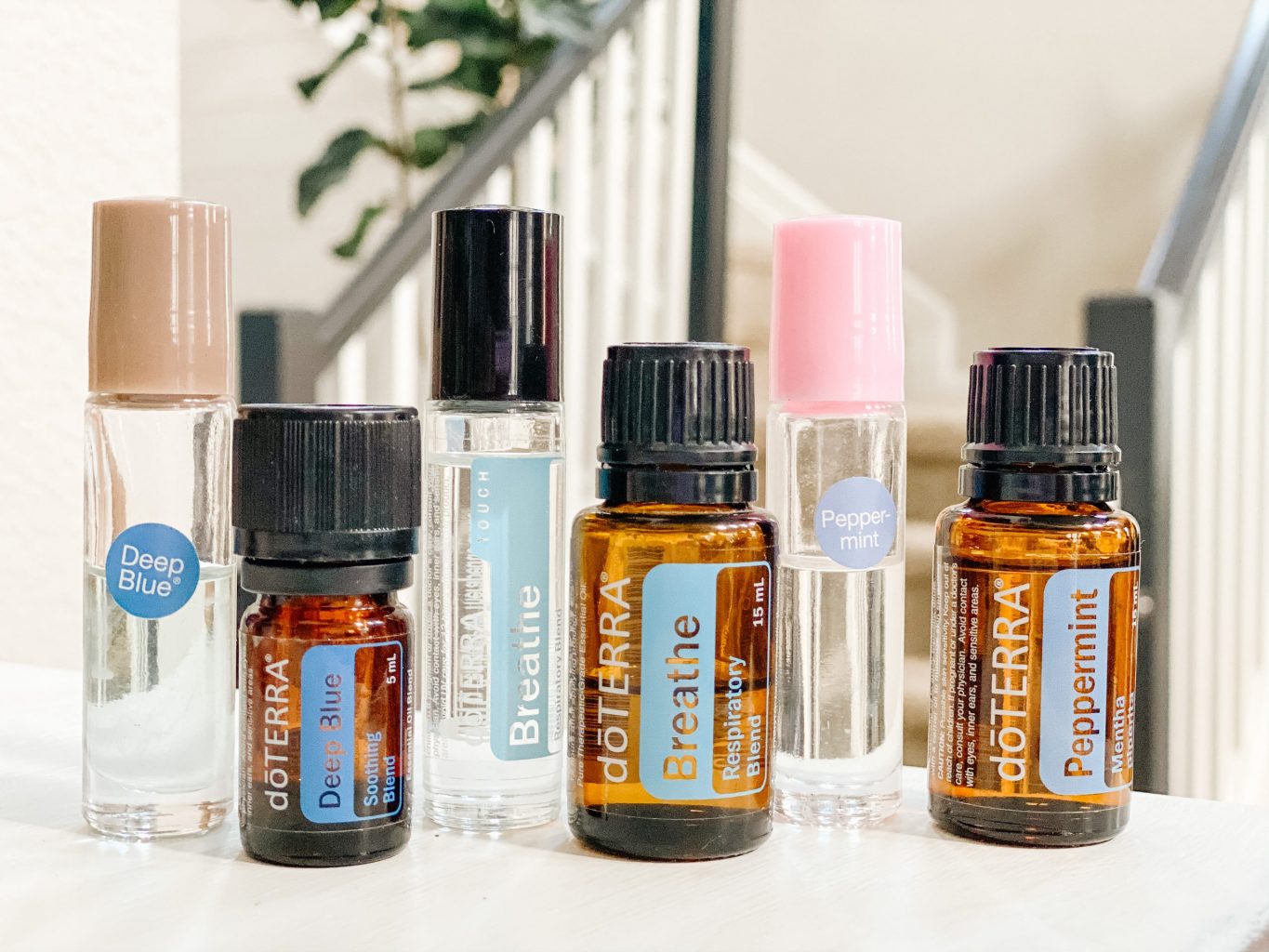 Another way I use essential oils is with roller bottles. You can buy these glass roller bottles on Amazon and fill them with Fractionated Coconut Oil and about 15-20 drops of essential oils for a convenient way to use the oils topically. The ones I use most often are:
Breathe – roll on your chest if you have asthma or are feeling congested.
Deep Blue – This is the oil that really got me into essential oils! A few years ago I was having terrible wrist pain from working on a computer all the time, and Kaylee recommended this oil to me! I would roll some of this onto my wrist and it helped so much! Now I use this on my neck or my back whenever I am having pain or a muscle spasm. The is by far my favorite oil!
Hope – this is an uplifting blend that I like to keep at my desk and use whenever I am feeling worn out or overwhelmed while working.
On Guard – This blend helps to build your immunity. I keep it in a roller bottle and roll this on the bottoms of my feet and my children's feet when we are feeling under the weather. I use this almost daily during the flu & cold season too.
Peppermint – This oil helps me so much when I have a migraine or headache. I roll this onto my temples on my forehead and sometimes onto the back of my neck. It works so well! Just make sure to not use too much or get too close to your eyes because it is a very strong scent and can burn your eyes.
Essential Oil Spray Bottles
I bought a few of these spray bottles off of Amazon and fill these with about 20-30 drops of essential oils and fill the rest with water. I keep these around the house to use when I want to quickly freshen up a room.
On Guard Hand Sanitizer Spray – I keep one of these in my purse and my car. It's a good natural and non-toxic hand sanitizer option.
Purify Spray – I keep one of these in my son's room. It works really well to clean the air whenever the diaper situation gets out of control, if you know what I mean, haha.
Serenity Spray – I keep this near my bed and in my kid's rooms to spray the air or sheets when we are going to bed.
Essential Oils used for Cleaning & Laundry
Purify is really a great oil to have on hand for many different uses. We use an unscented Laundry Detergent so I add a few drops of this oil to it when I'm doing a load. I also use it when I mop the floor – we use hot water, white vinegar and a few drops of purify to help it smell good!
I use Lavender oil when I'm doing Laundry as well. I'll add a few drops of Lavender to my wool dryer balls to help the clothes smell nice! This is an especially great one to use whenever you are washing your sheets!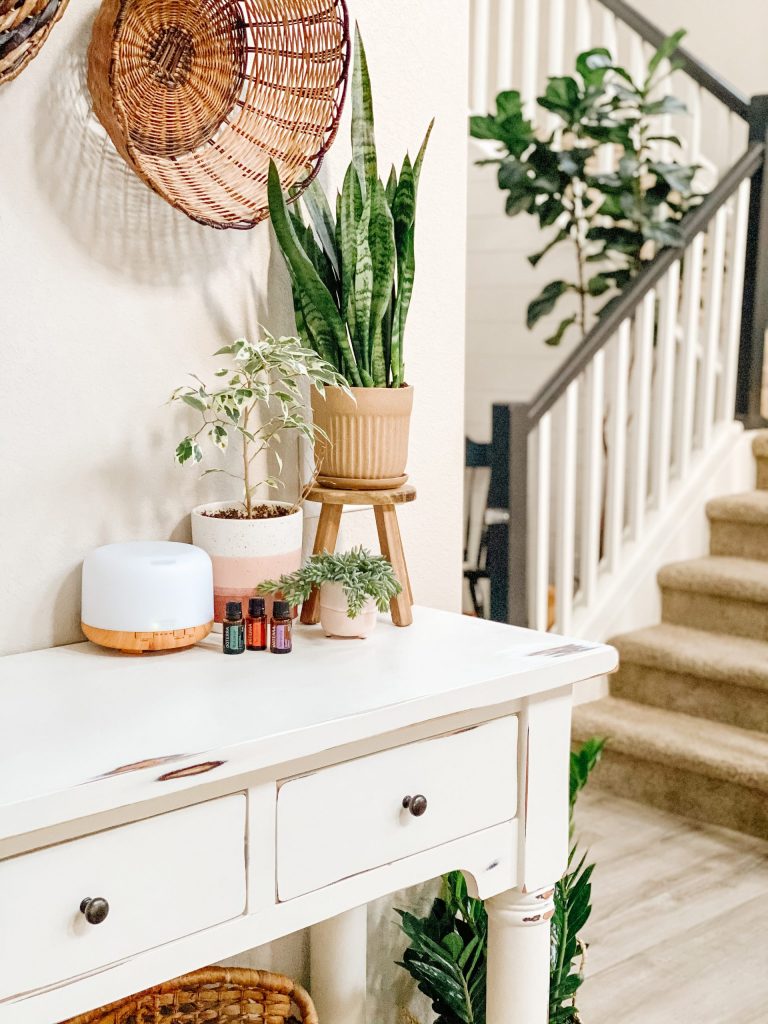 See our Disclosure here.