With everything going on in the world right now it can become very easy to worry and stress about what is and can go wrong. I know how easy this can be. I deal with stress and overwhelm and anxiety daily, in "normal" life. Now, with all of the uncertainty and chaos around us, it can be even harder to control your feelings and emotions. However, this is a time where relieving stress and anxiety is so important. Not only for our own mental health, but for the people around us as well. Stress can also have a huge impact on your immune system. We all want to be doing what we can to boost our immunity! So, today I'm sharing 5 Ways to Relieve Stress!
1 – Practice Positive Thinking – Every Day
I'm a strong believer in natural cures and the power of a positive mindset. I believe that small everyday changes can add up to large lifestyle changes. It may take some time to train your brain to think positively, and although it sounds small it is not easy. You have to work at it and be mindful of your thoughts. It can be so easy for me to let one small thing affect my whole day, but it really doesn't have to! It sounds easier said than done. But it really does help to believe that things will work out, believe that you will be ok, believe that you will get through this. When you actively choose to be happy, it will become easier and easier.
Something that has worked for me to start and end my day on the right foot, is to think of what I'm grateful for. What am I looking forward to each day? What made me happy that day? It can be something as small as my 3 year old telling me he loves me, or having time to watch a show. When you actually take time to think about these things, you begin to recognize them throughout your day more and more. Over time, the power of positive thinking becomes more and more natural and you learn to not stress about the small things. I am definitely not saying that I am great at this, I have a long way to go, but it does help me relieve stress!
A podcast I have been listening to lately that has helped me with Thought Work and positive thinking, is called The Unfuck Your Brain Podcast. I highly suggest it if you are looking for help on changing your thoughts to be more positive! She even just released an episode about how to handle the Pandemic Panic.
2 – Add Movement Into Your Day
I recently listened to a podcast about how important movement is and it really stuck with me! ANY movement you can fit into your day is helpful! It really doesn't even have to be "exercise". Go for a walk outside with your kids, or have a dance party inside. I will even consider cleaning the house my movement for the day! As long as you are getting up and intentionally moving your body in someway each day, you are helping your mental health as well! Of course exercise is very beneficial as well, but I think that it is easier to overthink it, and then end up not doing it if you think of it as a "work-out".
3 – Meditate
Meditation can sound strange or intimidating if you have never done it, but it is actually easier than you might think! There are many different ways you can fit it into your day. Start your morning or end your day with a 5 minute session. Add on some extra time at the end of your workout (I love to do this at the end of a yoga session). Or make time for it during your lunch break or while your kids are napping! Just 5-10 minutes of focusing on your thoughts and your breath can really turn your whole day around. Many people say that they sleep better if they meditate right before bed as well! Breath work can be so powerful and really helps to regulate your blood pressure and relax your muscles.
A few meditation apps that are worth looking into are Calm and Headspace! They both have free versions, or you can pay a few dollars a month to upgrade. They offer beginners courses that guide you through the basics and make it very easy to get into!
4 – Start a Morning and Bedtime Routine
This is something that has really helped me lately! I've never been a morning person at all, so I've been pushing myself to wake up before my kids to start my day. It sounds so silly but it is something that I really struggle with! But, I LOVE it when I'm up with enough time to get ready before my kids are up. Something that motivates me, is thinking about what I want to do in the morning before I go to bed each night. When I have a plan or something to look forward to, it's so much easier for me to get up in the morning.
At night, I do a few things to wind down each night before I go to sleep. I usually get ready for bed (change, brush teeth, wash face, etc.). Then I'll fill and turn on my humidifier (Colorado can be DRY!). Then I'll add Lavender (or Doterra Serenity) essential oil to my diffuser. The scent is sooo relaxing! Then I'll either meditate, or write in my planner about my day and plan for the next day. I think writing and planning for the next day really helps clear my mind so I'm not thinking about everything I have to do and what I might have forgotten about.
When my day starts off right, it sets the tone for the rest of my day. I think it is important and helpful for sleep when you end it on a good note as well. Sleep is so important for your mental health!
5 – Supplements and Vitamins that Relieve Stress
Lastly I wanted to mention a few vitamins and supplements that can help with stress, anxiety and depression! These have all helped me so much in different ways!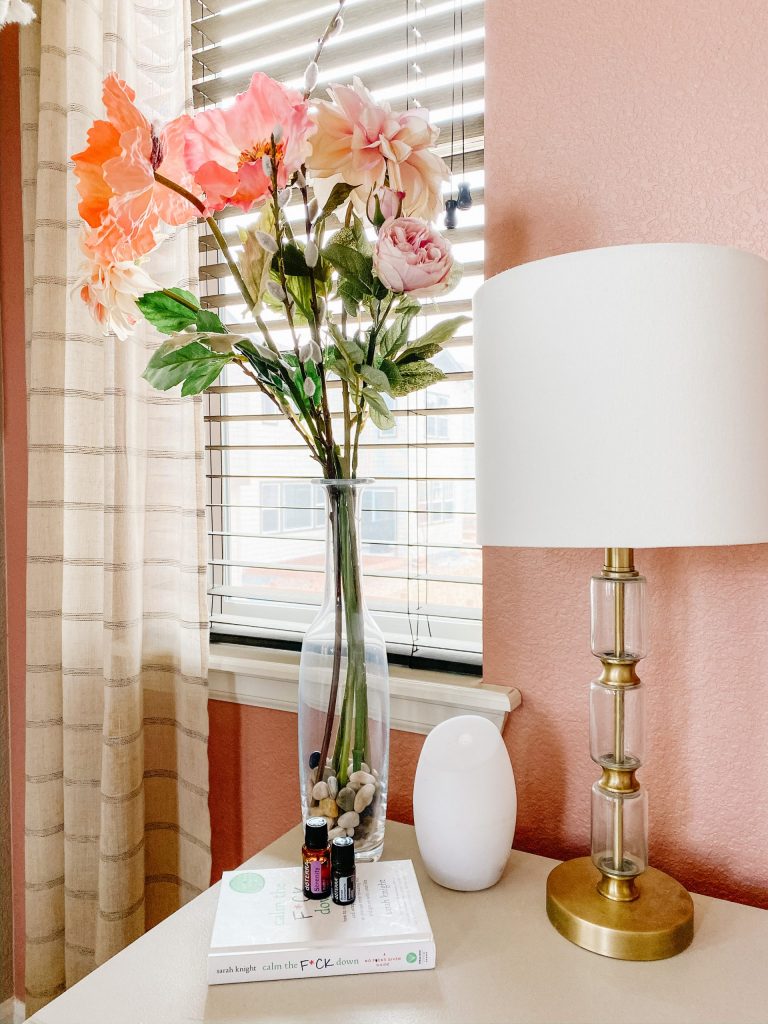 See our Disclosure here.