Today we are both sharing our Woodley's Fine Furniture Review, and all about the items we've purchased there!
This post is about our Woodley's Fine Furniture Review
Woodley's is a family-owned, small business that is local to Colorado. They opened over 40 years ago, when two brothers, Mike and Pat Woodley, and their wives, Carol and Cherri, decided to open a furniture factory and store in Longmont, Colorado.
They actually started off making waterbeds! Woodley's later grew and began offering more products, and have now grown to have 6 showrooms all over Colorado.
They carry everything from sofas, to dining tables and chairs, to bed frames. You can even purchase the bedding and accessories you see on the showroom floor!
Woodley's is still family owned and operated, and goes above and beyond to give the customers the best service possible. We love that they are a small business that sells high quality, American made furniture. They also build out of lumber from sustainable forests in Longmont, Colorado.
We both love our furniture from Woodley's! You can read our Woodley's Fine Furniture Review below!
Rachel's Woodley's Fine Furniture Review
We recently purchased two seating sets from Woodley's – the sofa and lounge chair in our Family Room, and the sectional in our Living Room.
The main reason I felt so confident purchasing both sets from Woodley's was because I knew how much Kaylee loved her sectional! It looked like very good quality; after 2 years it still looks brand new!
I've been an Interior Designer for over 12 years now and have worked with many different custom furniture companies. I can say with confidence that the quality and comfort of our Woodley's Furniture is far above average!
This is heirloom quality furniture that will last you for many years. Each time we've been in the showroom, the sales staff has also been so knowledgable and helpful.
I actually had no idea that Woodley's was a small business, because their stores are so large and they have a great selection of items.
I have loved learning more about the company and how it began in Colorado over 40 years ago.
Family Room Sofa & Chair
We have two "living rooms" in our new house – a small area off of our Kitchen, and a Family Room with a fireplace in the next level down.
I knew I wanted a comfortable and casual seating set for our Family Room because it is most likely where we will watch movies as a family. I also have two toddlers so I wanted something that was nice looking, but also durable and practical.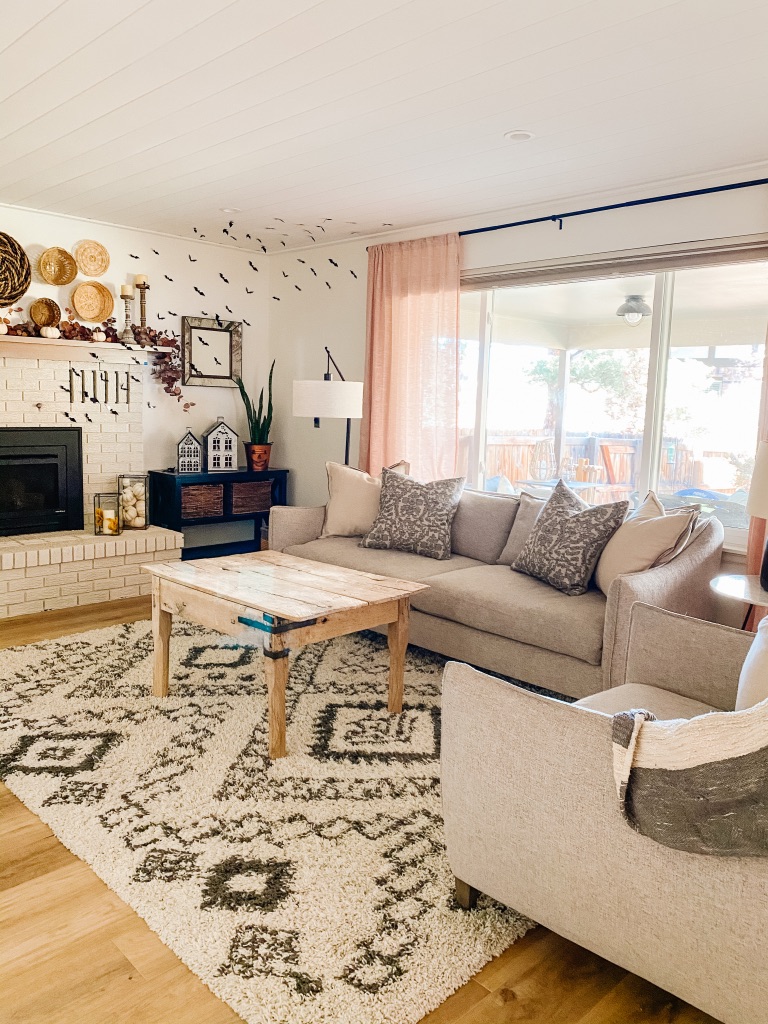 When I saw this sofa and chair set at the Woodley's Fine Furniture showroom in Lakewood, I knew it was perfect!
I love the welt detail at the arms and back. It is such a simple, unique, and sophisticated touch!
The cushions are also down-filled which makes them SO comfortable! You really sink into them!
I also love how oversized and deep the seat is. My husband and I can both lay side by side easily! It is the perfect movie watching sofa.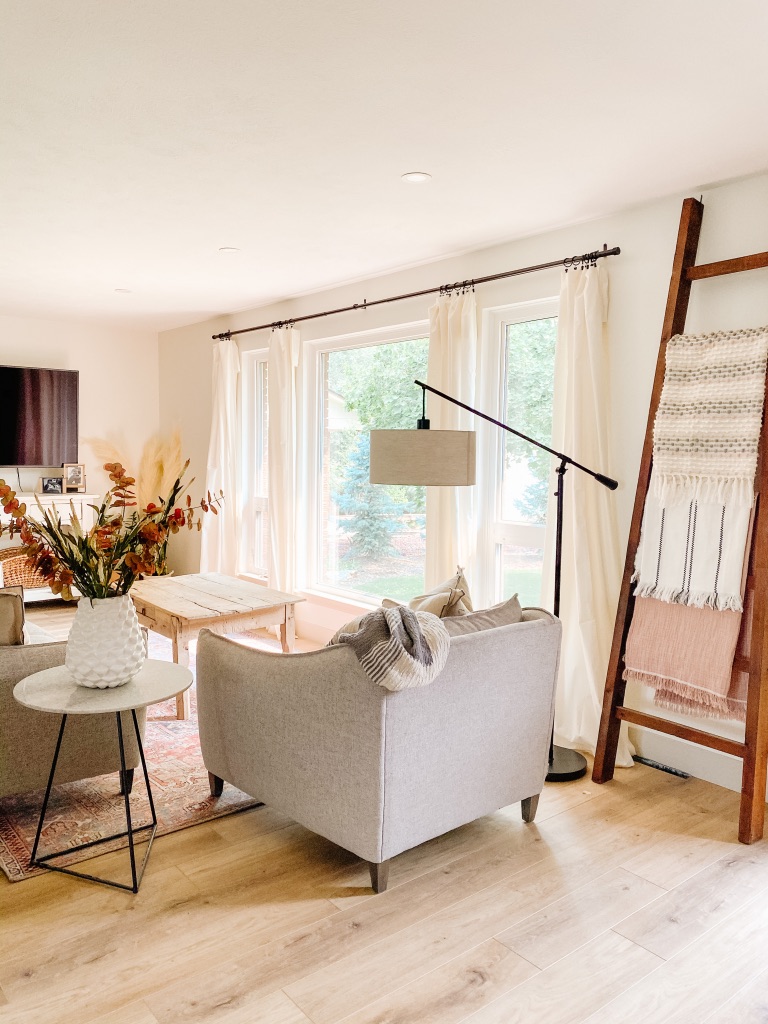 Another reason I love Woodley's is because all of the furniture that is in their showroom, is IN STOCK! That is so rare for a furniture store!
When we moved into our new house, we didn't have a sofa because the new owner's at our previous house purchased ours. So, we REALLY needed something quickly! I was so happy to find out that this sofa was in stock and we were able to have it delivered that same week!
Living Room Sectional
When we designed our new Kitchen layout, we had a specific furniture arrangement in mind for the seating area. It is a long but narrow space, so the shape that made the most sense was an L-shaped sectional.
Many of the sofas you see at Woodley's are fully customizable. We were able to pick out the size and shape that fit our space the best. We also selected the sofa and throw pillow fabrics, and the arm and feet styles.
You can even choose if you'd like the back cushions loose or attached. We chose to have them loose, so just incase one side gets a stain we can flip it over, haha. You can't be too careful with two (well really three) boys in the house.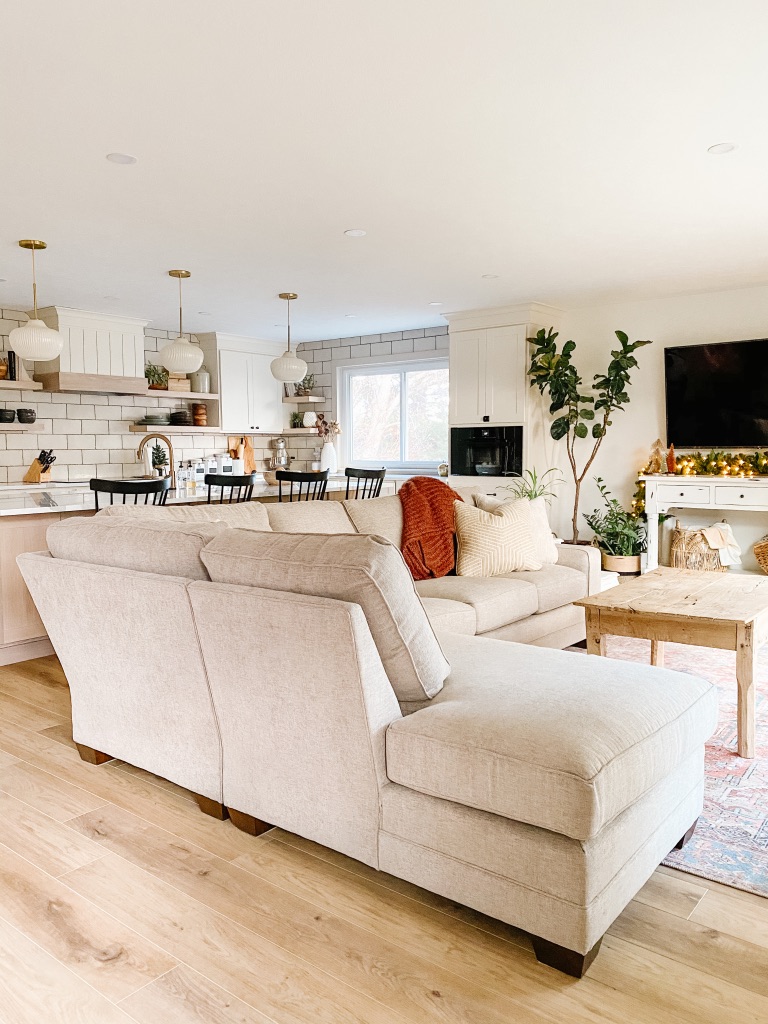 I love how comfortable and beautiful this sectional is! It is more structured looking than the sofa in our Family Room, which I love because this feels like a more formal area.
I also love the curve of the back. It is really noticeable here because the back is so exposed in this room, and it's a small detail that makes it look more high-end and special.
Kaylee's Woodley's Fine Furniture Review
I have had this Woodley's sectional for 2 years now, long before this blog was even thought about! It was our first big furniture purchase and I am so glad we chose Woodley's to work with.
From the very beginning the sales team was knowledgeable and super helpful! We were on a budget and they made sure to only show us couches that fit within our means.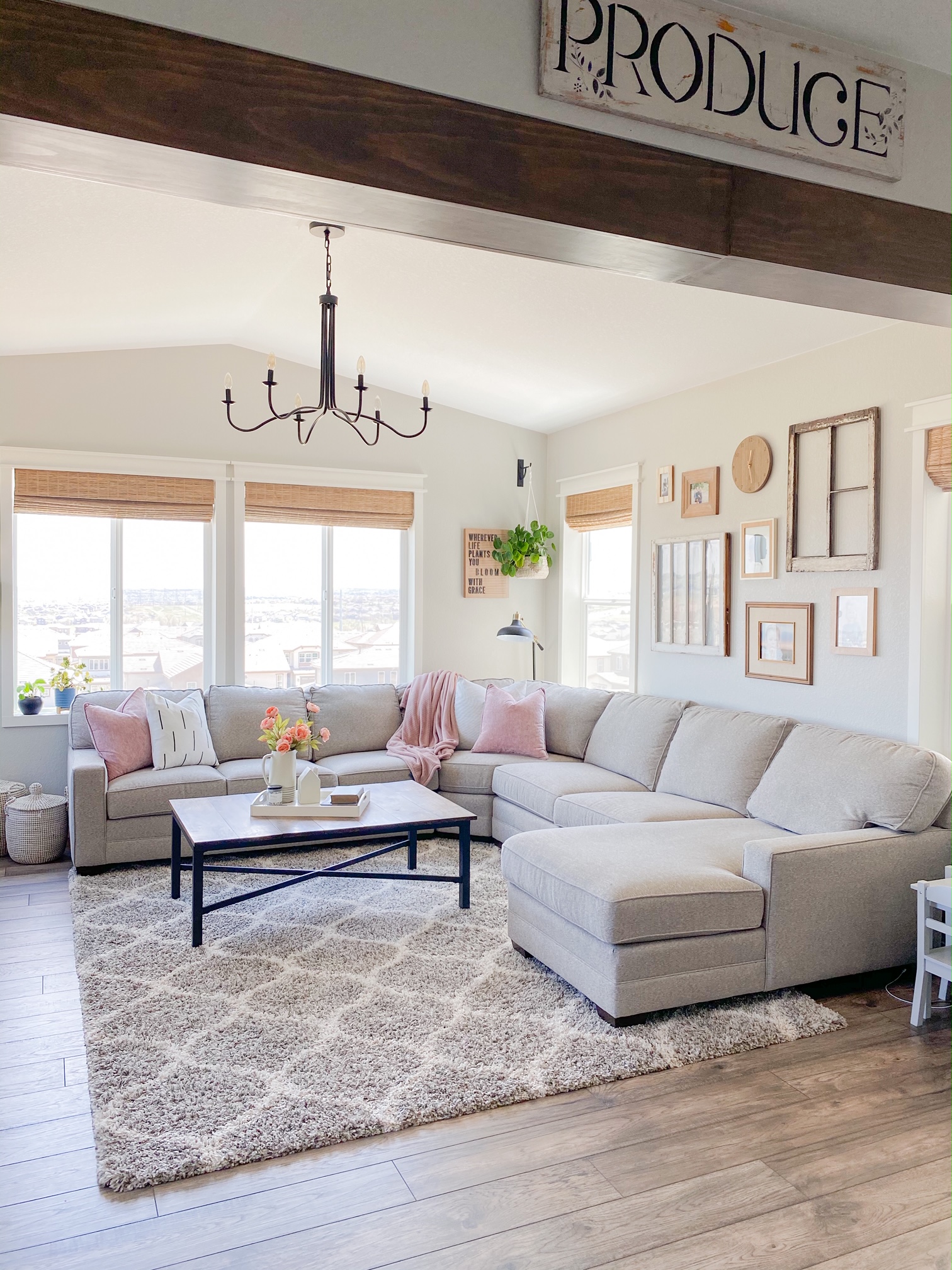 They were also helpful when it came to design choices. Our couch was completely customizable so we got to choose the arm style, leg style, couch fabric and throw pillow fabric. It was nice to have someone help you with all of those decisions!
We were also able to choose all of the different pieces so that it fit our living room perfectly. This living room is larger than most so it was necessary to have the option of selecting pieces that would make the sectional fit the room well!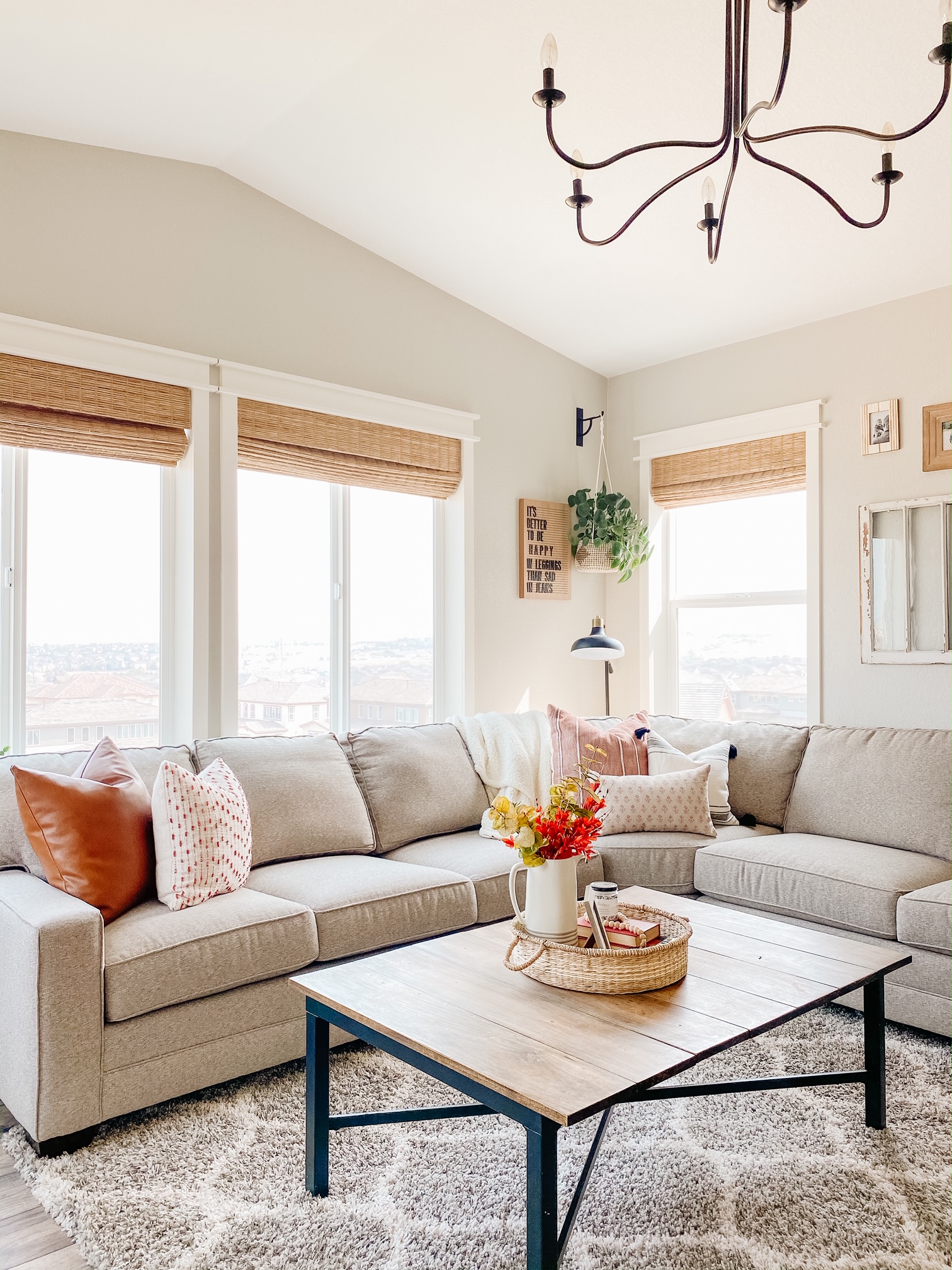 My couch is the King Hickory line and it's the Winston Collection. The fabric on the couch is called Norwood Granite. We have been super happy with the quality of this couch! It still looks almost new 2 years later!
The fabric is super easy to keep clean and does a good job at hiding spills and stains from kids. Actually let's be real, it's really me that spills – haha! I spilled red wine down the side a couple months after getting the couch, I was terrified it wouldn't come out.
All I used was a Norwex cloth and water and it got every last bit out! You would never know red wine has been spilled! My daughter has also gotten marker on our couch several times and I have always been able to get it out.
I have been overly impressed with how well this fabric doesn't stain and hides imperfections! Perfect for kids and moms who like red wine!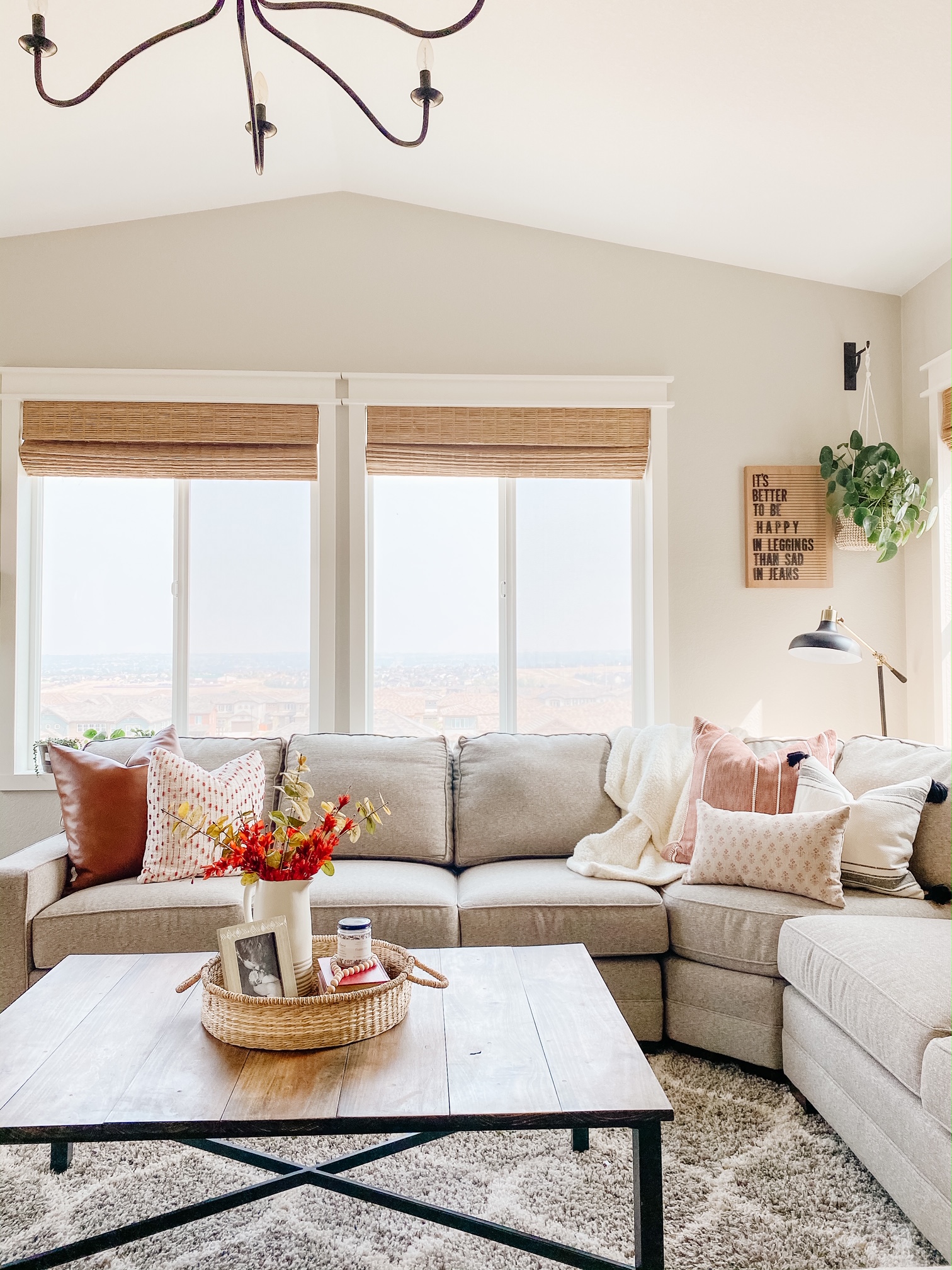 However, one of the main reasons we were drawn to Woodley's was the fact that they are a local, family owned business. It felt good spending my hard earned money there because I knew I was supporting small business! This is something that is super important to me when shopping. Obviously I shop at big box stores too, but when I can I love shopping small!
You get that family feel when you shop at Woodley's, everyone is so kind and helpful and just want you to be happy! I am so glad I found them when I did!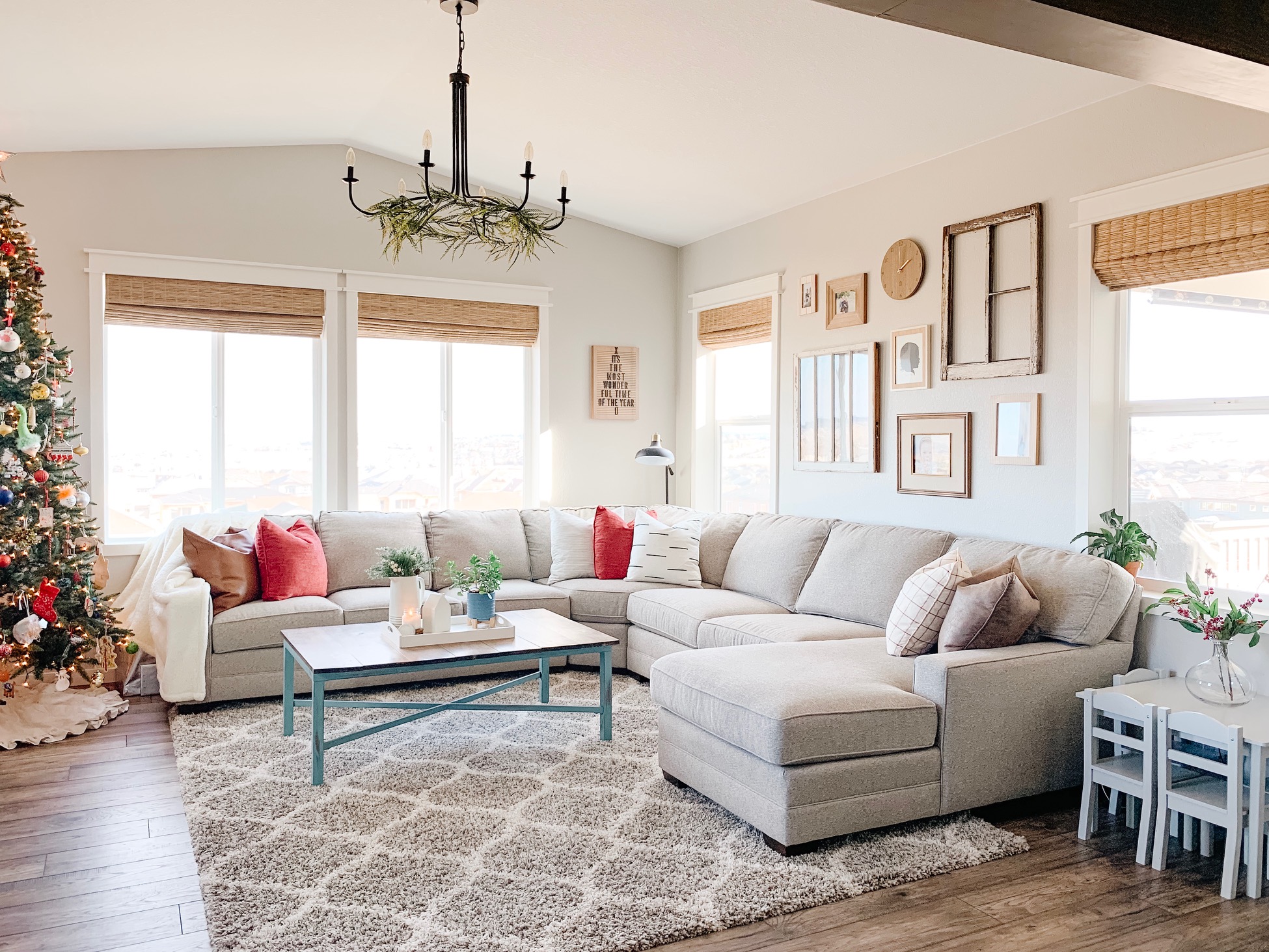 As you can see we both love Woodley's and highly recommend their products! The quality and the buying experience will not disappoint you! If you have any questions don't hesitate to reach out and ask!

This post was all about our Woodley's Fine Furniture Review.
This post contains affiliate links; see our Disclosure here.