Good morning! Today I am going to be sharing All About Plants! I get questions all the time about my house plants. I have about 50 in my house and have to constantly tell myself that I don't need anymore. Ha! It is definitely an obsession! I am going to be breaking this post up into two parts so that it doesn't get too long! So stay tuned for Part 2 coming soon!
Plants are good for your health!
One of the biggest reasons I love plants is because they are so good at cleaning the air in your home. They absorb a ton of chemicals that are in our air and release oxygen. It is so important for your health to be breathing in clean air. So get yourself a few plants (1 for every 100 square feet according to NASA) to help you lead a healthier life! I mean, that's my excuse everytime I come home with a new plant, haha!
In all honestly though, hearing that plants help clean the air was the main reason I got them in the first place. From there my collection has grown and now I love them for many reasons. But knowing they are helping keep chemicals out of the air in my home is so reassuring and makes me love them even more! There are certain plants that clean the air better than others and I will make sure to let you know which ones in Part 2!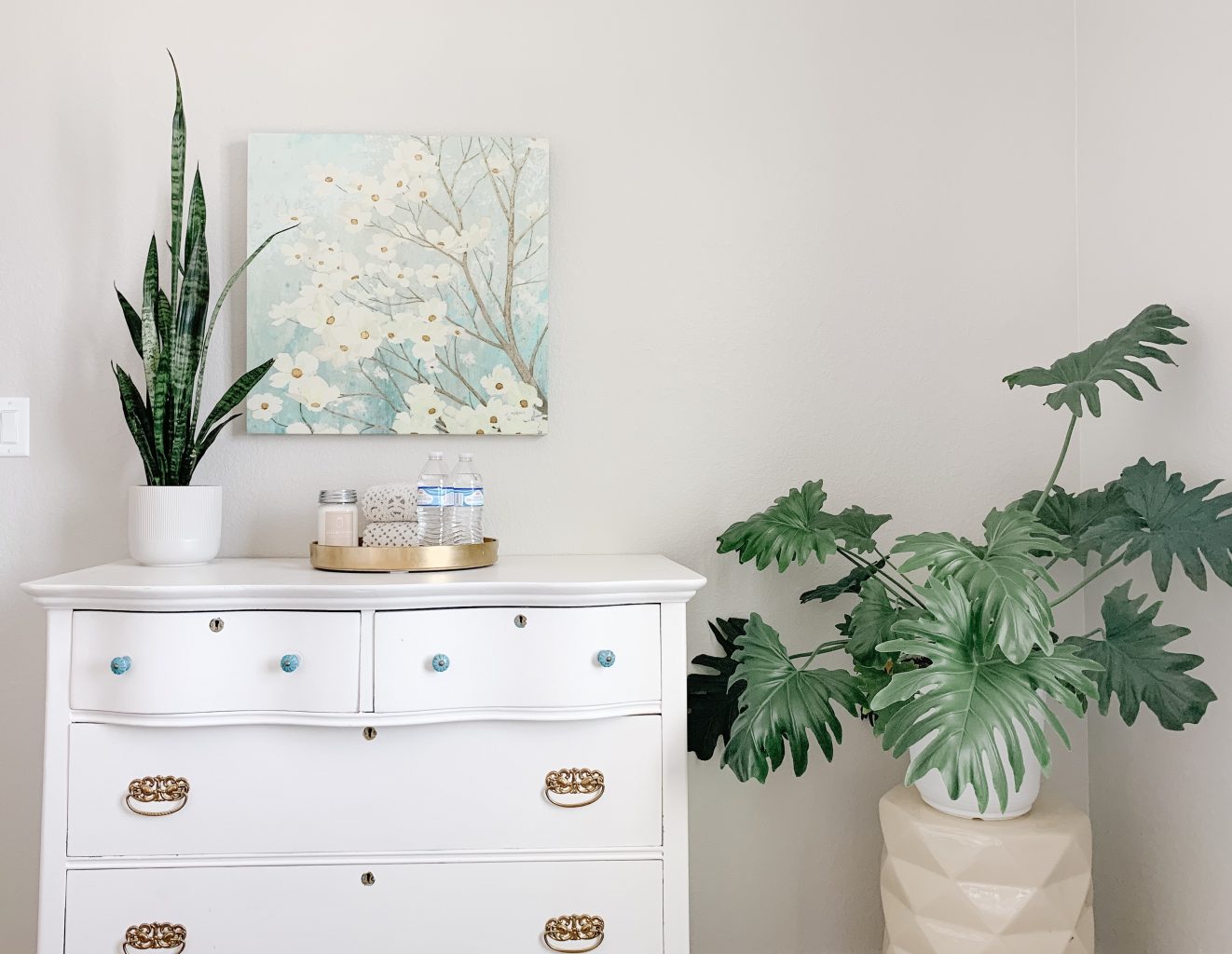 Plants are great decor pieces!
Another reason I love plants is because they are such a great way to brighten up a room and add color and texture! With neutral decor being the big thing right now, it is important to add in color and texture to every room. An easy way to do that is by adding some plants!
There are so many sizes and types of plants that it doesn't feel like "too much" when adding them to every room (and/or multiple in the same room). I have 1 big plant in every room along with a hanging plant in nearly every room and some smaller ones sitting on shelves or tables. Having a good combo brings in different textures and color!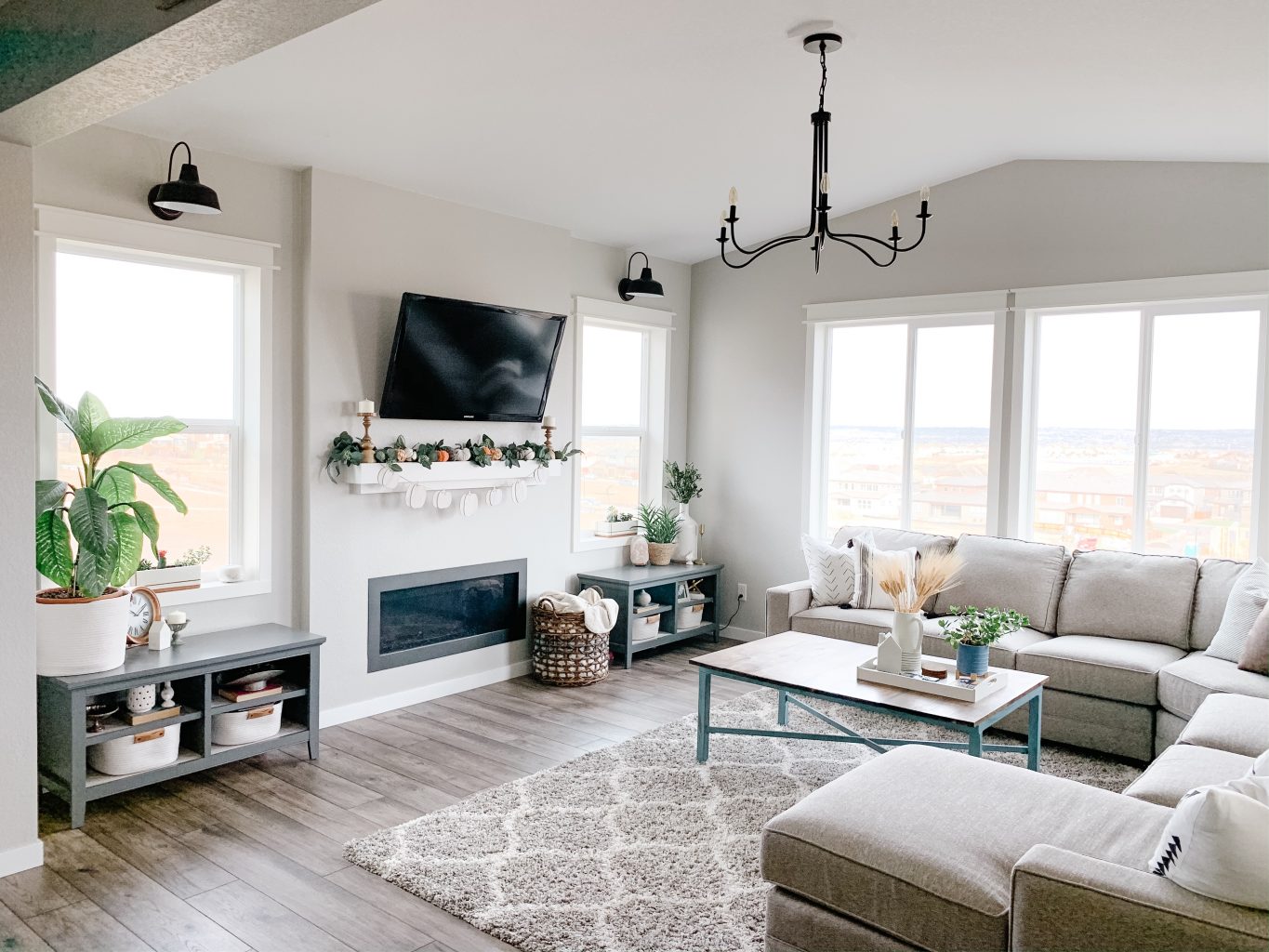 Pots, planters and baskets also add a ton to a room! So finding some good ones for your plants is key! A lot of my planters are from World Market! However, they are on the cheaper side so they are starting to show some wear from water. So keep that in mind when ordering from there. But they are so cute so I think they are still a good deal!
Target also has some great planters and baskets for plants – I have gotten a few of mine there as well. Like this white basket pictured below as well as the rectangle pot by the window (but that's been discontinued unfortunately)! I think Target has slightly better quality as my planters from there have lasted longer. I also love using baskets, because then you can just use a cheap plastic or terra cotta pot from Home Depot and stick it in a basket! Super simple and looks so cute.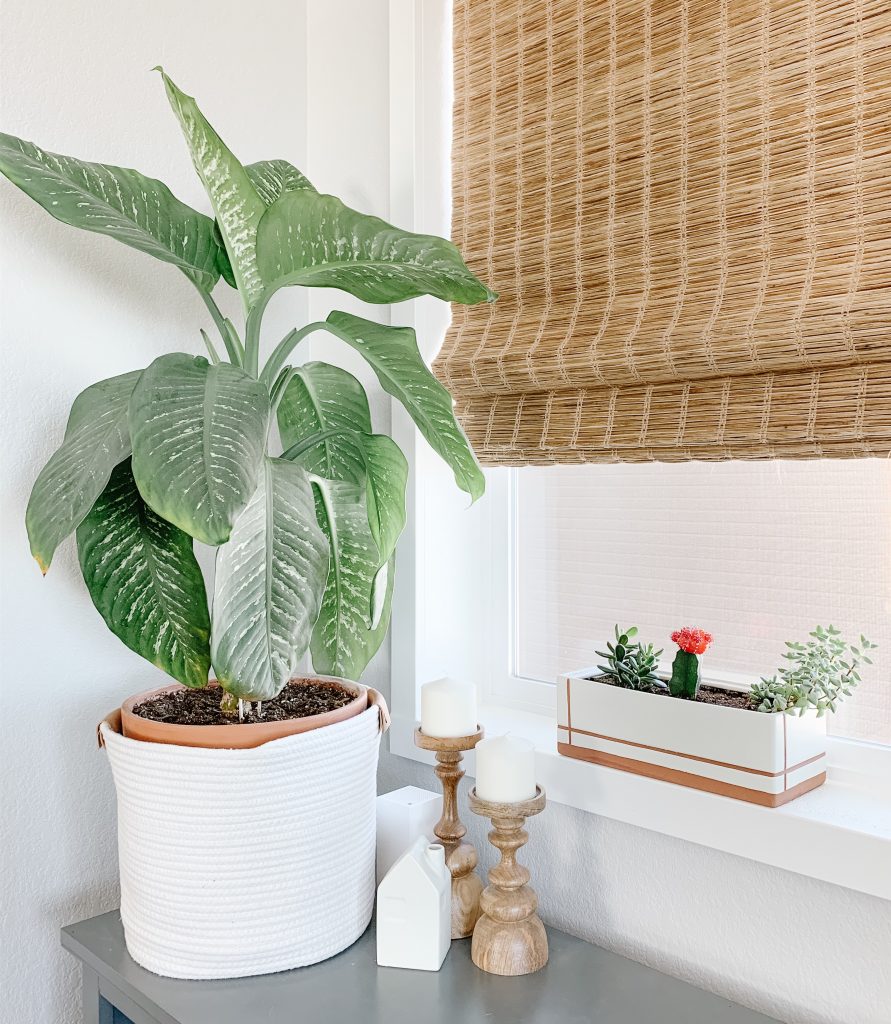 Here are 3 of the biggest things you need to know about plants.
Plants need drainage. That can either be a drainage hole in the bottom of your plater, or you can put rocks in the bottom of your planter before planting. As long as the water doesn't just sit in the bottom of the soil then you will be fine! If water sits in the bottom of your plant and soil then your plant will develop root rot which will eventually kill your plant. So making sure to have a place where the water can go is very important!
Plants hate being overwatered. It is better to underwater than overwater. Plants hate too much water and will develop root rot if they are watered too much. It is better to be on the safe side and water too little as most of them will slightly droop to let you know they are thirsty instead of just dying. I water most of mine once a week. I have two plants that I have to water twice a week and about five that I only water every 3 or so weeks. If you want to have a simple water schedule then get some that all need watered at the same time. Most plants need watered once a week! I will go over in Part 2 which plants I have and how often I water each kind. This could be a good guide to help you decide which ones would be best for you!
Plants need light. Some need more than others, but most just like a well lit room with indirect sunlight. However, there are a couple that are low light plants, so if you don't have much light there are still some out there that would work for you! I will be sharing which plants like low light in Part 2! Basically, there is a plant for every type of room, as long as it has a window. The only place I have fake plants in my house is in the bathroom that has no window and zero natural light. Other than that, I have at least 1 plant in every room of my house.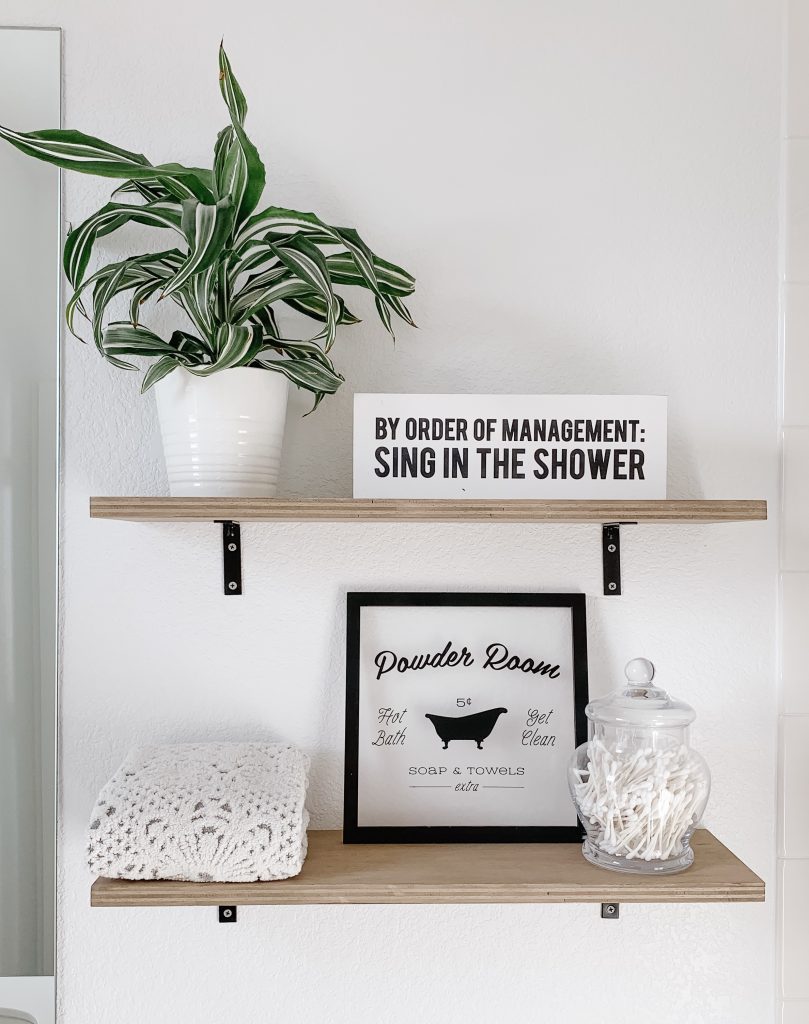 Stay tuned for Part 2 coming soon! In Part 2, I will be going over all the plants I have and how I take care of them. That includes going into detail on how often and how much I water my plants and what type of light and care they need. I hope you are enjoying this All About Plants mini series! Have a great Wednesday!
See our Disclosure here.