Hi Friends! Happy Friday! I'm so excited for this weekend because it is warming up here in Colorado and I'm looking forward to spending some time outside! For our Friday Favs post this week I decided to do a Part 2 to my Shelf Styling post and share some of my favorite Shelf Decor items!
I typically feel that shelf decor should be curated and meaningful, and not just a collection of random items. I think it is important to find items that you love and that make you happy, and sometimes that means it takes some time to collect them! On my Dining Room shelves, which are featured here, I always add in some of my favorite cook books, and plants that do well in this room. Recently I added in a few items that I recently got from the new Studio McGee collection at Target, which I shared in this post! I love all of these items and these shelves make me happy when I see them! I am so glad that we added them to this room; they really complete this space! If you missed my post about how we made these shelves I'll link it here again!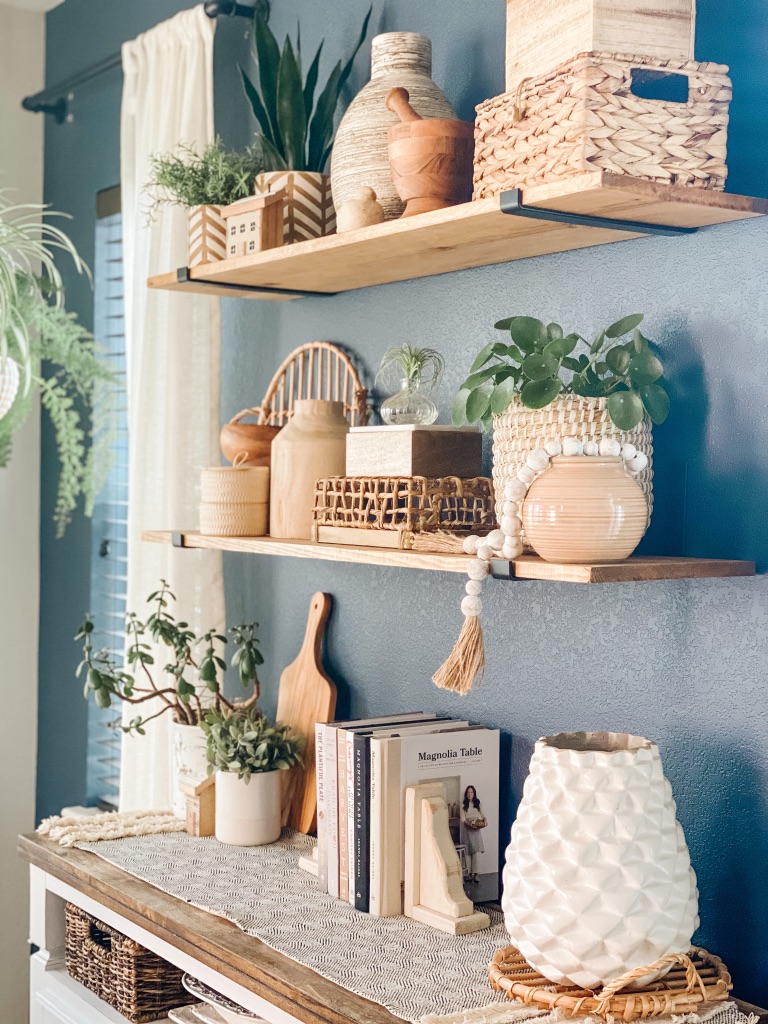 Tips for Selecting Shelf Decor
When you are selecting items to use together on your shelving, it is important to gather a variety of pieces. Look for items that are different sizes, shapes, textures and materials. Usually I mix items from a few of the following groups – Books, Baskets or Boxes, Plants, and Vases. I also usually include a few smaller and unique accessories, like this sandstone bird. I also tend to use both faux greenery and real plants, depending on how high or accessible the shelves are.
Also, think about a color scheme you would like to work within. For my shelves I used a lot of neutrals and wood tones, because I wanted it to stand out against the navy blue wall and work with the wood shelves. If you want to incorporate a color, I suggest repeating the color throughout your shelves so your eye travels around and it feels balanced.
Shelf Decor Round-Up
Below are a few of my favorite shelf decor items that are available online, if you are looking to add some new items to your collection!

See our Disclosure here.