This post is all about how to cover up a popcorn ceiling with shiplap! Read on below for all of the details!
How to Cover a Popcorn Ceiling
Materials Needed:
8″ Wide Primed MDF Shiplap Planks
5/8″ x 3″ Trim Boards
Nail Gun / Compressor
Nails – 2 1/2″, 16 gauge
Spackle / Wood Putty
Paint
Here is how our ceiling looked before, with the popcorn texture…so beautiful. We actually lucked out though because this is the only room that had the popcorn texture! Not really sure why but it was nice to only have one room to worry about.
I knew when we bought this house that I wanted to cover it up instead of bothering with scraping it off. I'm actually surprised that more people don't do this! First because I LOVE the look of a shiplap ceiling. And second, because it's so much easier (and cleaner!) than scraping it off!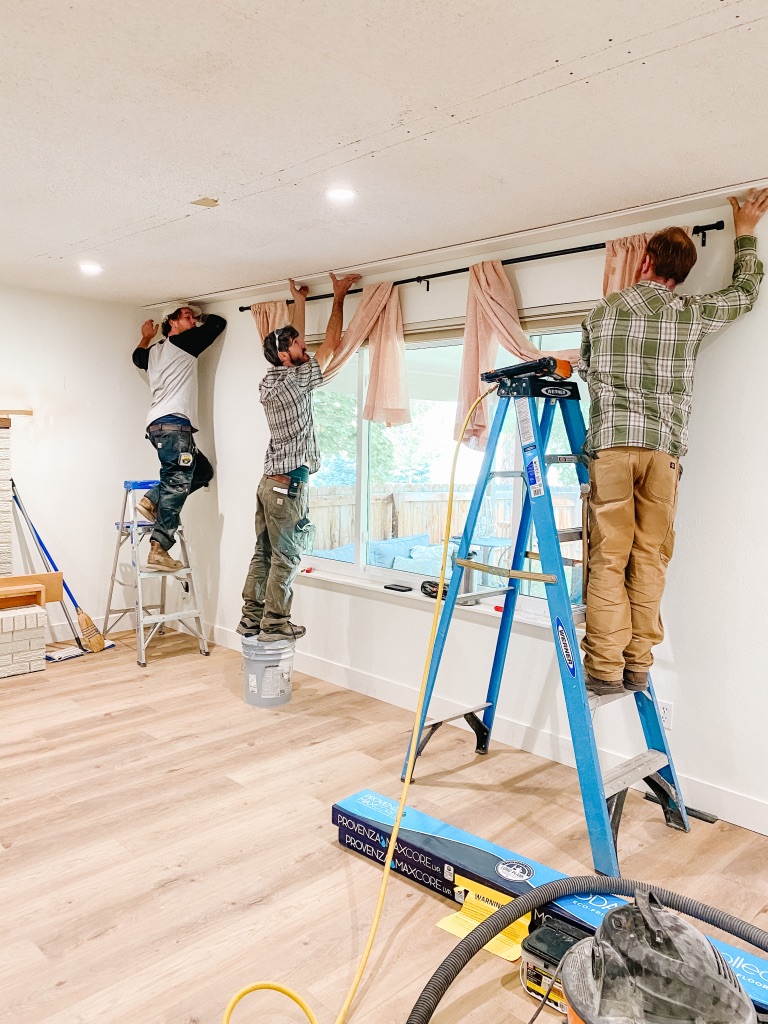 This project was pretty simple but it is definitely helpful to have at least two people available to help hold up the planks. We bought 16′ long planks, in order to have as few seams as possible, so they were a little difficult to hold.
Other than that it is just like installing a shiplap wall!
To save on material costs, you could use 8″ wide plywood planks (buy a sheet and use a table saw to cut planks to size) and use a nickel to measure each gap. We opted for the shiplap planks though because they are much easier to connect together and install.
We made sure to nail the planks into the studs in the ceiling to make sure they were extra secure and to prevent the planks from sagging.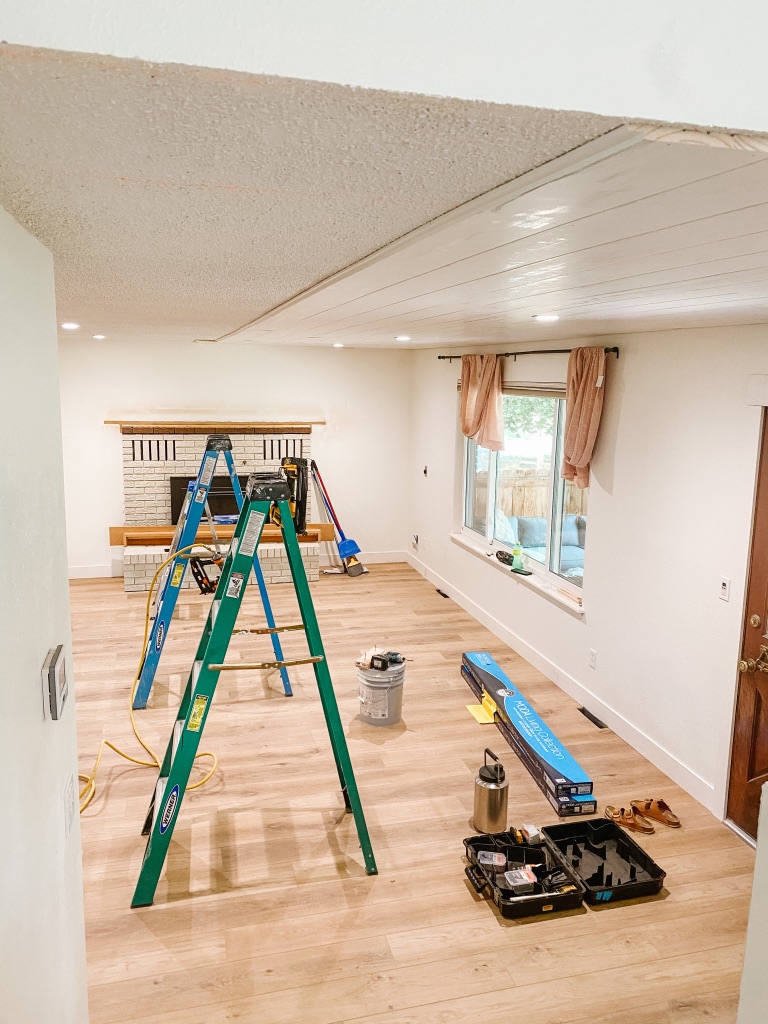 Once all of the shiplap was on the ceiling, we added a 5/8″ x 3″ trim piece around the perimeter of the room. This was not totally necessary but I think it gives it a nice finished look, and also hides any uneven cuts.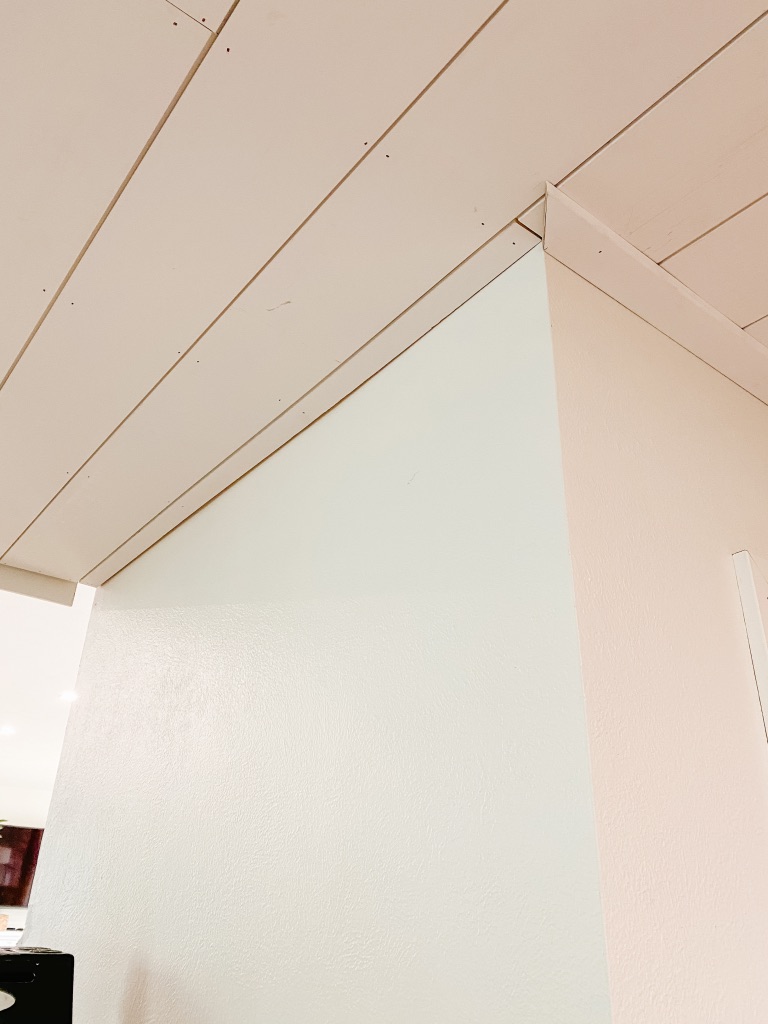 Next we used spackling to patch the seams and nail holes. Once that dries you lightly sand it down to create a smooth finish. You might need to sand and apply another coat sometimes to totally hide the seams.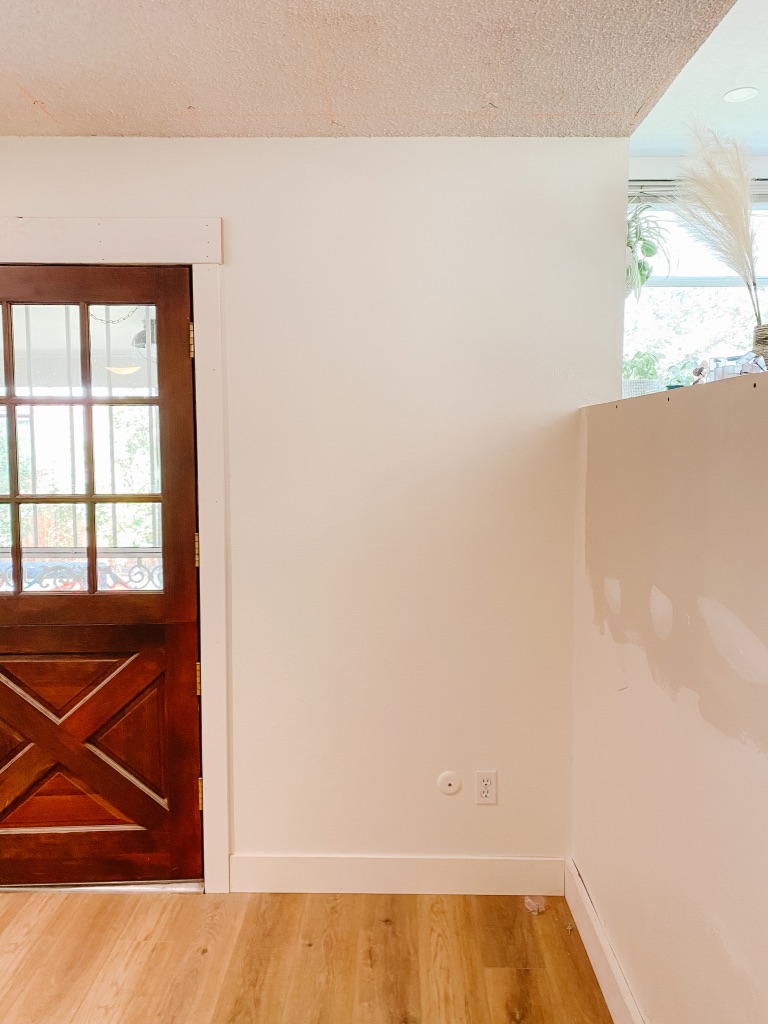 We painted the ceiling with the same paint we have used on the other ceilings throughout the house – Sherwin Williams Pure White, flat.
There was originally one bad spotlight in this room as well that we removed. We added 6 recessed can lights and the lighting in here is now so much more even. I'll also include a link for the recessed LED cans that we used here!
I love them because they are 4″ diameter cans so you barely notice them in the ceiling. They are LED so are energy efficient and will last for YEARS.
They have a switch to select the color temperature, so you can make the lighting cooler or warmer. LED lighting used to be so cool and blue a few years ago so it is really nice to have warmer LED light options now! For reference, we set ours at 3500K.
Also, I highly suggest adding dimmer switches where ever you can! These are the switches we used. Not only do they save energy, but dimmed lights make a room feel so much more welcoming and relaxing! I can't stand bright lights, especially when we're hanging out in here at night. I usually have the ceiling cans on, dimmed low, and then a floor or table lamp on as well.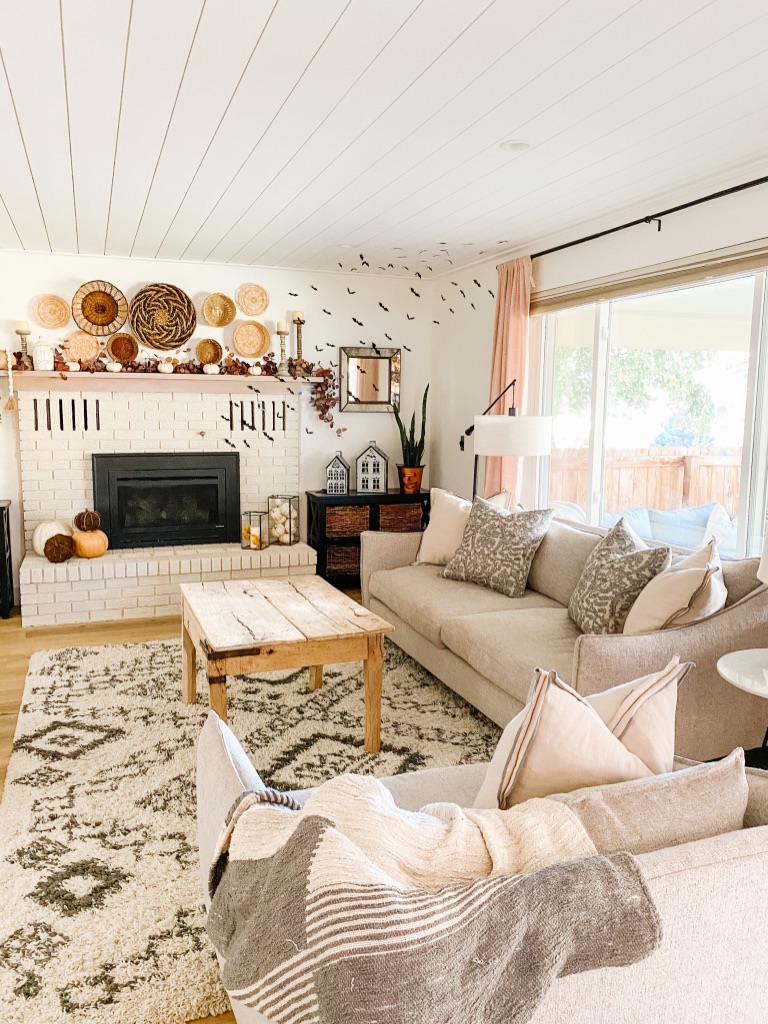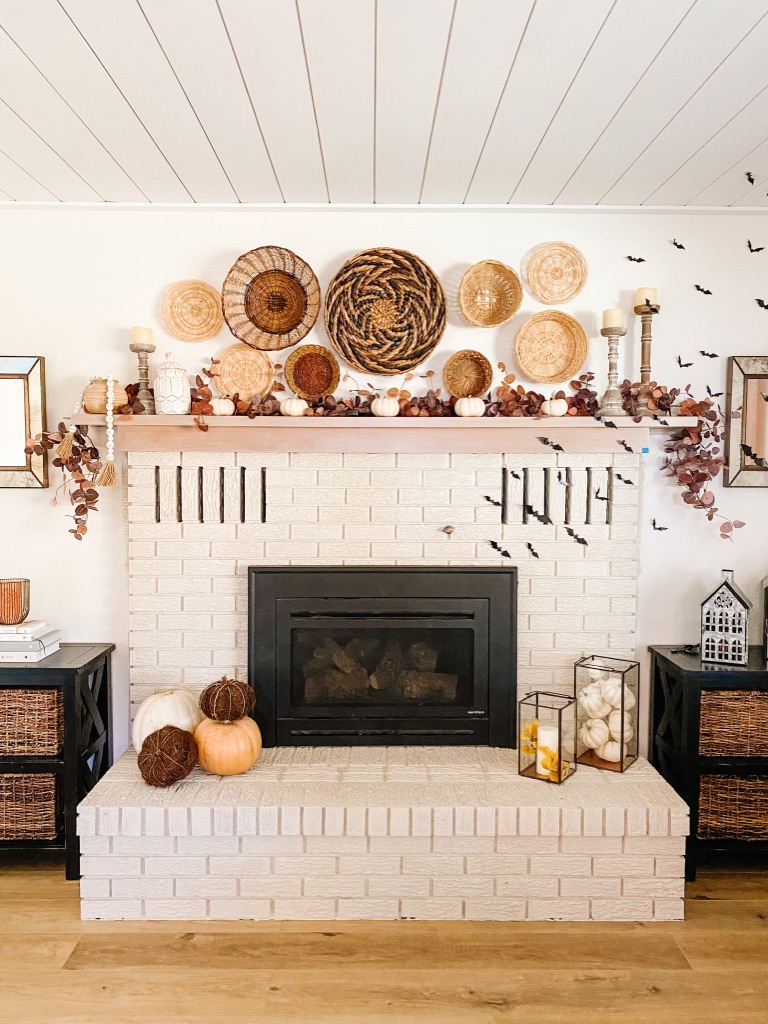 And there you have it! A beautiful popcorn-free ceiling! Hoping this helps give you some inspo for how to cover a popcorn ceiling!
I'm honestly happy that we had a popcorn ceiling in this room because it forced us to cover it up with shiplap! Haha! Without it we probably would have never done this project but I really love how it turned out!
This room feels so cozy and special now! It has really gone through a huge transformation – check out this post to see our fireplace transformation!
This post was all about how to cover a popcorn ceiling with Shiplap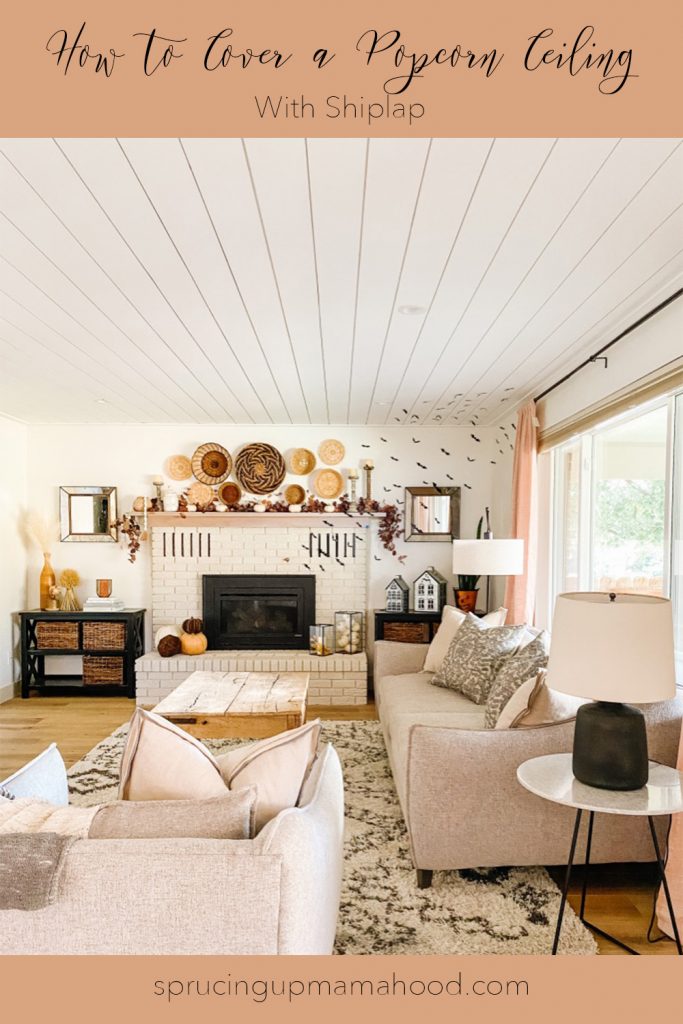 This post contains affiliate links; see our Disclosure here.