This post shares how to mix and match different cabinet hardware styles to give your Kitchen a custom look!
Surprisingly, selecting the Kitchen Cabinet Hardware was one of the hardest decisions I had to make for our Kitchen Remodel. I'm not sure why it was so hard, but I just could not make up my mind.
I think because it is such a permanent decision, drilling those holes in our brand new beautiful cabinets; I wanted to make sure it was right.
Of course you can easily switch out to a different style, if you one day want gold hardware instead of black, for example. But you really can't change the size or position of the pulls easily. It is very hard to patch a hole once it is drilled into the cabinets.
Although, one way to do this is buy using a cabinet pull with a backplate, to cover up the previous holes if needed!
Anyway, I had so many thoughts running through my head… Where do I want knobs? Where do I want pulls? What size pulls work best? What about bin/cup pulls? And latches????
In the end I decided to make it easy on myself and just order it all, haha! Kidding…kind of.
I ended up ordering 5 different cabinet hardware styles to use! It sounds crazy but I think that all of the different types look great together!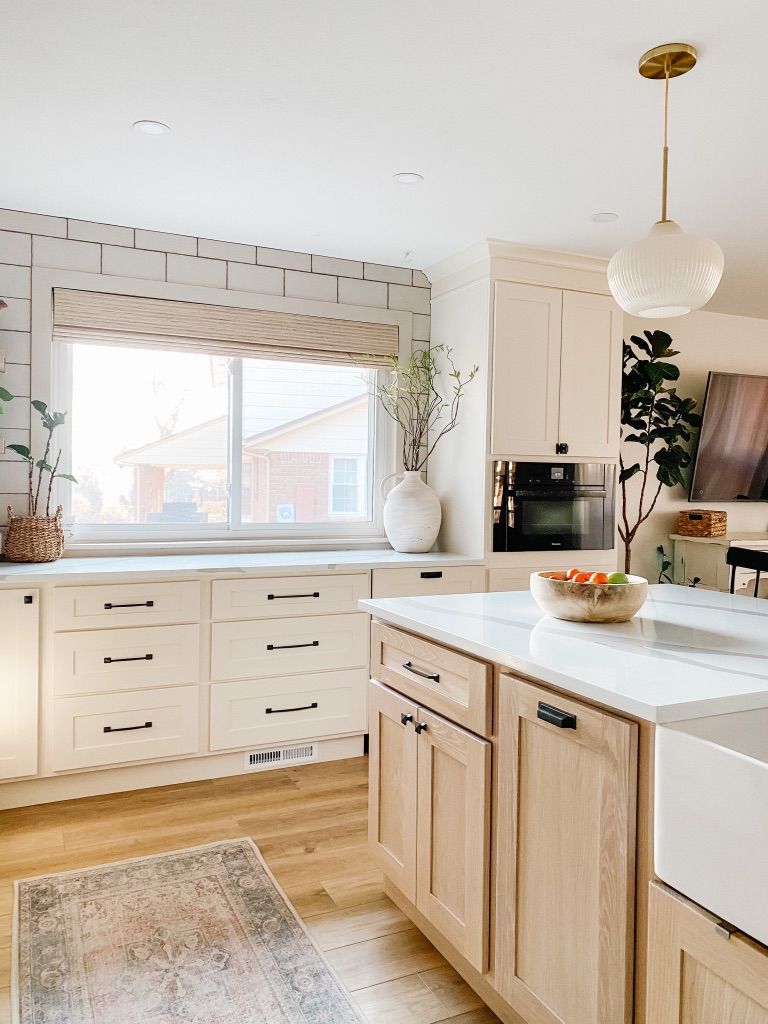 Why Mix Your Cabinet Hardware Styles?
Selecting Kitchen cabinet hardware might sound like a small task, but the right cabinet hardware can make such a huge difference in the overall design and function of your Kitchen!
Adding a few different styles of hardware is an affordable and easy way to give your Kitchen a custom look. Mixing different styles creates visual interest throughout the Kitchen and adds character.
This is especially important in a large Kitchen where you don't want the cabinets to look too repetitive.
It is also so important to consider the function of each cabinet when selecting the hardware. For example, you will want a bigger pull for pull-out trash cans, larger drawers and appliances. Also think about what styles you personally prefer for each function. Some people prefer knobs for smaller drawers and doors, or latches for hutch style cabinet doors.
This post contains affiliate links. See our Disclosure here.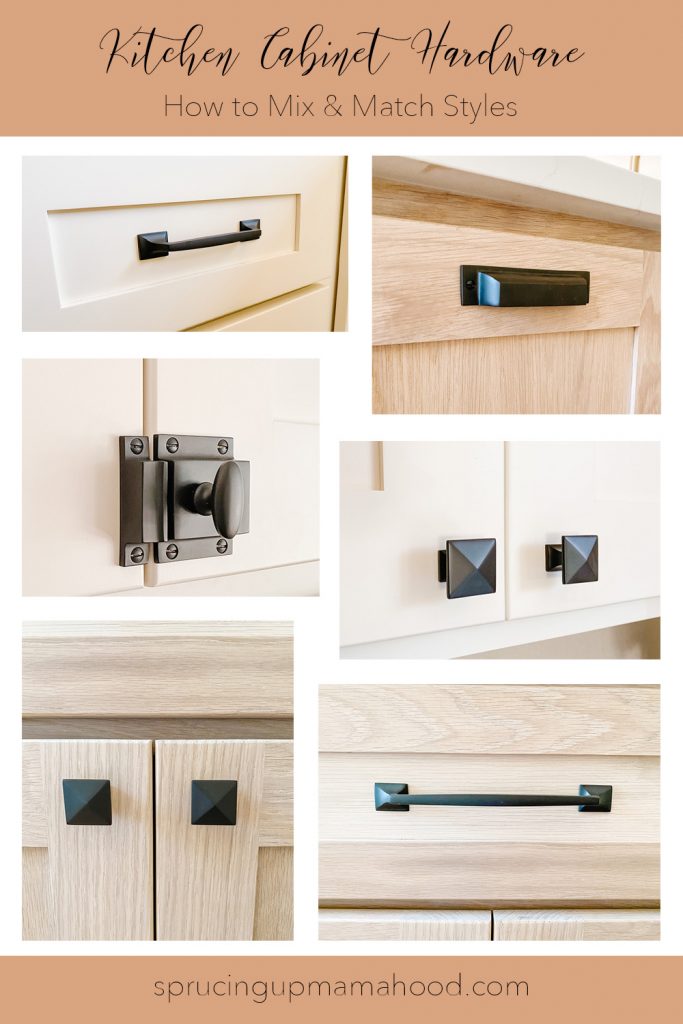 3 Tips for How to Mix and Match Cabinet Hardware
Are you wondering how to accomplish this look without it coming across as disorganized or confusing? Mixing different styles together can feel overwhelming at first, but sticking to some basic guidelines can help! The key is to decide what is important to you, and remain consistent throughout the Kitchen. Below I'm sharing my Top 3 Tips for How to Mix and Match Cabinet Hardware Styles!
1) Select One Single Finish
Using the same finish throughout will help everything look consistent and uniform, even when mixing different styles. Remember to stick with the same color/metal AND sheen. Brushed nickel and polished nickel look very different from each other.
I would highly suggest even sticking to the same brand. An oil rubbed bronze finish can vary so much from one brand to the next. If you are going to mix from a couple different companies, make sure to order samples first to see them all together!
It is totally possible to mix metals, but it is a harder look to pull off, especially when mixing styles. So, this is one area that you can simplify to keep it easier on yourself.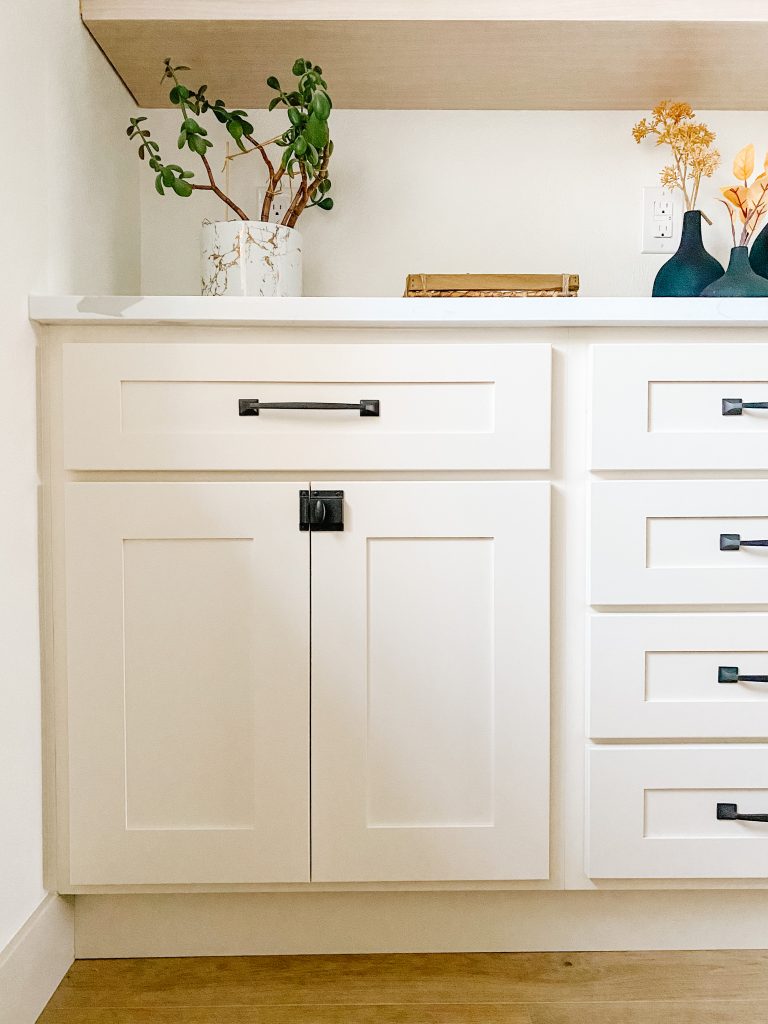 Example – In our Kitchen, all of the hardware is the same Oil-Rubbed Bronze finish (it looks like a beautiful matte black in person) from the same company.
2) Keep your Layout Rules Consistent
Take inventory of how many doors and drawers you have, and what the functions of each are. Then decide what styles you could use on each type.
For example, use knobs at all doors and pulls at all drawers. Or, use knobs or latches at all upper cabinets and pulls at all lower cabinets.
Also if you are using a few different knob or pull styles, make sure you don't end up with only one of a specific type. You want a good balance of each type.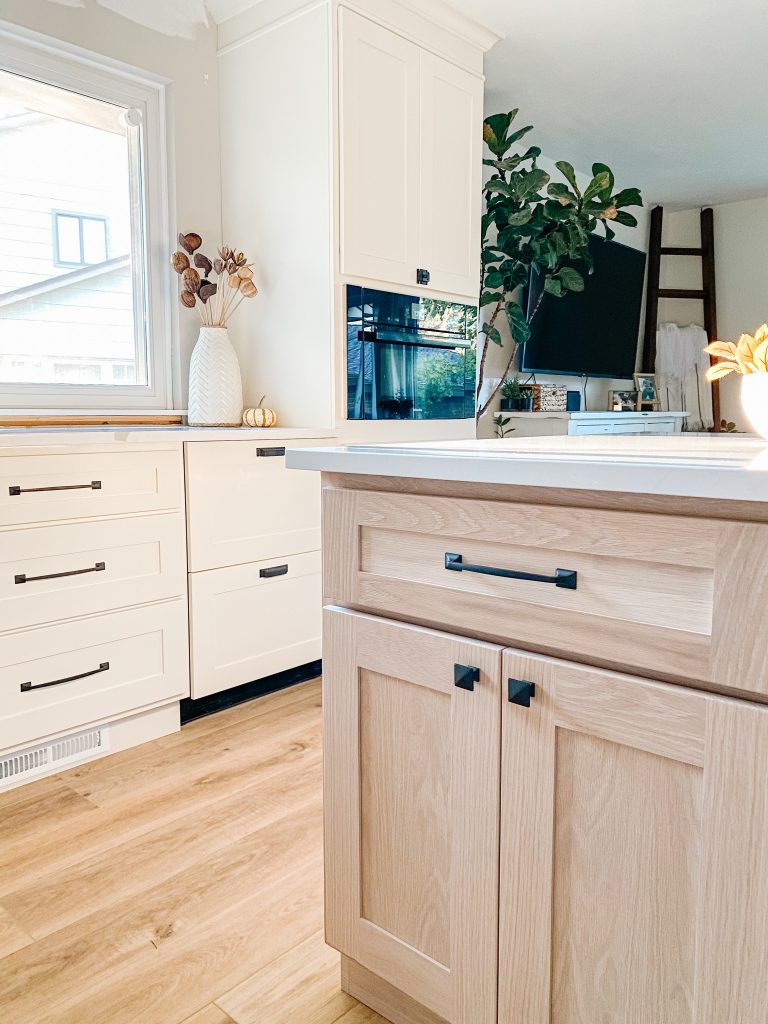 Example – I tried to divide up our styles by the type of cabinet.
3) Same But Different
You want to make sure the different styles coordinate with one another, but are still noticeably different. If they are only slightly different from one another it could look like a mistake.
Consider different types (knobs and pulls) and different scales (bar pulls and finger pulls).
Also make sure to stay within the same "theme". Typically you wouldn't want to mix a very modern European style bar pull, with an ornate and traditional knob.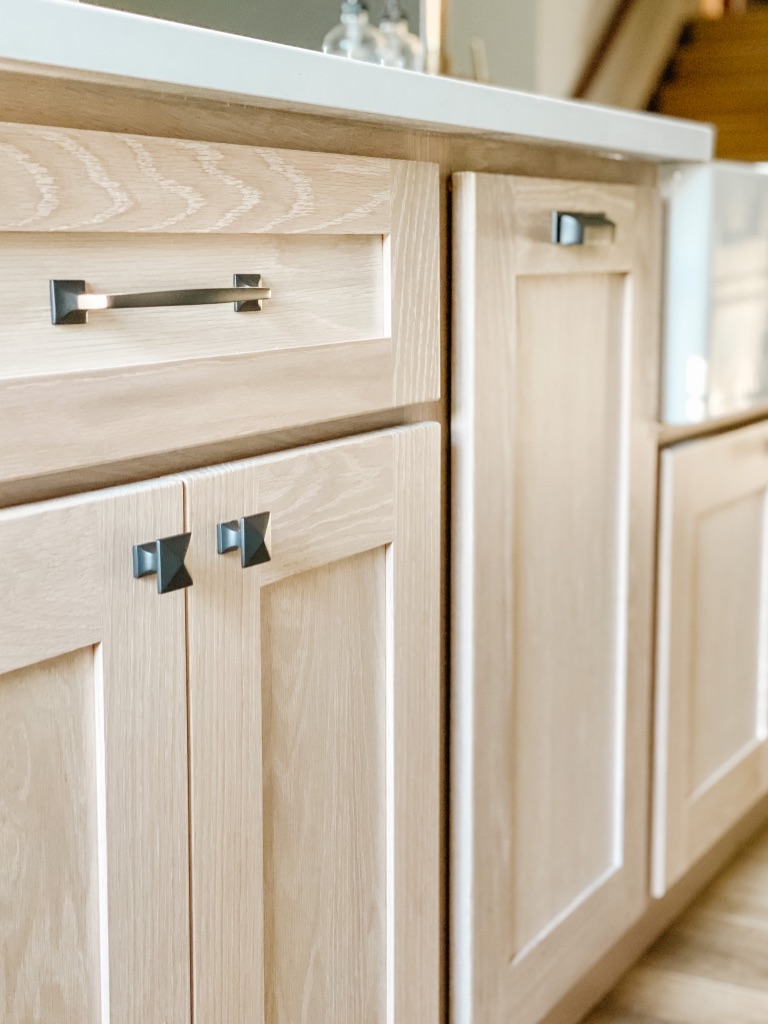 Example – All of the hardware we used leans toward an Arts & Crafts type vibe, which works well with our shaker style cabinets. The different types are all very noticeably different in style and scale. We did however use three different sizes of the same drawer pull. Smaller drawers have a 4″ pull, medium drawers have a 6″ pull, and the large drawers have an 8″ pull.
More Tips for Selecting the Right Cabinet Hardware
Again, it might sound like a small thing, but the cabinet hardware is like the jewelry for your cabinets. Do you want it to make a statement, or would you rather it be subtle and functional?
This is an area in a Kitchen design where I encourage people not to make a rushed decision. Yes, you can easily switch it out later if you want a different style or finish, but the location and size is very hard to change or move! Those holes in your cabinets are permanent so you want to make sure you are thinking it through!
It is also possible to live without the cabinet hardware while you are deciding on what to order. Sometimes it is helpful to wait to have the cabinets installed so you can think about what would look best on them. You can even place masking tape on them to test out the sizes and locations!
Below are a few more things to consider when you are selecting your cabinet hardware.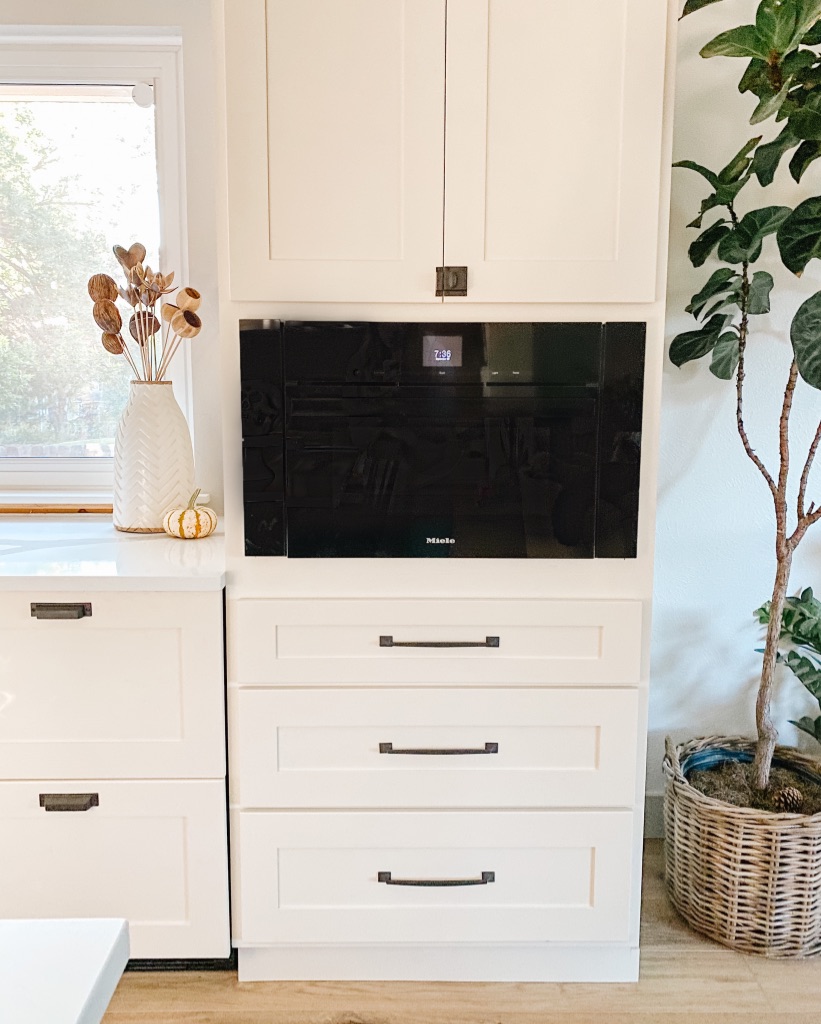 Cost
Cabinet Hardware styles can range so much in price. You can find some knobs on Amazon for $3 each, while other high-end options can cost over $50 each!
The cost of your cabinet hardware can really add up, especially if you have a large Kitchen with many drawers and doors. It is best to determine budget before you even begin to look. There is nothing worse than falling in love with an option that you can't afford!
When determining an overall budget for your Kitchen, don't forget to include the hardware (and hinges if necessary. Think about where you want to splurge and where you want to save.
Is the cabinet hardware something that is really important to you, or are other parts of the Kitchen more important? Are you someone that likes to switch out the hardware often? If so, you might want to consider one of the less expensive options! Does the quality and durability matter to you? If so, maybe consider a nicer option that is made of bronze so the finish doesn't wear off over time!
I will say, that our Kitchen cabinet hardware was more of a splurge area for us. I wanted a specific look and it was hard to find all of the different options I was looking for from a less expensive brand. I also love the feel and weight of the solid brass that ours is made from. You can tell that they are good quality and will last!
It's also smart to order a few extras. Just in case something breaks or the finish rubs off, so you can easily replace it without having to worry about it being discontinued.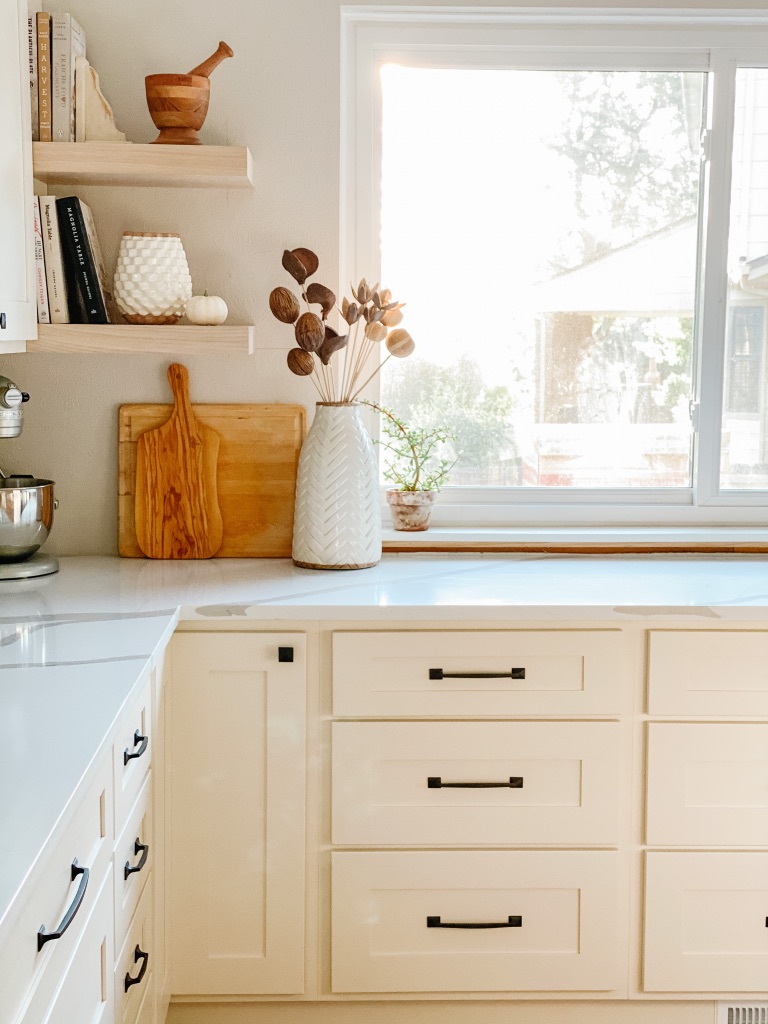 Comfort
It's a good idea to test out and hold the options you are considering to make sure they feel comfortable in your hand! Order a few different styles and return the ones that you don't love.
Check the scale to make sure they don't feel too big or too small, and that they don't have any awkward angles that make them hard or uncomfortable to hold. You will touch these knobs and pulls thousands of times so you want them to work for you!
Some companies, like Top Knobs, offer sample programs where you can order a few styles to test out. You can also visit a Kitchen showroom to see all of the different options in person!
Style
When narrowing down the style for your knobs and pulls, keep your cabinets, light fixtures, tile, and other Kitchen design elements in mind. Do your cabinet doors have squared edges, like a shaker style? Or are they more rounded and ornate, like a traditional raised panel style?
Try to pick a hardware style that works with these other elements! Hard edges vs. soft edges, simple vs. ornate.
Also keep the other finishes in the Kitchen in mind! We mixed metal by selecting oil-rubbed bronze (looks like black) at the hardware and gold at the Kitchen sink faucet and the island pendants.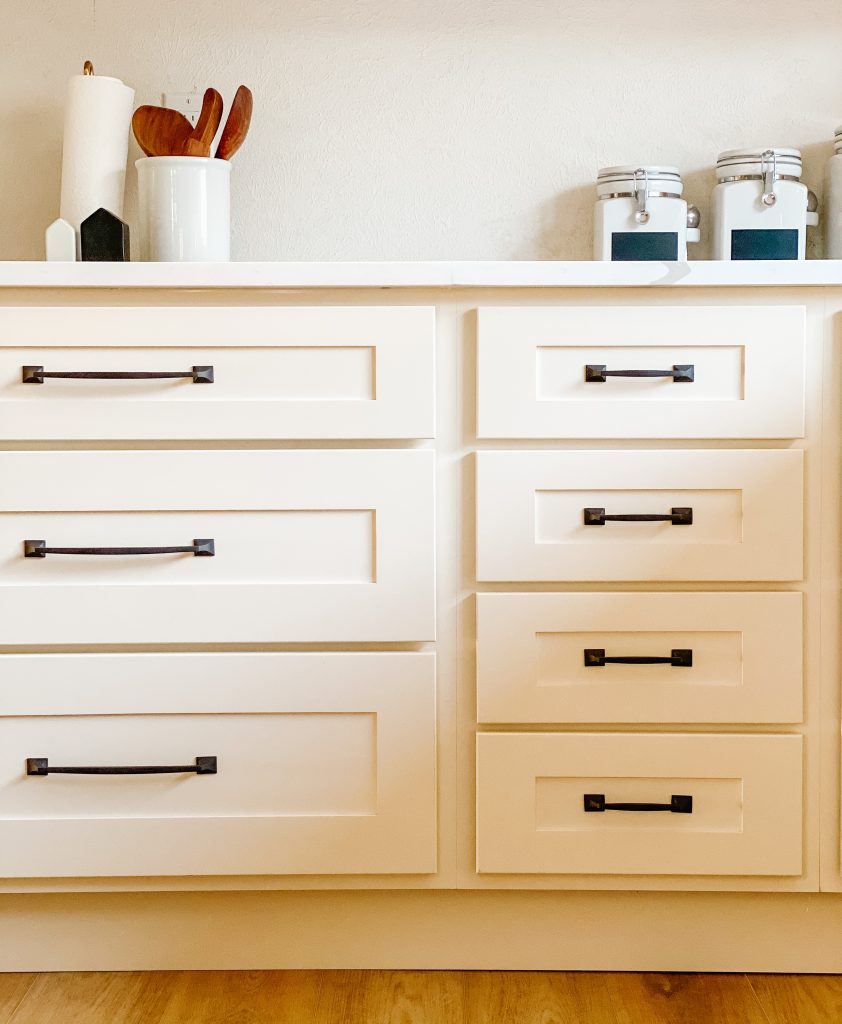 Function
Function is another important thing to keep in mind when selecting cabinet hardware. Can you categorize any of your cabinets to help with determining which style to use on each one?
For example, we used large Bin Pulls at all of our appliances, and oversized drawers, like the trash pull out. We used knobs at the doors because they are easier to open, and pulls at the drawers because they are heavier.
Also keep the drawer width in mind when selecting the pulls. A good rule of thumb is for the pull to be about 1/3 of the overall drawer length. For example, an 18″W drawer would have a 6″ pull centered, a 12″ drawer would have a 4″ pull, etc. I think that using one long pull at the long drawers, instead of using two shorter pulls, also looks more custom and high-end.
Shop the Cabinet Hardware I used Below: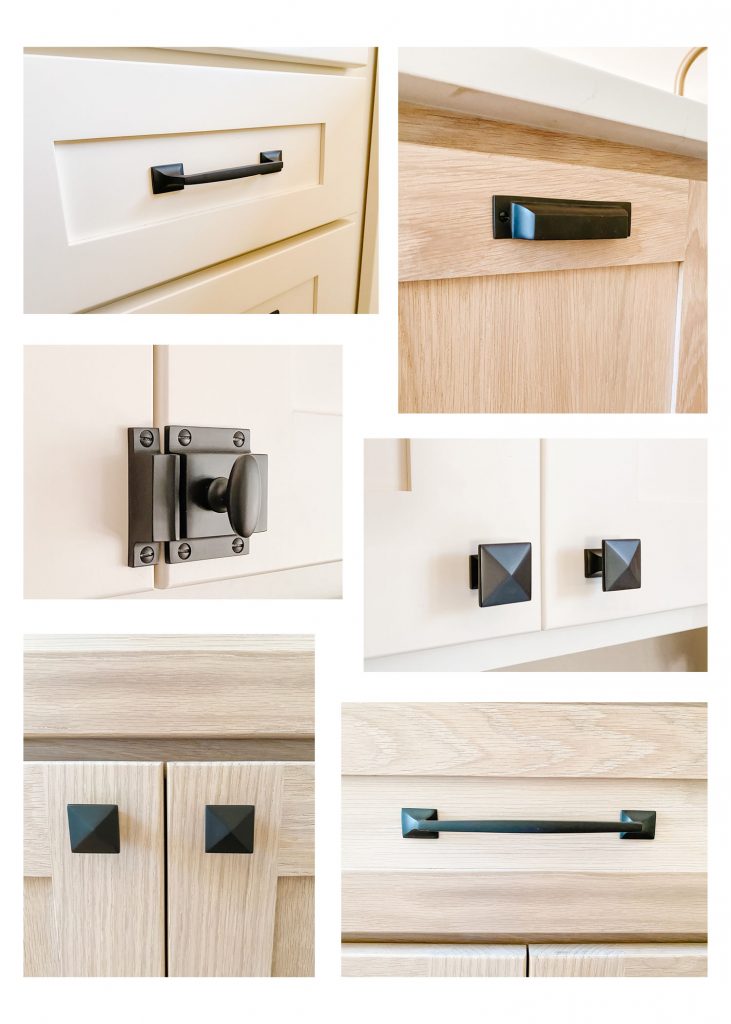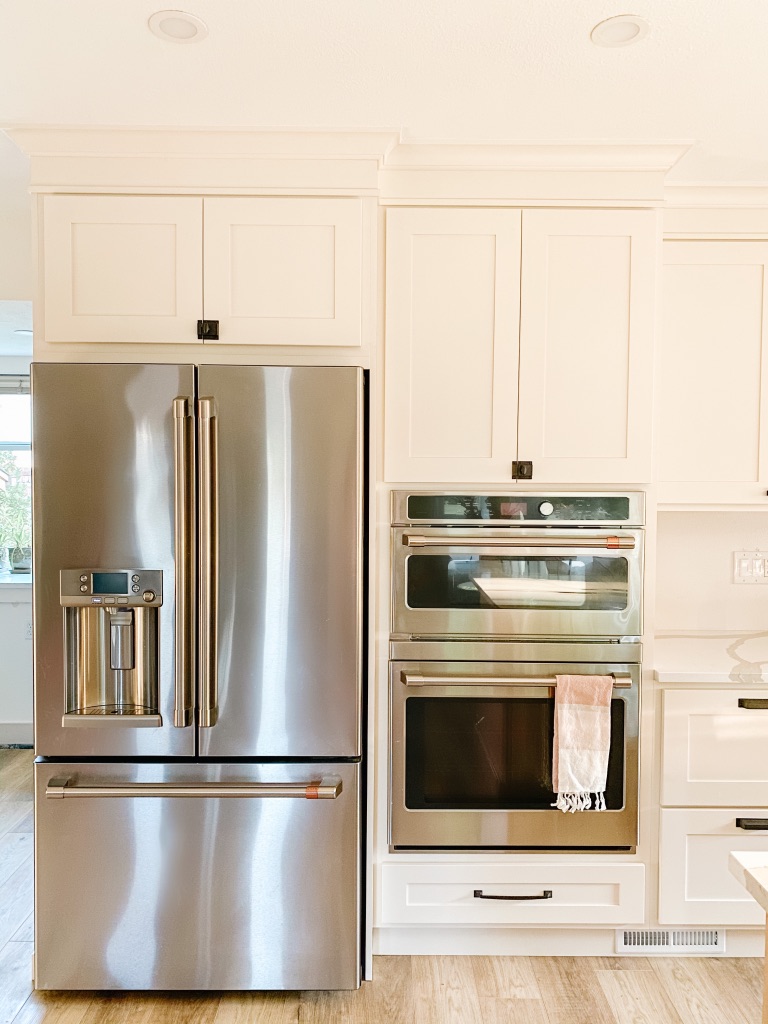 Definitely Suggest Mixing & Matching Cabinet Hardware!
Mixing different types of Kitchen Cabinet Hardware can be tricky, but it will make your Kitchen feel so much more unique and custom. I really love how ours turned out and am glad I put so much thought and time into finding the perfect mix!
I'm hoping these tips on How to Mix and Match Cabinet Hardware styles were helpful! If you have any questions please leave a comment below!
I'm looking forward to sharing the rest of our Kitchen remodel with you all soon!
More Kitchen Design Articles: