Happy Friday! We are in the middle of a super exciting but dusty remodel at our house! The bathroom is getting closer to being done, and the Kitchen has been completely torn apart and patched up. They are so close to being able to start installing the floors and cabinets! That is the part that I am most looking forward to! I know all of this "behind the scenes" work needed to be done – like moving electricity, plumbing, drywall… But I am really looking forward to seeing all the pretty stuff! At times I feel like we will be living out of our small temporary basement Kitchen forever! I am already so used to it, haha. It feels strange to even think that soon we will have a beautiful and functional Kitchen in this new big open room!
Here are a few photos of how it is looking now!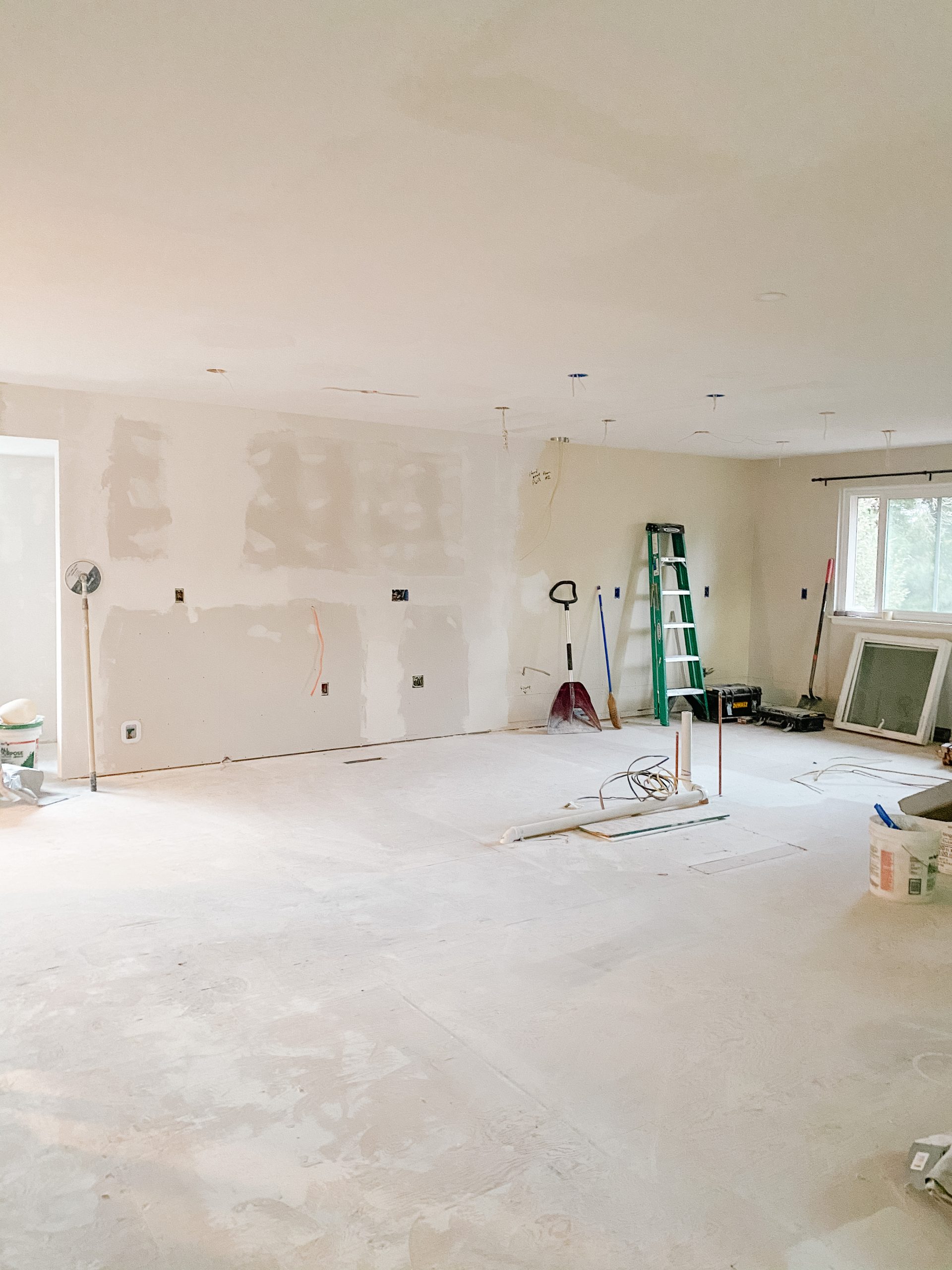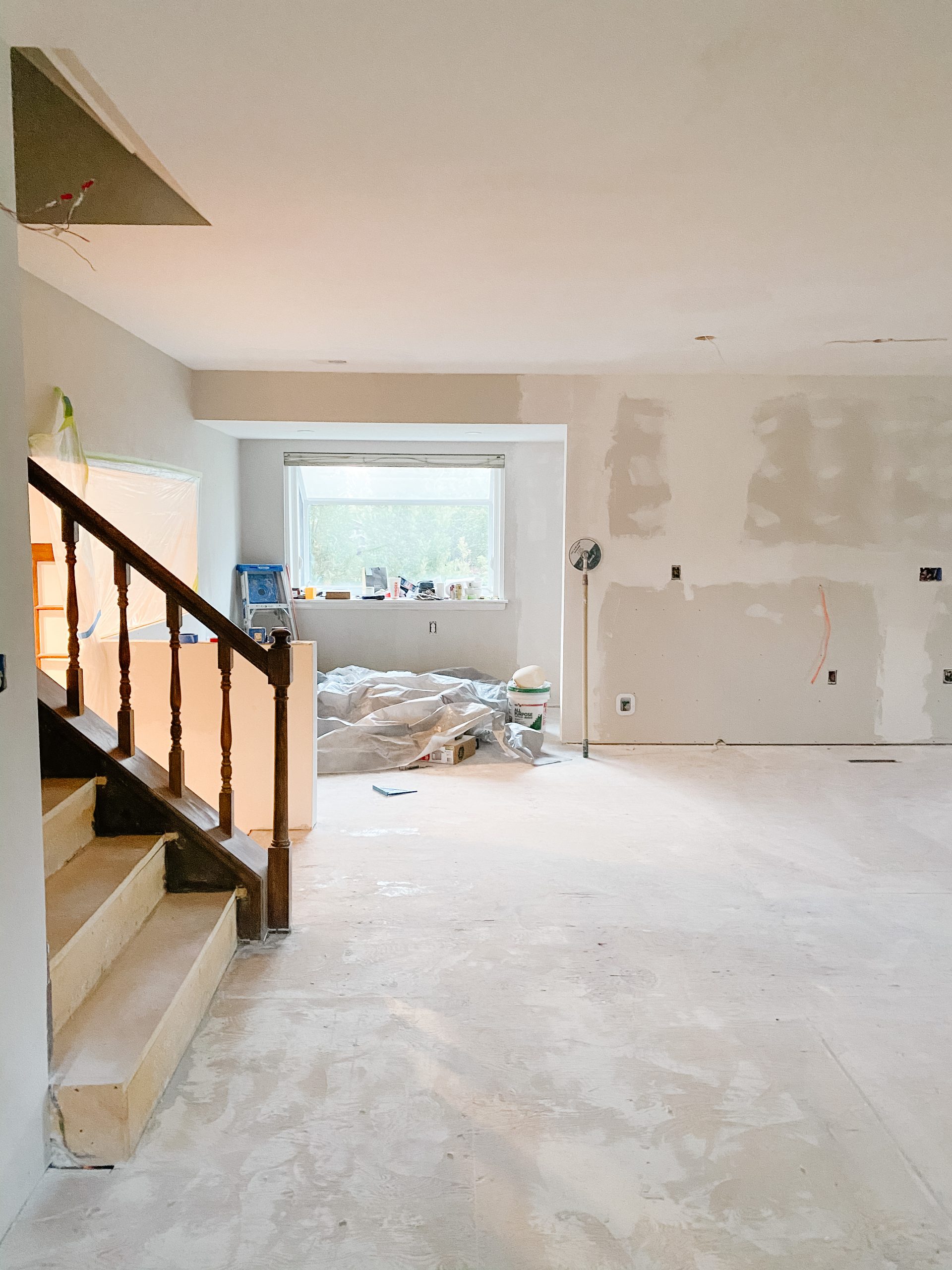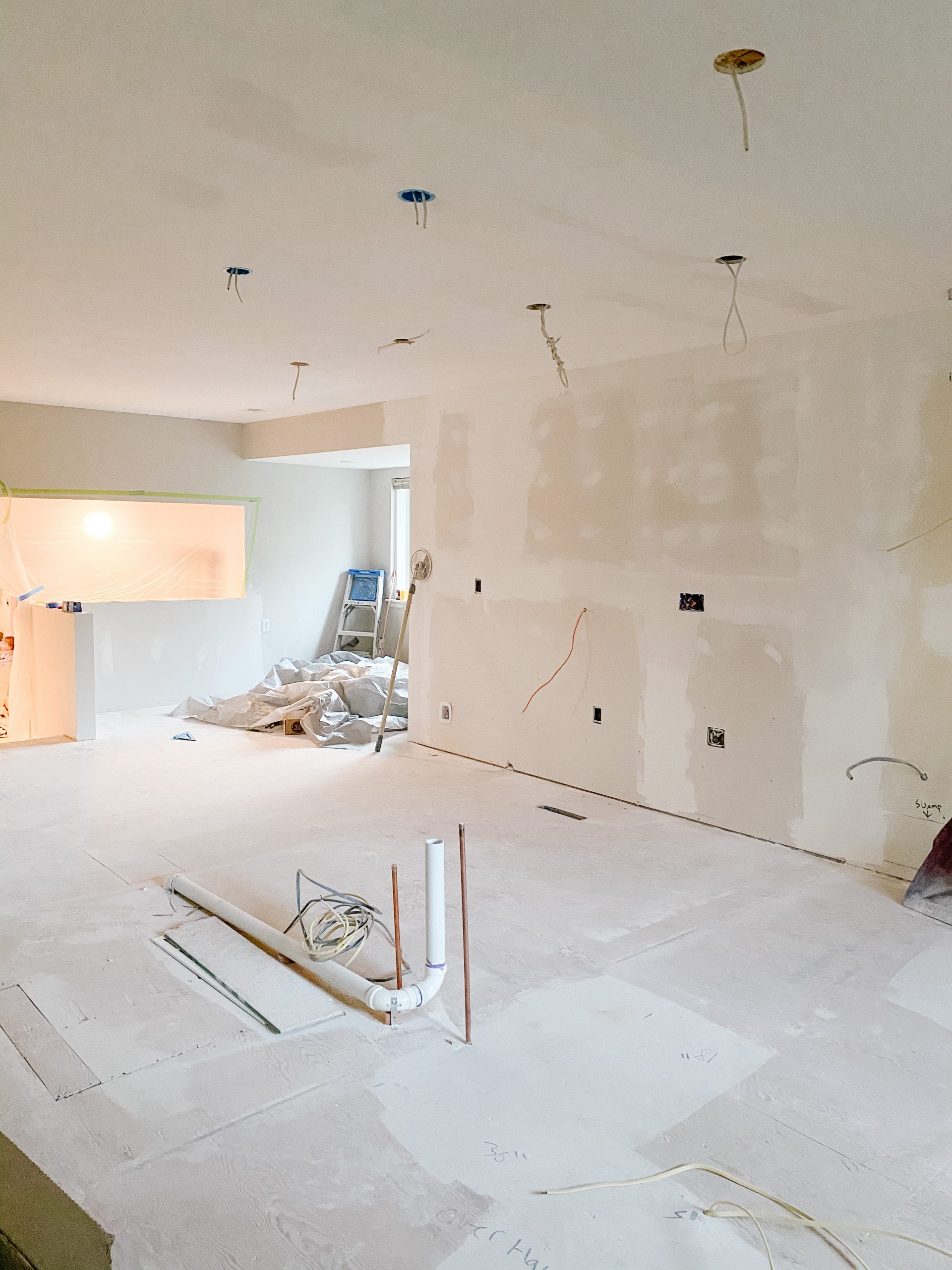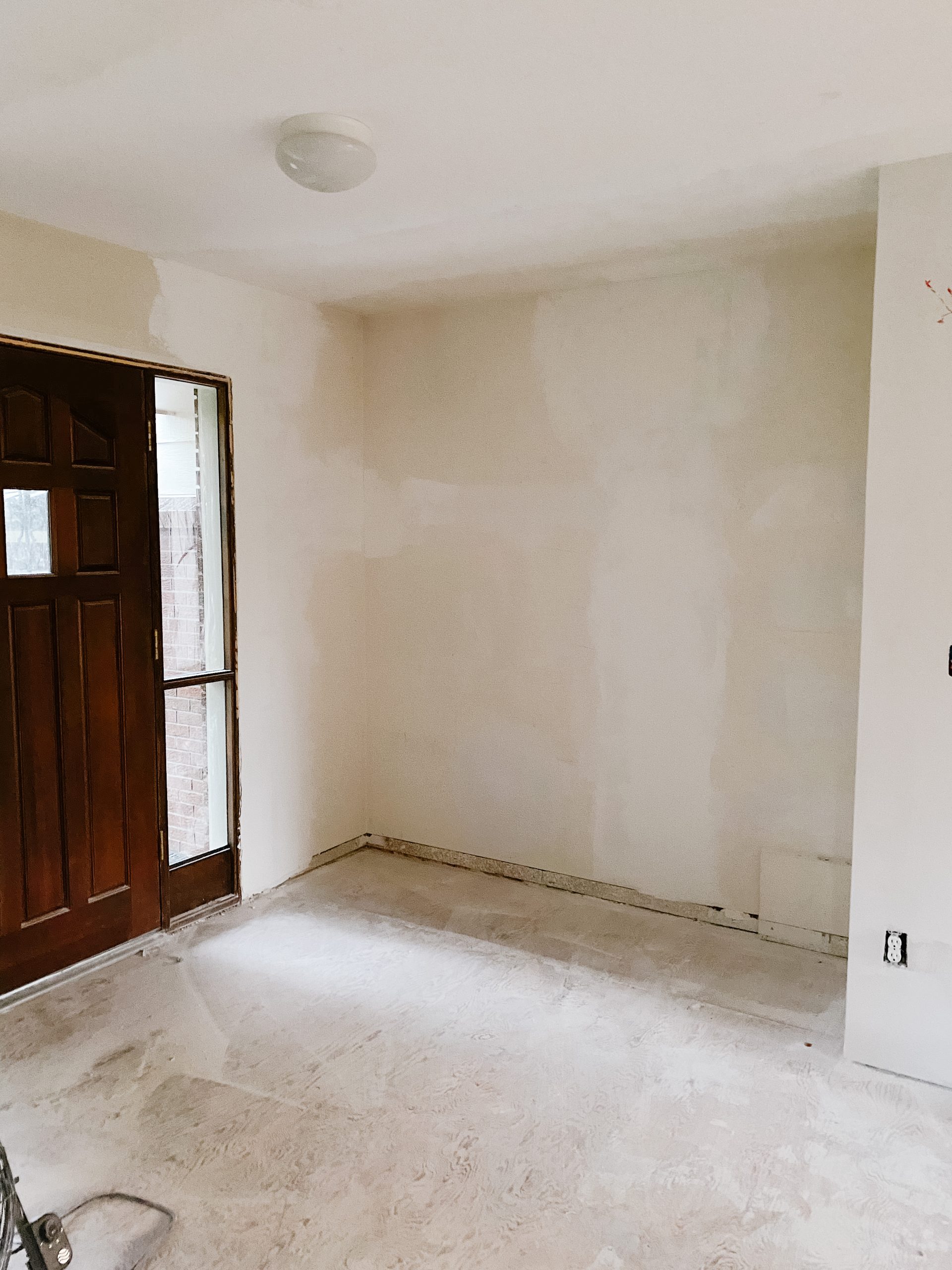 Kitchen Layout Options
It took a lot of planning to get to where we are today. One of the hardest parts of this remodel has been deciding on a Kitchen Layout. At first we weren't sure if we would be able to take down any/or all of the walls. We also didn't know if we could easily move the plumbing and the hood vent. Assuming we would need to keep the one main wall, we started thinking of ideas to still open up the Kitchen as much as we could. I starting playing around with the floor plan and came up with a few solutions, shown below.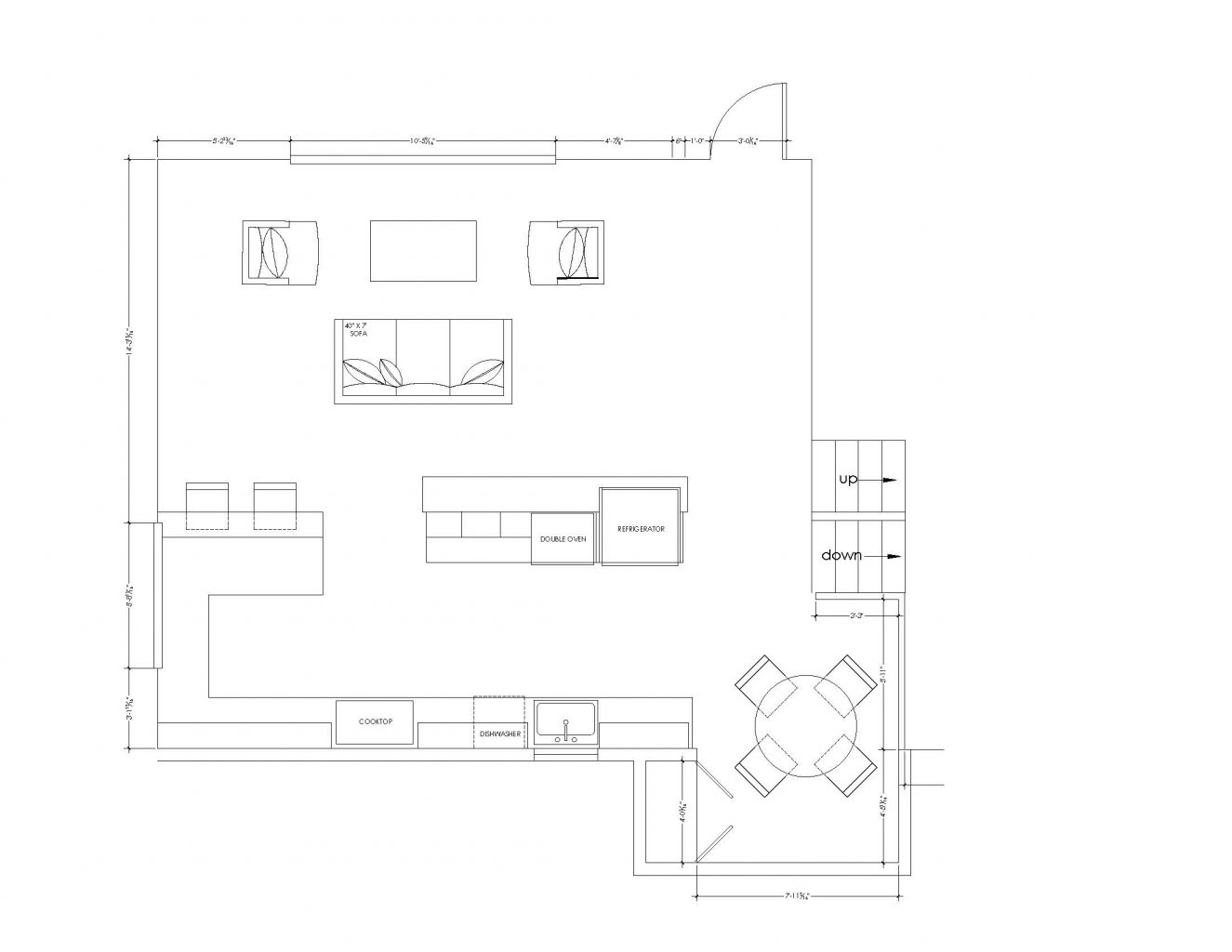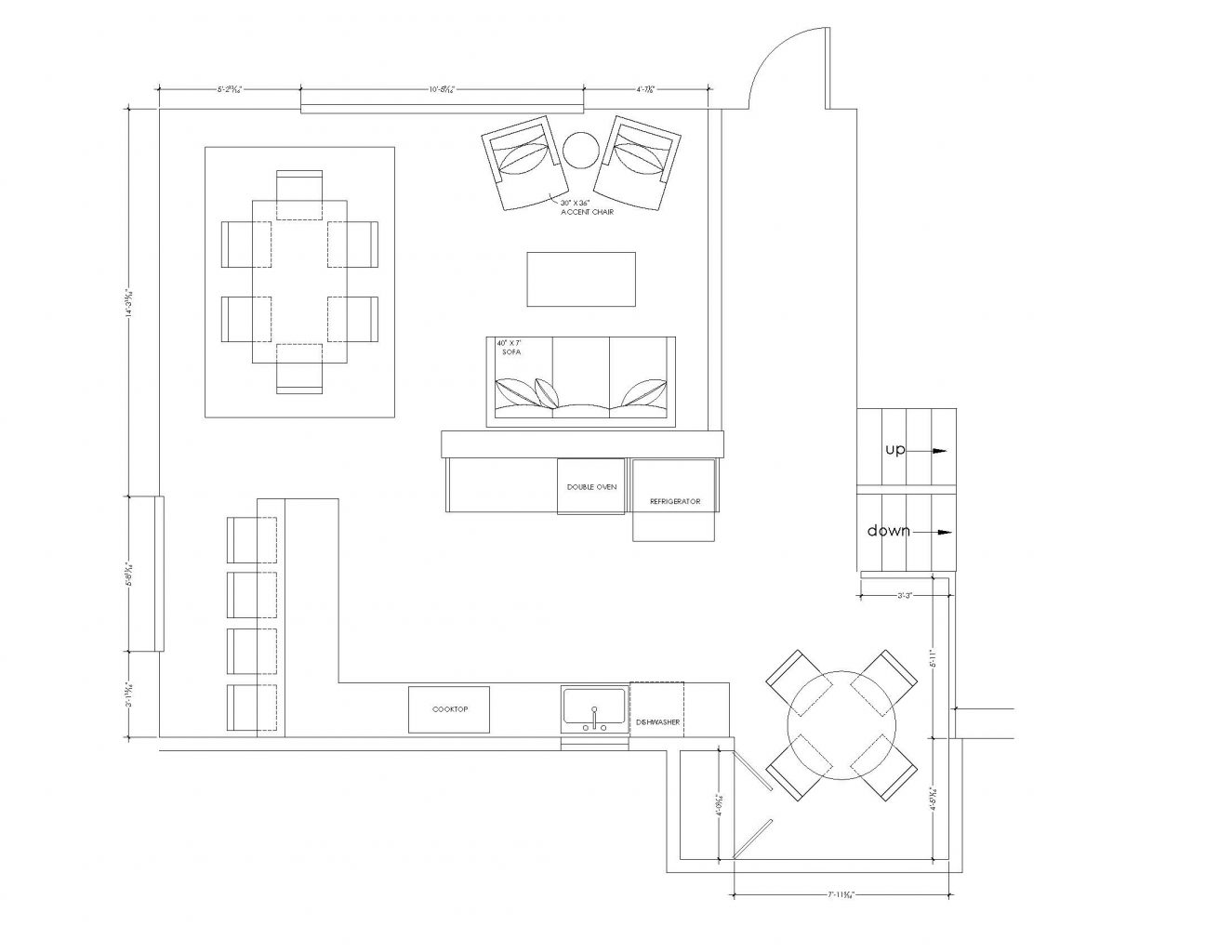 These Kitchen layouts would have been ok if we had to keep that main center wall. I liked the idea of having a wall of appliances (fridge, wall oven, microwave…) with a large floor to ceiling pantry cabinet. I also liked the idea of having the Kitchen wrap around so it sort of created a separate nook near the Living Room. But, I of course wanted it as open and bright as possible. So I came up with a few more options assuming we would be able to remove all of the walls.
The existing Kitchen felt pretty closed off and dark, so I really wanted to bring in more natural light. The large picture windows at the front of the house have such a beautiful view so I loved the idea of being able to make them more visible too! One thing that I was struggling with, was that the shape of this room is very long. I wasn't sure if having one large island would make the island feel too long, so I played with the idea of having two smaller islands.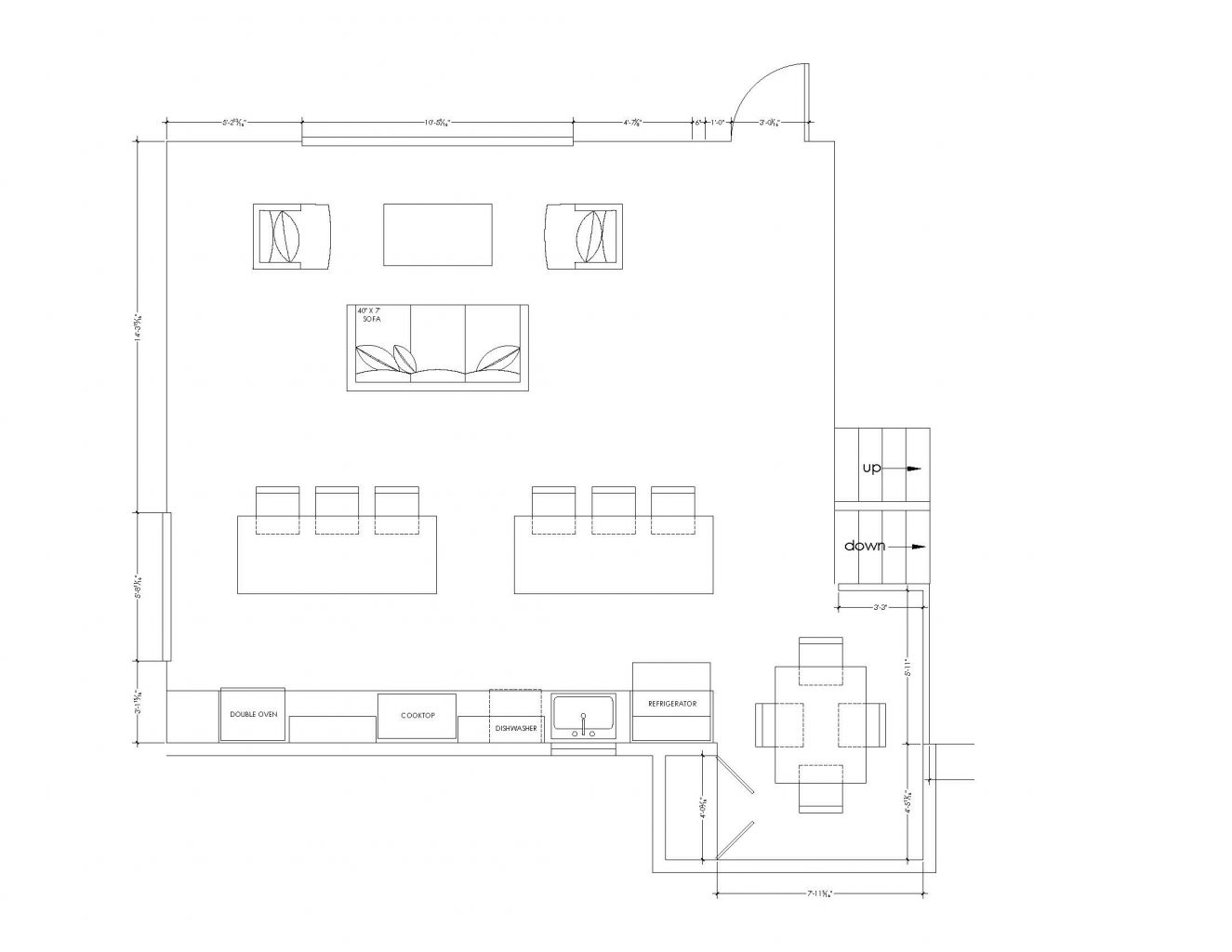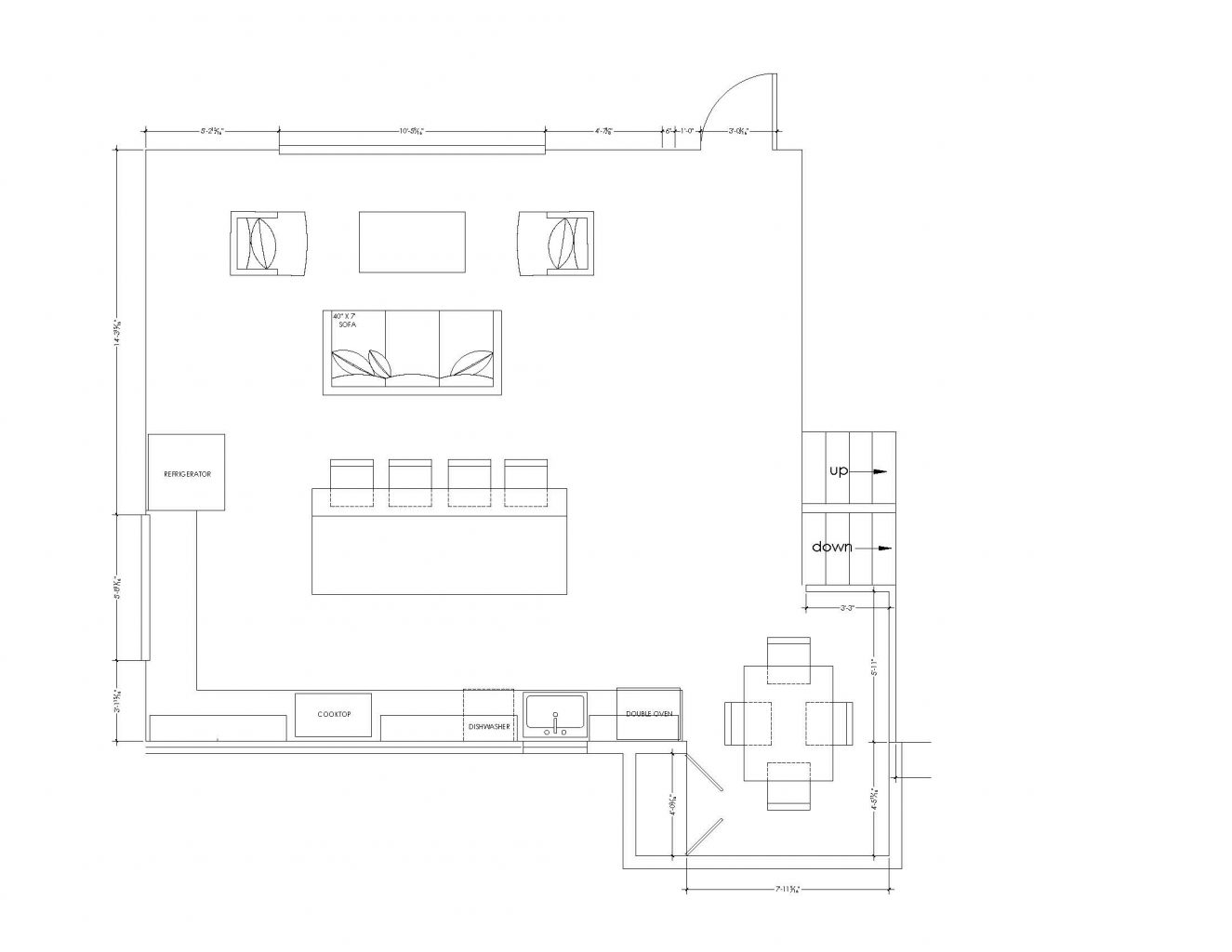 Final Kitchen Layout
In the end we determined that we were able to take all of the walls down and moving the electricity and plumbing was doable. We have dropped ceilings below in the basement, so there is easy access to the pipes and wires. There is also an attic above the space. Our final layout is shown below!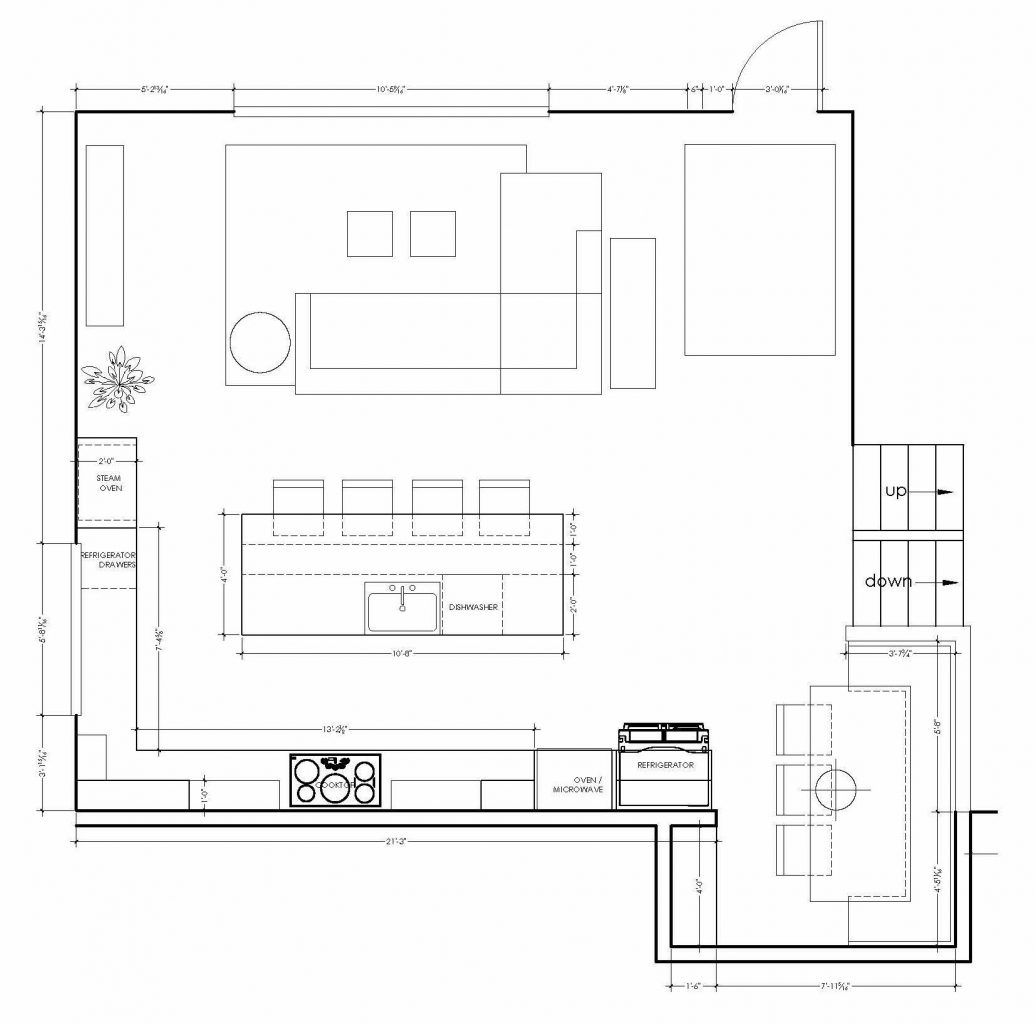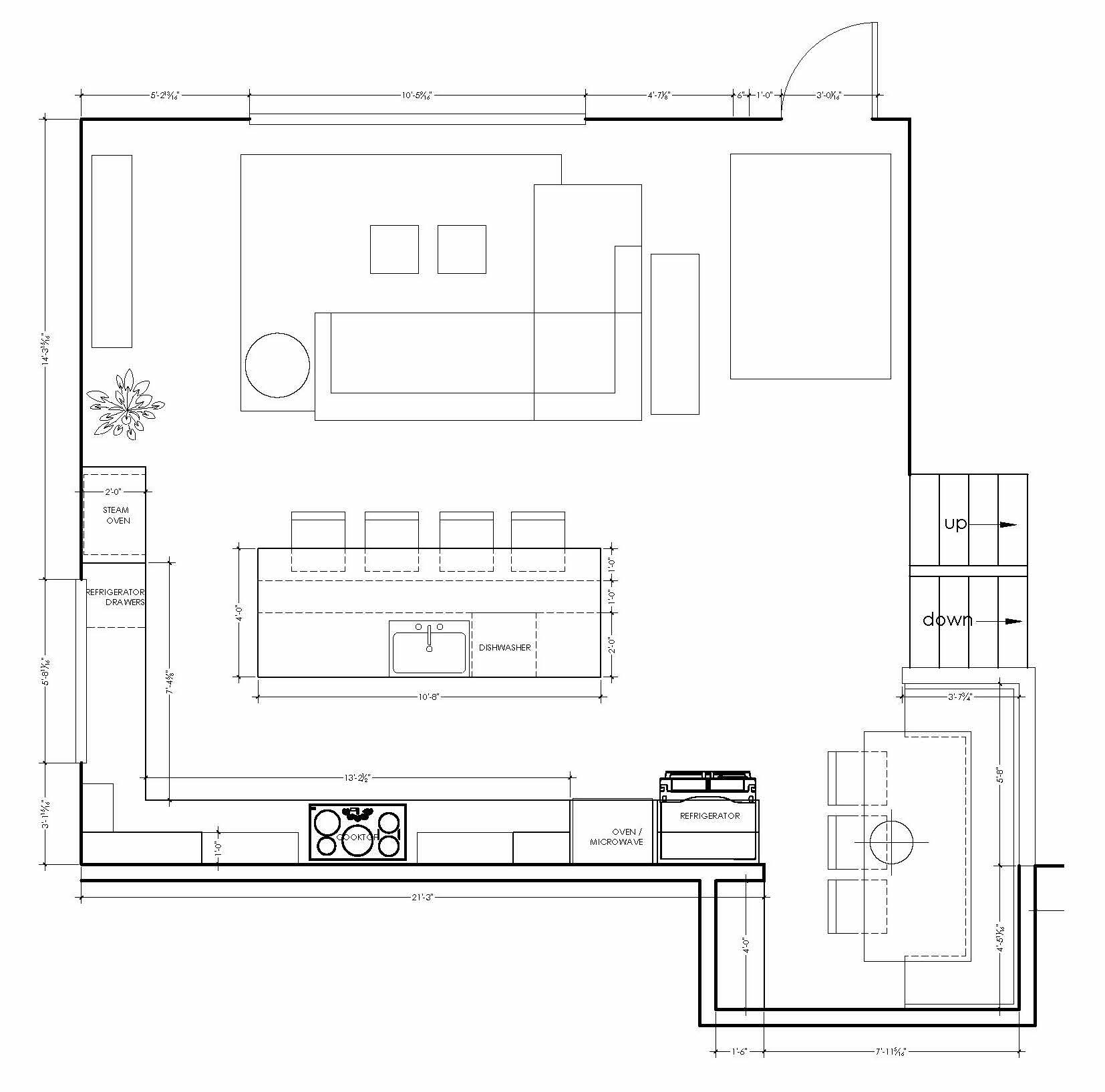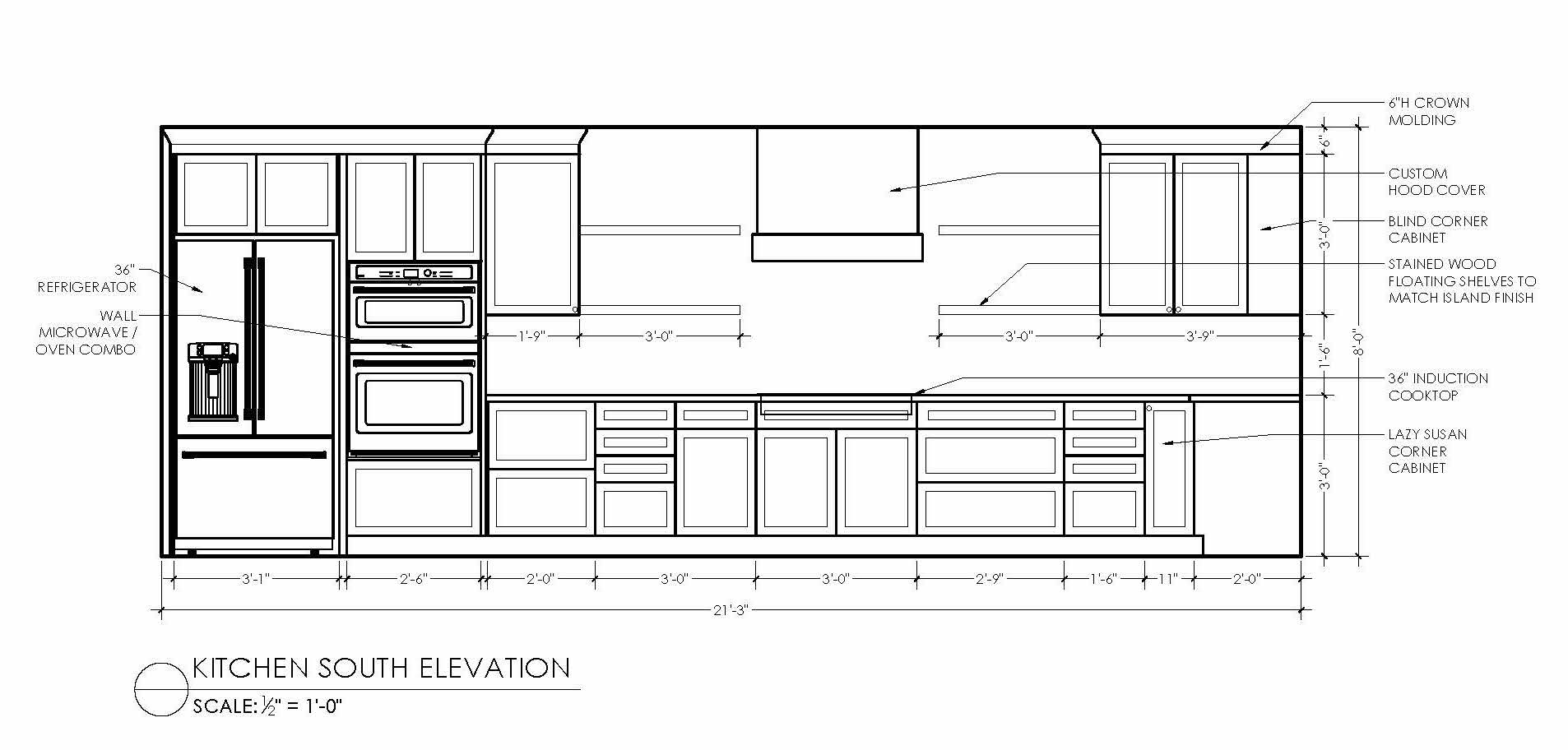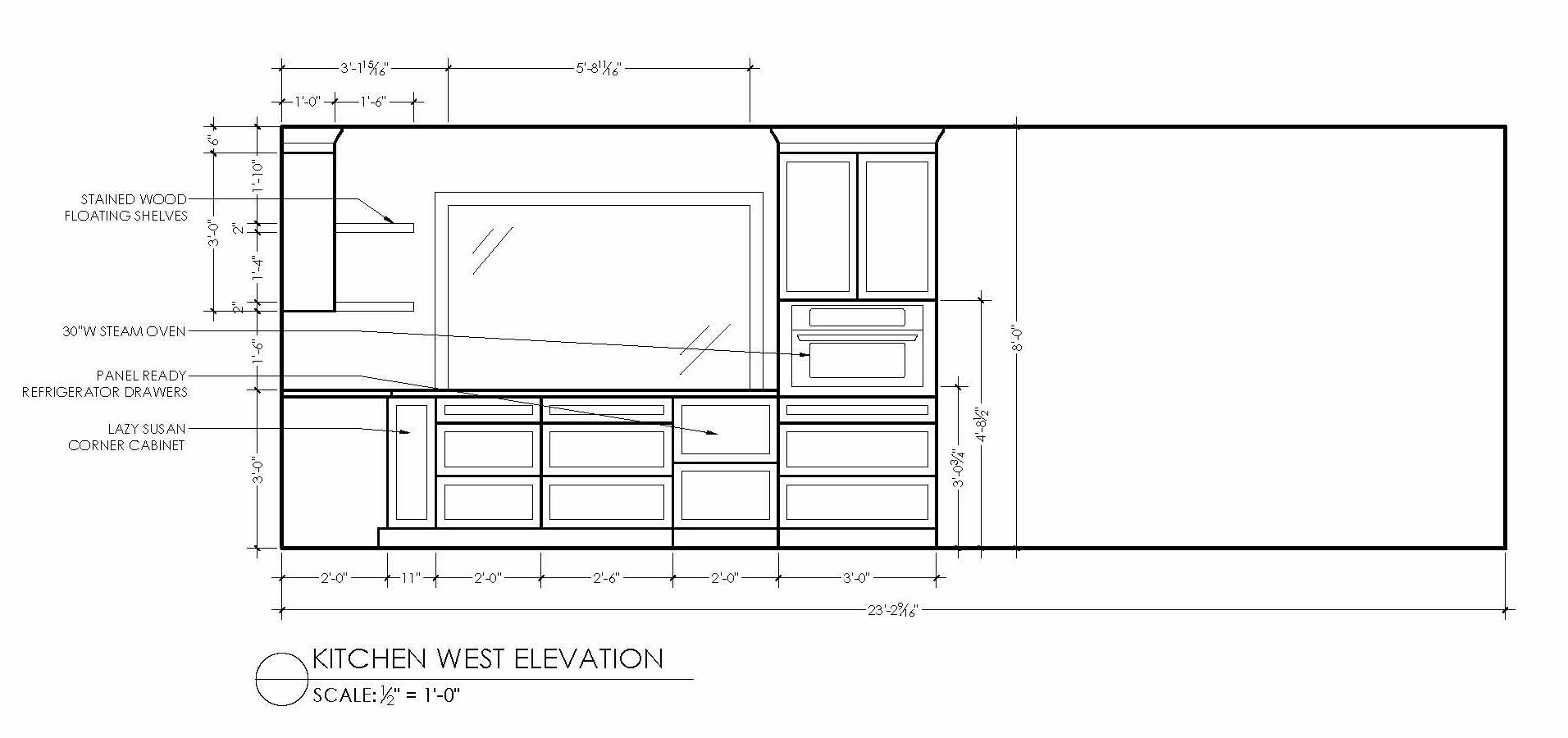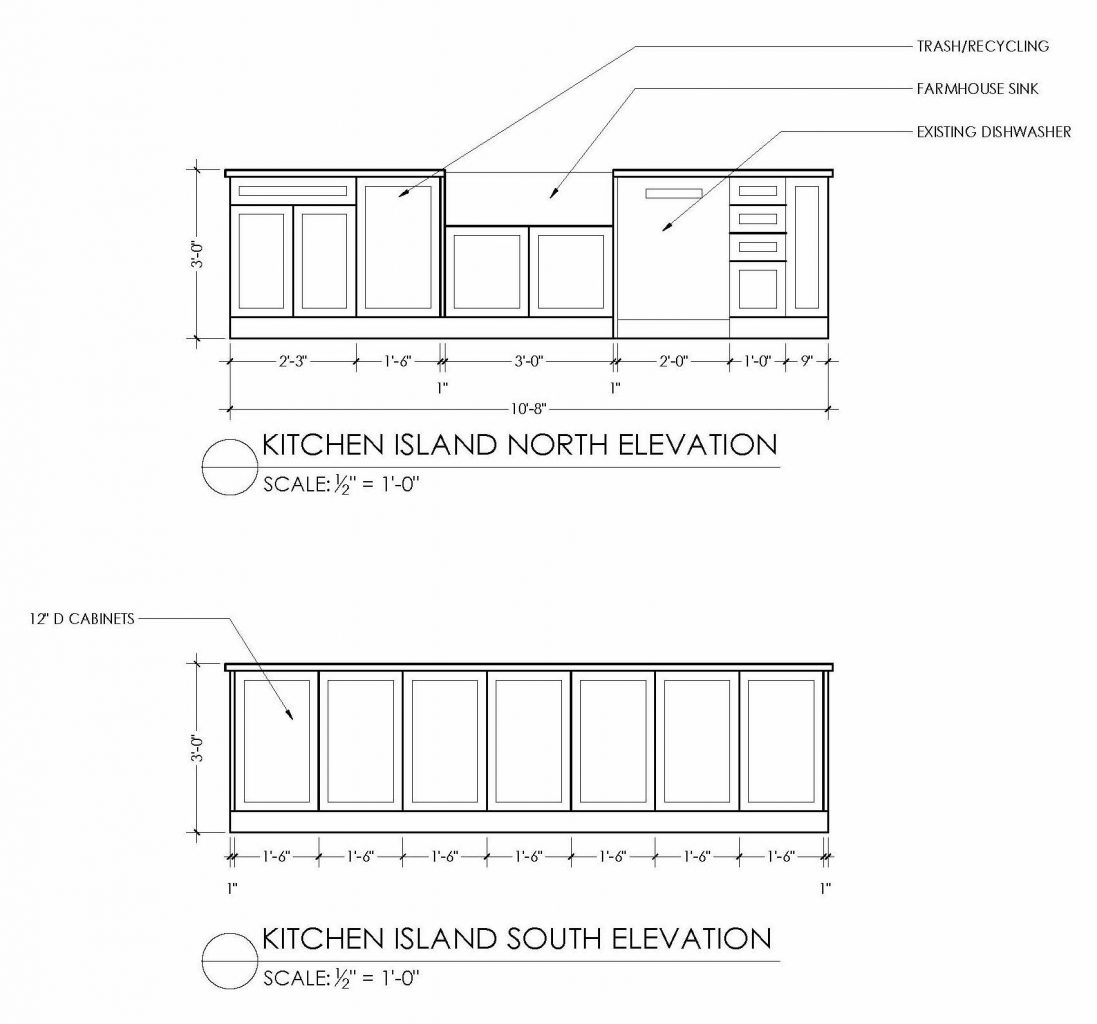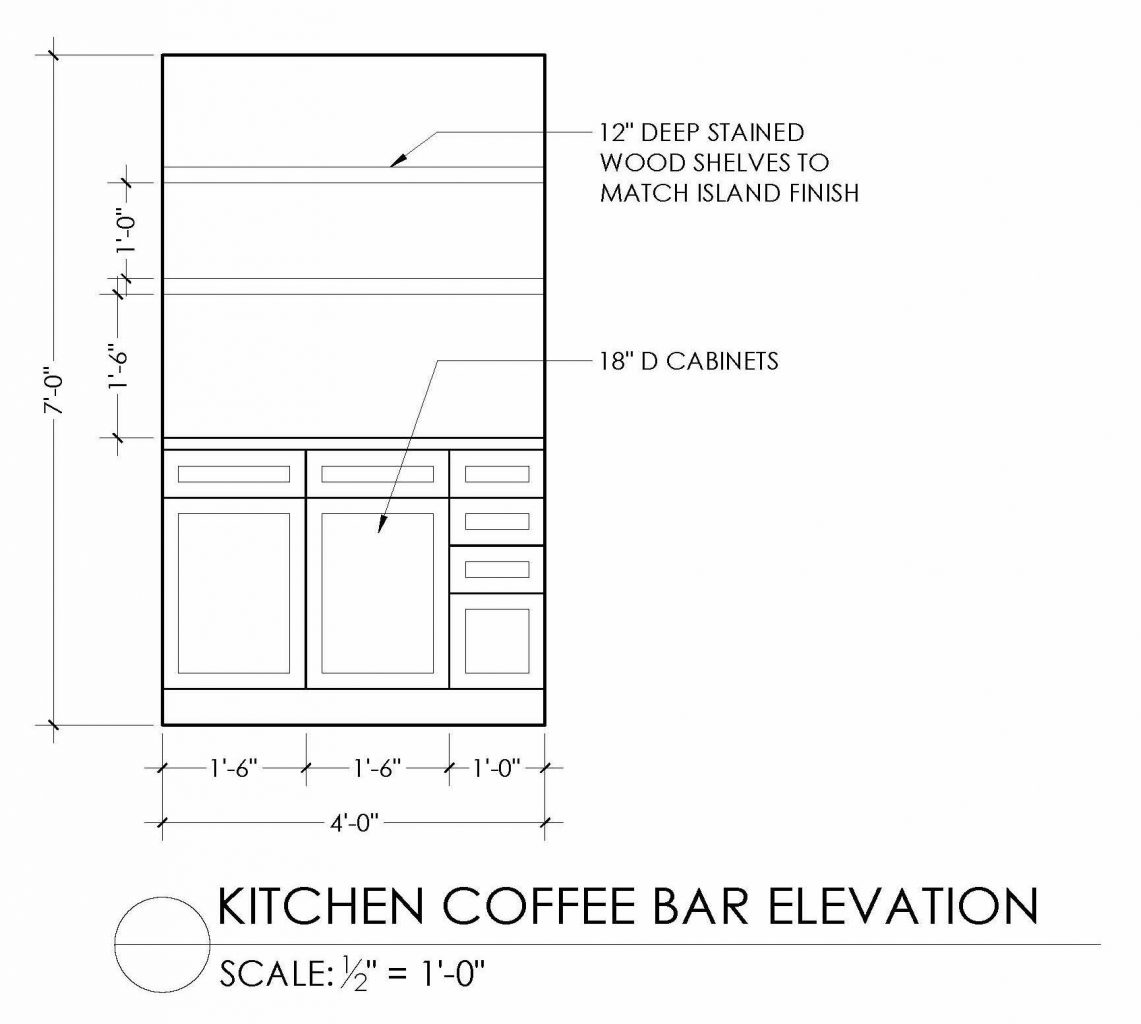 Kitchen Layout Must Haves:
Working Triangle – When we weren't sure if we could move the plumbing, we thought about having our sink, cooktop and fridge all along the back wall. I knew that wouldn't be as functional so I tried to look into every other option! When designing a Kitchen, you really want to try to create a "working triangle" with your sink, cooktop, and fridge. It helps with circulation and makes the Kitchen more functional.
Wall Space for Open Shelves – I love the look of open shelves and I love styling them! So I knew I wanted to figure out a layout that would allow for open shelving! At first I wanted to do ONLY open shelving at all of the uppers. But then added in a few upper cabinets for things like cups and smaller items that wouldn't look as good on display.
Large Island With Room for 4 Barstools – We love sitting and eating at an island. We had a large island at our last house and it was where we always hung out, so I wanted to try to make this work as well! We are a family of four so it was important to have an island big enough to fit four barstools as well.
Large Central Farmhouse Sink – When we found out we would be able to take down the walls and open up the room, I knew I wanted the sink to be centered on the big picture windows so I could look out them all the time! I've also always wanted a farmhouse sink so I made sure to include a space big enough for one!
I'm looking forward to sharing more progress with you all in the next few weeks! I'm also planning to share more details about the Kitchen cabinets we selected and how I chose to lay those out. And more about my top Kitchen design must haves! Make sure to follow along on Instagram as I share more in out stories as well!
Also just a reminder that the Nordstrom Sale has begun! So make sure to check out my wish list and Kaylee's wish list if you are looking for some recommendations on some great items!
See our Disclosure here.