Happy Fall! I really can't believe that today is the first day of Fall! This was the fastest Summer ever, and I'm not happy about it! I actually really love this season though…Fall weather is my favorite. It just goes by way too fast here in Colorado. And I don't love that we are one step closer to Winter. But…One of my favorite parts of this season is Fall Decor! I love adding warm and cozy Fall touches throughout my house, and of course love decorating our front porch! I spent the weekend working on some Fall Front Porch Decor and want to show you guys a few simple things you can add to any porch to spruce it up for Fall!
Simple Fall Front Porch Decor Ideas: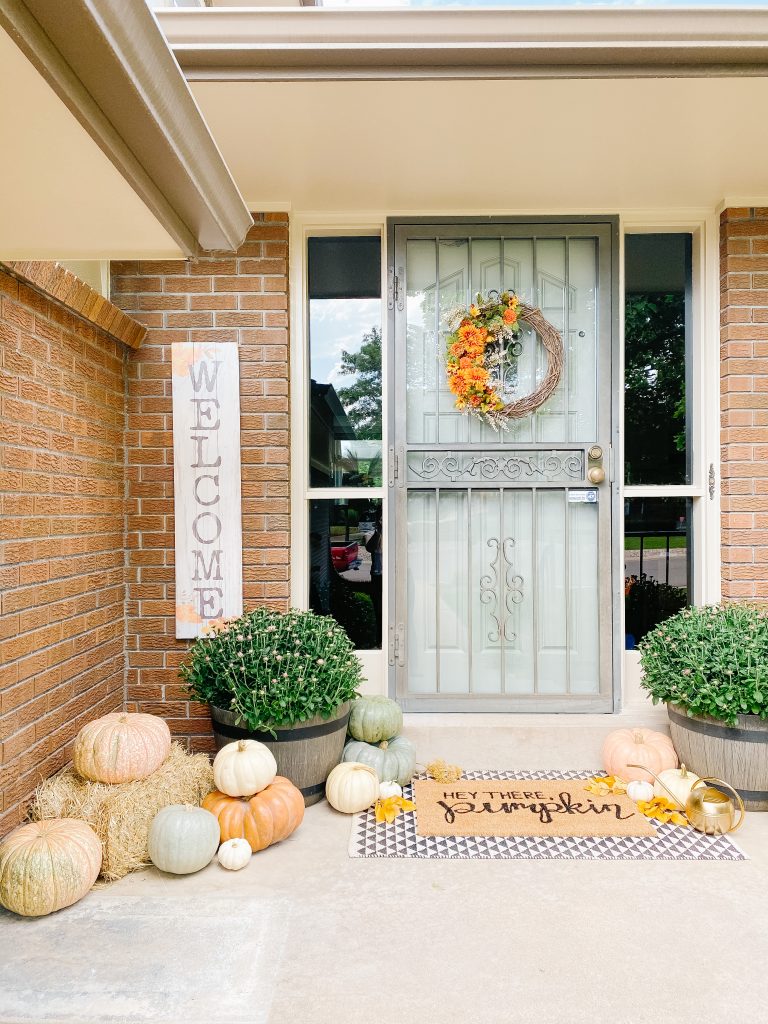 Seasonal Plants and Florals – I love adding large Mum bushes to my porch in the late Summer and Fall! They are pretty easy to care for. They love full sun, but make sure to water often because they can dry out quickly in the sun. And I would bring them inside if it is going to be around freezing temperatures. They are a great way to add some color and varying heights and textures to your porch. They also look great with pumpkins!
Pumpkins! – Of course you need to throw in a few (or 20) pumpkins for Fall! I love mixing the white pumpkins and the cinderella / heirloom style pumpkins! All of the different colors are so much fun. But they are usually pretty muted so they aren't really in your face. You can style pumpkins in so many different ways and can make them work for your porch size and style! You can stack them, group them, scatter them down steps….you really can't go wrong! When you are shopping for them, try to grab different sizes and colors. Also keep in mind that groups of odd numbered items look the most visually appealing. So, if you only have room for a small grouping, buy 3.
Switch out Doormats – I love the look of layered doormats! Switching them out seasonally is a simple change that you will notice and love! Start with a jute or flat weave rug. I think one with a small scale pattern typically works best. Then you can see the pattern peeking out from under the top rug. Then layer a thicker doormat on top, like a natural woven mat or a coir mat. One economical way that I do this, is by making a DIY Doormat for each season!
Shop Doormat Options Here:

Fall DIY Doormat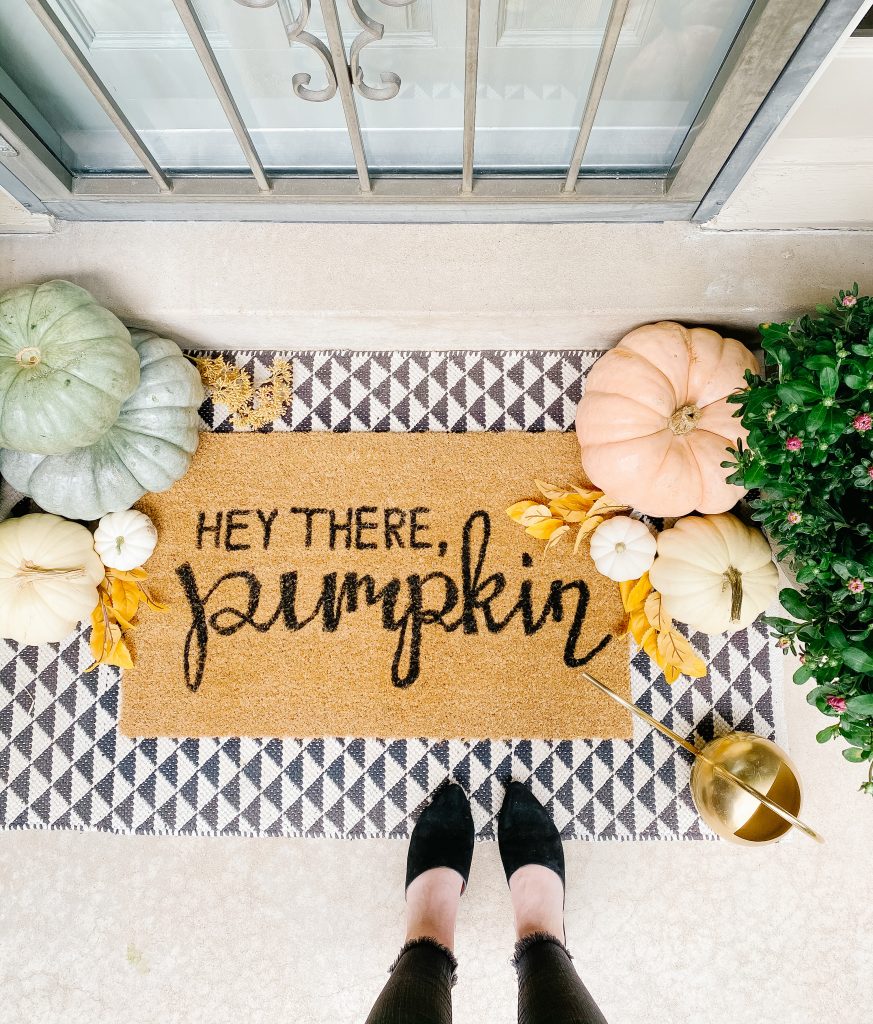 The DIY doormat below cost me about $15 to make. $4 for the Sharpie Paint Pen, and $10 for the basic coir doormat. The fun part is that you can personalize them however you want! I like to freehand some sort of saying on mine. If you aren't comfortable with that you could use a stencil or a cricut machine. Or you could just paint a simple pattern (like polka dots or chevron stripes).
I find that Sharpie Paint Pens are the easiest to work with when free-handing it because you can make the edges pretty sharp. But if you are using a stencil or making a large scale pattern you could also use a paint brush. A few things to note though, is that you really have to push hard into the fibers to get the paint to sink in. So whatever you use is probably not going to be usable again once you are finished. Meaning don't use a nice paint brush that you love. Also make sure to do this on a tarp or cover any nearby surfaces! I have forgotten before and cleaning up little black paint marks off my counters was not fun!
Check out the videos below to see how I made my DIY Doormat!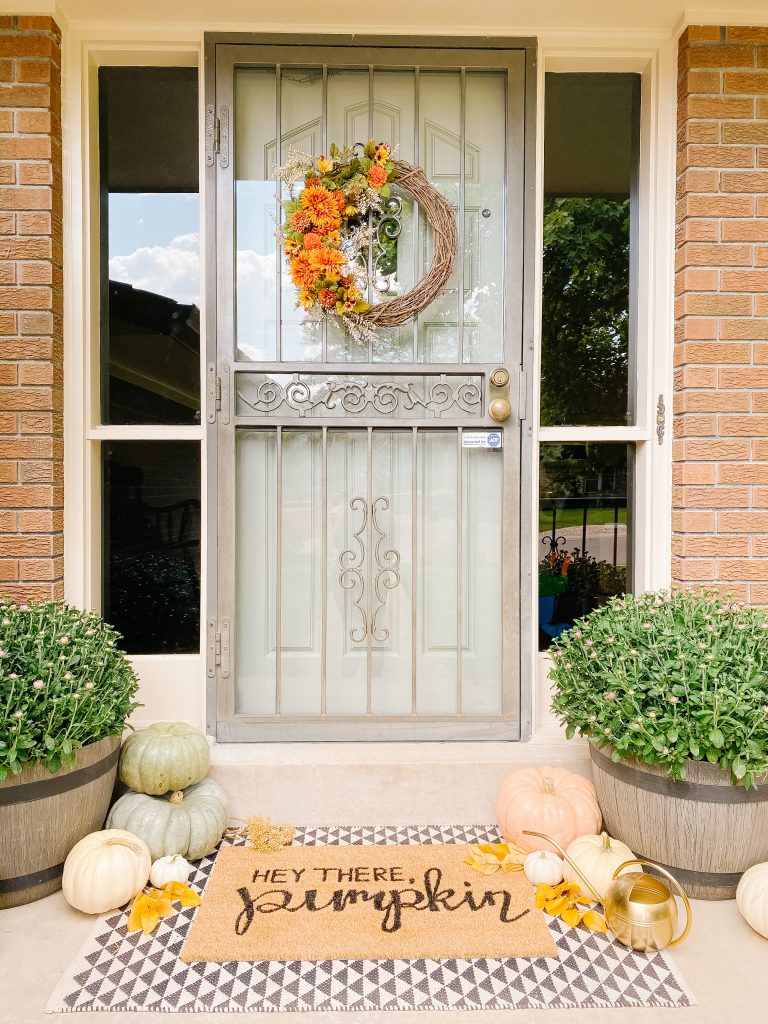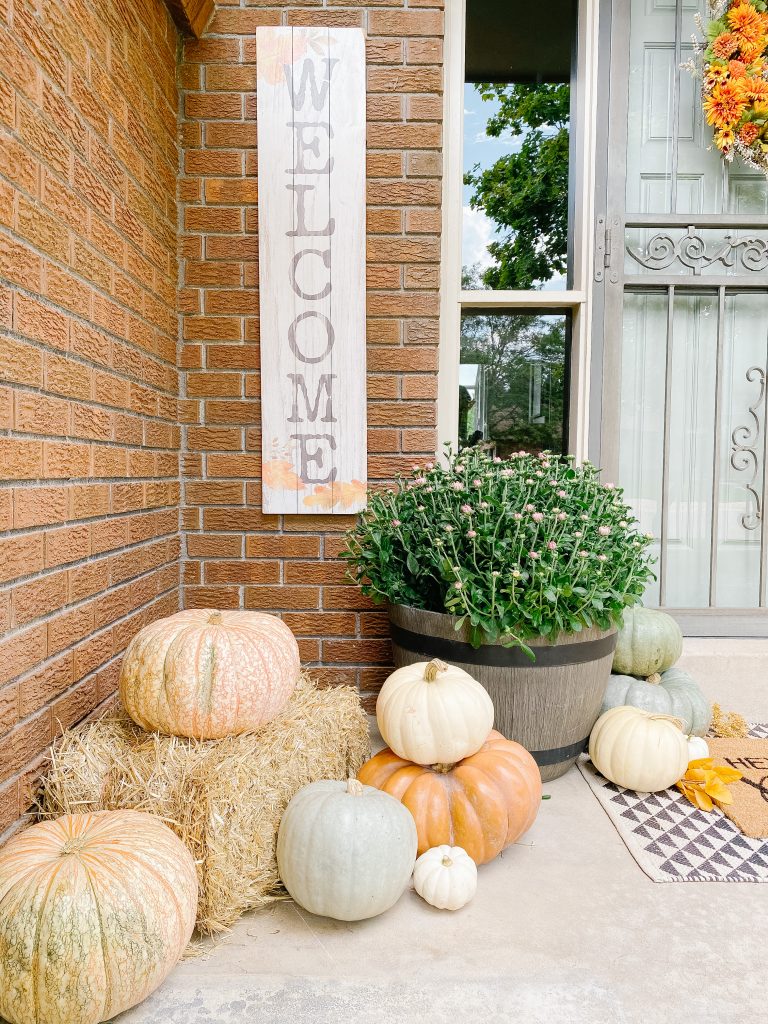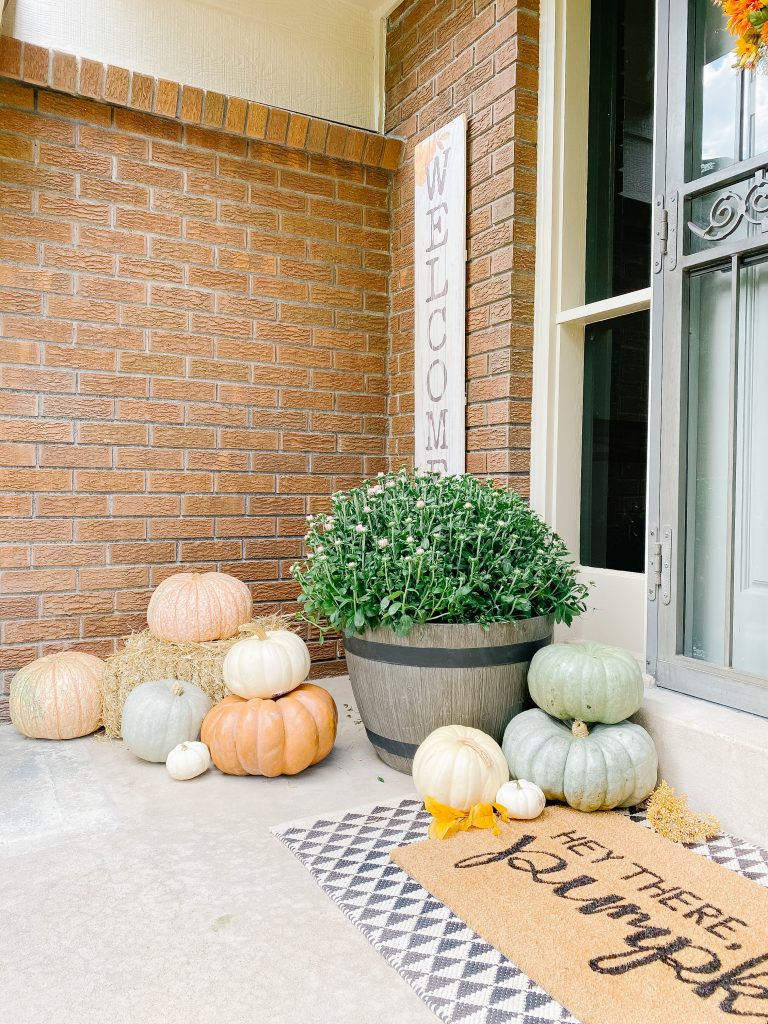 Fall Front Porch Decor can seem overwhelming but it can really be so simple and fun to style! Even though we have a lot going on right now, I felt motivated to pull our front porch together and I'm glad that I did! The inside of our house is still kind of torn apart and I haven't really decorated much, so the exterior felt manageable. Also, one of my favorite parts about our new neighborhood is that people are always out walking by our house, so knowing that people will see and enjoy the decorations motivated me too!
If you would like tips on how to decorate the interior of your home for Fall, check out Kaylee's simple fall decor tips!
See our Disclosure here.