How's everyone holding up out there?! I feel really good one day, and then kind of down and lazy the next. I think it's really hard for me to feel productive when I'm not getting ready for the day in the morning. And it's hard for me to feel the need to get ready in the morning when I'm just going to be home with the kids all day! I wonder if it's going to be hard for us to go back to "normal" when we are able to. Anyways…something that really helps my mood is to clean. Cleaning always helps me feel centered and calm and productive. So, yesterday I cleaned up the Living Room and snapped a few pics! I realized I haven't really shared much about our fireplace wall design on here yet! So here it is!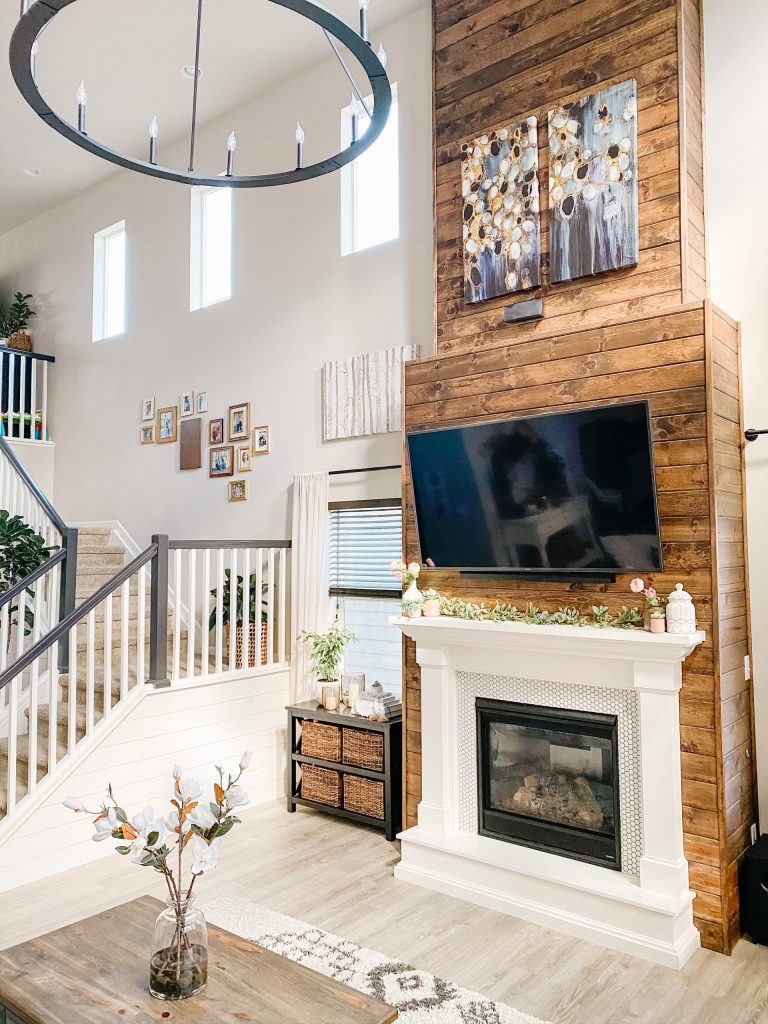 Our fireplace wall is probably my favorite detail that we have added to our house! Adding the stained shiplap up the full height of the fireplace made such a huge impact in this space. The original design was just a dry wall box and it felt so plan. I thought about painting it but I'm so glad we decided on the stained shiplap wood. I love the warmth it adds to the space. And it really makes the white fireplace mantle pop.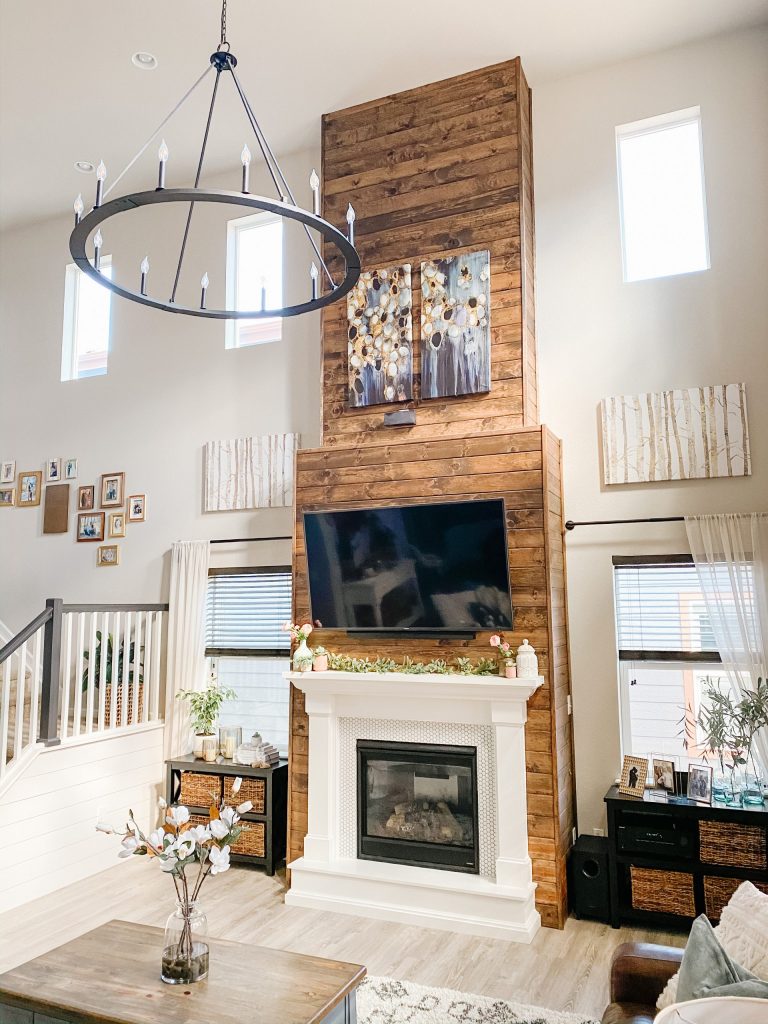 I also love how you can see the fireplace wall from so many different parts of the house – the kitchen, upstairs loft…it's a huge focal point in our house so I really wanted it to be special and stand out. The wood we used is the same wood and Espresso stain that we used at our Kitchen Island Shiplap. Make sure to check out that blog post for more info on the wood we used!
It ties the whole space together to have the warmth of the wood flow from the Living Room and into the Kitchen. I also love how the darker wood stain brings out some of the warmer colors in our grey flooring as well. Our floors felt too grey to me when the whole house was empty and grey. Now that we have the darker and warmer wood tones throughout the space it doesn't feel as cold.
Fireplace Wall – Before and After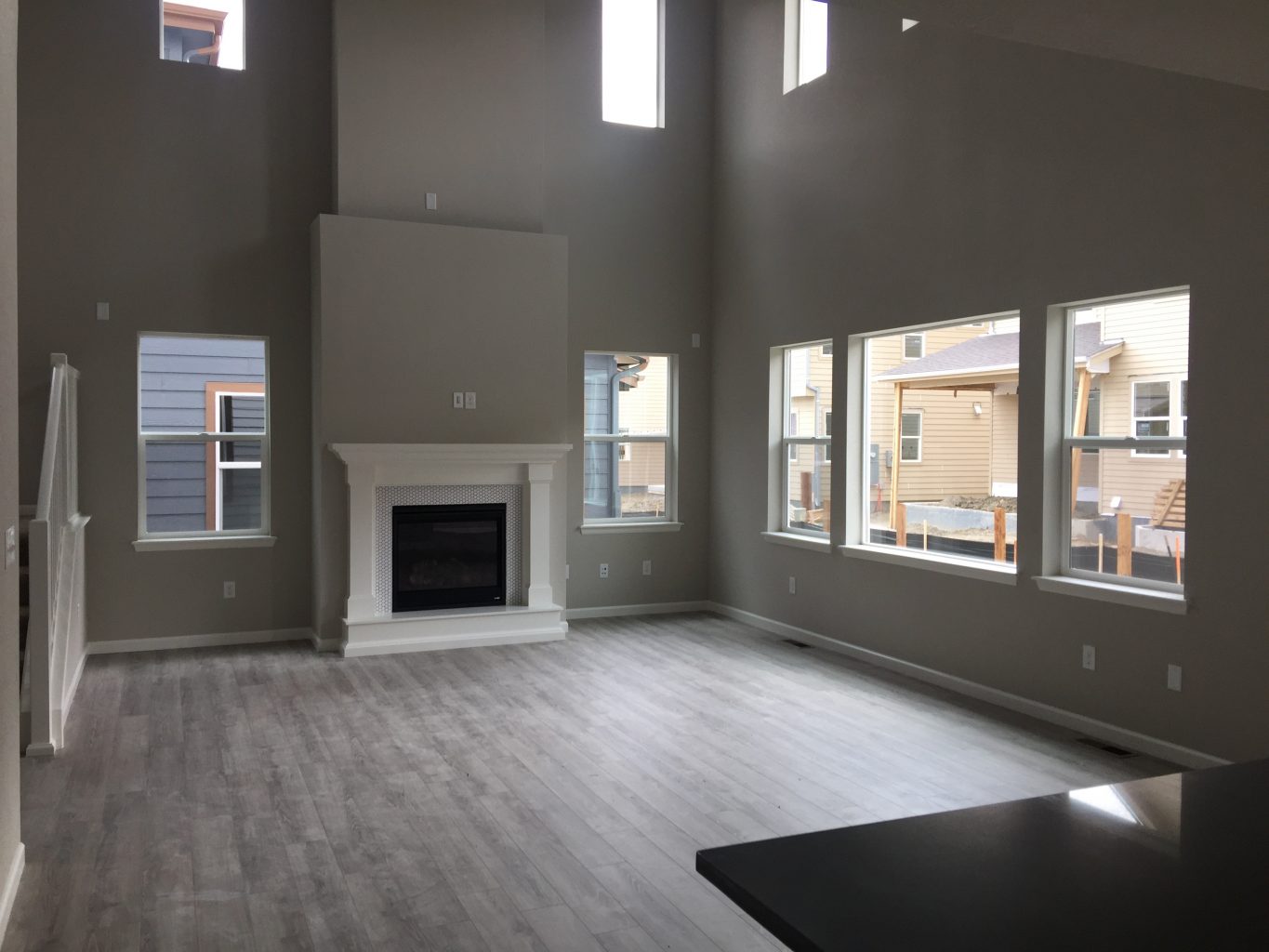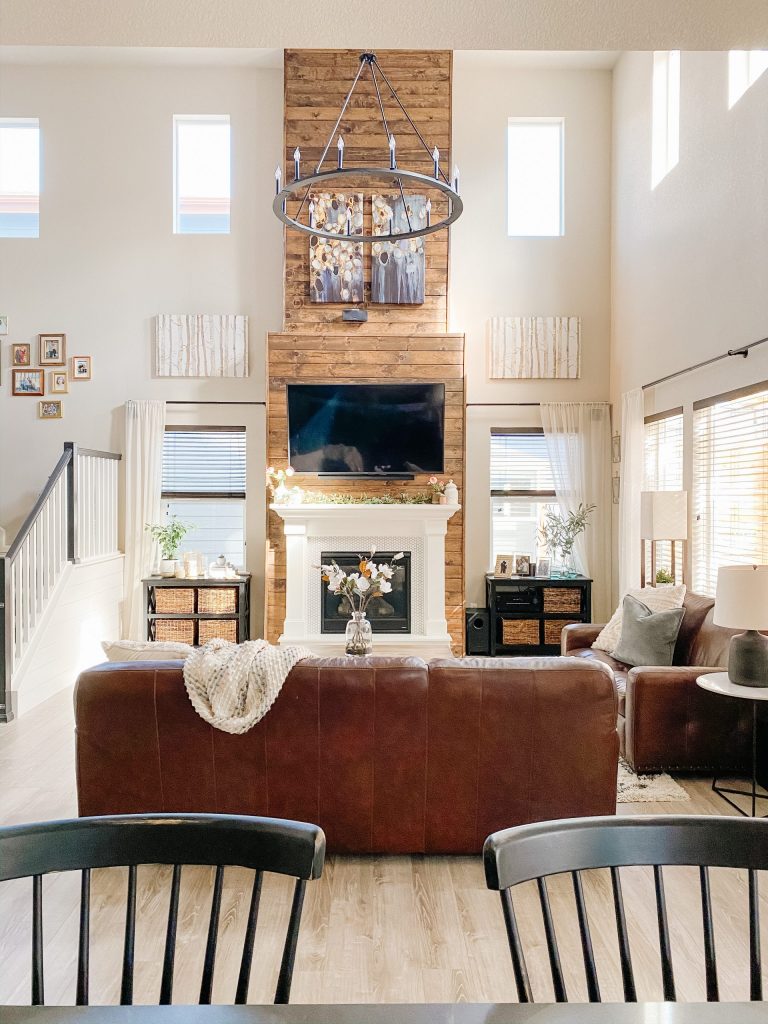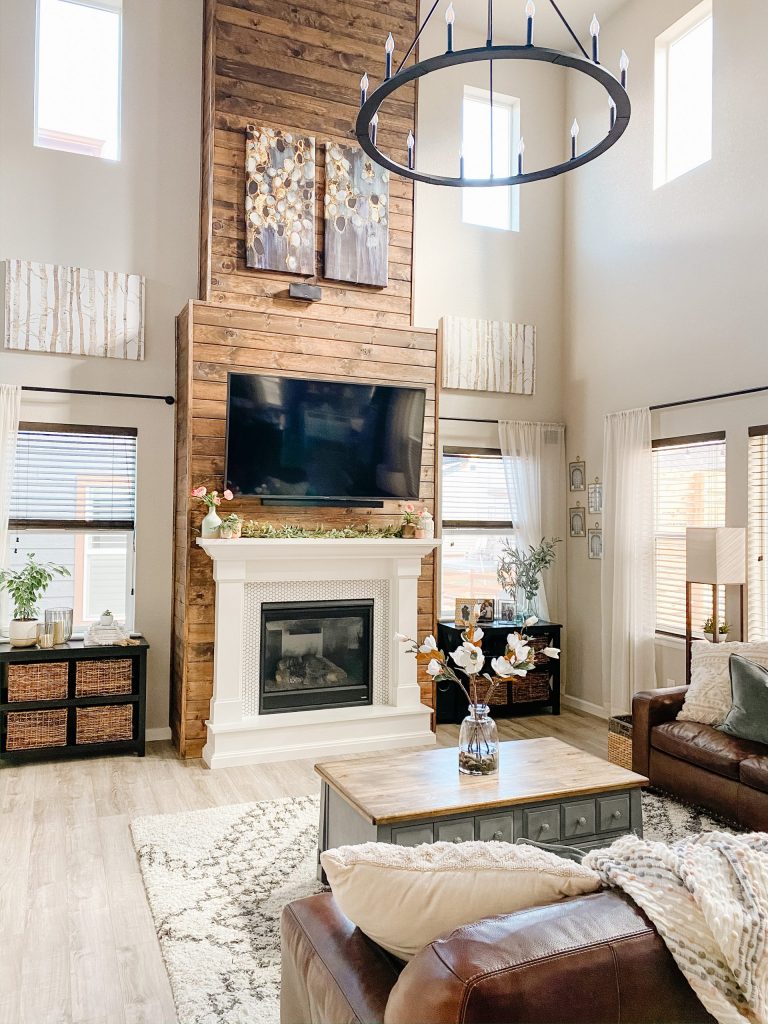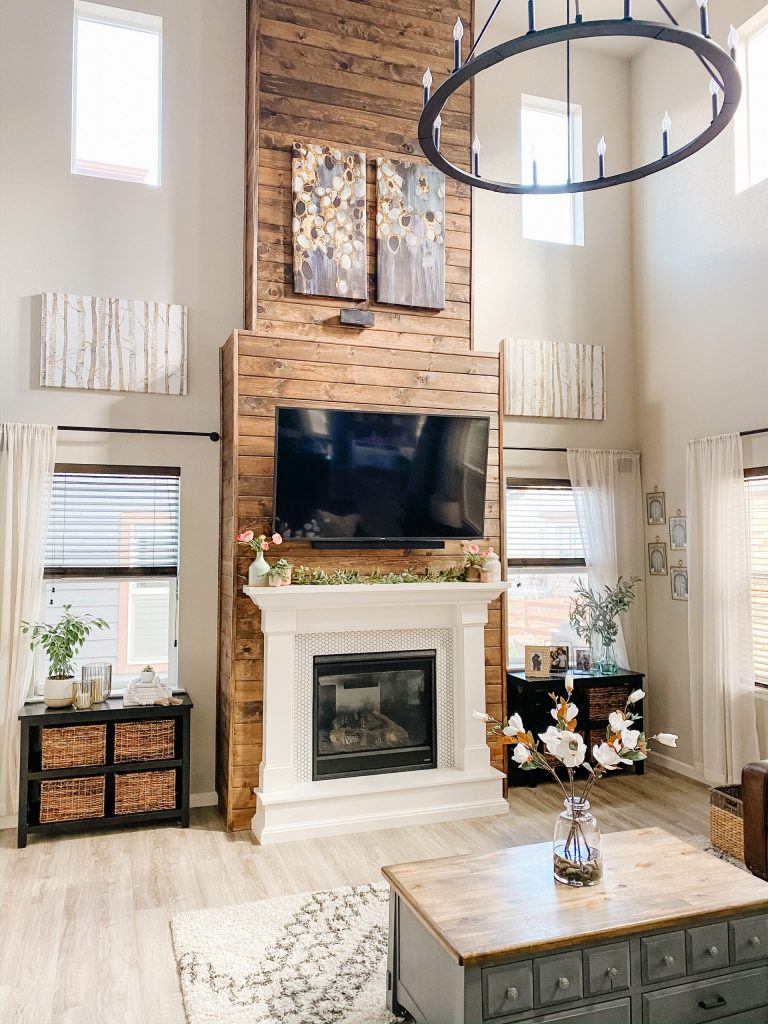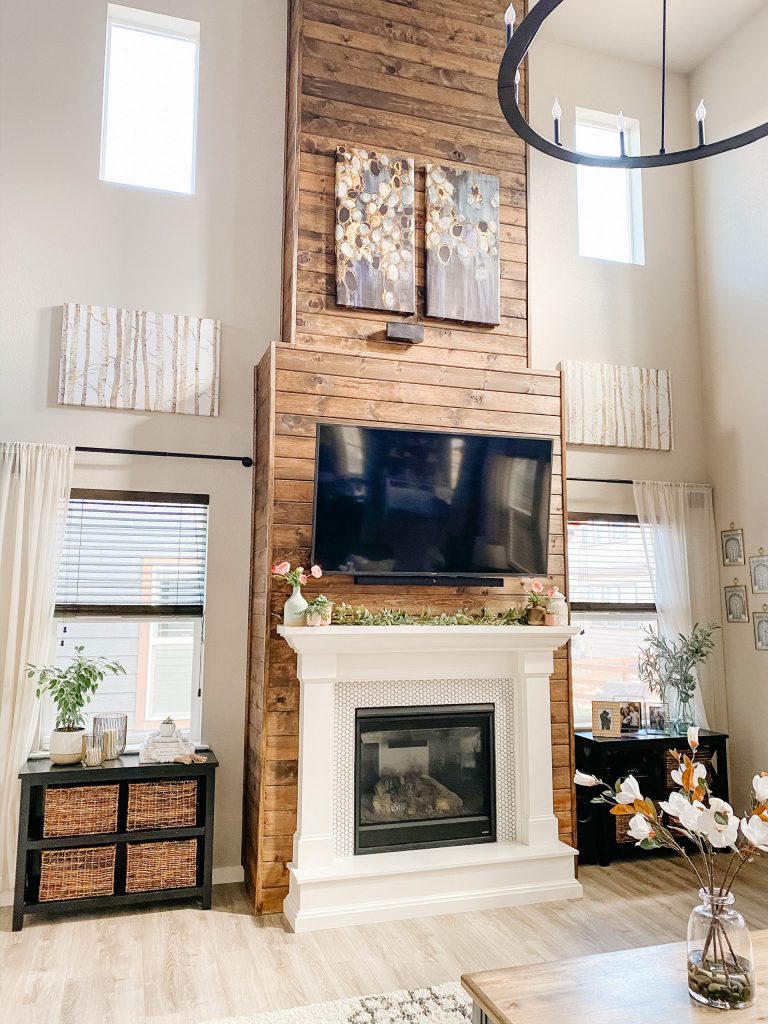 New Toy Storage Baskets!
I just purchased these new baskets for our black shelves in the Living Room. They store a bunch of random toys and books so I love that they are high enough to hide everything inside! These shelves are always a bit of a struggle for me to style because they need to be kid friendly (I have two crazy boys – 18 months old and almost 4 years old) but I also want them to look cute! I also switched up my fireplace mantle for spring and threw in some pops of pink! This room feels so bright and clean now! We'll see how long that lasts for!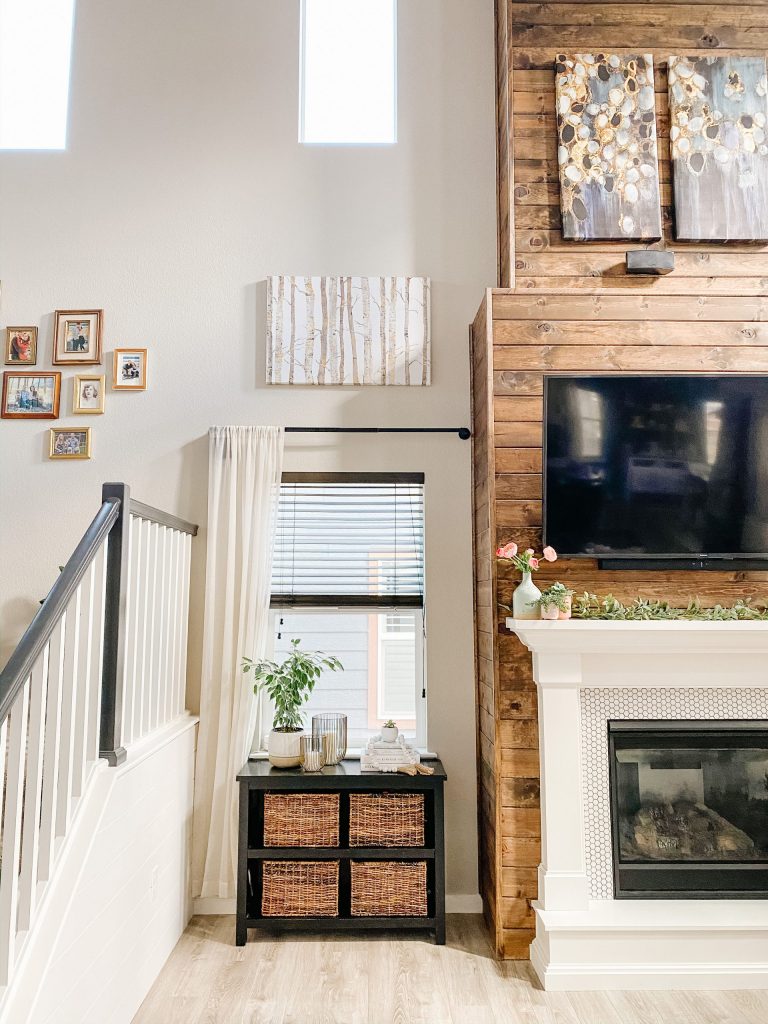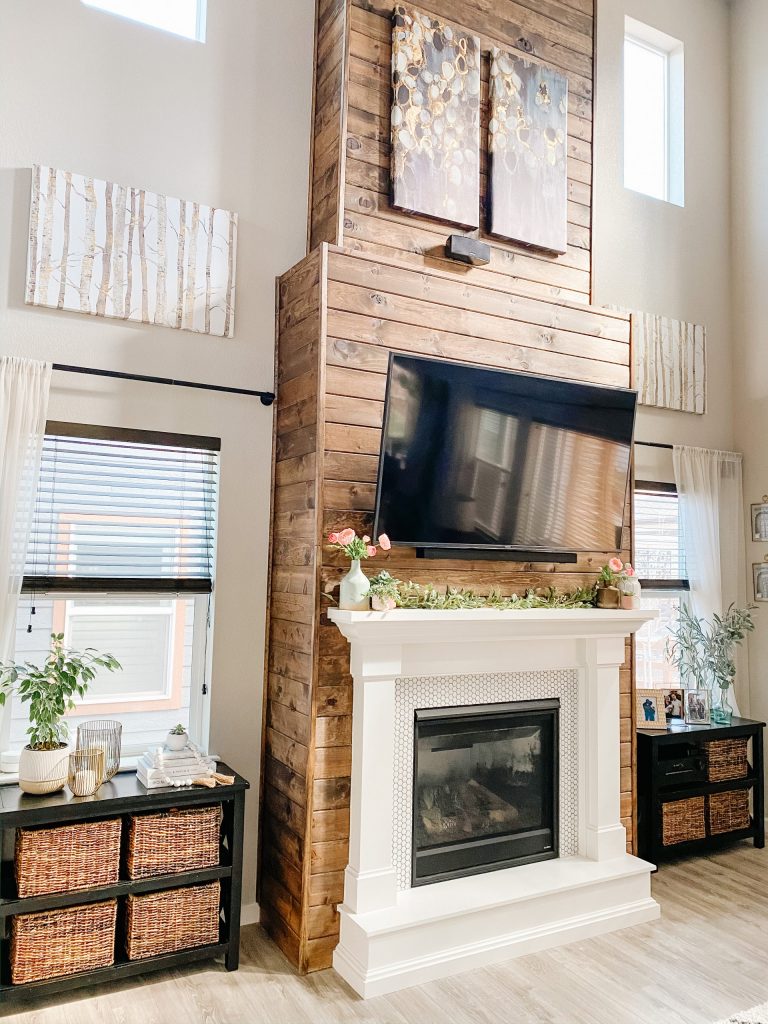 See our Disclosure here.