This post is all about how hang a Glowing Layered Christmas Mantel Garland and the best Indoor Christmas Lights to use!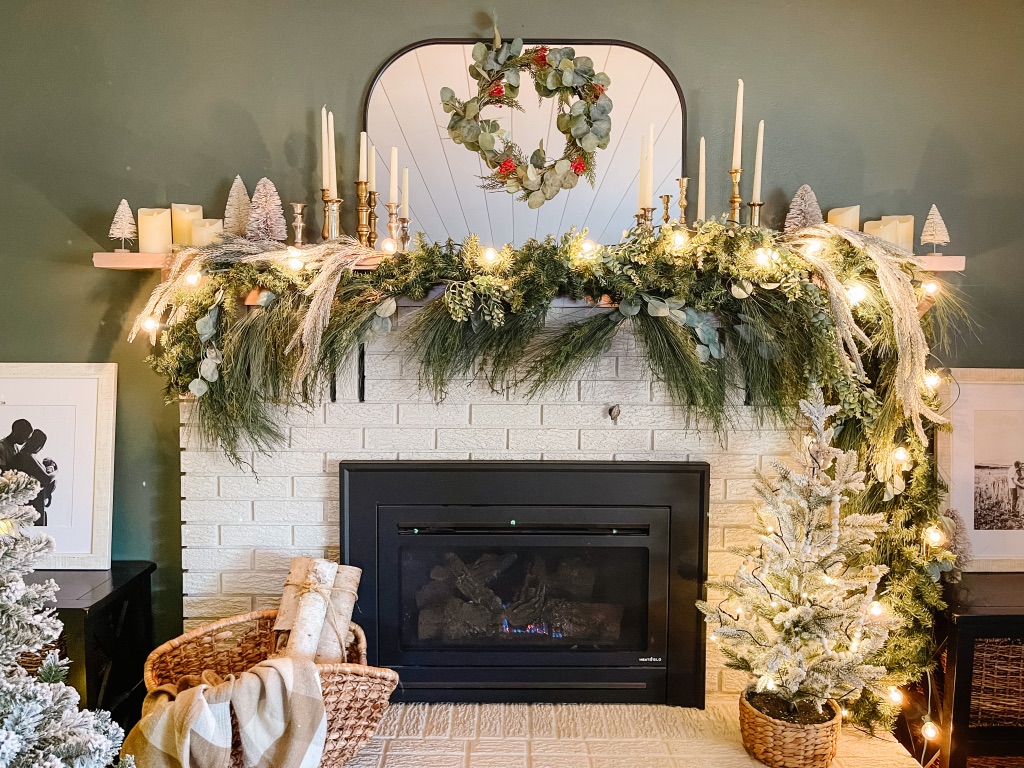 Ok I know it is too early to decorate for Christmas to some of you, but I'm getting started! I couldn't wait to set up our Glowing Layered Christmas Mantel Garland, and it feels good to have it done! The way I see it, it takes soooo long to get the house clean and ready and then get all of the Christmas decorations out, and sort them, and decide where everything is going to go, and see what looks good…..it's a lot!! So if I'm going to go through all of that effort, then I want to enjoy them for a while!
I think that mid-November is really the perfect time to start decorating for Christmas. That way you can enjoy the Christmas Decor for a little over a month! I will say though that last year I started decorating at the beginning of November and that was too early for me. By the time Christmas came around I was pretty tired of looking at all of it! I took the Christmas tree down the very next day, haha!
This post contains affiliate links; see our Disclosure here.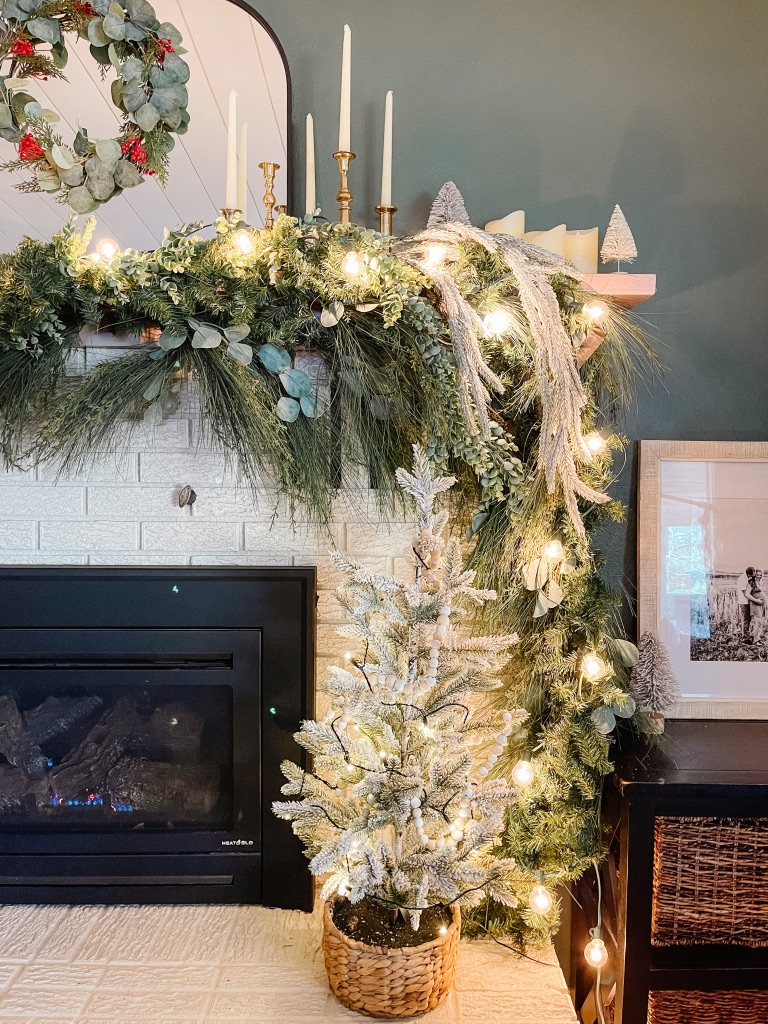 Here is one tip though that helps – go slow! I usually work in stages when I start decorating for Christmas. I don't put everything out all at once! I like to ease into it so it really takes me about 2 weeks to get everything out.
Another tip is to start with the "winter" decor, like trees, lights, garlands, candles… I like to start with those items first because they don't feel too "Christmas-y", if that makes sense. I wait until after Thanksgiving to bring out the real Christmas Decor like stockings, advent calendars, ornaments for the tree, and anything "Santa" related!
And the first place I always start – the Christmas Mantel Decor!!
Glowing Layered Christmas Mantel Garland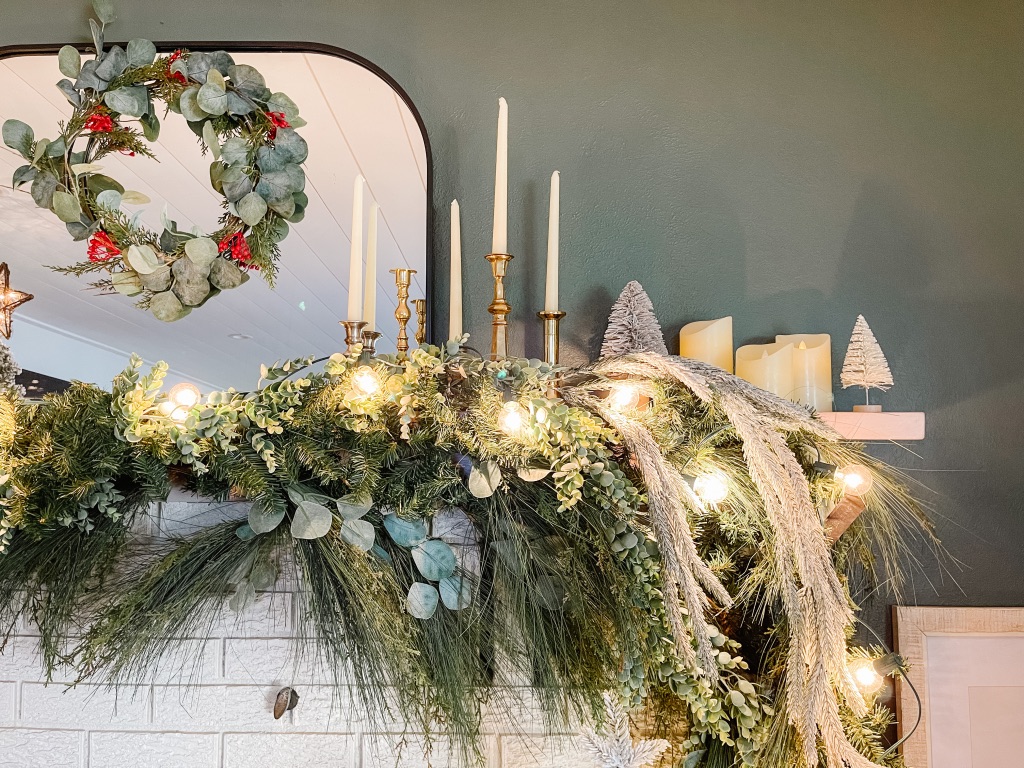 Our fireplace mantel is always the first place I start decorating for each season! It is an easy space to start with because it is confined and it's the main focal point in our Family Room! I love our fireplace in this house too because we have a large hearth, the mantel is long (about 6′) and our TV is not over the mantel, so there is more room for art and decor!
This year I combined multiple layers of different types of garland to create a dramatic, flowing effect and I love how it turned out! Garland can be difficult to work with sometimes, especially if you are combining layers or using a very thick and heavy garland. It can be hard to get it all to hang in the way you want! This year I used a new type of command hook and they worked so well!
How to Hang Garland on the Mantel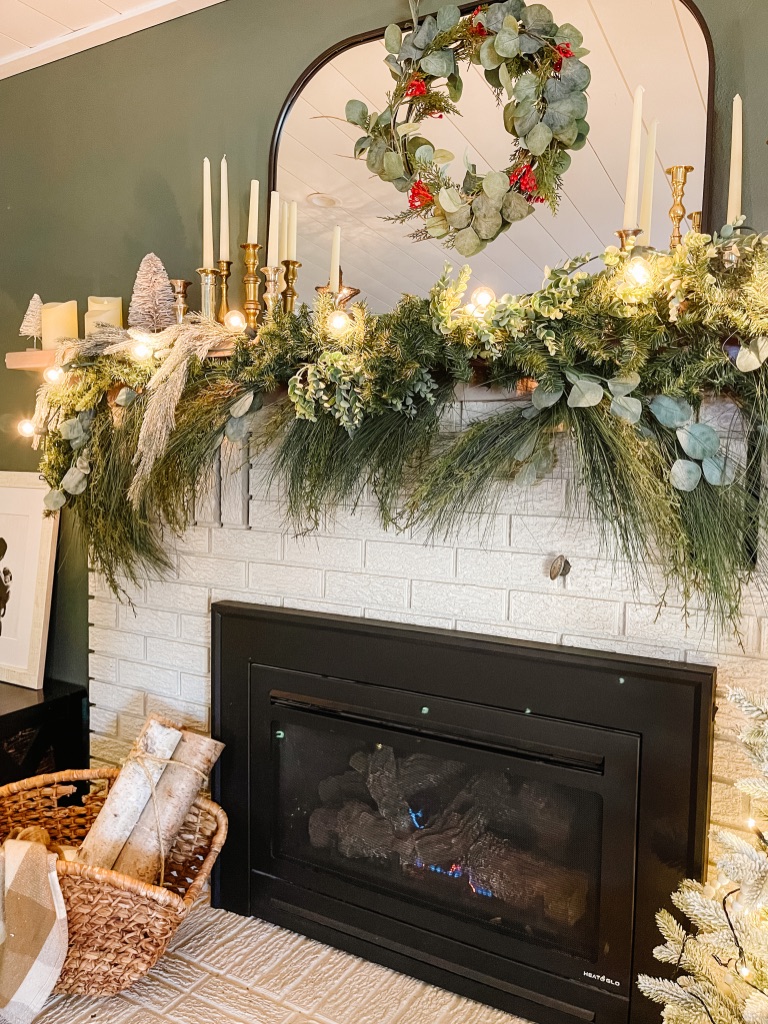 These are the command hooks that I used! They are technically for hanging exterior Christmas lights, but they worked so well for hanging the layers of garland on the mantel!

They work well because they are small and clear, so they are easy to hide.
I used about 8 hooks spaced out along the mantel to hang all of the garland.
How to Layer Garland on a Mantel
For this year's Layered Christmas Mantel Garland I used a combination of 5 different types of garlands and lights.
To make sure it all stayed put and hung the way I wanted it to, I started with the largest and heaviest garland first (which was actually a combination of this basic unlit pine garland and this wispy mixed greenery garland).
Then I wove in a smaller eucalyptus garland to add some more texture.
Next I added a couple bunches of flocked hanging bush stems.
Last I layered in this string of clear globe lights!
Overall, I hung the garland asymmetrically, so the right side drapes down the side of the fireplace farther than the left side. In a few weeks I plan on adding our stockings to the left side to balance it out, but I also like how it looks without them!
I love how full it is and how all the different layers look together! This is definitely my favorite Christmas Mantel Garland I've done so far!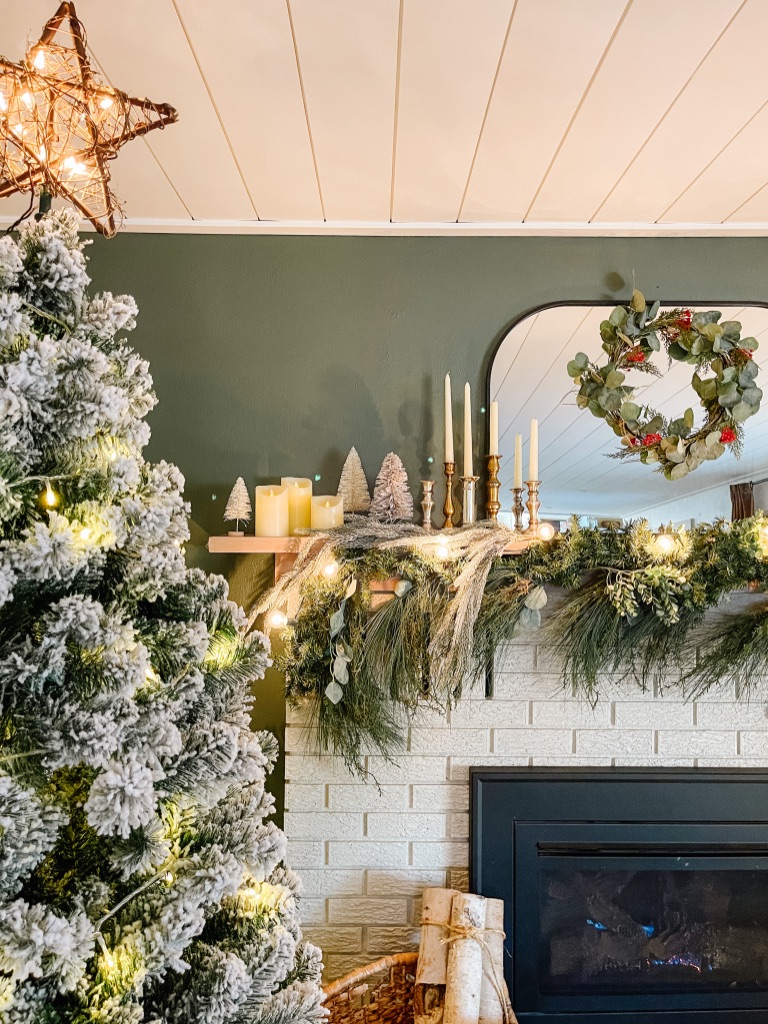 Here are a few garland ideas that would look great layered together for your Christmas Fireplace Mantel:

Adding Lights to your Christmas Mantel Garland!
I think the best part are the big globe lights!! The glow of Christmas lights (inside and outside) are by far my favorite part of holiday decor! The soft warm glow feels so cozy and comforting!
Below I've rounded up some of my favorite Indoor Christmas Lights that you can use on your Christmas Tree, your Fireplace Mantel, and all around your home! Most of these can work outside as well!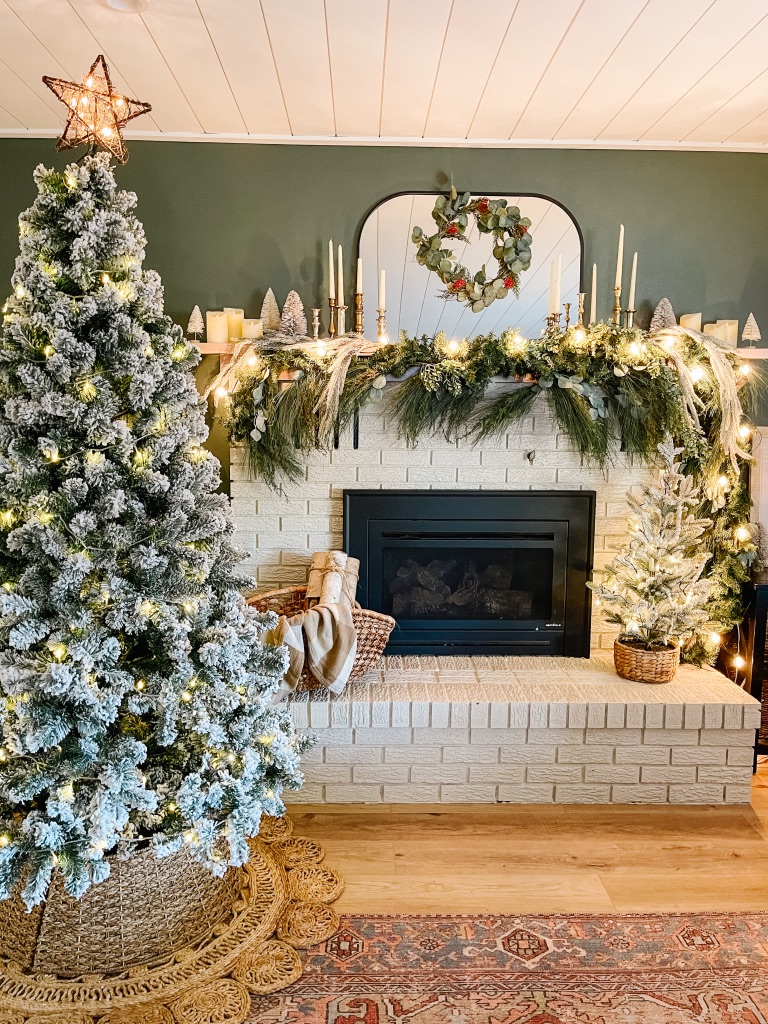 This post was about our Glowing Layered Christmas Fireplace Mantel Garland and the Best Indoor Christmas Lights of 2021!
More Christmas Decor Articles: