Happy hump day! I don't know about you but the days are flying by. I think it's because I am not watching the clock all day because we have no place to be. I have started to get a lot of stuff done around my house and it feels so good! I have been organizing rooms, deep cleaning, finishing my office desk and also decorated my dining table for Easter!
Shop Your Home
I have been having so much fun searching my house to find decor items for Easter this year! Since we can not go out shopping right now, I had to get creative with my Easter table decor this year! I really only found three items that were actually Easter related: a bunny vase, fabric carrots and some wooden eggs. So the rest I really had to think outside the box- I challenge you to do the same!
My Process When Shopping My Home To Create This Tablescape
Find Easter Related Decor Pieces
I first looked for anything Easter related. I quickly found some wooden eggs, fabric carrots and a bunny vase. I then decided I needed to find other items that would go with those. Because I knew I would absolutely want to incorporate some of those items!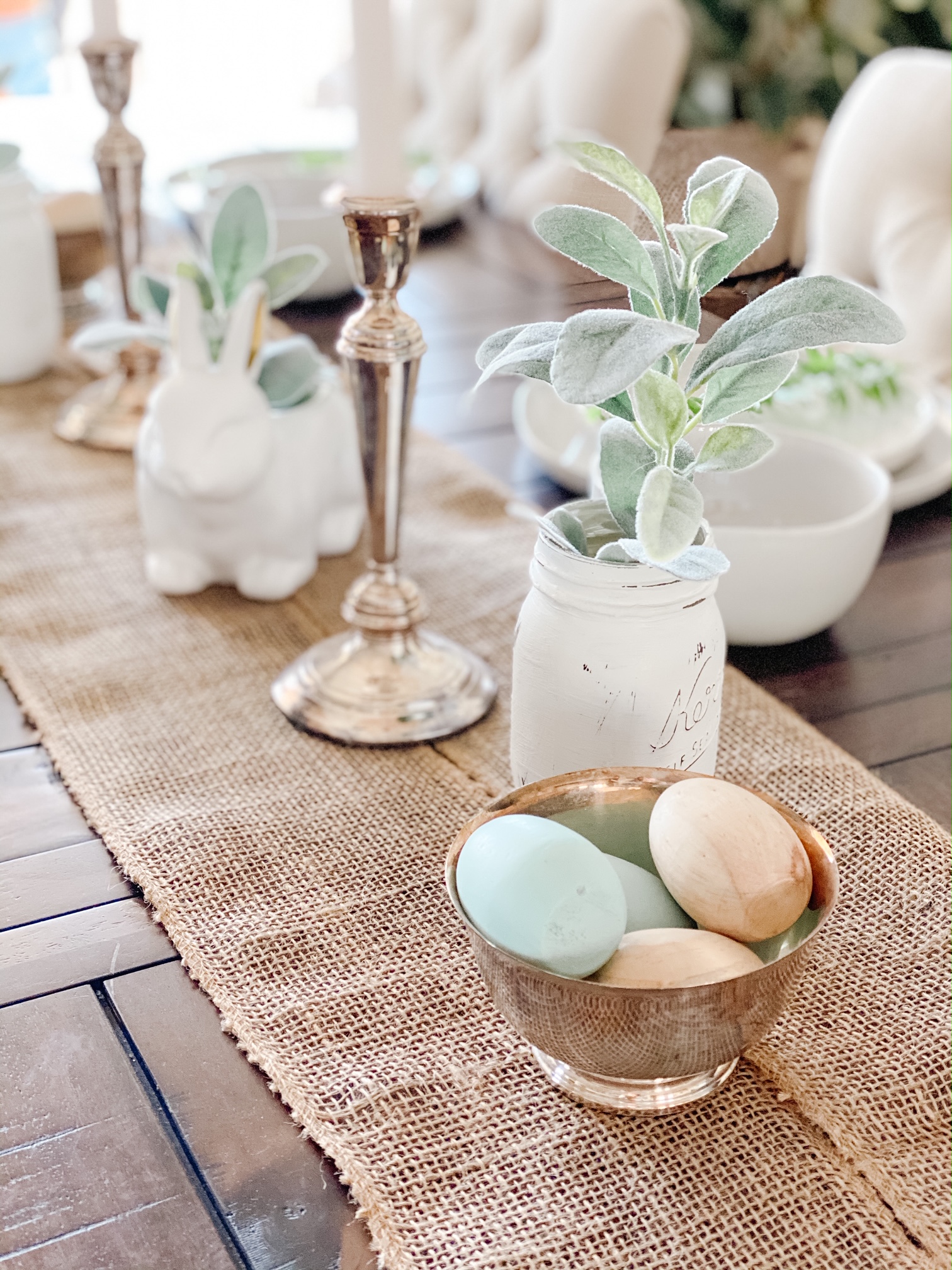 Search For All Items Of The Same Color
I then started searching for anything white to go with the bunny. I found two bell jars and decided I might end up using them so I added them to my pile. At this point I had no idea what I was going to use so I just brought everything that I could find that was white over to my table.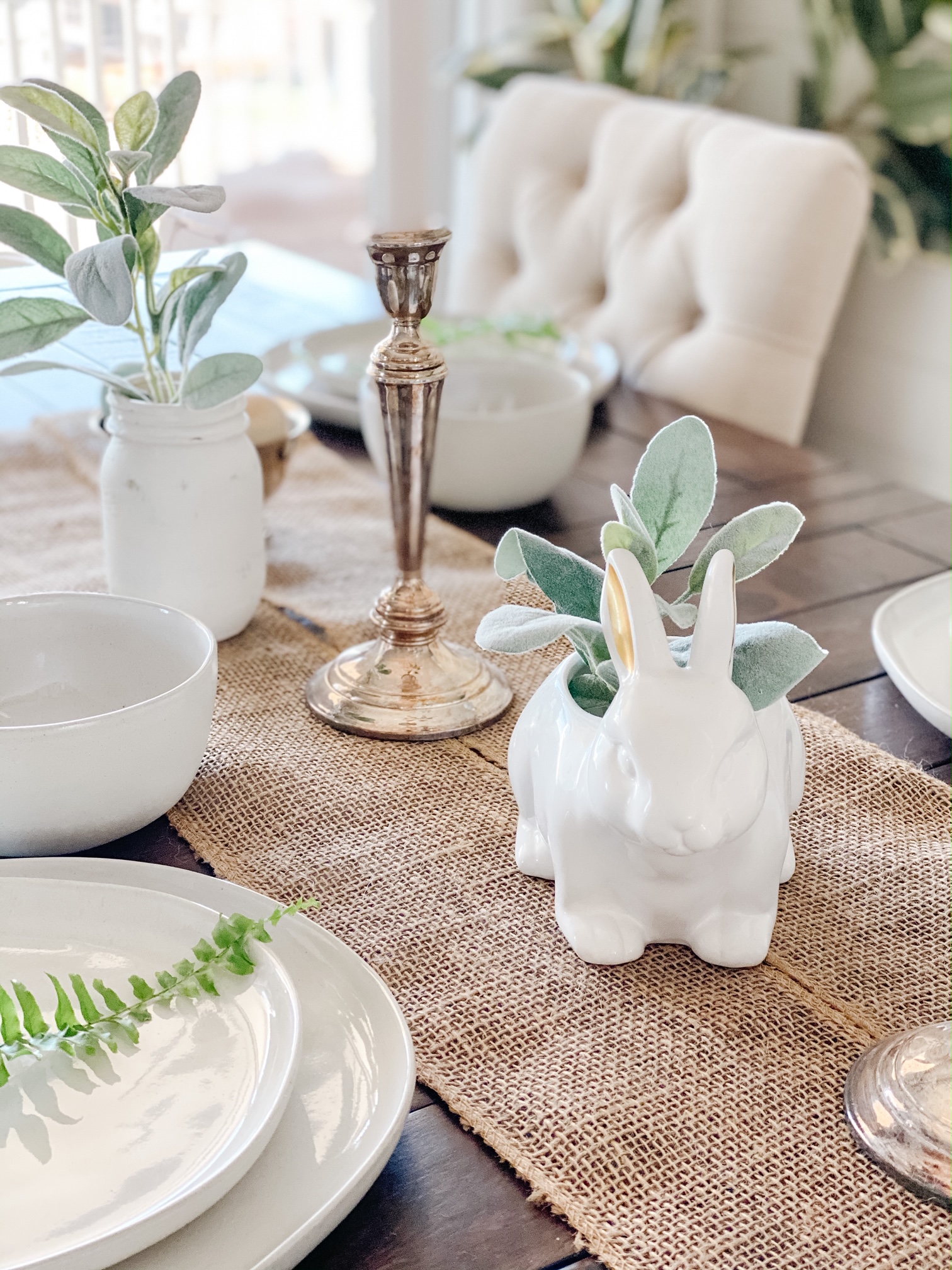 Find Metal Pieces And/Or Different Types Of Material
After finding all the white pieces I decided that silver might go well as a metal to incorporate throughout. I like trying to have different textures and materials (wood, metal, ceramic, glass, greenery and so on). I was able to find some silver candlesticks and bowls and added them to my pile! I thought the silver would look good with the wooden eggs as well!
I had a pretty good size pile of decor pieces racked up at this point so I started playing around with the different pieces to see what would look best. That's when I realized I needed something like a runner down the middle. I did not have a runner that looked good, but I did find some wide burlap ribbon! It was just enough to lay side by side and still fill up enough of the table. Now if I could have, I would have made it a lot longer and hang off both ends of the table- but I was just using what I had on hand! And in my opinion it looked better with the short "table runner" than without one.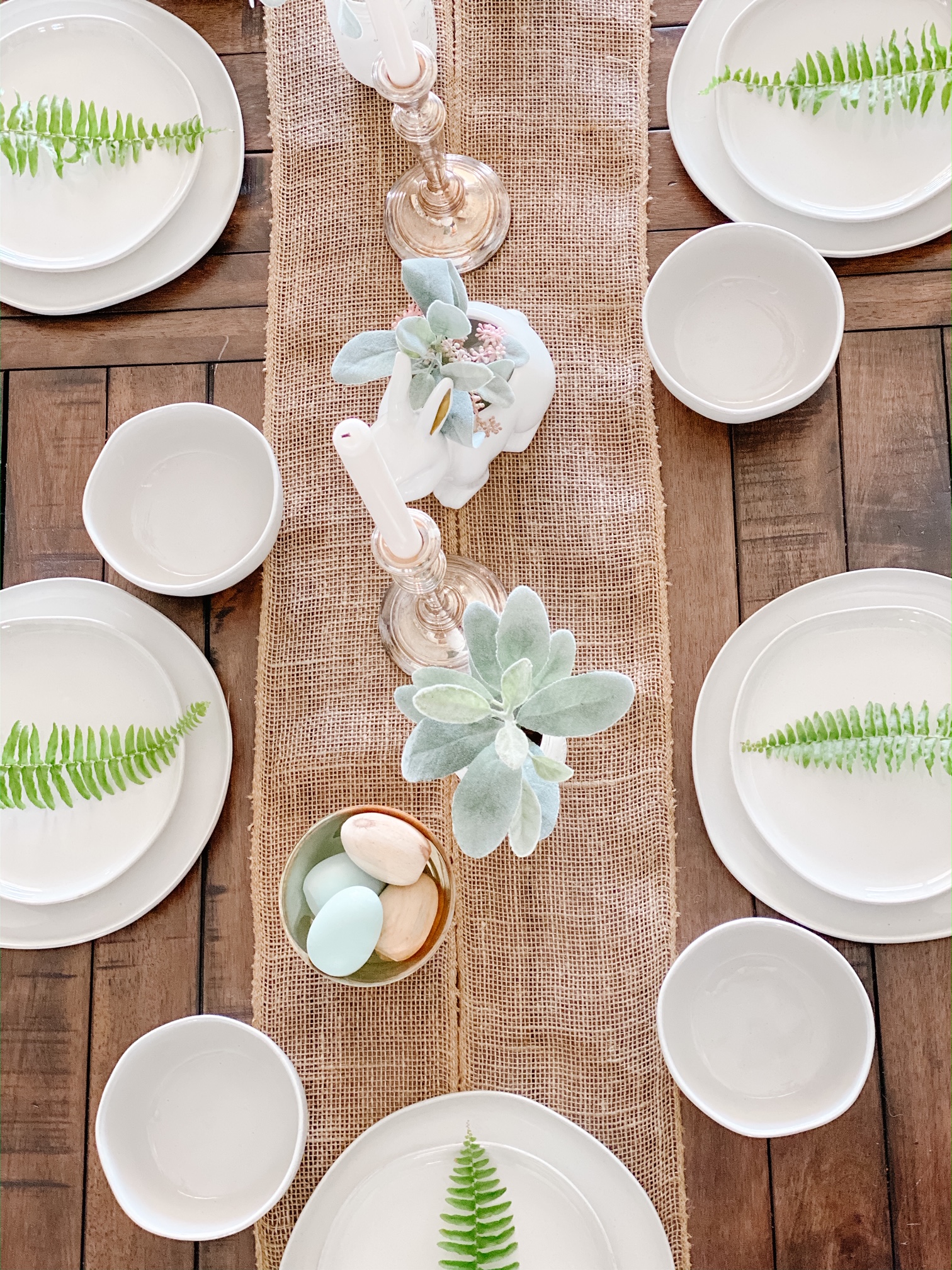 Collect Greenery
The last thing I knew I would want is some greenery. I ended up finding some faux lambs ear which I liked because it is not too green! I needed something to go with the blue painted wooden eggs well enough.
Then I was trying to think outside the box for something to go on top of the place settings. I was looking around my house and saw my fern and decided to get some clippings to use! I love how they almost look like little palm branches, which is perfect for Easter!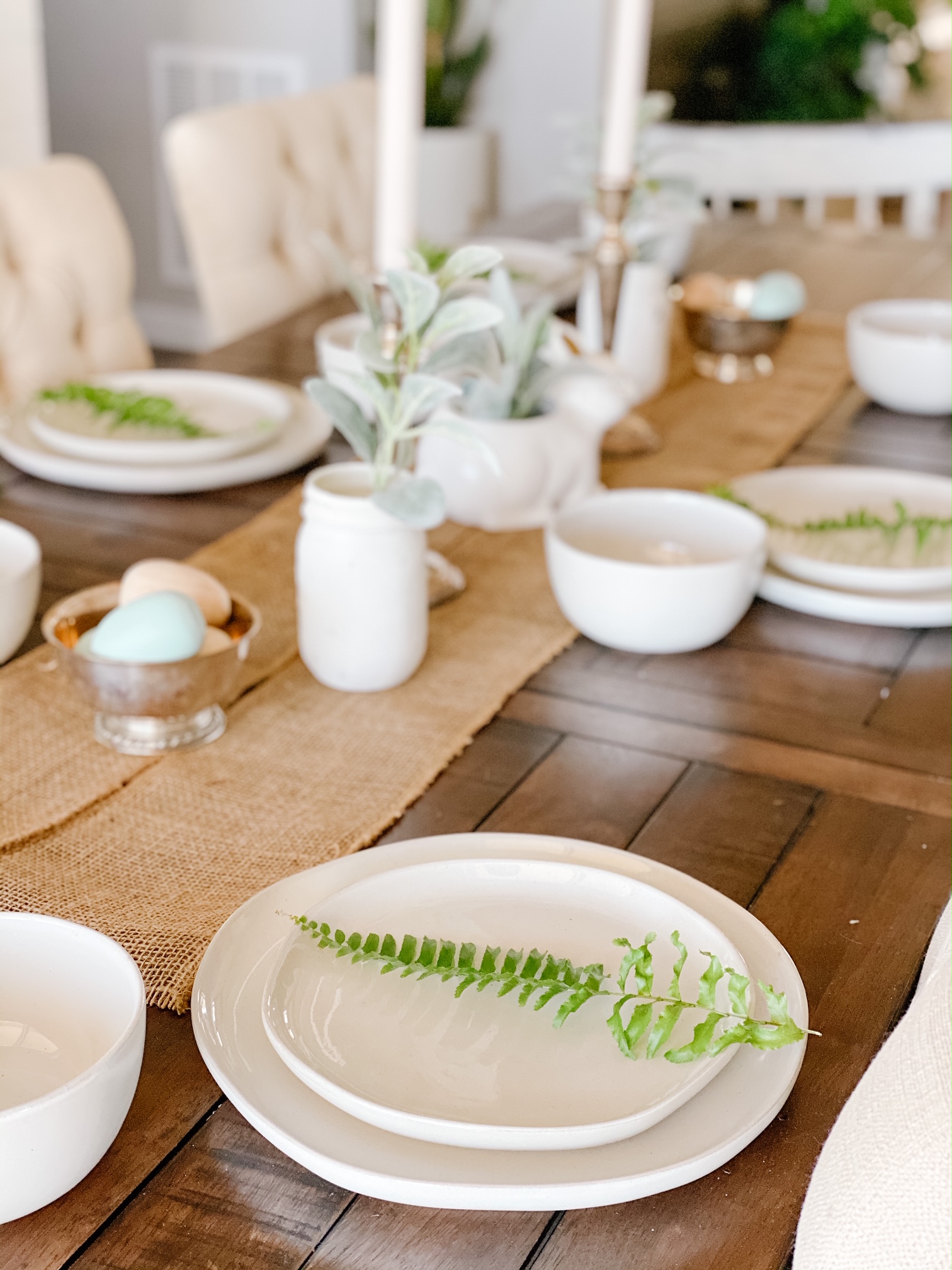 How I decided Which Pieces To Use
The biggest deciding factor when designing the tablescape was finding items with different heights, materials, sizes and shapes! You definitely want to find items that are not all the same. I like having something taller toward the center of a tablescape and stagger the heights from tall in the center to short on the ends. On top of that I like to find different materials and shapes that work together.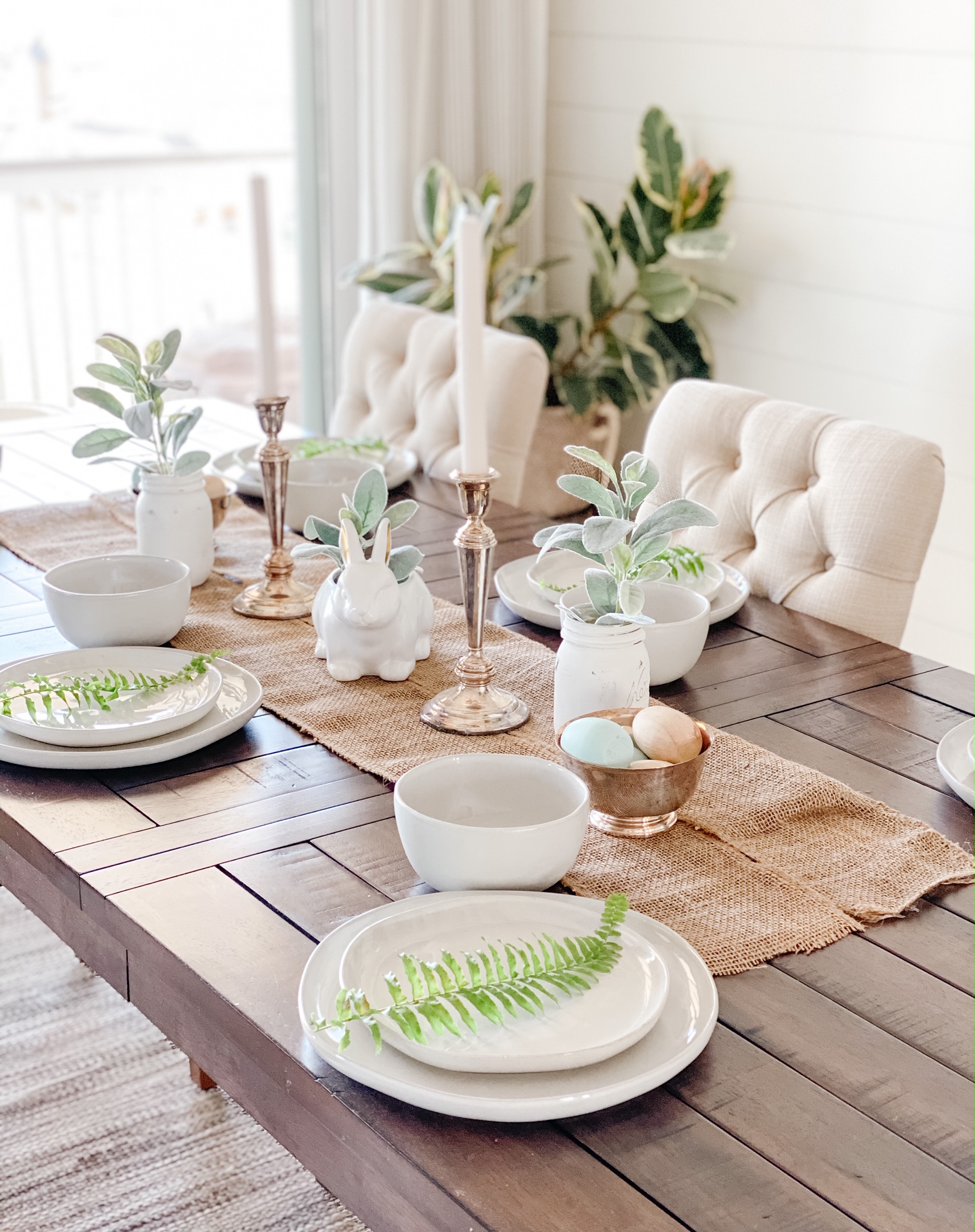 I played around with all the Easter table decor a little and decided it looked best with the bunny in the middle, then candlesticks to add height to the center. After that I added the white mason jars with the lambs ear stems inside which made it taller but still shorter than the candlesticks. At the ends I put the wooden eggs in the silver bowls for a shorter piece. Notice how they are all different shapes, materials and heights!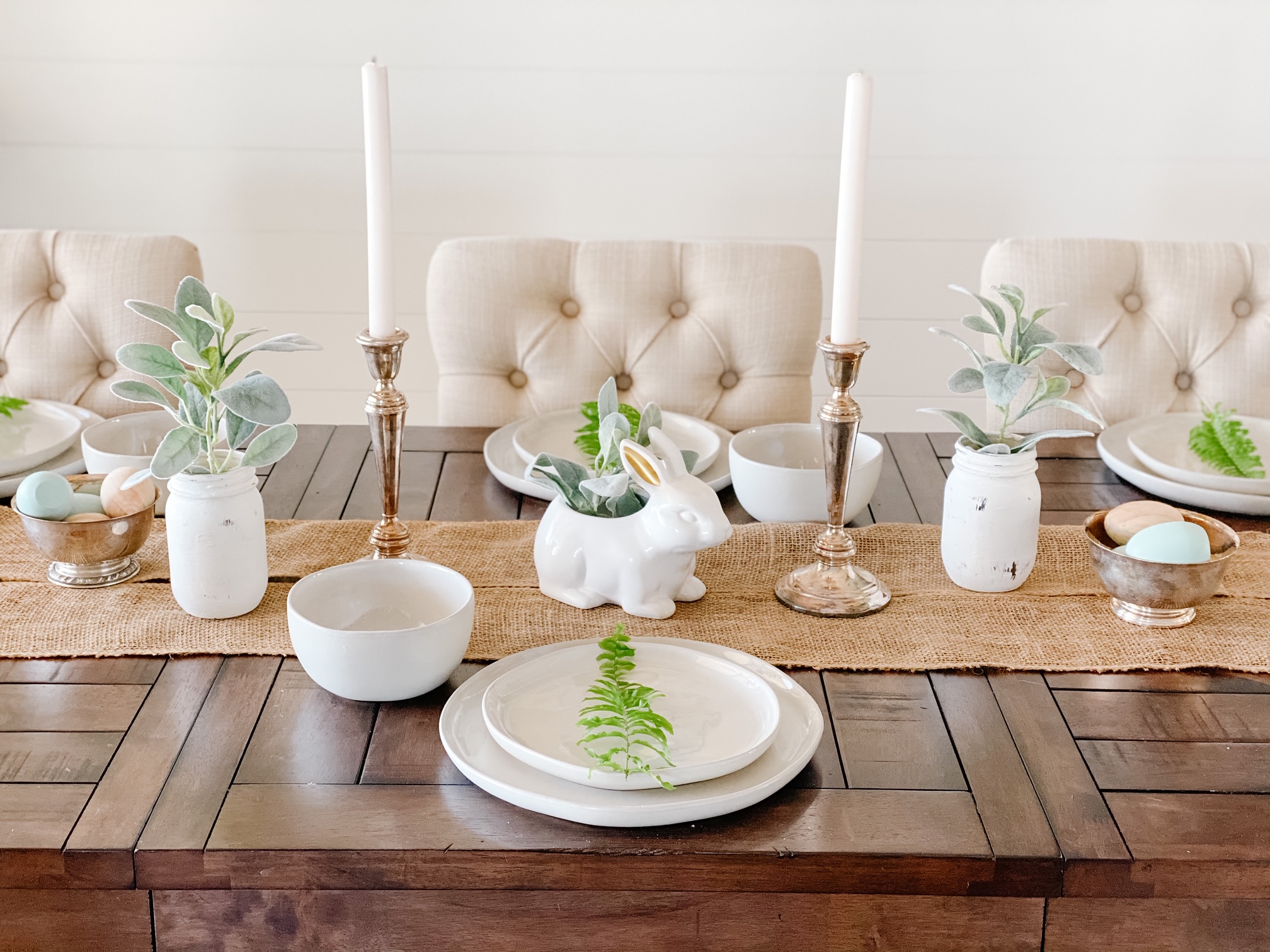 Overall, I think my Easter table decor turned out pretty cute for just shopping my home and using stuff I already had on hand! I hope this gave you some ideas on how you can shop your own home too! Shopping your home can be fun and really allows your creativity to come out. Later this week I am also going to be sharing my favorite dinnerware so make sure to come back for that! The plates and bowls I used for this tablescape are from Target and can be found here!
Rachel did a super cute Boho Patio Furniture Round Up on Monday too, so make sure to check that out if you missed it! Hope are are having a wonderful week!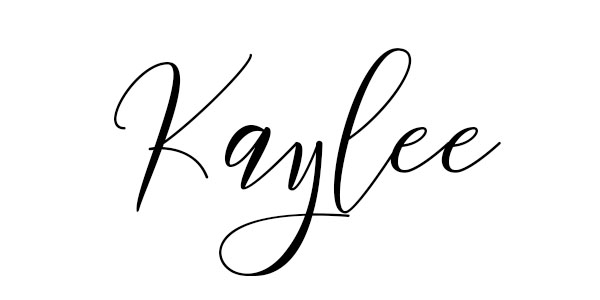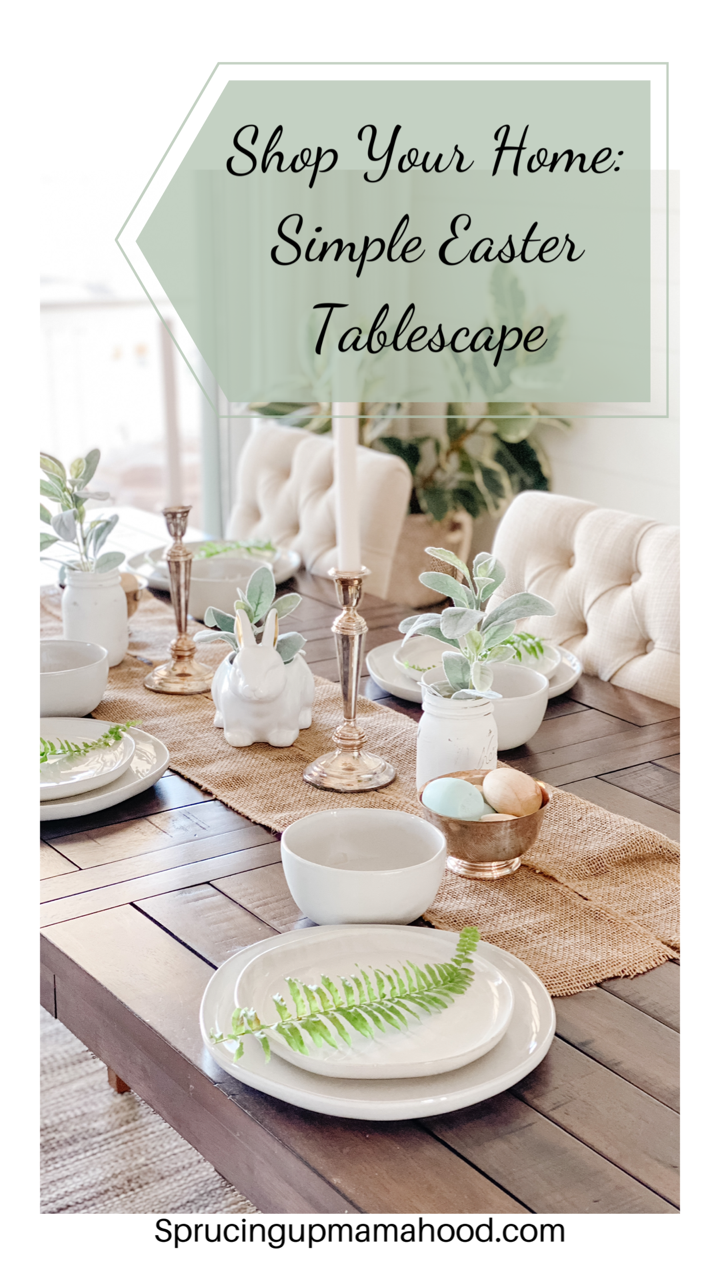 See our Disclosure here.