I have gotten a few requests to do a blog post specifically about plants for beginners, so that is what I am going to address today! I remember when I went to Home Depot and bought my first houseplant. It was only 2 years ago! I can't believe how many houseplants I have bought since then (I now own around 60!). It really has become a passion of mine and I love to share all that I have learned over the past couple of years!
By far the question I get the most often is, "what are the best plants to own if I am a plant killer?" I always laugh when someone asks me this! No one is a plant killer. You just haven't learned which plants are best for you. I promise that anyone can be a great plant parent, you just have to find the right plant- haha!
Which is why today I am going to be discussing 5 houseplants that I think are the best for beginners, or those who think they kill all plants! These 5 plants are nearly impossible to kill. They are also super low maintenance. If you follow my tips for each plant I promise your plant will thrive!
5 Best Houseplants For Beginners
Zz Plant – I just love the look of a Zz Plant! I think they are so pretty! They are the perfect plant for an office desk, end table or night stand! They can get big but most start out pretty small. Zz plants are very easy to keep alive. I only water mine every 2-3 weeks and they need very little light. This might be the easiest plant I have ever owned, it's the perfect beginner plant!
Snake Plant – This one is by far my favorite plant for beginners! It is super low maintenance and it is one of the best for cleaning the air in your home. It also goes perfect with any type of home decor style, which is a plus! I water mine once every 1-3 weeks, they really do well with little to no water. They also do not need bright light. I have one in every bedroom and some get bright light and others get almost no light! This plant is so easy to keep alive because it is not picky about anything! As long as it has rocks on the bottom or a drainage hole then it will be good to go!
String of Pearls (or other succulents) – The string of pearls might be my favorite plant right now! I absolutely love how it hangs down. This is a great hanging plant for beginners. It is a succulent, so it doesn't need much water. I water all my succulents once a week at the most (sometimes I water every other week if I forget) with very little water! They do not need a super deep watering like other plants need. They do require more light than other plants. So if you have a bright area in your home a succulent would be a perfect plant for that space! And don't forget to plant all succulents in succulent and cactus soil (you can find that here).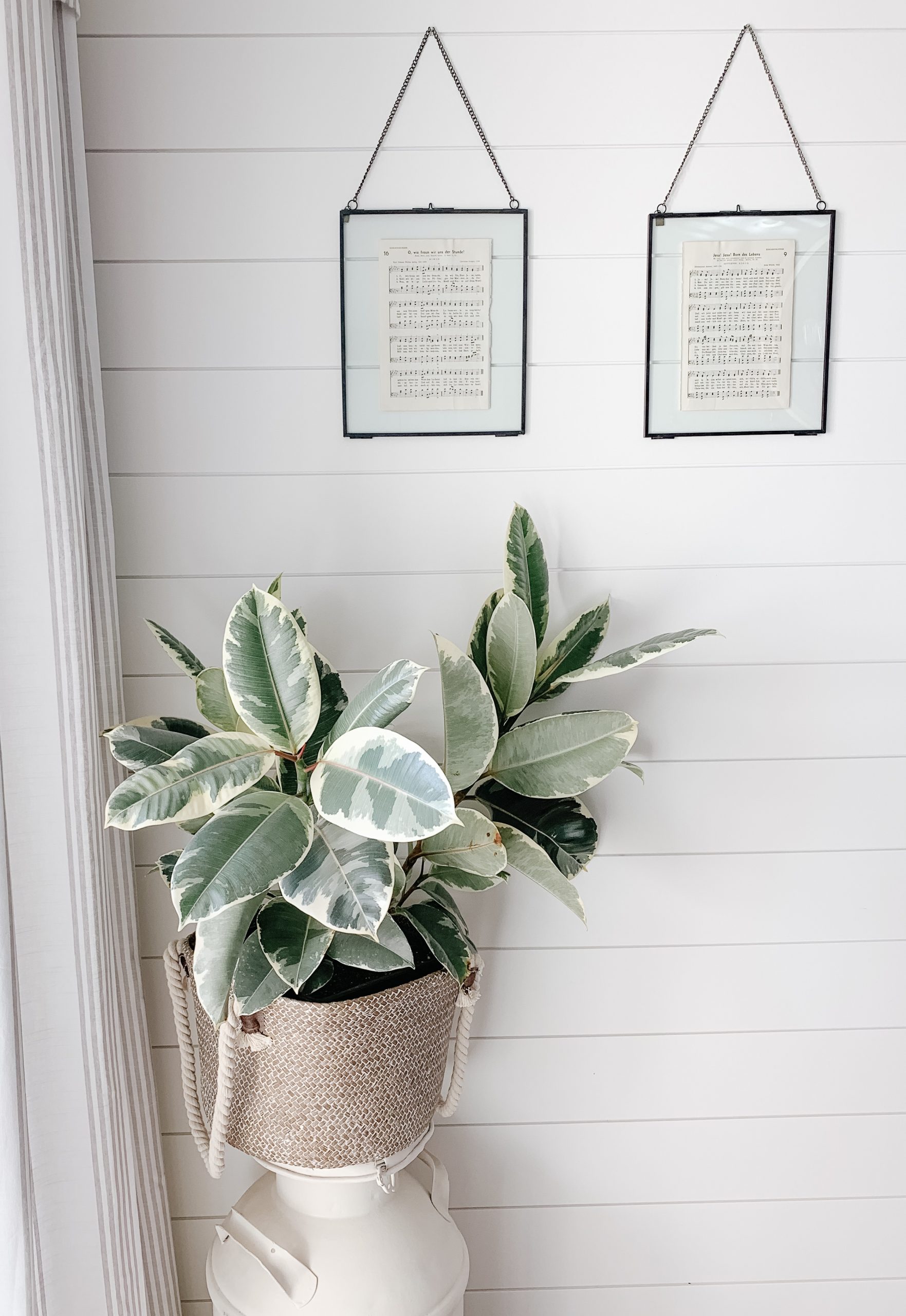 Rubber Tree – The rubber tree plant might be my favorite as far as how the leaves look! I just think this is such a beautiful plant! They come in a variety of colors and I have two of them (pictured above). These need deeply watered about once every 1-2 weeks and have a good amount of indirect sunlight! Overall, they are pretty easy to take care of! Plus, they are another one that is great for helping filter the air!
Philodendron– The last plant that is super easy for beginners are most types of Philodendron plants. There are tons of different varieties and all are very easy to grow and keep alive! They do require bright indirect light (do well with direct light too in my experience). I water mine every 1-2 weeks. They are not overly picky about water, they do well with very little water. Also, these get huge! So if you are trying to fill a large space in your home, this is such an easy large plant to keep alive!
If you have any other questions regarding these 5 plants for beginners please let me know in the comments below! I am happy to help! Don't forget to check out all of my other posts about plants here! We are DIYing a porch swing this weekend and I am so excited to show y'all when we are finished with it! Hopefully in the next couple of weeks! I hope you have a great weekend!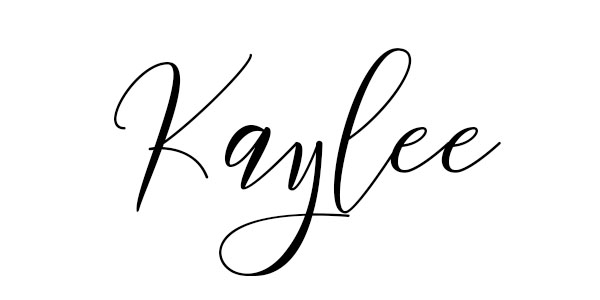 ---
Shop the post by clicking the image below!

---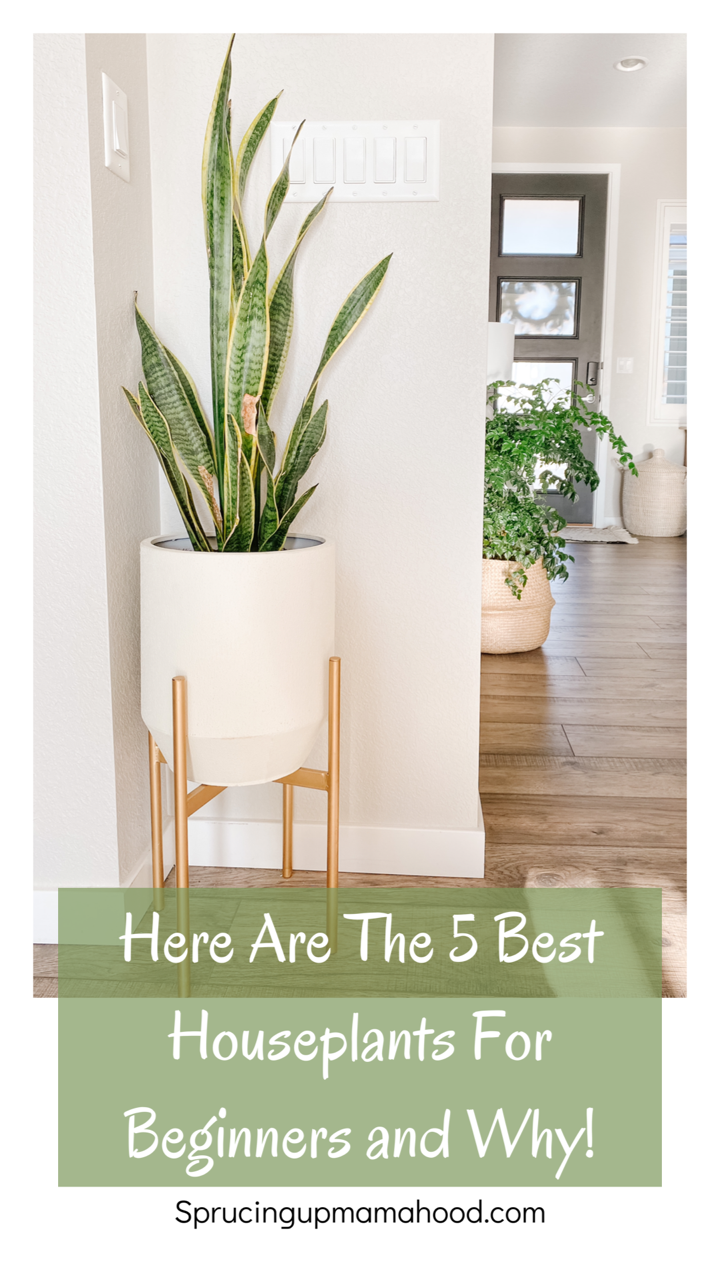 See our Disclosure here.