Today I am going to be sharing 5 ways I use Spring florals in my home!
Spring Florals make me so happy! They are just so colorful, beautiful and bring me so much joy and we all need more joy in our lives! Seems so silly that such a simple thing like flowers could bring so much joy. But they do! At least they do to me!
I love using a mixture of both faux spring florals and real spring flowers throughout my house!
I always use more faux flowers than I do real because they are easy to use everywhere as decoration. I love that they last throughout all the spring months- even into summer!
This post contains affiliate links; see our Disclosure here.
I find that Michael's Stores has the best faux spring florals! They have so many different shades of pink, white and yellow that its hard to choose which is best! They also have a bunch of different kinds of flowers: blossoms, peonys and all different types of roses. Plus, in my opinion they look the most real in comparison to other faux florals at different stores.
Michael's Stores also has a great online shop now! You can place an order for in store pick up or get it shipped to your house. I also just found out recently that they have an amazing free reward system! I just got a $20 reward after one visit! So make sure to use your email and sign up for that if you start shopping there (and no, this post is not sponsored my Michael's– I wish! I just love their faux flowers-ha!).
They are always having sales too! So not only are their florals the best, they are also some of the cheapest! I have been loving Michael's for so much of my spring decor and spring florals this year! I honestly wont shop at other stores for faux florals anymore!
Hanging Baskets with Faux Spring Florals
My favorite way to display my faux Spring Florals is in my hanging basket in my entryway! It makes my house so cheery and inviting to walk into! This is such an easy look to throw together, just grab a couple faux floral stems and a couple greenery stems, bend the stem wires to a good height and stick them in the basket!
Super easy and turned out so pretty! My basket is from Target but unfortunately they no longer carry it. However, after some digging I found a similar one from Anthropology (you can find that HERE).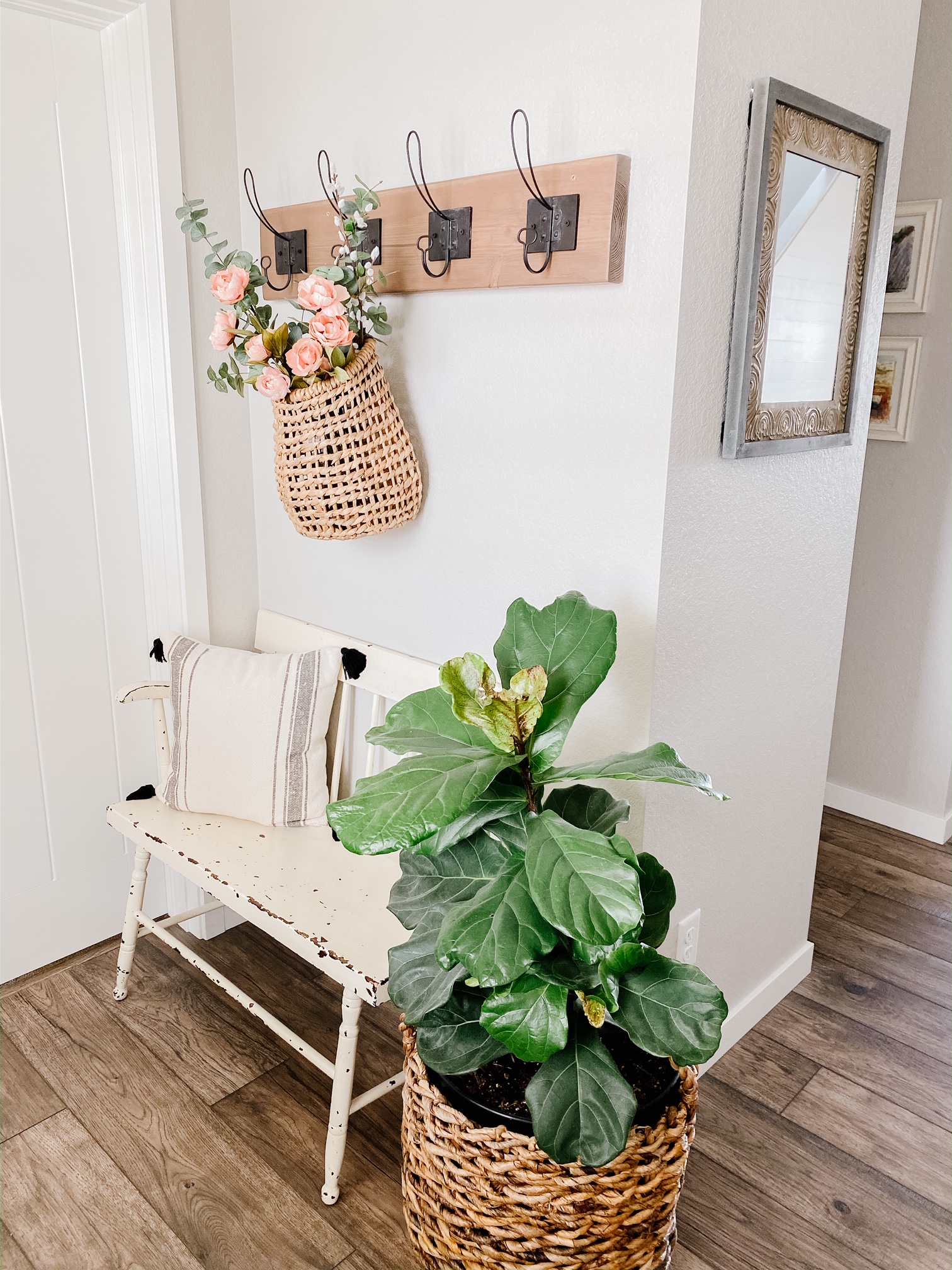 You can also use hanging baskets on your front door instead of a wreath! I love this look in the spring! It adds some color and flowers to your front porch, without having real flowers. Faux spring florals are perfect to use outside for those of us who get snow well into May!
Here in Colorado you can not put flowers on your porch until the end of May. That is just way to late for me! I love seeing flowers everywhere in spring! So having faux flowers will have to make do!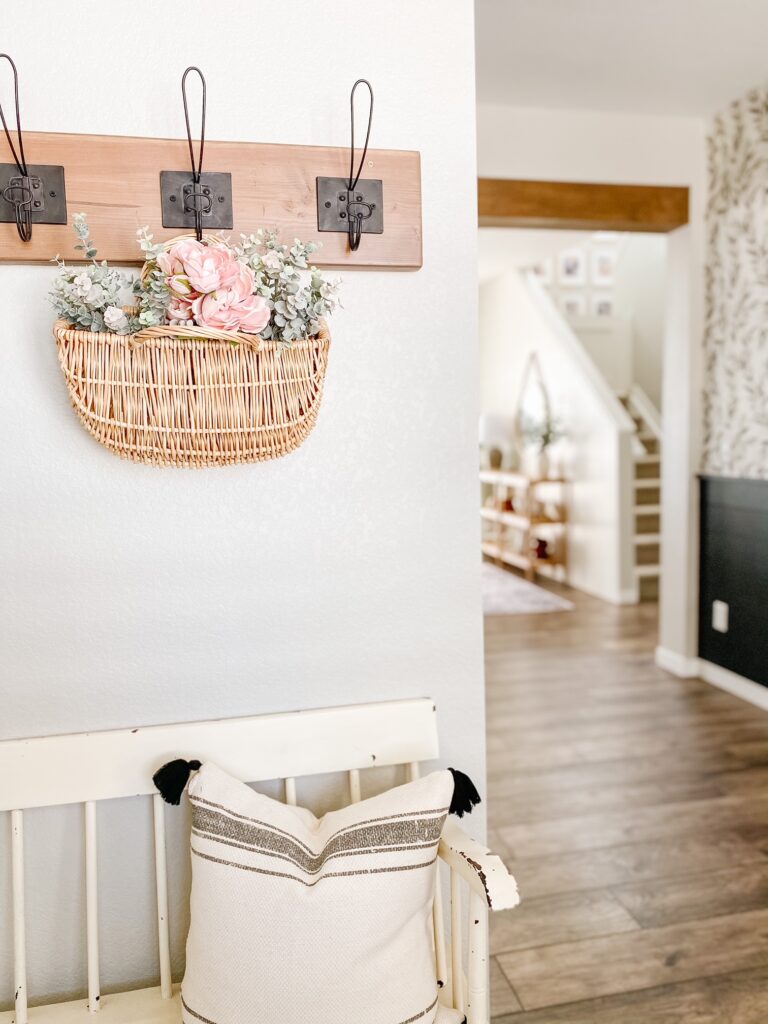 Pitchers with Flowers
Another way I always display spring flowers is in a pitcher on my coffee table! I typically use real flowers here because it is so easy to change out when they die or need new water.
I love having some fresh flowers in my house so I usually buy an arrangement from our grocery store every couple of weeks in the Spring and Summer time! Actually, my husband buys them for me! He saw how often I was asking him to pick me up some flowers that he started getting them on his own- what a guy!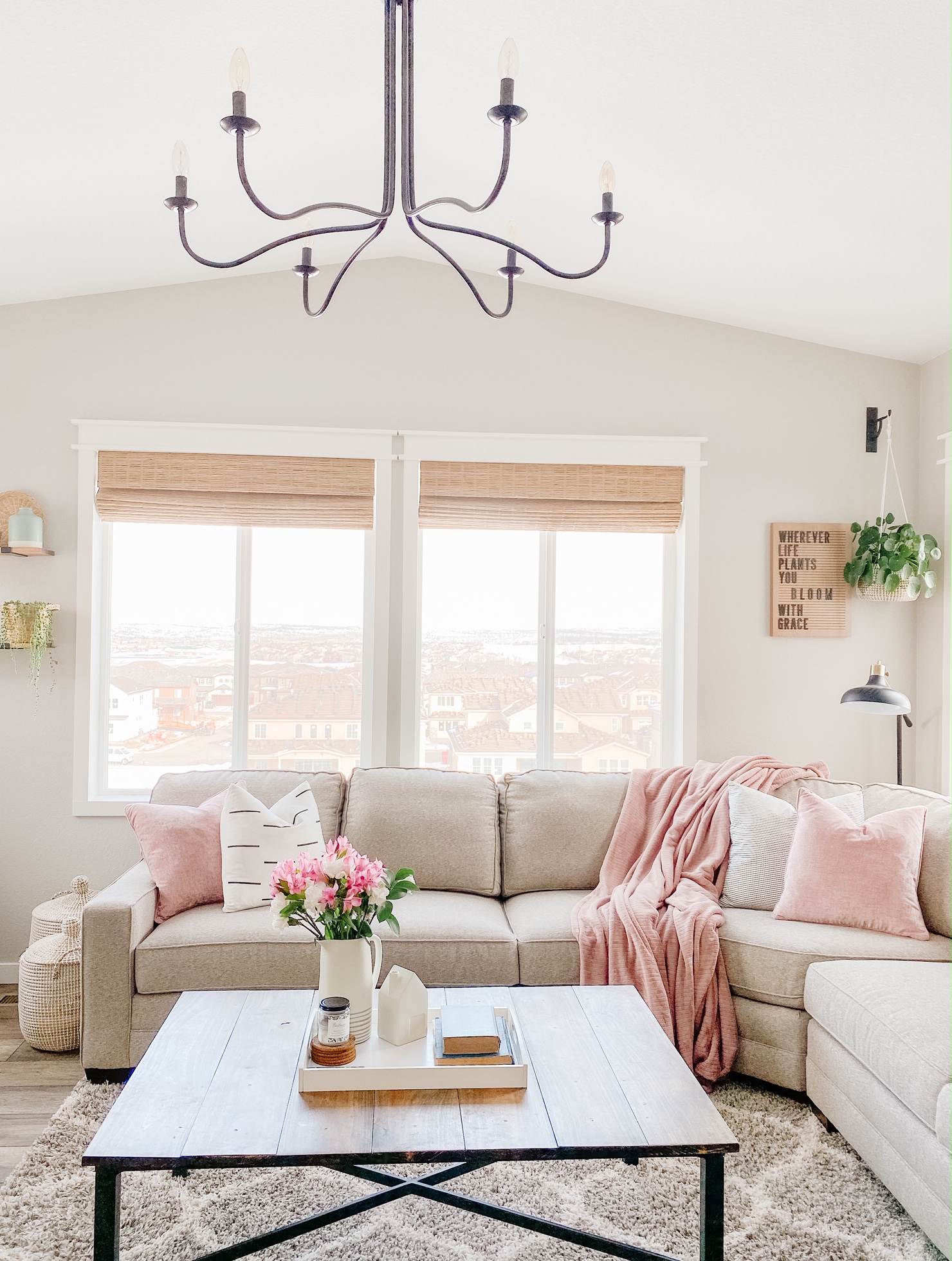 Pitchers with flowers can also make a great dining table centerpiece! I dream of having a circular dining table one day and putting a picture of fresh flowers in the middle! It is such an easy yet beautiful centerpiece for spring time!
Jars and Vases
This is a more obvious one, but I love having a vase on my island with greenery and florals. Sometimes I use real flowers and other times I use fake flowers depending on my mood and what I have going on. For the past month they have been real and I am loving them! I also love the look of using large glass jars as vases on counters or as centerpieces!
I actually have a vase on my island year round. Every season I just switch out the stems! It is such an easy way to change up you decor and feel of your home with no effort! Plus, its budget friendly!
In the fall I filled the vase with wheat grass that I cut down from outside! In the winter I fill it with winter greenery (like pine branches). In the spring I will with flowers or blossoms and the summer I usually fill it with flowers (sometimes real and sometimes fake).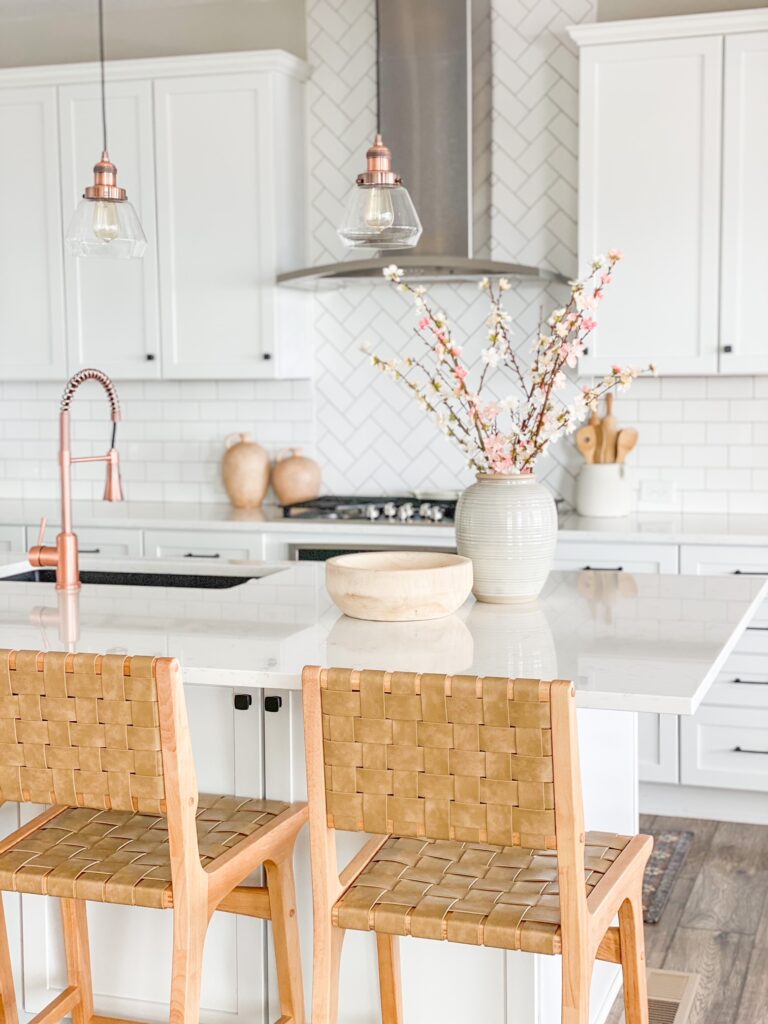 The thing I love most about this way to display spring florals is that there are so many vase options out there! You can definitely find one that fits your decor style best! A lot of vases are budget friendly as well, so you could easily have a couple on hand to switch out depending on your mood and the season!
Bowls with Greenary and Florals
This is the decor style I am obsessed with this year for spring florals, which is why I did this for my Simple Spring Centerpiece. I wrote a blog post all about my Spring Centerpiece so make sure to check that out for more spring decor ideas!
I just love how this centerpiece looks on my table. It is absolutely perfect for a long rectangular table! Using the dough bowl makes the centerpiece large enough for my long table which is not always easy to find!
This centerpiece could easily work with a round table as well. I would just find a circular bowl instead of a rectangular one to fit the table better!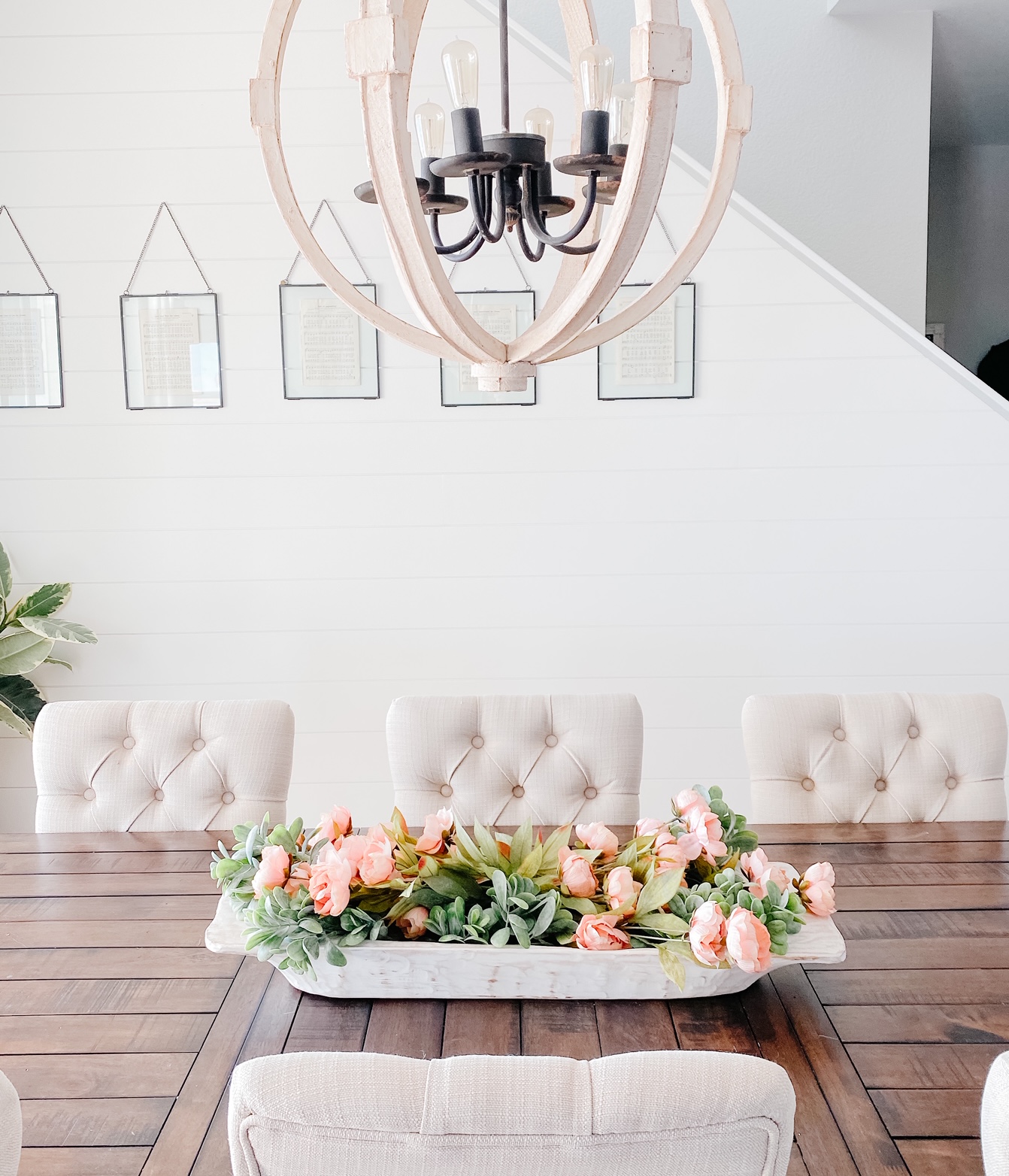 I just love how this centerpiece brings so much color and warmth to my dining room in such a simple way! This is one of the easiest centerpieces I have ever had. You can easily change out the florals for greenery in the winter months and use the bowl all year long!
I also love it because it is easy to remove when we need to use our table. We usually eat at out large kitchen island, but for the times where we do use our table it is nice to be able to move the centerpiece off the table in a matter of seconds.
This centerpiece is also perfect if you have kids! There are no breakable pieces, so if it gets played with then it won't be a huge deal. I try to stay away from a glass centerpiece with little ones around!
Crocks
I am loving the look of crocks with spring florals this year! So if you have some crocks laying around definitely add some faux spring florals to bring some spring vibes to your space!
Crocks are some of my favorite antique finds because they are versatile. I typically use mine to hold wooden kitchen spoons, but I love how easily I can change those out with flowers to bring spring into my kitchen!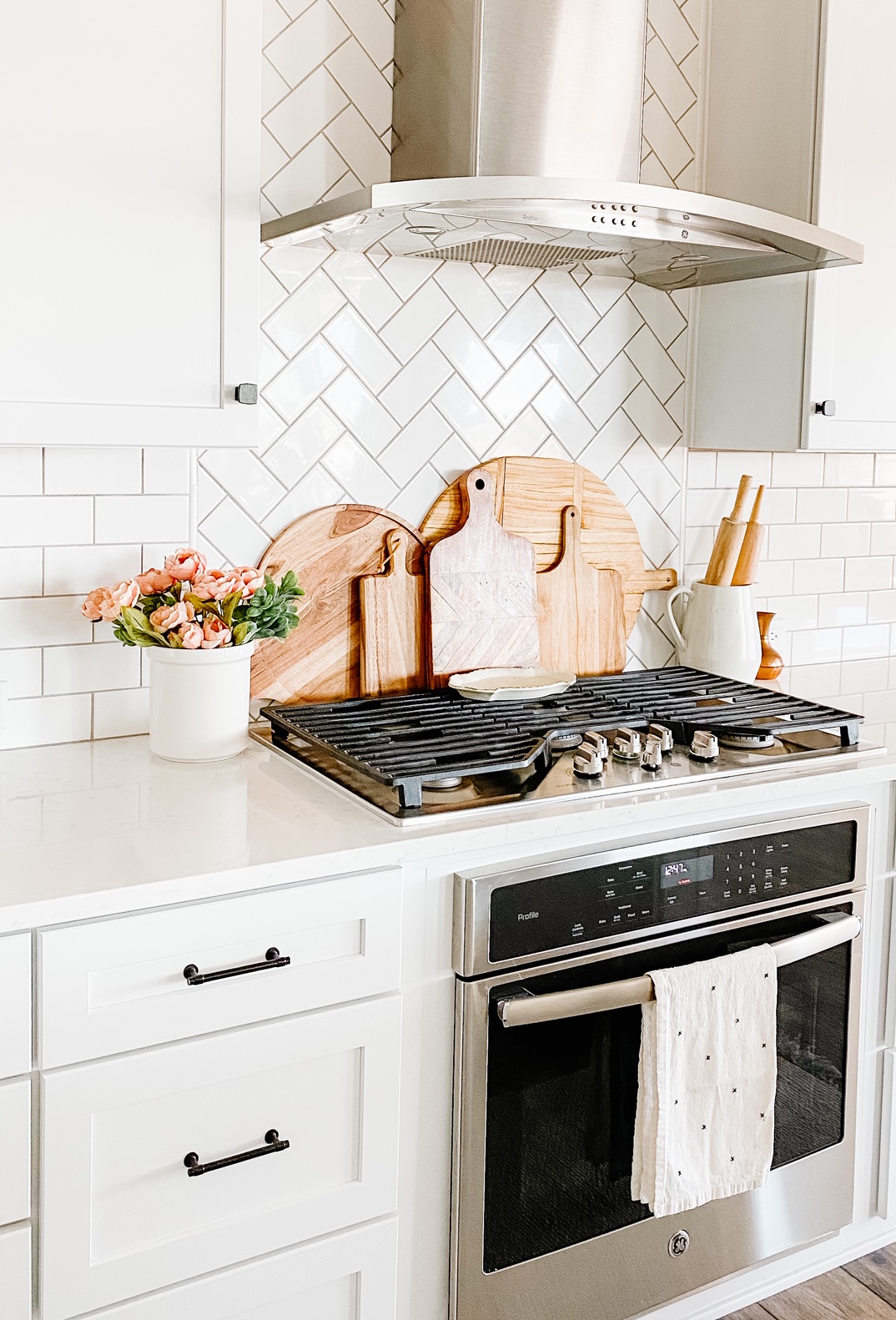 I have actually found my crocks while thrifting. They are much cheaper than finding them at an antique store! So definitely keeo your eye out next time your in your local thrift store!
You can also buy crocks new from stores as well! I bought a large crock and small crock this year from Target! they were both in the Studio McGee line they have there!
Sometimes buying new is just easier. So I am glad that Studio McGee gave us that option! I am sure other home decor stores have some crocks available as well, these were just the ones that I bought!
Wreaths with Faux Florals
I decided to add one more to this list because Rachel DIYed the cutest wreath with faux spring florals and wrote a blog post all about it! So make sure to check out her post on How To Make a Simple Spring Wreath!
Rachel is so crafty and I love the wreaths she makes! They are so simple, and tend to be way more affordable than if you went and bought a similar one in the store. Plus, by making it yourself you can decide which color of flowers to use to fit your porch decor best!
Adding a spring wreath is another perfect way to add faux florals to your porch for springtime! It really makes your porch feel so inviting and cheery!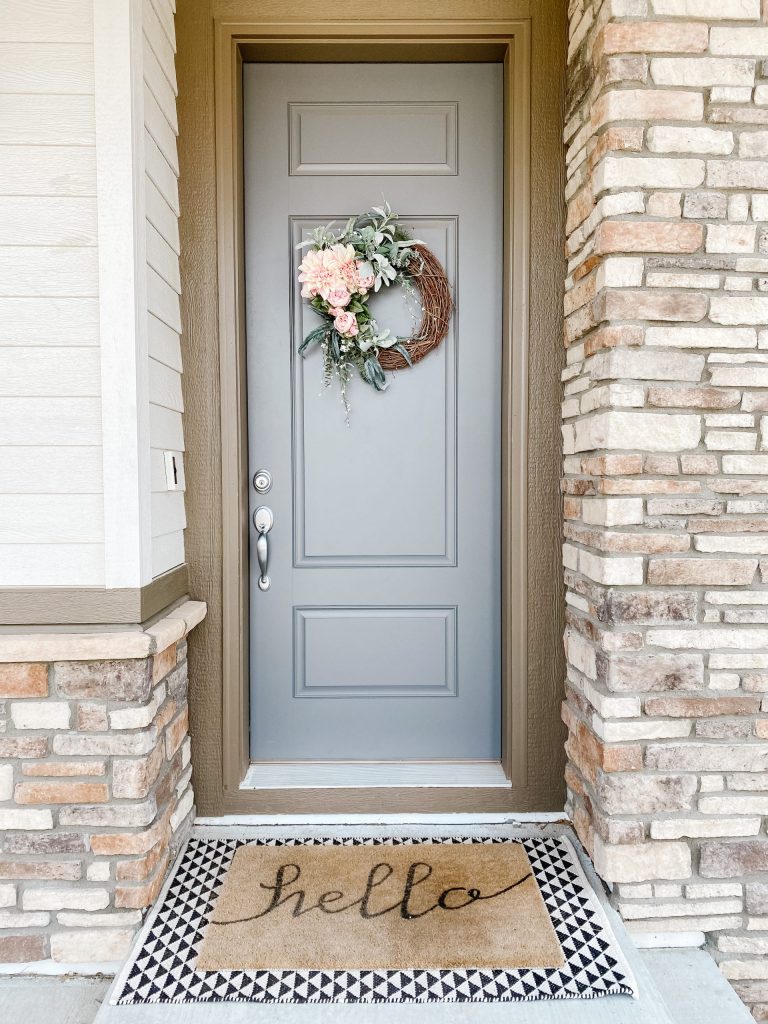 I hope this post gave you some great ideas on how to use spring florals around your home!
Changing our your decor for the spring doesn't have to be hard or expensive! Changing out and adding spring florals is something everyone can do!
I hope you are starting to get some springtime weather! I know I am anxiously awaiting it! Have a great rest of your week!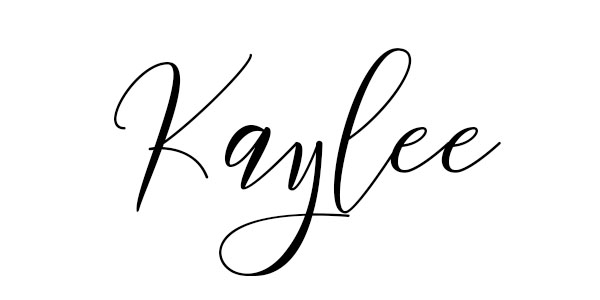 ---
Shop This Post:

---
This post is about 5 Ways to Use Spring Florals In Your Home!
Check out these other articles on Spring decor: