Today I will be sharing a Simple Spring Centerpiece for your dinging room table!
Now that Valentine's Day is over, it's totally fine to start decorating for Spring right? Because I have officially started!
I absolutely love spring decor! It just makes me so happy with all the bright colors and flowers! I typically decorate with mostly neutral colors, but Spring decor is an exception. I always add some color to my house during spring time.
One of the ways I add pops of color during spring is with colorful faux flowers. In Colorado we get snow well into May, so spring flowers don't start blooming till April and typically don't last long. So I love having some faux florals around my house during our snowy spring months!
Today I am going to be sharing my simple spring centerpiece with you! It was super easy to throw together and makes a huge statement on my dining table.
This post contains affiliate links; see our Disclosure here.
I always have some sort of centerpiece on my table because even though it isn't a full tablescape it still adds so much to the dining area in our home! So if full on tablescapes aren't for you, consider doing just a pretty centerpiece on your table.
I honestly prefer a simple centerpiece over a full tablescape anyways!
Why I Love This Spring Centerpiece
As a mom of two young girls, having a kid friendly centerpiece is a must! This centerpiece is perfect if you have young kids! There are no breakable pieces – like glass and it is not super heavy if it got dropped! So if you also have toddlers running around this centerpiece is for you!
Plus, it is such an easy centerpiece to move off of your table. This is super important to a lot of people when using a centerpiece. They want something they can easily remove for dinner time. This is all confined into one bowl so very easy to move on and off!
We also use our table a lot for game nights with friends and family. So I love having something can can be moved within seconds!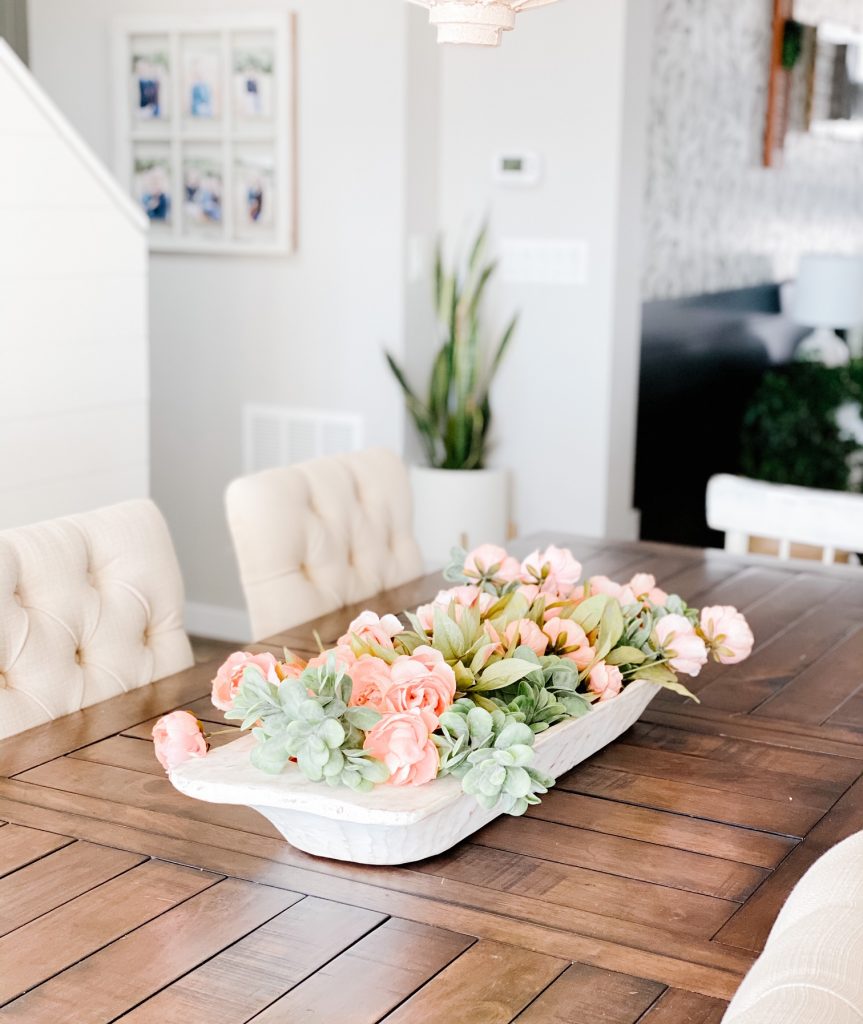 I was actually inspired by Sarah at Sarah Joy Blog for this centerpiece. She is super talented and recently shared three ways to decorate with a large bowl. This is one of the ideas she shared and I fell in love with it! It is so simple but so beautiful and springy!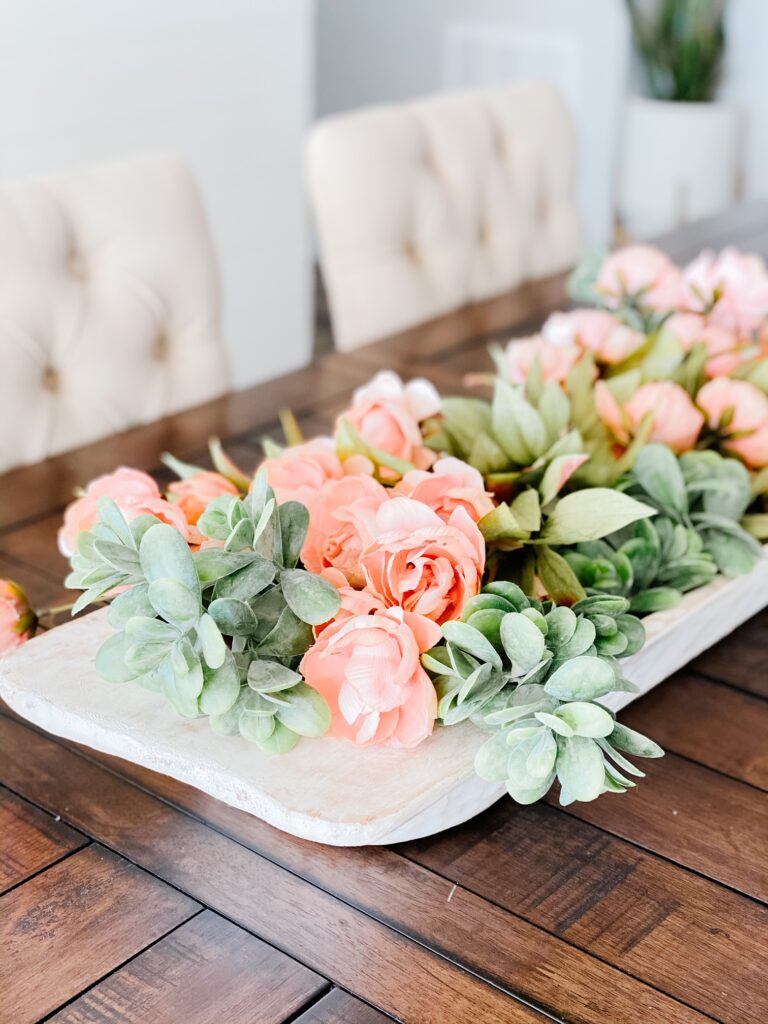 How I Created This Simple Centerpiece
For this simple centerpiece I used florals similar to these Spring florals and faux greenery that I got from Michaels (Spring 2020). I find that Michaels has the best faux florals! In my opinion they are the best quality for the price!
They have so many beautiful color options and look so real! Especially when comparing them to other faux florals I have gotten from other stores. Plus, they are always having sales which make them budget friendly too.
I paired the faux florals with a large antique looking bread bowl that I got at an antique fair (but here is something similar).
However, you could use any bowl and florals you want for this spring centerpiece! As long as the bowl size is good for your table then it doesn't matter the shape, material or size!
My Table is 96 inches long so I like having a rectangular dough bowl because it takes up more vertical space on my table. A dough bowl would be perfect on any rectangle dining table though, no matter the size.
If you have a round table, a circular bowl with spring florals would look absolutely beautiful!
I also chose a dough bowl that was white washed so that it would stand out against the dark stain on my table. Again, choose a bowl that fits your design and dinging space best!
I used a mix of Spring florals and faux greenery, but you could do just one or the other. You could also use any color of faux florals. If neutrals is more your thing then go with some pretty white florals! Just do what you think looks best for your home!
I personally love having the pop of color mixed with some greenery! Having pops of green throughout your home adds so much warmth!
This is also why I have so many plants (both real and faux)! The greenery just completely changes the feel of a room and home!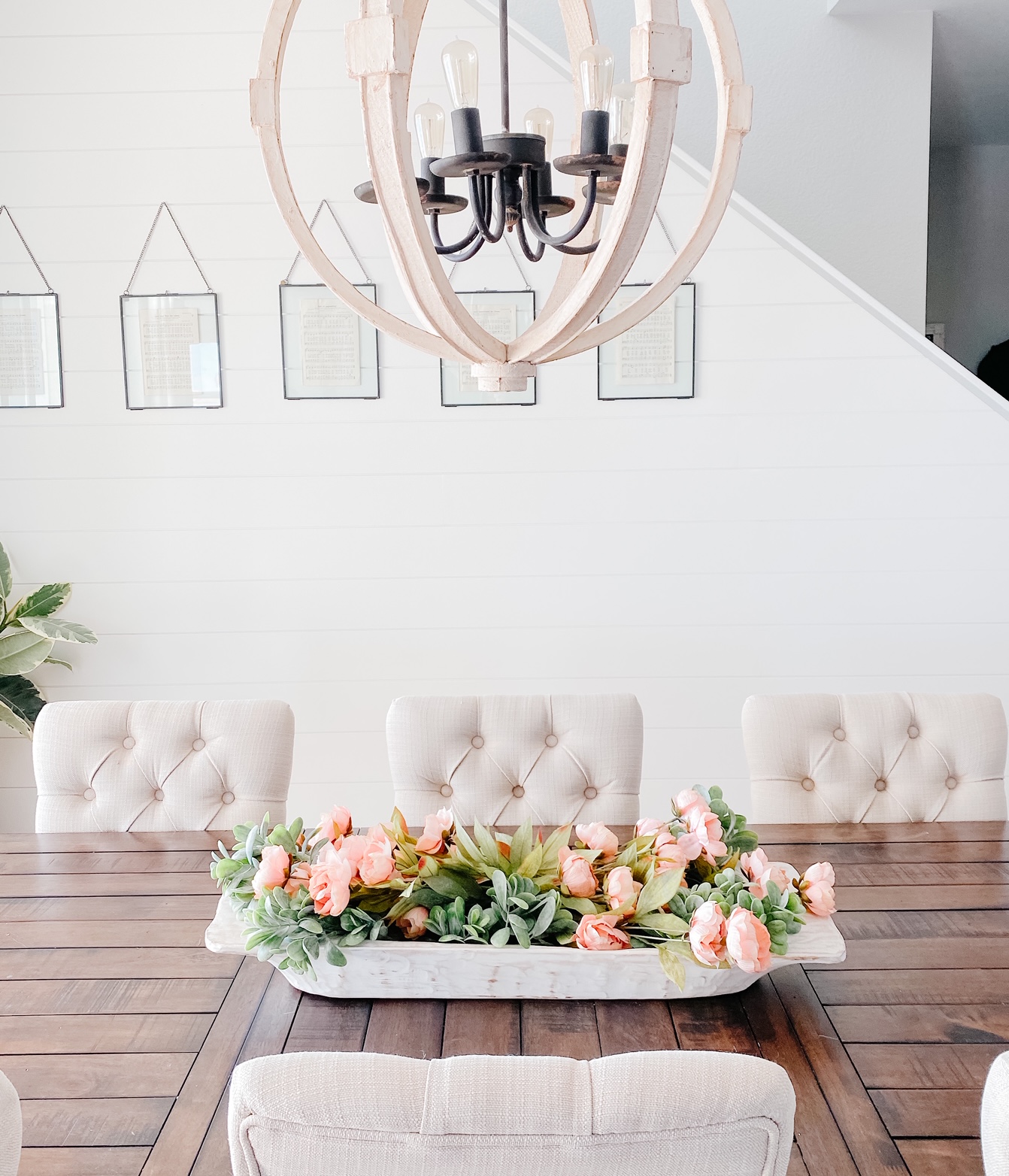 All I did for this centerpiece was trim the faux stems with wire cutters and place them in the bowl! I mixed and greenery and florals pretty evenly throughout the bowl. That's it!
So simple and so pretty! I am very happy with how this centerpiece for spring turned out. I am even more thrilled with how little time it took me because of how simple it was! The longest part was actually going to the store to find the faux florals – ha!
I hope this gave you a simple, kid friendly idea on how to have a beautiful spring centerpiece! Let me know what you think in the comments below!
Be sure to check out my other spring decor article on how to decorate your home with spring florals! Have a great rest of your week!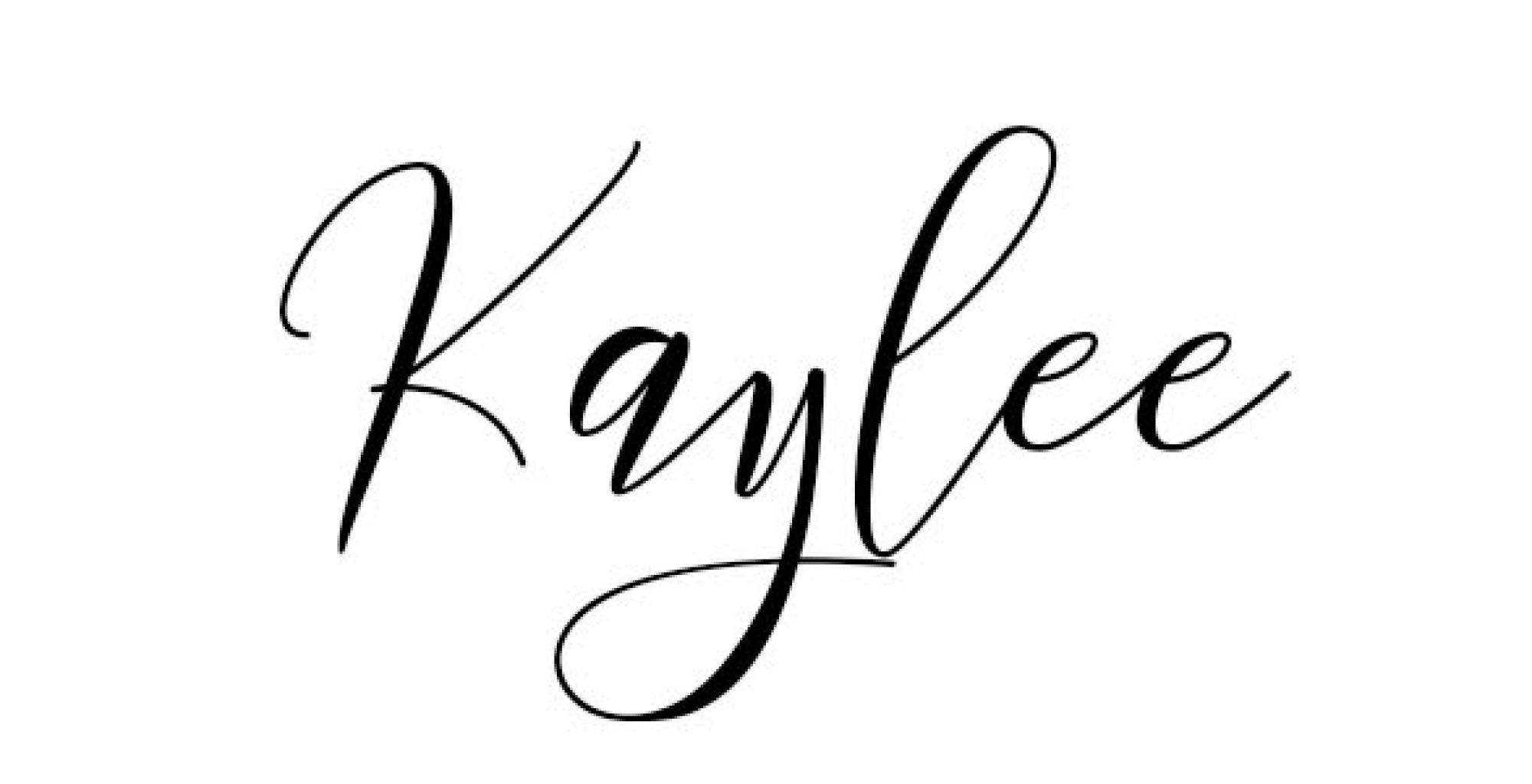 ---
Shop This Post:

---
This post shared a Simple Centerpiece for Spring that is perfect for your dinging room table!
Here are other articles about Spring Decor that you will love: