Continue reading for Bedroom Styling Tips and cute new Spring Bedding Options from Target!
It's starting to feel like Spring here in Colorado! At least today, it might snow tomorrow!
I'm so excited to start switching the decor around in my house from Winter to Spring! I usually add a few seasonal decor touches to each room.
A few easy items around your house to switch out seasonally are florals/greenery, throw pillows and throws, rugs and curtains!
One of the easiest ways to switch up your bedroom decor seasonally is to change your bedding! Your bed is the center of your bedroom and some new pillows or a blanket can make a big impact.
Below I'm sharing some of my favorite Spring Bedding Ideas from Target!
This post contains affiliate links; see our Disclosure here.
Tips for How to Style Your Bed
My biggest tip for styling your bed, is to start with a neutral base. That way it is so much easier to change up the look on a budget.
If you have a neutral duvet cover and shams, you can add in a fun and colorful throw or quilt and some decorative pillows for each season.
Beds can be so much fun to style! Another styling tip – It's all about the layers!
I'm telling you – if you want your bed to look like an expensive designer bed – work in layers! Euro squares, shams, decorative pillows, duvet, quilt, throw…there are a lot of different options and arrangements to work with!
For my bed below, I layered this neutral linen duvet cover, with a colorful quilt on top.
The back black pillows are these king euros from Target that I love! They are a really great quality and size for the price, and come with a nice insert and a zippered cover!
Covers with zippers are ideal so you can remove the pillow cover to wash it, and replace the insert if needed!
In front of the King Euros I have these neutral linen king shams that match my duvet cover. And then this long striped bed lumbar pillow to add another texture and pattern. I love using lumbar pillows on king beds because they feel simple and clean.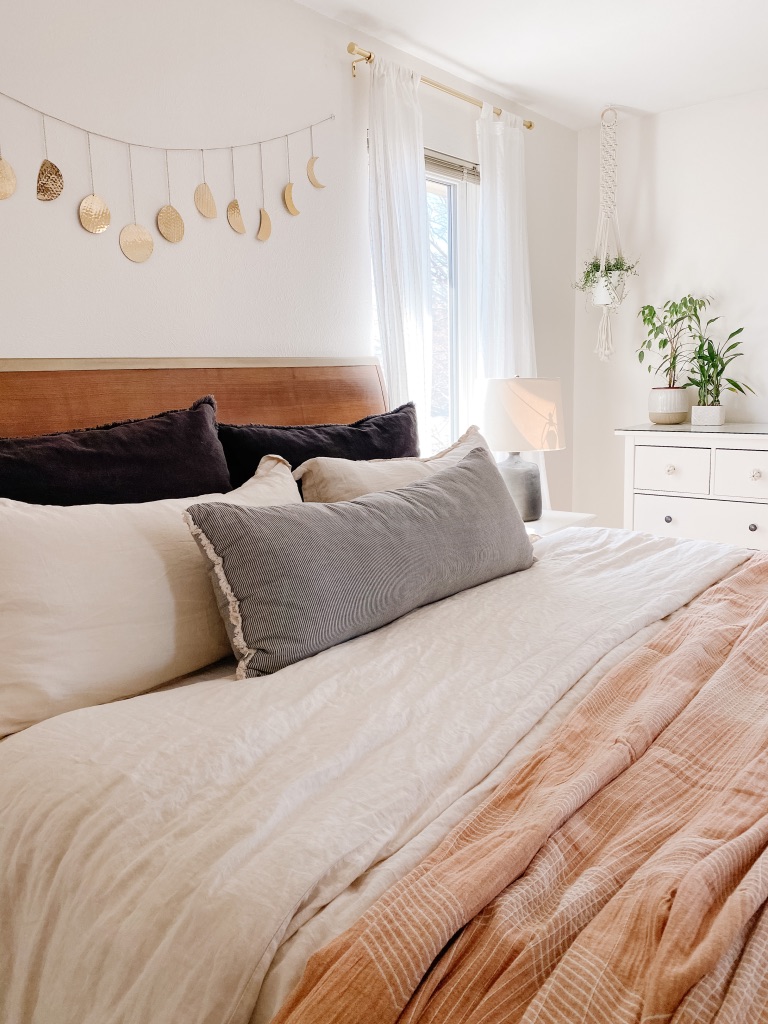 I've been slowly working on my bedding for a while now. Ha, that sounds a little ridiculous as I write it. But I'm too picky and indecisive sometimes!
The last piece I've been looking for is a blanket or throw for the foot of the bed. While I was at Target the other day…I think originally looking for a toy for Griffin but, you know, Target…I saw that they had some new spring bedding out and took a look!
They had a few coverlet options that I loved, but I ended up on this one! I think it is so cute and works really well with my linen duvet cover! The color is like a pink/salmon and it feels perfect for the transition to Spring.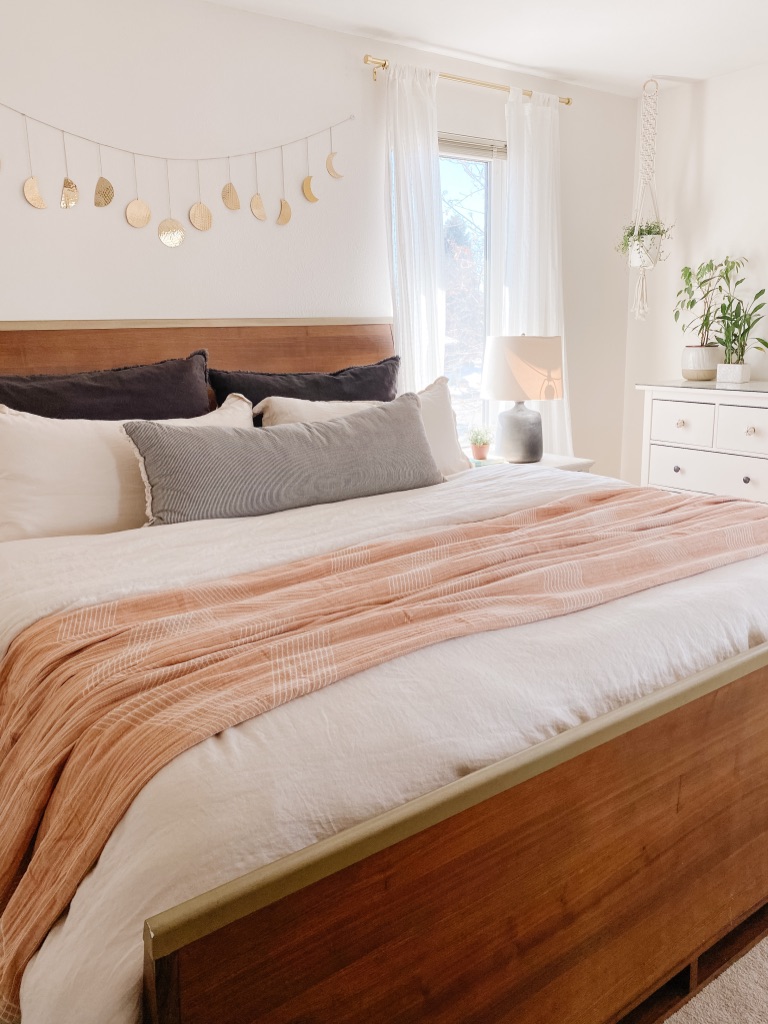 There were so many cute new spring bedding options at Target so I put together some of my favorite options below!
Affordable Spring Bedding Ideas from Target: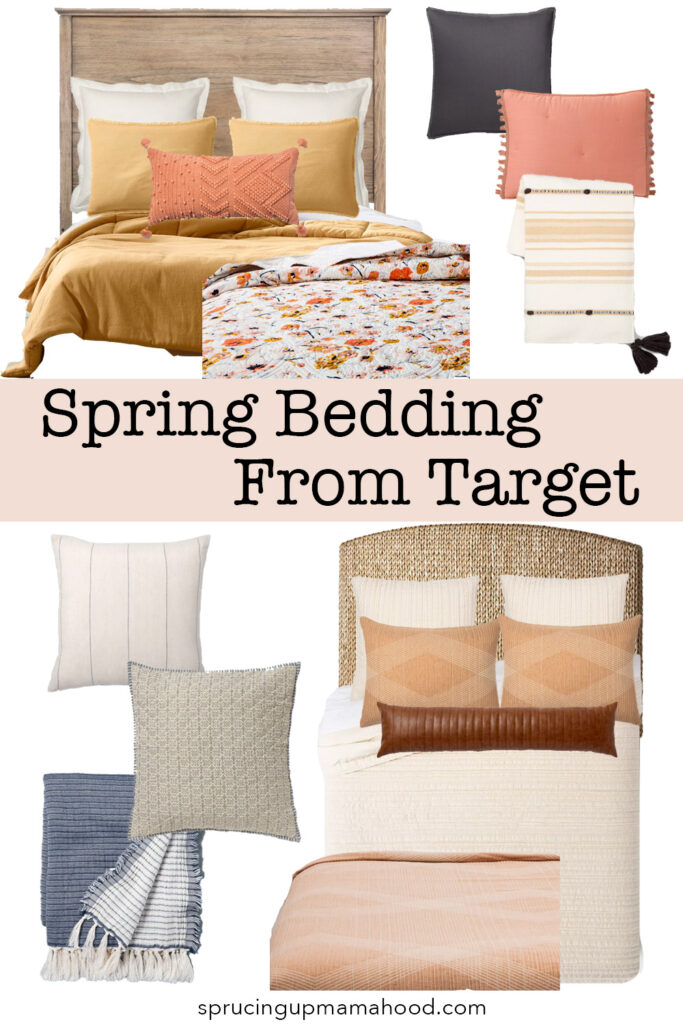 Spring Bedding Links for the Items Shown in the Above Options:
Top Grouping: Headboard | White Euro Squares | Yellow Linen Shams | Pom Pink Pillow | Yellow Linen Duvet Cover | Floral Quilt | Charcoal Euro Square | Pink Sham | Yellow Stripe Throw
Bottom Grouping: Headboard | White Clipped Texture Euro | Salmon Jacquard Sham | Faux Leather Bed Lumbar Pillow | White Clipped Texture Duvet Cover | Salmon Jacquard Coverlet | White Stripe Euro | Blue Floral Pillow | Blue Throw
More Spring Bedding Options from Target:

Give your Bedroom a Fresh Look for Spring!
Now that you've seen all the great options above, it's time to freshen up your bedroom for Spring! Switching out the bedding, or even just the accent pillows and a throw or quilt, are simple ways to change the look of your whole bedroom!
There are so many fun ways to layer and arrange your bedding! Let me know if you have any questions in the comments below!
This post was all about How to Style your Bedroom for Spring and cute new spring bedding options from Target!
More Spring Decor Articles: