Happy Friday, friends! It's been a while since I've been on here! Today I am sharing about our Bathroom Remodel plans! But first, a quick update –
As some of you may know, we officially sold our house and moved into our new house last week! I was anxious about it all and had mixed emotions about leaving our old house. I loved it so much and we had put so much work into it (definitely going to miss this pergola and this fireplace!!). But now that we are in our new house I feel so at home! It was definitely meant to be! The yard and landscaping are amazing and are really what made us fall in love with this house. I love all of the big trees and privacy we have now! Our old yard was very small so it's a huge change! And the kids are totally loving all the space as well!
However, the inside of the house needs a LOT of work! We will be painting for months and have so many updates to make. At times it does feel overwhelming, but I am also so excited for it all. I am excited to get creative and to design each space just how I want it! So definitely stay tuned because I have SO MUCH coming up to share!
Bathroom Remodel Plans
First up, is our bathroom remodel! It is actually coming up very soon (we are scheduled to start in about 1.5 weeks)! So today I wanted to share with you all my ideas for the Bathroom remodel design and some inspiration images that I love. Here are a few BEFORE photos so you can see what we're working with. I think the only thing that has been updated in here since the 70's is the toilet!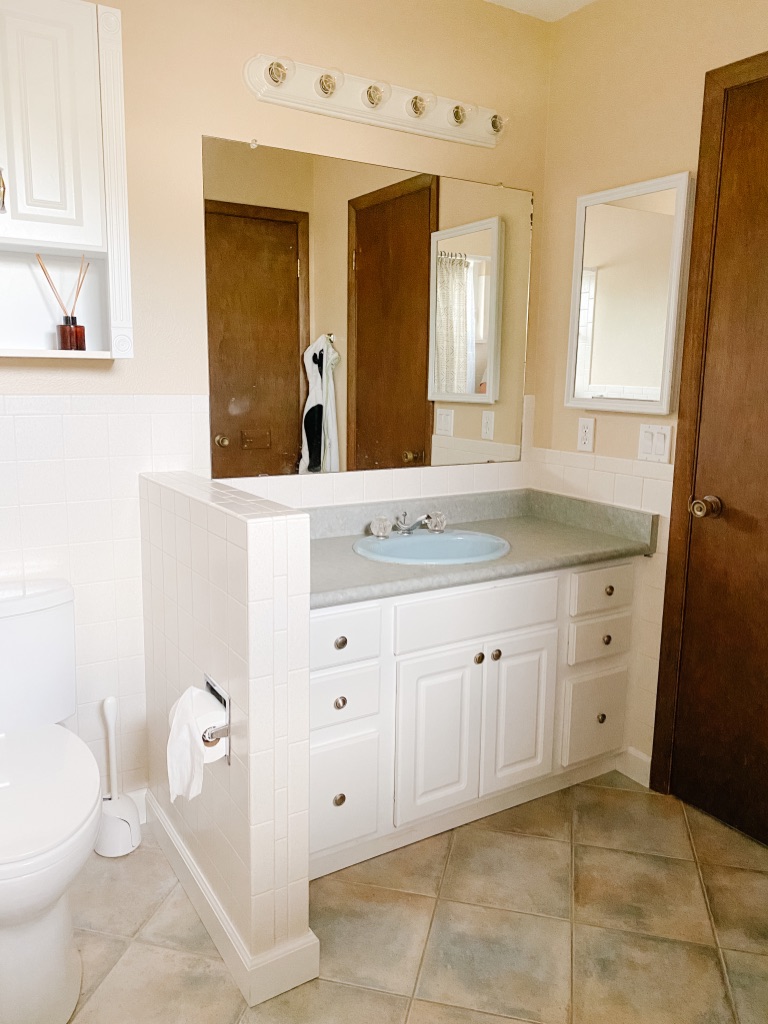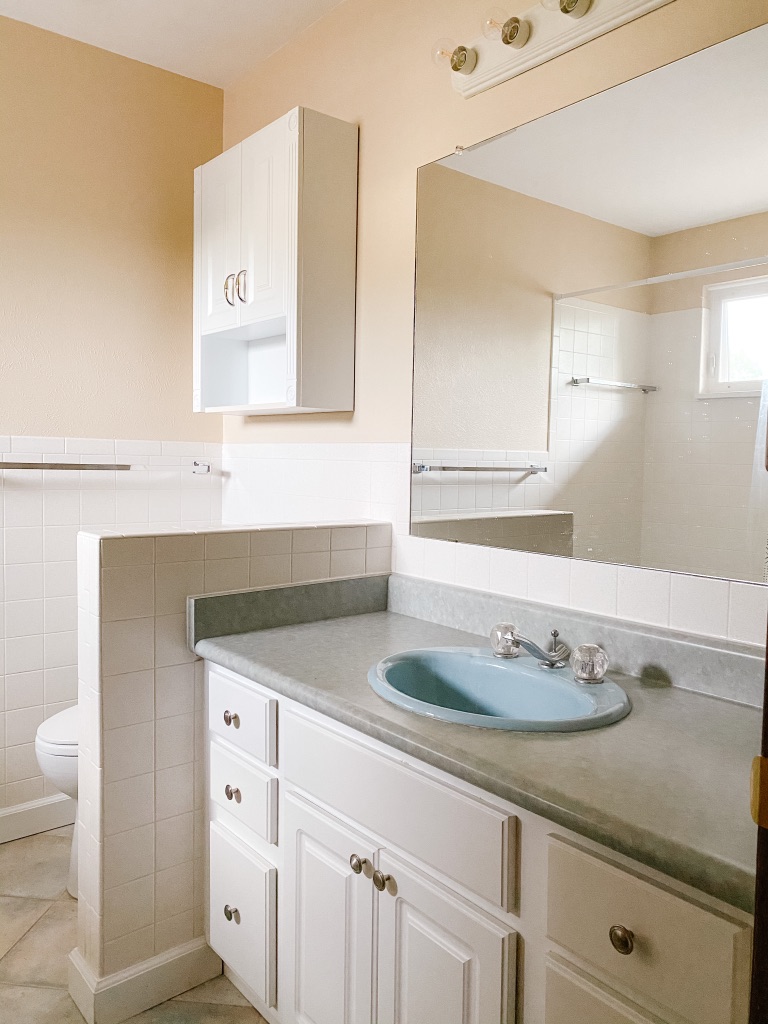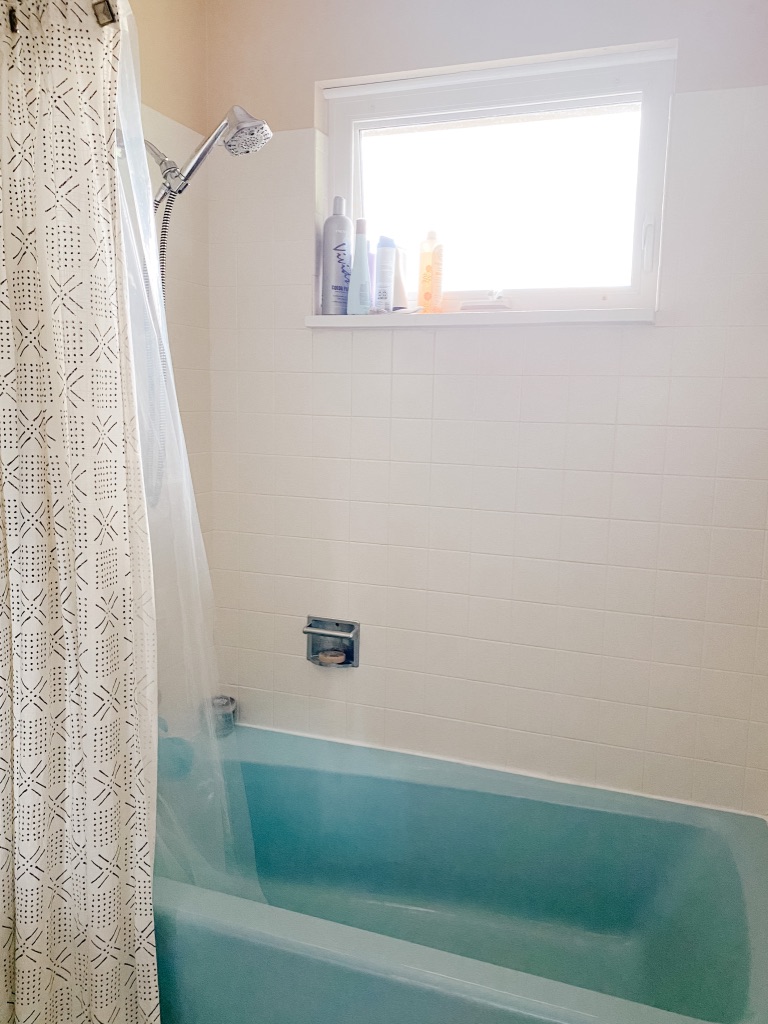 Don't you just LOVE that blue tub! My son actually does haha.
It has been very hard for me to narrow down a design concept because there are so many ideas out there that I love and want to incorporate. We have three bathrooms in this house, and all three desperately need to be updated. This house was built in 1978 and I don't think the bathrooms have been touched since then. The remodel process on this house is going to be ongoing though, so we are going to start with one bathroom first. We chose the largest bathroom that is on the upper level. It is the kid's bathroom, and is also not too far from the Kitchen, so it will be a convenient bathroom for our guests to use. Below are a few of my design must-haves for this bathroom remodel.
Must Have #1 – Large Soaking Tub
One thing that this house is missing that was high on my house hunting list, is a large soaking tub. So, that is another reason why we are choosing to update this bathroom first. Because it is large enough that I will be able to include a deeper tub in there to use!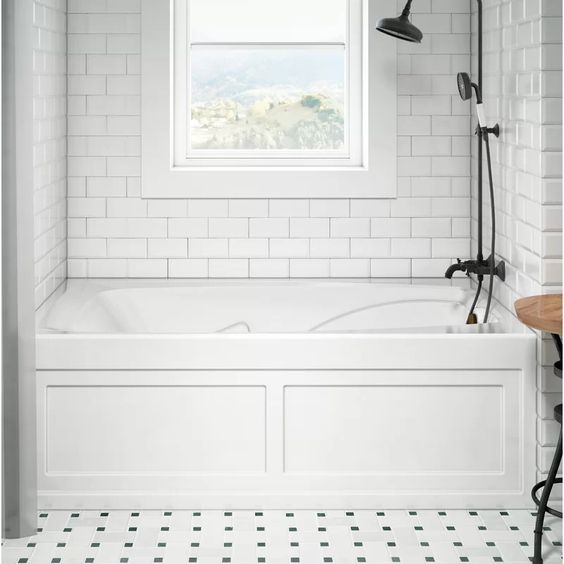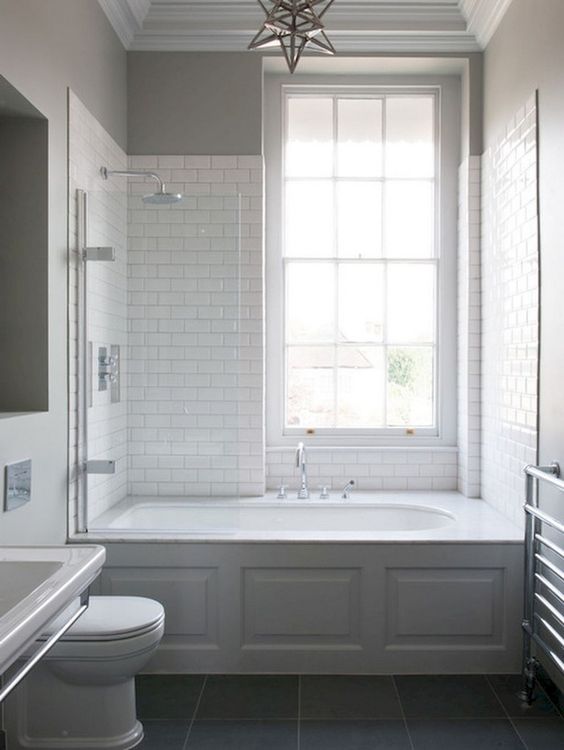 Must Have #2 – Welcoming yet Sophisticated Feel
Another aspect I have been struggling with for this bathroom remodel, is if I want to make it feel more casual and "kid-friendly" or more elegant and sophisticated. I'm trying to find a good balance in between the two. We do have a smaller bathroom attached to our Master Bedroom, so I will eventually be able to update that bathroom and make it feel more sophisticated. But because this is the bathroom that guests will use as well, I don't want it to be too "kid-friendly"…if that makes any sense, haha. Here are a few inspiration images that I am leaning towards. I feel that these designs feel casual and welcoming but are also striking and interesting! I am kind of leaning more towards a boho vibe as well with the mix of white, natural wood, and greenery.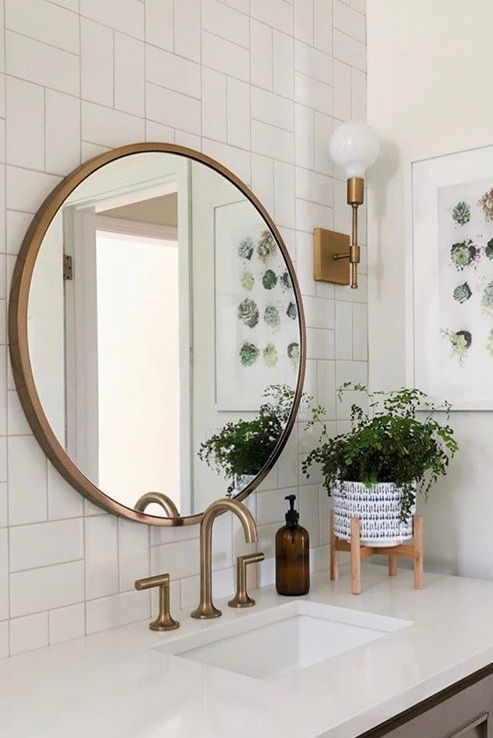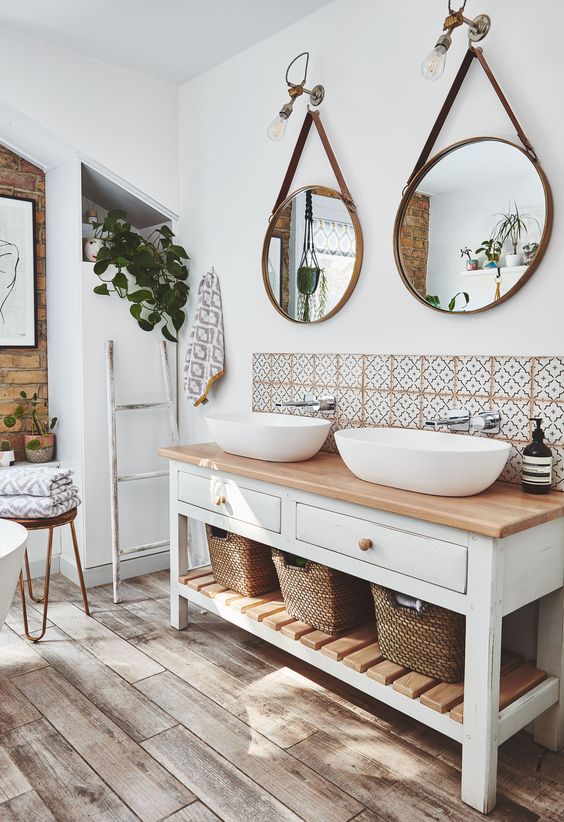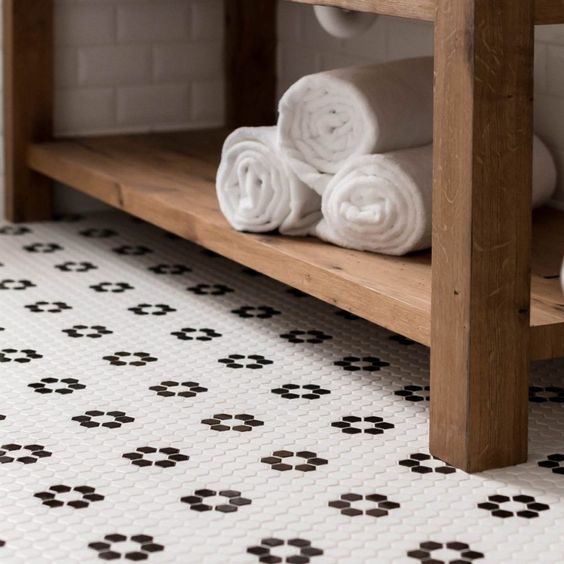 Must Have #3 – Pop of Color
I really want to add some sort of fun and colorful aspect to this space, so I am thinking about adding an accent color or a fun wallpaper. I also want to add some plants on the shelves and maybe a few hanging plants.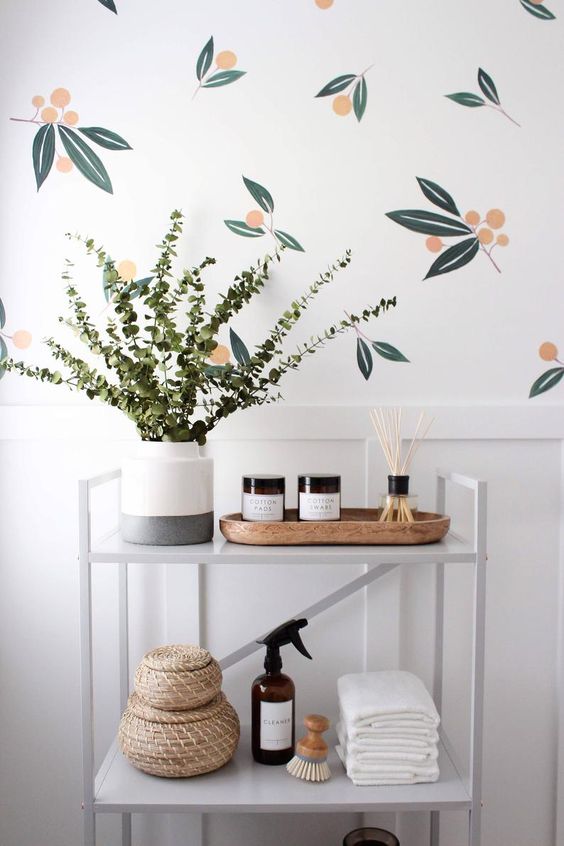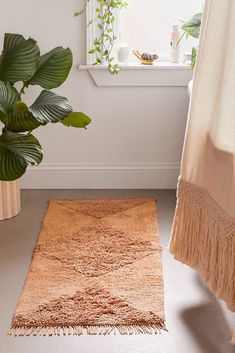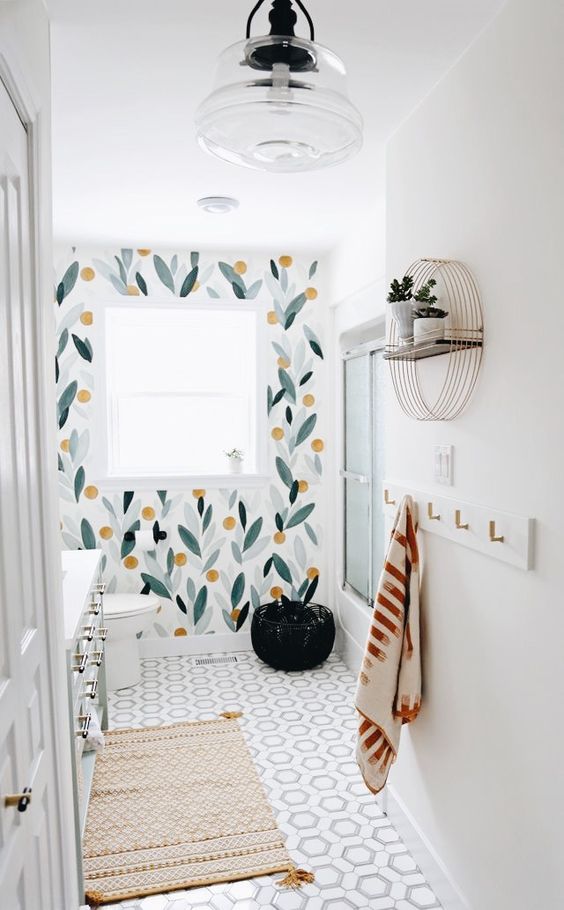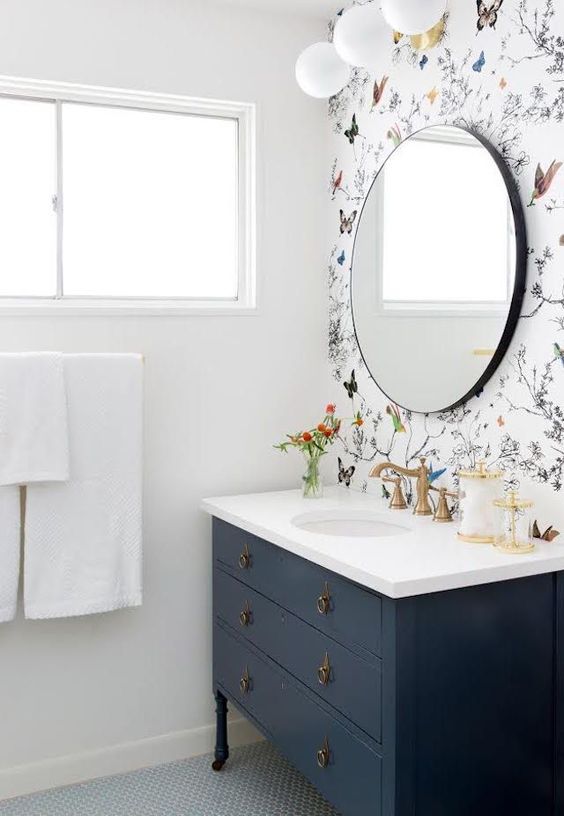 Must Have #4 – Storage Space
This bathroom already has a ton of storage space. I want to keep as much as we can, but de-clutter it a bit. Right now there is a medicine cabinet, a storage cabinet over the toilet, lots of storage in the vanity, and a fairly large linen closet next to the shower. While a lot of storage space is definitely nice to have, it feels a little over board right now. Right now I am planning to remove the medicine cabinet, and add cute open shelves above the toilet instead of the storage cabinet. I have been debating about what to do with the linen closet. I thought about opening it up, but now think that we will keep it because it is tucked away and useful.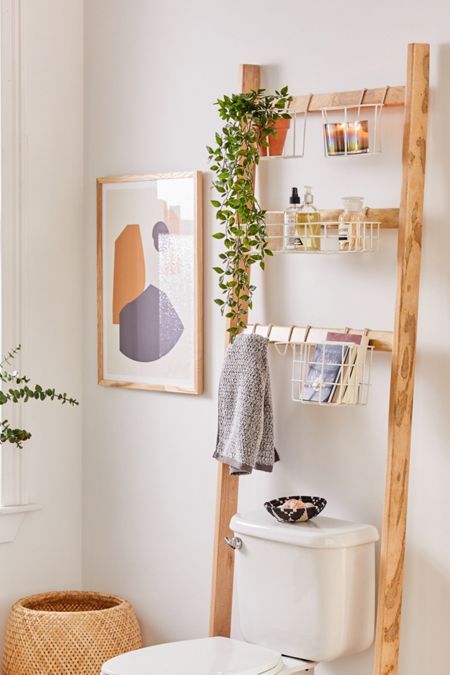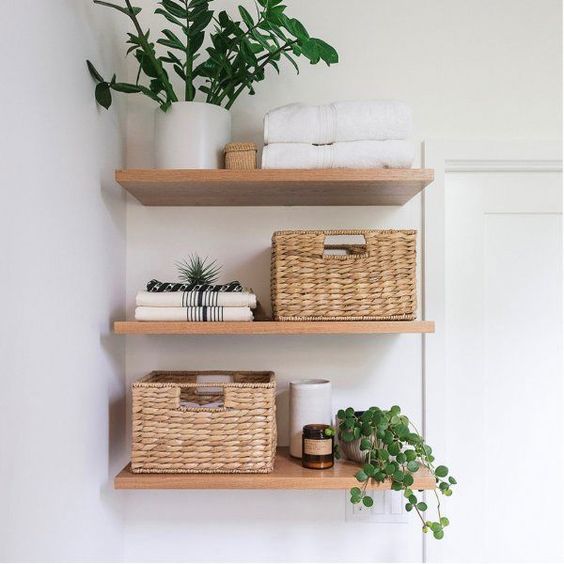 We are still trying to finalize the overall design and the actual pieces. I really need to order everything asap! But I will share what I decide on with you all soon! Writing it all out like this actually really helps! I am so excited to get started with this bathroom remodel and can't wait to share more with you all!
See our Disclosure here.