Hi, Friends! Below I'm sharing all about the boho wall mural that I painted in my son's room! If you are looking for Boho Gender Neutral Nursery Inspiration, read on! First of all, I hesitated calling this a "Nursery" instead of a "Bedroom" because he just turned 2…but he is still a baby in my eyes, haha, so a nursery it is! And second…how is this little boy 2 already! I seriously feel like I just had him!
Anyway…I'm absolutely in love with how this sun mural turned out! I've always wanted to design a girl's nursery, but will probably never get a chance to (having two boys!), so I really like how this turned into more of a gender neutral room. I think this boho wall mural could easily work in a girl's room too!
It would also look great in almost any color! I've been really into terra cotta hues lately so went with Behr Nairobi Dusk for the sun paint color. I think it is a perfect peachy terra cotta color. It's not too pink, not too orange. I left the background wall color as is because it was already a nice off white color (I'm not sure what this color is though).
Overall this boho wall mural was a very easy project! It took me about 3 hours to paint the sun. I'm still planning to paint the baseboards and door in here as well. Currently they are a dark wood stain (circa 1970's!). I'm thinking a black or dark charcoal color could be fun! Scroll down to see how the rest of this room came together for more Boho Gender Neutral Nursery Inspiration!
This post is all about Boho Gender Neutral Nursery Inspiration!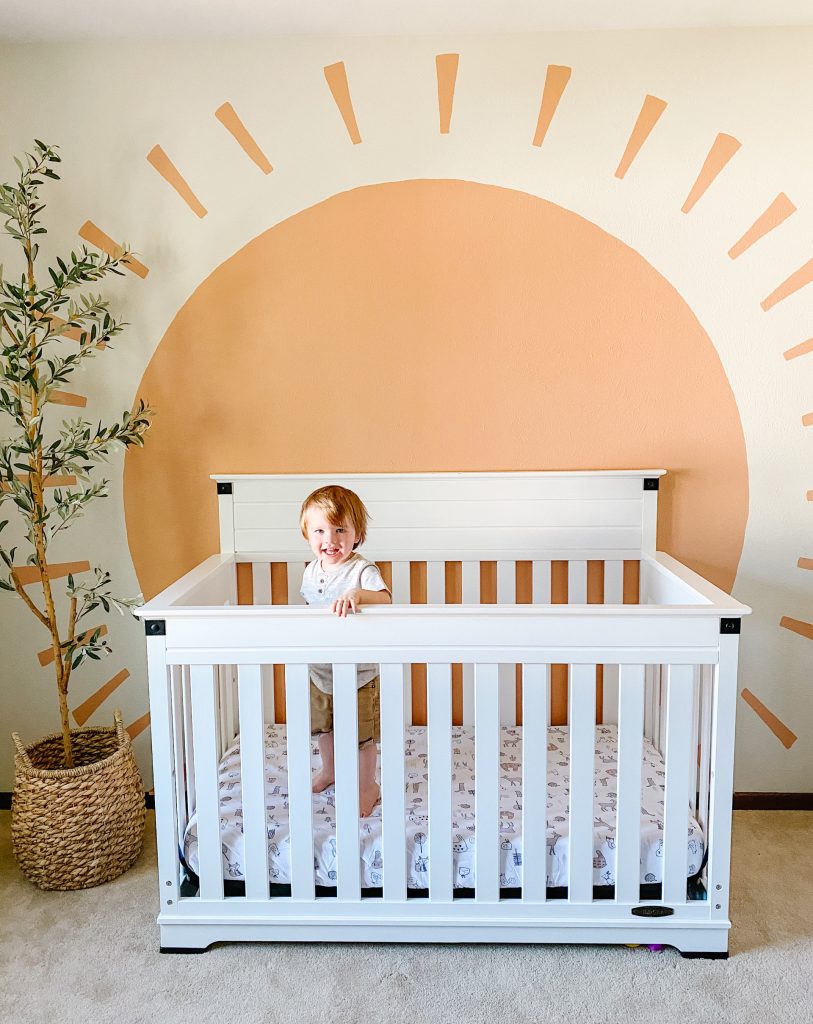 Sun Boho Wall Mural Tutorial:
Tip: How to Paint the Perfect Circle!
Step 1 – Draw a Circle
The best tip for drawing a large circle on a wall, is to simply use a pencil, nail and string! Place a small nail in the wall where you want the center of your circle to be. Then tie a piece of string to the nail, and tie a pencil to the other end. Adjust the length of the string to reach as far as you'd like (longer for a bigger circle, shorter for a smaller circle). Then pull your pencil to the outside edge, keep it straight, and trace your circle.
Step 2 – Draw the Rays
I used the same pencil/string technique to mark where I wanted the rays to be. I made the string slightly longer for the inside edge of the rays, and then longer again for the outside edge of the rays. Then I used a straight edge to mark the side of the rays in pencil. I made the outside edge slightly wider than the inside edge. I didn't measure in between the rays and just eyeballed it. But you could measure these to make sure they are more evenly spaced if you'd like!
For Reference: The sun is about 6'6″ H x 6'6″ W. The rays are about 10″ long and are about 5″ from the edge of the circle, making the overall height about 7'9″.
Step 3 – Paint the Outside Edges of the Circle and Rays
I used a small paint brush (like an artist's brush that you would use on a canvas) to paint around the edges. This helped create a nice sharp line without having to tape anything. I think you could also use tape if you'd like to. I decided to free hand it because I wanted it to look slightly imperfect and hand drawn.
Step 4 – Use a Roller to Paint the Inside
I used to roller to paint the inside of the sun, which was much faster than using a brush. I did use a brush for the inside of the rays though because they are smaller.
Step 5 – Second Coat
After 2 coats I was finished!
More Boho Gender Neutral Nursery Inspiration …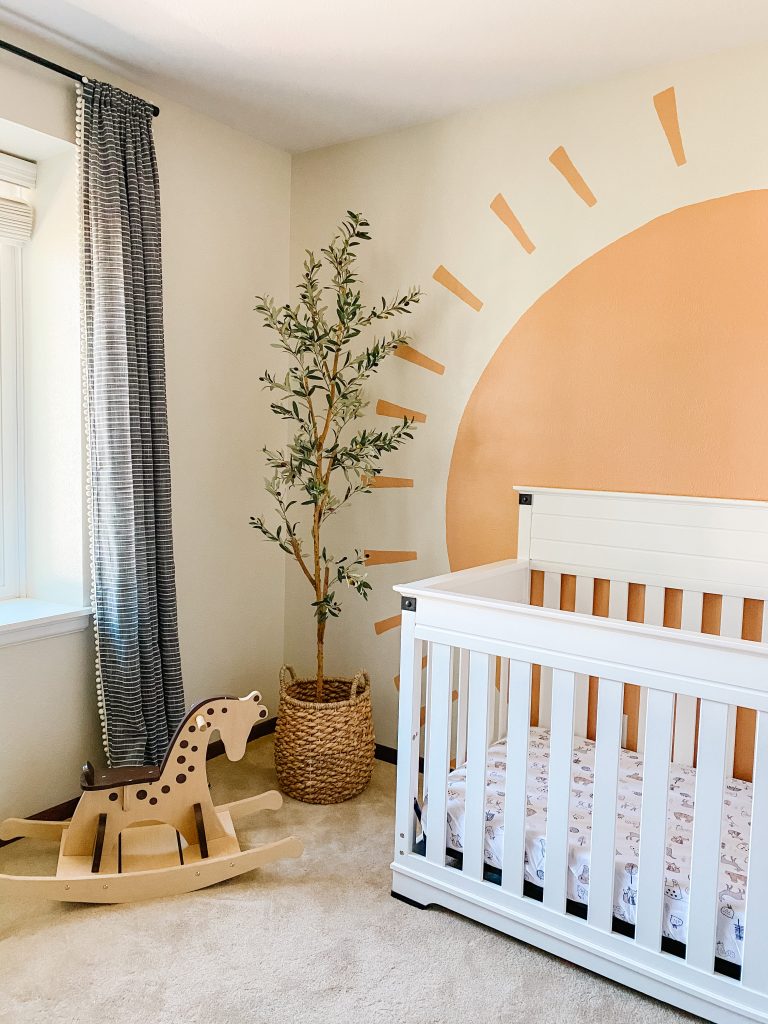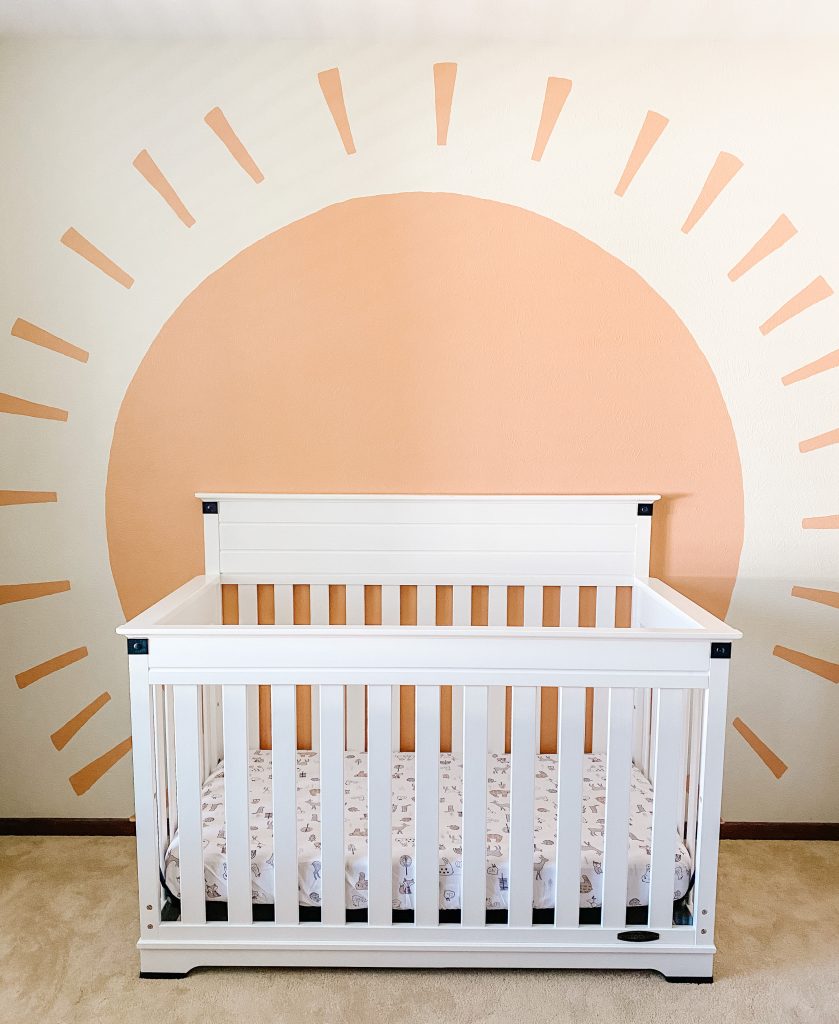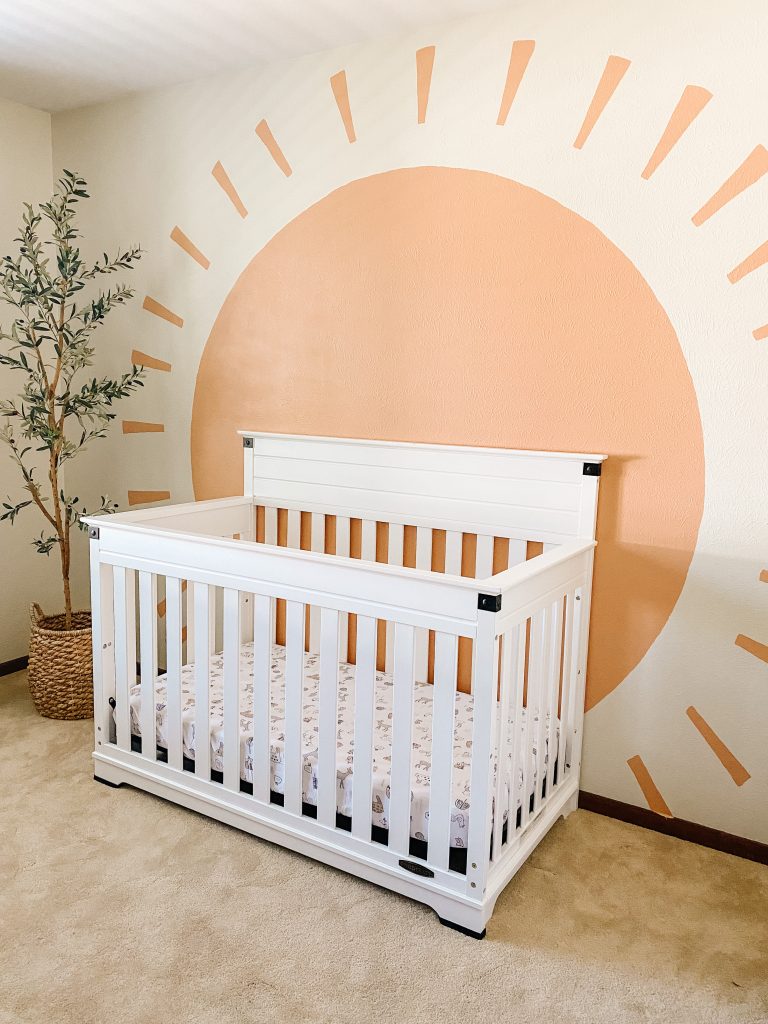 This was a simple DIY paint project and I love the outcome so much! The size of the sun makes such an impact in the room! I still need to finish the rest of this room, like hang some art, but haven't really felt an urgent need to because the sun mural makes such a statement! I love the Behr Nairobi Dusk paint color as well!
If you want to see the painting process, I have a story highlight saved on our Instagram page showing a time lapse of it!

Oh and PS – – – > this Faux Olive Tree is SO GOOD! It's from Amazon, is around $100, and is 84″ tall! Such a good size. It comes with a small weighted base so I got the Basket from World Market and it looks great with it! It is always selling out on Amazon so keep an eye out for it!
Shop This Post:

This post was all about a Boho Gender Neutral Nursery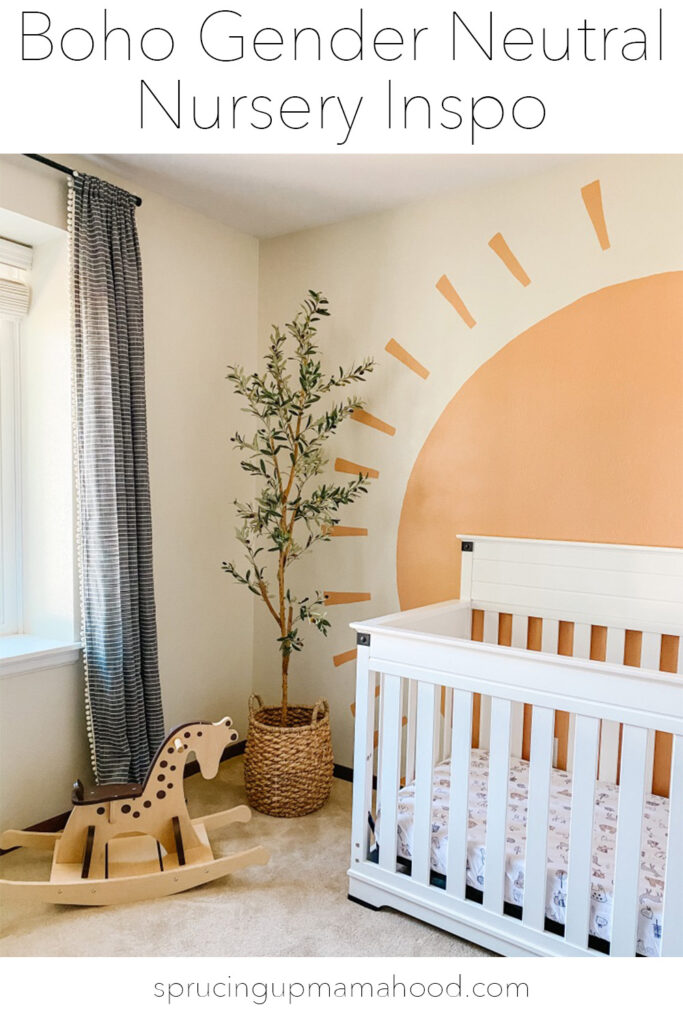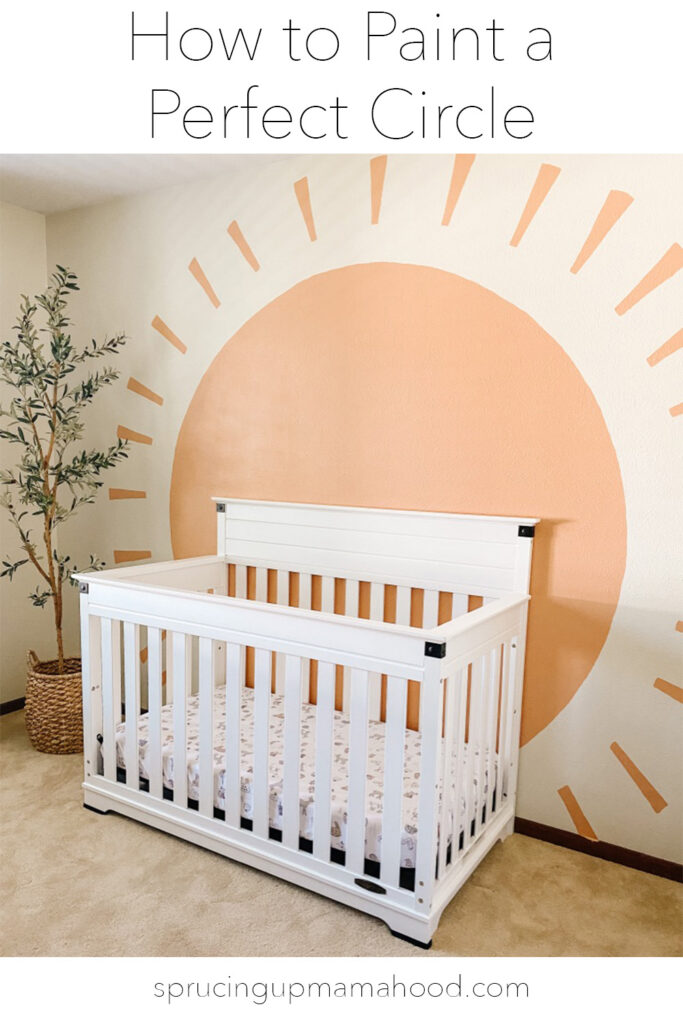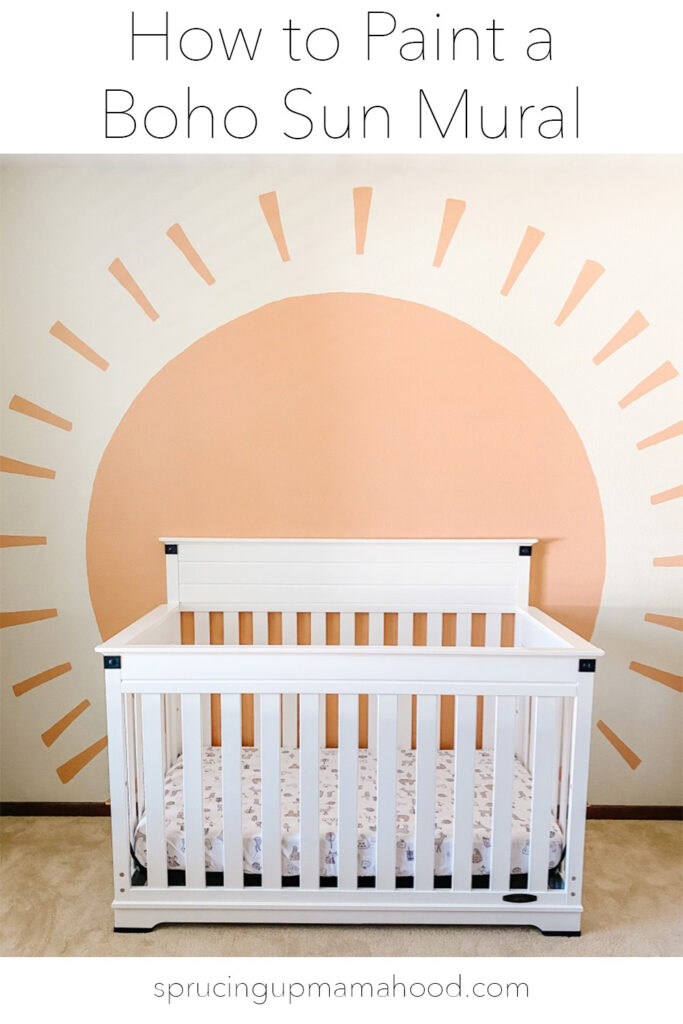 See our Disclosure here.