Happy Friday, friends! Our Bathroom isn't 100% complete yet, but I couldn't wait to share an update with you all! The bathroom is probably about 90% done. Mainly we still need to add some glass shelves in the shower, shelves above the toilet, replace the doors and finish a few paint touch-ups. We have been using it for a couple of weeks now though and I'm SO happy with how it has turned out! One of my favorite parts is the bathroom wallpaper! I think this boho wallpaper is so fun! I love the color it adds and I feel like it pulls the whole room together!
This post is all about our new boho wallpaper in our bathroom!
Bathroom Wallpaper Reveal!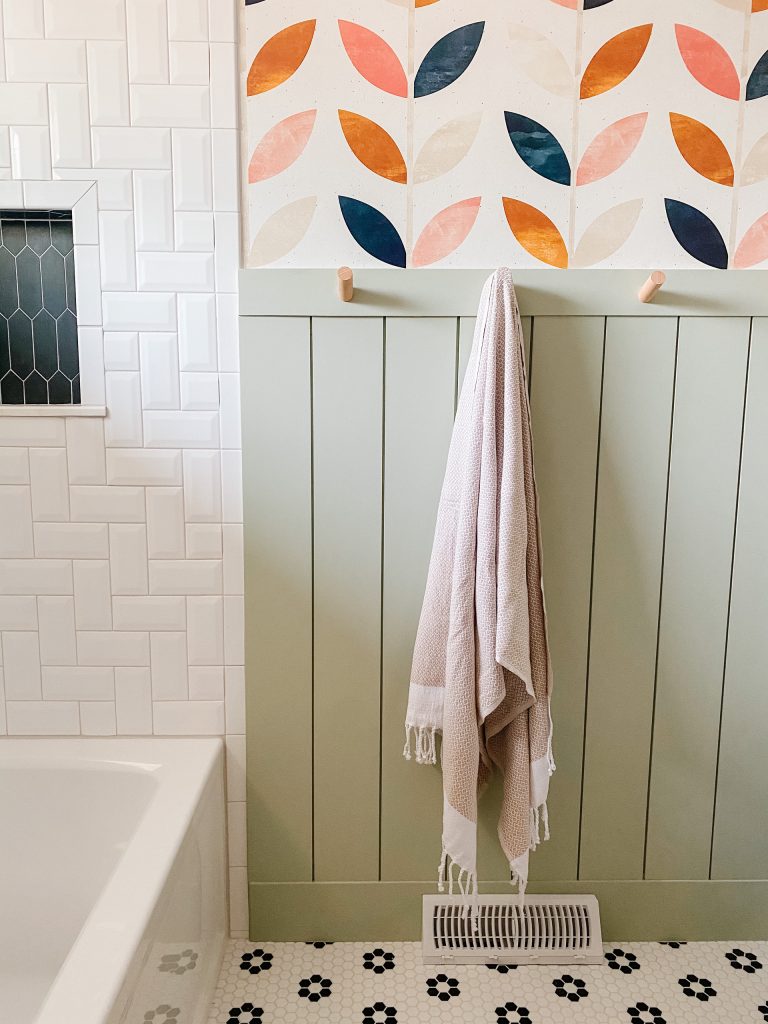 It took me so long to find the perfect bathroom wallpaper. I was worried the room was going to look too busy. So I almost gave up and painted the wall above the shiplap white. But, I have always wanted a fun wallpapered bathroom so I kept looking! And I'm happy I did because the colors in this boho wallpaper are so perfect.
I was shocked how well the boho wallpaper works with the colors in the shower curtain. I'm also happy we decided to paint the shiplap green instead of white.
This bathroom is technically our boy's bathroom and I wanted it to be fun and whimsical; I think we achieved that! It can sometimes be scary to work with so many colors and patterns, especially when the trend is usually to lean more neutral. But the colors in here make me so happy so I'm glad we went for it!
I also love that because we kept the main parts of this bathroom neutral – vanity, light, wall tile, floor tile – it will be easier to change the feel of this room in the future!
If we paint the shiplap a different color, replace the wallpaper, and get a new shower curtain, this bathroom would feel totally different! This is important to me because I love playing with different colors and patterns, but I also get tired of trends and styles quickly. So I am looking forward to selecting another wallpaper to switch it up in here when the time comes!
Shop This Room: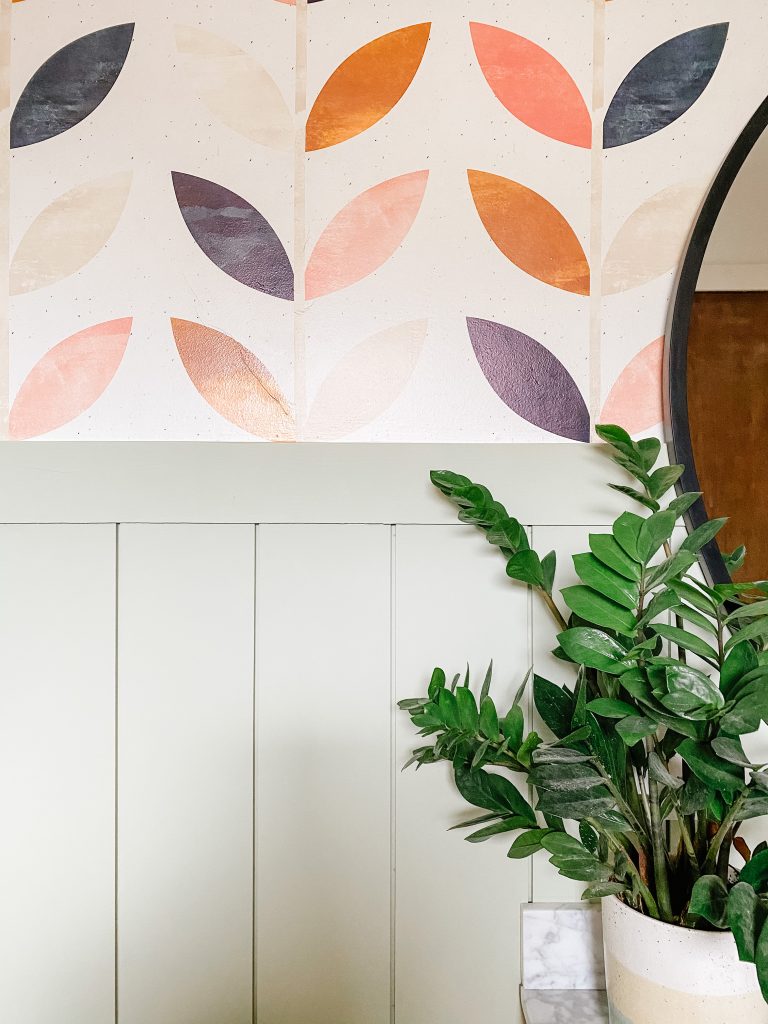 Peel & Stick Boho Wallpaper
We used peel and stick wallpaper for this bathroom. One reason was because it is so widely available. Almost every wallpaper option I loved ONLY came in a peel and stick option.
Another reason was because I wasn't sure how much I would like it, and how long I would want it up for. Peel and stick wallpaper is nice because it is so easy to remove whenever you want to.
I will say though that we had a pretty hard time installing this wallpaper. We left the drywall untextured above the shiplap since we knew we were adding wallpaper, so the wall texture wasn't an issue.
You can read about Kaylee's experience with adding peel and stick wallpaper over textured walls here.
But, it was hard to perfectly line up each section. We ended up with a few wrinkles that we couldn't smooth out. Luckily they aren't super noticeable and they sort of blend in with the pattern. But it was pretty frustrating!
I've installed peel and stick wallpaper before with no problems though. I think the main issue was just that this pattern is so symmetrical and needs to be perfectly straight to line up, so there was no room for error. The actual paper was also very thin and VERY sticky, so it was hard to adjust once you took the backing off. Overall though I really love how it looks and would install peel and stick wallpaper again.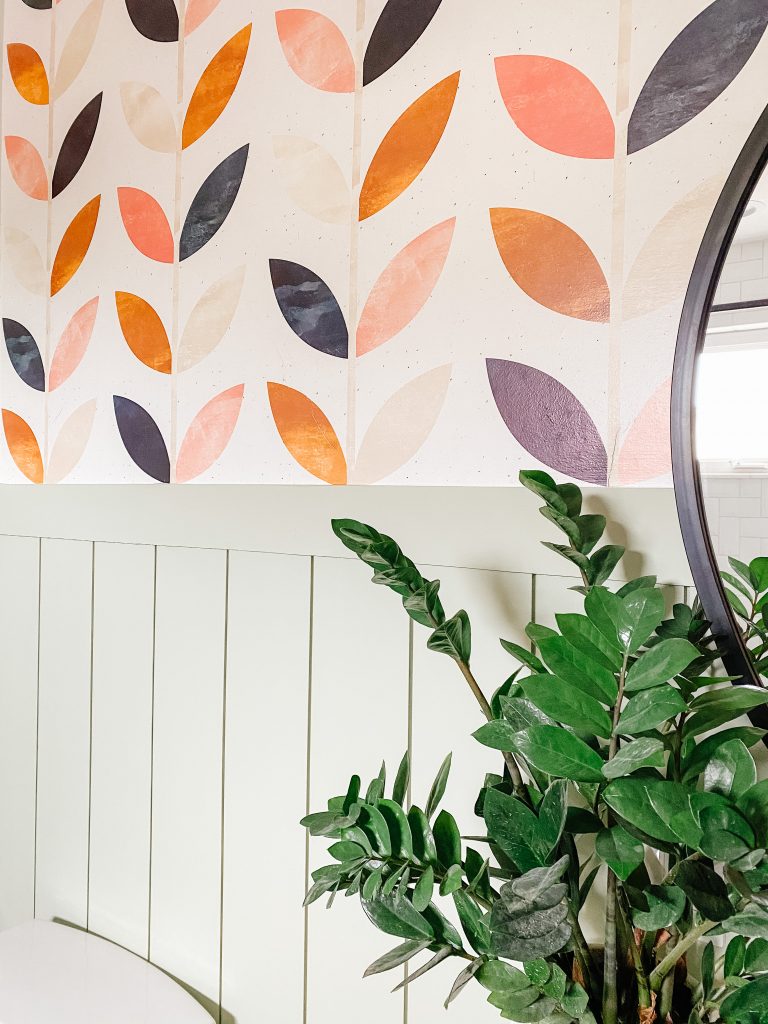 More Boho Wallpaper Options
I found so many cute boho wallpaper options that I wanted to share while I was looking! Some are more boho and some are more Scandinavian, and all are Peel & Stick! I was sooo close to ordering one of the cute peach wallpapers or wall decals. One might work for our next bathroom remodel though! Or these could be so cute in a Laundry Room.

Other Remodel Updates…
Our Kitchen remodel is almost complete as well! We were able to unpack and move everything into the cabinets which was so exciting! We only have a few things left do do – finish the hood vent cover, install the tile backsplash, install the cabinet hardware, and install the Kitchen island pendants!
Check out this round up of island pendant lights if you missed it!
We have also begun the demo in the Family Room and Hallway area. We are replacing floors, updating a large storage closet, and adding a mudroom/bench area! I can't wait…I love organization! We had to move all of the furniture we had down there up to the Living Room off of the Kitchen, and I love how it all looks in there! It feels so cozy! I'm also in love with this new rug that we added in there!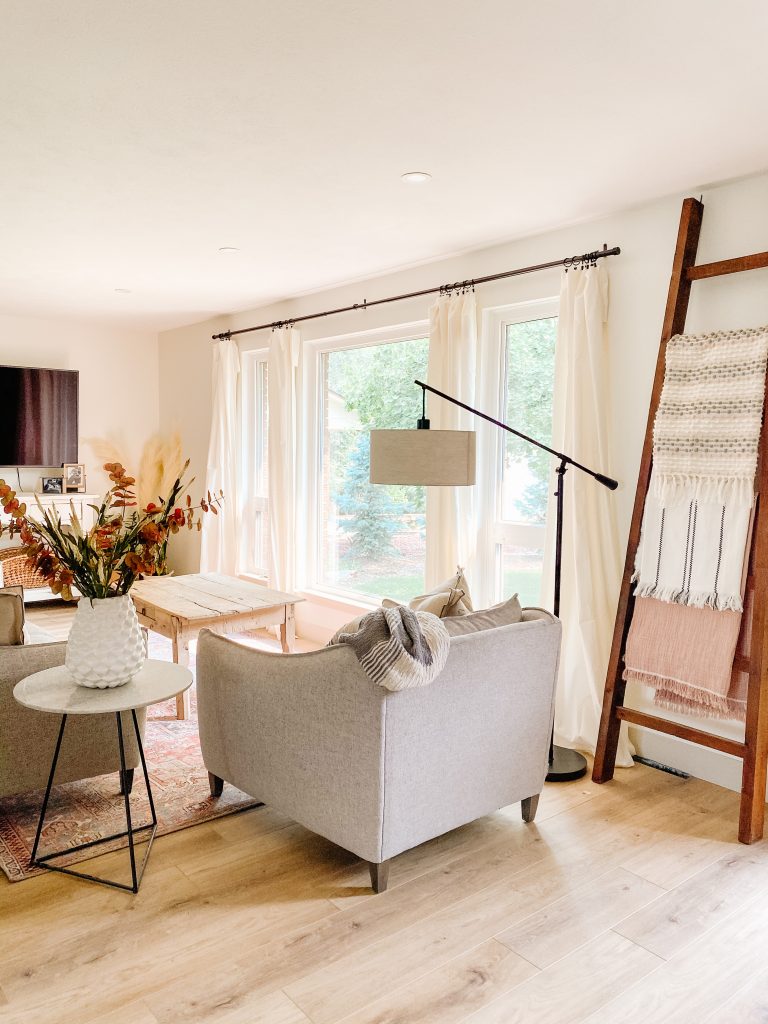 Click here to see the BEFORE photos of this bathroom and what my design plan was! Remember to follow along on Instagram as I share more there!
THIS POST waS ALL ABOUT OUR NEW BOHO WALLPAPER IN OUR BATHROOM!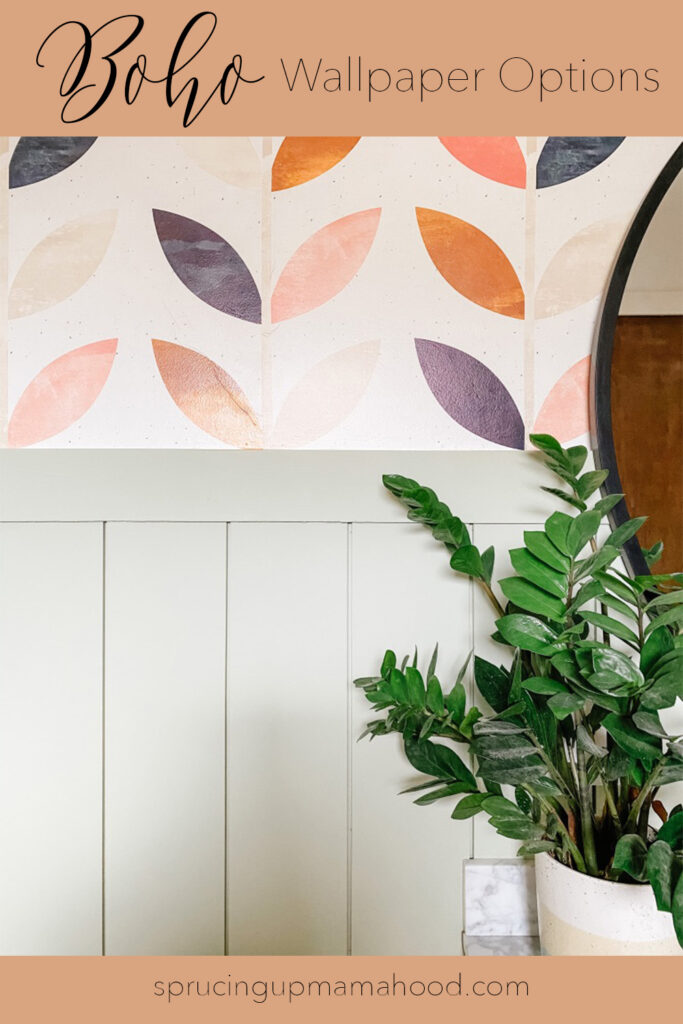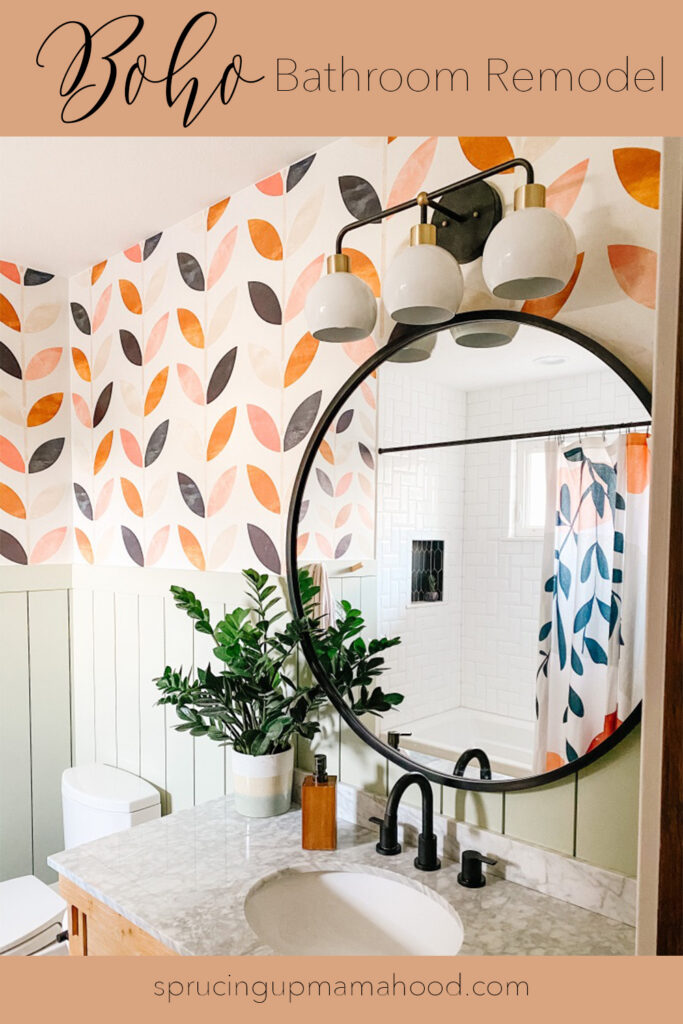 See our Disclosure here.