See How to Add a Pop of Color to Your Stair Risers with a Fun and Colorful Peel and Stick Wallpaper!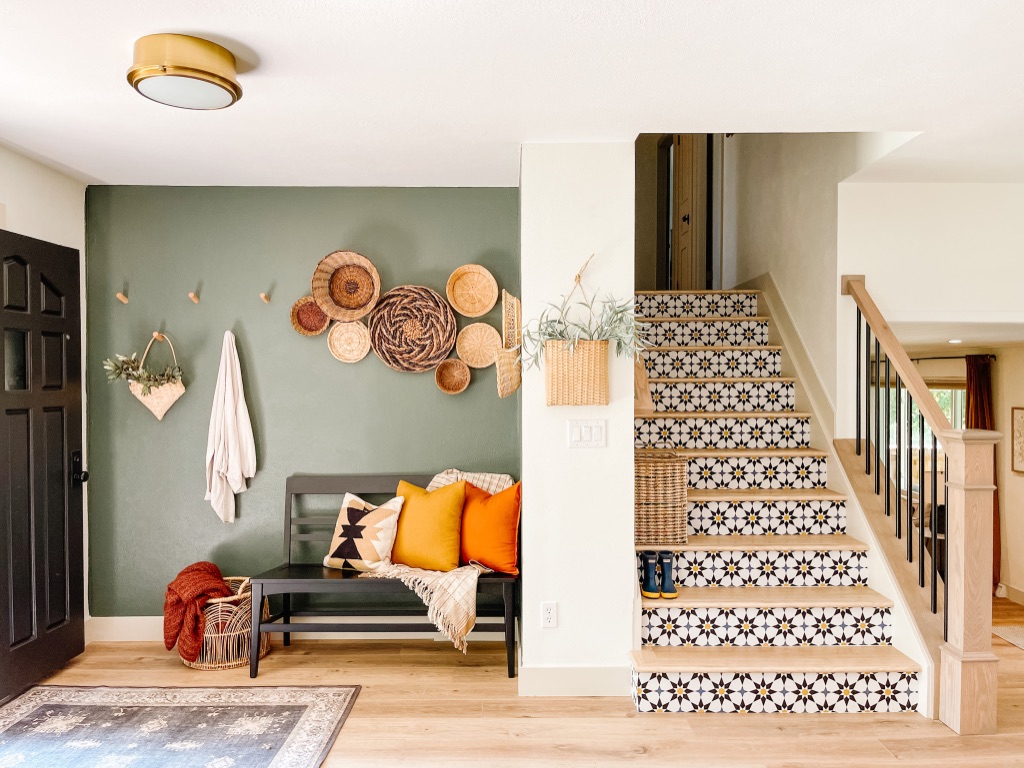 If you were following along in our Instagram stories a couple weekends ago, you saw that I was on a roll! I was able to tackle a few projects that I have been wanting to get done and it felt great! One of those projects was to give our stairway a little makeover by adding peel and stick wallpaper to the stair risers!
I had been going back and forth on whether or not I wanted to add the wallpaper here, or keep the stair risers white. In the end I decided to go for it and I'm glad I did! This was a very quick, easy, and affordable project that made a huge difference in the look of our stairway!
The peel and stick wallpaper is also easily removable. So if you decide it is not for you or want to switch to a different pattern at some point that can be easily done.
Read on to see How I Added Peel and Stick Wallpaper to Our Stair Risers!
This post contains affiliate links. See our Disclosure here.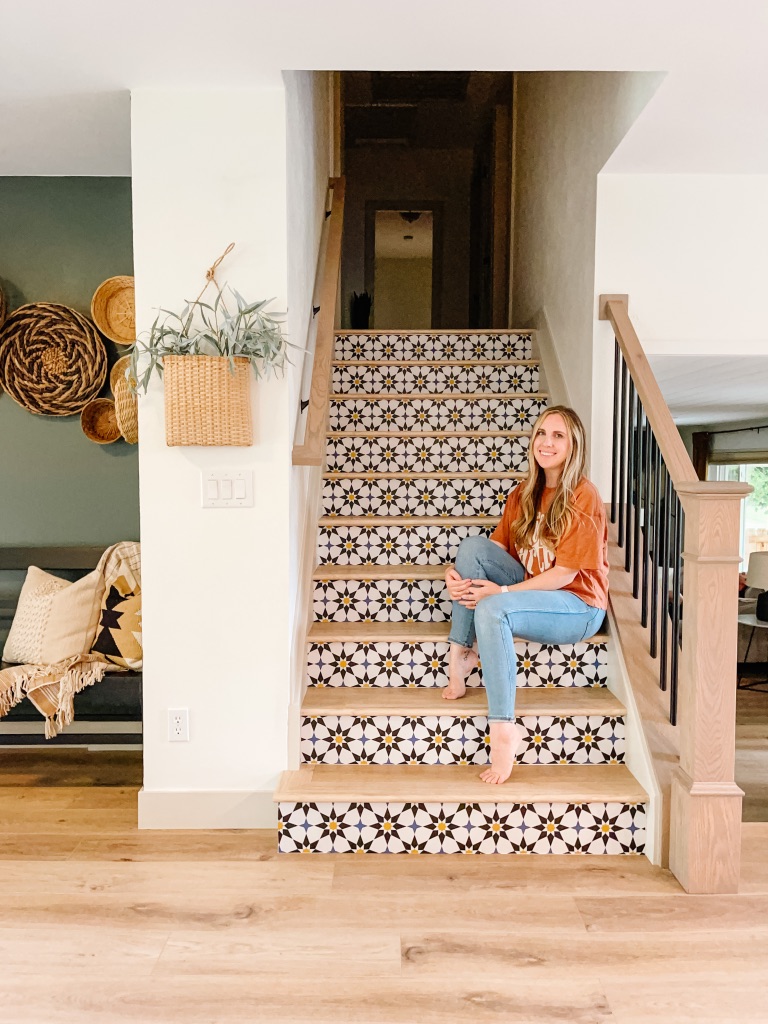 DIY Peel and Stick Wallpaper at Stair Risers
I honestly wasn't sure about this project at first. I was worried that it would feel too busy. I also had a hard time finding the right wallpaper. I wanted a fun design, but nothing too crazy, and wanted it to work with the rest of our decor.
I'm also very impatient once I decide to work on something, so I was trying to find something in stock, with quick shipping. When I found this wallpaper, I knew it was perfect! And you can't beat one day shipping from Amazon!

This Peel and Stick Wallpaper is from the same company, Tempaper, that our Breakfast Nook wallpaper is from! So it has a similar look and color scheme. The pop of mustard yellow really helps tie the two spaces together. I also loved that is has black, to tie in the stair railing, and a dark blue to tie in my newly painted accent walls!
Another detail I love about this peel and stick wallpaper is that the geometric pattern looks like tiles. So it is perfect for stair risers if you want that tile look!
The pattern repeat also magically lined up with the height of our stair risers! Our stair risers are 7″H, which is a very common height, so I'm not sure if Tempaper had that in mind or not when creating this pattern, but I'm very happy it worked out. This created less waste as I cut the wallpaper strips out.
This was a very affordable project as well! It only took one roll of wallpaper to complete our stairs, and each roll is about $35. Overall I love how this simple DIY project turned out!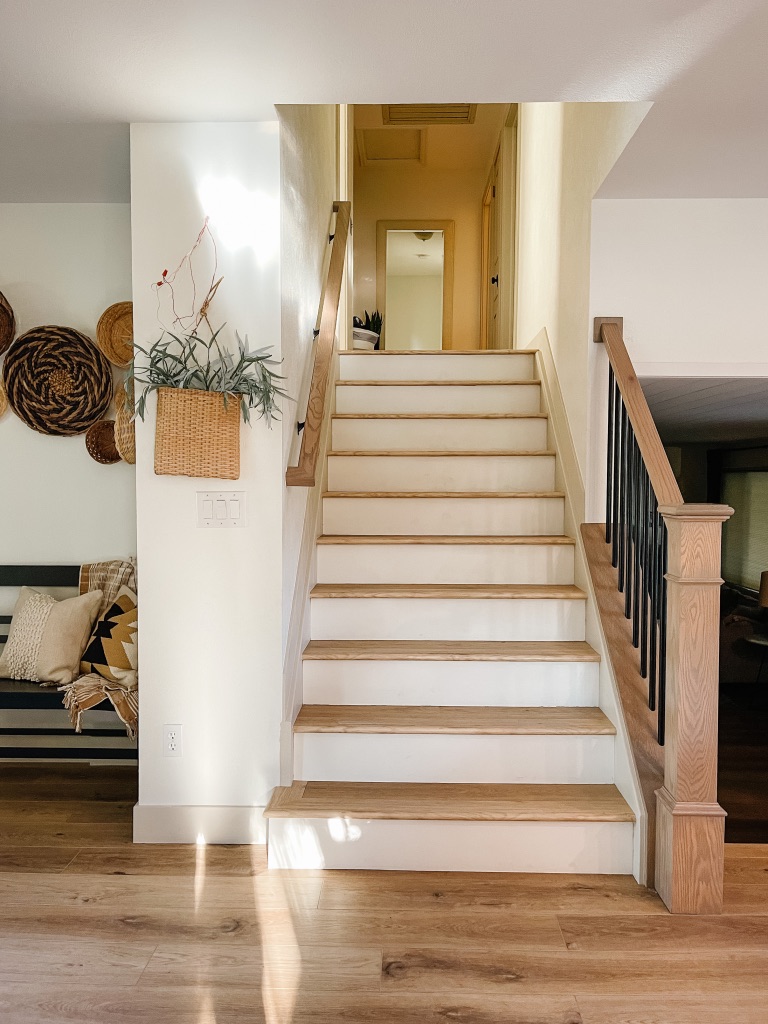 How to Add Peel and Stick Wallpaper to Stair Risers
Step 1 – Decide on a Pattern
It's best to select a pattern with a small scale pattern. Something simple or geometric looks great on stair risers!
Step 2 – Measure and Determine Amount Needed
Keep the wallpaper's pattern and repeat in mind. There might be some waste in order to line your pieces up, so you might need more square feet than you think.
Round up about 1/2″ on your measurements to account for mistakes. You can always trim the excess off. It's better to have more than you need than not enough.
Step 3 – Cut Wallpaper to Size
Use an x-acto knife, and a strong straight edge (like a long metal ruler) to cut the wallpaper to fit your stair risers. Make sure to place something underneath the wallpaper when you are making the cut, like a thick piece of cardboard or a cutting mat.
Step 4 – Apply to Stair Risers
Line up the pattern and keep it level! Since the stair risers are pretty small areas, I removed the entire backing of each piece before I went to line it up and place it on the riser (instead of peeling only small amount of backing off at a time like you would with a larger wall).
Step 5 – Trim any Excess
Use an x-acto knife to trim any excess.
More Stair Riser Wallpaper Options
Below are a few more peel and stick wallpaper options that would work well for stair risers! It's best to find something with a smaller pattern. Also keep in mind the pattern width and repeat. Most stair risers are 6-8″ high. You can use a standard roll of peel and stick wallpaper, or some companies make sizes specially made for stair risers. There are a ton of custom options on Etsy!

Stair Railing Update Details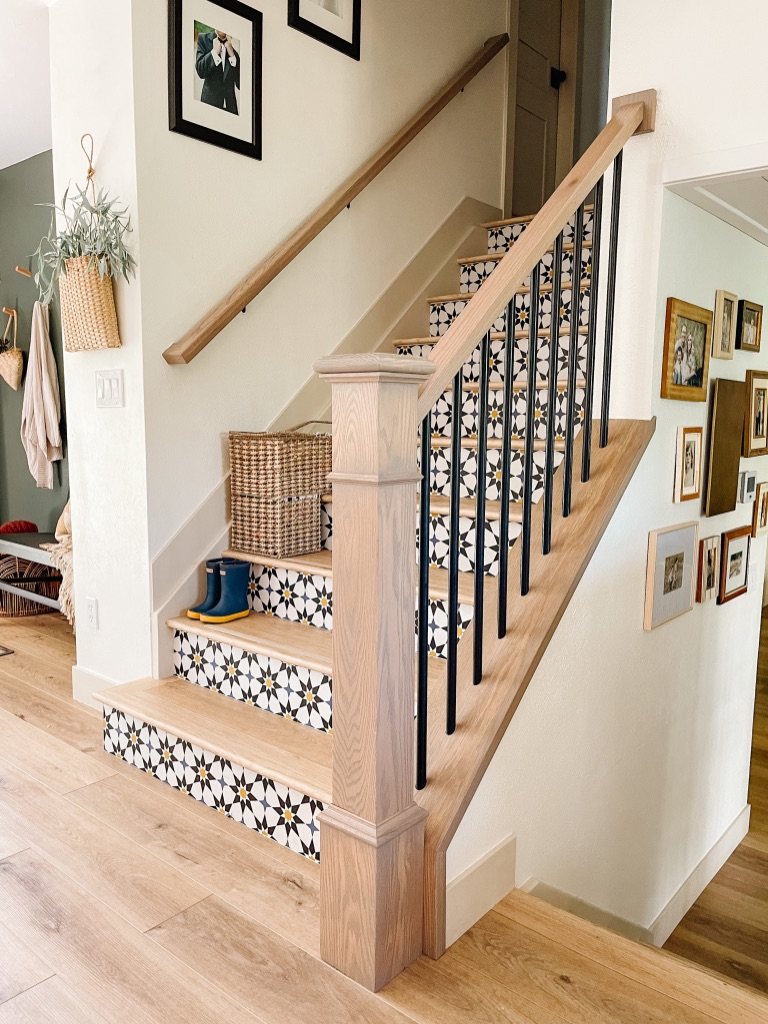 When we remodeled our Kitchen and main living spaces last year, we also updated the staircase and stair railing! Our house was built in 1978 and the stair railing was still original from the 70's. It wasn't terrible, especially if painted, but it wasn't my style.
Here is the BEFORE photo!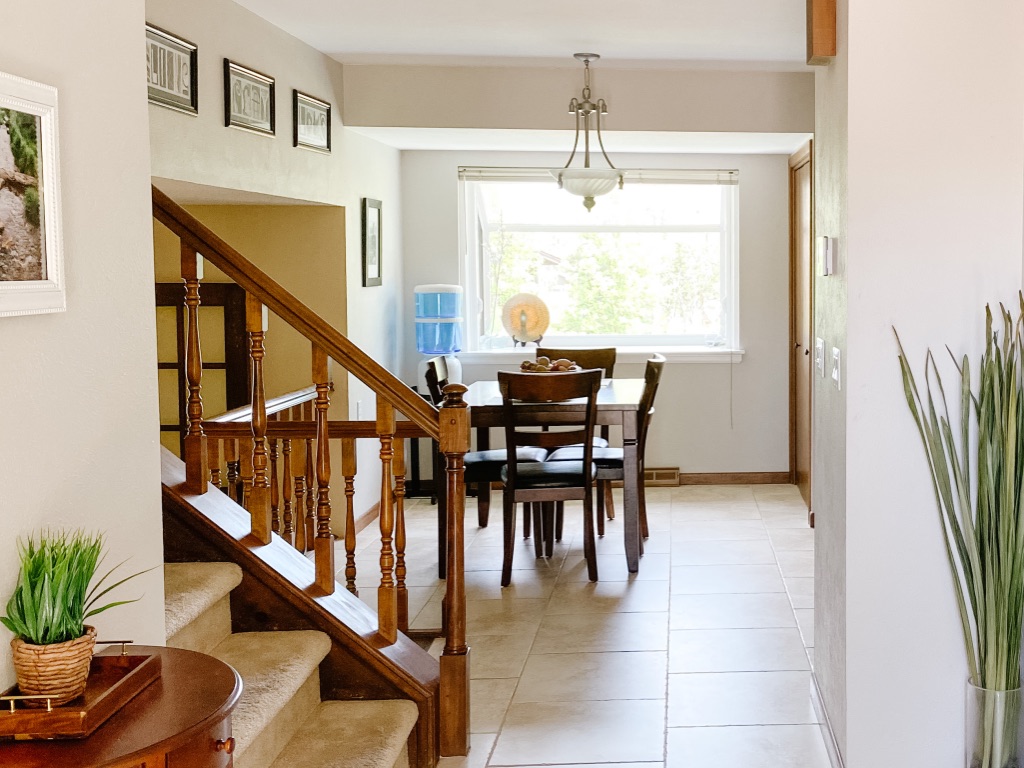 I did a lot of research while looking for stair railing options and couldn't believe how expensive they all were! One company quoted me over $5,000 for a simple, modern cable railing system for this small area! For reference, our railing is about 5′ long…I seriously couldn't believe that would cost $5,000 to replace.
So, we ended up talking with our contractor about it and came up with a semi-custom option. It was MUCH less expensive to have him build and install this and I love how it turned out!
We ordered the white oak newel post, white oak hand rail, and black metal balusters from a local lumber supply company. We then came up with a custom wood stain for the newel post and hand rail. I wanted something light that would work well with the floors.
The wood stain mixture we used was 1/3 antique white, 1/3 weathered oak, and 1/3 mineral spirits (to make it less opaque).
The overall cost, including labor, was under $2,000! Much less than the other companies quoted and I really love how it turned out!
We also updated the flooring on our stairs with the same LVP flooring from Provenza that we used throughout the house!
Dark Green Accent Wall Details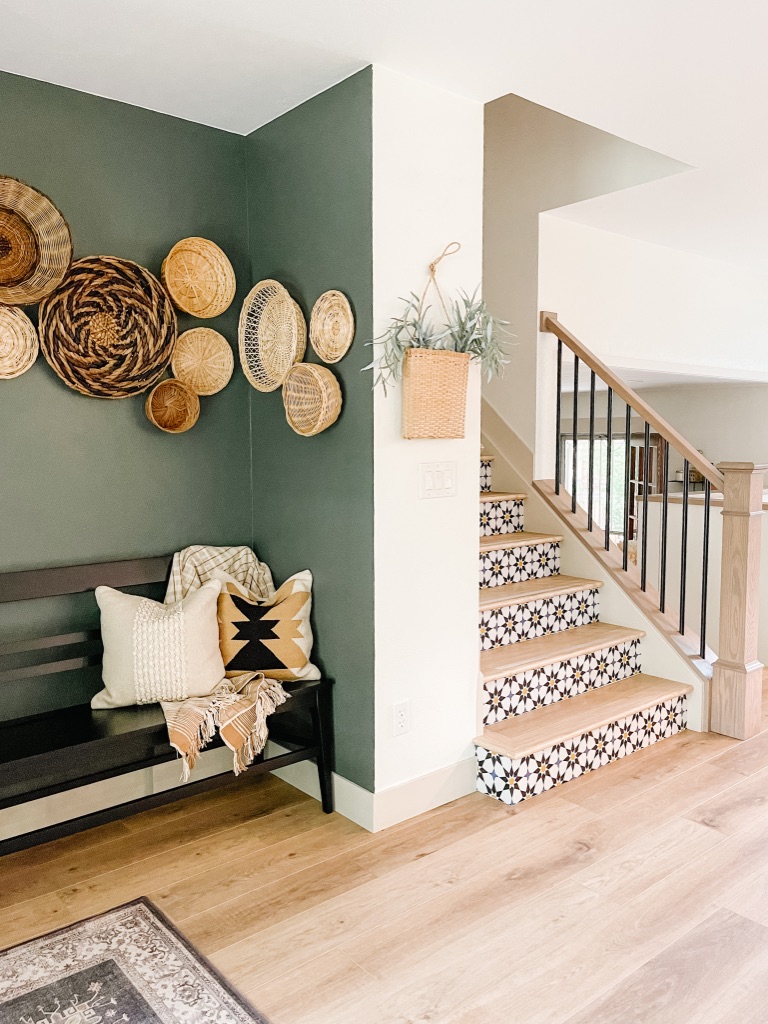 While I was planning to update the stair risers with peel and stick wallpaper, I also wanted to add an accent wall to the wall to the left of the stairs. This is our "Entry Nook" wall and I wanted a fun way to designate the space. I've considered adding peel and stick wallpaper to that wall as well, but after I decided on the pattern for the stairs, it would have felt too busy to have another wallpaper wall next to it.
I think with Fall coming up, I've been in the mood to make our home feel cozier. A rich, dark, moody color can really draw you into a space and make you feel at home! Don't be afraid to adding darker colors to your house, especially if you have a good amount of natural light! I love the contrast that this wall adds!
I also shared a ton of painting tips on our Instagram Stories while I was painting this accent wall! Check out the "painting tips" highlight on our Instagram page to see them! My husband painted houses all through college, and really is so good at it, so I've learned some great tips from him over the years! I actually couldn't believe how much there was to share about painting once I got started talking about it!
Paint Colors Used:
** I always try to get a zero or Low VOC paint! This time I used Super Paint from Sherwin Williams. Try to opt for Low VOC paint whenever you can! It is much healthier for you and the environment because of minimal off-gassing! My favorite low VOC paints are Sherwin Williams Harmony, Aura from Benjamin Moore and Behr Premium Plus **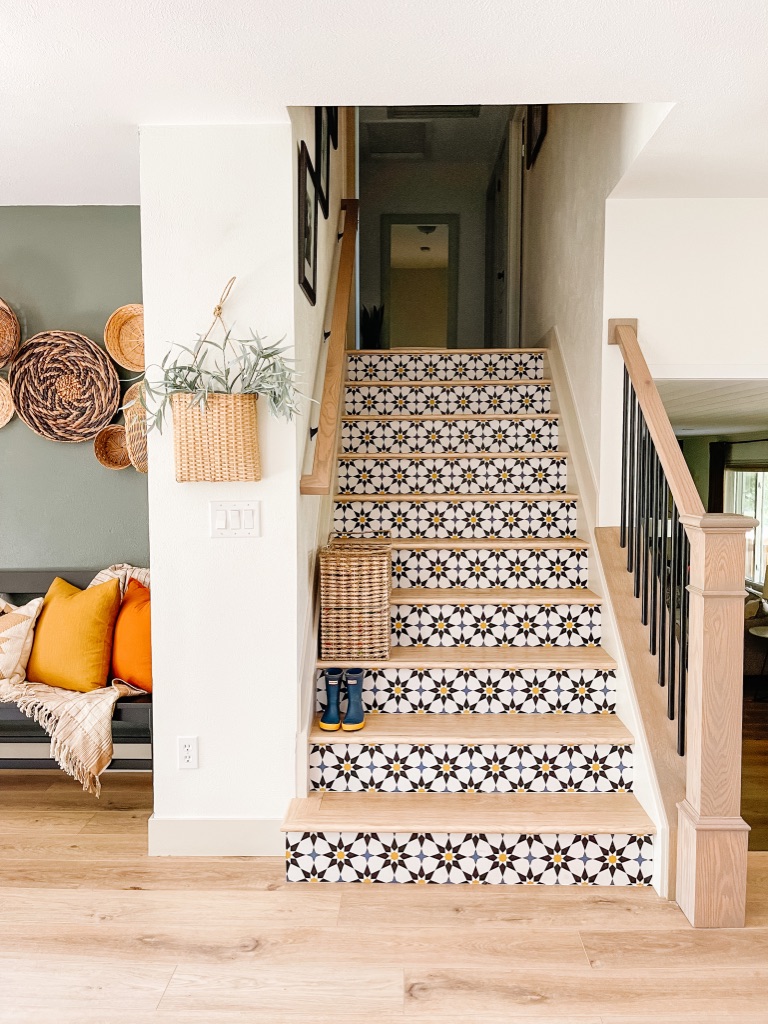 Overall I am so happy with how this area turned out! The white stair risers were nice and clean, but I love the fun character that the patterned wallpaper adds. I also felt confident working on these projects because they are easy to re-do later if I want something new! Which I always do in about a year, ha! But the peel and stick wallpaper is very easy to remove. It will not damage the walls (or stair risers in this case) either. And paint is one of my favorite ways to transform a space! It is pretty affordable, and easy to change!
I'm already thinking about what space I can paint or wallpaper next…stay tuned for more!!
This post was all about how to update your stair risers with peel and stick wallpaper, and add moody accent walls to your home!
More Home Decor Articles: