I'm sharing all about our Luxury Vinyl Plank Flooring from the Provenza Moda Living Collection!
Our remodel is winding down for now and it feels so good to have a clean house again! We moved into this house at the end of June 2020, and since then have been demoing and moving walls and plumbing and electricity and installing cabinets and tile and painting walls and trim… It has been exhausting and chaotic but so worth it!
This house has changed so much in the past 5 months. It is so strange looking back at photos from when we moved in. It feels so long ago some how! I just feel so at home here and am so happy with how everything has turned out!
One of the biggest areas we updated, was all of the flooring in the main living spaces! When we moved in there was a mix of tile and carpet throughout the main living spaces and up the stairs.
Because we took down walls and reconfigured our Kitchen layout, we had to replace the flooring in that area. We quickly decided it would be best to replace all of the flooring throughout the main areas at the same time – Living Room, Family Room, Office, Halls, Stairs.
We wanted the flooring to flow throughout the spaces to create a cohesive open look. Also, having to kids and two dogs, we wanted something that was very durable and easy to clean.
After days of research, we decided on Provenza Waterproof LVP Flooring from their Moda Living Collection.
Today I'm sharing my detailed Provenza Luxury Vinyl Plank (LVP) Flooring Review! I'll discuss the pros and cons of LVP flooring, why and how we selected it, how to care for it, and my overall thoughts on our Provenza Floors!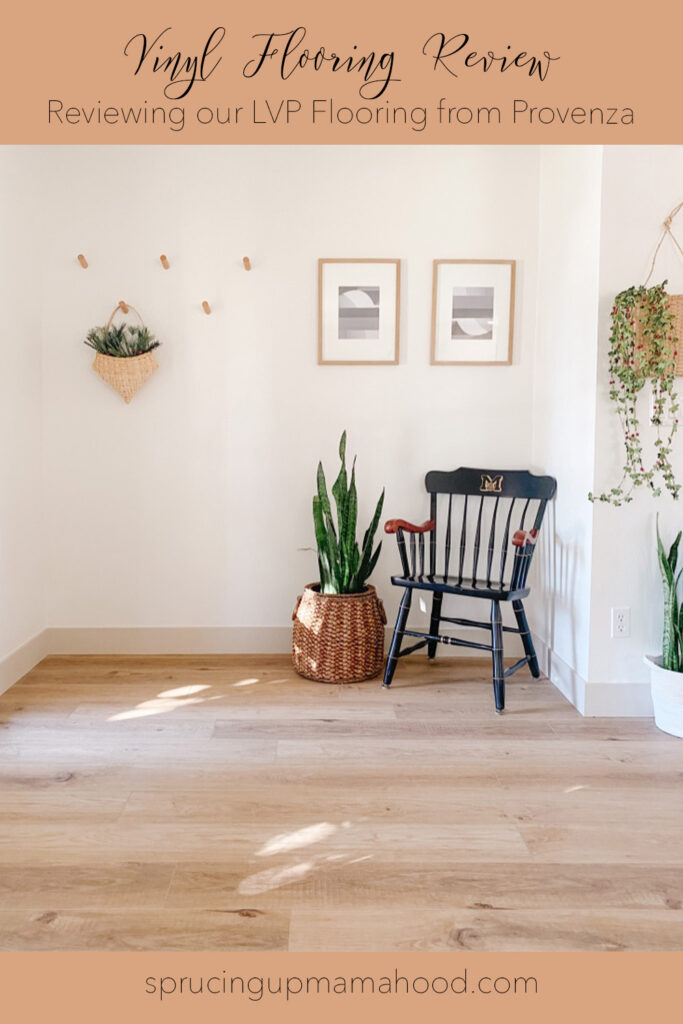 This is a sponsored post for Provenza Floors. All opinions are my own. See our Disclosure here.
Vinyl Plank Flooring Pros and Cons & Why We Chose LVP
There are many advantages to Vinyl Plank flooring! When researching flooring options, we considered solid and engineered hardwood floors, laminate flooring, and Luxury Vinyl Plank (LVP) flooring.
While I love the look of real hardwood floors, I was nervous about the durability of them, having two toddlers and two dogs. Hardwood floors are an investment and at this stage in our life I knew it wouldn't be a smart decision. I don't want to be worrying all the time about the kids dropping toys or the dog's nails scratching the floors.
That meant deciding between laminate flooring and LVP Flooring. Both of these options are very similar overall. Sometimes when deciding between laminate and LVP flooring it comes down to finding a color and finish that you love.
Vinyl vs. Laminate Flooring
The main difference between LVP and Laminate flooring are the materials used and the construction of them. Vinyl Planks are made from a synthetic material. Most LVP floors have a multi-layer PVC vinyl core and are at least 5mm thick.
Laminate floor cores are made from wood byproducts bonded with resin, and the top layer is a transparent plastic that protects the printed design layer.
The difference in materials used, typically means that vinyl floors are better suited for areas exposed to water. Because laminate floors are made with a wood byproduct, they can warp when exposed to water.
Vinyl Floors are typically 100% water proof, making them perfect for bathrooms, mudrooms and kitchens.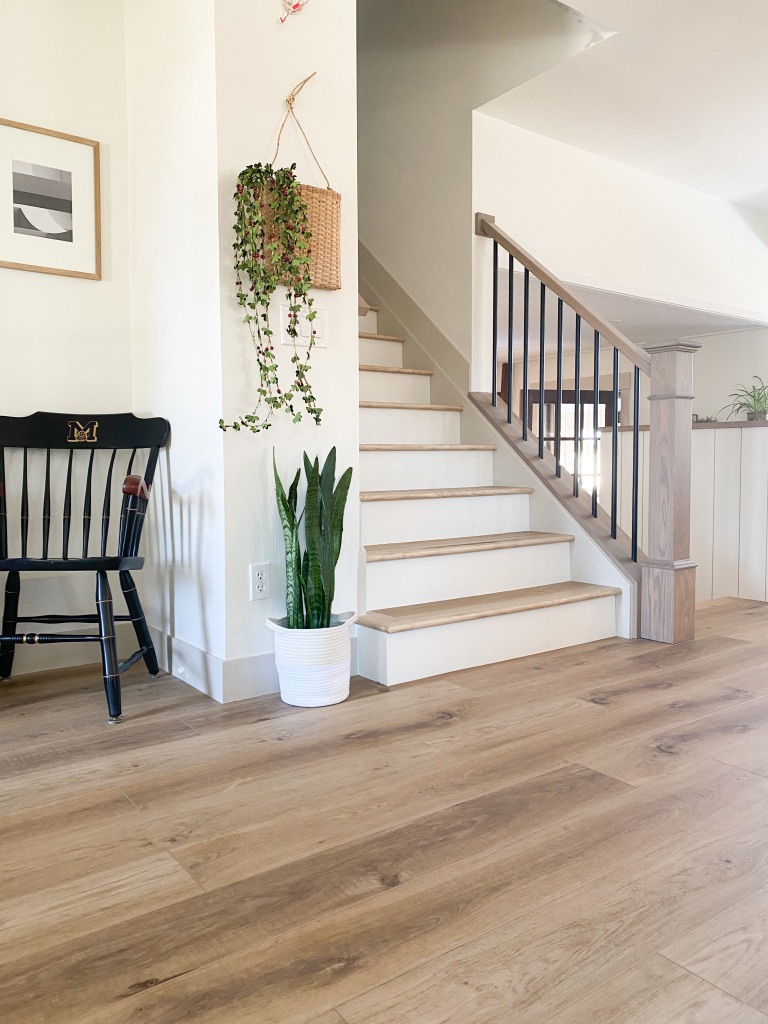 Durability & Maintenance
The main reason we chose LVP flooring is because it is so durable and easy to maintain! Vinyl Plank Flooring is basically scratch and dent proof because the layers are so strong. This makes it the perfect flooring choice for families with small children or dogs!
Also, as mentioned above, since vinyl flooring is waterproof, it is so easy to clean. You can use a mop without worrying about water damage.
I'd say the main "con" to Vinyl Flooring is it can be hard to repair or replace a damaged plank. Since it is installed with a click and lock system, you would have to disassemble the planks from the wall to the damaged plank, and then reassemble. It's not impossible to repair, but definitely harder than sanding and repairing a wood floor.
Design
Vinyl flooring has come a long way! The old style of sheet vinyl was much thinner and less realistic looking than the new Luxury Vinyl Plank options. Because the planks are thicker, there are now more options with realistic wood grain textures. You can even find options that have a hand scraped or distressed look.
There are also soooo many color and finish options to choose from! Because it is a man-made material, you can find almost any color or texture you are looking for.
Affordability
Another reason we chose LVP flooring over hardwood floors is because it is much more affordable! On average LVP flooring is about $3-5 per square foot, and then about $1-3 per square foot for installation. Hardwood floors can easily be 2-3 times more expensive!
Since we were replacing a large area of flooring (about 1500 square feet) the price was an important deciding factor.
Provenza Vinyl Plank (LVP) Flooring Review
Samples and Ordering
The ordering process with Provenza was very simple. We ended up ordering about 10% more than we needed, just in case anything went wrong. But, we had very little material waste and didn't use any of the extra flooring.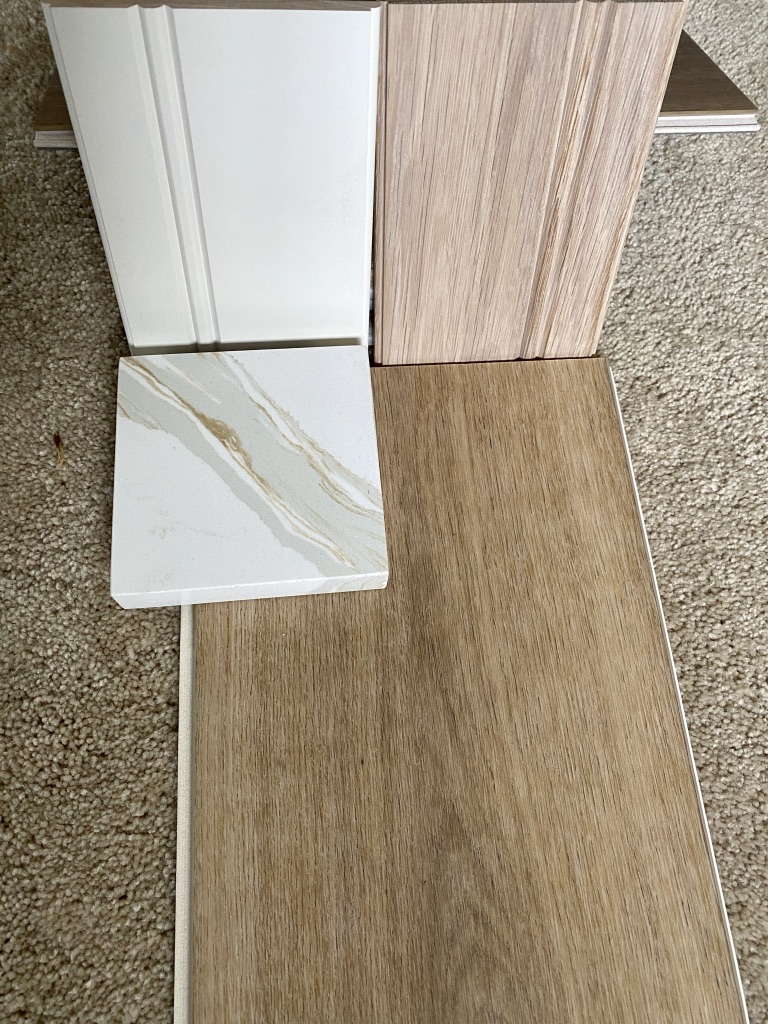 Deciding on a color, however, was the hardest part! Provenza has SO MANY great color options to choose from! They have helpful photos and videos on their website, but it is always best to see the options in person.
I knew I wanted something like a light white oak. Not too rustic, not too gray. They were able to send me free samples, which helped me narrow it down, but I still couldn't decide between a few different options – Sweet Talker, At Ease, and Road Trip.
You can search for a retailer through their website, so I did that to find a showroom close to me to see larger samples. I was able to bring a few home with me which helped so much!
The below photo shows At Ease (left) and Road Trip (right).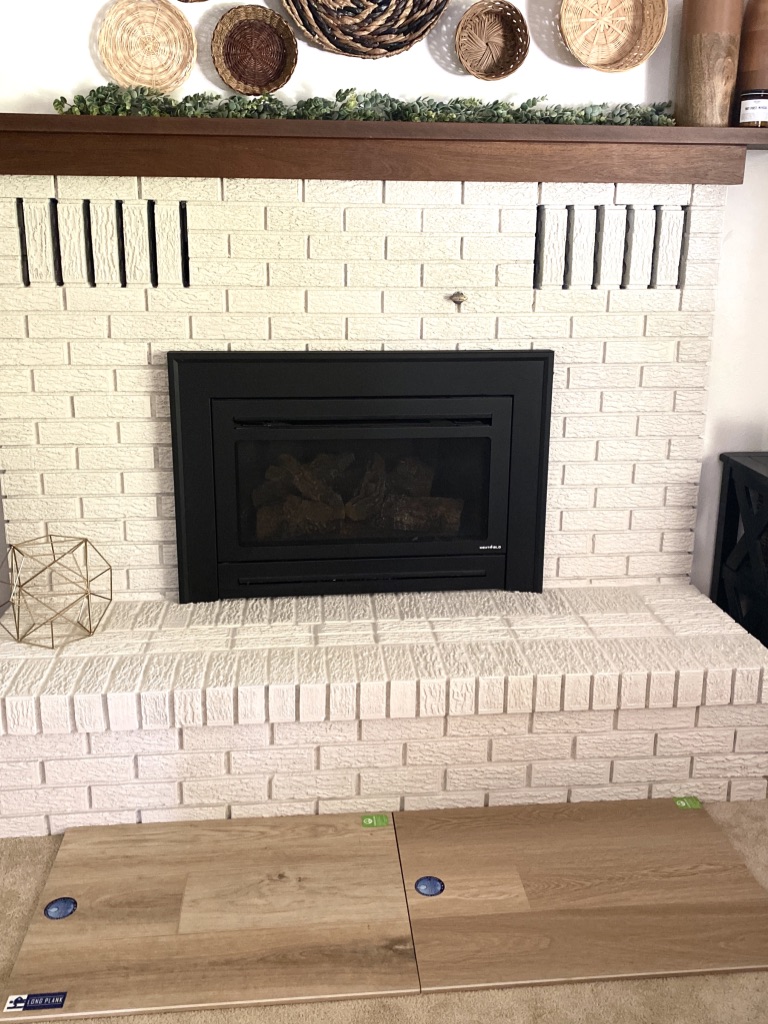 I really loved Road Trip in person; it was slightly warmer than At Ease and less rustic looking. But I like the contrast and depth that shows up in pictures with At Ease.
To see more about my decision process and a closer look at all of the samples, check out my "Flooring" story highlight on our Instagram page.
Installation
The "demo" phase was definitely my least favorite part of our remodel! Everything was so dusty and I couldn't wait to get the floors in!
Once we removed the old flooring and carpet nails, we used a huge floor grinder to sand down the remaining tile grout and make sure the floors were level. That was the hardest part of the flooring install! Mainly because it was so dusty.
Once the floors were smooth, the flooring install process was very simple!
We chose to run the flooring so that it was parallel to the stairs. Once the first few rows of flooring were established, and perfectly level and straight, the rest of the room went in pretty quickly.
This Provenza LVP Flooring is so easy to install because it is a floating floor system. The planks feature Provenza's Uniclic locking system and easily snap together. No glue or nails are needed!
The planks also have an underlayment included, so you don't need to install that separately. This was a huge help during installation! The underlayment also makes the floors softer and more comfortable to walk on, and helps with acoustics.
You can find step by step instructions to install this flooring here!
Cleaning and Care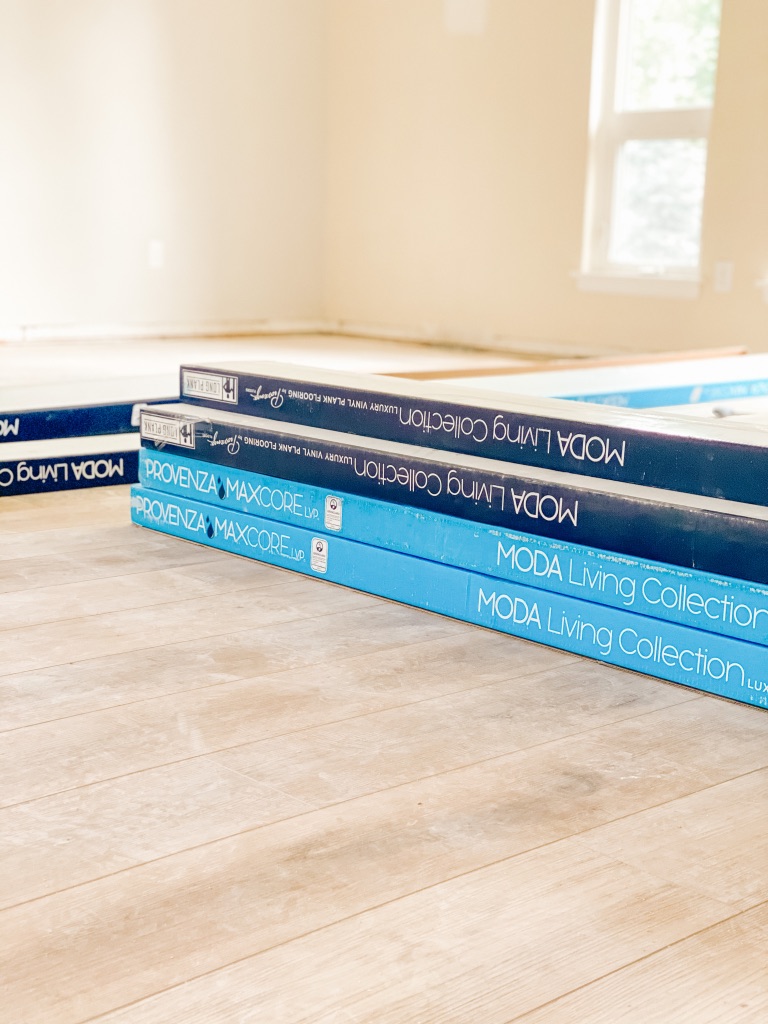 Once the floors were installed, I couldn't wait to clean them! (Our house was seriously so dusty for weeks!!)
This Provenza MaxCore LVP Flooring is 100% waterproof and so easy to clean! I typically just use white vinegar, lemon essential oil, and water to mop it, but you can really use almost anything because it is so durable.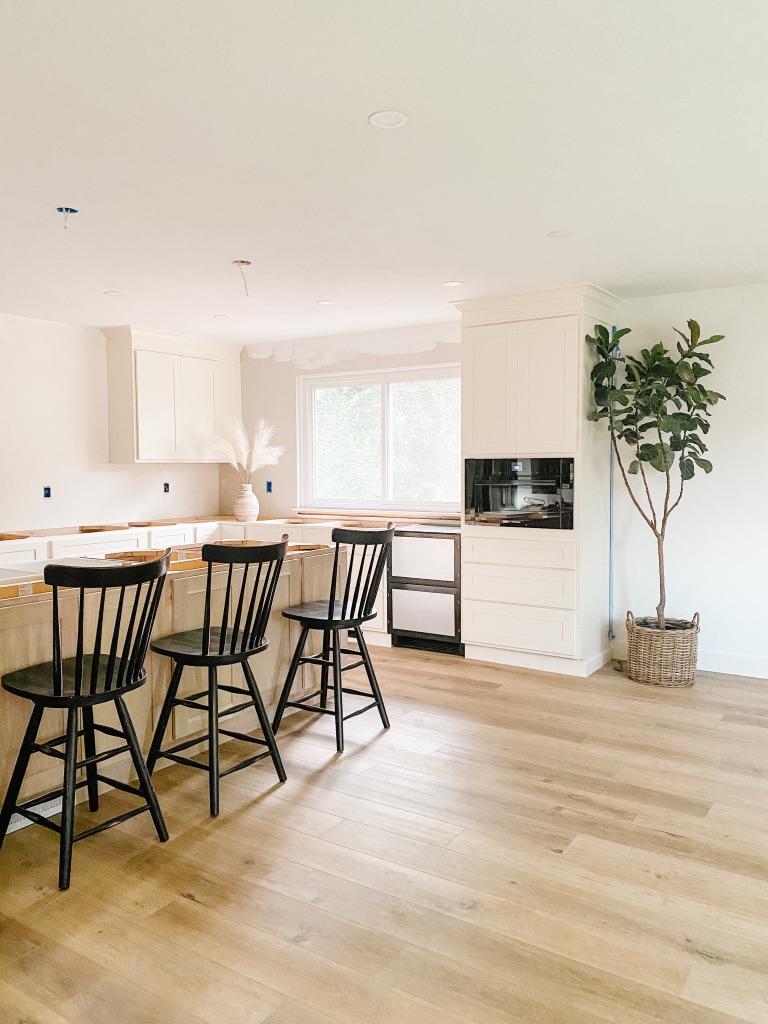 Provenza LVP Flooring at Stairs
Once the flooring was installed our house felt so much more complete! I'm also so glad that we were able to install it all throughout the main living spaces, and up the stairs.
I decided to paint the stair risers white to add some depth and love how it turned out. A few people have asked me if I recommend wood stairs over carpet with kids and pets. My kids (4 and 2) haven't really had an issue with them, but we have an older dog that was afraid to go up them.
We ended up using some clear grippy tape (has a sandpaper like texture) at the edge of the stairs and it works really well. You can easily remove it without damaging the floors, and you can barely see it.
We used the Provenza flush stair nose and I love the seamless look. The color and texture of the stair nose pieces also very closely match the floor planks.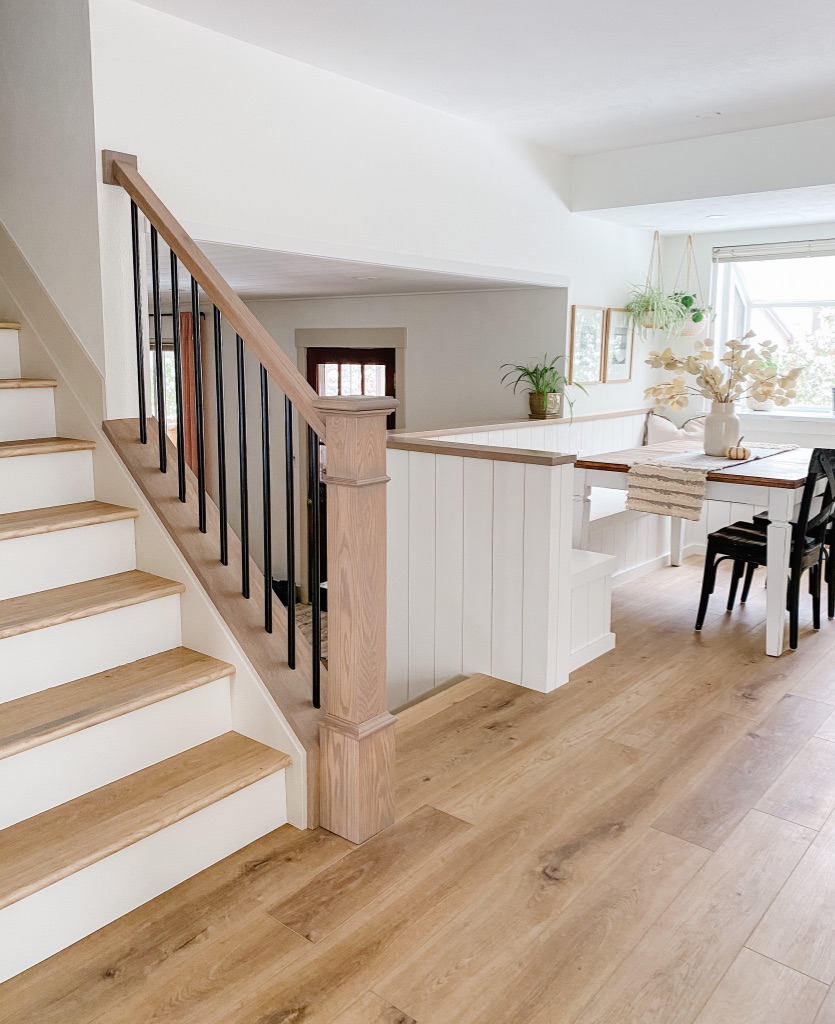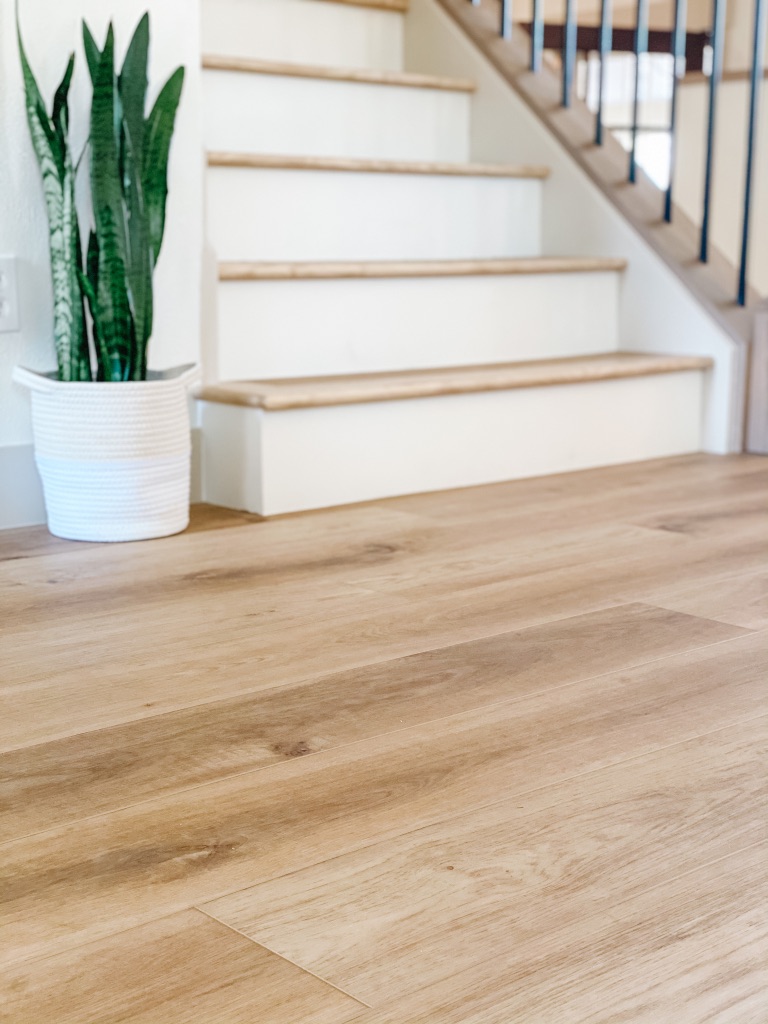 Overall Provenza Vinyl Flooring Review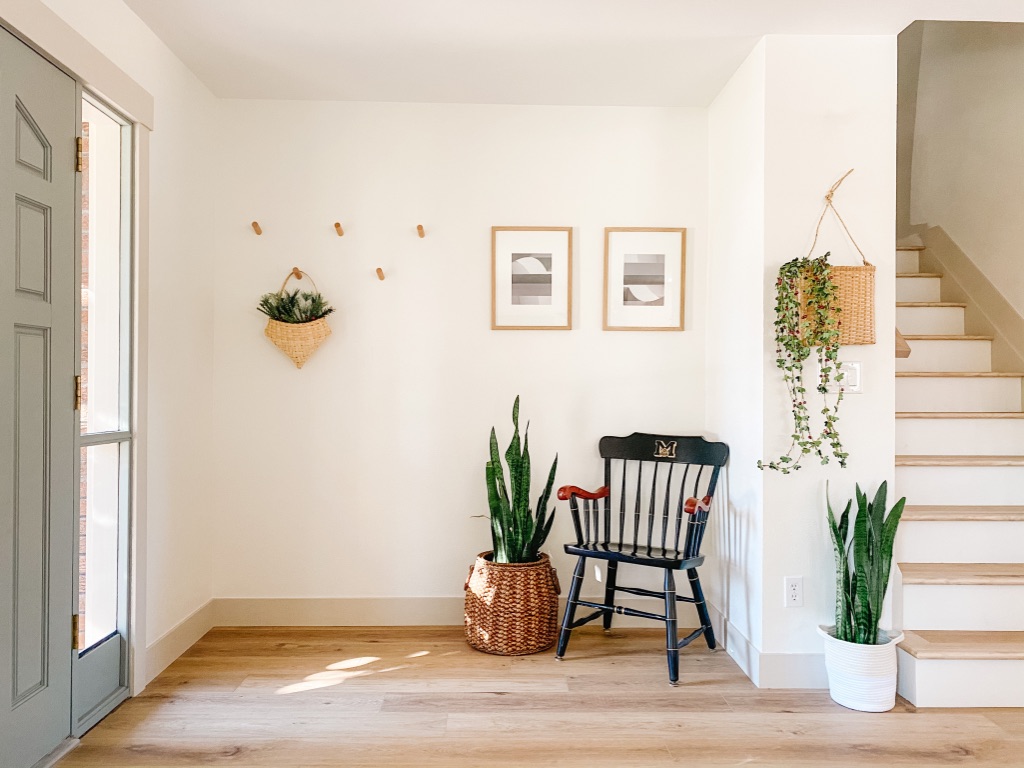 We've had our Provenza LVP Flooring installed now for about 4 months and love them!
They are durable and beautiful! We've received so many complements on them. I love the look and feel of real hardwood floors, but with two small dogs, and two toddlers, I knew we needed something that was waterproof and durable.
These floors are as indestructible as you can get! They have had so many hard objects dropped on them and I haven't seen a single scratch or dent.
They are also 100% waterproof so I don't have to worry about what to clean them with, or anything spilling on them.
I also really like the small bevel between the planks, and the wood-like texture on the flooring. They look so realistic!
They have a nice matte sheen, not shiny or glossy at all. The texture also gives them some grip and they are not very slippery; which is great as we have kids and dogs running around all the time.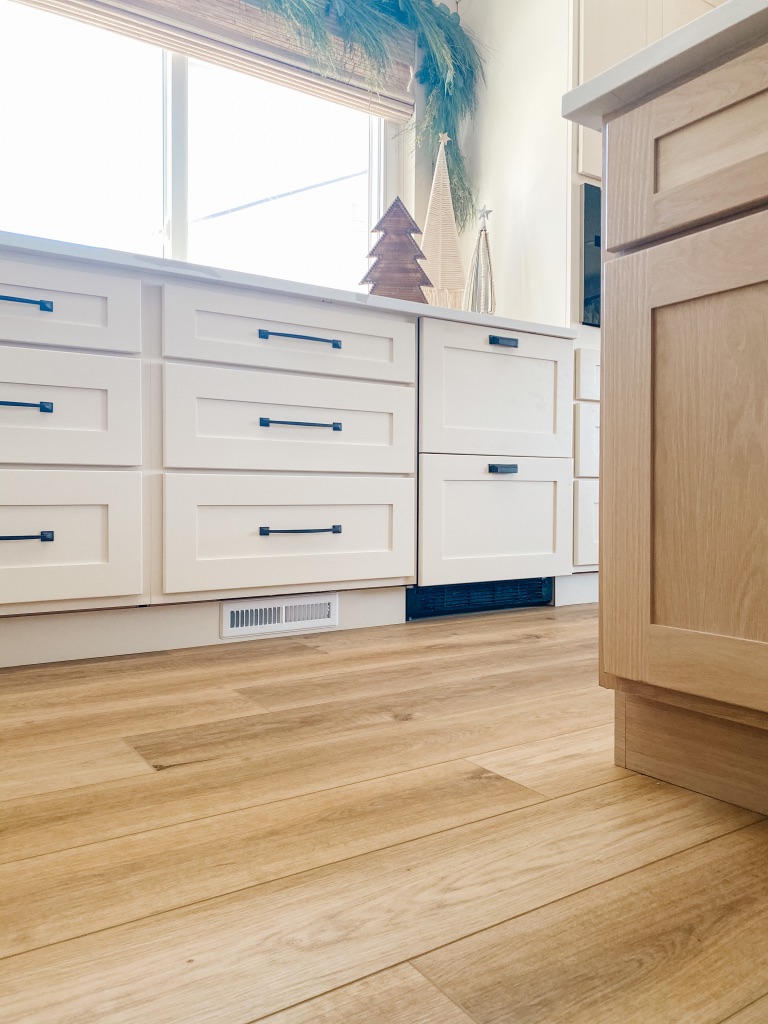 I am so happy with the color that we selected, AT EASE. It is the perfect light oak color. There is a hint of gray, but it doesn't feel too cool, and has a nice grain pattern. It is not too rustic, but adds a perfect amount of depth and contrast.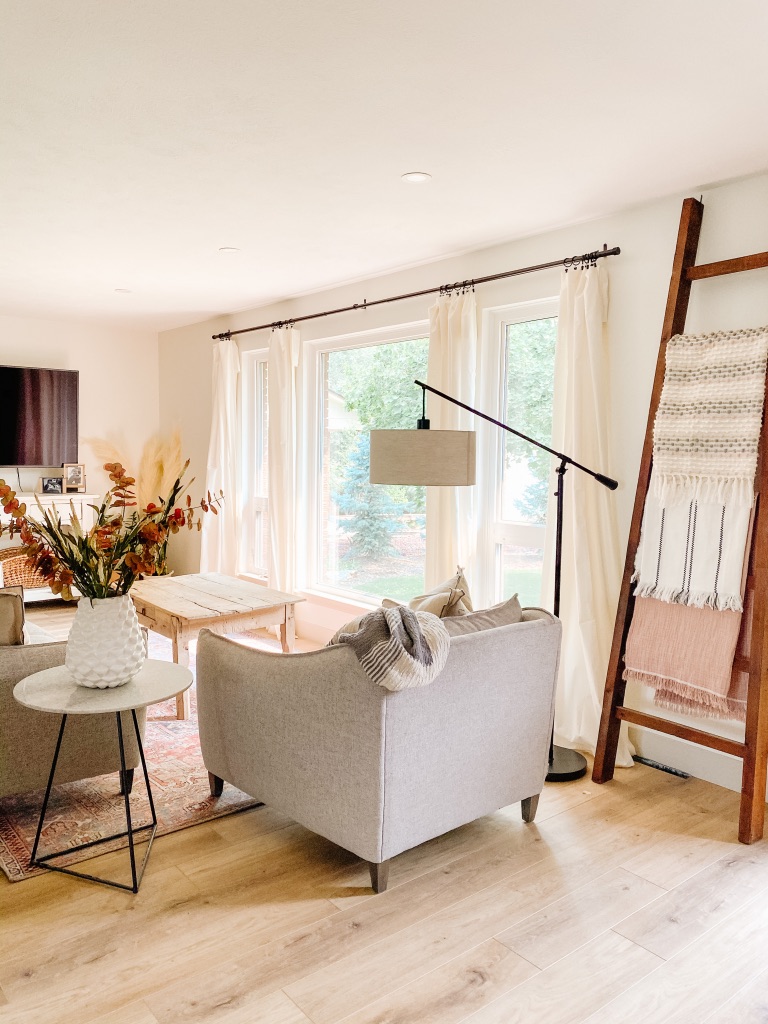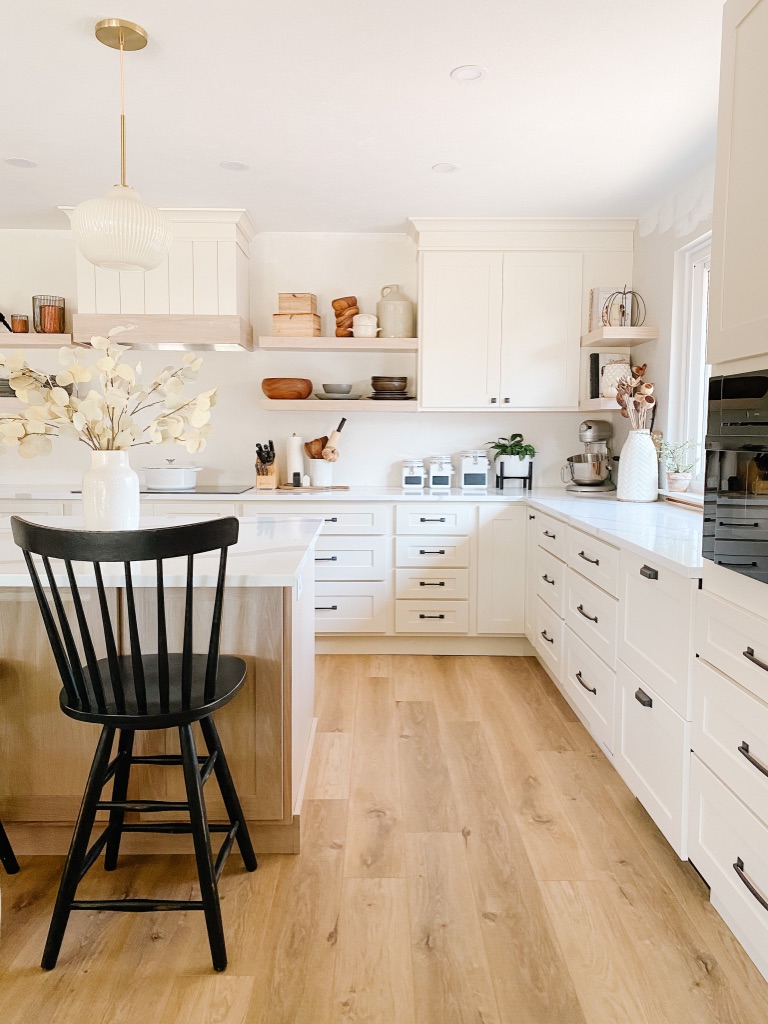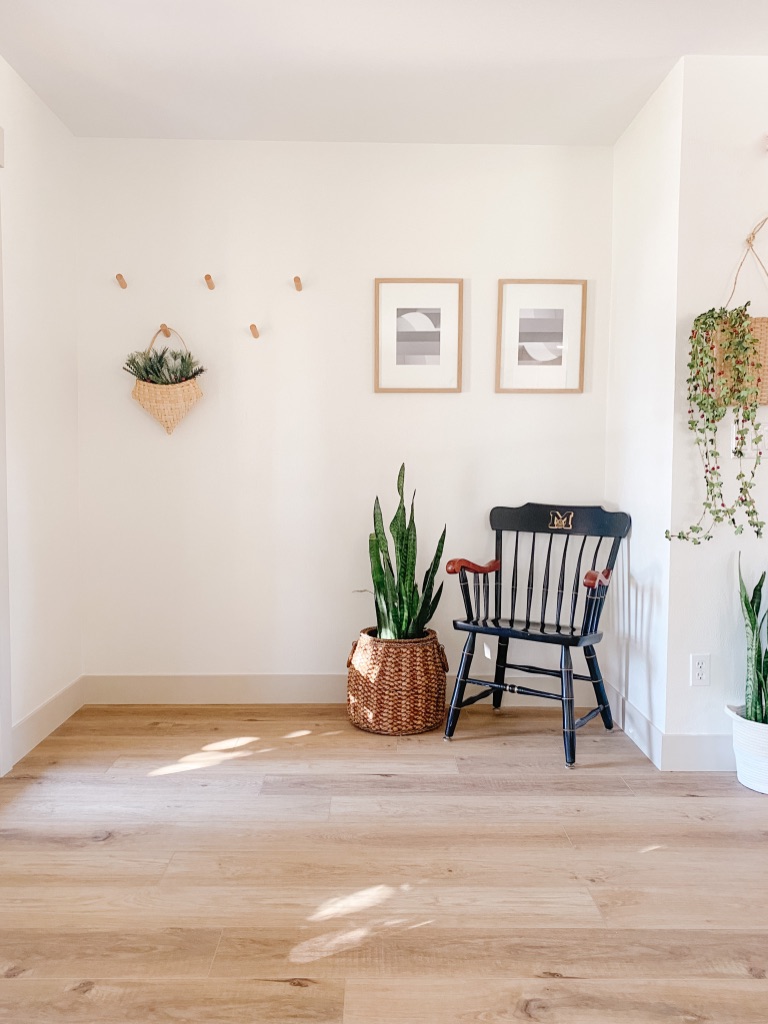 Overall I'm absolutely in love with our new floors! I hope this Provenza Vinyl Flooring Review was helpful!
Please leave a comment below if you have any questions!
This post was all about our Luxury Vinyl Plank Flooring from the Provenza Moda Living Collection!
Related Home Remodel Articles: