Happy Wednesday! I can't believe it was just Memorial Day! Spring just flew by, in a weird sort of slow way, while we all stayed at home. I hope this summer is a little more exciting! As some of you know, we are in the process of selling our house! We are under contract on ours, and a new one, and it has been an exciting but stressful process! One of the most time consuming parts was getting our house ready for the photography and showings. You'd think since I take photos of my house all the time, it would have been easy, but it's so much different to stage the whole house instead of just one room or area at a time! I did focus on the same ideas though, and want to share some tips on how to stage a house with you all today!
Tips for How to Stage a House:
1. De-Clutter
Remove any unnecessary items that are taking up space. This includes extra furniture items, storage baskets, random piles of papers, kid's toys, personal items (like shoes, jackets, toiletries) and extra items on top of your shelves and countertops. Try to only keep a few key decorative items out. For example, a few accessories on a shelf, or an arrangement of decorative cutting boards at the Kitchen counter. If it isn't serving a purpose or adding value to the space, put it away. We stored a lot of these items in our closets and in the basement or garage. Make sure though that your closets are organized too! A lot of people open closets and cabinets to see storage space so you don't want it to be overflowing! We also have some decorative baskets around the house where we were quickly able to store toys away.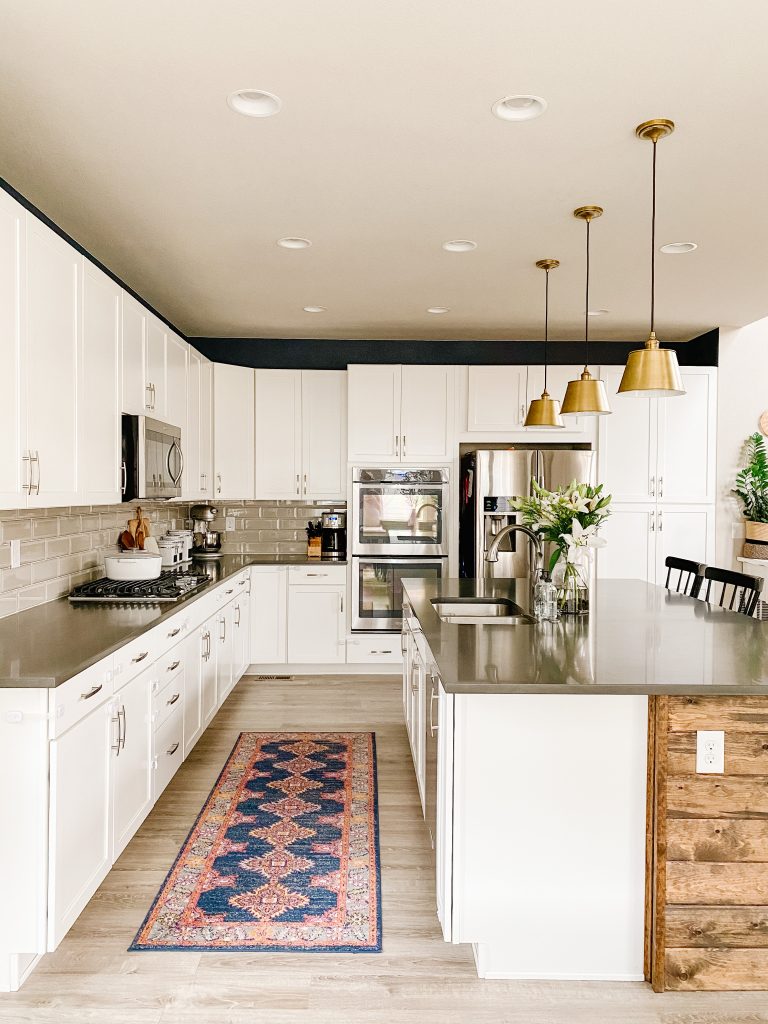 2. Keep Colors Neutral
I know it's a pain, but if you have a lot of colorful or dark accent walls, I'd suggest painting them a neutral color. Some people have a really hard time looking past distracting paint colors and that is all they can focus on. A light gray, greige, or soft white color will open up the rooms, make everything feel a little bigger, and creates a calming background. For some great neutral colors, check our our favorite paint colors posts here and here! I will mention though, that we did keep our accent walls because we only have them in a few areas and they didn't feel overwhelming. So it is something you will have to think about and decide if it is worth it to paint them or not. I think in general, if your room feels smaller or darker because of the paint, then re-paint it.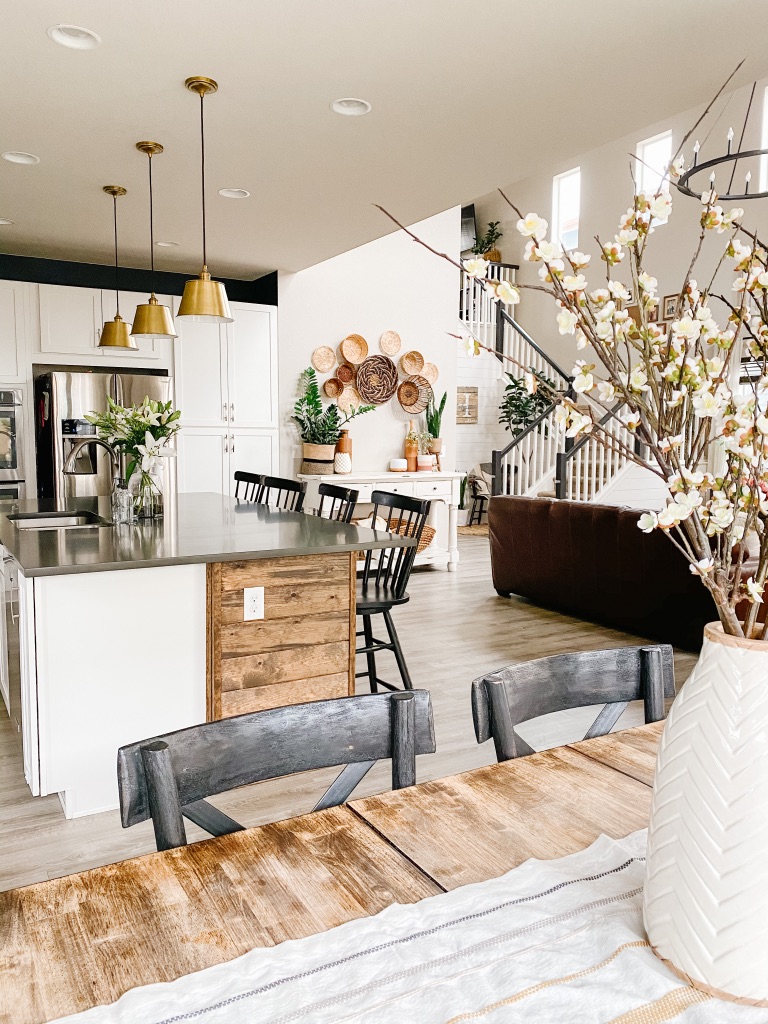 3. Rearrange Furniture
Make sure you are taking advantage of the space you have in every room in the house! Remove any unnecessary furniture pieces (like extra side tables and chairs) and arrange the furniture in a way that helps the room feel large and open. Make sure you leave adequate clearance space to walk around the room and in pathways (about 3′ – 4′). There should be about 18″ between the sofa and the coffee table. It also helps to arrange the furniture in a way that feels functional (centered around a TV or fireplace) so the new buyers can envision how to lay out their furniture there. If you have wood flooring or tile, try adding an area rug to ground the space and help it feel more welcoming.
4. Clean Up
Wipe down surfaces throughout the house, dust shelves (make sure to get all the high and hard to reach spaces, like ceiling fans!), clean showers and toilets. If you have a shower with a glass door, make sure to clean the glass really well and use a squeegee after you shower to remove the water marks! If you have time, it also helps to clean windows and sliding glass doors (inside and outside). Don't forget to clean the door to your garage too (or give it a fresh coat of paint)! For some reason that door always gets dirty! Vacuum all of the carpet right before you have pictures taken or showings start. Freshly vacuumed carpets always look so much better! Empty all trash cans. Also make sure to replace any lightbulbs that are burnt out throughout the house.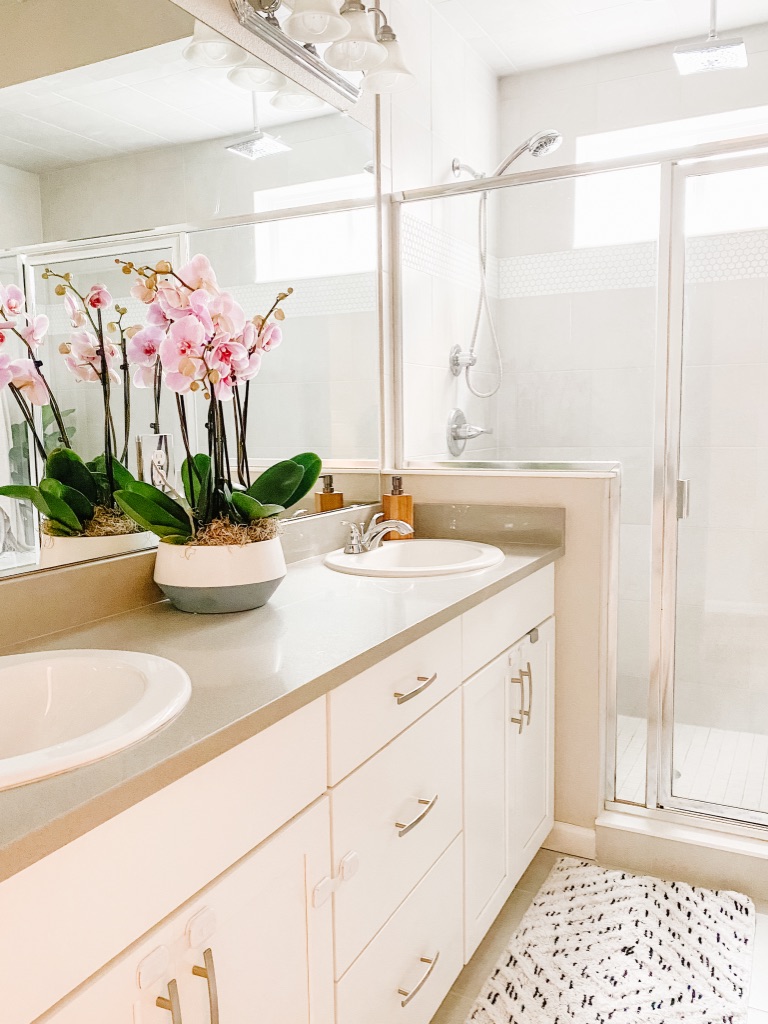 5. Freshen Up
Open up all of your blinds and curtains to add natural light! Also turn on lights throughout the house so there are no dark corners, helping everything feel clean and open. Add new towels to bathrooms and make sure they are folded and hanging neatly. Make the beds with a nice duvet or comforter set and add some decorative pillows. Adding fresh flowers and plants throughout the house livens up any room and adds a pop of color! Also walk around the house and touch up any scuffs on the walls, window sills, and baseboards with fresh paint. Add decorative throws and pillows to your sofas. Also make sure your home smells good!! That is one of the first things that people will notice when walking in! I made sure to have our diffusers running with essential oils when we had showings. And don't forget about your outside spaces!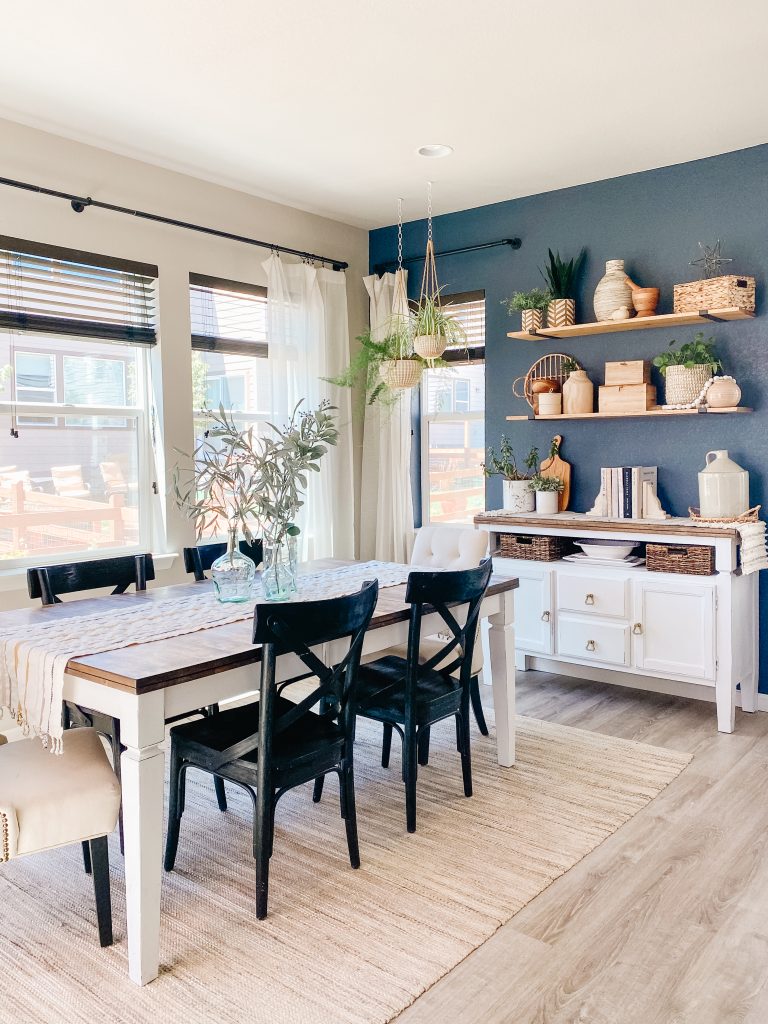 I hope these tips for how to stage a house help if you are getting ready to list yours! I know it is a pain to go through, especially with kids! But hopefully if you make these changes the home will sell quickly and you won't have to deal with it for long, haha! Selling your home can be such a hard process! I am so over it already, but am also so excited to move into our new house! Make sure you are following us on Instagram! I am sharing all about our moving process and how we are remodeling the new house once we move in!
See our Disclosure here.