Today I am sharing my Bathroom Cabinet Organization tips! Organized spaces bring me soooo much joy! And disorganized, cluttered spaces can definitely bring me anxiety! In an effort to de-stress my life this year (one of my 2020 resolutions I guess you can say) I am on a mission to organize the spaces in my home that have been neglected! Our bathroom cabinets are definitely one of those spaces!
We moved into our home about 2.5 years ago, and I haven't really put much thought into our Bathroom cabinets since then! The top drawer, that we use the most, wasn't too bad, but the other drawers and under-sink cabinets were very disorganized. Basically just stuff piled on top of each other. Not only that, but my boys loooove to get into those drawers and cabinets while I'm getting ready in the morning. They pull stuff out, and then I just throw it all back in, so there was really no rhyme or reason to where anything went!
In a way I feel like this space is so out of character for me, because I am someone who thrives in an organized space, and organization has always been something that I am good at! I've organized friend's, neighbor's, and family member's closets, offices, recipes, etc. before! So I'm a little embarrassed to even show the "before" photos…but here they are!
Ok, so as you can see..it was pretty bad! So here are my steps and tips for how I turned these disasters into beautiful and functional spaces!
Bathroom Cabinet Organization Tips:
Step 1: De-Clutter
This is probably the most important step! Go through each drawer/cabinet one by one. Take EVERYTHING out and make a few piles:
Keep – items you love and use all the time
Maybe – items you like but haven't used in a while, or items you aren't sure about, or don't have the heart to get rid of just yet.

Consider donating or selling any of these items too!
Once you have gone through everything, take another look at this pile and make final decisions on what you'd like to keep or get rid of.

Trash – items that are expired/dried out/not usable, items you have never used and don't plan on using, items that you don't like.

I'm kind of guilty of getting rid of things that technically aren't trash, just because I hate clutter. If there are any items you could donate or give to a friend, definitely take that into consideration! Another idea is to use these items in your Guest Bath!
Try to be really mindful and honest with yourself when going through these steps! You could even use the #mariekondo method – does this item bring me joy?! If it doesn't – get rid of it. Even if it was expensive, even if it is something you feel like you should use. If you think it is something that is just going to collect dust, there is no point in keeping it and having it take up space. My goal was to only keep items I like and use, so that when I look into the cabinets all I see are useful items!
Step 2: Clean and Sanitize
It feels so good to put items back into clean drawers and cabinets! After I narrowed the items down, I wiped down all of the drawer and cabinet interiors, and also any items that looked a little dirty or dusty.
Step 3: Purchase Drawer and Cabinet Organizers
This was the hardest part for me! It took 3 trips to The Container Store before I had the right items…it was actually a little frustrating how hard it is to find drawer organizers that fit nicely in the drawers. But, here are a few bathroom cabinet organization tips that should help you out:
Measure the width, depth, height of all cabinets before you go shopping
Take note of what exactly you want to store and need bins for

For example – In one drawer I knew I wanted a long and narrow bin for my curling irons, I wanted small cube organizers for my top drawer to hold small items, and I wanted a combination or drawers and bins for my under-sink cabinets.

Stick with a theme to create a cohesive look

For example – I used all clear acrylic bins and drawers in my under-sink cabinets. It looks less cluttered when all of the organizers are the same style.
Here are the organizers I ended up purchasing:

Step 4: Fill them up!
Try to keep similar categories and uses together so they are functional and you aren't confused about where everything goes! Here's how I divided my items up: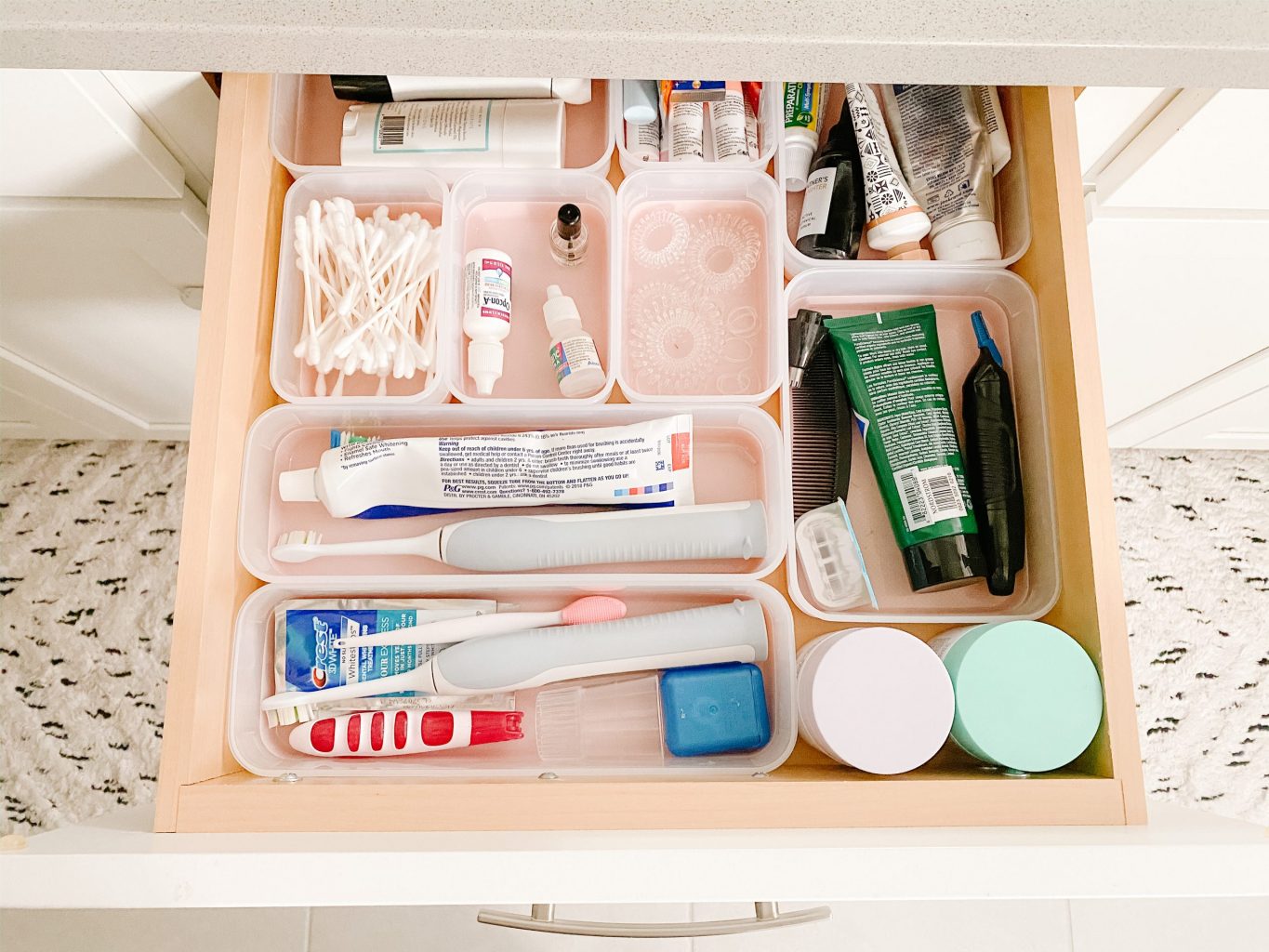 Top Drawer – Small items that are used every day

Toothbrushes / Toothpaste / Floss / Whitening Strips
Face Moisturizers / Lotions / Sunscreen / Serums
Hair Ties / Bobby Pins
Deodorant
Hair Trimmers
Q-Tips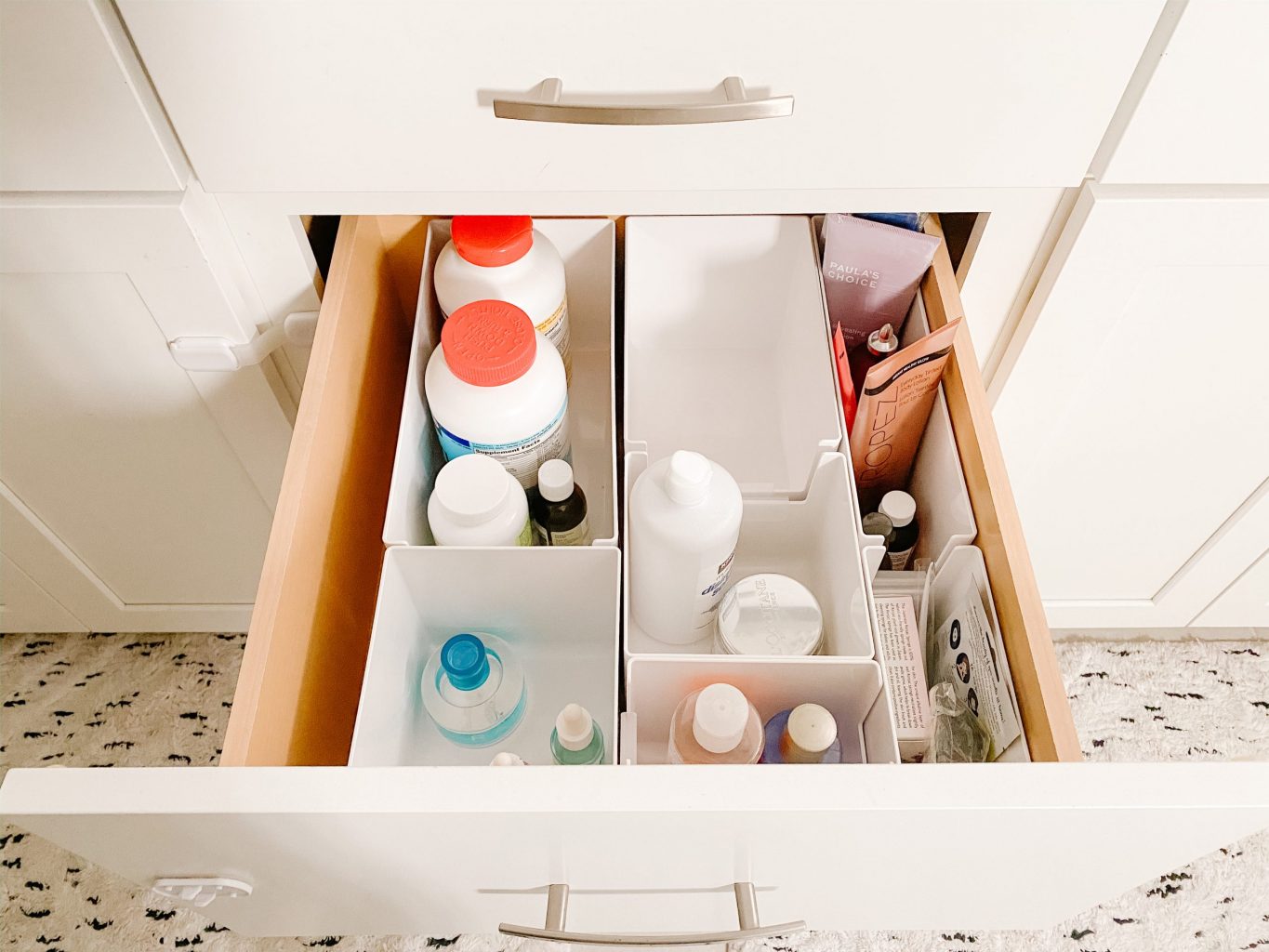 Middle Drawer – Larger Items I used every day / very often

Body Lotions / Oils
Perfumes
Contact Solution
Vitamins
Face Masks
Toners / Make Up Remover
Bottom Drawer – Hair Items

Hair Spray / Creams / Dry Shampoo
Brushes
Curling Irons / Flat Iron
Scrunchies
Chargers (not hair related but…)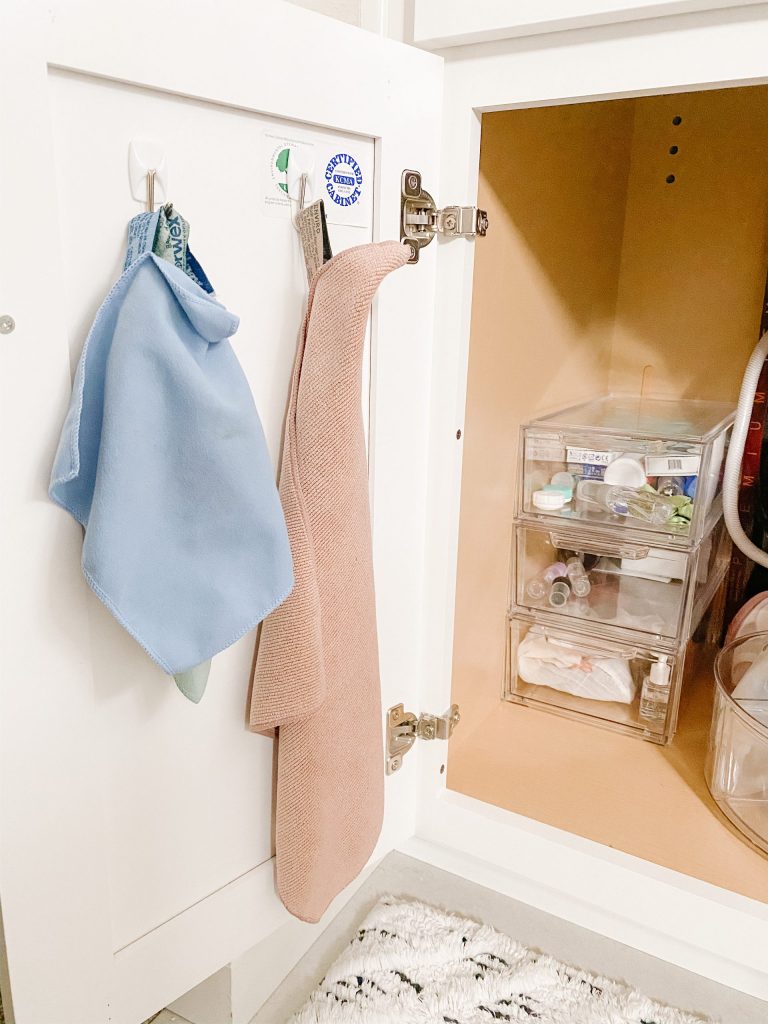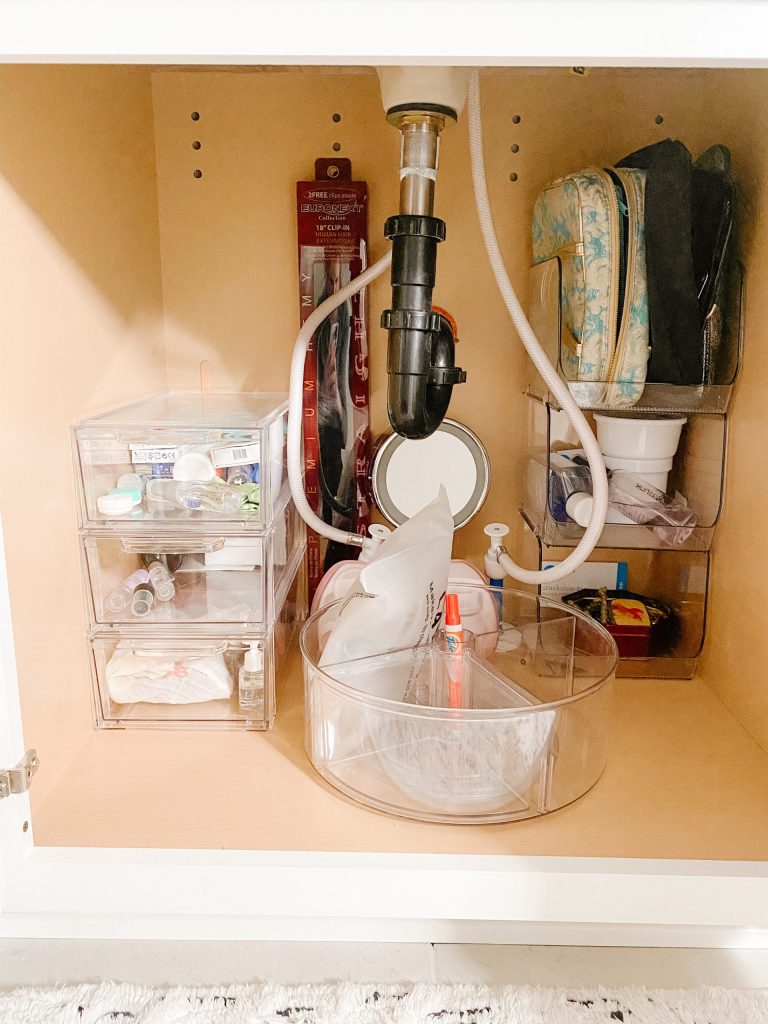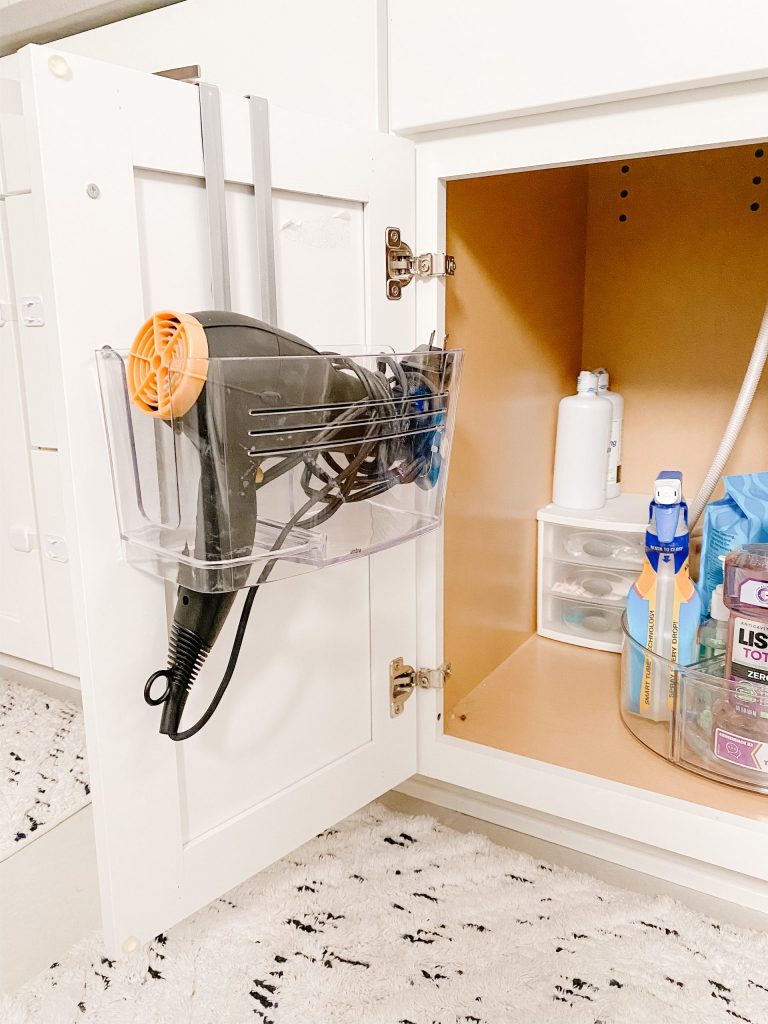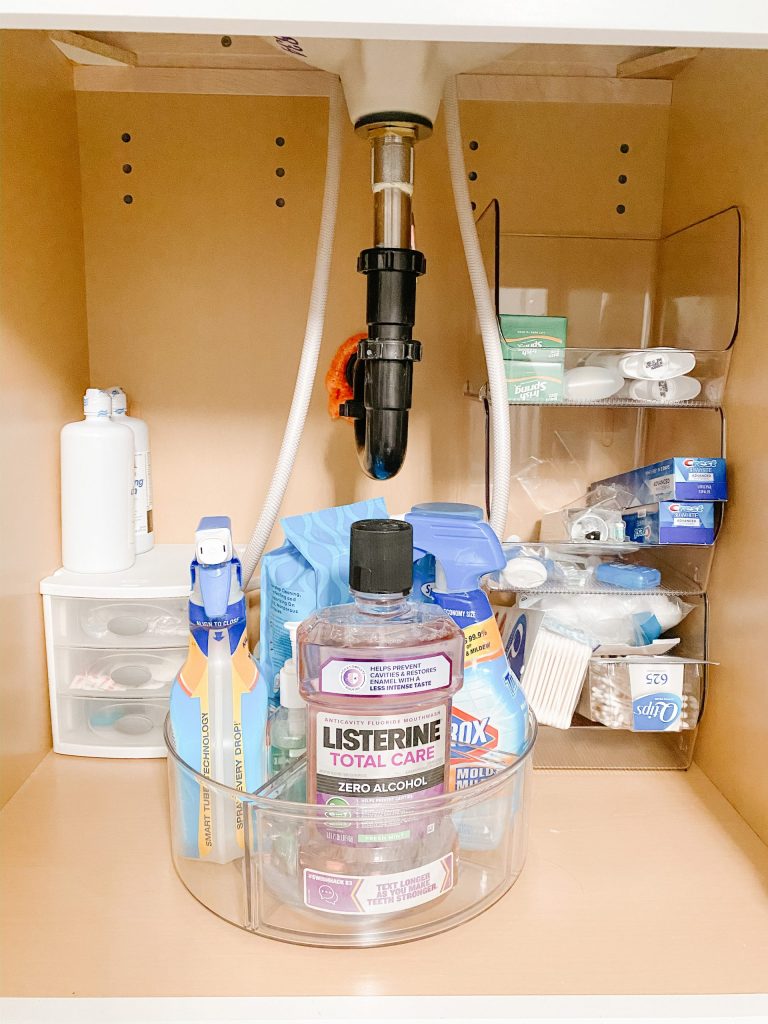 Under-sink Cabinets – large Items, Over stock items, Cleaning Items…

Nail Polish, etc.
Oils and Oil Supplies (Extra Roller Bottles…)
Extra Q-Tips, Deoderant, Toothpaste, Contact Solution…
Cleaning Supplies
** Keep the items that are the least used in the back, and the items that are most used accessible toward the front. Make sure you can see all bins and don't pack the spaces!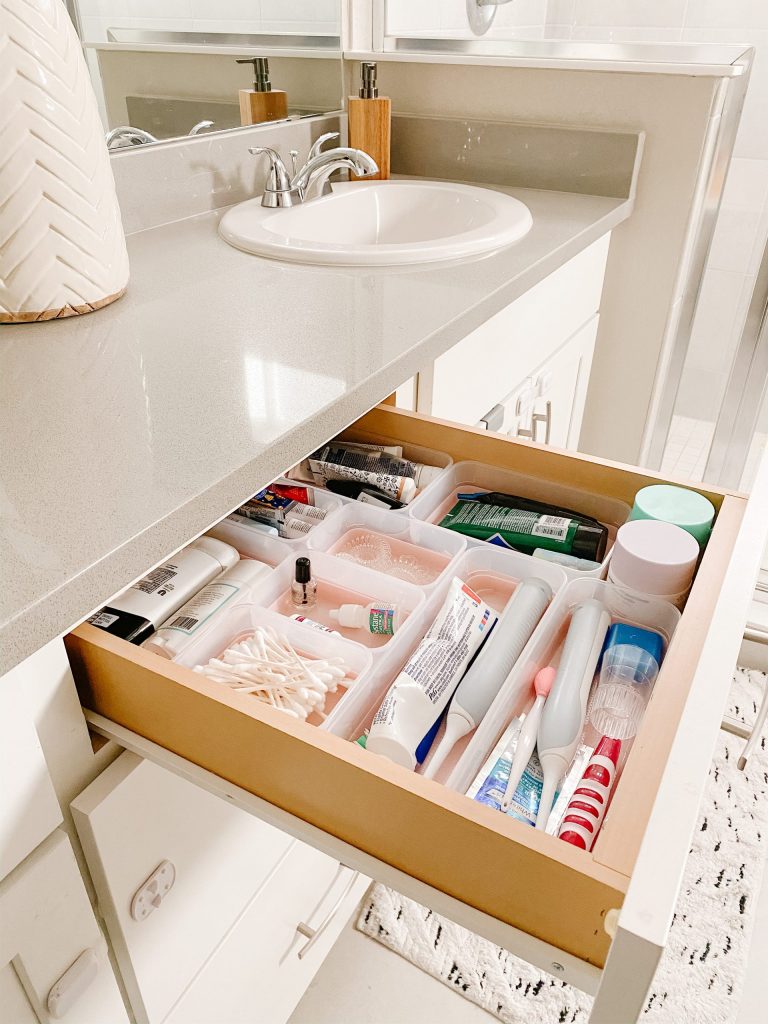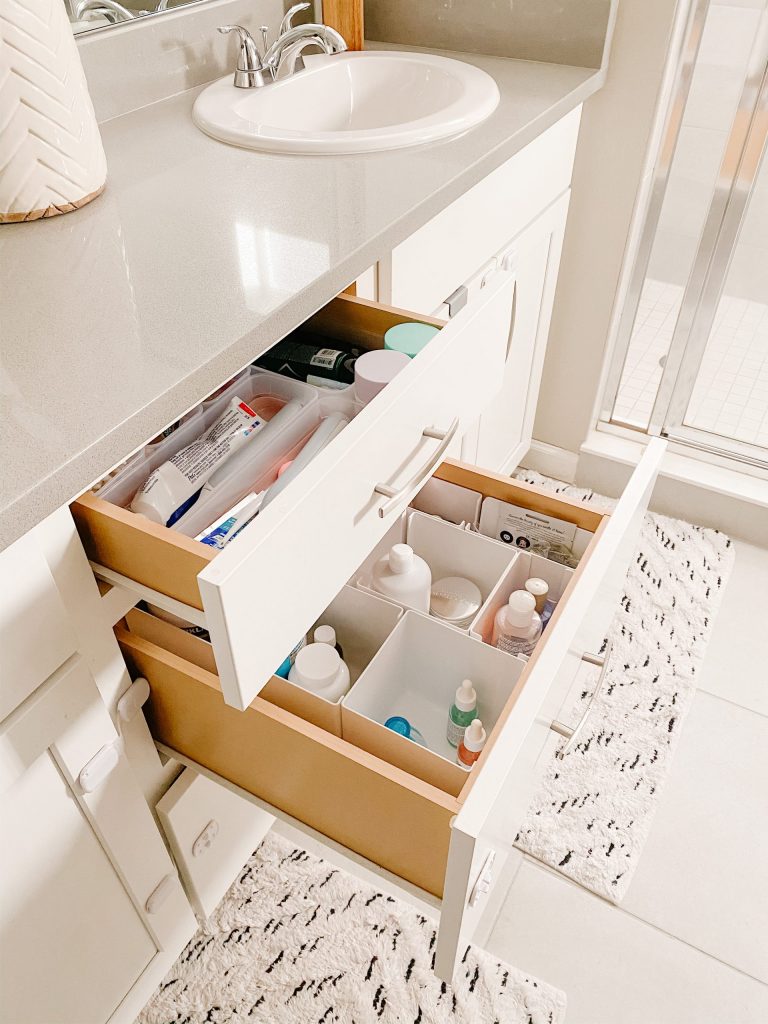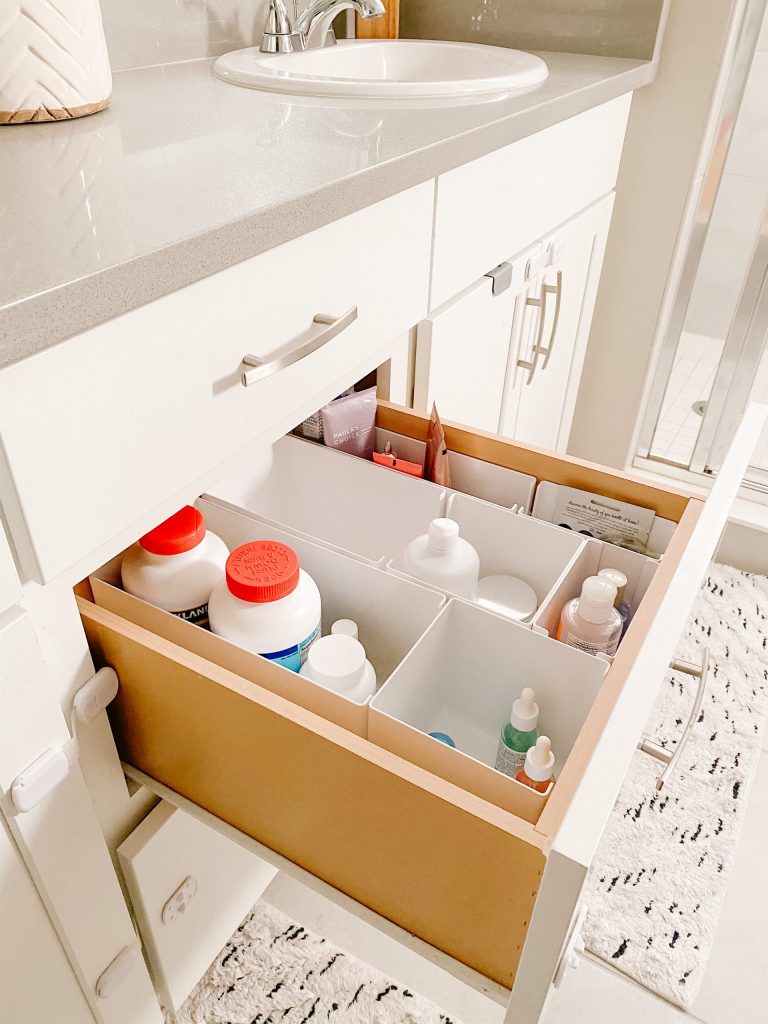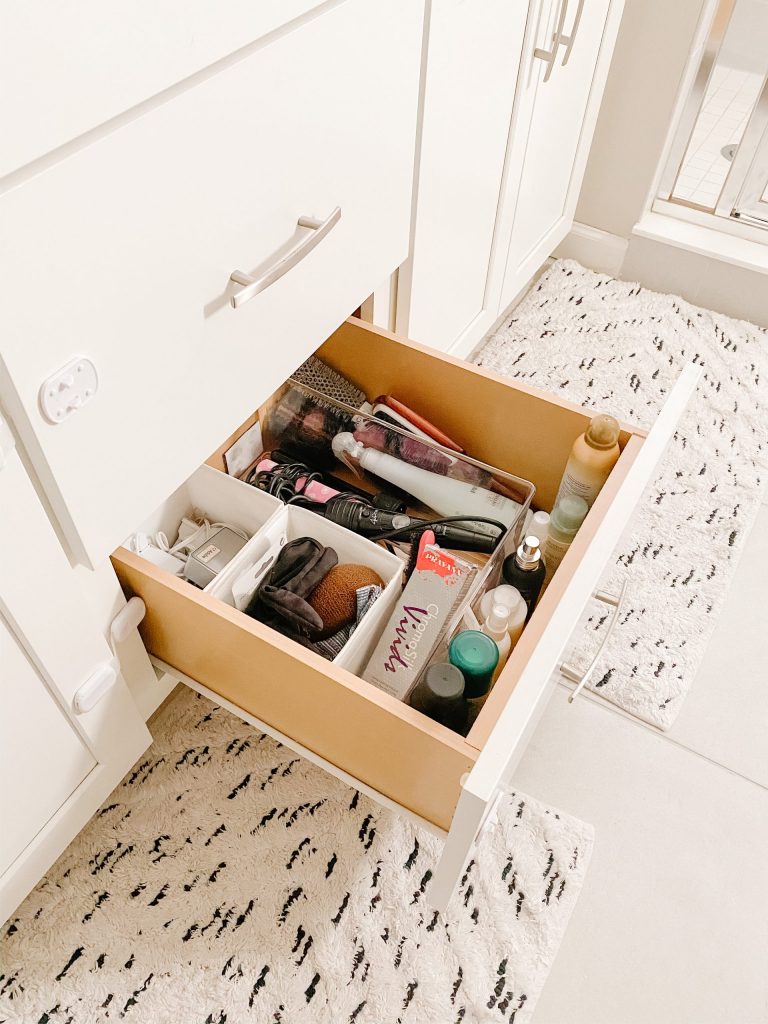 This space has been driving me crazy for a while, and I can't tell you how happy I am that I finally took the time to tackle it! It sounds a little silly, but I feel such a sense of calmness, happiness, and pride when I look in the drawers now! Everything has a place to go and I can see all of the items that I have! I hope these Bathroom Cabinet Organization tips helps you out if you decide to organize any of your own spaces!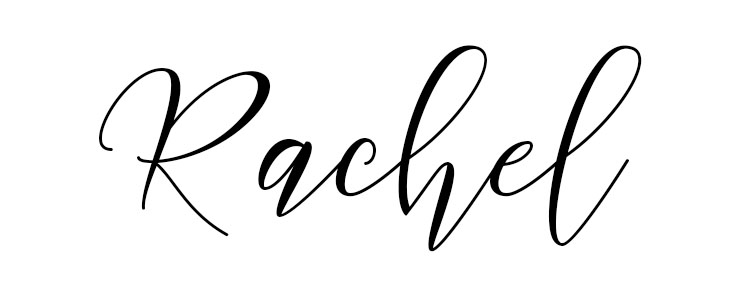 See our Disclosure here.