Sharing the Design Plans for our Small Master Bathroom Update, Including our Painted Tile Floors and the Best Affordable Small Vanity Options!
If you've been following along on Instagram, you've seen that we are in the middle of updating our small Master Bathroom! This post is all about the plans for our Small Master Bath Remodel! I'm also sharing all of my Favorite Affordable Small Vanity Options that I found and love!
Our current Master Bathroom is unfortunately one of my least favorite parts of our new house. It's small, and really hasn't been touched since the 70's! Why were all Master Bathrooms so small in the 70's!!
See Master Bathroom BEFORE PICTURES and our Remodel Plans below!
It needs a lot of help! We have been planning to completely remodel it, but probably won't get to that until later this year. I was going to just suck it up and stick it out until we remodeled it, but a couple weeks ago I had a different idea!
Living in a "fixer upper" can be hard sometimes, because there is so much to work on, but we can't do everything all at once! We are trying to stick to a budget with our updates and are tackling things in phases.
However…I feel that no matter what your budget is, you should love your house! Lately I have been on a mission to purge every wall and shelf and corner and "Marie Kondo" it…keep only the items that bring me joy or are useful!
So, while staring at our Master Bathroom one morning, I started wondering what I could update, without spending a ton of money and without a major construction mess. I also wanted to figure out if we could update this bathroom in two phases..not totally wasting the first round of updates.
Below I'm sharing my ideas to update our Master Bathroom on a budget, and with little mess!
This post contains affiliate links; see our Disclosure here.
Here's my Master Bath Remodel Design Plan!
MASTER BATHROOM UPDATE – PHASE 1:
Paint Walls
Replace Baseboards and Door Casing, Paint
Paint Storage Cabinet
Paint Existing Tile Floor
Replace Vanity
Replace Mirror
Replace Vanity Light
Add Shelves Above Toilet
MASTER BATHROOM UPDATE – PHASE 2:
Remodel Shower
Possibly Replace Floor
Possibly Replace/Update Storage Cabinet
UPDATE! See the completed Bathroom Makeover HERE!
Below I put together a Design Board showing how it will all look together!
I love putting these design boards together for any project I'm working on! It is a quick and easy way to see how all of the items will work together! Sometimes I go through a few different options for each item, and by laying them all out together on a board you can see which options look best!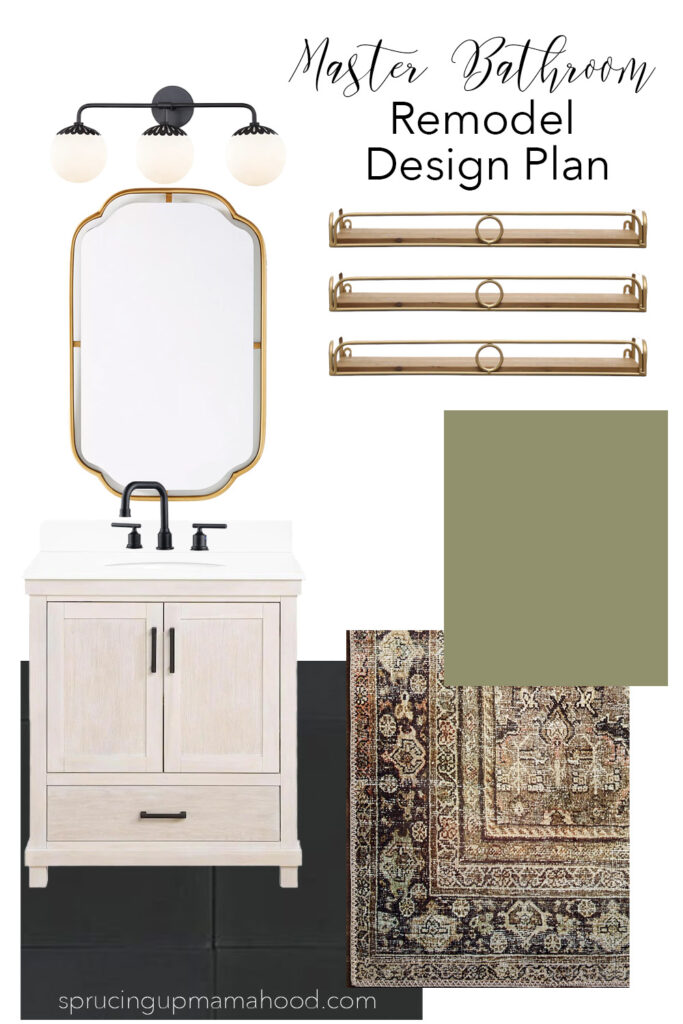 Shop The Links:

I'm so excited about this plan because it allows us to start updating it now, but we're saving the hardest part for later! At least what I think the hardest part will be. Remodeling the shower will be the most labor intensive part, and the messiest because we will have to remove all of the tile. And I don't really feel like dealing with the mess right now, haha.
As soon as I convinced my husband of my plan, I started right away and ordered a new vanity, light and mirror, and picked out paint colors!
Also, other than switching out the vanity, painting this bathroom is what has transformed it the most, and it was the most affordable part of this update! If you are ever looking to update a space on a budget – paint it!!
Painted Tile Floor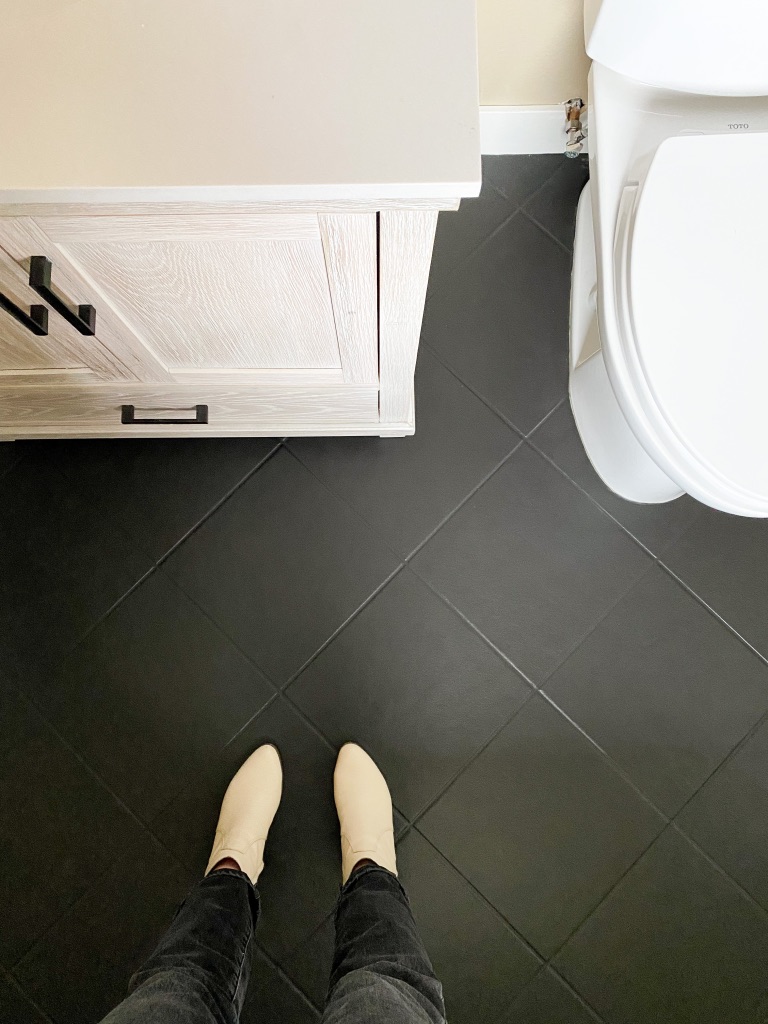 One decision that I wasn't sure about at first, was whether or not to paint our existing tile floor! The other option would be to just keep it how it was, and replace it later when we replace the shower.
I've seen a few people on Instagram paint their tile floors, and thought it looked great! It's also very affordable! It only cost about $40 for the two quartz that we needed for our small bathroom.
We decided to go for it, because there wasn't much risk involved – we were planning to replace this floor soon anyway, so figured we might as well try it! I'm assuming we will still have to replace it once we remodel the shower (it will be hard to remove the existing shower floor without damaging the painted tile). But for $40 it was so worth it to try out!
We used this Rustoleum Floor Cover paint, in black, with the Matte top coat!

I am honestly so happy that we went for it! It was a super quick and easy process and I love how it turned out! I'll make sure to give an update on how it holds up!
Affordable Small Vanity Options
Since I was looking for some affordable small vanity options, I pulled together my favorites to share! Our Master Bathroom is pretty small, so we needed to stick with a 30″ wide vanity.
I wasn't sure if I wanted a wood tone vanity, or a painted vanity, so I looked through all of the options.
Most of these vanity options also have drawers because I think they are so convenient, and a must have for a Master Bathroom! I originally wanted to find a vanity with 3 drawers. The one we ended up going with only has one drawer, so I'm hoping that isn't an issue!
Here's the 30″ Vanity we ended up selecting! I'm so in love with it!

All of these affordable vanity options also include countertops and sinks! It is so much more cost effective to buy an all-in-one vanity with the top and sink included. Try to find a vanity with a quartz or granite top as those will be the most durable!
Faucets are typically not included, but you can find some really great and affordable faucet options on Amazon! For this Master Bathroom update we went with this simple matte black faucet.

We ordered this black faucet from Amazon for our last bathroom remodel and also love it!

Below are my Favorite Affordable Small Vanity Options: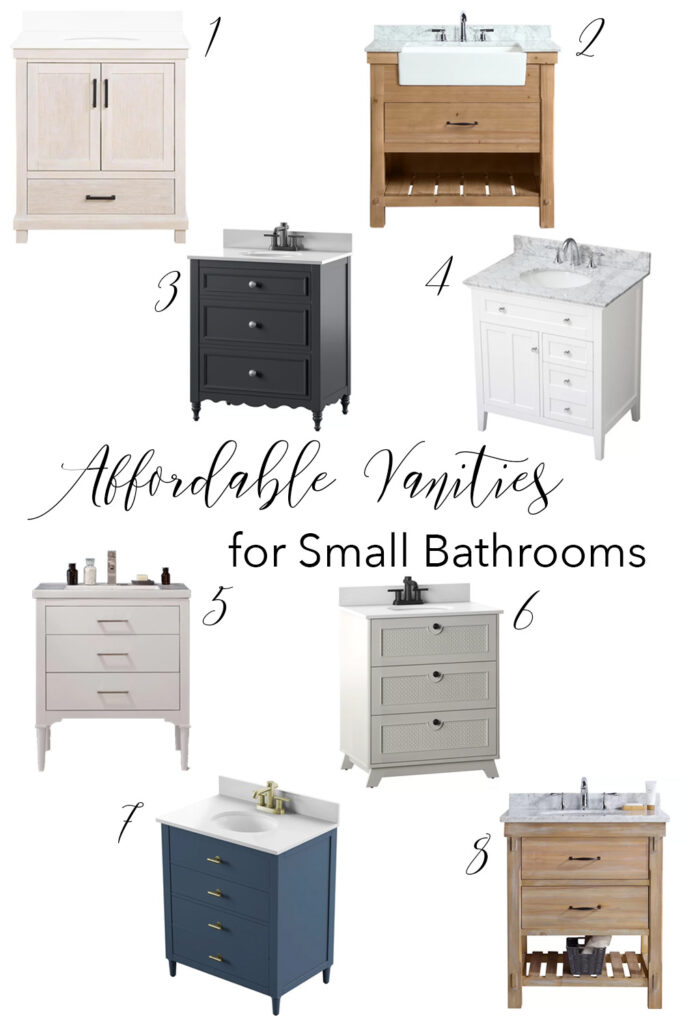 |1| Rustic White Single Sink Bathroom Vanity |2| Kordell 36″ Single Bathroom Vanity Set |3| Trapani 30″ Single Bathroom Vanity |4| Waut 32″ Single Bathroom Vanity |5| Gwenda 30″ Single Bathroom Vanity |6| Mccurry 30″ Single Bathroom Vanity |7| Lasher 30″ Single Bathroom Vanity |8| Kordell 30″ Single Bathroom Vanity Set
Small Master Bathroom Remodel Follow-Up
Overall I am loving what we have done so far, and am looking forward to completing Phase 1 of our Master Bathroom Remodel!
I'll give an update on how everything turns out soon! I'll also update on how the painted tile floors hold up!
For more Bathroom Remodel inspiration, check out this post!
UPDATE! See the completed Bathroom Makeover HERE!
We have lived through many bathroom updates and remodels, so please let me know if you have any questions in the comments below!
This post explained our Design Plans for our Small Master Bathroom Update, Including our Painted Tile Floors and the Best Affordable Small Vanity Options!
More Bathroom Design and Remodel Articles: