These Bathroom Accessories and Bathroom Decor are the perfect update for any bathroom and budget!
We just finished updating our small Master Bathroom and I'm thrilled with how it turned out! We totally changed the look of the bathroom on a budget. Definitely make sure to check out this post about the Bathroom Makeover to see the Before and After Pictures!
One thing that made a huge impact in the room were all of the cute new Bathroom Accessories and Decor! Since it is such a small room, these finishing touches really stand out!
I typically prefer to keep bathroom decor pretty simple and clean, and you can still definitely accomplish that with these bathroom decor options below! I've also included some fun and colorful options!
This post contains affiliate links; see our Disclosure here.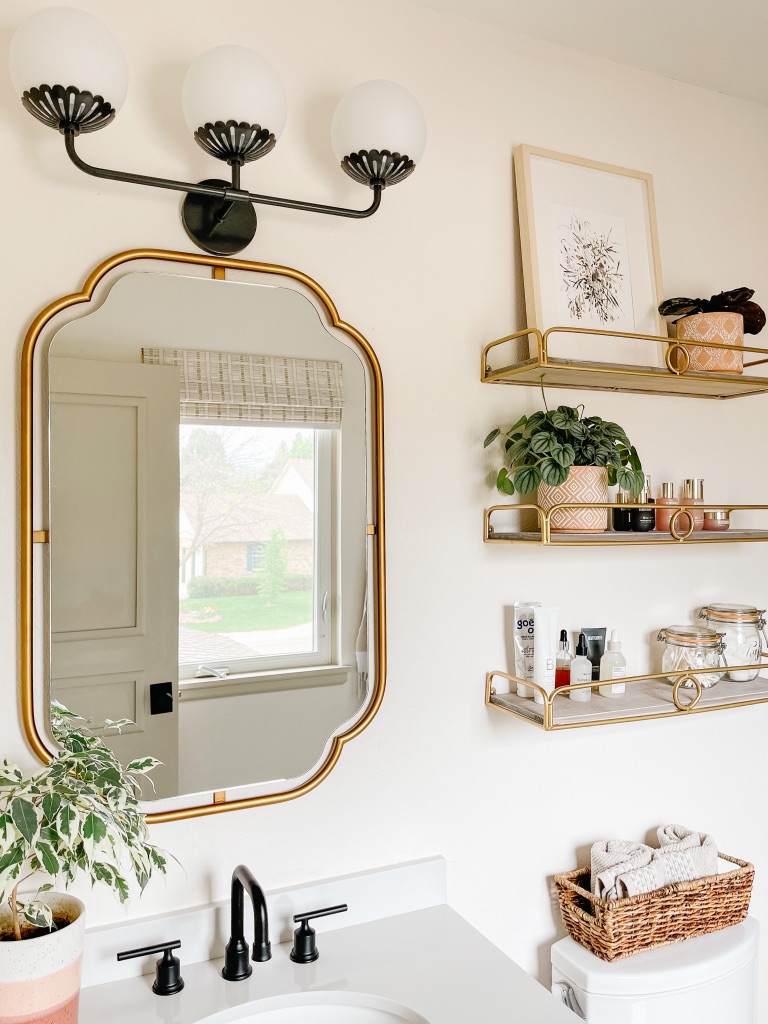 The Best Bath Accessories of 2021:
Shower Curtains
Shower curtains are the perfect opportunity to add some fun colorful patterns or warm neutral textures to your bathroom! They can make a dramatic impact in a bathroom because they are such a large feature.
Switching out your shower curtain is also an easy and affordable way to change the feel of your bathroom if you are ready for a new look or color scheme.
In our Boy's Bath we have this fun Boho style shower curtain from Society6. I love the pattern and color in it! It works perfectly with the wallpaper and bath mat in here. Society6 has sooo many cute and affordable shower curtain options that are all so unique!
In our Master Bath, which is more serene and neutral, I love this simple black and cream shower curtain from Target. I've actually had this shower curtain for years and still love it. Target has a lot of great options!
Here are a few more Shower Curtain options that I love (click the photo to shop):

I also want to mention some shower curtain liner options! These are necessary if you don't want water leaking out of the shower, and also to keep the curtain clean.
I used to always buy these Peva plastic liners because they are environmentally friendly.

However lately I have been using these fabric liners and love them so much more! They are thinner and more drapey so they don't stick out as much in the shower, and they are so easy to clean because you can put them straight in the washing machine. They aren't 100% waterproof, but I've never had an issue with them!

For shower curtain hooks, I love these double-sided hooks from Target. They come in black or gold. They make it easy to hang the shower curtain and liner separately.

Bath Mats / Rugs
I love a cute and colorful bath mat! In our hallway bathroom we have this gorgeous long bath mat from Urban Outfitters! I love the size – it is the perfect length next to the bathtub. And it is such a pretty terra cotta color.
In our Master Bath that we just updated, I actually used this small olive and charcoal Loloi rug, instead of a typical bath mat. It is not as absorbent, but I think that it works fine and I love how it looks in our bathroom. This rug would be perfect for a Powder Room where you don't need an actual bath mat. It is 2′-3″ x 3′-9″ so a great size for a small bathroom in front of a vanity or outside of a shower.
Here are a few more Bath Mat Options (click on the photo to shop):

Shelves
I'm a big fan of decorative open shelves above the toilet! I prefer open shelves over a closed cabinet with doors because they look more airy and make the bathroom feel more spacious.
There are so many cute bathroom decor items that you can store on them as well, which I'll share more about below! I also use them to store my products that I use often, like my Beautycounter face products (which all come in super pretty bottles)! And they are the perfect spot for some live or faux plants.
In our Master Bathroom we installed three of these wood and gold shelves. They are the perfect size and the gold works well with the gold mirror. The wood was warmer than I wanted so I used this whitewash stain to lighten it up.
In our hallway bathroom we installed two of these larger DIY wood shelves. You can see exactly how to make the shelves here! I love these black brackets from Amazon and have used them multiple times.
Here are a few more shelves that would look great in a Bathroom:

Hooks
I always put a few towel / robe hooks in a bathroom! I actually prefer them over towel bars because they are easier to use, and they take up less wall space.
For our Hall Bath remodel we used these cute wood hooks and I LOVE them! We also have these by our front door because I loved them so much in the bathroom!
In our Master Bathroom we used these simple matte black hooks from Amazon! They are great quality and super affordable.
Here are a few more Towel Hook Options to consider:

Towel Bars and Ladders
I love the look of these towel ladders if you have space for them! They are super functional and double as wall decor!

If you prefer a towel bar I suggest buying a set, with the towel bar, hand towel ring, and toilet paper holder all part of the same collection.
We bought this simple hand towel ring from Amazon for our hall bathroom remodel.

Toilet Paper Holders
One of my biggest pet peeves is when people don't put the toilet paper roll on the holder! It seriously drives me crazy. So I made sure to purchase a toilet paper holder that is very simple to replace the roll on! ha..
This affordable matte black toilet paper holder is hands down the best I have found! We bought it for both of our bathrooms and love it!

Here are a few more affordable toilet paper holder options from Amazon:

Bath Accessory Sets
Don't forget to add some cute bath accessories to your vanity countertop too! Here are a few of my favorite sets for soap dispensers and toothbrush holders:

More Bathroom Decor Ideas
Here are a few more bathroom decor items that you could store on the bathroom shelves, or on a countertop. Bathroom decor can be useful, like storage items, or decorative, like plants!

Best Bath Accessories of 2021 to Update Your Bathroom
When you are looking to update your bathroom or give it a new look, don't forget about switching out the Bath Accessories! These small items can make a big difference in a bathroom.
You can add so much character to a bathroom with some cute shelves above the toilet, or a colorful and unique bath mat! These bath accessories help you add some color and texture to the bathroom as well!
There are many affordable bath accessory options out there and shown above. So, this is also a budget friendly and easy way to give your bathroom a makeover!
This Post Shared the Best Bathroom Accessories and Bathroom Decor Options for 2021!
More Bathroom Design Articles: