Happy Fridayyyyyyy! So happy it's almost the weekend; this week has been A LOT! I'm hoping to have a fun weekend and then start fresh next week feeling refreshed and energized! Wish me luck! haha.. Anyways…today I'm sharing some of my Christmas home decor! It's funny because I started decorating way earlier than usual this year, towards the beginning of November, but I feel like it caused me to just decorate for wayyyy longer than usual! Like I feel like I have been decorating for weeks and I could still add more! I can be such a perfectionist and it can be hard for me to call it good and stop! So I may still add more or change a few things up, but I think our Stairs, Living Room, and Entry are pretty much done so those are the areas I'm sharing today!
Stairway Christmas Decor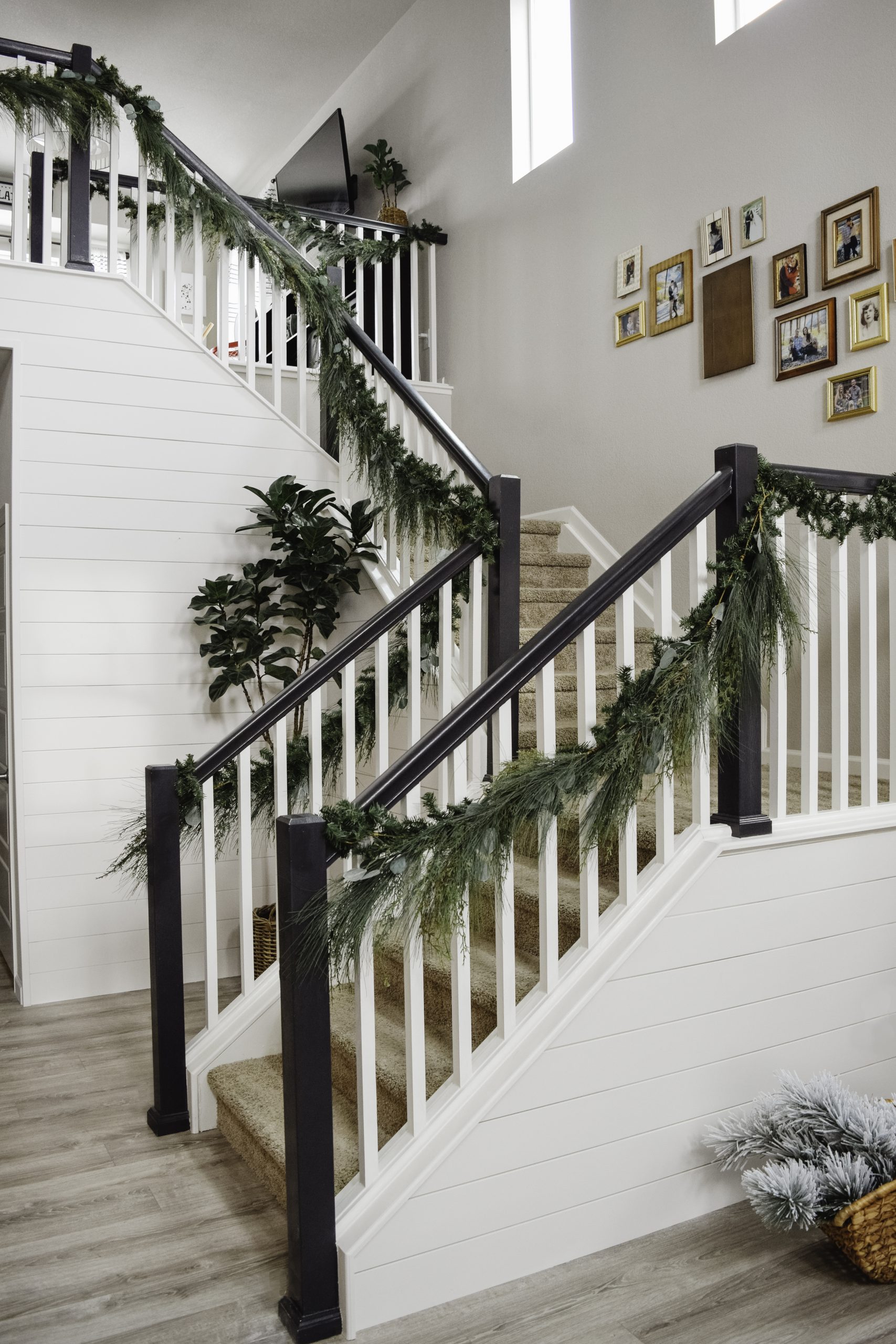 I think my favorite area right now is our Stairway! I love how the garland turned out! We also recently added shiplap to the walls here and I think that the green garland looks so pretty next to the white shiplap. I debated buying a more basic/less expensive garland here, because we have an open stairway and needed so much, but I ended up using a combination of this wispy garland and this basic garland.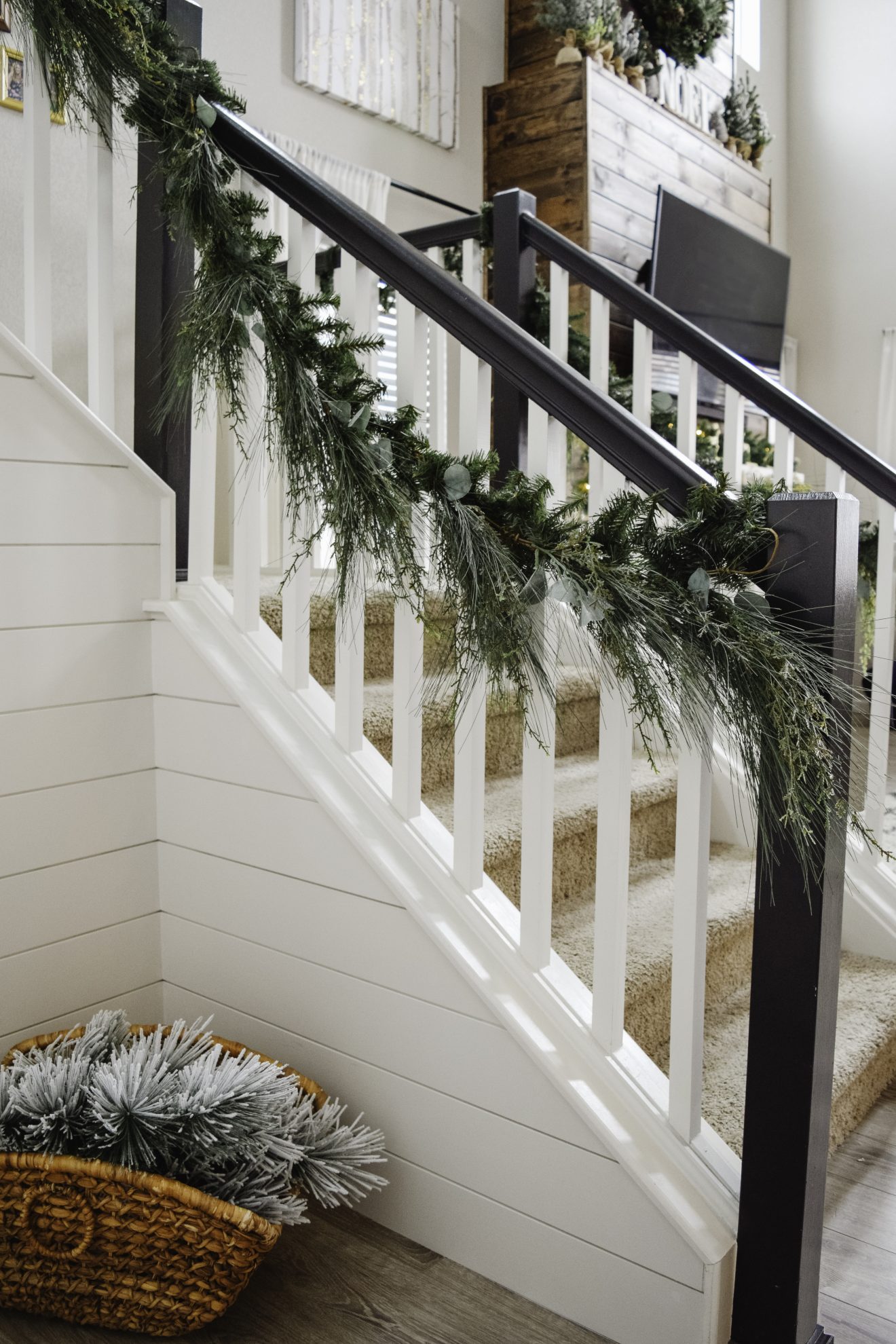 I really like how it turned out and think it was worth the investment because it is something I will be happy to use in the future. I knew I really wanted a wispy and natural looking garland, so I did do some research online and this garland from Target was actually the best deal I could find for this look. So if you are still looking, or want to purchase one after Christmas (sales!) for next year, I highly recommend this one! Kaylee actually also used this garland for her Christmas Tablescape as well and it looked beautiful! I also used these garland ties to attach them to the stairs.
Living Room Christmas Decor
Our Living Room feels so cozy right now with all of the greenery and twinkle lights! I love the warm glow of all of the lights in this room. It is going to feel so empty once we take it all down!
I've never put anything on the ledge above the TV before, and I really like having the little Christmas trees up there this year! I might need to figure out something to keep up there year round now!
I haven't added any ornaments to the tree yet, and I'm actually not sure if I'm going to this year. I kind of like it simple with just the lights, haha. The main reason I've been waiting to decorate it is because I have a 15 month old boy, and I know that any ornaments that I put on there he will take off and play with. So which is better…leaving it bare, or having ornaments only above where he can reach?? Do you see my dilemma?! haha.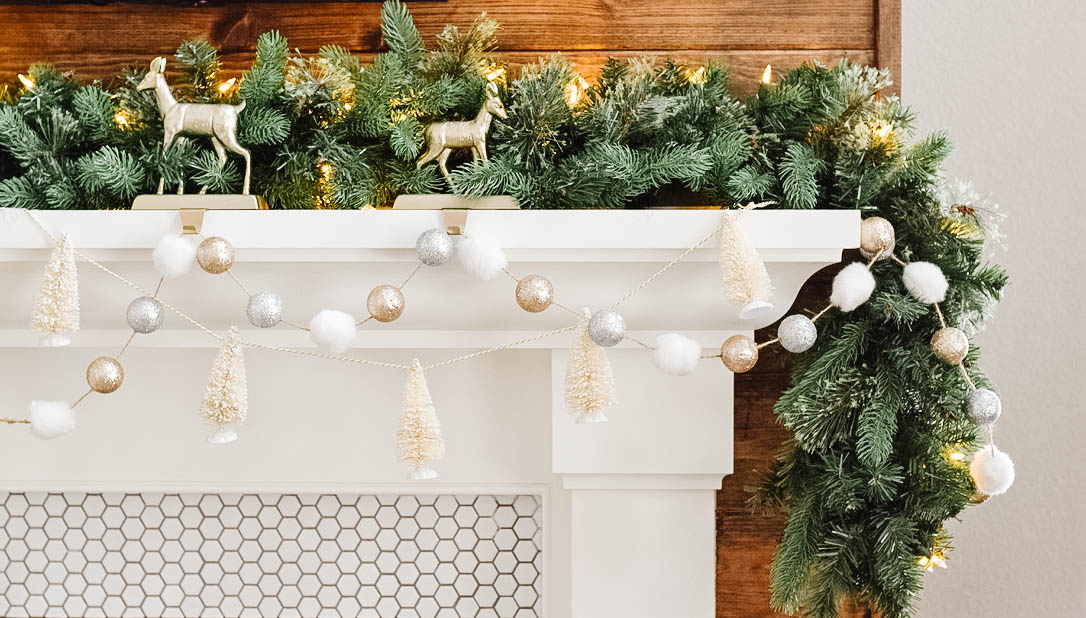 At the fireplace mantle I layered this bottle brush tree garland and a pom pom garland I got from Target a few years ago. These deer stocking holders from Target are also so cute! My 3 year old loves them because they are like our family (dad, mom, kid, baby)! The garland is from Costco, about 5 years ago, and it has held up great year after year!
Entry Table Christmas Decor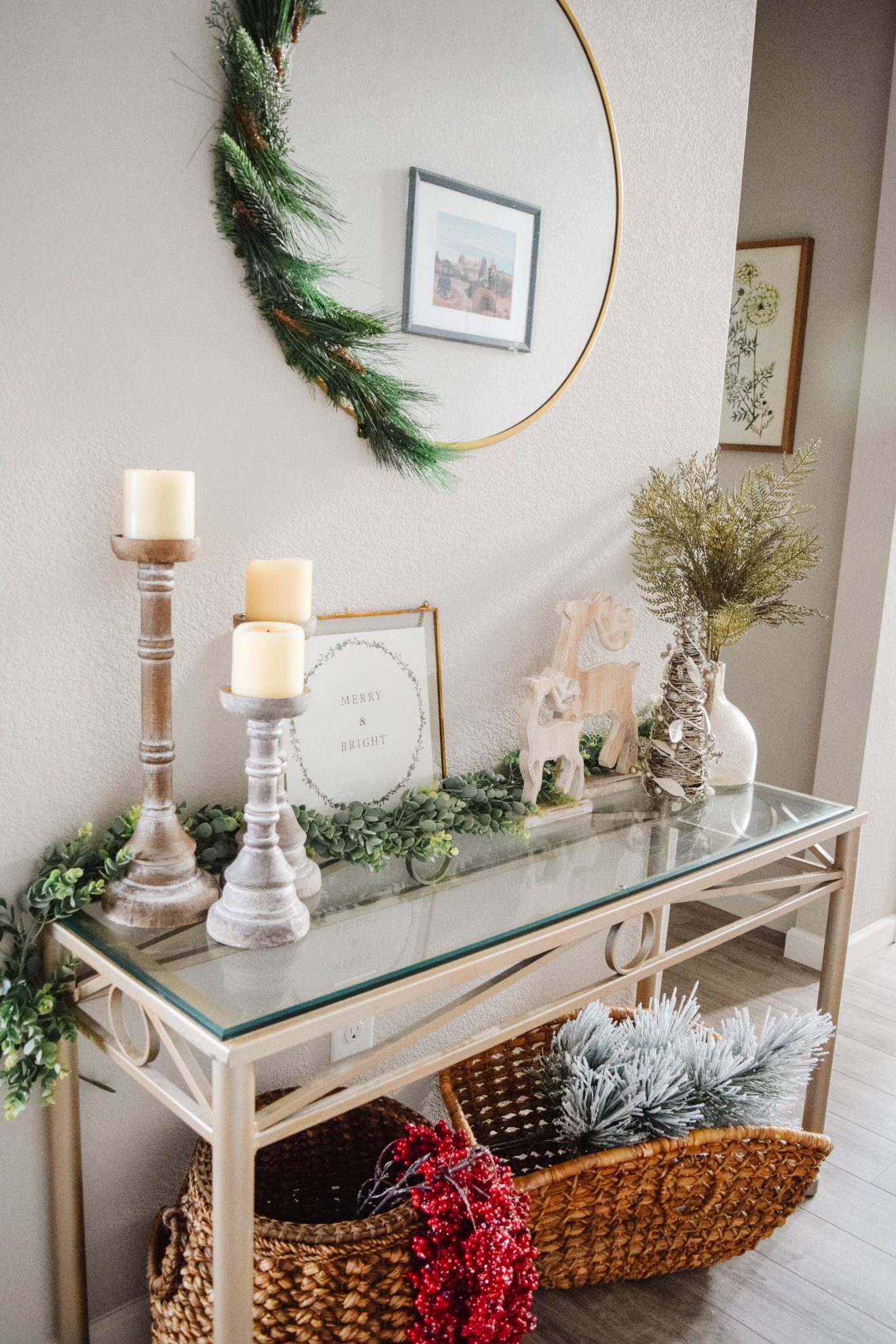 Nothing too special up here, but I like how this little Entry table turned out! I added some greenery to the round mirror above the table, which was super easy, and cost about $6.00. I used some heavy duty double stick tape, and this mixed greenery assortment from Target which I feel was a great value for how many pieces you get!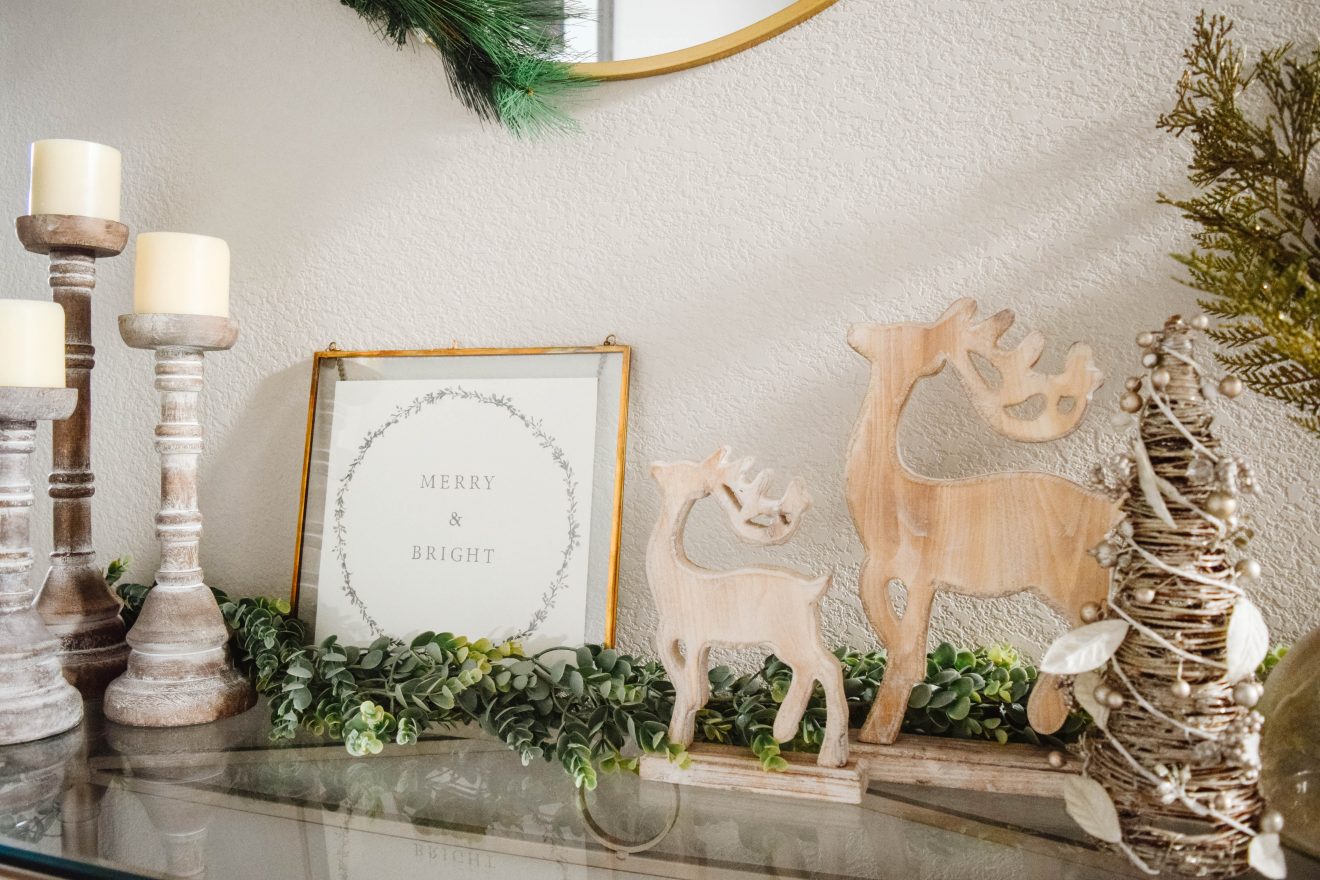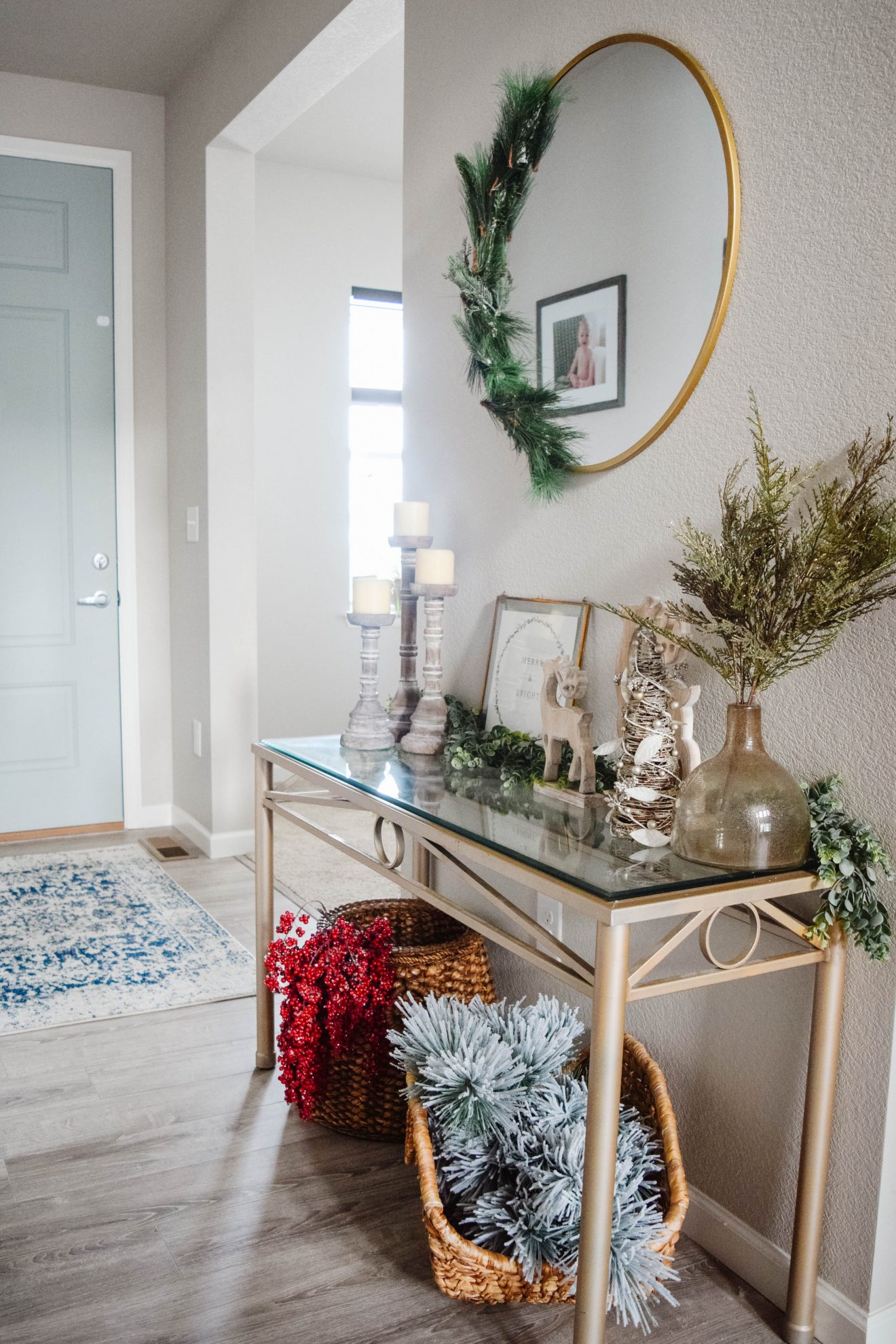 I hope this Christmas home decor inspires you to decorate your own homes! I've had a lot of fun decorating this year, and hope to share even more in the next few weeks! Hope you all have a great weekend!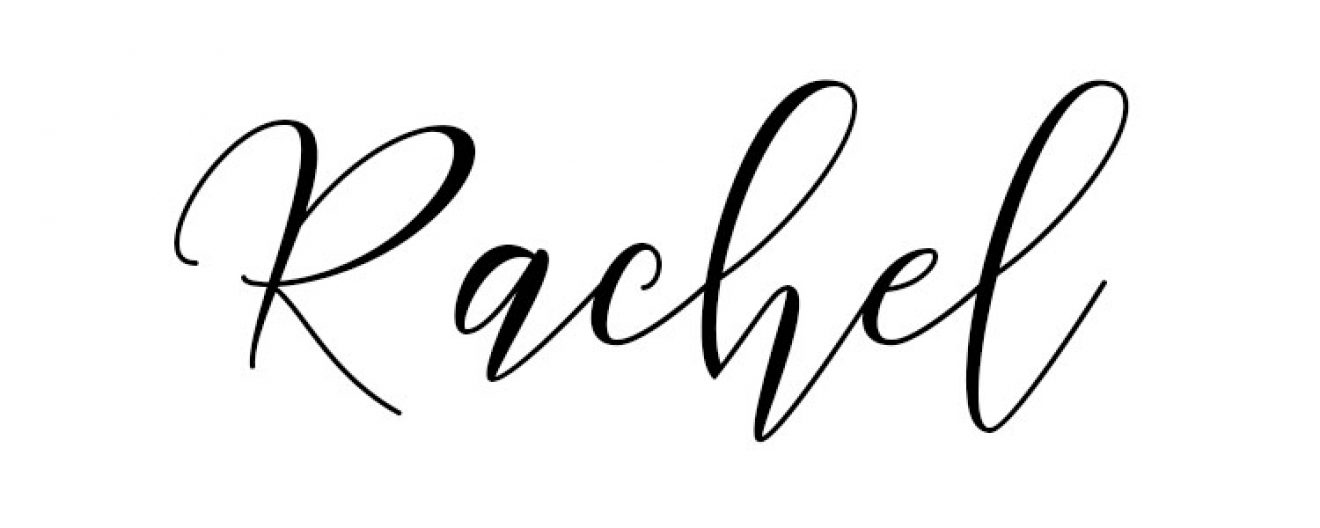 See our disclosure here.