Sharing all of my Favorite Tall & Narrow Nightstand Options, perfect for Small Bedrooms!
I'm currently working on a fun project and have been searching the internet for bedroom furniture options! One item that I spent a ton of time searching for was a tall nightstand!
My client's bed is pretty high – over 30″ from the floor to the top of the mattress. So, we wanted to find a nightstand that was tall enough to be functional and not look dwarfed by the size of the bed!
Ideally, your nightstand should be about the same height as the top of your mattress. Give or take a few inches! When in doubt, go higher!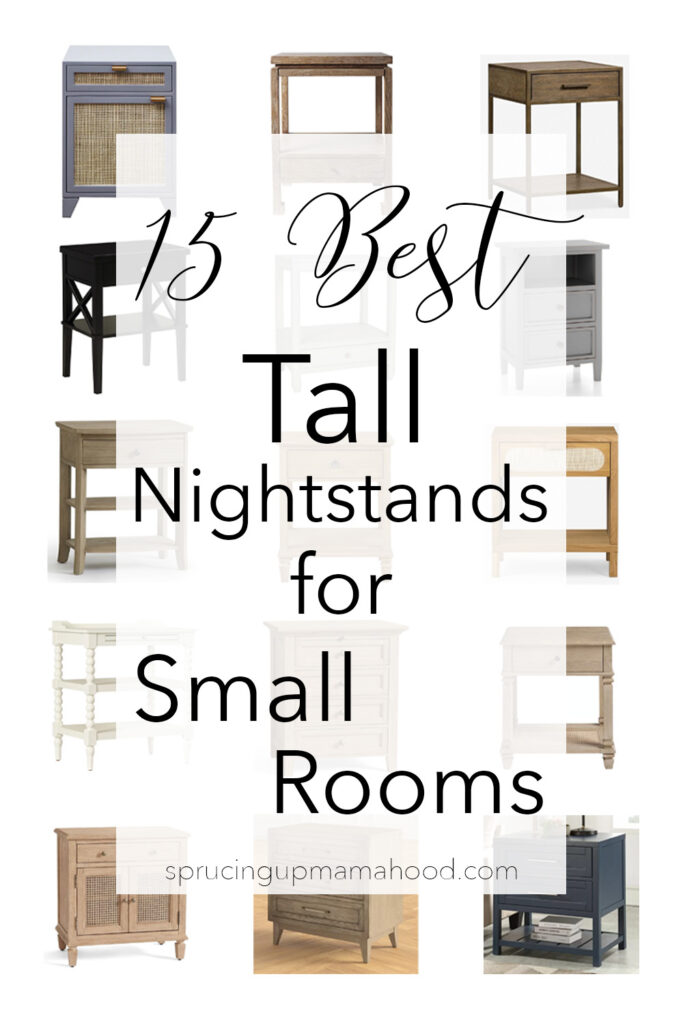 I was surprised at how tough it was to find a stylish and functional tall nightstand! I spent hours looking through soooo many options to narrow down for my client.
Most nightstands I came across were about 24″ – 25″ high, which was too short for her bed height. Some modern nightstands are only 20″H. I was looking for options that were at least 28″ tall.
For the width I was looking for something around 20″ – 30″ wide. Small enough to not crowd the entrance into the bedroom but wide enough to not look too small next to the queen sized bed.
I was also looking for affordable options! It is definitely possible to find a beautiful, quality nightstand for a reasonable price! And there are some great statement options here!
This post contains affiliate links; see our Disclosure here.
Below are my Top 15 Tall Nightstand Ideas for Small Rooms!
Click on the Pictures Below to Shop!
Here are More Details on Each Nightstand, Including Other Color/Finish Options…
Nightstand 1 – Mateo Single Nightstand – This is the option that my client chose for her Master Bedroom and I LOOVEE it! The caned door fronts and brass hardware are so gorgeous! Its the most expensive option in the group, but its definitely a statement piece! It comes in two finishes – gray (which looks like a gray/blue) and Natural, both shown below.
Nightstand 2 – Reese Nightstand – I love the details on this nightstand! It comes in two cerused finishes that are both so pretty – Cerused Oak and Cerused Ebony. This is a very special and unique piece for any bedroom!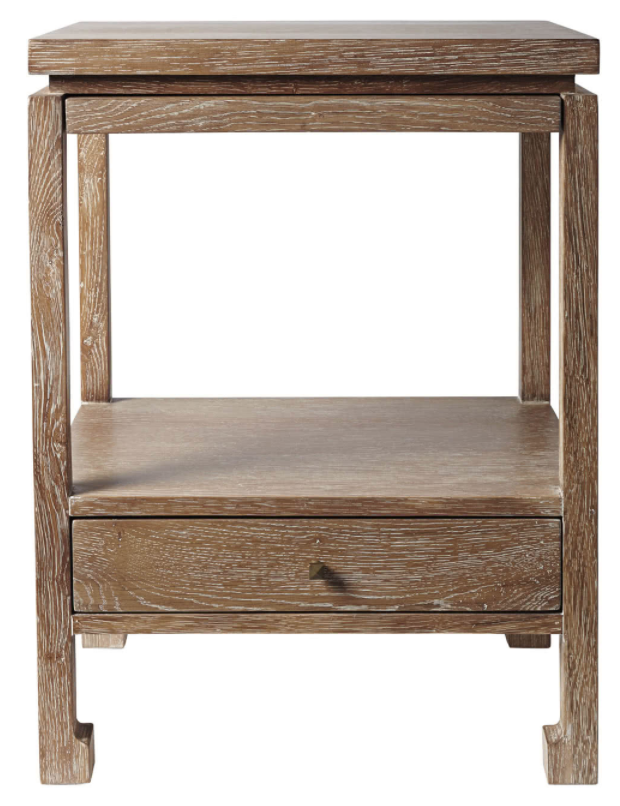 Nightstand 3 – Mariam Nightstand – This option looks sooo pretty! I LOVE the metal frame and the clean mid-century style! It looks very sophisticated!
Nightstand 4 – Marta 1-Drawer Black Nightstand – This is a very affordable option and comes in three different finishes – White, Gray, and Black. It has a classic and simple design and would work in any room!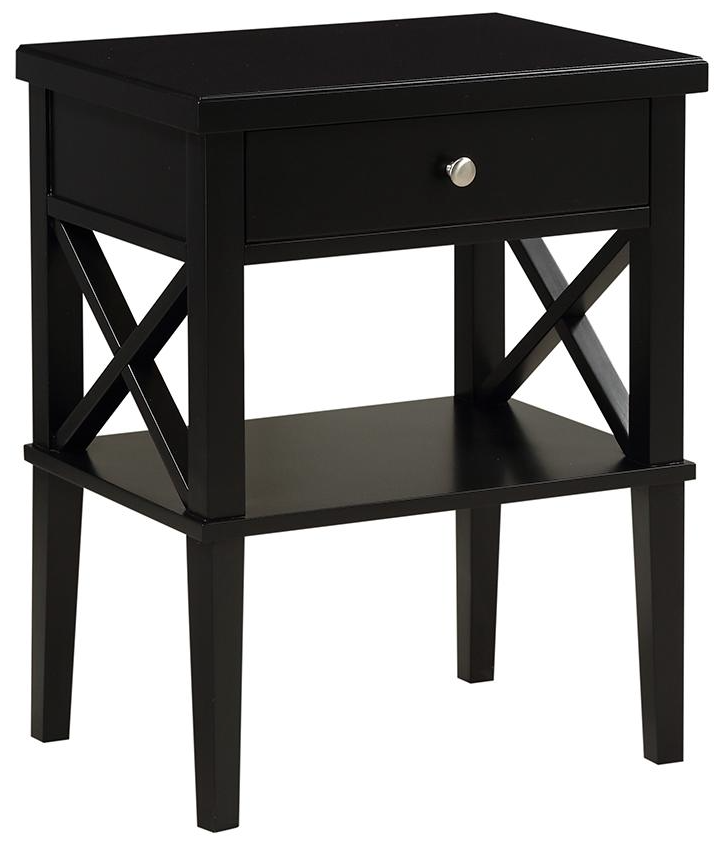 Nightstand 5 – Dunnygarran End Table with Storage – This cute nightstand comes in a grey or white finish and I love the vintage farmhouse vibes! The detail at the feet is also so fun and unique!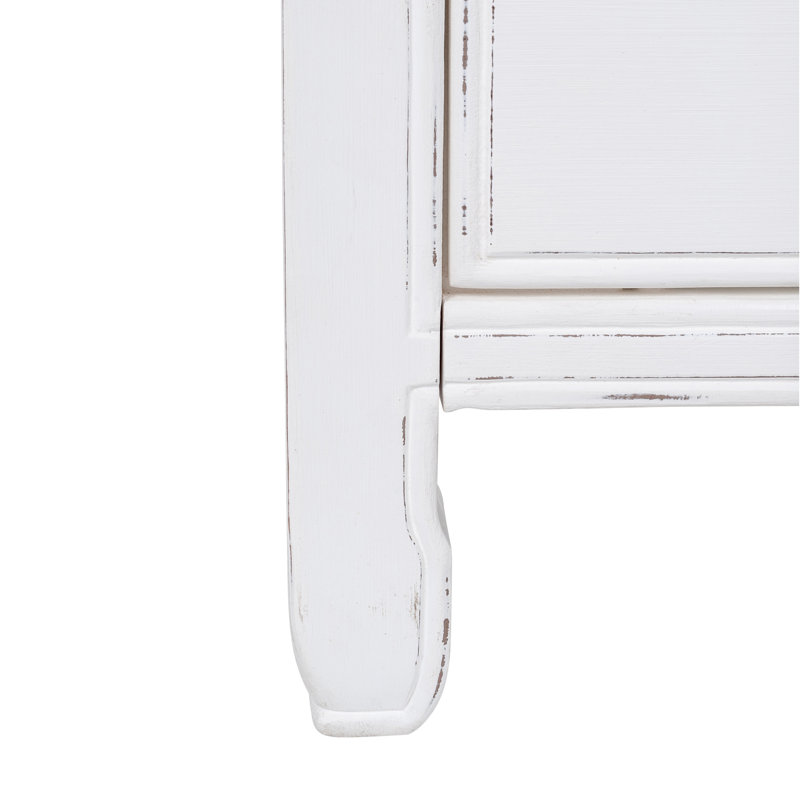 Nightstand 6 – Harbor Grey 2-Drawer Nightstand – This is the tallest nightstand option I found at 32.25″ high! This option also comes in 12 different colors! Some of the colors are made to order however, so it takes 17-19 weeks to ship them. But, my favorite color option, Dama (shown below) is in stock! I love the brass knobs, and the drawer interiors are a pretty sage green color!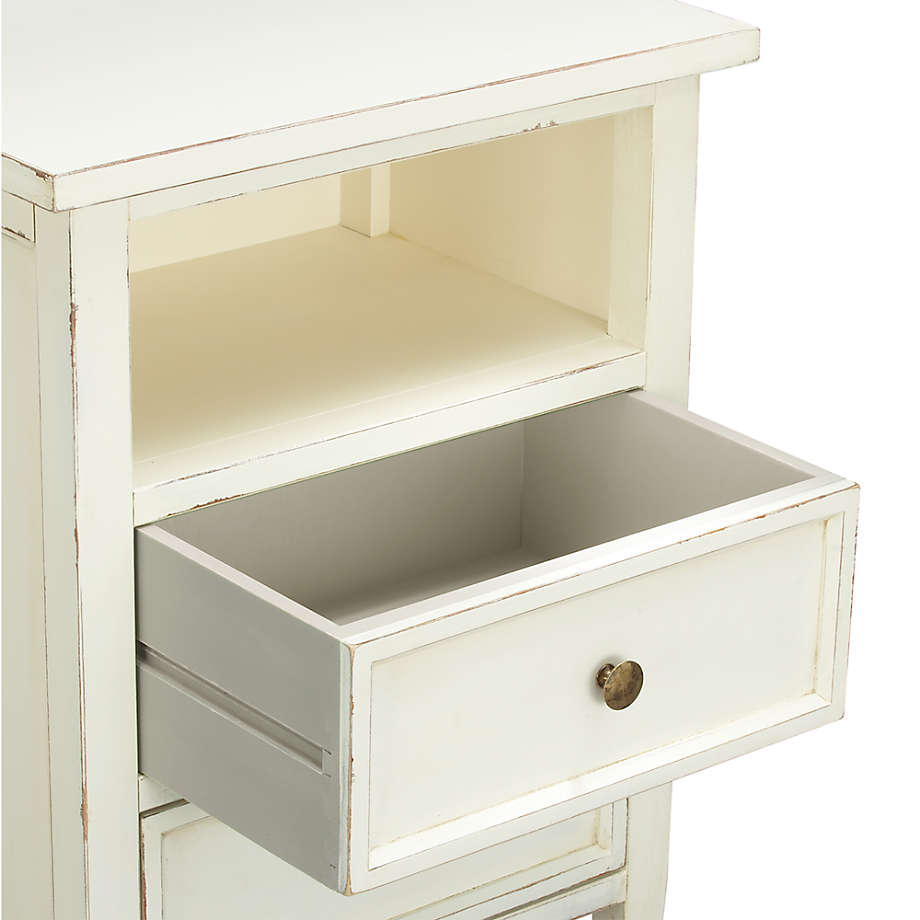 Nightstand 7 – Chloe 24″ Nightstand – This is a simple and classic style and I love the elegant curve at the legs. It comes in a few different finish options. If you are looking for a black nightstand, this is one of the best ones I found! Some of the painted black nightstands can look a little cheap but I love how you can see the wood grain texture on this one.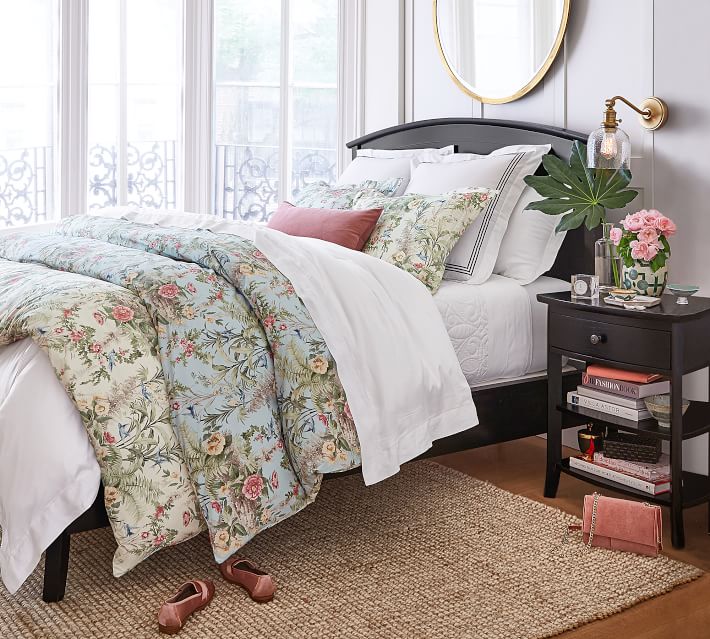 Nightstand 8 – Victoria Nightstand Light Natural – This is a simple, traditional and timeless nightstand that could work for many different decor styles! It would look great in a California Coastal bedroom, or a Farmhouse style bedroom! I love the color of the finish and the light wire brushed texture.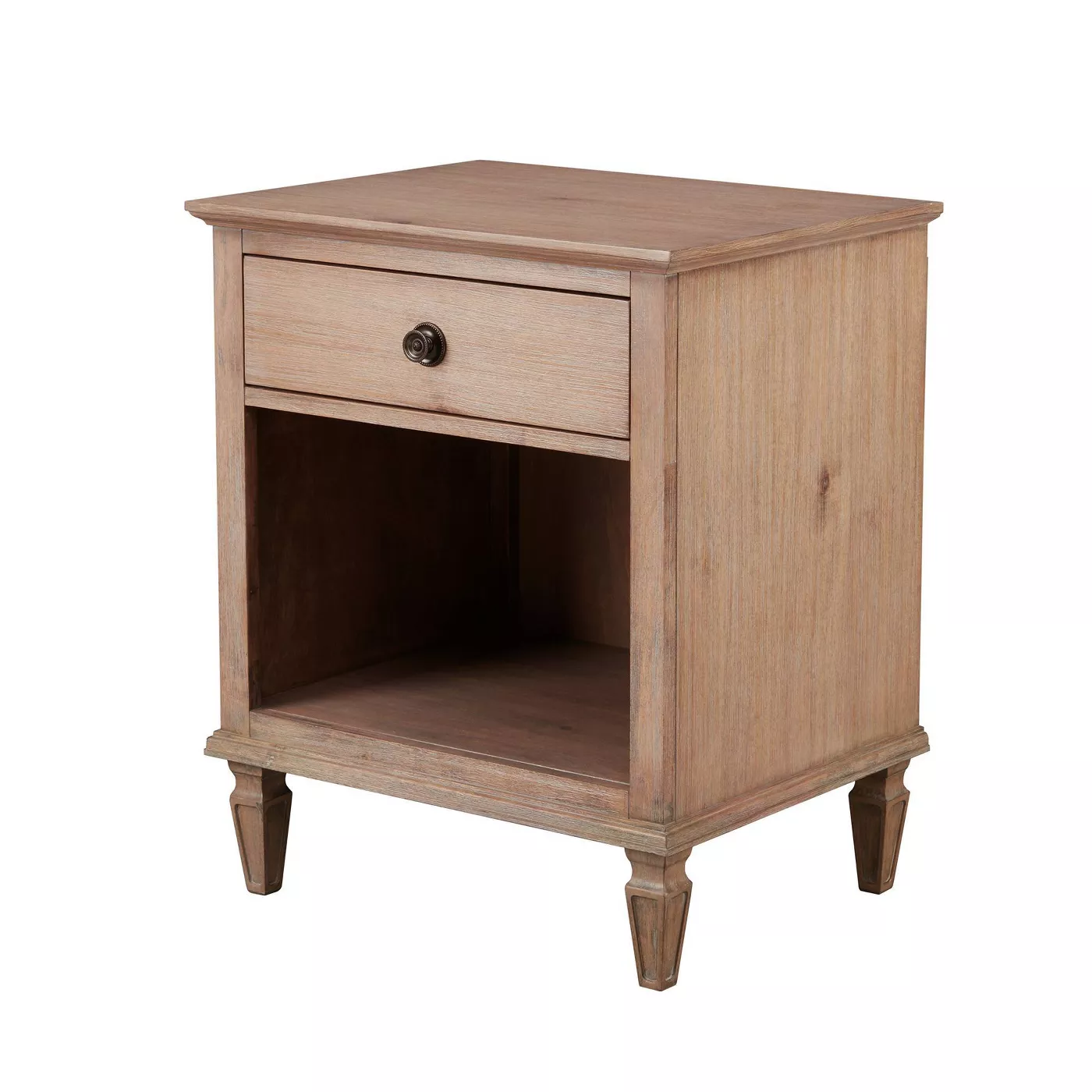 Nightstand 9 – Verna Nightstand – This nightstand is so stylish and beautiful! Definitely a statement piece for a bedroom! The caned drawer front ads some interest but doesn't feel so in your face Bohemian…LOVE!
Nightstand 10 – Baker 1 – Drawer Nightstand – I think this nightstand would be so cute in a Guest Bedroom! I love the cottage-chic vibes and the turned detail at the legs! The small drawer at the top pulls out and is more like a hidden shelf. It also comes in a gray finish.
Nightstand 11 – Hudson 26″ Nightstand – I love drawers and this cute nightstand has four to keep you super organized!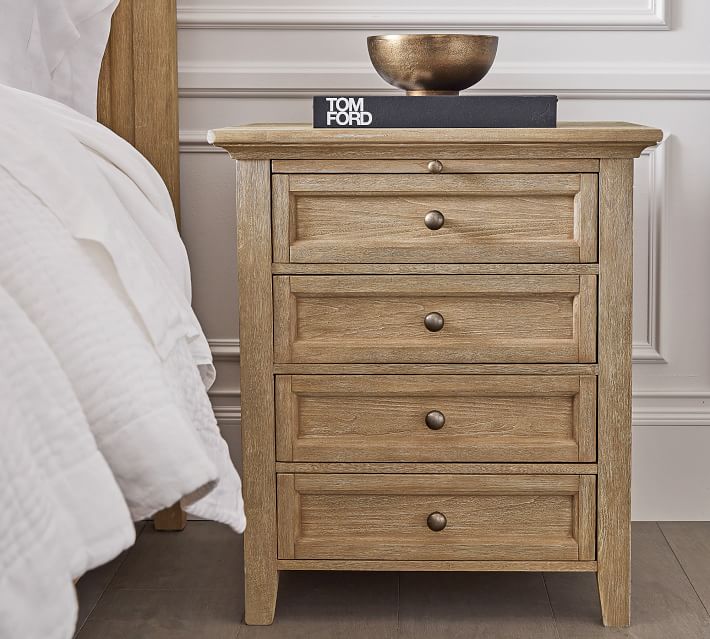 It also comes in a deep Mahogany finish, and I love the hidden shelf feature!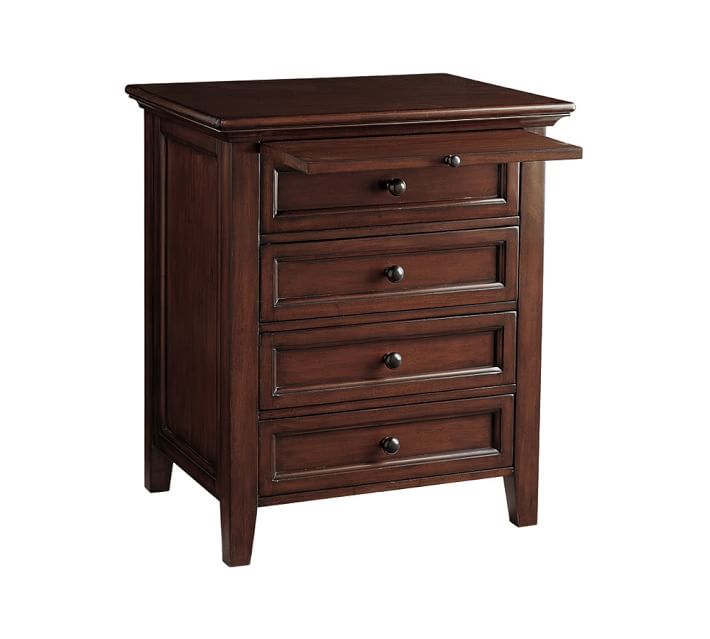 Nightstand 12 – Justice 1 Drawer Nightstand – This nightstand is a great value and it is so cute! I love the cane detail at the bottom shelf and the white oak finish.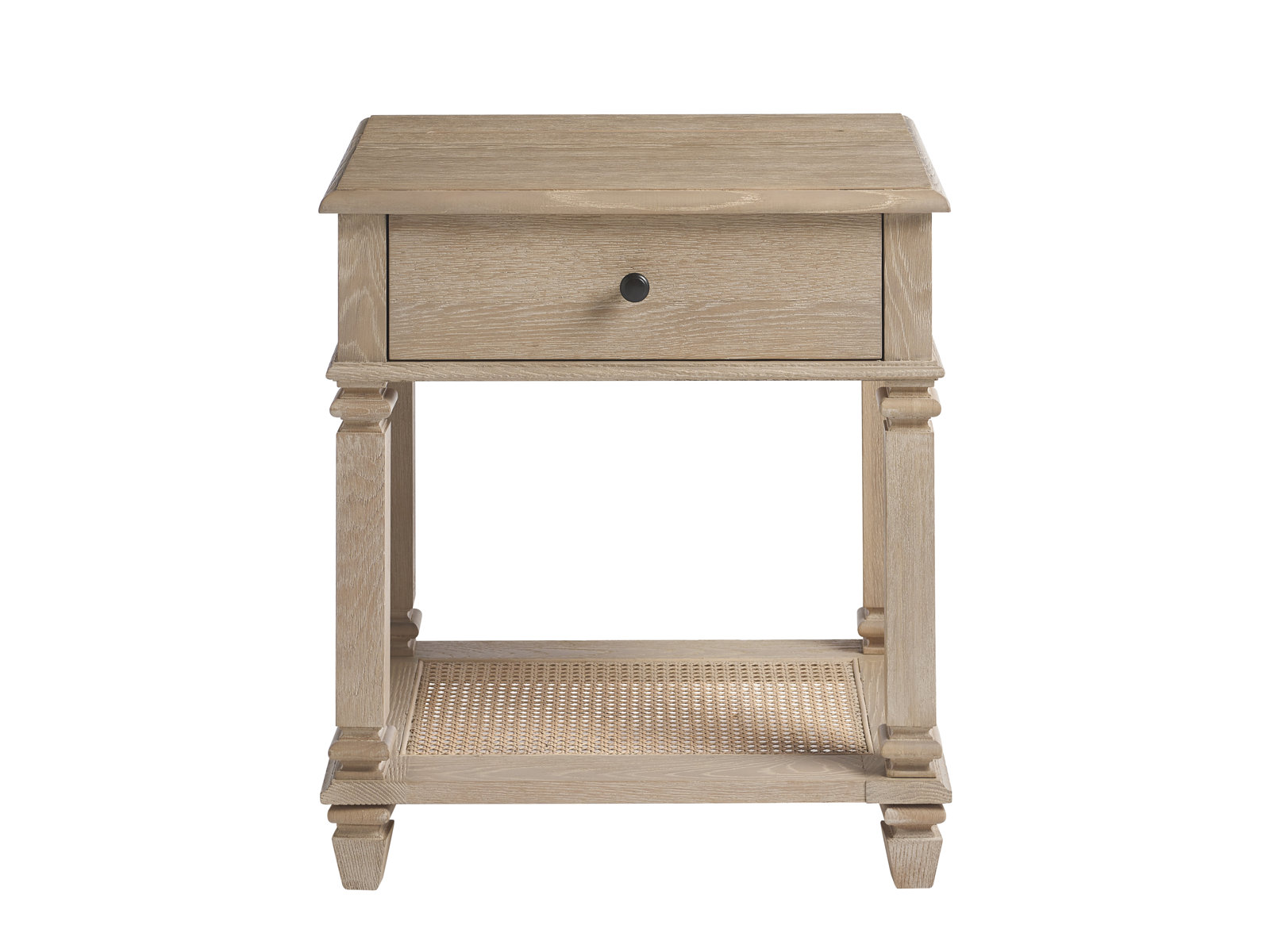 Nightstand 13 – Sausalito 28″ Nightstand – This is one of my favorite nightstands!! I think the wood finish is so beautiful and I LOVE the cane detail at the doors! I have this one on my wish list for my bedroom!
There is also THIS VERSION without the doors which I also think is beautiful!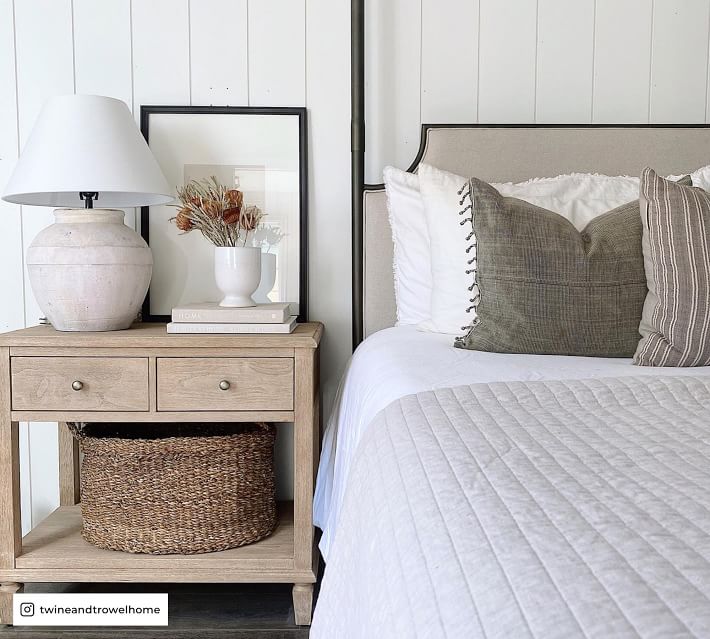 Nightstand 14 – Bangor 3 Drawer Nightstand – This nighstand looks really well made for the price. I love the mid-century modern vibes and the drawer pulls!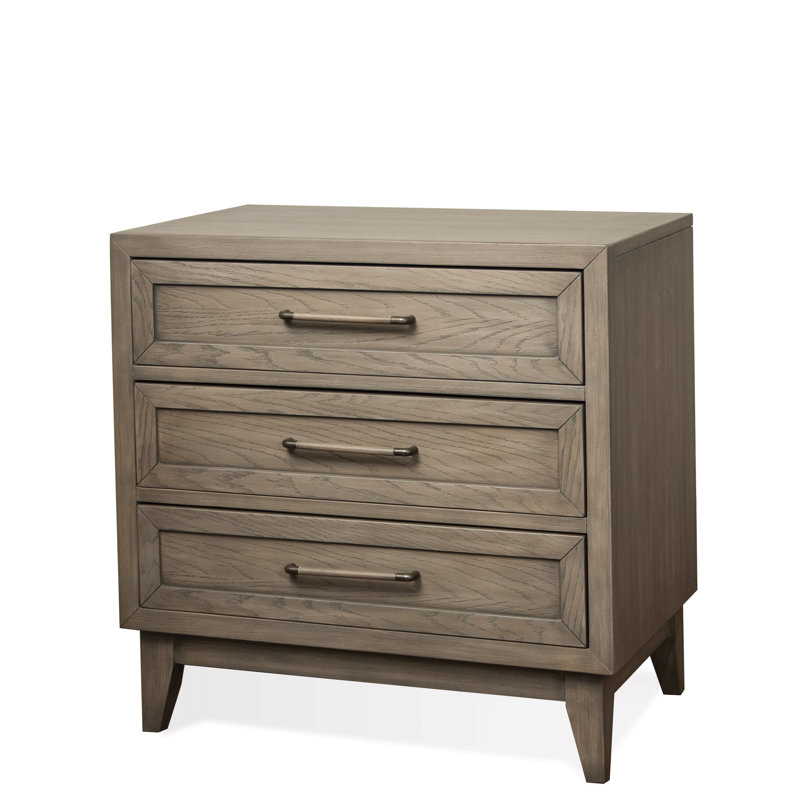 Nightstand 15 – Medrano 2 – Drawer Nightstand – There are some great color options for this nightstand! And the two drawers make it super functional for a Master Bedroom or Kid's Room!
Spruce up your New Nightstand with a Customized Knob or Pull!
There are so many cute decorative pulls out there that would look great on these nightstands! Or, if the nightstand you ordered has brushed nickel pulls, but you have more gold tones in your bedroom, it is so easy to switch the pull out! I love black pulls against the light wood or white nightstands, also! Pulls and knobs are very easy to switch out so definitely don't count out a nightstand if you like everything but the hardware!

Hopefully this round-up was helpful if you are looking for Tall Nightstand Ideas for Small Rooms! Let me know if you end up trying any of these and how you like them!
I'll be posting more Bedroom Furniture options in the next few weeks, including Affordable Headboards, and End of Bed Benches!
Make sure to check out this round-up of the Best Affordable Area Rugs from Loloi if you missed it! Many of them would be perfect in a bedroom with any of these nightstands!
This Post was all About the Best Tall Nightstand Options that are Perfect for Small Rooms!
More Bedroom Decor Articles: