This post is all about How to Decorate and Style your Kitchen and my top Kitchen Decor Ideas!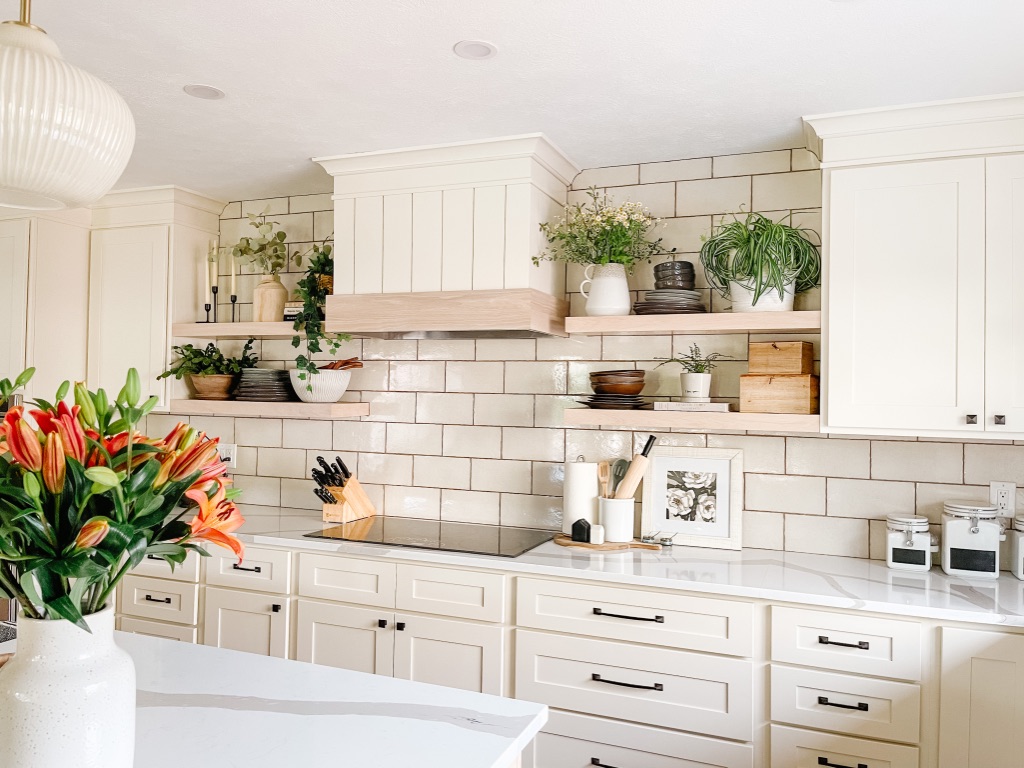 Now that I FINALLY published my Kitchen Remodel post, I can move on to other Kitchen related topics, like – How To Style Your Kitchen! The Kitchen is actually one of my favorite rooms in the house to decorate! I'm also helping a friend stage a Kitchen for photography this week, so it felt like the perfect time to round up some Kitchen Styling Tips!
Below I'll share my top 7 Ideas to Style your Kitchen, as well as the Kitchen Decor Items that I have and love!
Read all about our 1970's Kitchen Remodel Here! I've listed everything we included and why!
This post contains affiliate links. See our Disclosure here.
How to Style a Kitchen + My Favorite Kitchen Decor and Accessories
1. Warm up the Space with a Kitchen Runner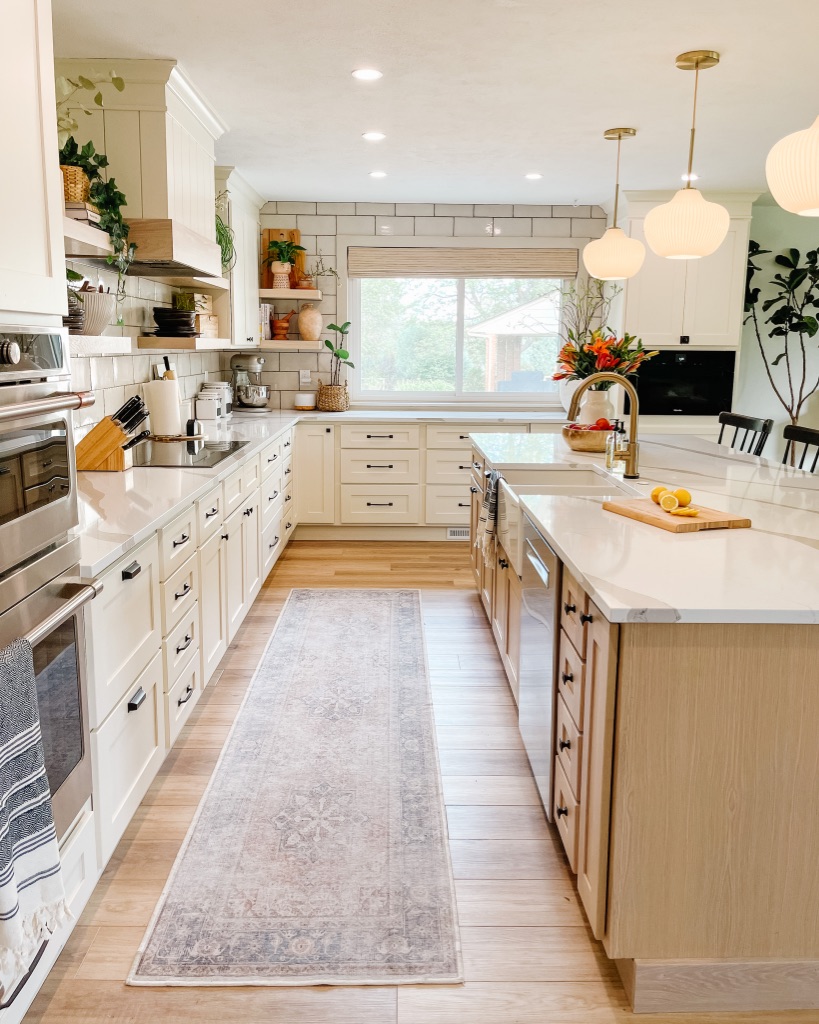 Adding textiles, like a Kitchen Runner, can help soften the space. Kitchens can sometimes feel cold and sterile, so I like to warm mine up with a cozy and colorful rug on the floor.
This runner from Ruggable is also PERFECT for the Kitchen because it is washable! I love that I can easily throw it in the washing machine whenever it gets dirty; it is so convenient! We've had it for about 8 months, have washed it about 5 times, and it has held up really well!
If you have a Kitchen Island, try to make sure the runner is about the length of the island. Our island is a little over 10′ long so we went with a 10′ long runner.
If you don't have space for a long runner, try a small rug or mat in front of the sink! A 3′ x 5′ rug usually works well in front of a sink. Plus if the rug is a little bit wider than the sink cabinet it will make the sink look bigger.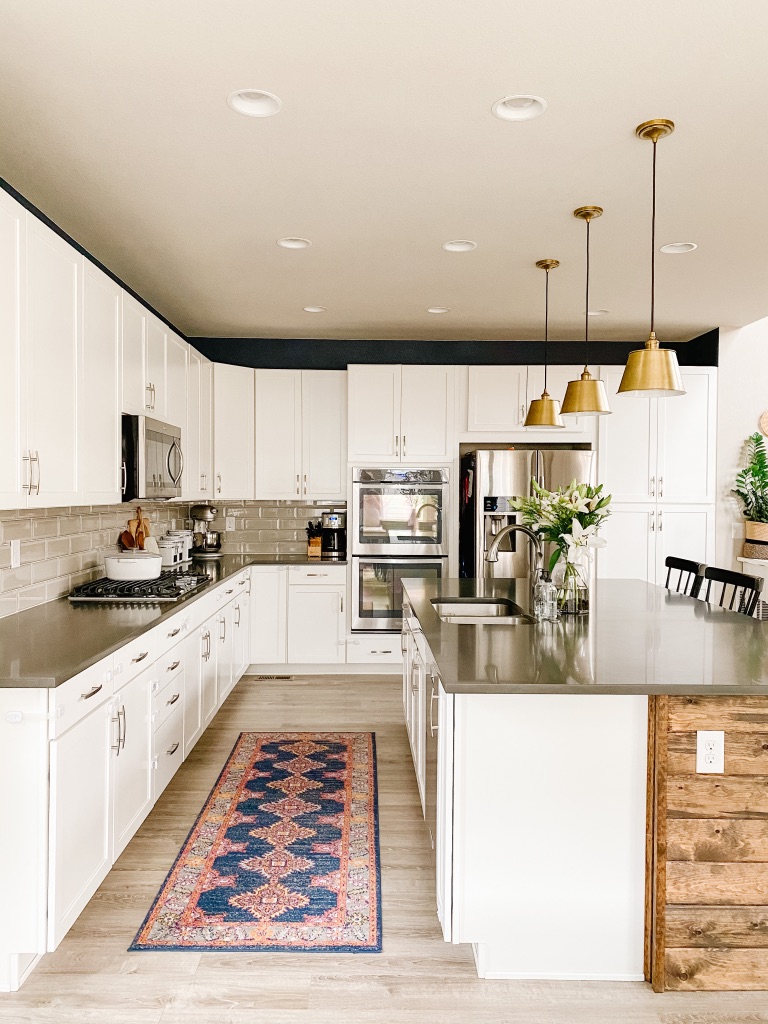 We had this colorful runner in our last Kitchen and I loved how fun it was! It really added some character to our otherwise neutral Kitchen and was perfect for Spring and Summer! And it's very affordable!
SHOP KITCHEN RUNNERS:

SHOP KITCHEN SINK RUGS:

2. Add a Statement Piece to the Countertops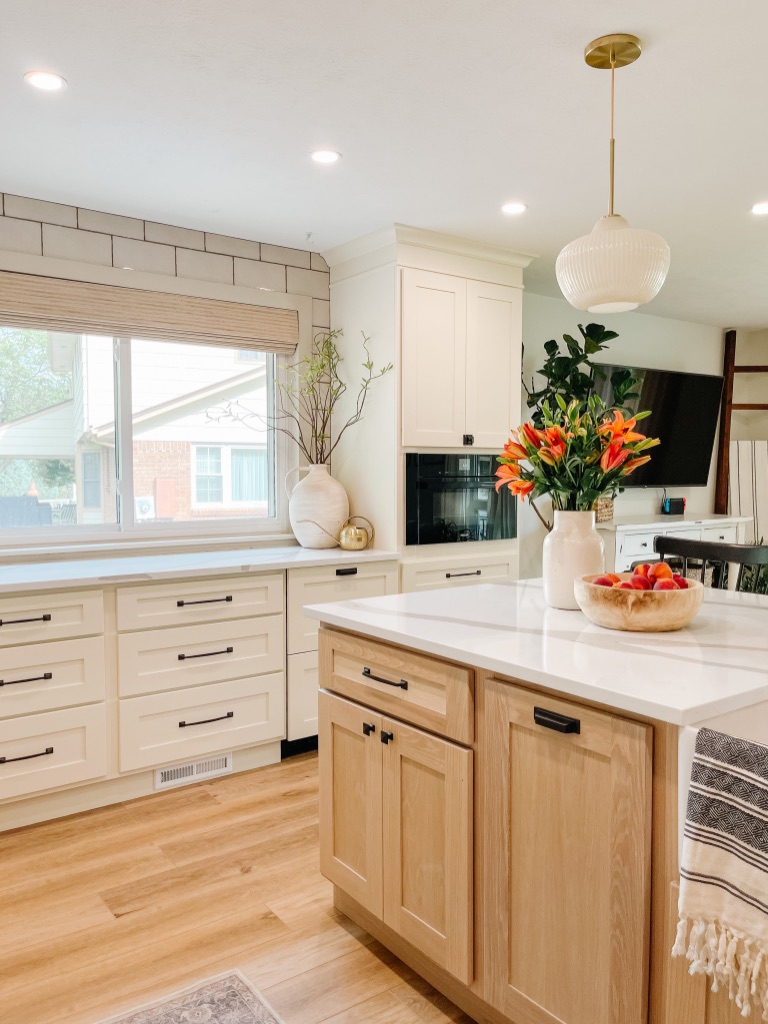 I love adding some decor to our countertops, but also try to keep it simple. By adding a few oversized statement pieces you can make an impact without the countertops feeling too cluttered.
One of my favorite items to add is a large vase with flowers or greenery. They can be faux stems (Hobby Lobby and Michaels have some great affordable options) or fresh flowers (Trader Jo's has the best!). Adding a vase with some greenery is an easy way to add some texture and make a Kitchen feel inviting.
In our Kitchen I have two places that I like to add vases to – I place one on the center of the Kitchen island, and another in the corner by the window.
It actually took me forever to find a vase large enough that I liked for this corner! I found this aged terra-cotta vase and the tall faux willow stems at Potterybarn and they are absolutely perfect in here! It is tall enough to make a statement but neutral enough to not feel overwhelming.
SHOP VASES:

On the island I always keep out this Paulownia Wood Bowl filled with fruit as well! It is such a pretty bowl and I love the warmth of the natural wood color. It is also practical because the kids can reach for fruit easily. I'm all about pretty but practical decor items in a Kitchen!
SHOP WOODEN BOWLS:

And I can't help but add some plants to the Kitchen wherever there is room! Most are on our floating shelves, but I leave a few on the countertops as well! Plants make any room happier and healthier 🙂
3. Style the Stove Area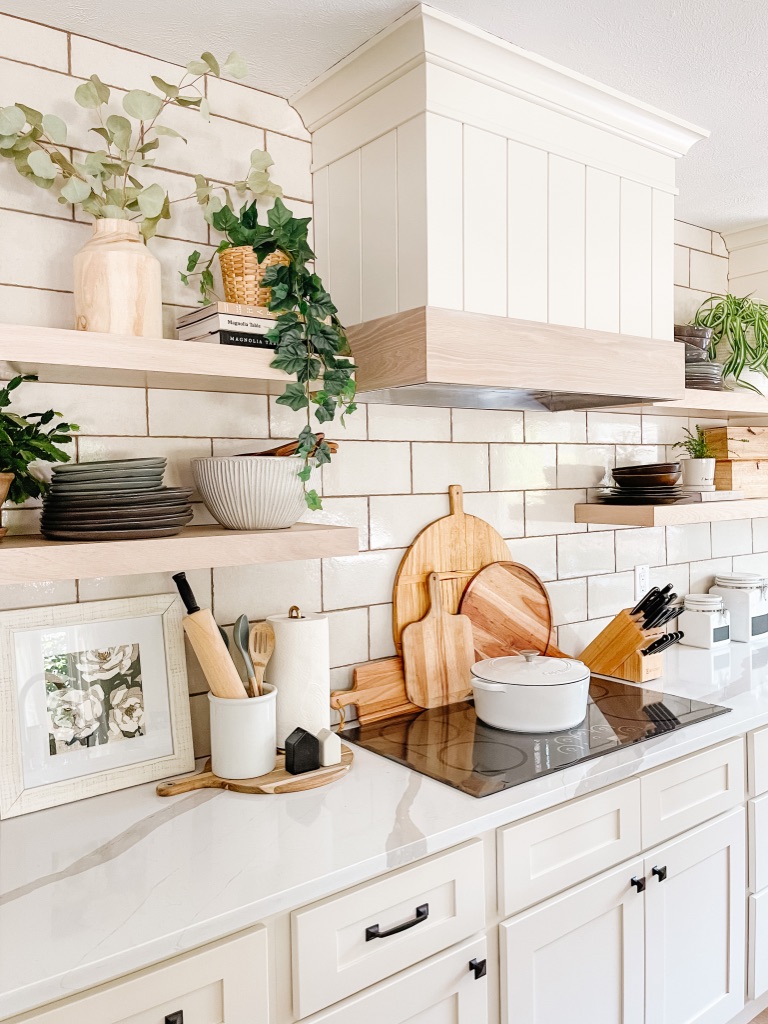 I tend to keep the area around the stove full of functional items, but that doesn't mean that they can't be pretty! I like to group together a few cooking and Kitchen Accessories here, like Salt & Pepper Shakers, Oil Bottles, Paper Towels, and Knives. A simple Utensil Holder and Wooden Kitchen Utensils are also a classic touch to keep near the stove.
I have our items layered on top of a round wood cutting board, which helps ground it all together.
SHOP KITCHEN ACCESSORIES:

When I really want to make my Kitchen look pretty (especially for photos) I keep this beautiful white dutch oven on the stove. It is simple but adds some interest to this area. A colorful tea pot would also look great on top of the stove! I love that these types of decor are pretty but also useful. We use our dutch oven all the time!
SHOP DUTCH OVENS AND TEA POTS:

4. Create Layers Against the Backsplash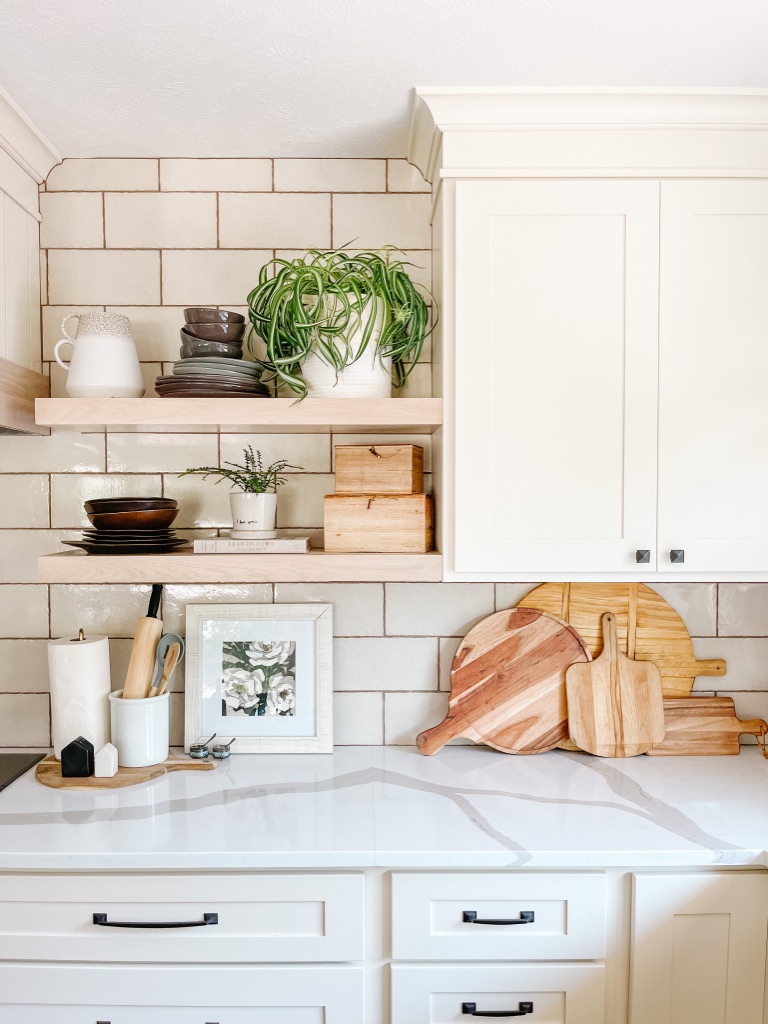 I love the look of cutting boards or frames leaned up against the backsplash. It breaks up the pattern of the tile a bit to give your eye a rest. They can also cover up electrical outlets that you don't want showing!
I'll typically layer two or three cutting boards together, or framed prints work as well!
Another easy kitchen decor item to add are stacks of Cookbooks! I love collecting cookbooks – they are pretty and functional because I buy ones that I actually use! You can stack them on shelves, stack two or three together and place a plant on top, or line them up and use some cute book ends to hold them. I have them scattered all throughout our Kitchen!
Kitchen canisters are also easy to add to your Kitchen Countertops and look great in front of the backsplash. You can use them to store flour, sugar, coffee…even extra sponges.
SHOP CUTTING BOARDS:

SHOP COOKBOOKS:

SHOP KITCHEN CANISTERS:

5. Dress up the Sink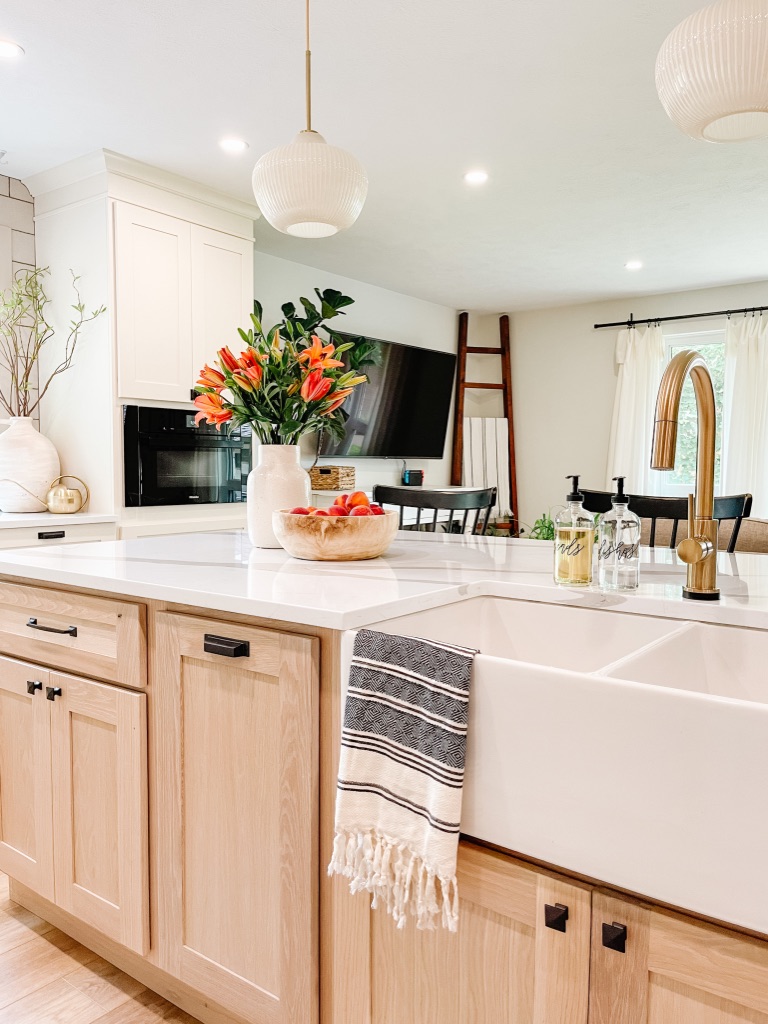 I keep the area around our sink pretty clear, but it's not an area to forget about! If our sink was against a wall or window, I would probably add a couple more items. But since it is in our island, I don't want to crowd it, and don't want my kids reaching for the items all the time.
The main star here is our gold faucet, but I also love these cute soap dispensers! We keep a towel here as well for drying hands and dishes and these Turkish Kitchen Towels are so pretty.
SHOP SOAP DISPENSERS:

SHOP TURKISH DISH TOWELS:

6. Add Some Color with Peel and Stick Wallpaper
I love adding pops of color throughout our house, especially if it is removable! Peel and Stick Wallpaper is so much fun and it is pretty easy to install, and remove if you change your mind.
We don't have peel and stick wallpaper directly in the Kitchen, but it is just off to the side in our Breakfast Nook! I love how bright and cheery it is. (Don't be surprised if I switch it for something moodier in the Winter though!)
SHOP PEEL AND STICK WALLPAPER:

7. Update Bigger Items to Really Make an Impact…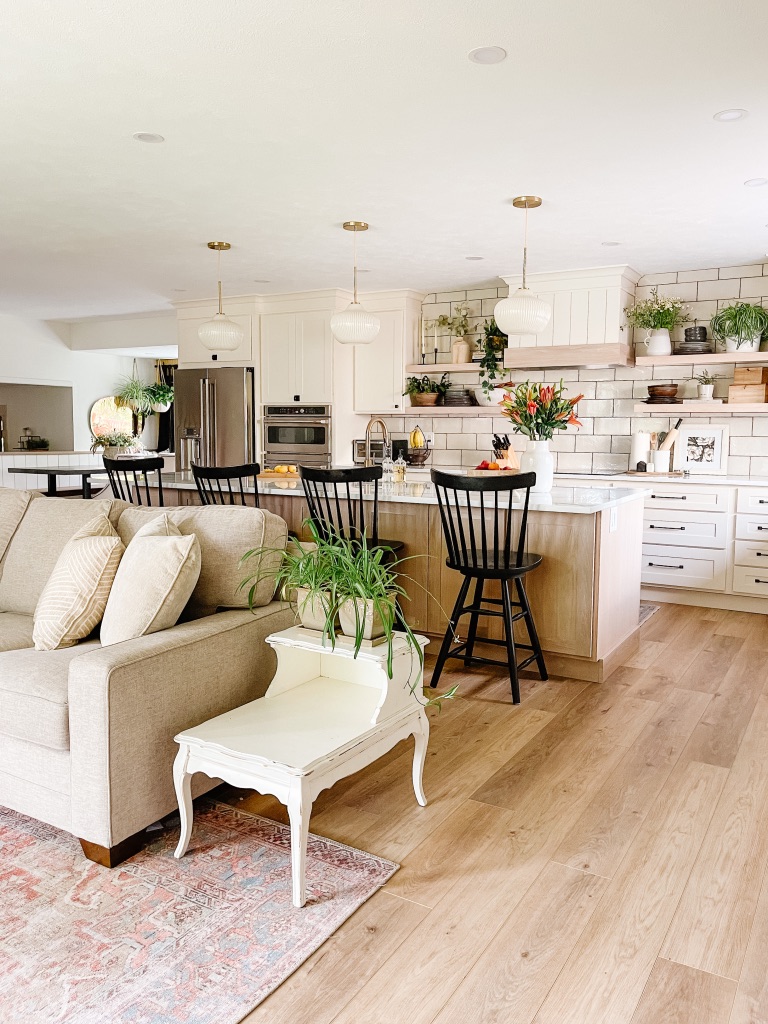 If you are really looking to customize or update your Kitchen, there are a few things you can do to make a big impact –
Pendant Lights – This is especially true if you still have the small builder-grade pendants that came with your house! New pendants can really customize the whole whole Kitchen, and you can find some really great affordable options!
SHOP PENDANT LIGHTS:

Barstools – New barstools can also really change the look of the Kitchen! And they are even easier to switch out. If you are looking for a change, this is definitely an item I would consider updating.
SHOP BARSTOOLS:

Add Shelves – If you have any wall space where you can add open shelving, DO IT! I love our Kitchen Shelves! They are so much fun to style, the perfect spot for plants, and they are functional because we keep all of our bowls and plates out on them! I know the thought of open shelving can be intimidating for some people, but it can also be the change you need in there!
Check out this post if you are looking for some shelf styling tips! I also go over how to make your own floating wood shelves here!
Window Treatments – If you have a window in your Kitchen, consider adding some blinds or curtains! We love our woven roman shades from Select Blinds! They add some warmth to the tile wall, and block the sun glare in the morning!
If you are looking for more information on these roman shades check out Kaylee's Woven Roman Shades Review
Backsplash – Ok, I saved the hardest for last! But, if you don't currently have a backsplash, or you don't love the one you have, this is a great project! It is something you could do on your own, and really completes the look of the Kitchen.
I hope this gave you some ideas on how to style a kitchen! It really is a fun room to decorate and you can keep it pretty simple! Leave a comment below with any questions!
This post shared my top ideas on how to decorate your Kitchen and the best Kitchen Decor and Kitchen Accessory Ideas.
More Kitchen Design Articles: