This post shares all about our 1970's Kitchen remodel, including before and after photos and my top Kitchen Design Must Haves for 2021!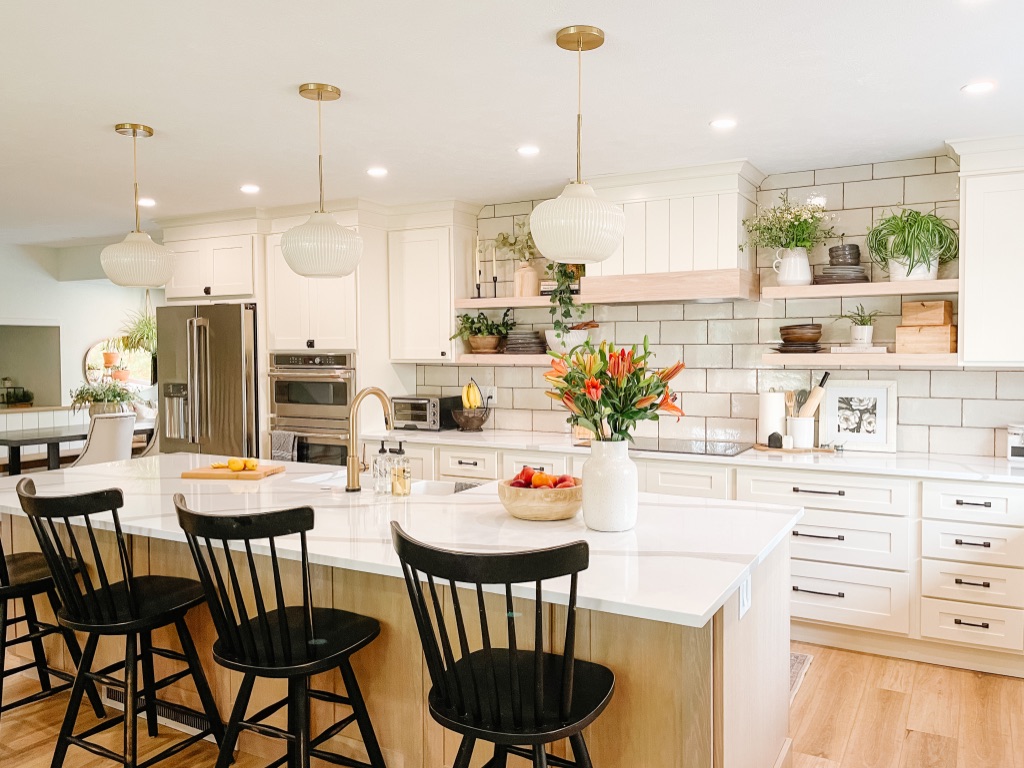 It has always been a dream of mine to fully design my own Kitchen! Before our offer was even accepted on this house, I was already busy sketching possible layout ideas! Removing walls and shifting the appliance and plumbing locations…it was all so exciting!
The original Kitchen in our 1970's tri-level fixer upper was small and dark, and the main level layout wasn't super functional. It definitely needed some help! The kitchen was one of the first areas that we remodeled in this house and it made the whole house feel different, in the best way!
Below I'm going through every little detail of our Kitchen remodel! It took me a while to put this post together (our Kitchen has been complete for about 8 months now) but I wanted it to be as detailed as possible! Below I'll share the before and after photos of our Kitchen remodel, all of the finishes we selected, details about the appliances, cabinets and more!
This post contains affiliate links. See our Disclosure here.
Our 1970's Kitchen – Before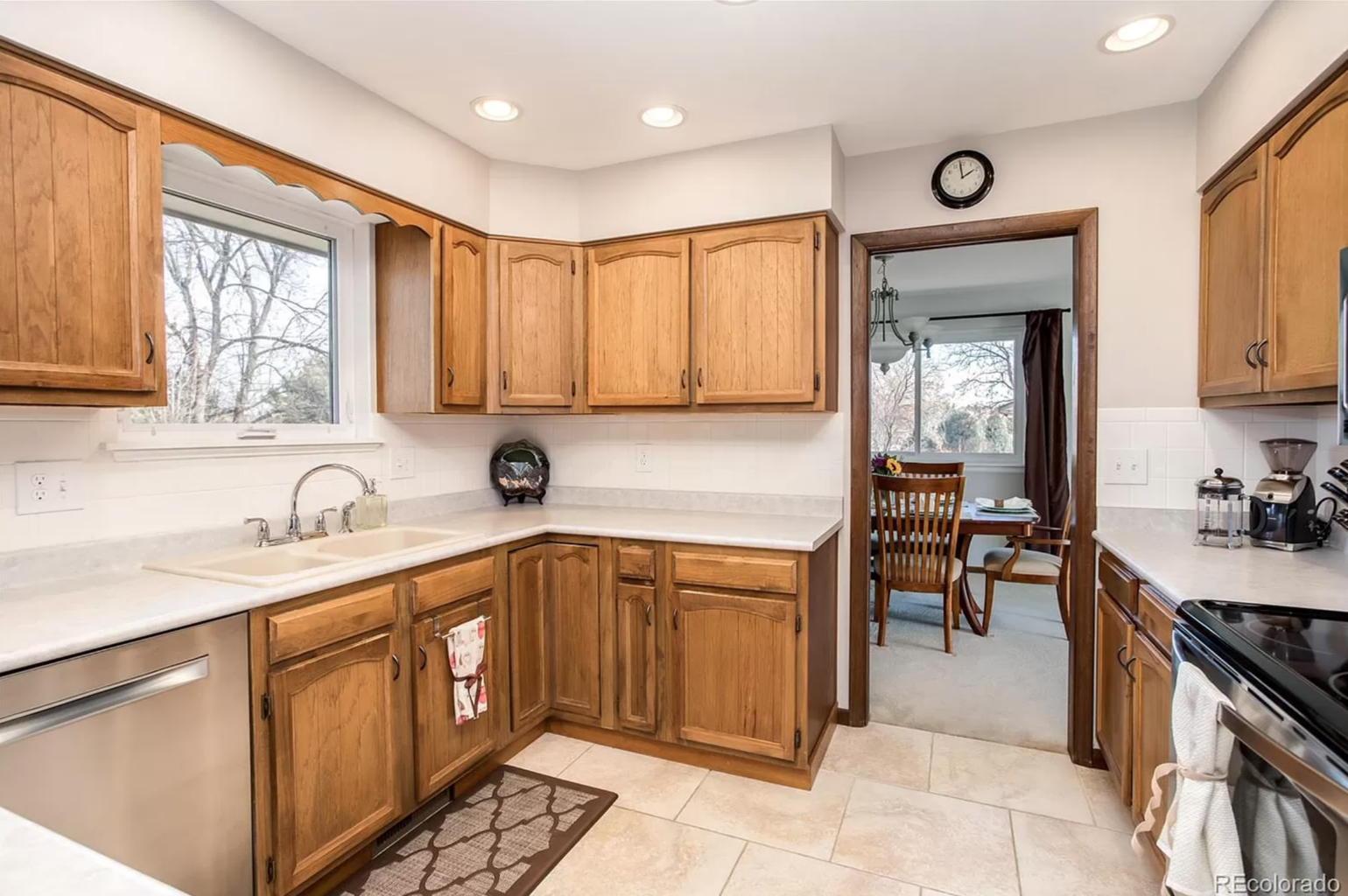 When we bought our 1970's tri-level fixer upper, it felt dark and compartmentalized. The Kitchen was small and towards the back of the house. There was a small, separate formal Dining Room off to the side, and a long and narrow Living Room near the large window at the front of the house (the best window!).
There was a lot of space that felt wasted or unusable. And the large beautiful window at the front was barely seen from the rest of the house! There were also a few walls that blocked so much natural light from getting back to the Kitchen.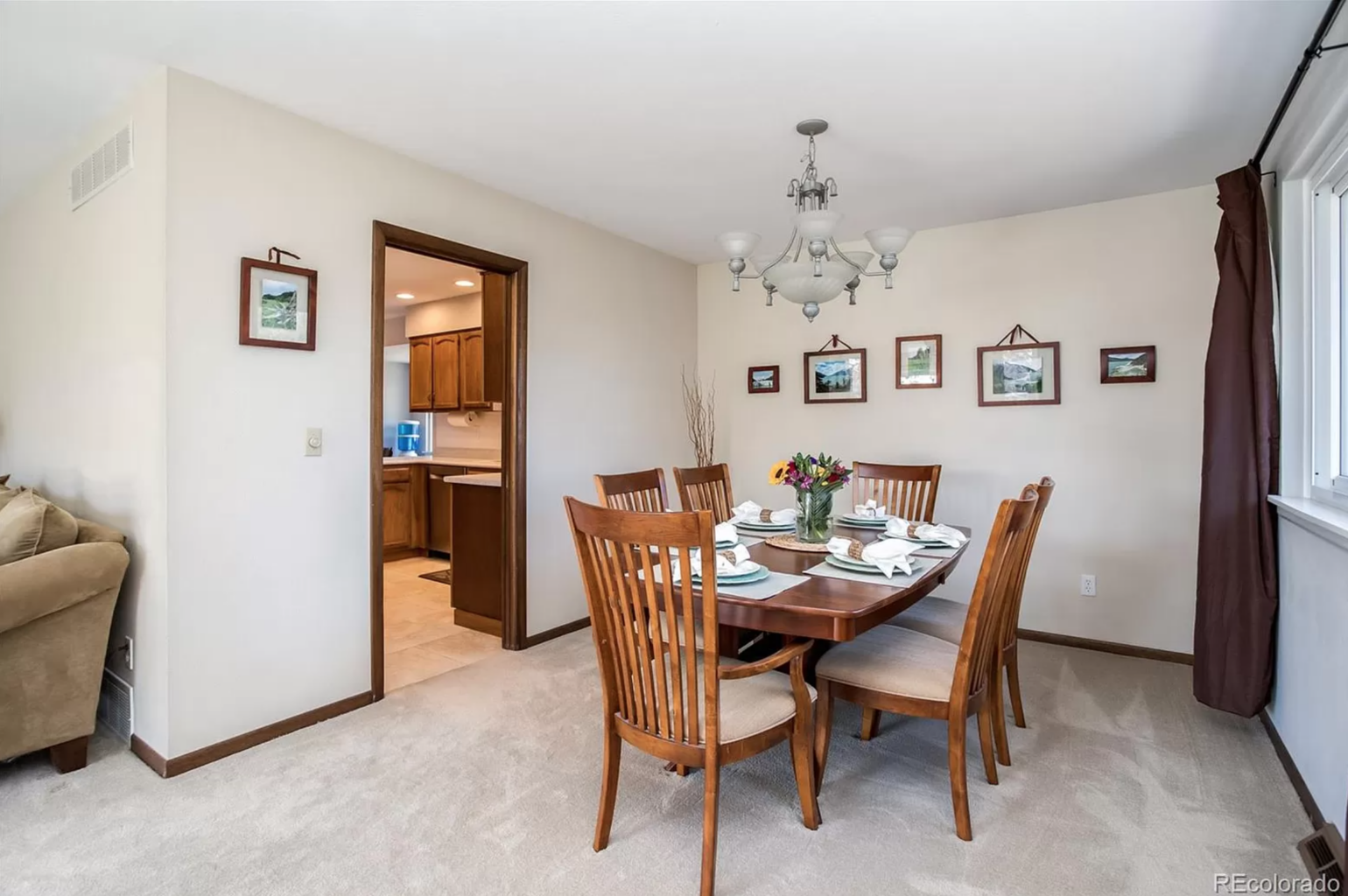 The Kitchen was closed off and didn't get much natural light. It was small, but actually did offer a decent amount of storage space. However, no island or room for barstool seating, which is a must have for our family!
The main reason that this Kitchen was in desperate need of an update, was because it looked as though it hadn't been touched much since it was built in the 70's!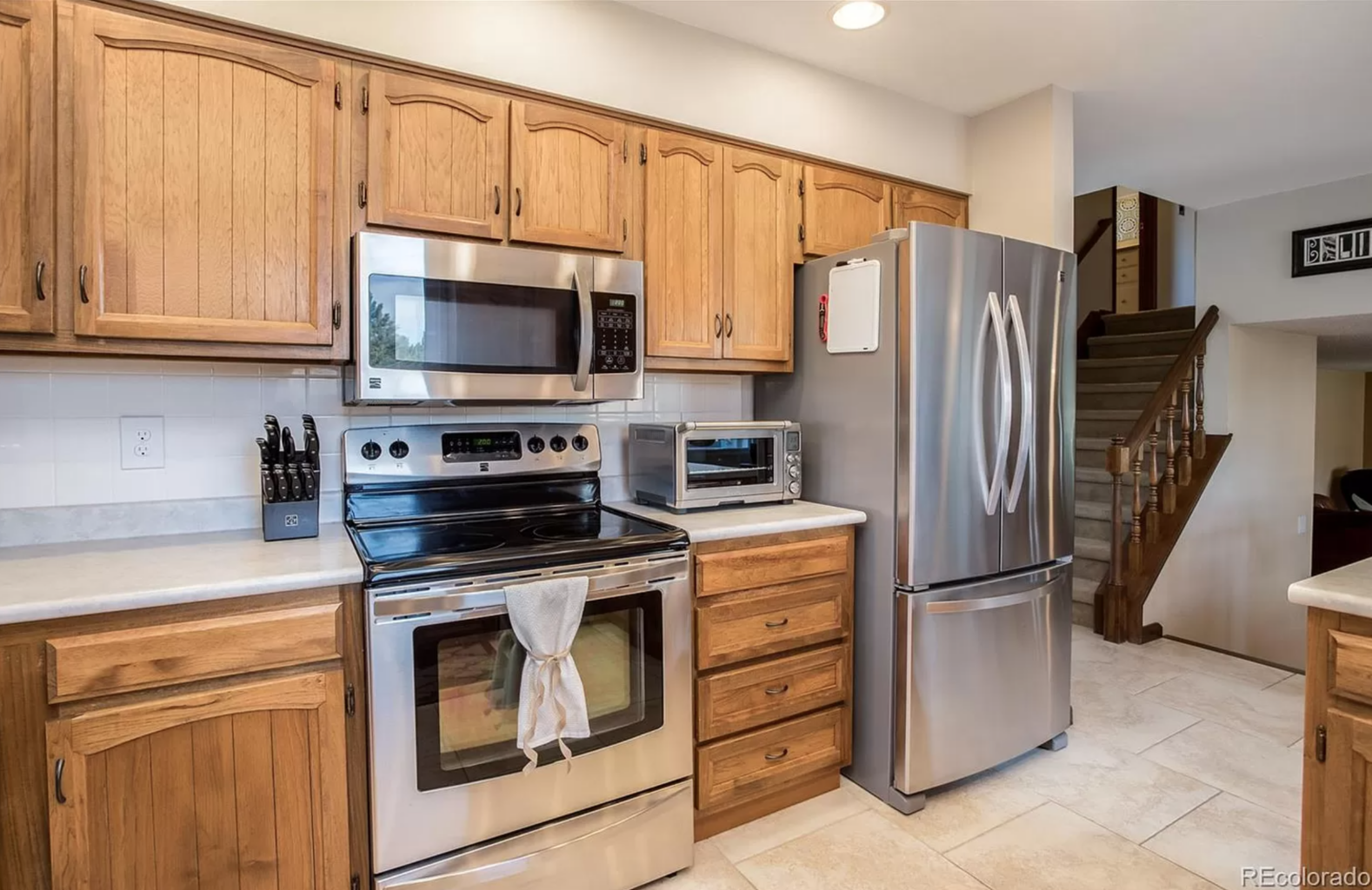 But, this was all actually a big reason that we decided to buy this house! I was so excited about being able to completely re-design it! If we would have boughten a home with a newer Kitchen, it would have been harder to justify a full remodel. This way I was able to have complete freedom and select everything I wanted (within budget of course)!
Existing Kitchen Design Issues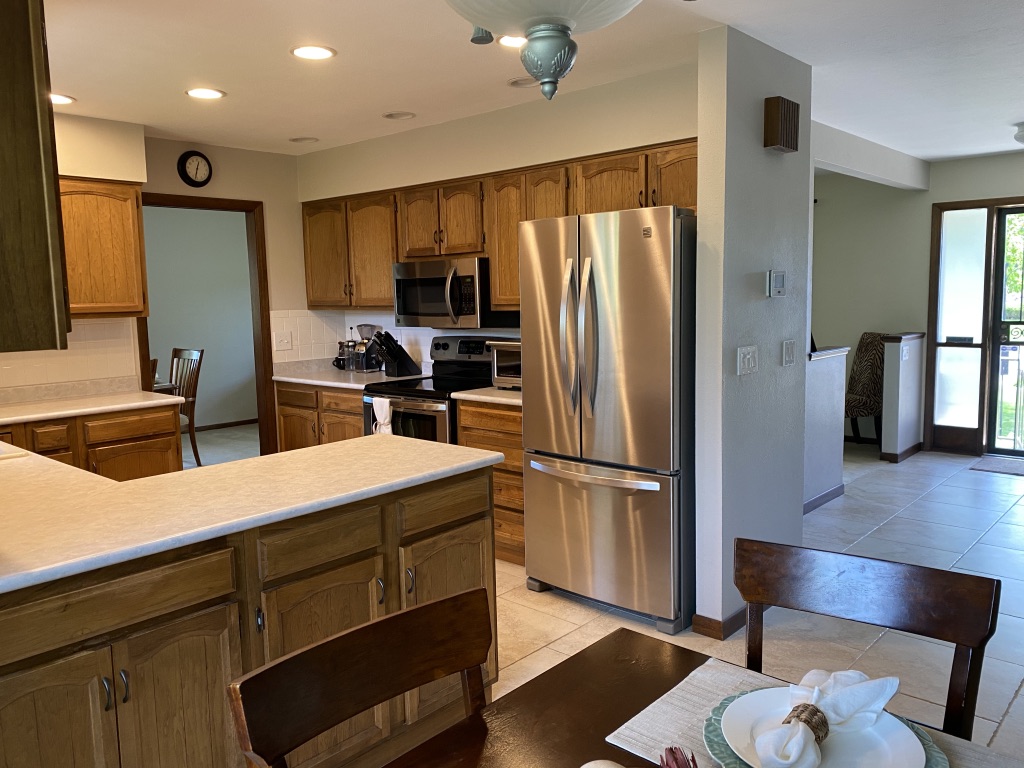 Before we even closed on this house, we already had a plan in mind for the Kitchen remodel. However, we weren't exactly sure what we could and couldn't do right away, before having our contractor over to take a look. Below are the main issues we had to think about.
Existing Walls

Our hope was to remove all of the existing walls so we had to figure out if they were load bearing. We determined that they weren't (yay!), but they did house some electrical work that had to be located somewhere else (like light switches and the thermostat), and an air vent that needed a new home.
Existing Plumbing Locations

The existing sink was located under the window and I was hoping to move the new sink and dishwasher to the new island in the center of the room. Luckily, below this room is our basement which has a dropped ceiling, so it was easy for our contractors to relocate the plumbing!
Existing Window over the Sink

The window that was over the existing sink didn't fit into the new layout plans, so we planned to patch it up. This was actually much easier than I thought it would be so I'm glad we went for it. Although, it was a cute view and I wish we could have made it work!
Other Kitchen Design Issues

Old and Outdated
Too small / not enough storage space and countertop space
No room for barstools
Dark / Not Enough Natural Light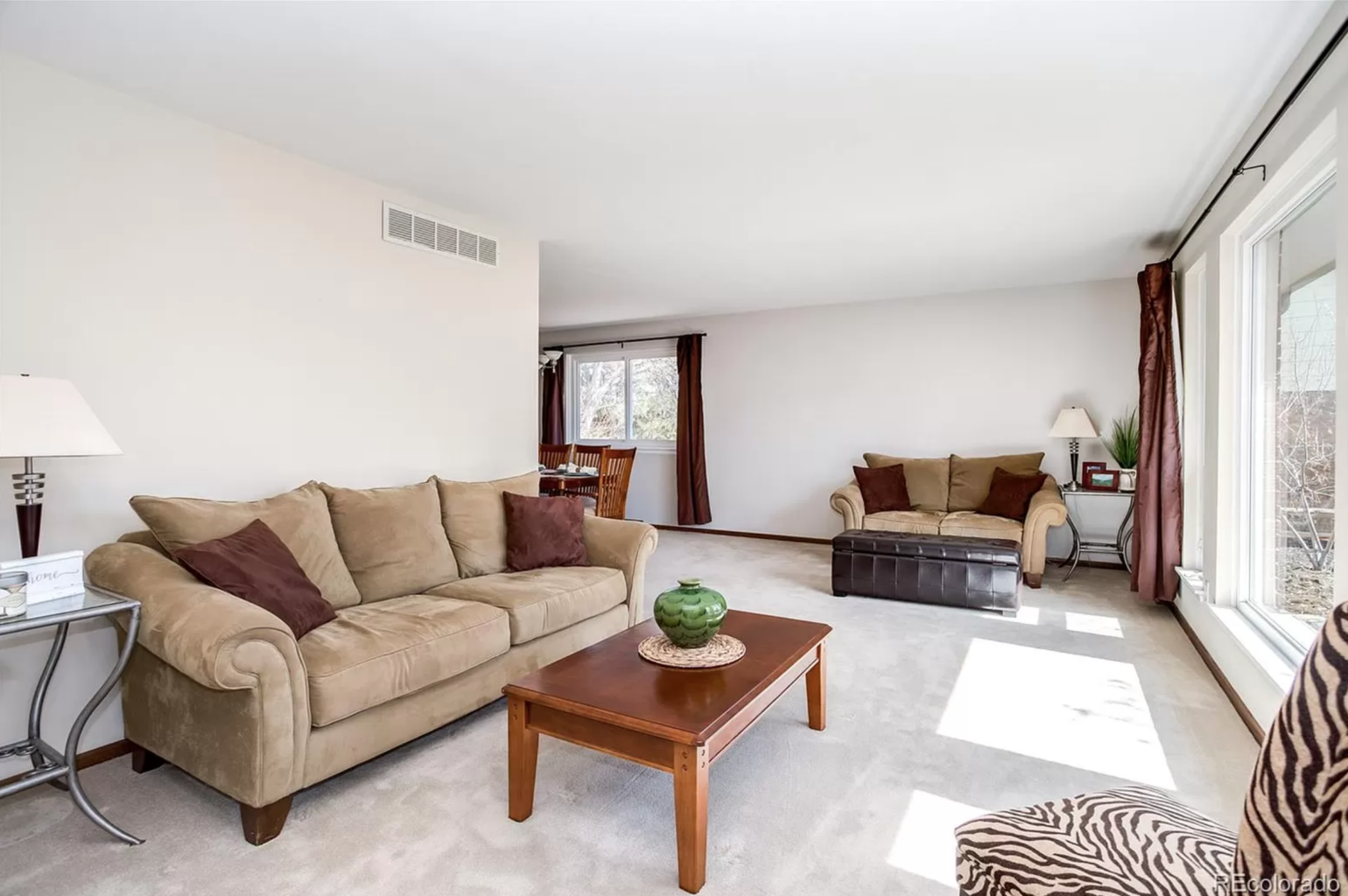 Kitchen Design Plan and Must Haves
The first part of this Kitchen remodel that I worked on was deciding on a new layout for the whole main level. This was one of the most challenging parts of the remodel, mainly because we weren't exactly sure what we would be able to do with the existing walls right away.
Below is the original floorplan and the new layout that we decided on. If you're wondering…the program that I use for floorplans is AutoCad.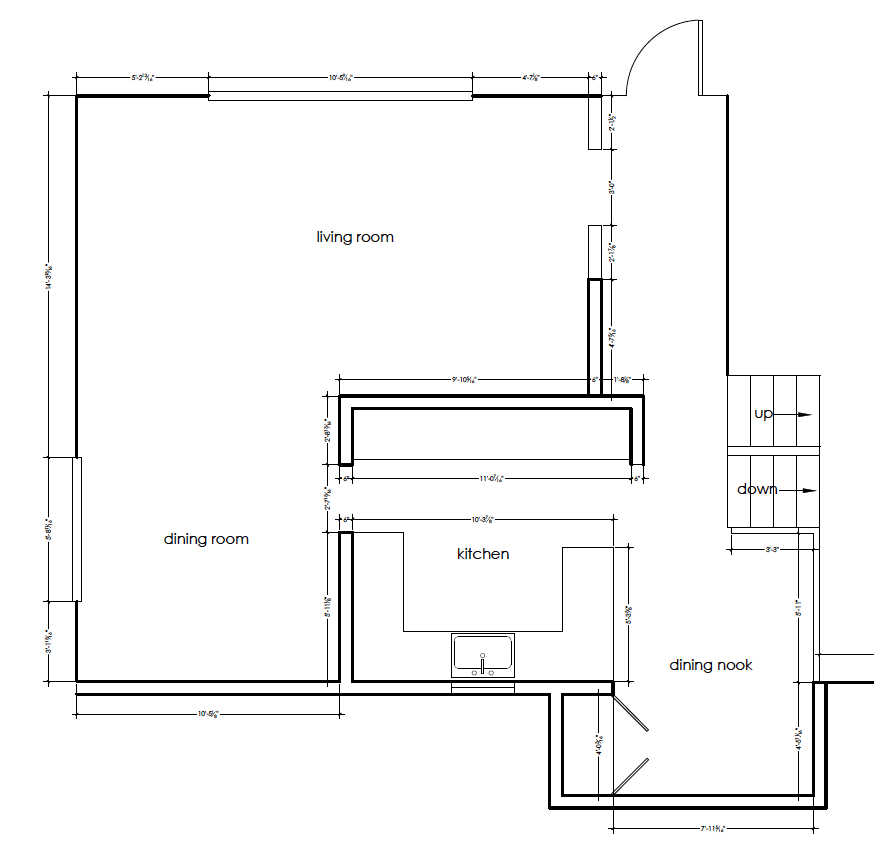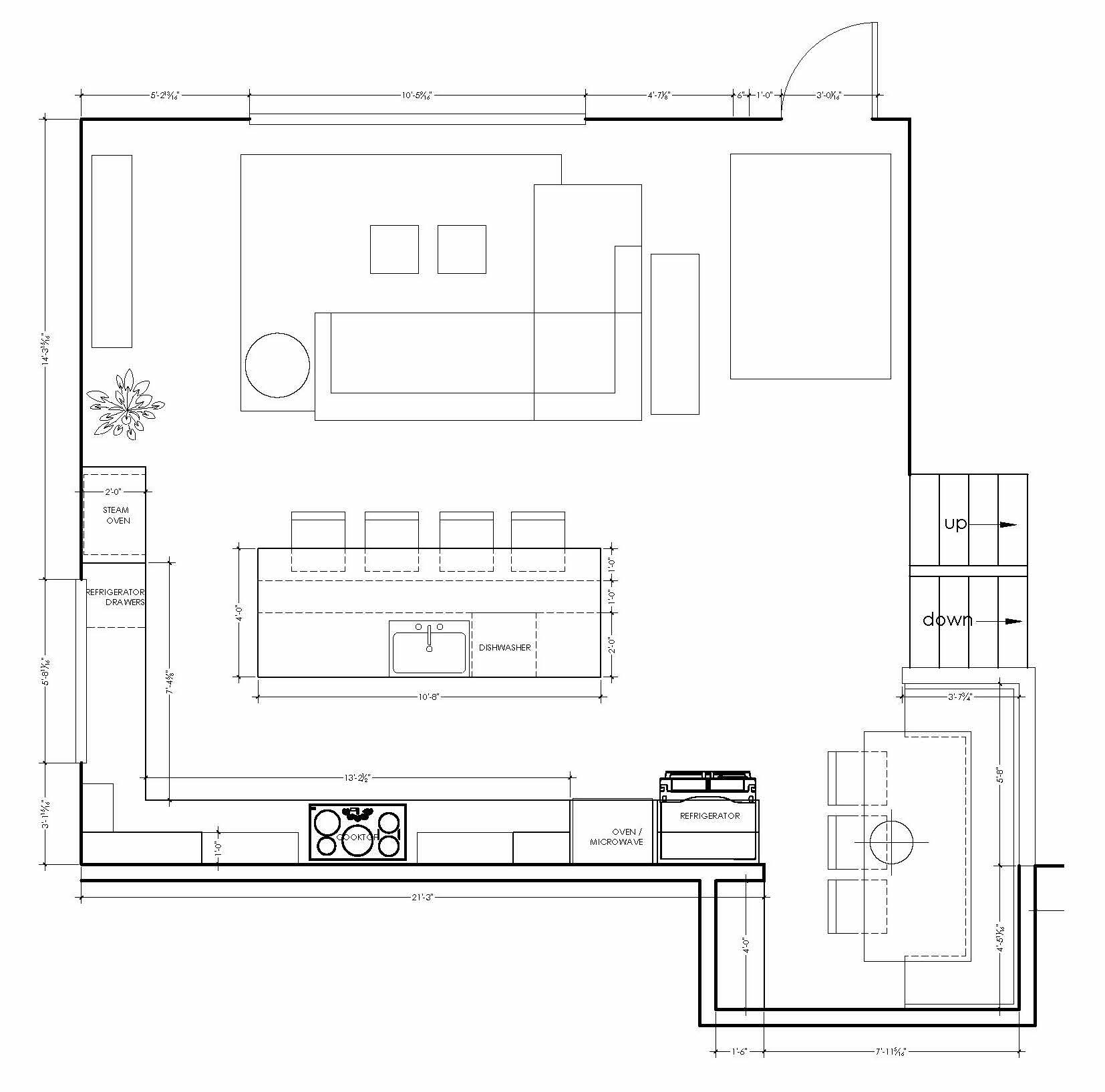 We ended up removing all of the existing walls and opened this whole level up! I am so happy that we were able to do this because it really changed the feel of the whole house.
Removing the walls brought so much more natural light throughout this area. It also made it feel larger and more functional.
We were able to increase the size of the Kitchen, add in a huge island, and keep a Living Room area next to the Kitchen. It also opened up the Entry way.
I went through many floorplan ideas and even wrote a whole blog post about the different Kitchen Layout Options HERE.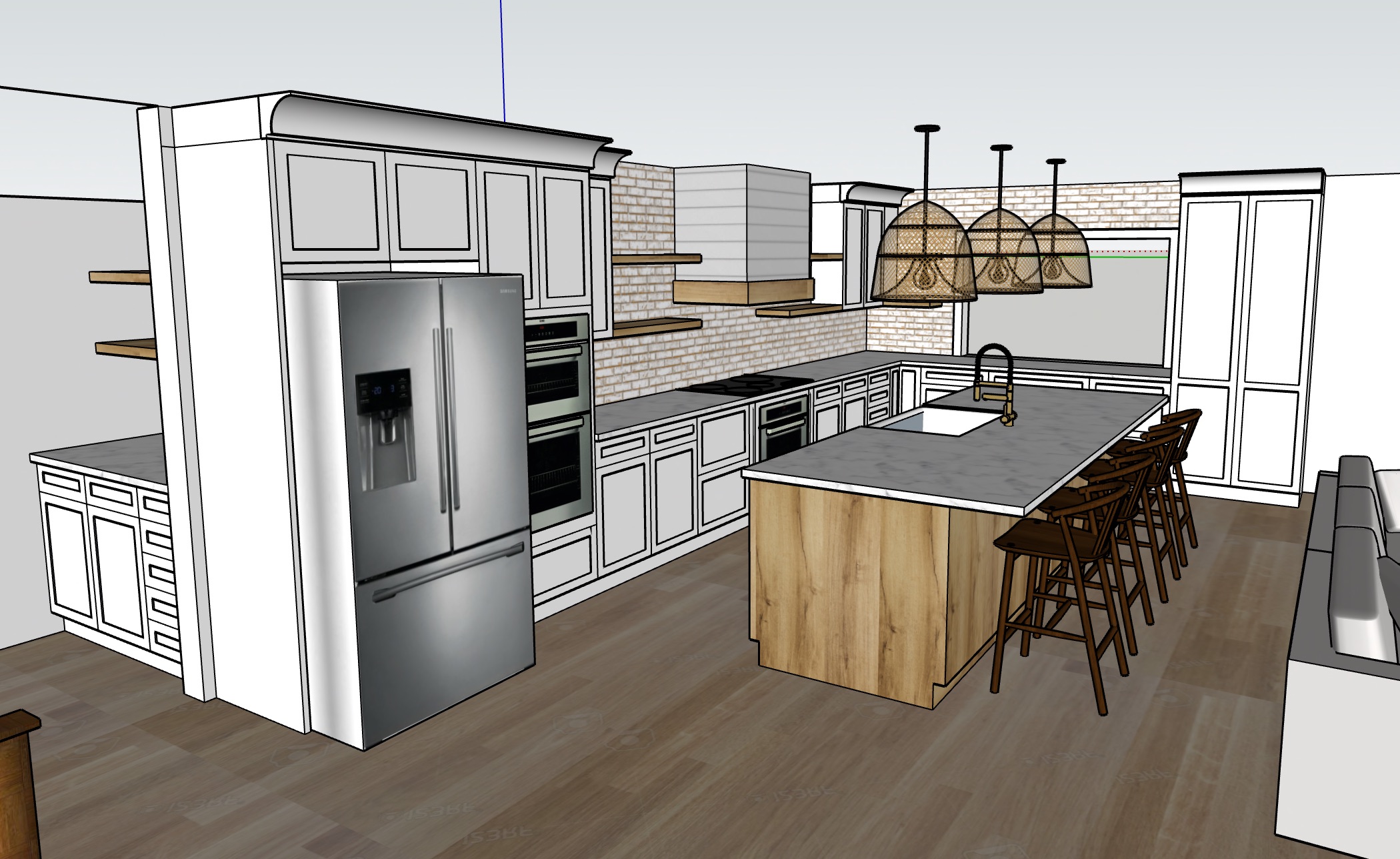 Once we decided on a layout, I built a 3D model of the space in SketchUp. I highly recommend doing this (or paying a designer to) if you can because it really helps you get a better idea of what the space will actually look like! You can even add in some furniture and lighting that is similar to what you want, and the finishes/colors/patterns that you like to see how everything will work together.
Now that we had determined the layout, I needed to finalize the cabinetry, appliances, finish selections and other design details. After looking for inspiration, researching different Kitchen trends and ideas, and thinking about what would work best for our house, I came up with a few Kitchen Design Must Haves:
Large Island to seat at least 4

We are a family of four and love to sit at the island together to eat. It feels easier, with two small kids. I also love that the kids can sit there and eat breakfast in the morning while I'm in the Kitchen, or they can sit there and play while I'm making dinner.
Steam Oven

I'll talk about this more in the Appliance section below…but this is something that has been on my dream Kitchen wish list for so long!
Large Farmhouse Sink

I've wanted one of these for so long! I love the look and knew I had to work it into the Kitchen Design.
Open Shelving

I feel like this is one of those things that people either love or hate in Kitchens! I personally love opening shelving in Kitchens! We added floating shelves to the Kitchen in our first house and they were so pretty and convenient, so I knew I wanted them again here!
Custom Hood Cover

Since we were going all out with a custom Kitchen I knew this was something I wanted to include! It didn't cost much more to build and I love how custom it looks.
"Marble" Quartz Countertops

I love the look of marble, and would have loved to have real marble countertops, but was too nervous as we have two young boys! Marble can be high maintenance and stains easily…but quartz is the most durable and easy to care for material you can find! And there are so many great options now that look so similar to marble.
Contrasting Finish at the Island

I love the look of different cabinet finishes in a Kitchen. I think it makes the whole space feel more custom and unique!
Clean and Classic Style that flows into the Living Space

Since our Kitchen is so open and close to the Living Room, I wanted it to be a seamless transition. I love when the cabinets look more like built-ins and the appliances don't stand out so much!
Our 1970's Kitchen Remodel – After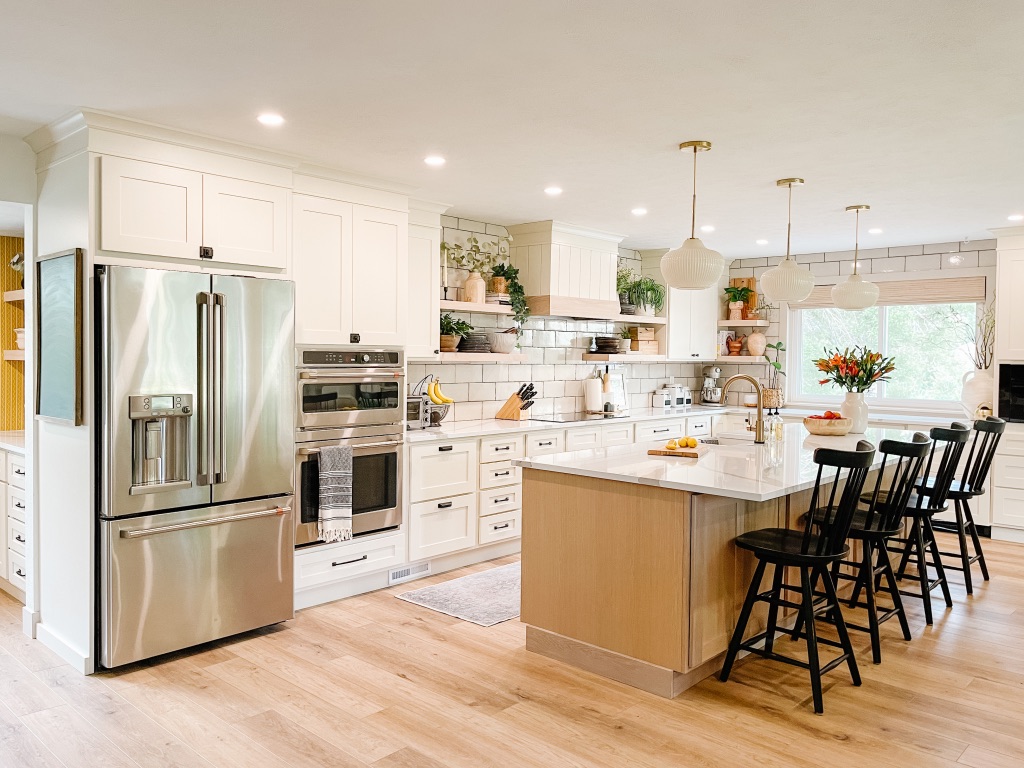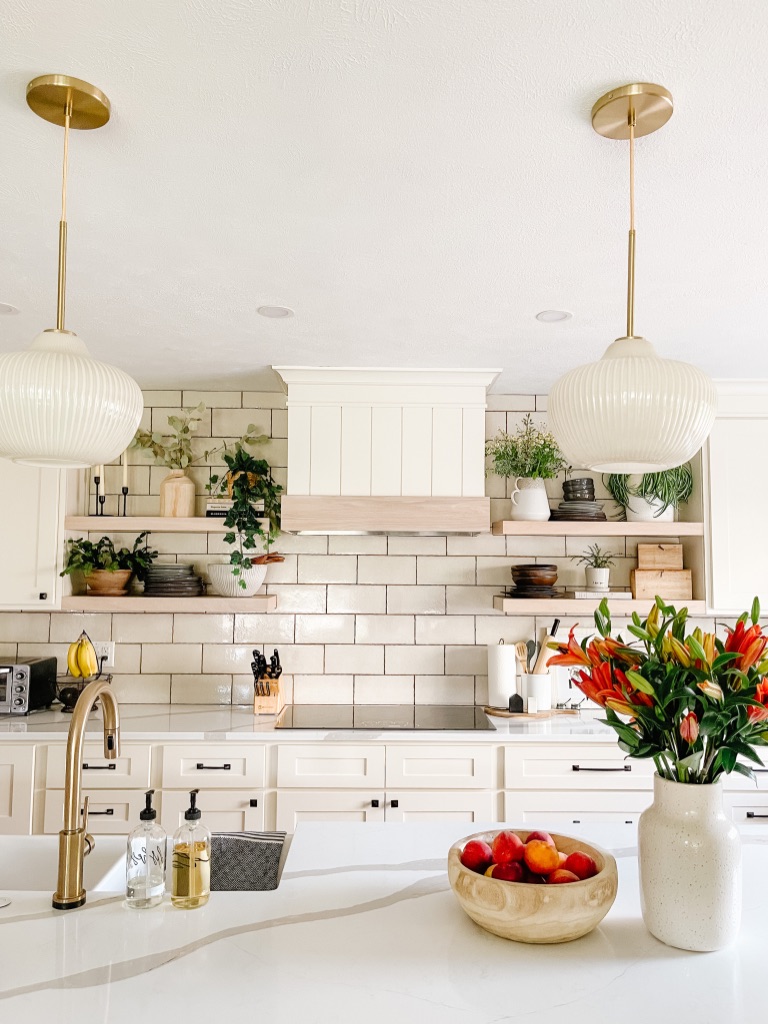 Can you believe this before and after?! I can't believe how different this house feels now! I'll go through all of the details of our Kitchen remodel below.
Kitchen Cabinets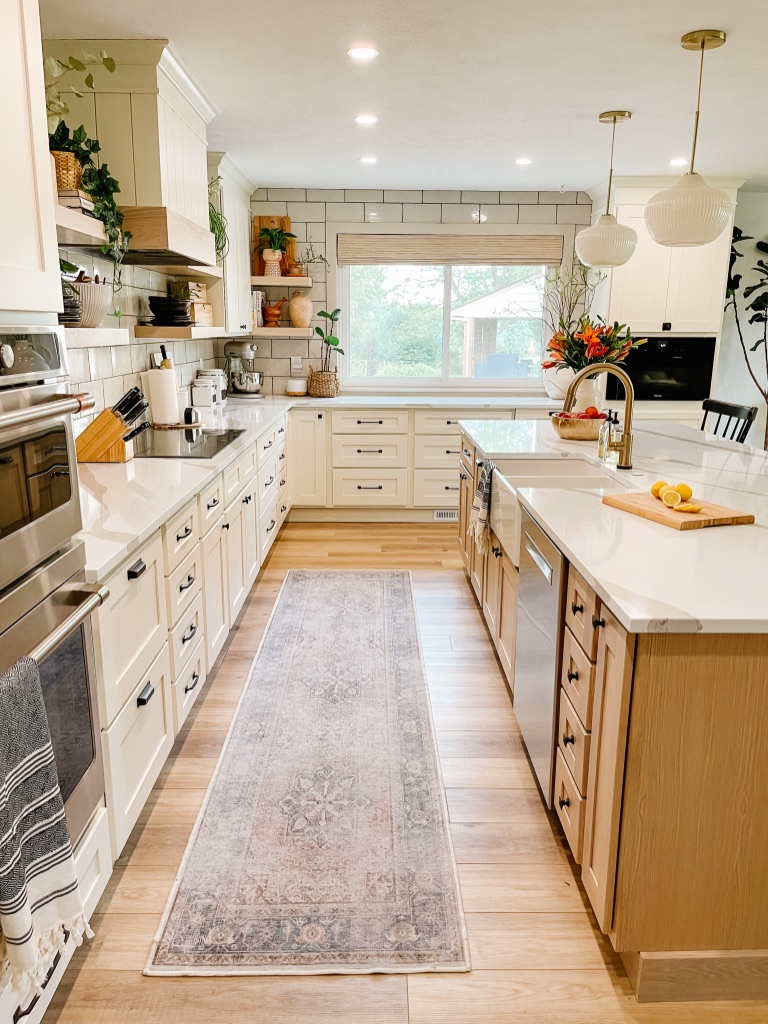 I've always loved the look of two-toned kitchens and contrasting finishes at Kitchen islands! I also love the warmth and character that wood finishes add in Kitchens. I knew from the beginning that I wanted white oak cabinets at the island, so that was key when looking for a cabinet company to work with.
It turned out that the white oak finish I was looking for was hard to find in semi-custom cabinets. Most companies only had red oak (which is darker and warmer) and that was not what I had in mind. I prefer white oak as it is a little lighter and has less orange/red tones.
So, I was so excited when my brother-in-law (who was also our contractor) recommended Schroll Cabinets! They offered the perfect white oak finish in their semi-custom line! They actually have a few different white oak finishes that are all beautiful.
Schroll Cabinets was so easy to work with and I have been very impressed with the quality of the cabinets. They are a local, small business based out of Cheyenne, Wyoming. There are a few showrooms in Colorado as well. They are also passionate about the environment and sustainability, which is important to me, and have earned the Environmental Stewardship Program certification.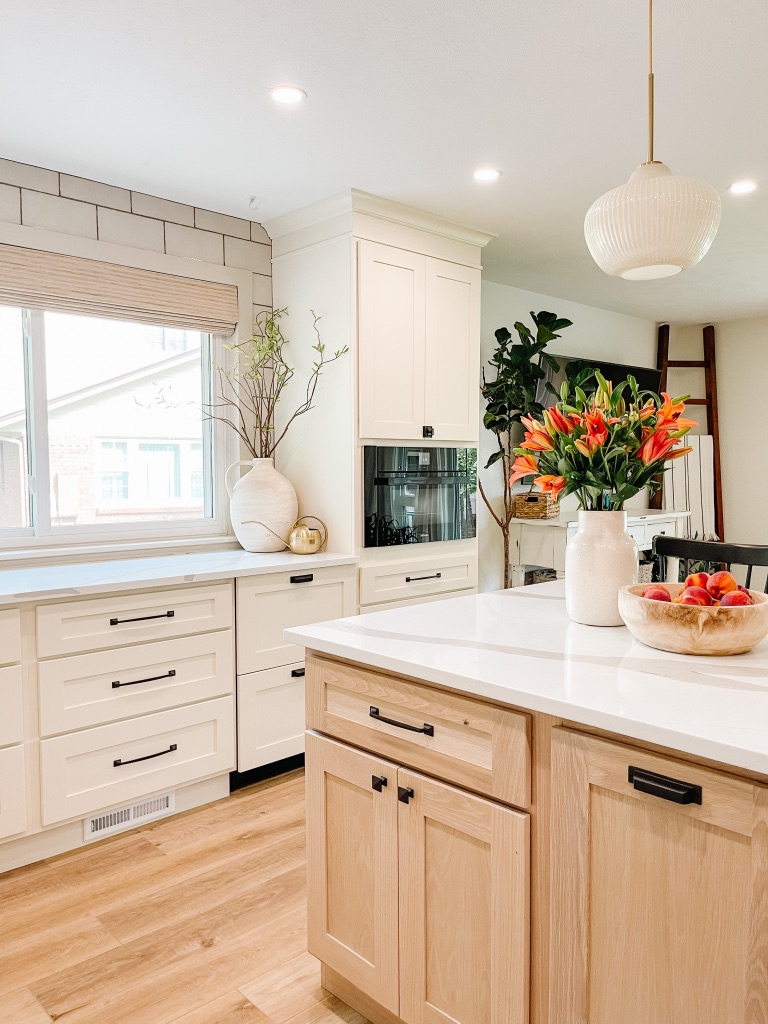 We chose a simple shaker style for the doors. I love that it is simple and clean, and can lean either modern or traditional.
For the painted cabinets around the perimeter of the Kitchen we chose a creamy off-white color called Oyster. I wanted white cabinets in here to keep the room light and bright, but I love the warmth that the creamy white color brings in. they still feel light but cozier and softer than a bright white color.
For the wood cabinets at the island we chose the finish Draught. It is a slightly white-washed / pickled oak finish that feels light but still has some warmth.
The floating wood shelves were also made by Schroll Cabinets so they match the wood at the island cabinets.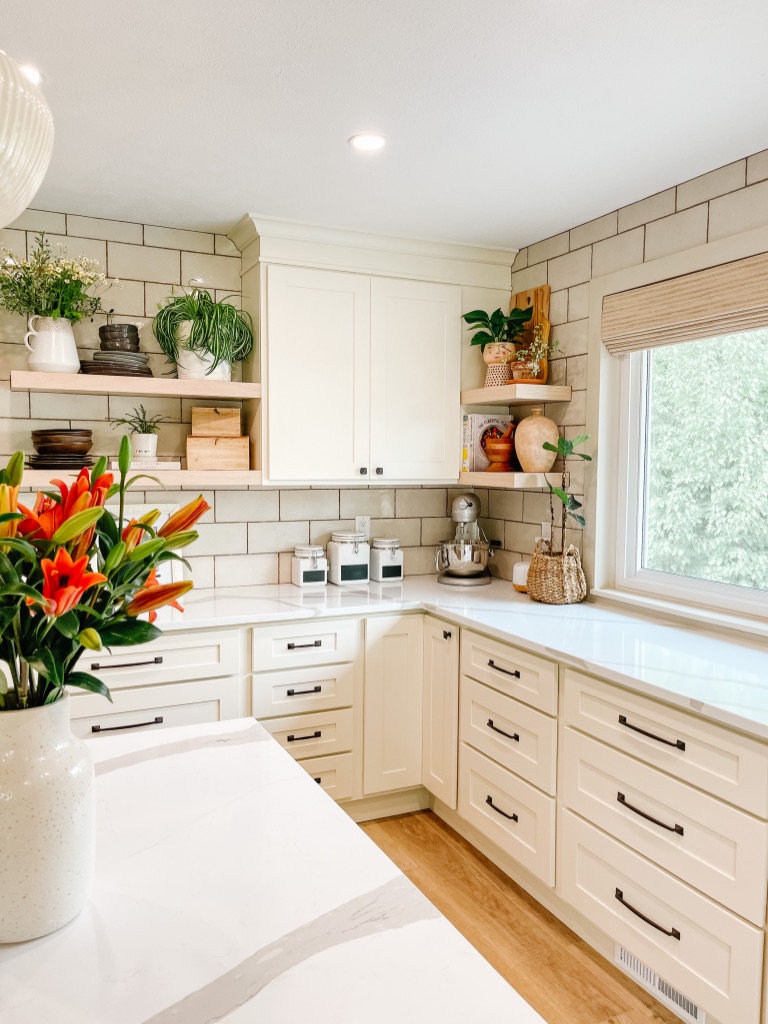 One design decision we made early on was to have mostly drawers for the lower cabinets. They are so much more convenient than doors because you can store all of the same items in them but they are easier to open and you can see everything clearly. We only have two lower cabinets with doors and I wish we would have just done drawers everywhere!
At the lower corner cabinet we added a lazy susan so you can get to everything in there! We keep all of our other random Kitchen appliances in there.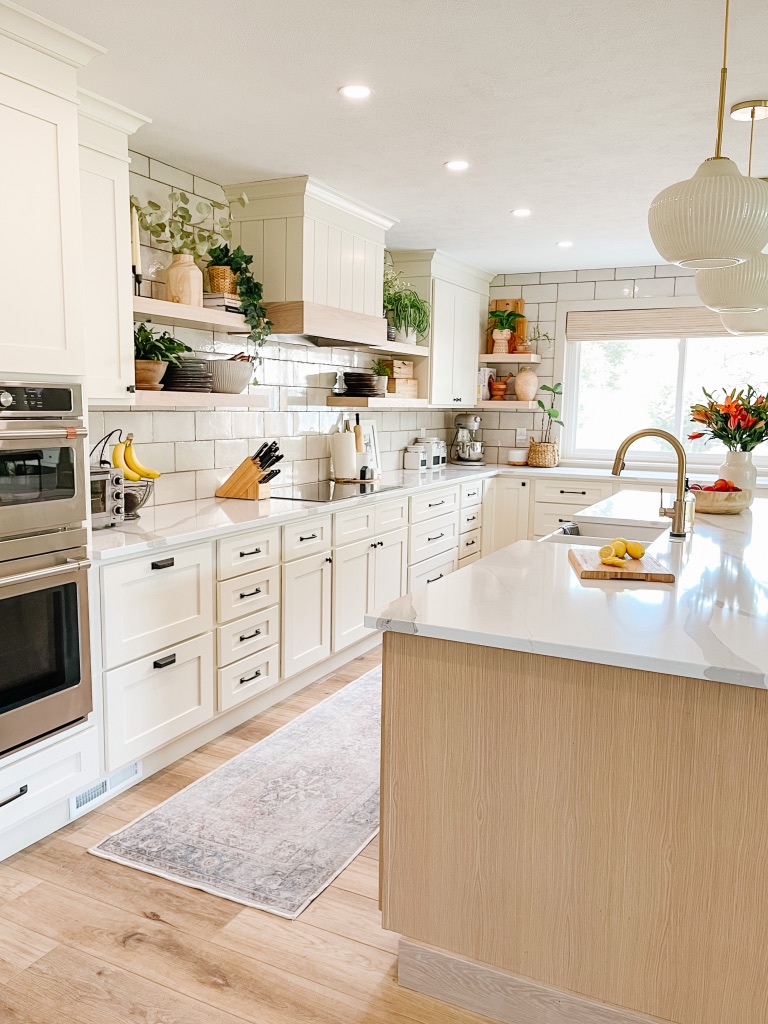 I love this set of extra deep drawers next to the oven. They are perfect for large appliances or pots and pans! We keep extra fruits and vegetables in the top drawer and our blender and panini press/grill in the bottom drawer. I actually wish we did two more of these extra deep drawers!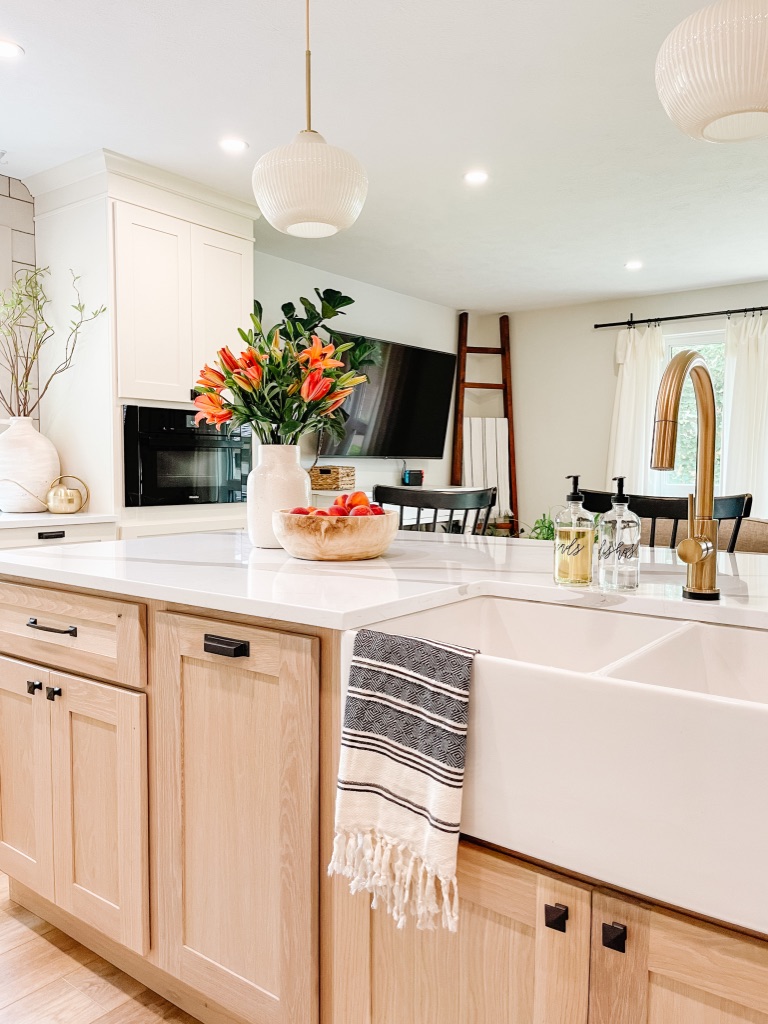 This pull-out trash/recycling cabinet has been so nice to have because it is easy to use, keeps the trash hidden, and the two cans inside are a really good size.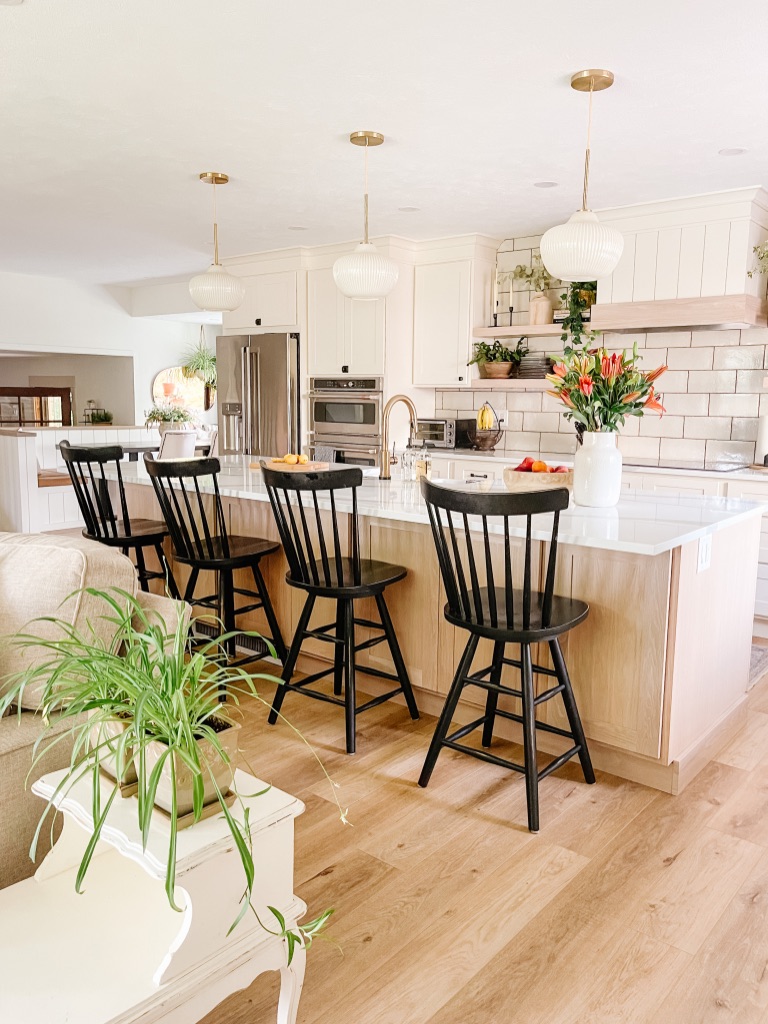 At the back side of the Kitchen island we added a row of 12″ deep cabinets. They are great for extra storage space for items we don't use as much, like paper plates and plastic wear for parties and holiday/seasonal items. We also use one cabinet for some arts & crafts supplies for the kids, and another for small electronics like tablets. We added a few outlets inside of these cabinets for the chargers!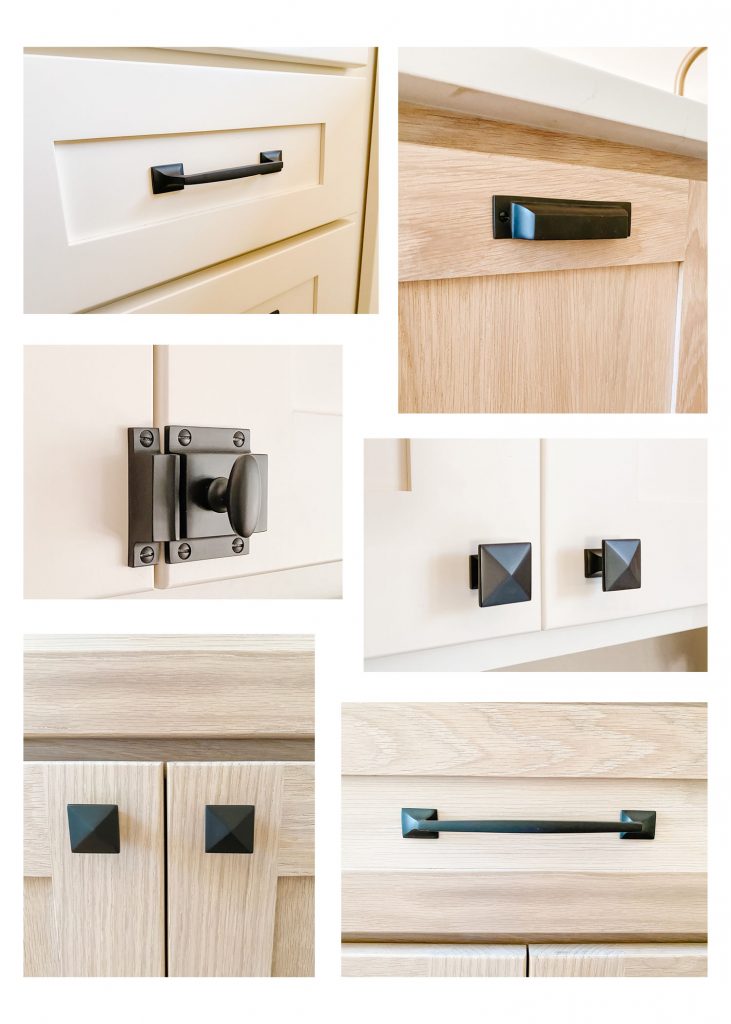 One of my favorite parts about the Kitchen cabinets is the hardware we added from Rejuvenation! I wrote a very detailed blog post all about the styles we chose, with Tips on How to Mix and Match Kitchen Cabinet Hardware HERE!
CLICK AN IMAGE TO SHOP OUR KITCHEN CABINET HARDWARE:

Kitchen Countertop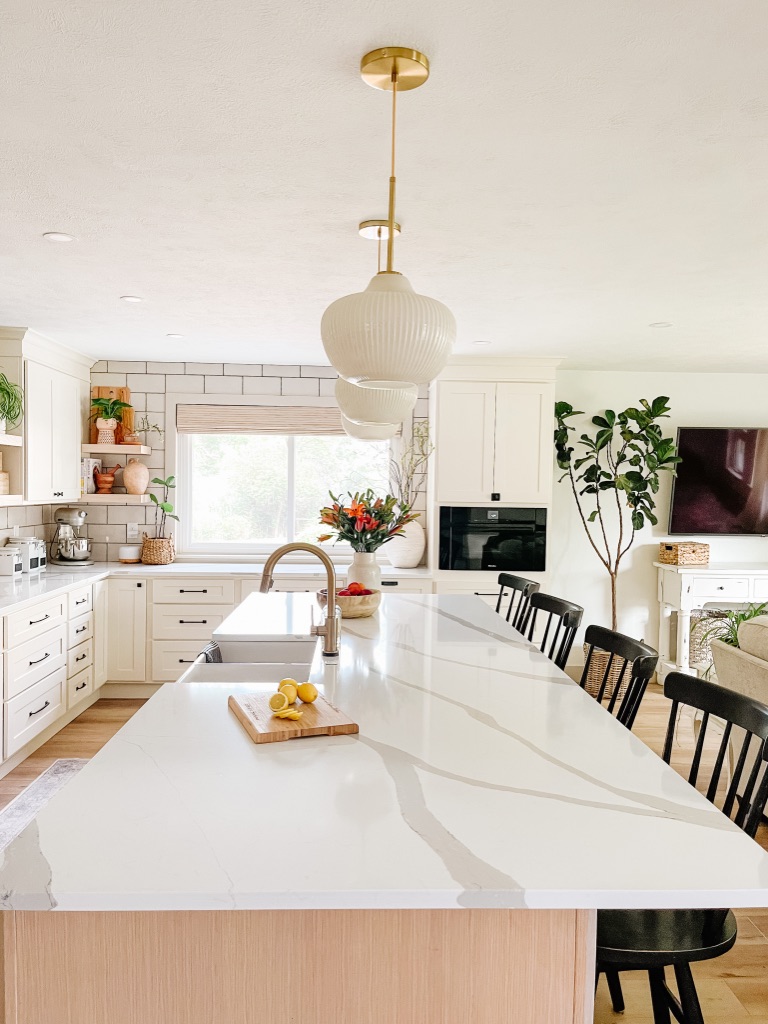 I love the look of marble but did not want to have to deal with the maintenance of it, especially with two young boys! So we went with a quartz countertop with a marble look. I love the large dramatic veining and it is so durable! The countertop is Arabescato from Pental Quartz.
Kitchen Backsplash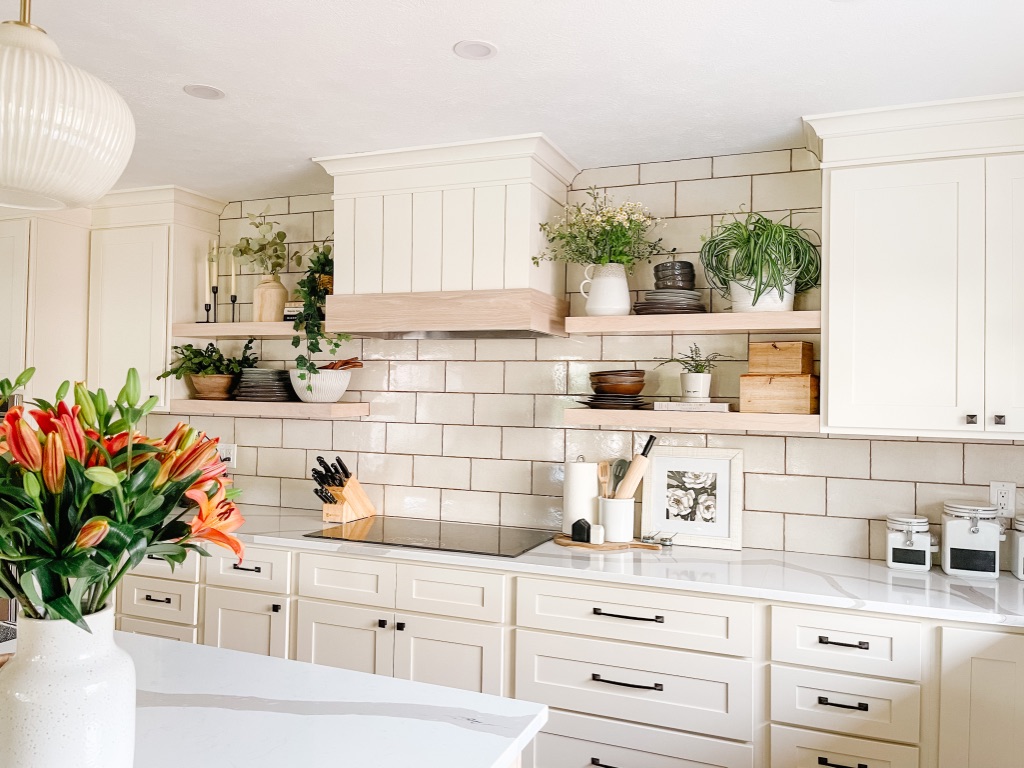 It took me FOREVER to pick out a backsplash tile that I loved. I wanted something neutral and pretty simple. Nothing so trendy that I would get tired of it in a couple years. But I also wanted it to be a little unique! In the end I'm so happy that I looked all over because I'm obsessed with what we chose!
TIP – make sure to order tile samples, or look at it in person, before placing an order! I probably went through 20+ samples before finding one I loved that worked well with the cabinets and countertops.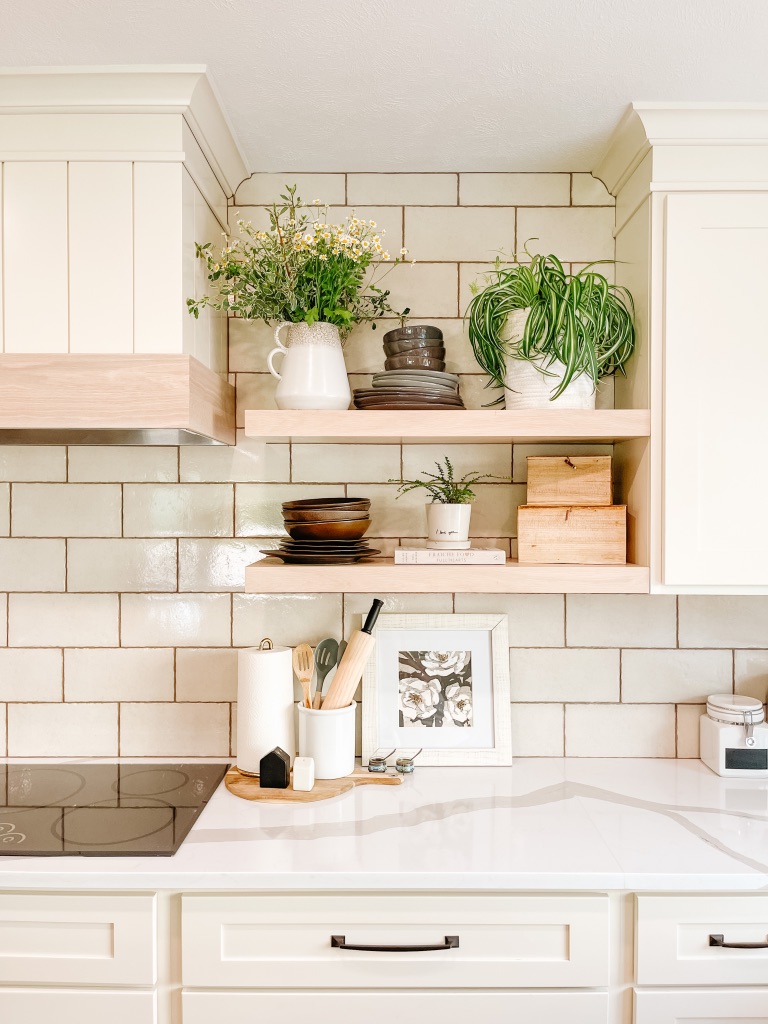 I love this backsplash tile because we installed it in a classic subway style, but it is oversized, and the edges have a worn terra-cotta tile look. The beige color also works perfectly with the Kitchen cabinets and pulls a warm gray out of the veining on the countertops as well.
For the grout we used a dark brown color that is similar to the exposed edges on the tile.
Kitchen Appliances
Ok these appliances were a HARD decision to make! They are such a huge investment and it can be very overwhelming making sure you are choosing the best options! I felt like I had an upper hand, because being an interior designer, I've done so much research for clients, gone to many appliance showrooms, and attended multiple product presentations and demonstrations. But, new products come out all the time and it is hard to keep up!
We ended up going to a local appliance showroom to talk to a sales person about our options and learn about any new models. Unfortunately we did not have a good experience so I would not recommend this particular showroom. It's a shame too because I have been to its sister store in a different town and had a great experience.
However, I would still recommend going to a few appliance showrooms to see the products in person and talk to someone about your options. Many showrooms offer demo cooking classes so you can use the cooktops and ovens before deciding too. It is always a good idea to shop around for appliances as well to make sure you are getting the best deal.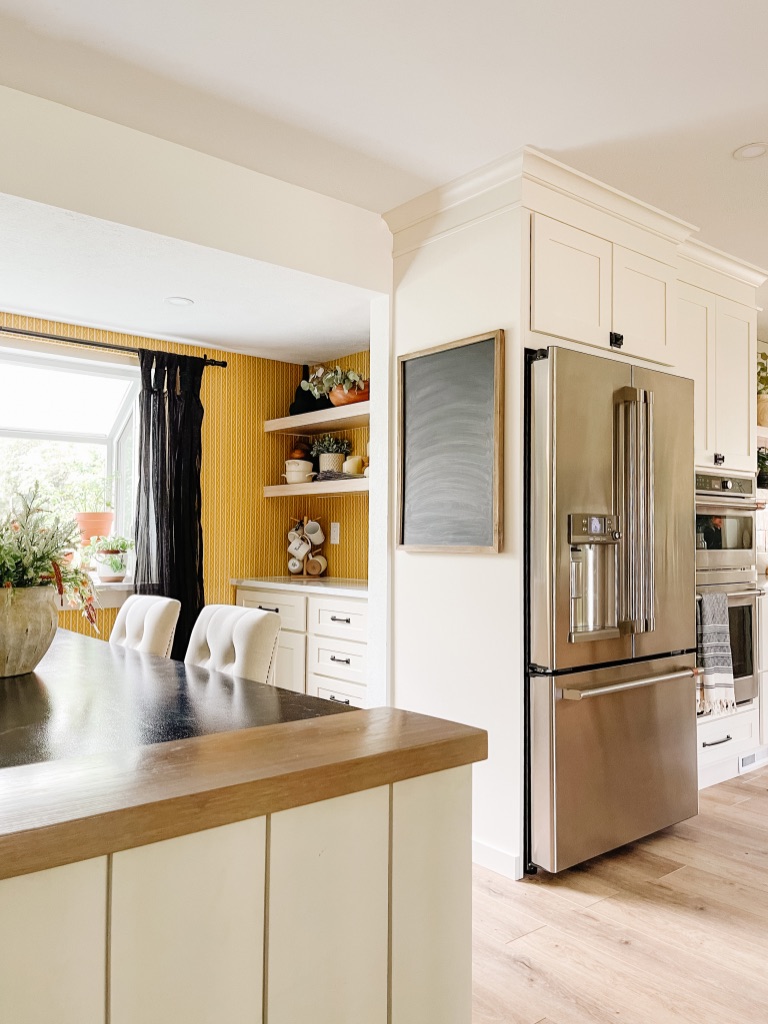 REFRIGERATOR
We strongly considered splurging on a large built-in, side-by-side column refrigerator, but decided to save the money and I'm happy we did. It would have taken up too much space and wouldn't have been worth it since we have an extra fridge in the basement.
Went with a GE Cafe French Door refrigerator and have been happy with it so far! I was hesitant to get the counter depth size because I was worried it would be too small, but it's a great size, and I love that it looks more built-in because it doesn't stick out too far. We had the cabinets built around the exact size of the fridge so there are no gaps and it looks great!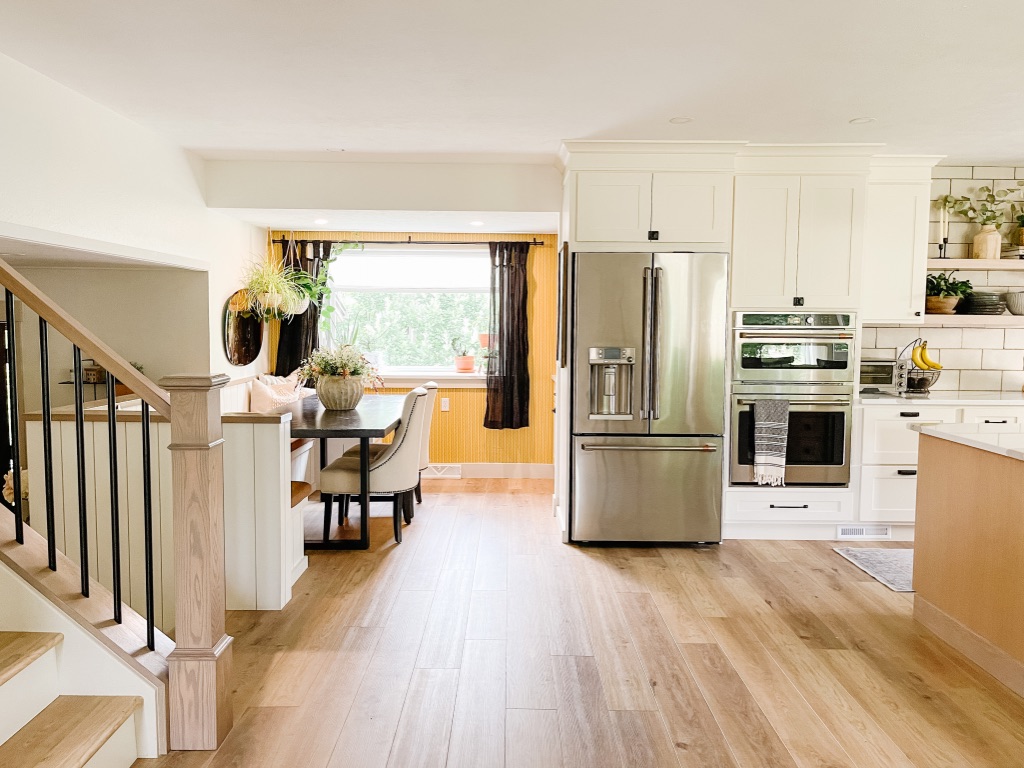 OVEN AND MICROWAVE
Since these are right next to the fridge we went with the same GE Cafe line. On the top is the microwave but it also can be used as a convection oven or a toaster oven! Definitely comes in handy for holidays and big dinners. On the bottom is a convection oven. Both have been great so far!
REFRIGERATOR DRAWERS
These are one of my favorite parts of the Kitchen!! I am so happy that we splurged for these. The best part about these Refrigerator Drawers is that they can be used for both beverages and food.
Each Refrigerator Drawer has a separate temperature setting. So you could use the top drawer as a wine cooler at a warmer setting, and use the bottom drawer at a cooler setting for meat or produce. Wine and beverage refrigerators typically don't have cool enough temperature settings to store food, so I love that these drawers are able to store anything a normal refrigerator can. They are great to have when entertaining, to store drinks, and for storing snacks for the kids!
We went with the 'panel ready' version and added our cabinet drawer fronts so they blend in with the rest of the cabinets!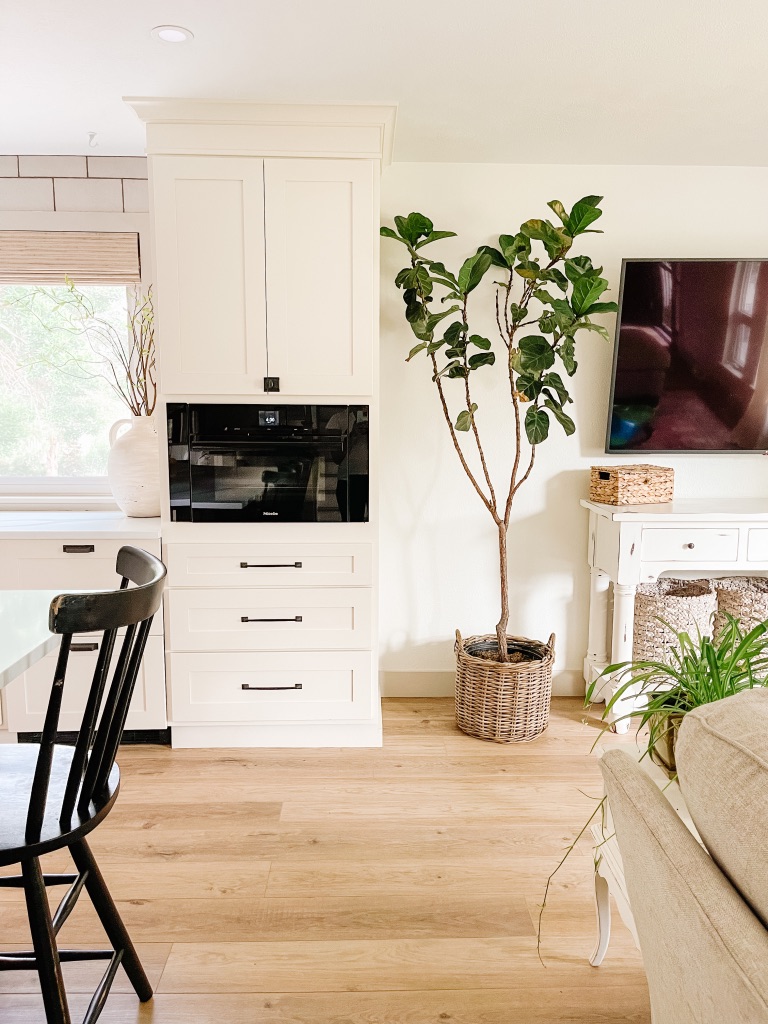 STEAM OVEN
This is probably my most favorite part of the Kitchen!! A steam oven has been on the top of my dream kitchen wish list since I first heard of them while working on a high-end custom home years ago! Steam ovens are very popular in Europe but not as much in the US for some reason. I'm actually shocked that they haven't gained more popularity here because they are AMAZING! I will never live without one again!
This steam oven is so versatile because it can be used as a normal convection oven, or as a steam oven, or as a "combi-steam" oven where it is like a convection oven but with added steam so whatever you're cooking stays moist (sorry, haha) and doesn't dry out.
One of the best features is being able to steam veggies and potatoes quickly! Cooking with steam is the healthiest way to cook – no need for oils, and it's fast! Having a steam oven also helps me avoid using the microwave as much…which I try to use as little as possible! I can use my steam oven to reheat leftovers; quicker than a regular oven and the food doesn't dry out and tastes great!
I seriously love this oven!! It was definitely an investment but to me it was so worth it. Make sure to do your research if you are considering one! There are lots of different options – sizes, voltage/power, functions, plumbed vs. non. plumbed… We decided to get the non-plumbed version because I have heard of people having issues with the plumbed ovens (where they are hooked up to a water line). So ours has a container that you fill up, probably every three uses and it's quick and easy.
If you have any questions at all about STEAM OVENS please let me know in the comments below and I'd be happy to talk about it more!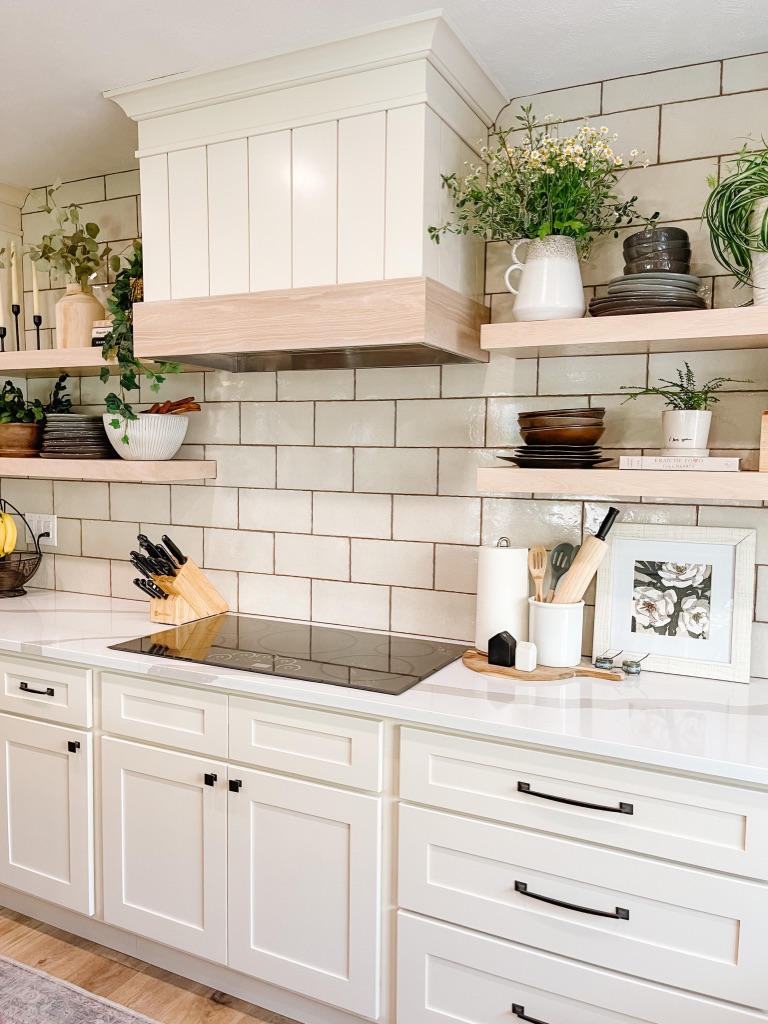 INDUCTION COOKTOP
This is another appliance that we are soo happy with! An Induction Cooktop has also been on my wish list ever since seeing them during an appliance showroom tour! They are seriously amazing!
I think so many people think induction cooktops are the same as electric, but they are so different. While electric stoves heat the surface of the cooktop with electric coils, induction cooktops use electromagnetic currents to evenly heat the pot or pan, which in turn heats the food faster, and uses less energy. They boil water in about half the time as gas cooktops!
Another plus is that they are sooo easy to clean! It is a flat surface and I love how it doesn't stand out on the countertop. Our old gas cooktop was such a pain to take apart to clean.
I'd say the only cons of an Induction Cooktop is they can be more expensive, and you can only use pots and pans made out of certain materials (stainless steel, cast iron, carbon steel). This was a splurge that was worth it for us though! And all of our pots and pans work on it so that worked out too!
VENT HOOD
The vent hood insert has been great and I love the look of the custom cover! We used shiplap and painted it with the cabinet paint so it matched the cabinets, and then the wood trim at the bottom is the same wood finish as the island cabinets.
DISHWASHER
We kept the dishwasher that was already at the house when we bought it since it was in good condition! Good way to save money!
Kitchen Sink & Faucet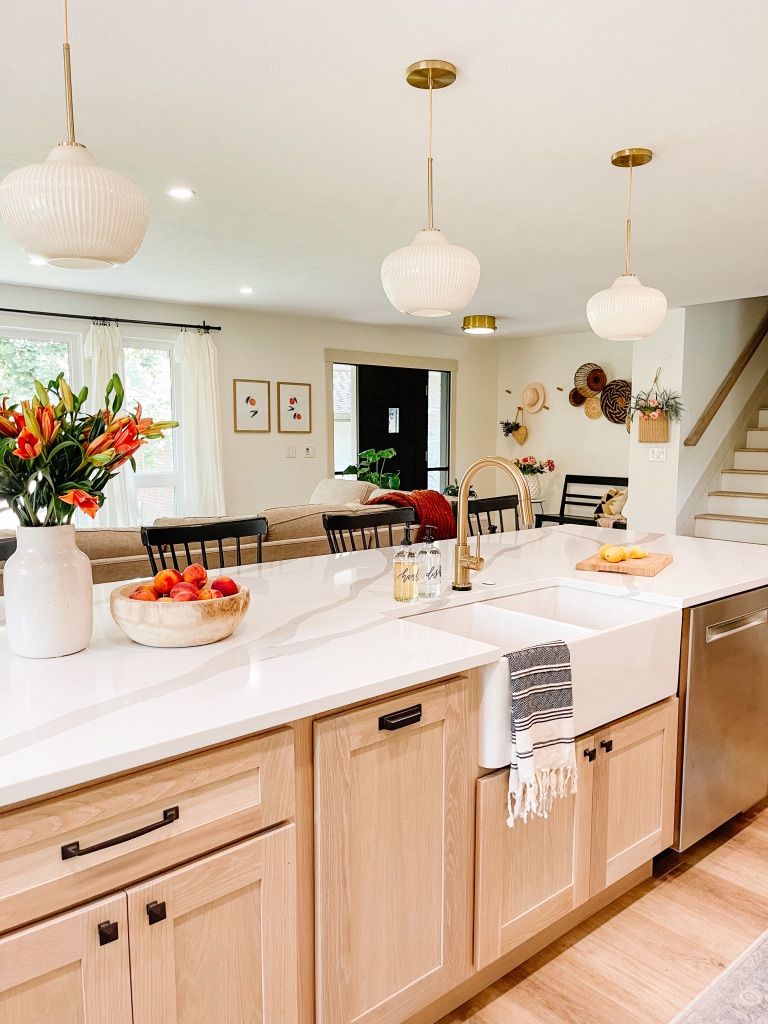 I've always wanted a big white farmhouse sink! I think they are so classic and beautiful. I probably would have done a single basin sink, but my husband is the one that does the dishes and wanted to basins..so he won! haha. We debated doing a second sink and decided not to, but now I am wishing we would have put one in. It would be nice to have a second sink to water my plants in..but not the end of the world! just something to think hard about before you build because we cant go back and add one in easily now.
We love this gold Kitchen Faucet because it has a touch sensor! So you just have to tap it to turn it on and off! It is so convenient to have when your hands are full or dirty. I also love the gold finish. It's is a brushed bronze that goes perfectly with our Kitchen island pendants.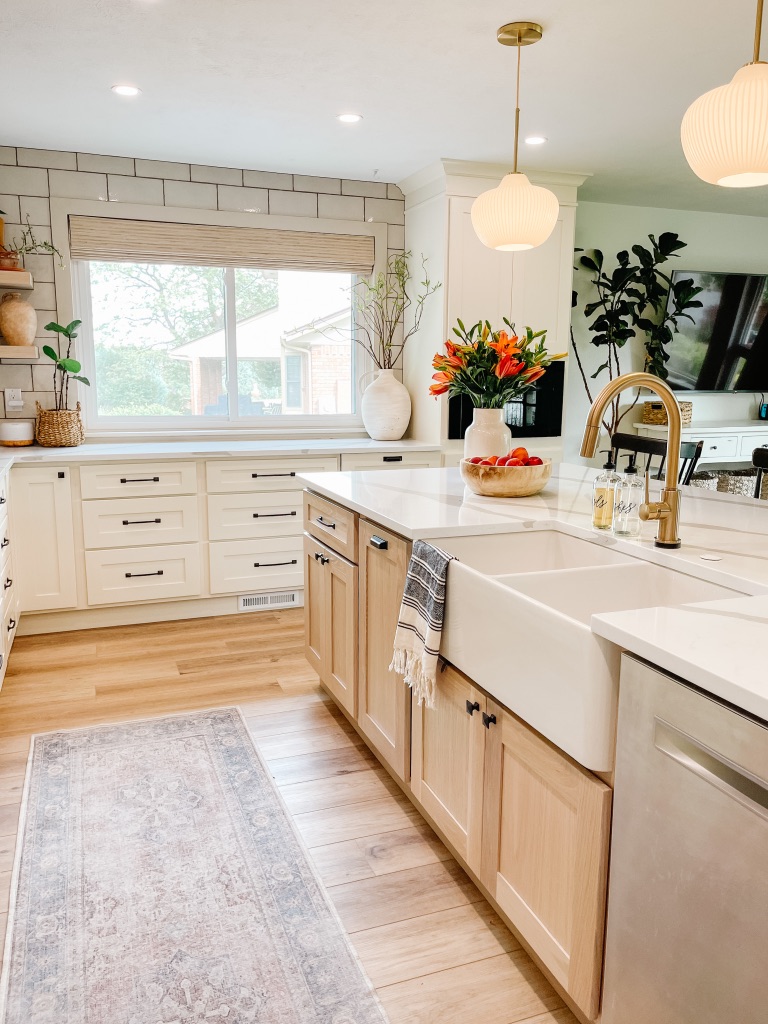 Kitchen Resources
GE Cafe Refrigerator with Ice Maker and Water Dispenser in Stainless Steel
Click on an image to shop the post:

This post detailed our 70's Kitchen Remodel Before and After with the top Kitchen Design Must Haves of 2021!
More Kitchen Design Articles: