This article shares the best affordable farmhouse and boho style dining room tables!
Since we moved over 3 years ago I have wanted to switch out our furniture that we had purchased for our last house. I actually love all of our old furniture but some of it just doesn't fit our spaces well in the new house. Our dining table was one of them!
Our last house had a very long dining space so we needed a long table to fill the space up. However, with our new house our dining space is smaller and a shorter table is really a better fit. That got me on the search for an affordable farmhouse dining table for the last couple years!
This post contains affiliate links; see our Disclosure here.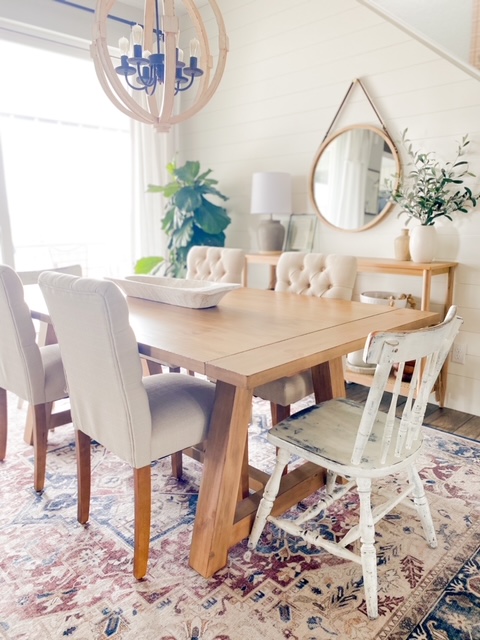 Over a year ago I found a table I loved! It was slightly shorter, lighter in color than my current table and affordable! But I decided to sit on it and make sure it was really the best deal I could find. Dining tables can be so expensive!
A lot of these farmhouse dining tables I am sharing are around $400 or less! What a steal!
So for the next year I searched and searched for dining tables that were under $800. I had some other criteria when looking as well, including finding a table that could expand to fit 8 or more people. During my searches I found some awesome affordable farmhouse dining tables that I am so exciting to share with you!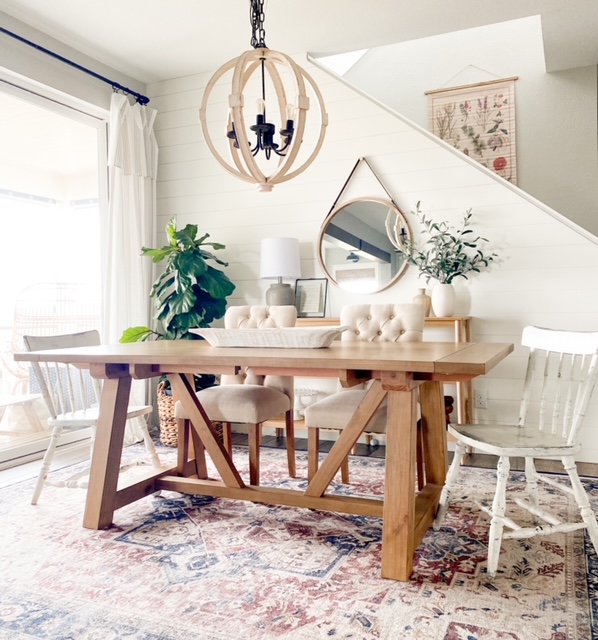 Not all of these fit my criteria, which is why I didn't choose them. However, I wanted to share them with you as they may fit yours!
Affordable Farmhouse Dining Tables

Dinging Room Chairs
Now onto chairs!
I have been wanting to find new dining chairs to go with my table. So I have been on the lookout to figure out what type and style I want for over a year now!
I love the chairs I have currently, but again they are almost 7 years old (originally from Target, you can find them here). They are still in like new condition. Which is shocking considering they are a very light colored fabric and I have kids – Ha!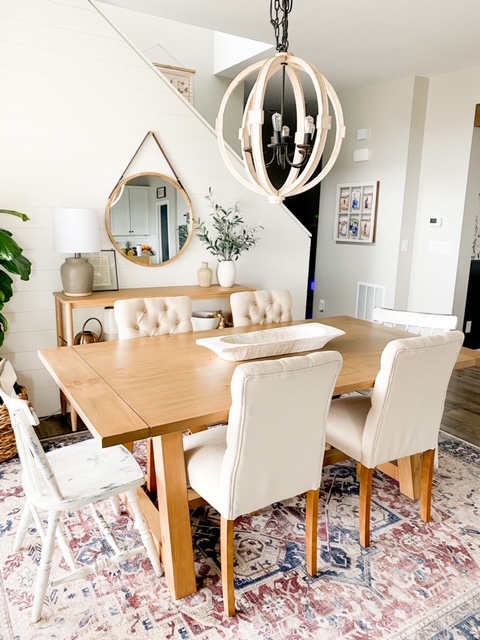 Anyways, I am really wanting black chairs this time! I think they will definitely be better in the long run with kids!
I think all of these chair choices will be better with kids because they won't be fabric. Black actually tends to show dirt and spills worse then lighter colors (which is always so funny to me because I always assume it will hide dirt better than a lighter color would, but in my experience it doesn't)!
However, all of these are made from wood so they will be super easy to wipe down! So I am not worried about the spills and dirt.
I also love the way black looks against lighter wood! They will look perfect with our new affordable dining table!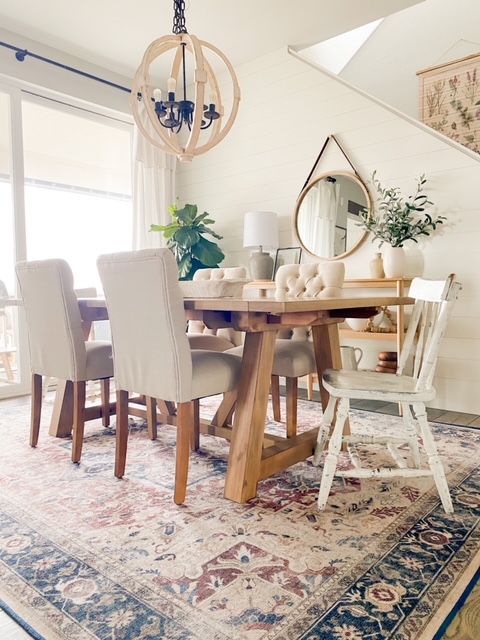 I would love your opinion on which chair I should choose in the comments below! I will also be doing a poll on Instagram stories. If you aren't following us there yet, we would love to have you (click here to go to our Instagram)!
Black Farmhouse Dining Chair Options
Scroll through the 12 options and pick your favorite! Let me know in the comments which option you think I should go with!

Tips on How To Pick the Best Furniture for Your House!
Furniture can be so hard to pick out! The endless options are daunting. So today I am going to share several tips on how I chose furniture – specifically affordable dining room furniture!
Choose your budget.
This is absolutely the most important tip. Do not go above what you can afford.
There are so many options out there in every price range! You can definitely find something in your budget that you will love!
Affordable furniture is so easy to find. My favorite place to find affordable farmhouse dining tables (and other styles and types of furniture) is World Market, Target and Wayfair.
Pin your inspiration pictures on Pinterest.
Take time to look on Pinterest for dining rooms you love.
Pin around 10 pictures.
Look at the pictures you pinned to narrow down the style you want to go with!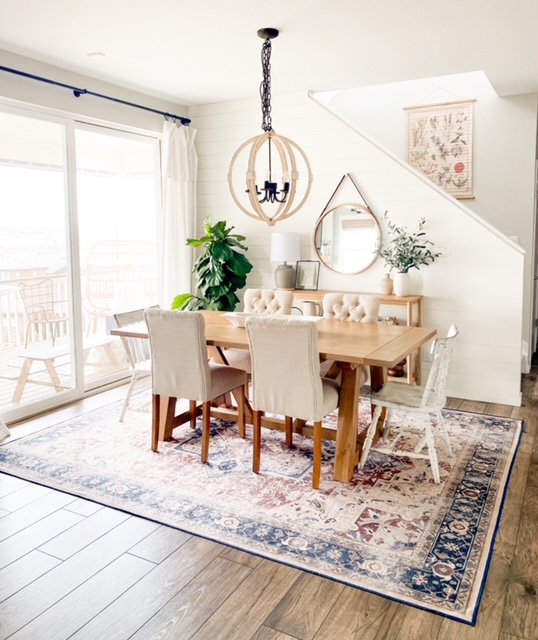 Measure your space.
This one seems so easy, but I can't tell you how many times I have ordered something online and it arrives a completely different size than I was expecting!
Make sure to measure your space and have it fill your dining space while leaving plenty of room to move in and out chairs to sit on.
You don't want your space to feel empty but you also want room to move around without feeling cramped.
Plan all your furniture pieces at the same time.
No, this doesn't mean you need to buy all the furniture for the room all at the same time. But have a game plan.
Know exactly what style of furniture you want throughout the whole room.
Also figure out what type of furniture you need. For example, for my dining room I knew from the beginning I would need a rug, dinging table, dining chairs, buffet table and chandelier.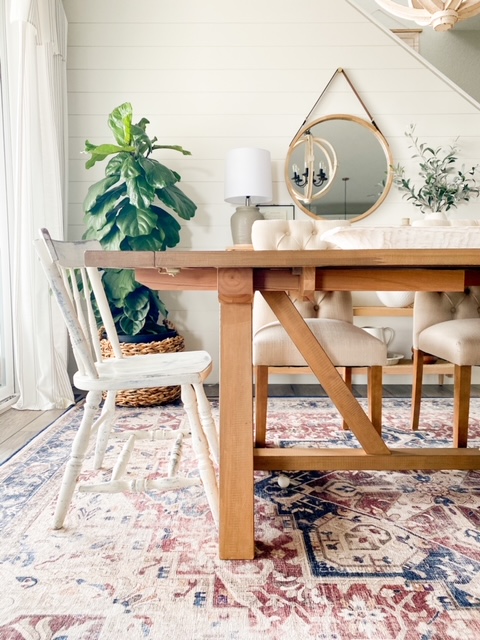 Look at how your rooms flow together.
Don't forget to look at the other rooms that are next to your dining room, especially if you have an open floor plan like I do.
Your rooms do not all need to match, but they do need to flow well together.
I tend to have one room more neutral and the rooms next to it can have pops of color! In my house my dining room is neutral and my living room always has some pops of color throughout!
Decide how many seats you need at your table.
I knew I needed a table that fit at least 8 people, but 10 would be even better. So I decided to go with a table that extended!
If you only need a table that fits 6, your options for affordable dining tables expands greatly!
Knowing what size you need will help your search narrow down!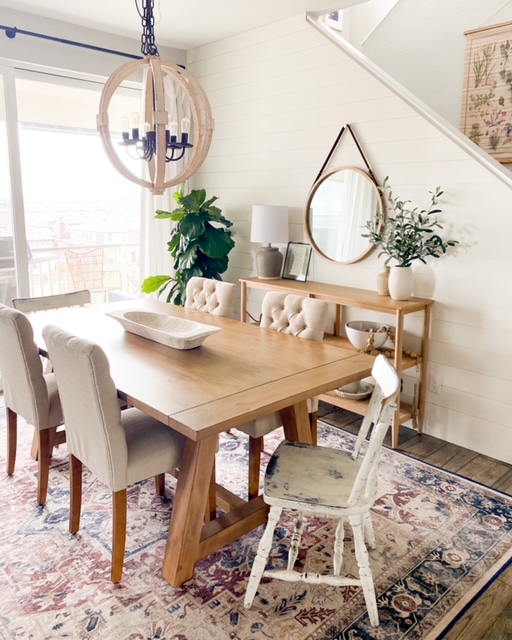 I hope these tips on how to choose furniture will help you in your future furniture shopping!
Don't forget to let me know which chair you think will look best with my new table in the comments below!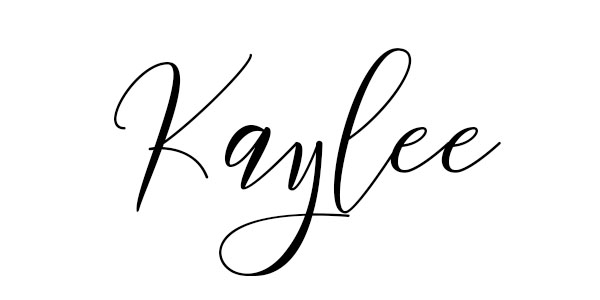 Shop this post by clicking the image below!


Other related posts that you may be interest in:
This article shares the best affordable farmhouse and boho style dining room tables!