See how we totally transformed our small master bathroom with these simple budget friendly small bathroom makeover ideas!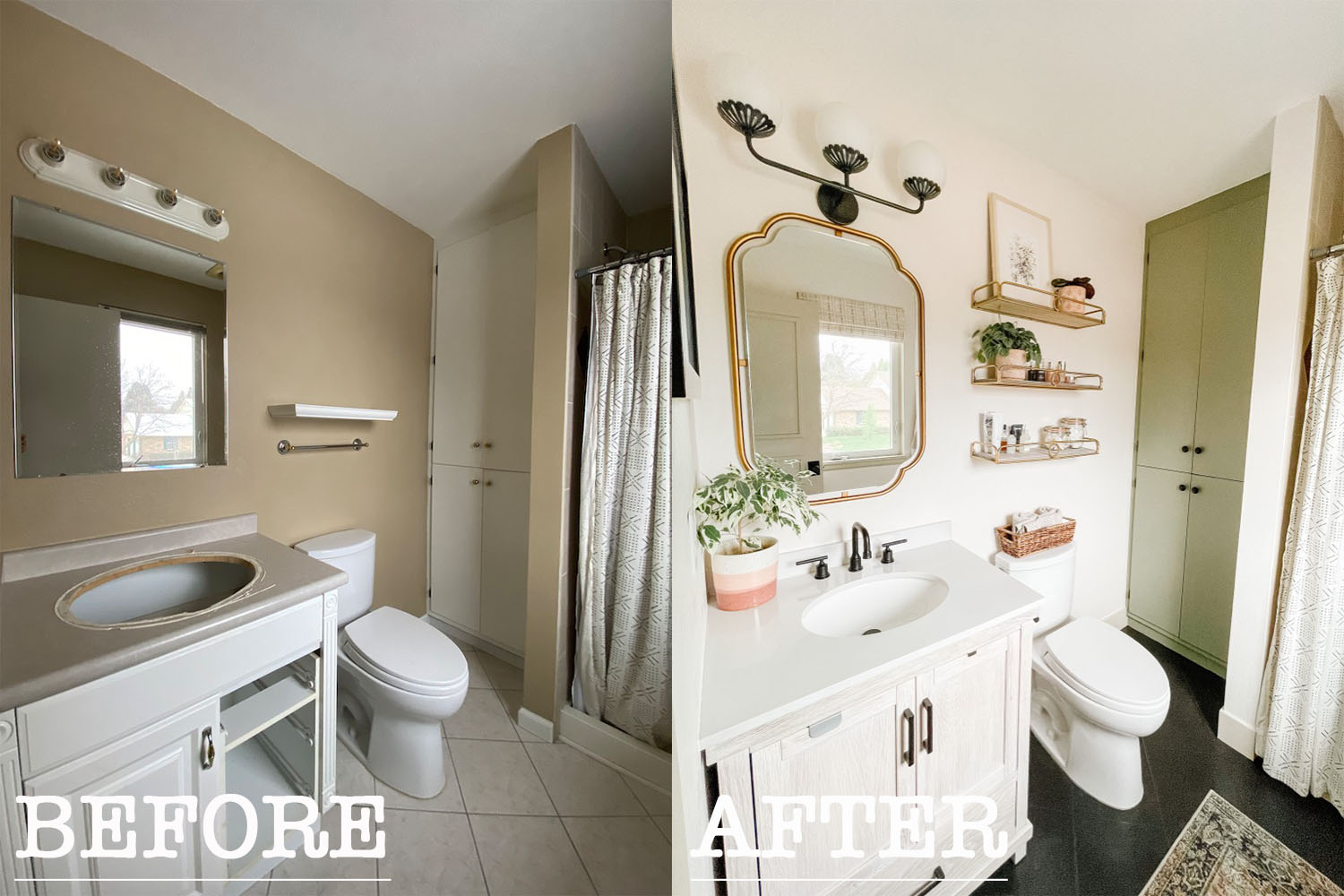 The first phase of our Master Bathroom update is complete and I am so excited to share it! In case you missed it, check out this post where I shared all of our plans for the update!
Because we weren't ready to completely remodel this bathroom, we decided to update it in two phases. Phase one was to update the vanity, light, and paint. Phase two is to update the shower, and possibly replace the floor.
This post shares exactly how we updated our small Master Bathroom on a budget, and tips we learned along the way!
This post contains affiliate links; see our Disclosure here.
How to Update your Small Bathroom on a Budget: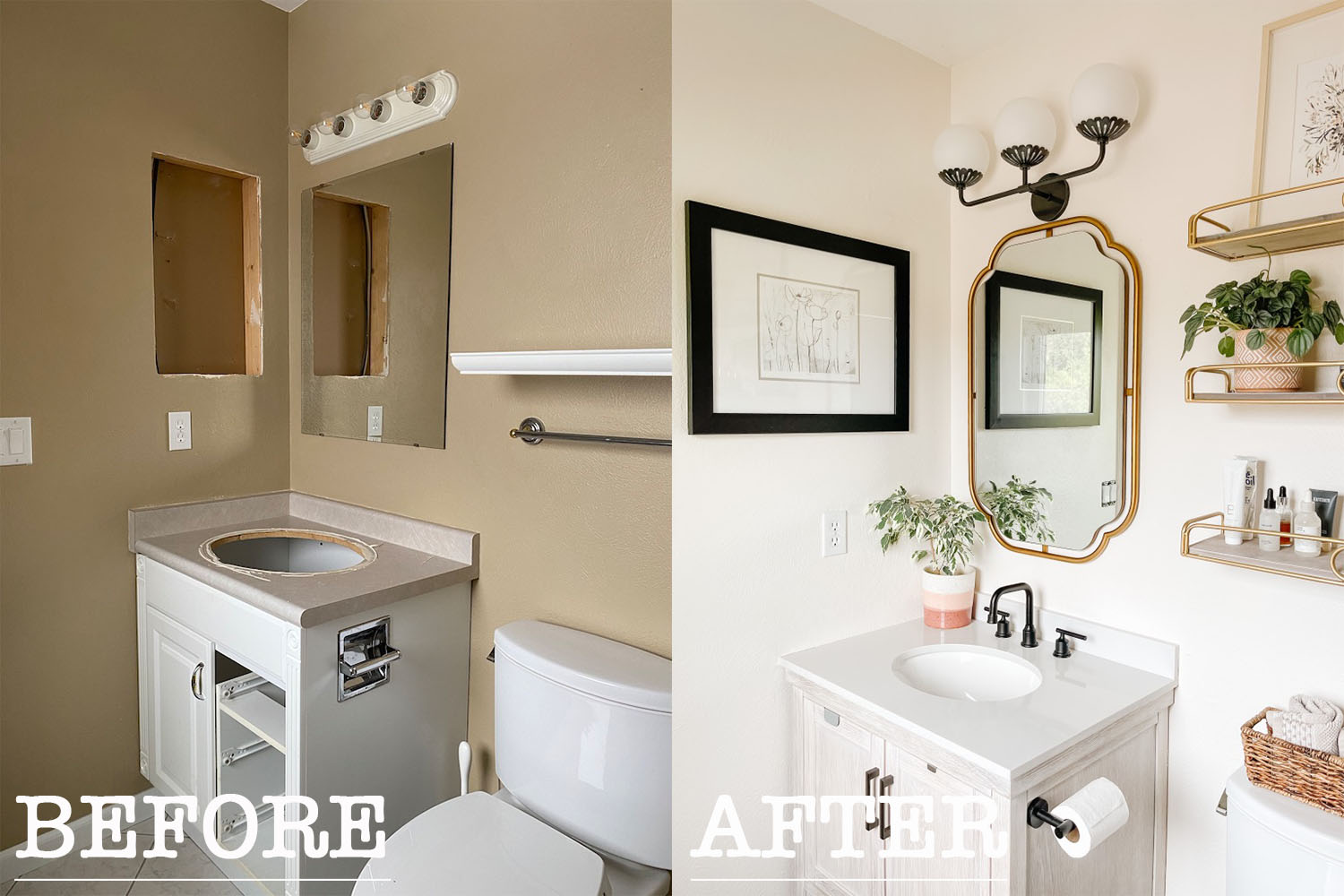 I'm a big believer in making any space feel like home, no matter how temporary it is or how small the budget is. You should feel good walking into your house, and it really doesn't take much to make that happen! Small changes can make big differences in the feel and look of a space.
When we decided to give our small master bathroom a quick makeover, we wanted to keep it simple. We don't know how temporary this update will be so I also didn't want to spend too much in case we decide to totally remodel it soon.
There are so many easy ways you can update a space on a budget to make it feel like home!
Below I'm sharing my top 6 ways to give your small bathroom a makeover on a budget.
1. Paint the Walls
The power of paint is magical! Seriously, if you want to update any space on a budget – paint it!
The original paint in the bathroom was a dark tan color and it made the room feel small and boring and dingy. I wanted to brighten it up with a lighter paint color to help the bathroom feel bigger and clean.
We decided to use the same paint color that we used in the Master Bedroom, to help the spaces flow together. I love this color! It's the perfect warm white with a slight pink undertone – Behr Bleached Linen.
For the storage cabinet, I knew I wanted to do an accent color. I debated between a sage green, a rusty orange/red, or black. I ended up choosing Behr Muted Sage and I love how it turned out! It is the perfect soft sage green color, and it goes great with the bathroom rug! I feel like having a darker color at the cabinet doors also makes the room feel bigger!
We could have also painted the existing baseboards, but they were old and short so we ended up replacing them! I highly recommend updating the baseboards and door casings while you are updating an older room. Higher/wider and more modern looking trim makes such a big impact and really cleans up the look of the walls. We used the same paint color that we have used for the trim throughout the house – Sherwin Williams Accessible Beige.
Another part of this room that we updated with paint was the old flat panel door. Check out this post to read all of the details about how we updated our flat panel interior doors on the upper level.
2. Painted Tile Floor
I was honestly so nervous to try to paint our tile floor! But I am SO happy that we did it because they look so good! Seriously if you have any old tile in your house that you want to replace, try painting it first!
Of course it is not the most permanent option, but it is so easy and works while you wait for the right time to replace it.
It's also very affordable. We only needed one quart to paint our bathroom floor, so including the base coat and the top coat it only cost about $40.
We painted these tile floors about 3 months ago and they have held up very well! They did get a couple of scratches while we were finishing up work in the bathroom, but they were easy to patch and cover up. I'm not sure if I would recommend painting the floors in a high traffic area, but for a bathroom it worked out really well.
For the base coat we used black, and for the top coat we chose the matte sheen, which I love the look of. Just a warning – the black floor does show EVERYTHING. But I still love how it looks! And this bathroom stays pretty clean because I am the only one really using it.
The painting process was very easy, it just takes time because you have to wait for it to dry. Definitely make sure not to walk on it too soon! It's worth it to wait!
You can read more about the process of painting the tile floors here!
3. Update or Replace the Vanity
The vanity is a huge part of the bathroom! If you are able to update your existing vanity with some paint, that is an easy way to save money! Painting your existing vanity cabinet can totally change its appearance.
A few other ways to update an existing vanity is to add some new door or drawer hardware, and replace the sink faucet. Sink faucets are very simple to install on your own.
This black sink faucet is from Amazon and was super affordable! I always buy off-brand sink faucets off of Amazon and have never been disappointed! They look exactly the same as the $300 versions but are like a sixth of the price!
This black toilet paper holder is also another affordable find from Amazon!
You could also consider just replacing the vanity countertop if your base is in good shape. Most slab yards have a "remnants" section where you can purchase left-over parts of slabs for discounted prices.
In our case, the existing vanity was not in good shape at all. It would have been a waste of money to even try to paint the base and replace the countertop and sink.
Many times it is actually less expensive to purchase a vanity set that includes the base, countertop and sink. Buying all of those items separately can really add up.
So, we decided to buy a new vanity for this bathroom! I had a hard time decided on what to buy and how much to spend though. There were many options that looked fine, and were a great price (around $200-$300), but they didn't look very well made. Also the finish options were pretty basic (usually a standard white vanity with two doors and a white top).
While I was looking I came across a couple options that I LOVED. So I decided to spend a little more on the vanity than I really needed too. I love the white washed oak finish on the vanity that we got! It looks so good against the black floors.
I also decided to spend more on the vanity because a nice vanity is an investment that can be easily saved if you ever decide to remodel the bathroom again. You can remove it from the bathroom and then reinstall it if you ever want to change the layout or redo the floors.
Also if you buy a good quality, wood vanity, it will last you a while and you can repaint it in the future if you want a new look.
Check out more Affordable Small Vanity Options Here!
4. Replace Vanity Mirror
Replacing your bathroom mirror is a super easy and quick way to update any bathroom! Especially if you currently have a standard builder-grade mirror (you know, the oval ones with a beveled edge – they're everywhere!).
This is another item where I decided to spend a little more, because you can easily move it around your house and it will last you a while.
I feel in love with this mirror from Anthropologie! They actually had so many that I loved it was hard to decided. I love how pretty and unique they all are. I almost got this mirror with a shelf. I think the small shelf is so cute! Maybe I save that for our next bathroom!
5. Replace Vanity Light
Another super easy switch is a new vanity light! The existing vanity light in our bathroom was sooooo old! Probably the original light fixture from the 1970's.
If you are keeping the existing light location, it is very simple to install a new one.
This is the last item that I probably spent more money on than I needed to, but I LOVE these vanity lights! They were actually one of the options I considered for the hallway bathroom we remodeled last year. I knew they would be perfect in our bathroom.
6. Add Final Touches!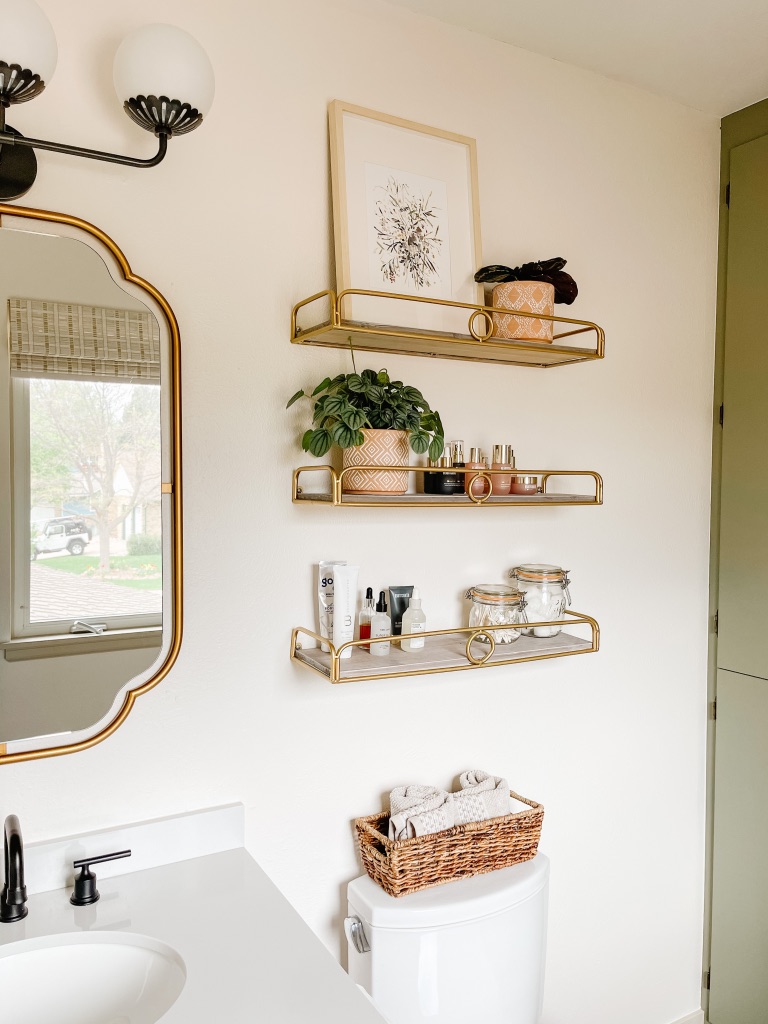 Adding the finishing touches to a bathroom can be so much fun! I like to keep it pretty simple and clean in bathrooms, but I still added some decorative touches.
These gold shelves are so cute above the toilet and they are also functional! I have a few plants on them because this bathroom gets so much natural light, and some of my face and hair products that I use every day.
I almost bought some more expensive shelves from Anthropologie but these were so much less expensive and work just as well. I don't think it was necessary to splurge on these like I did with the light and the mirror.
I actually even updated them to work better in this bathroom too. The original wood finish on the shelf was too warm compared to the vanity so I used this white wash stain to lighten the wood.
I kept it pretty simple when styling the shelves. The plants are from a local grocery store (the pink planters are so cute!). The cute floral print is from Juniper Print Shop. They have so many beautiful and affordable prints! I just printed out this one on some card stock on my home printer and it looks great! The vintage glass jars are from Letterfolk; another small shop that I love!
We also added a couple of simple black towel hooks. There is not much room in here to add a towel bar and I actually prefer hooks!
I also absolutely love this Cordless Whitewash Bamboo Roman Shade! It is super affordable and comes is a lot of different sizes. It was very easy to install! It is semi-sheer (does not have a privacy or blackout liner) but I think it is totally fine for privacy in the bathroom.
This rug is also one of my favorite parts! It was SO affordable and I love the colors in it. It ties the sage green of the cabinet and the black floors together perfectly. Bath mats and small area rugs are an easy way to add a pop of color to a small bathroom.
Check out more Bath Accessory and Decor Ideas HERE!
Small Bathroom Makeover Ideas Final Thoughts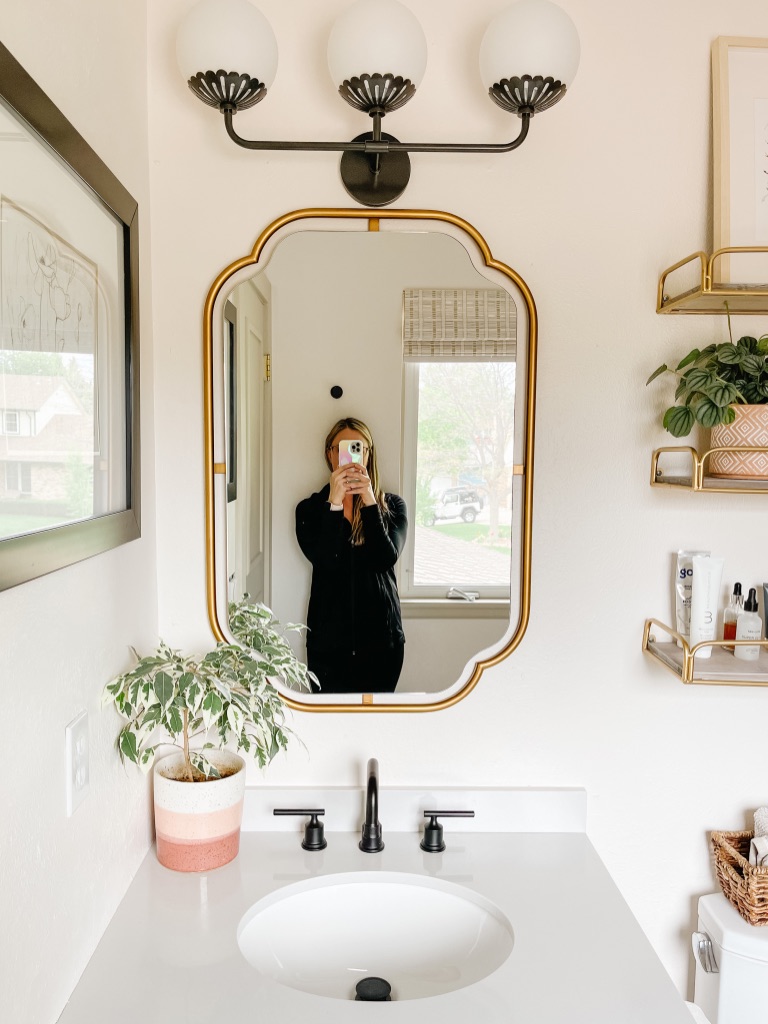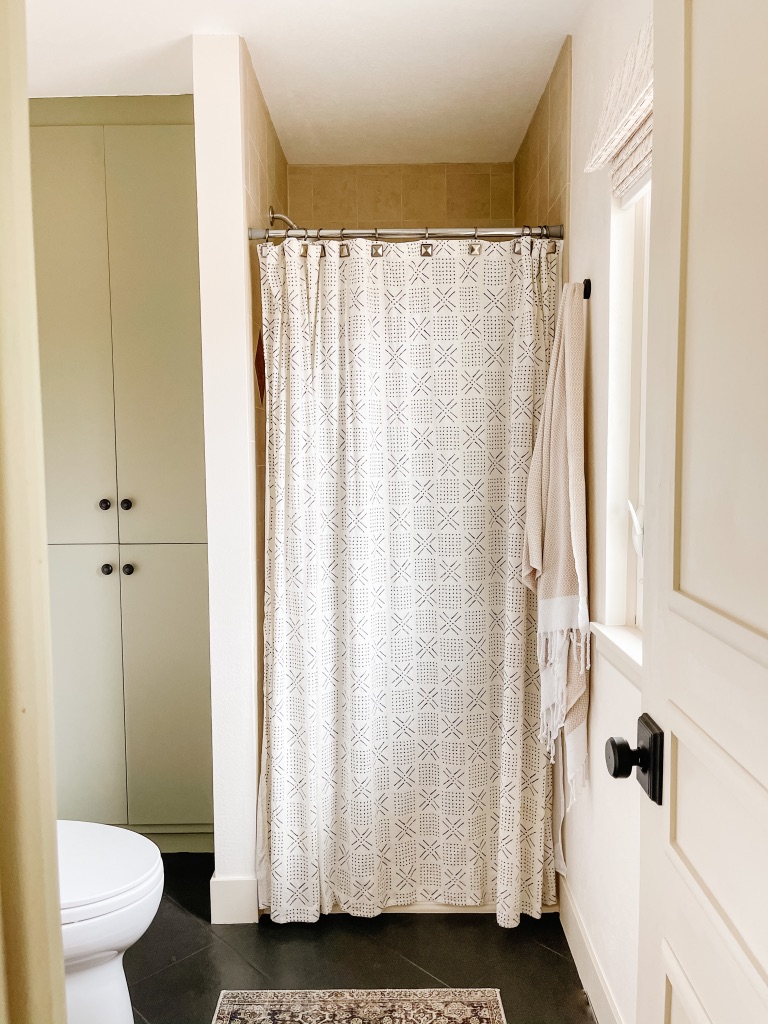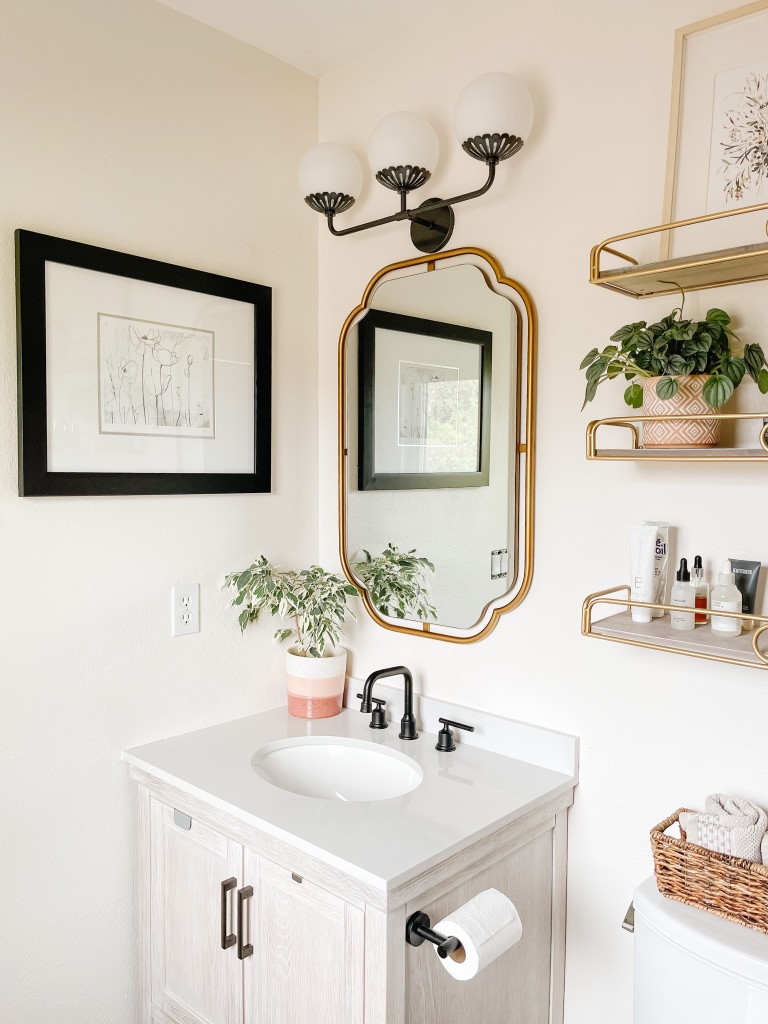 Overall I am SO happy that we gave our small Master Bathroom a quick and affordable makeover! This was one of the worst rooms in the house before and now it's one of my favorite! And it really didn't take that much effort or money to update it!
Painting the walls, cabinet doors, and floor made such a huge difference and was the most affordable part of this whole project. If the existing vanity was in better shape this would have been an even more affordable project! The new vanity was definitely the most expensive part, but so worth it.
Hopefully these easy and affordable small bathroom makeover ideas were helpful and motivate you to give your bathroom an update no matter what your timeline or budget is! Giving your bathroom a new look really doesn't have to be expensive or time consuming and you deserve a place that makes you happy to get ready in every morning!
Shop The Post

This post was all about my top 6 easy and affordable small bathroom makeover ideas!
More Bathroom Design Articles: