Learn how to give your old hollow core slab (flat panel) interior doors an easy and affordable makeover!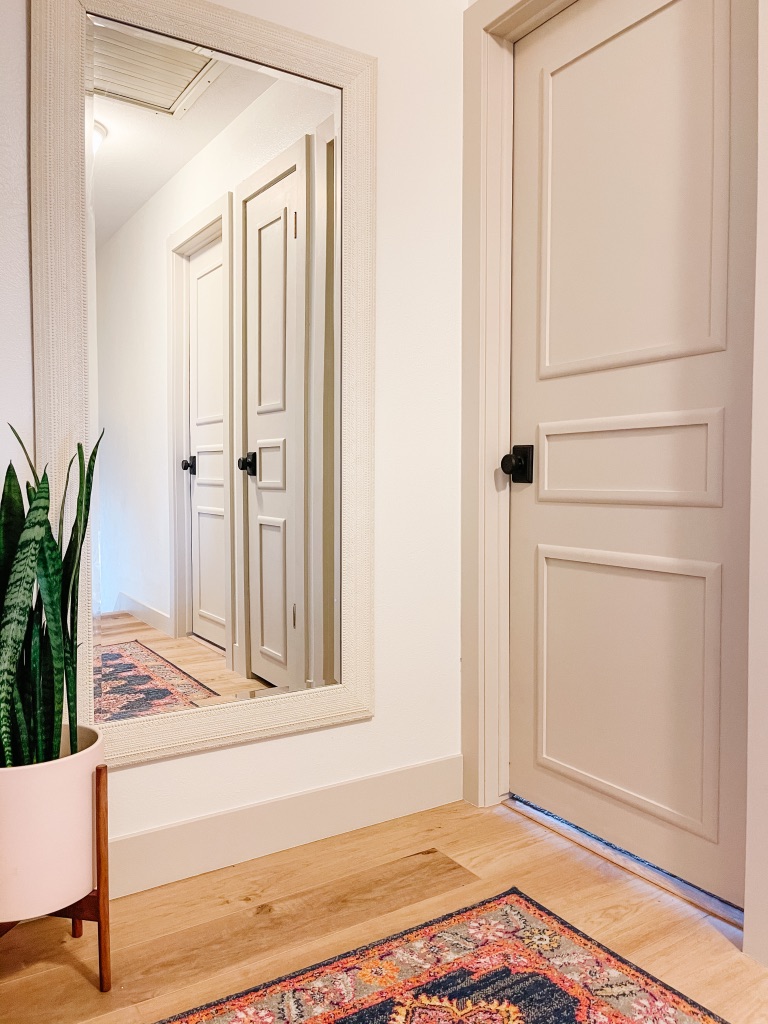 If you are new around here, we moved into our 1970's fixer upper home almost a year ago, and have been slowly updating and remodeling it! So far we have completed the Kitchen remodel, replaced the floors, remodeled a bathroom, and painted about 70% of the house! Lots and lotssss of paint!
One thing that often gets overlooked when updating a house, are the doors and trim! We have been replacing the baseboards and door trim as we work through each room, but have saved most of the doors for the end.
Our house was built in 1978, so we have the basic brown hollow core flat panel interior doors everywhere. They have no character and majorly date the house that we have been working so hard to update!
We also had those basic, short oak baseboards and door casings everywhere. We've replaced them with 6″H squared edge baseboards with 4″ door casings and they look SO much better!
Updating your base boards and door casings makes such a huge impact and it is a pretty easy and affordable project!
At first, we were planning on replacing all of the doors. However, once looking into the cost, we realized it was going to cost a few thousand dollars to switch them all out.
So many of our doors are on the upper level (bedrooms and bathrooms) and I didn't want to spend that kind of money right now on areas that most people will not see. We only have 3 doors on the main level, so we figured those will be easier to replace when we decide to.
After looking into it, it was clear that the best option was to update our existing flat panel interior doors for now! We've painted these types of doors before, and that always helps, but have never added more to them! So I was excited to step it up and make them look like they belong with the rest of our updates!
I'm so obsessed with how they turned out!! Read on below to see how to update flat panel doors on a budget!
Flat Panel Door Makeover Inspiration
Once we decided to makeover our existing flat panel doors, I started to look into ideas and how to do it! I actually didn't realize that this was such a popular concept! Here are a few images I came across that I loved the style of –
I love the double moulding detail here with one large "panel" –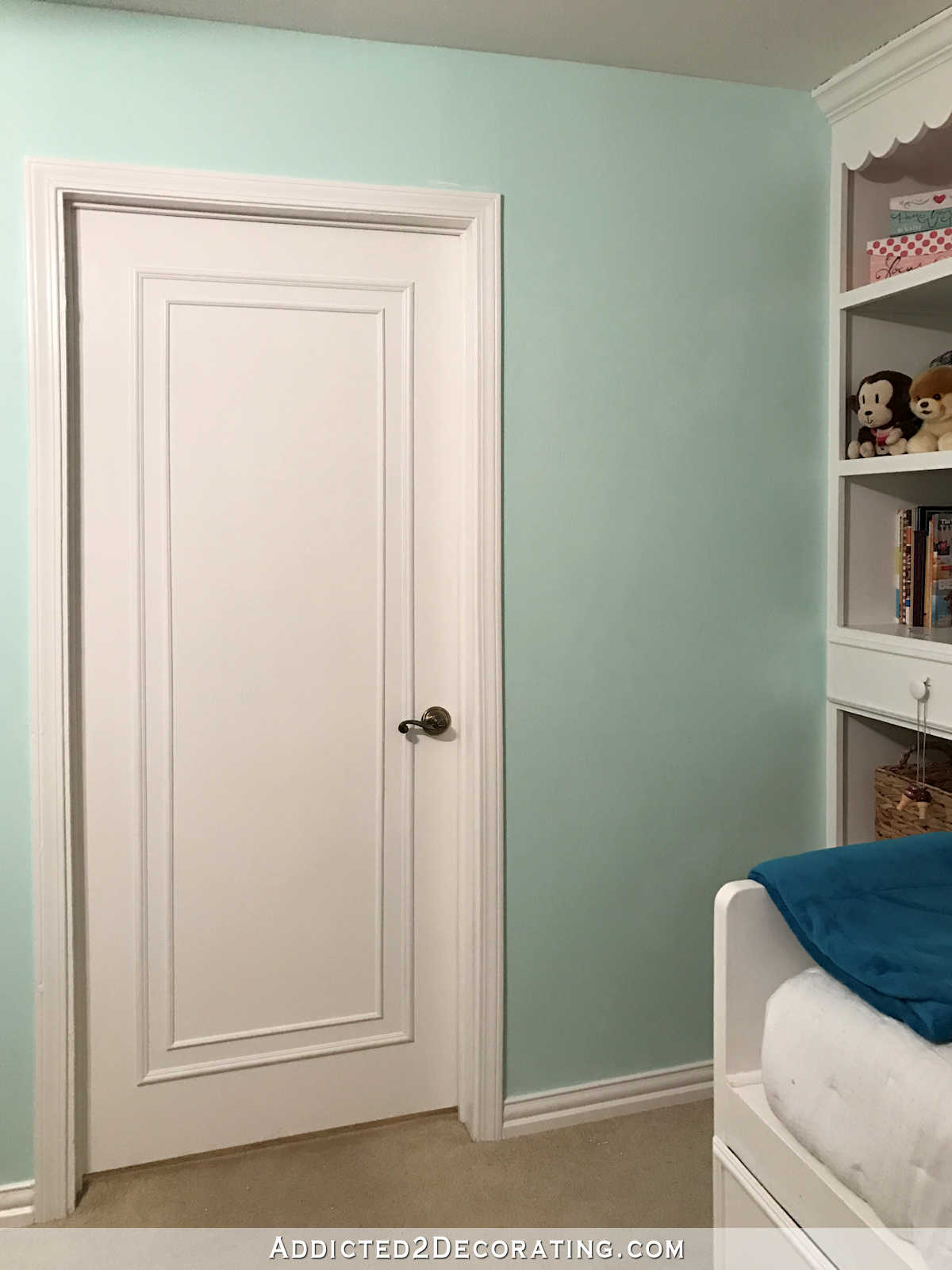 Almost did a shaker style like this, which would have coordinated with our Kitchen cabinets –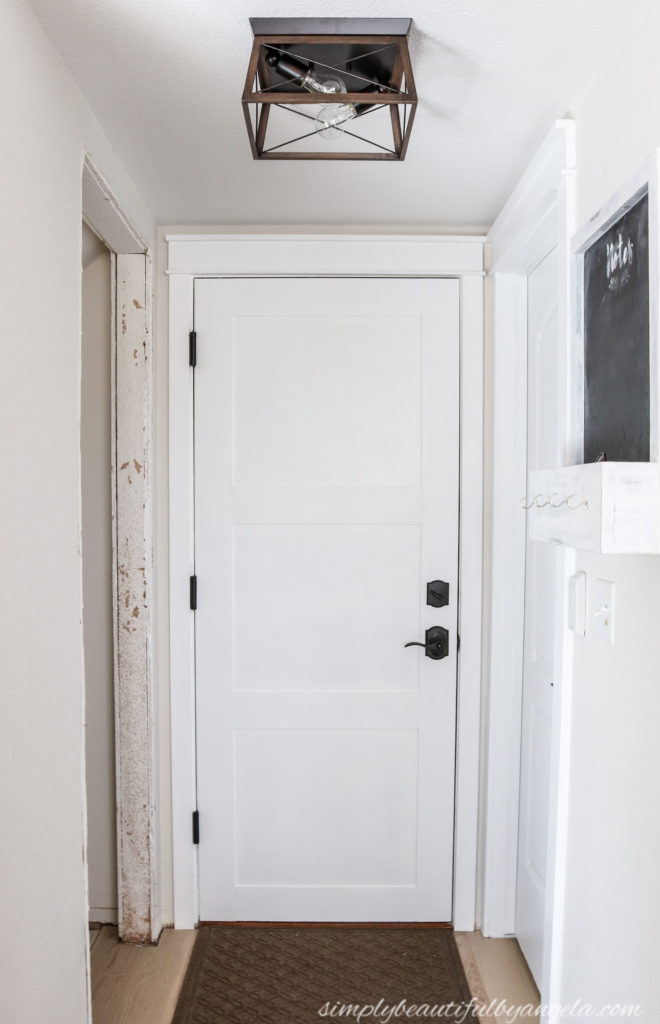 I just love how fun the color of this one is!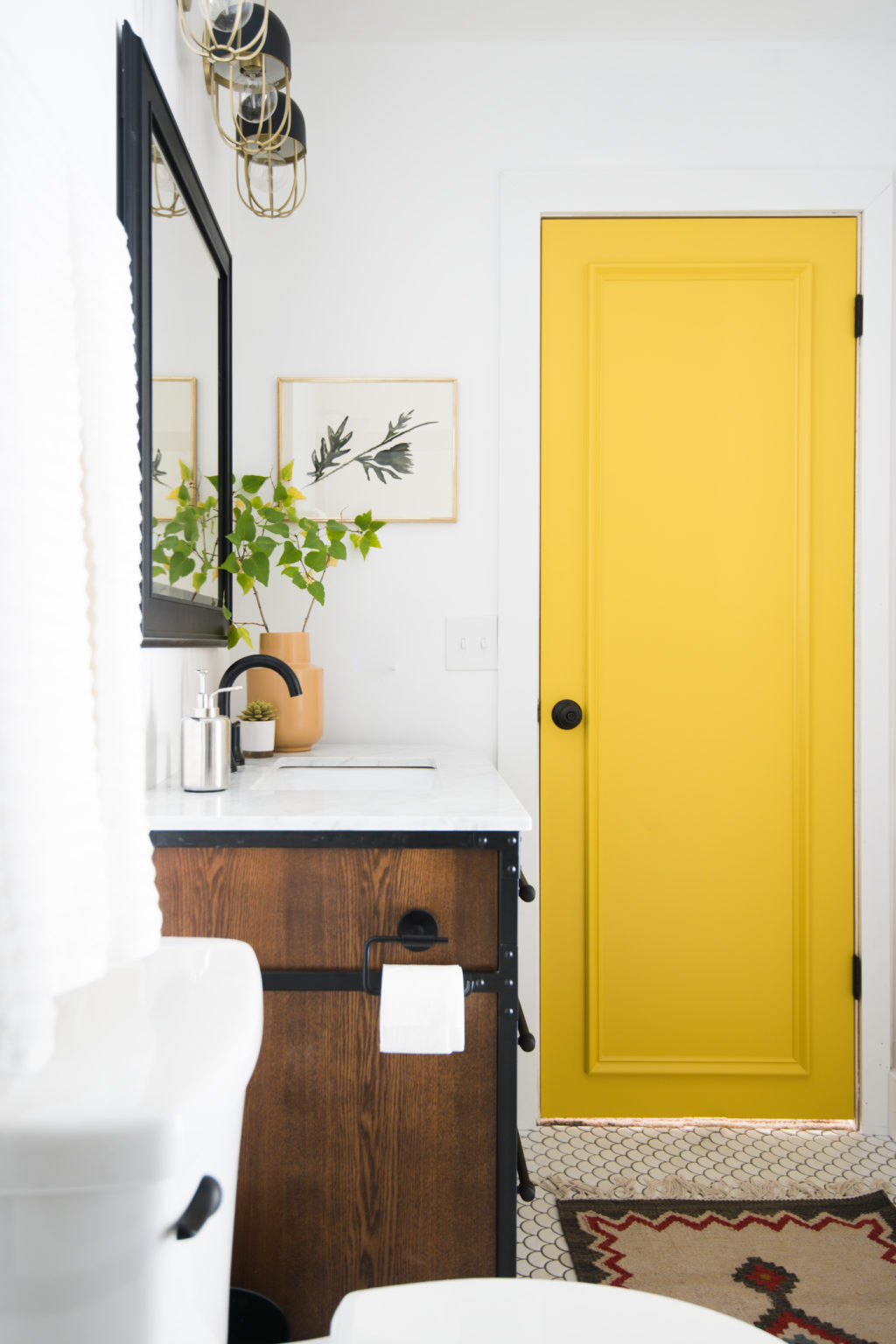 And this is the door that sold me! I love the look of the three panels. And we used their Gorilla Hot Glue tip and it worked so well!
How to Update Flat Panel Doors with Moulding
This project took some time for us to complete (mainly because of life and kids), but once you get going it really is a quick and easy project! And way cheaper than replacing the doors! I'd say we spent about $30/door (front and back) on the trim and paint, compared to about $150 a door to replace them. That saved us hundreds of dollars overall, because we had 7 doors to update upstairs, fronts and backs!
Materials:
Step 1 – Measure and Plan
Measuring and calculating how much trim we needed was the hardest part! We ended up drawing the lines on the doors to make sure we liked the layout and placement.
Almost every door we have is a different width, but we stuck to some basic rules, shown below, for the design. We purchased three 8′ long moulding pieces for each side of the door.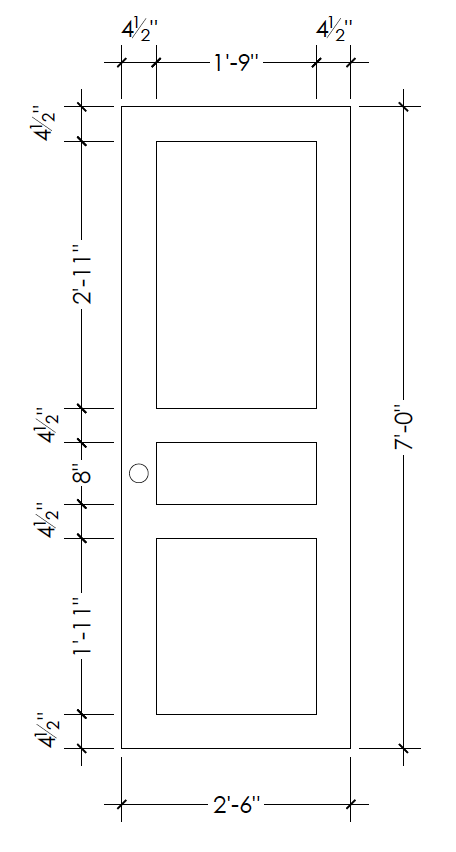 Step 2 – Cut Moulding to Size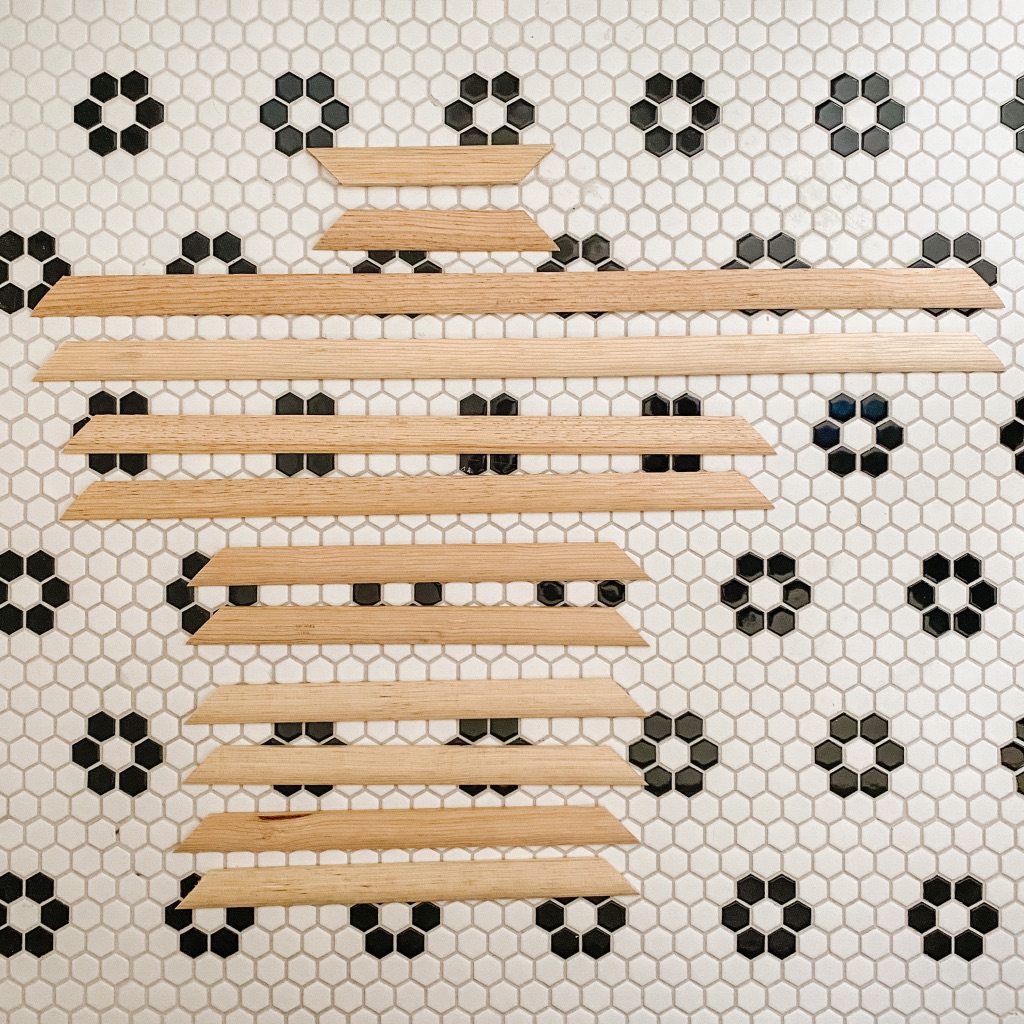 Because we drew the lines out on each door, we were able to measure each line before we cut the pieces of moulding, to make sure we had a perfect fit!
We used a miter saw to make 45 degree cuts. One tip that helped us make nice smooth cuts, was to go slow with the saw. And always make sure to align you saw to make the angle is correct!
Step 3 – Hot Glue Moulding To Door
This Gorilla Hot Glue is amazing! It was SO easy and fast to attach the boards to the door, and we've had no issues with any pieces coming loose!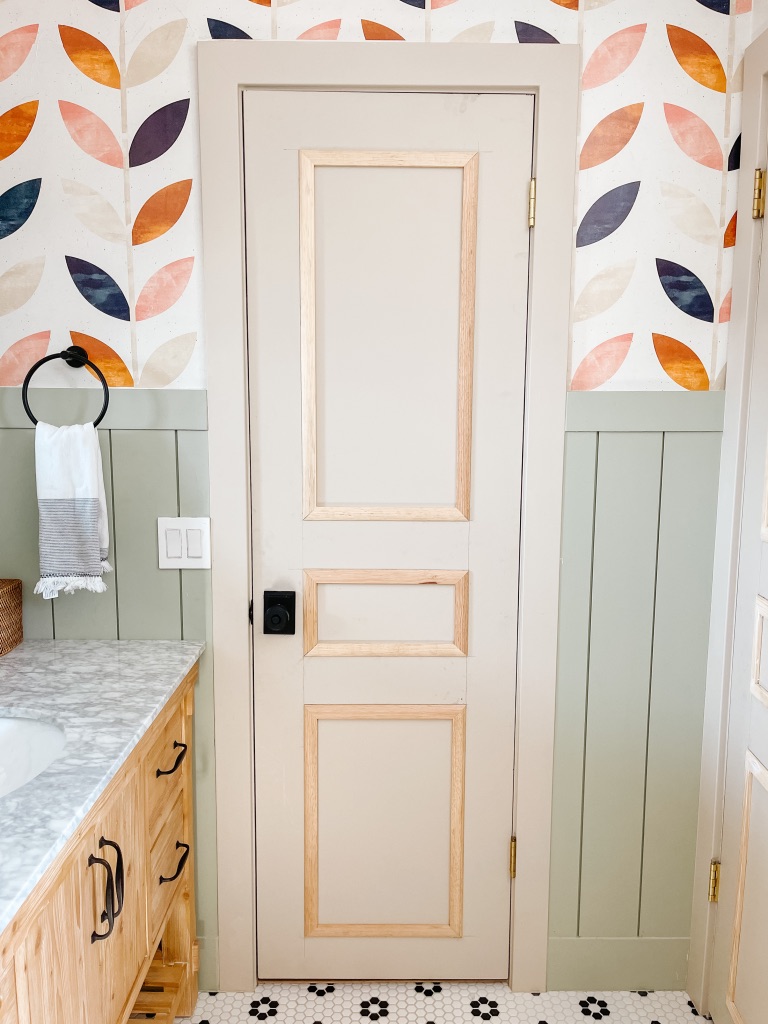 Step 4 – Sand Edges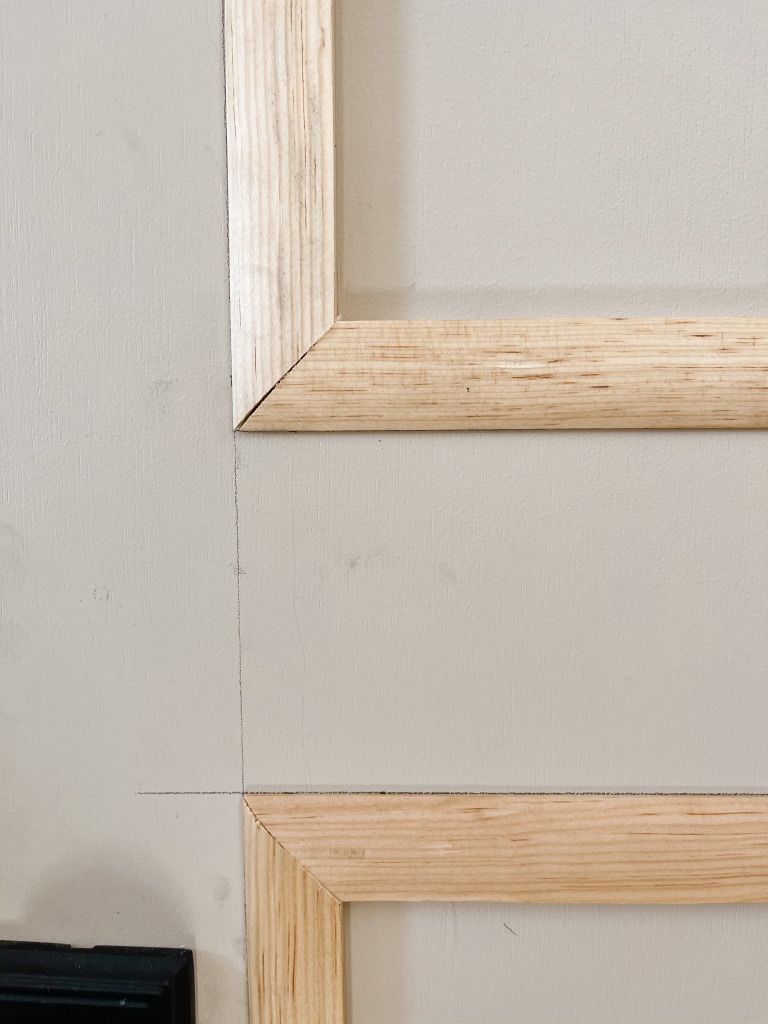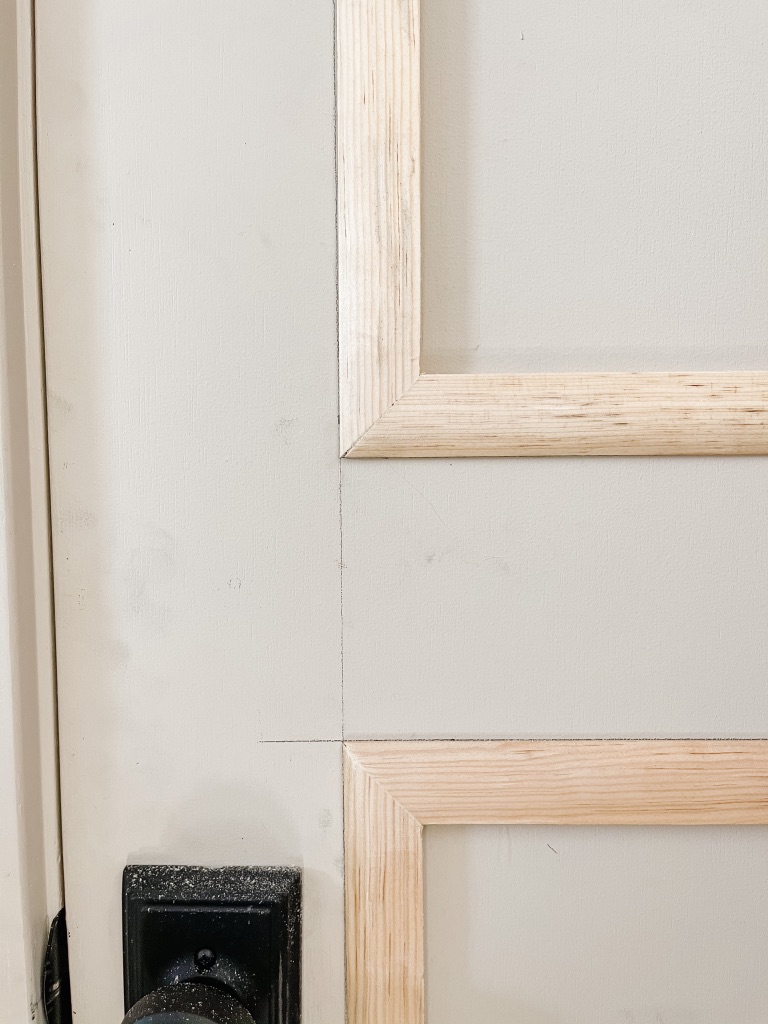 Lightly sand any rough spots or edges, and then clean up the dust with a vacuum or microfiber rag.
Step 5 – Spackle any Seams and Gaps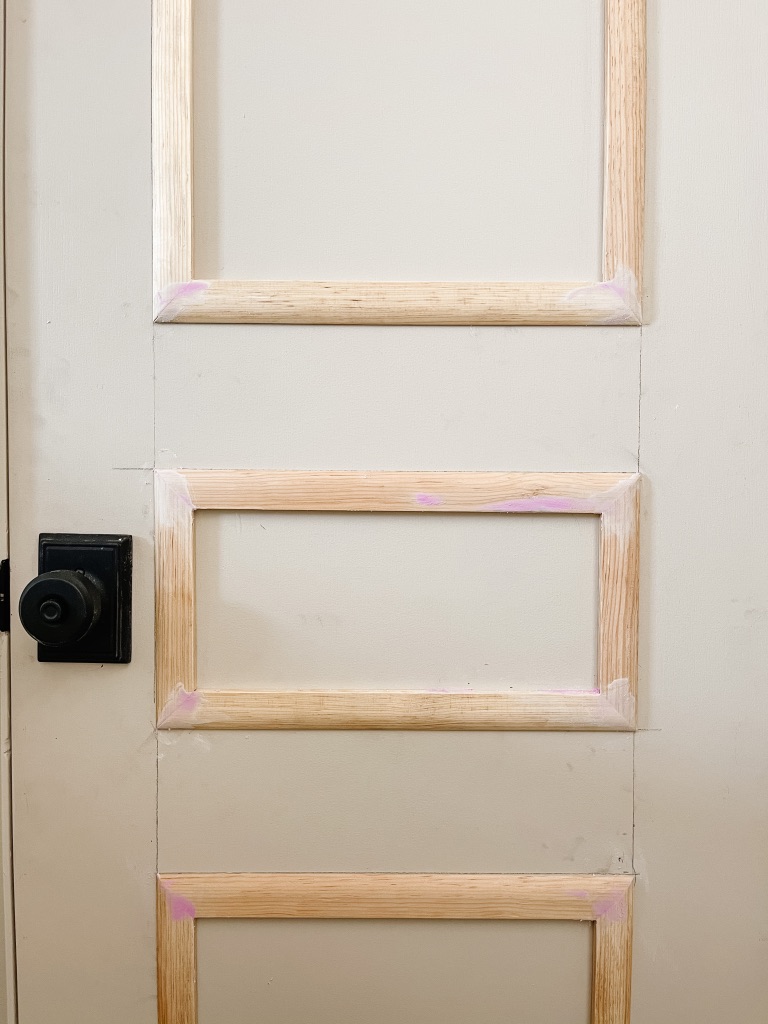 We used spackling to fill any gaps in the mitered corners. It works so well and isn't noticeable at all once everything is painted, so don't worry if your corners don't perfectly come together because this will fill any gaps!
Let the spackling dry (wait until it turns white) and then lightly sand it to smooth it out. Again vacuum or wipe off the dust before painting!
Step 6 – Caulk Edges
Use a clear paintable caulk to go around the edges of each piece, inside and outside. Use your finger to smooth and clean up the caulk line so there isn't too much.
Step 7 – Paint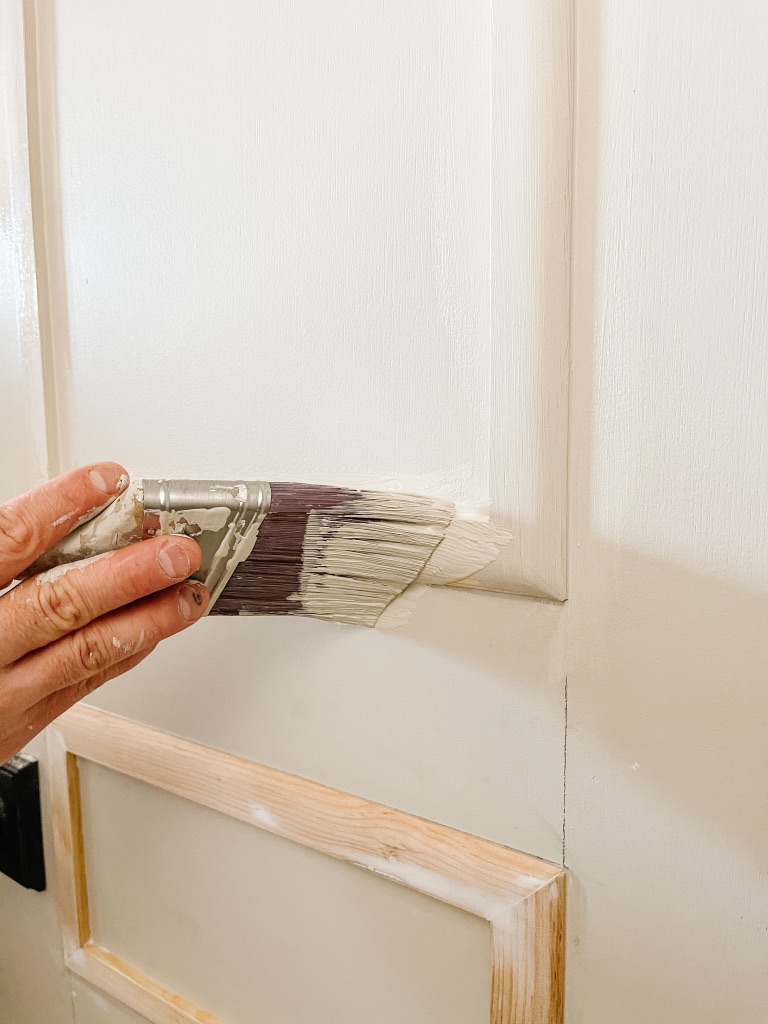 Once the caulk is dry, paint the door! We actually painted the doors before applying the moulding, and then touched it up once the moulding was done! That way you can use a roller to apply the paint to the door before the moulding is on…it's a little faster and easier!
The paint we chose for our trim and doors is Sherwin Williams Accessible Beige. I love the contrast of it against our walls, which are Sherwin Williams Alabaster.
We use the SW Emerald paint, which is low VOC, and is a paint/primer in one that provides excellent coverage!
We did not sand the doors before painting them and we've really had no issues with it. I'd definitely recommend saving your time and not sanding, unless your doors have a very glossy finish! I sanded all of the doors down at our last house, it took forever, and I don't think it helped the paint stick any better.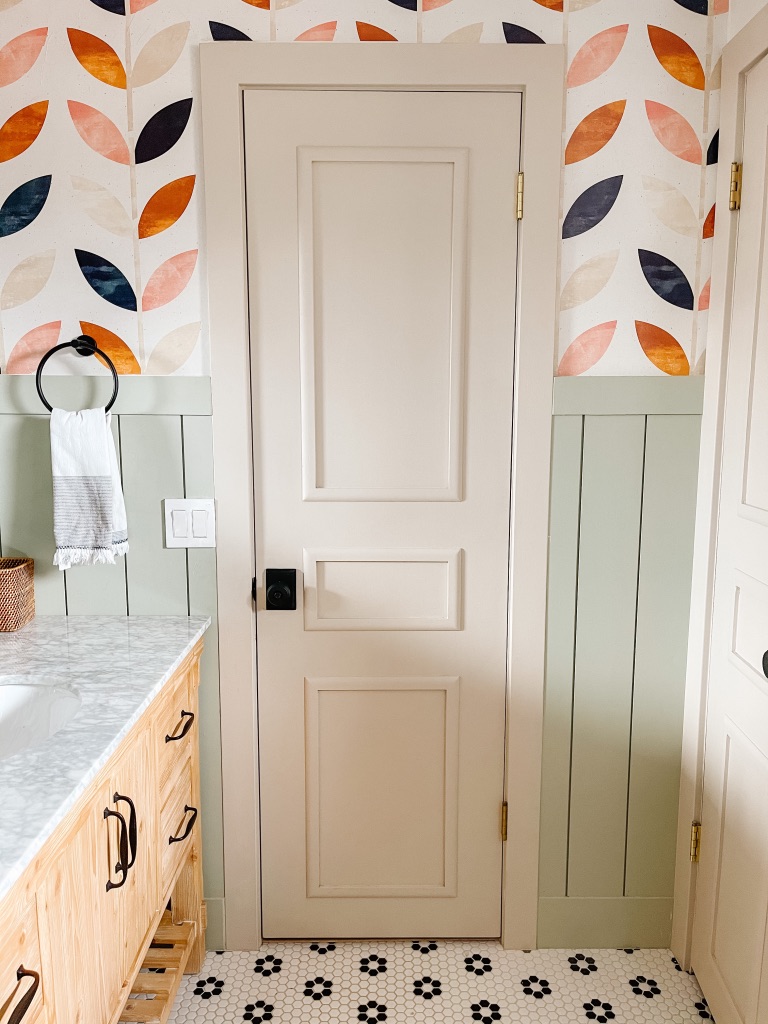 Replace the Door Hardware and Hinges
The last step to updating your flat panel doors, is to replace the door knob and hinges! This is another really easy way to take the doors to the next level!
There's a wide range of door knobs out there with prices from $20 each to over $100 each. We chose a more affordable door knob option from Amazon and are very happy with them!
I love how the square backplate works with the door moulding! I think the matte black finish is timeless and the contrast looks so pretty with the Accessible Beige paint. It also ties into other black accents throughout our house, like the Kitchen cabinet hardware and the stair railing.
Below are a few more Affordable Door Knob Options from Amazon!

Save Money By Updating Your Old Flat Panel Interior Doors!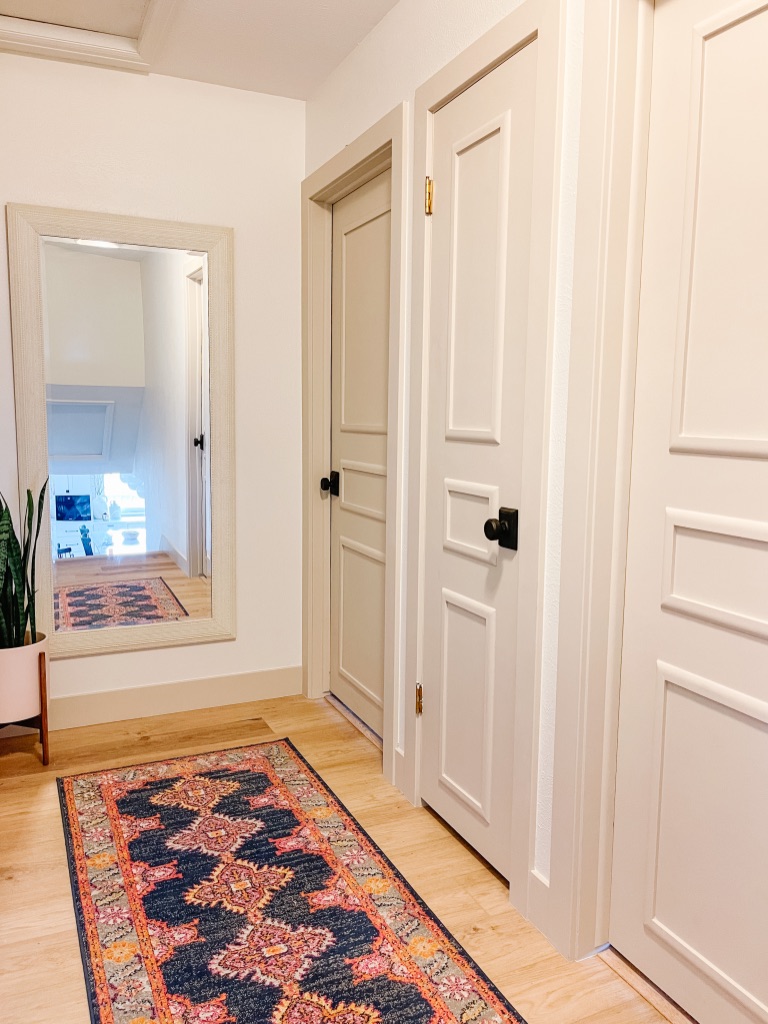 Overall I am SO happy that we decided to update our existing flat panel interior doors! We saved hundred of dollars by not purchasing new doors, and I really love the way they turned out!
Our hallway upstairs feels completely transformed! It's a small space, with 5 doors…so it really needed some sprucing up! This was the perfect way to update the whole feel of the hallway.
I'm actually a little bummed that we got rid of some of the main level doors now, because I would have just done this to those doors as well!
Let me know if you have any questions in the comments below!
This post detailed how to easily update flat panel doors on a budget!
More DIY Home Update Articles: