This post is sharing the best boho dining room area rugs of 2021 and an honest review of the popular Ruggable washable rugs!
I showed you all my dining room last month when I shared my new dining room table from World Market in my blog post all about Affordable Farmhouse Dining Tables! I included a boho dining table round up in that post as well! So make sure to check it out if you are wanting some affordable dining room table ideas!
This post contains affiliate links; see our Disclosure here.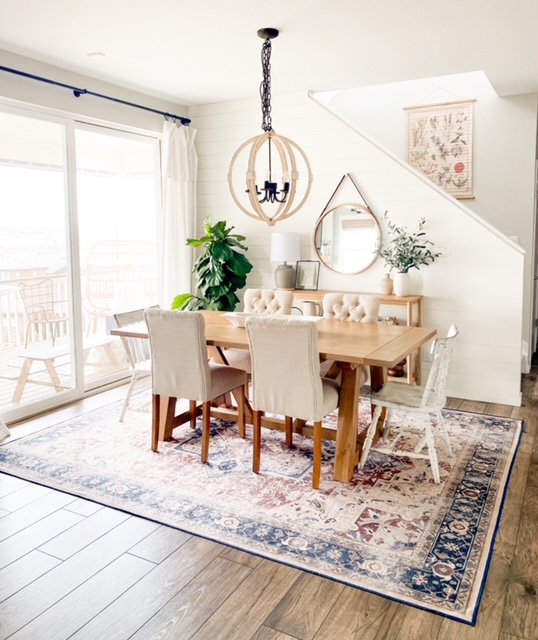 Today I am sharing my Ruggable area rug that I have under my dining table. I am excited to be giving my honest review after having my rug for about 6 months. I will also be sharing some affordable boho dining room rugs that would work in a living room, kitchen or entryway as well!
So what criteria did I use to determine if a rug was a good fit for under a dining room table?
First, low pile rug! You need something that crumbs will not get stuck in! Especially for those of us with young kids. But even if you don't have kids, low pile is always a must for a dining room. I mean, I still spill on myself too often at the age of 32 –ha!
Low pile makes a rug so much easier to clean! If you spill wine or spaghetti sauce it is much easier to get out of a rug that is low pile as the stain doesn't get stuck in the fibers.
Side note– get yourself a good little carpet cleaner for stains. I have this one from Target and it works so good! TMI… My dog once puked chocolate all over my couch and this cleaner got it out COMPLETLY! I couldn't believe it! Plus, its affordable.
Second, patterned rug! The reasoning behind getting a patterned rug is similar to the reasons you should get a low pile one. Stains! It is nearly impossible to see stains on a rug that has a pattern. A solid color rug will show everything.
Think of regular carpet around your home, can you see stains throughout it? That is mainly because it is a solid color (and probably also not low pile). Having a patterned rug hides so much! Which makes it perfect for under a dining room table where it will inevitably get spilled on.
Last, colorful rug! I only choose rugs with color because again, they hide stains. I love the look of an all white rug, but for most people that just isn't going to work for under a dining table. Save white rugs for places like a bedroom or possibly a living room or family room.
Best Rugs for a Dining Room
When looking at rugs I separated my favorite options into two categories, washable and non-washable. This also meant that the washable ones were more expensive and the non-washable were more budget friendly.
However, all of them can be found for under $400 for an 8×10 when bought on sale (and the non-washable ones are half that at below $200)!
My 7 Favorite Washable Dining Room Rugs
All of these rugs are from Ruggable, I have my review on how my Ruggable rug has held up below.
I love the idea behind Ruggable rugs because they are so easy to keep clean, which makes them perfect for a dining room! These would also all make great runners for a kitchen or entryway!
Click the pictures to shop:

This is the rug I chose for my dining room. I loved that it has a pop of color but it is also neutral enough to go with most home styles and decor.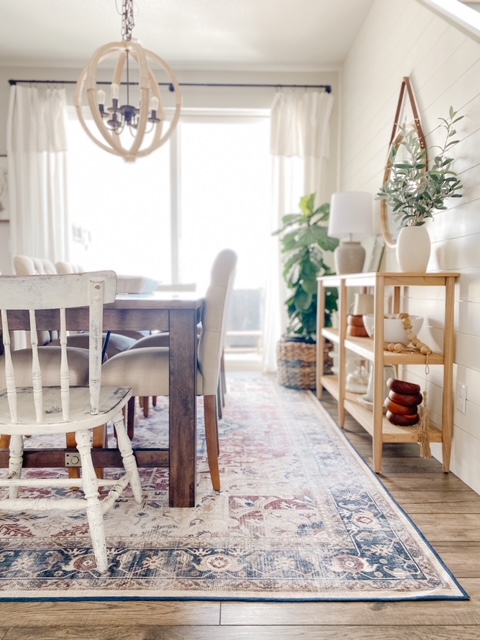 It goes perfectly against any type of wood. When I got it 6 months ago, I had a dark wood table (pictured above) and now I have a lighter wood table and it goes great with both!
I really loved the pattern of this one too. It hides spills so well!

This one is the exact same pattern as the one I chose, however it is the best neutral option! It would go perfect in a house that has more color on the walls or in the decor and furniture pieces because it wouldn't compete with it!
This was the other option I was really considering. I thought it would look so pretty against my lighter wood console table (and now I have that same color dining table as well).
Plus, it would look good in other rooms in my house as well. Sometimes I like to move my rugs around so I tend to choose rugs that would also look good in my living room incase I ever decide to switch them up!

I really love the color of this one! I like that the colors are softer and more muted. It would be gorgeous in any dining room with a lighter colored wood table and white walls.
I have actually really considered getting this one for my living room next!

I really loved this one for a more moody option! The navy throughout this rug is such a pretty shade of blue. This one would be amazing at hiding all types of spills and dirt – perfect for a family with lots of kiddos!

I love that this one is super neutral, but also bold because of the pattern and how dark it is! This would look gorgeous in a living room too where the design would be seen fully!

Not sure why the picture is so small on this one! Click the picture to see it larger and closer up!
But, this is the perfect option for those that like a white or light colored rug. It has enough variation in color that it would still hide spills well. However, I love that it would also brighten up a darker space because it is so light!
This rug would be the perfect fit under a darker wood farmhouse table!

This is the rug that Rachel has in her kitchen, which you can see in her post about How To Style A Kitchen Like A Designer.
I love the colors in this rug! They are light enough to not dominate a room, but add just a touch of color!
The pattern on this one is also super forgiving when spilled on. Rach has hers as a runner in her kitchen and it has had a ton of traffic and (I'm sure) plenty of spills and splatters as well – it still looks so gorgeous in her kitchen!
My 7 Favorite Non-Washable Dining Room Rugs
My favorite thing about all of these rugs is that the pattern is printed onto the rug! That means that they are super low pile and easy to clean. They also hold up really well in high traffic areas!
These rugs are all super budget friendly. If you are on a tight budget than these are the rugs for you!
Click the pictures to shop:

This is the rug I have had as a runner in my kitchen for over a year now! It is absolutely gorgeous in person!
It is low pile so very easy to clean off spills. Plus the colors are beautiful and go with every season! It really pops against my all white kitchen!
I highly recommend this rug for anyone with a neutral dining room – especially one with white walls!

The colors in this rug are so gorgeous! I love that it's not solid and has some faded spots. That makes it a great rug for high traffic areas as well as areas that may get a lot of spills!
This rug caught my eye because I love the different colors throughout it. The blue and rust go so well together by adding some color while also staying muted and neutral!

This one is by far my favorite neutral option. It would go well in almost any space!
I love that it has both warmer and cooler undertones so it would go perfect in a house with gray or beige walls.

This is the rug Rachel has in her living room. It is absolutely gorgeous in real life!
The mixture of colors in this one are stunning. If you like a pop of color then I highly recommend this rug! It would also pair perfectly with a lighter color boho dining room table!

The pattern on this one is so beautiful. It is a soft pattern so it is easy to use in any room and decor style!
This one would be perfect paired with a dark wood table! This rug would allow the dark wood table to pop and wouldn't compete with it.

This rug is a boho lovers dream! The main color is that gorgeous rust which pairs perfectly with light wood furniture.
I also love that it doesn't have other bright colors throughout. Just rust and neutral colors!
The boarder on this one really grabs my eye as well! Looks so high end but it is such a good price.

I love this rug because its similar to the neutral one I posted above but its a little darker! A darker colored dining room rug is always better when you have kids in the house.
This rug would go perfectly with both farmhouse and boho style! Which are the two styles I always fall between.
Ruggable Review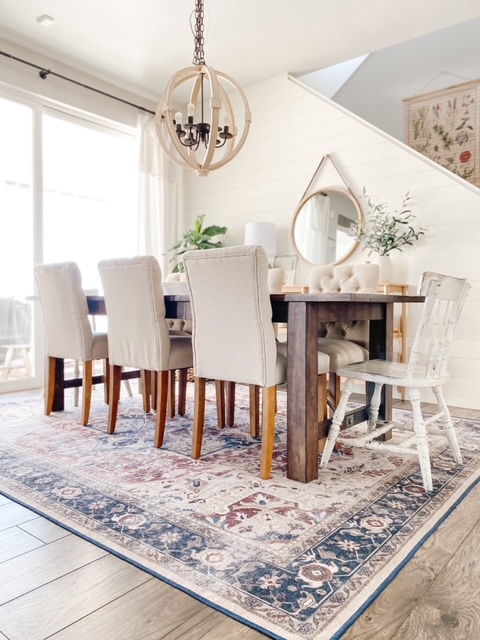 Ruggable did not pay me to do this post. They gifted me a rug over 6 months ago and these are my honest thoughts.
So far I absolutely love my Ruggable rug! It is so easy to spot clean!
I actually haven't even had to wash it in the washing machine yet because it is so easy to spot clean! Plus, it is super stain resistant so the most I have had to do is wipe a spill up with water.
It is much softer than I had thought it would be and super low pile.
I have the thinner rug pad and it's perfect for under a dining room table. It would also be perfect for an entryway or kitchen runner. However, I would get the ticker pad if you are using it in a living room!
The edges and corners have laid flat the entire time I have owned it, and I even have a robot vacuum that goes over it a few times a week!
Overall, I am super happy with my Ruggable rug! I will absolutely be purchasing another one for my entryway here in the next few months!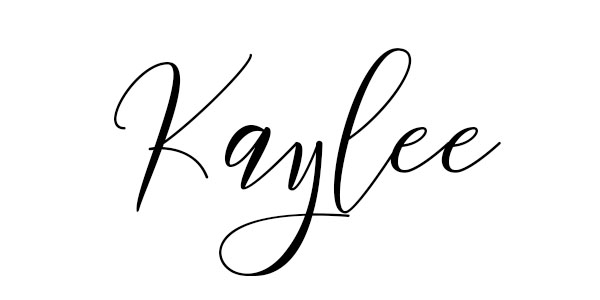 ---
Shop This Post:

---
Other related posts that you may be interest in:
This post shared the 14 best Boho dining room area rugs of 2021 and a review of Ruggable washable area rugs!