In this post I am sharing helpful tips and tricks for How to Prepare for your Newborn Photography Session!
Baby girl is here, and we couldn't be more in love!
It was a relatively easy pregnancy and delivery (exactly opposite of my first born) and I am so thankful! Baby girl and I are healthy and figuring out this new life as a family of four.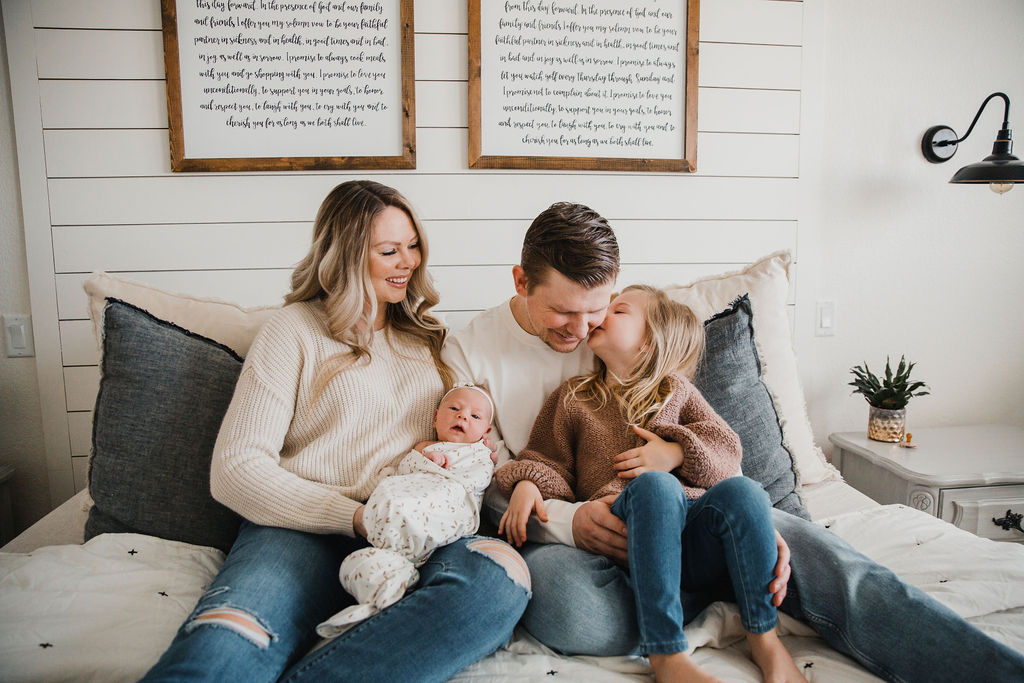 Newborn Pictures
This first month has been a whirlwind. We had completely forgotten what it was like to have a newborn!
The lack of sleep, feeding constantly and this time also having another child to give attention too. I feel like we are finally coming out of the fog and getting into a new routine.
We actually waited a month to get newborn pictures done this time. For us, that was definitely the right decision!
There is no "right" time to get newborn pictures taken, just whenever you feel ready!
This post contains affiliate links; see our Disclosure here.
We were so lucky to work with the incredibly talented Amy Lacy for our newborn pictures!
Today I am going to be sharing some of Amy's and my biggest newborn photography tips on how to get your house and yourself ready for a newborn shoot.
As with all new moms, keeping your house clean and running like normal after having a baby is just not possible.
These tips will hopefully make you feel less stressed about getting newborn photos done in your home!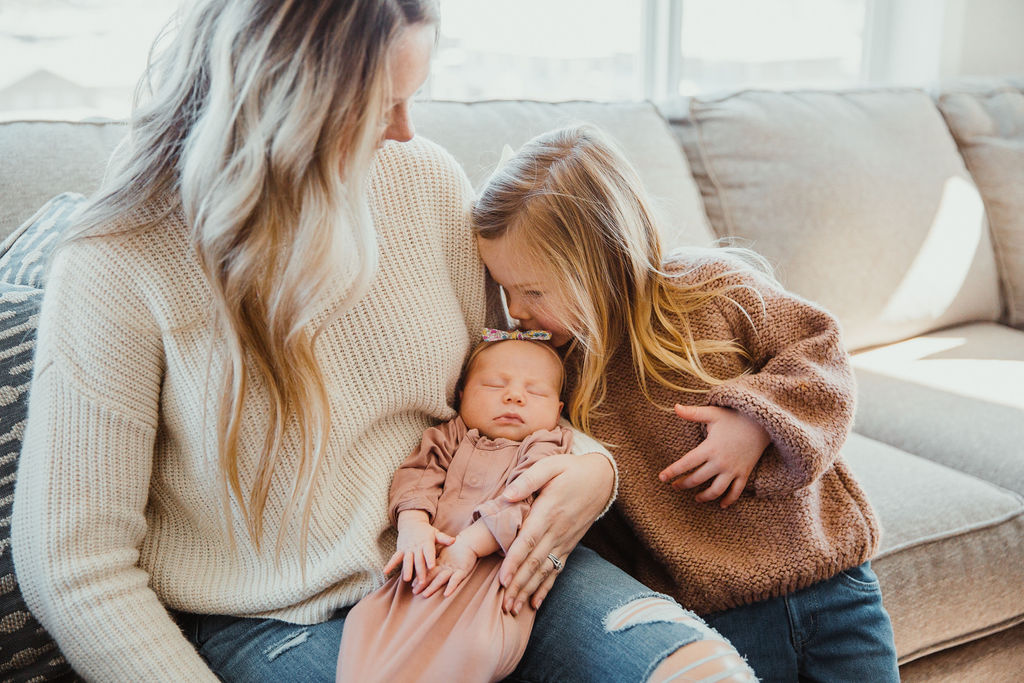 Amy is super knowledgeable when it comes to newborn photoshoots.
She is actually super talented when it comes to all photography, you should see the wedding's she has shot! Makes me want to get married all over again – haha! But I digress, that's for another day! Back to newborn photography!
Getting her insight was so helpful to me before my newborn shoot! I was so thankful that she shared these tips with me because it allowed me to prepare for the shoot before baby girl had even arrived.
That way, once baby girl was here all I had to do was figure out a time that would work best for Amy to come over. All of the other things were taken care of! Well most of it anyways, I did forget a couple things. I am blaming pregnancy brain-haha!
However, I was mostly prepared and definitely felt less stressed because of her newborn photography tips and preparing ahead of time!
Newborn Photography Tips
Environment:
Talk with your photographer about your favorite rooms and include details on what direction the windows face.

Most lifestyle photographers depend on natural light and avoid using strobes as it's hard to make them look natural.
If your house has mostly east facing windows with mature trees surrounding the house, they may decide to bring strobes to help to bring more light into the rooms.
This will also mean that your photographer may need to be there longer than her usual time because they take time to set up and test.
It's helpful to discuss these things together in advance to promote a smooth shoot.

Before your photographer arrives, remove clutter in the rooms that you discussed shooting in.

The most common items are phone cords, tissue boxes, dog beds, fans, items sticking out from under the bed or dressers and books on night stands.

Only worry about tidying up the rooms you plan to take pictures in.

Photographers don't expect a perfectly clean house. You just had a baby!

Turn on a sound machine in the room that you're shooting in to promote a calm environment for the baby.

Most newborn photographers come prepared with an app on their phone for that as well, but it doesn't hurt to be prepared!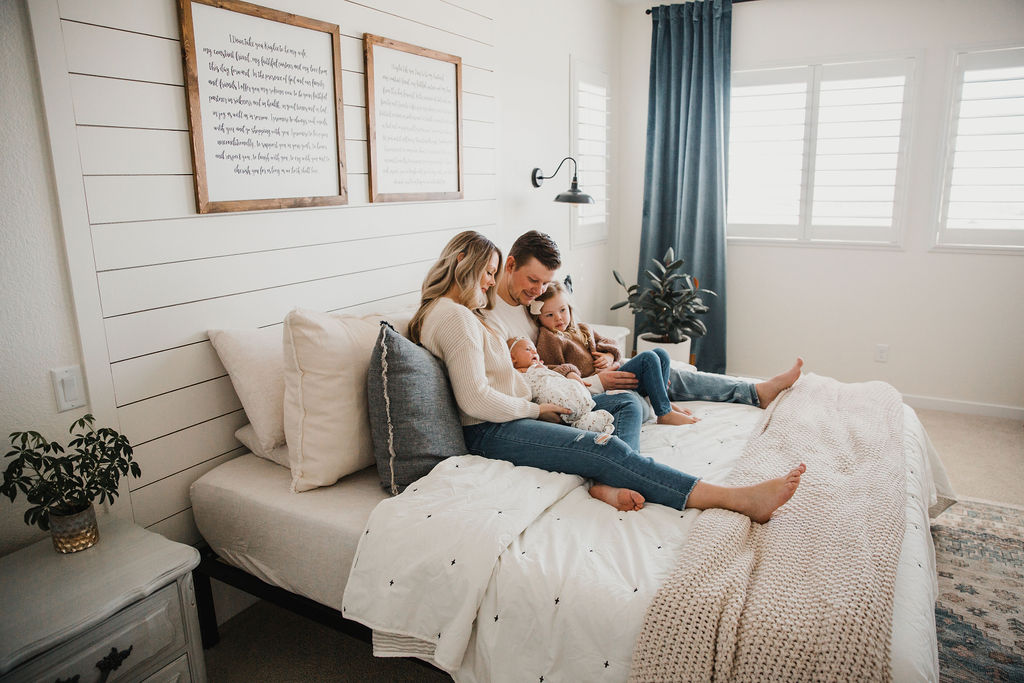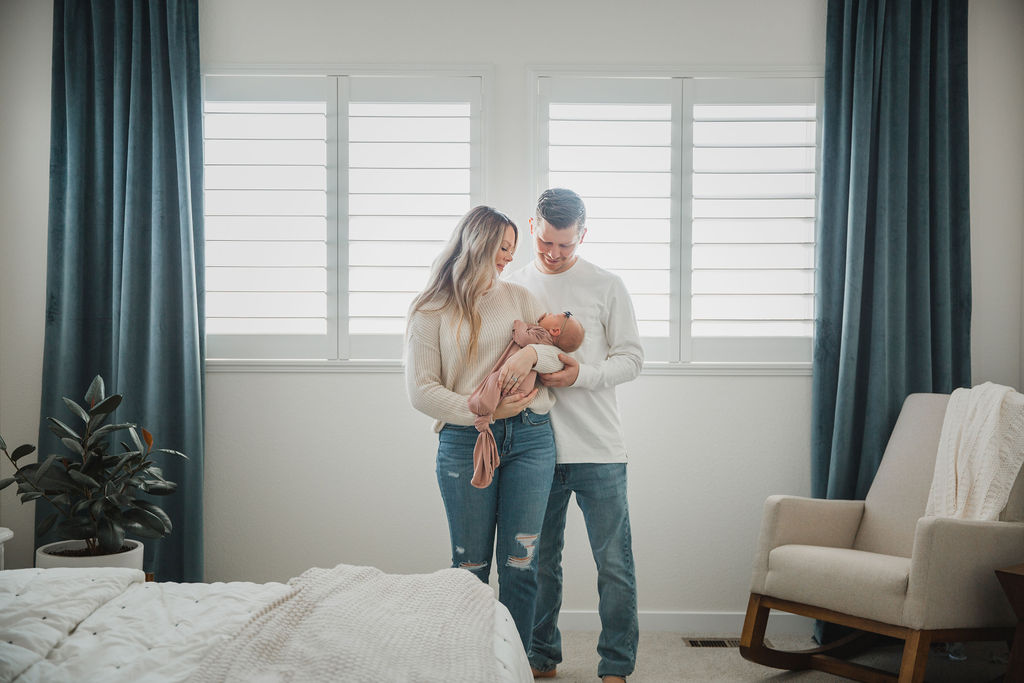 Wardrobe:
Mama should wear loose clothing.

The last thing the photographer wants is for a photo to not make the frames because the new mom "forgot" to suck in her tummy (because every mama has a tummy post baby and you don't need to think about it for a second).
I recommend loose t-shirts or sweaters, empire waist dresses or even a white button down paired with jeans can look super classy and chill.

Barefoot all the way!

Even for dads (which they typically don't like, men are weird about their feet).

Bloomers or bike shorts under dresses for little girls so no panties show.

The first thing they do when they lay on the bed with the new baby is throw their legs up.

Wear desaturated colors. Newborn photography is prettiest when it's light and saturated colors can really take away from that.

When planning our outfits I made sure that all the colors flowed and that we only had 3 colors we were working with.
I also made sure that they would go well with the rooms we were shooting in!
We chose white, dusty rose pink and jeans. I put my husband and I in white so that when we were holding the baby we didn't stand out.

Most of the photos will be of the baby naked and swaddled, so have a few swaddles ready to go.

Avoid bold patterns and colors on the swaddle.

Before the photographer arrives: change the babies diaper, get them naked and swaddled and feed them. It's best to start with them like that!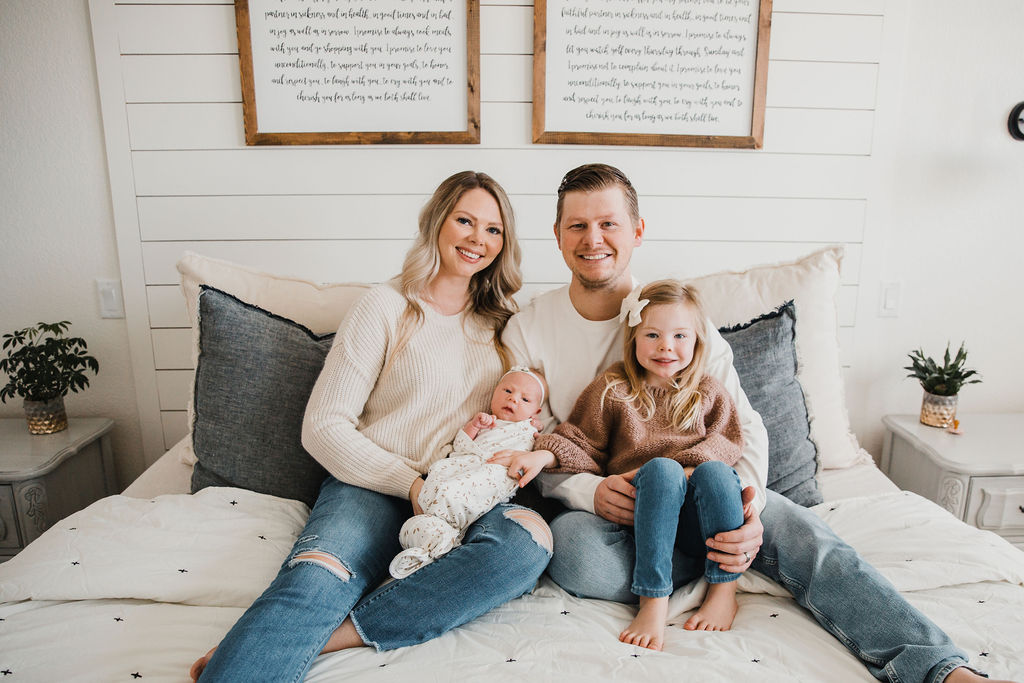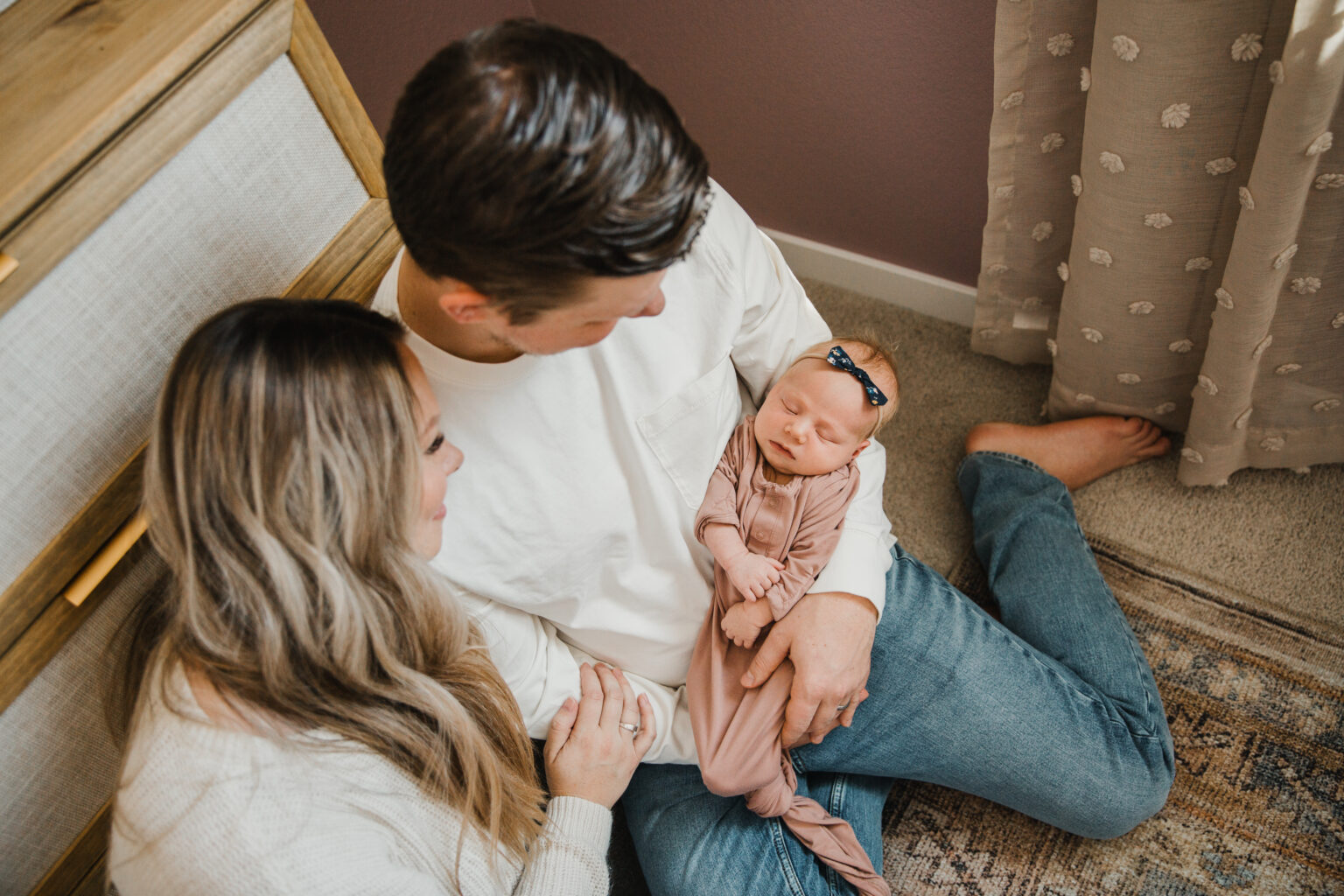 Expectations For Newborn Shoot:
Know that if there is ever a time where your children will act up, it will be during your newborn photos.

Know that it's an adjustment for them to have siblings so approach the session with a lot of grace for them.
Try to get the sibling shots done in the first 15 minutes, then put them in front of a movie with a snack. Make it fun for them!

Invite grandma over (or another family member or friend) to help get smiles.

They can also be in charge of movie hour and getting lunch ready for everyone during newborn photos. Your "thank you" can be giving them a few great shots with the baby while they are there!

If there is something that you are self conscious about, communicate that with your photographer at your shoot.

They will pay extra attention to those things as they shoot to make it as aligned to your preferences as possible.

Most newborn photographers will "clean up" skin as babies have acne, dry spots and little red patches when they are new.

If there is an item on their face that is permanent and you don't want removed, communicate that to your photographer.
Most assume that character traits to the skin are temporary and will default to removing them. It is never the photographers intention to alter how they are–because they are perfect in every way!

Also set the bar low for the sleeping baby photos.

If those are really important to you, try to schedule your shoot less than a week after the baby comes home.
Otherwise, know that your photographer will do their best to stick around for them but they may not be able to capture them if the baby is super stimulated by the clicking sound of the camera or the bustle of the day!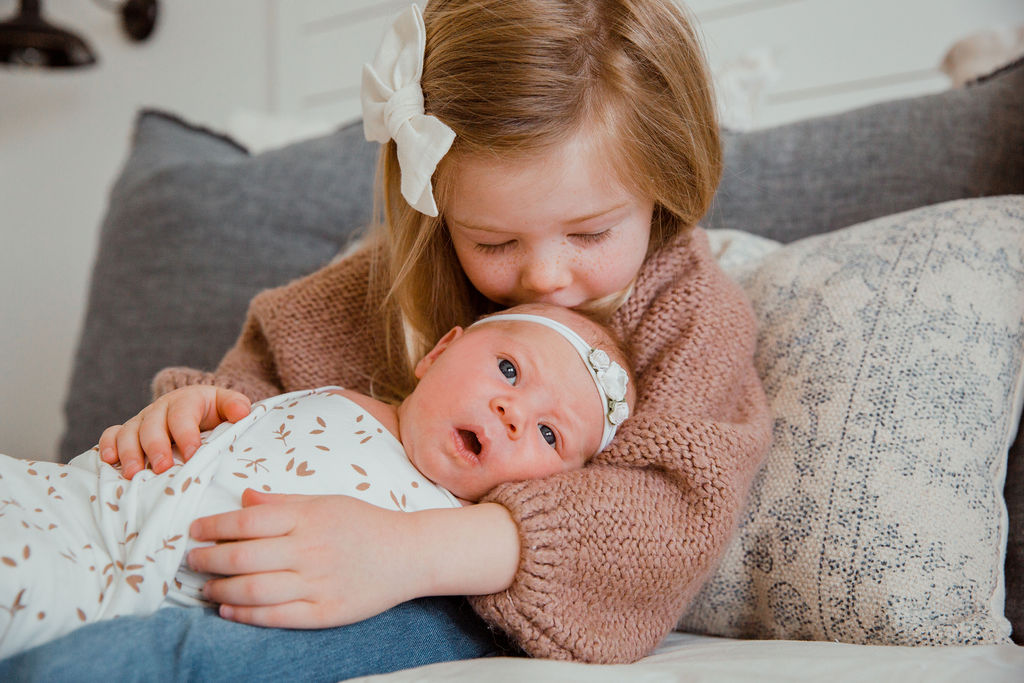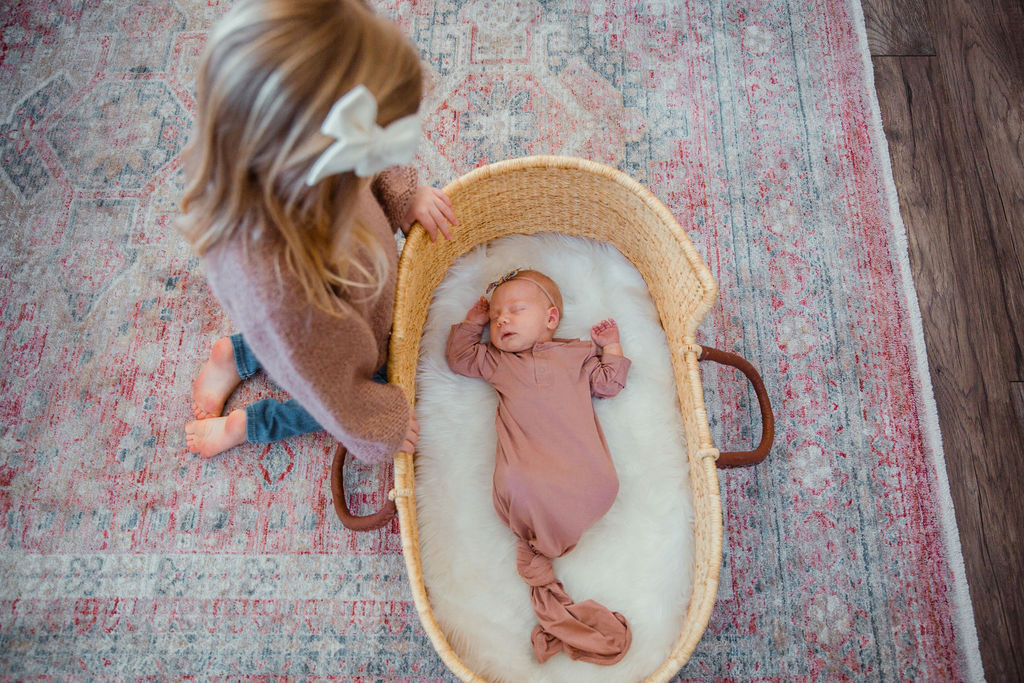 If capturing your newborn baby sleeping is really important to you, try to schedule your shoot less than a week after the baby comes home!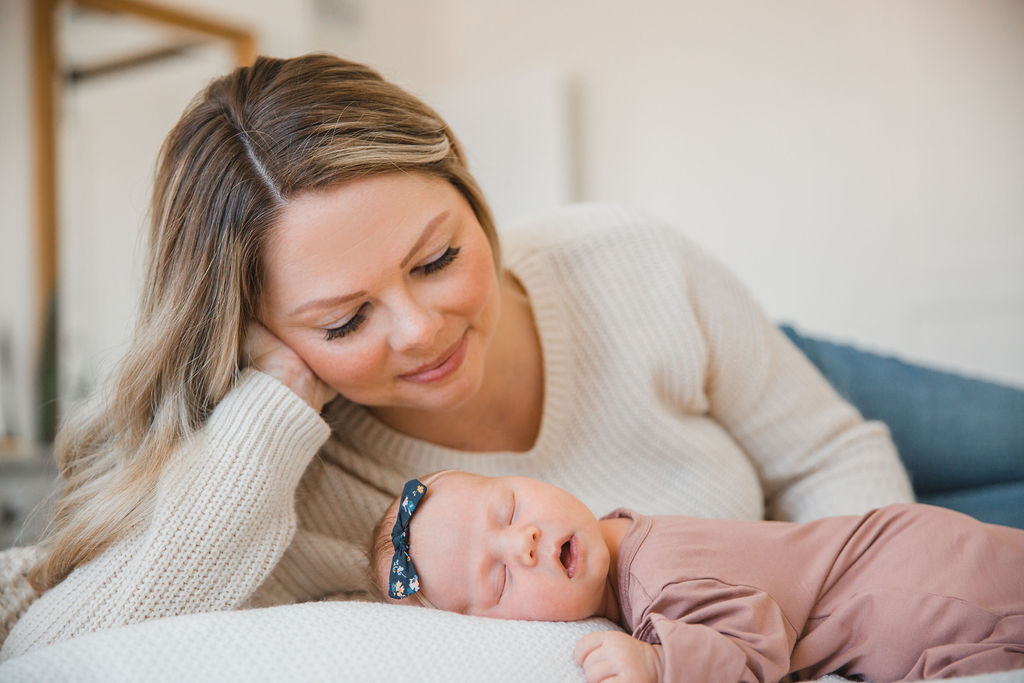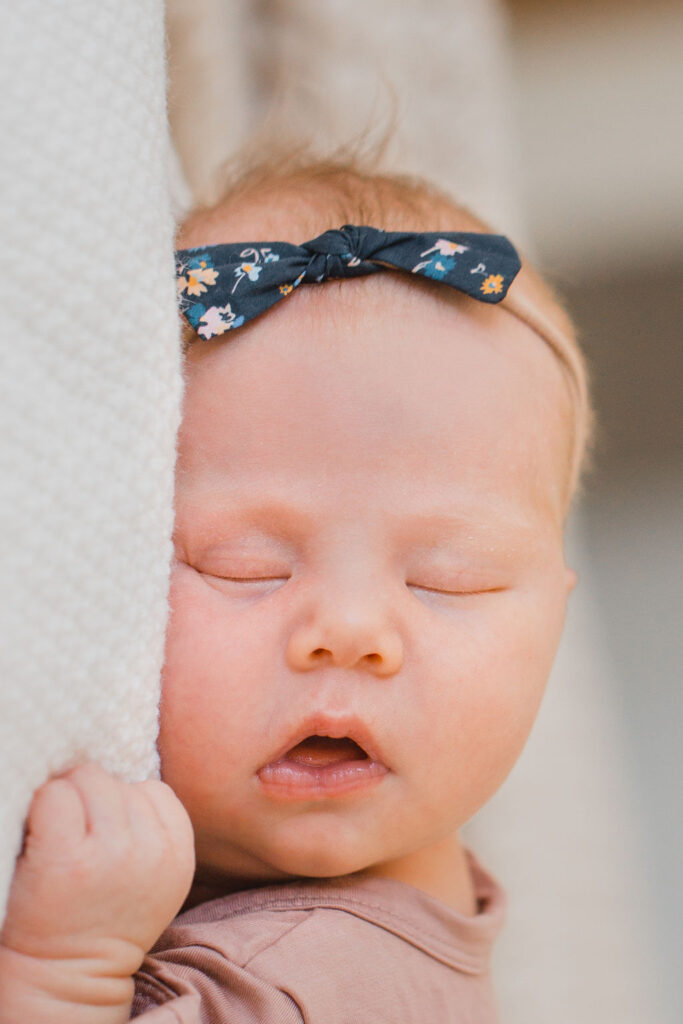 Picking the Right Newborn Photographer
Another newborn photography tip that I would personally like to add is that finding the right newborn photographer for your family is so important!
That will look different for everyone. However, I will share the things I think are most important to look for.
Photo Editing:
Make sure you look at the photographers portfolio, website and social media pages to see their editing style!
Every photographer will look a little different. You have to find one that matches the style you like best!
For me I really like white and bright photos. They go with my house and look perfect in my gallery wall. Amy fit that style perfectly!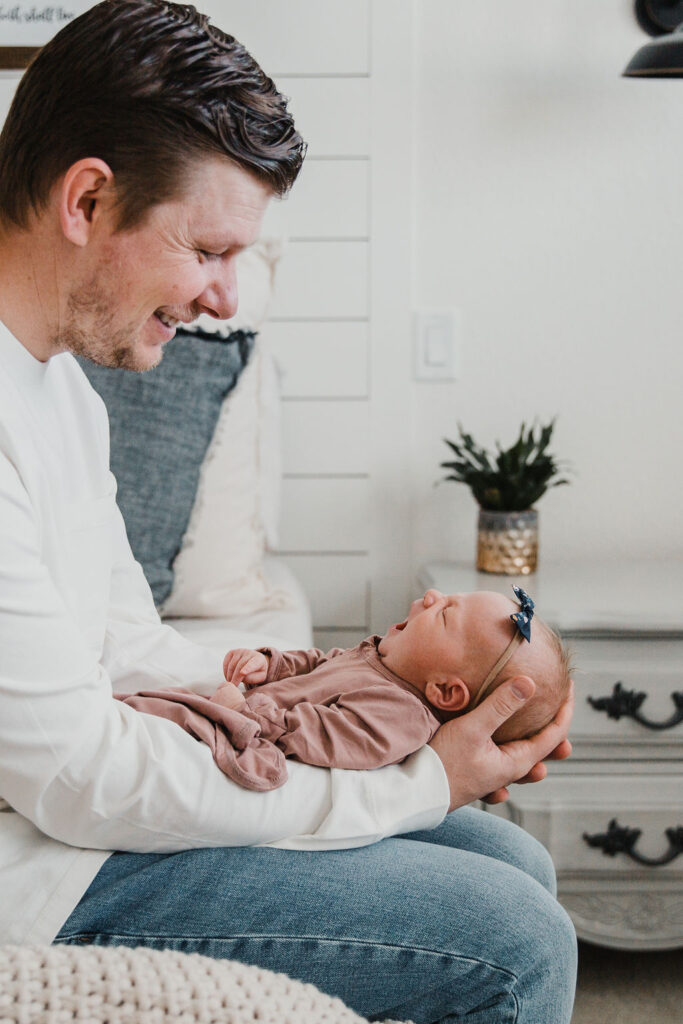 Pricing and Photography Packages:
Be sure to check out the photographers packages and what all is included in them.
Many photographers will have difference levels of newborn photography packages that they offer.
Be sure to choose the one that makes the most sense for your budget but also the one that includes everything you are expecting to get from a photo shoot.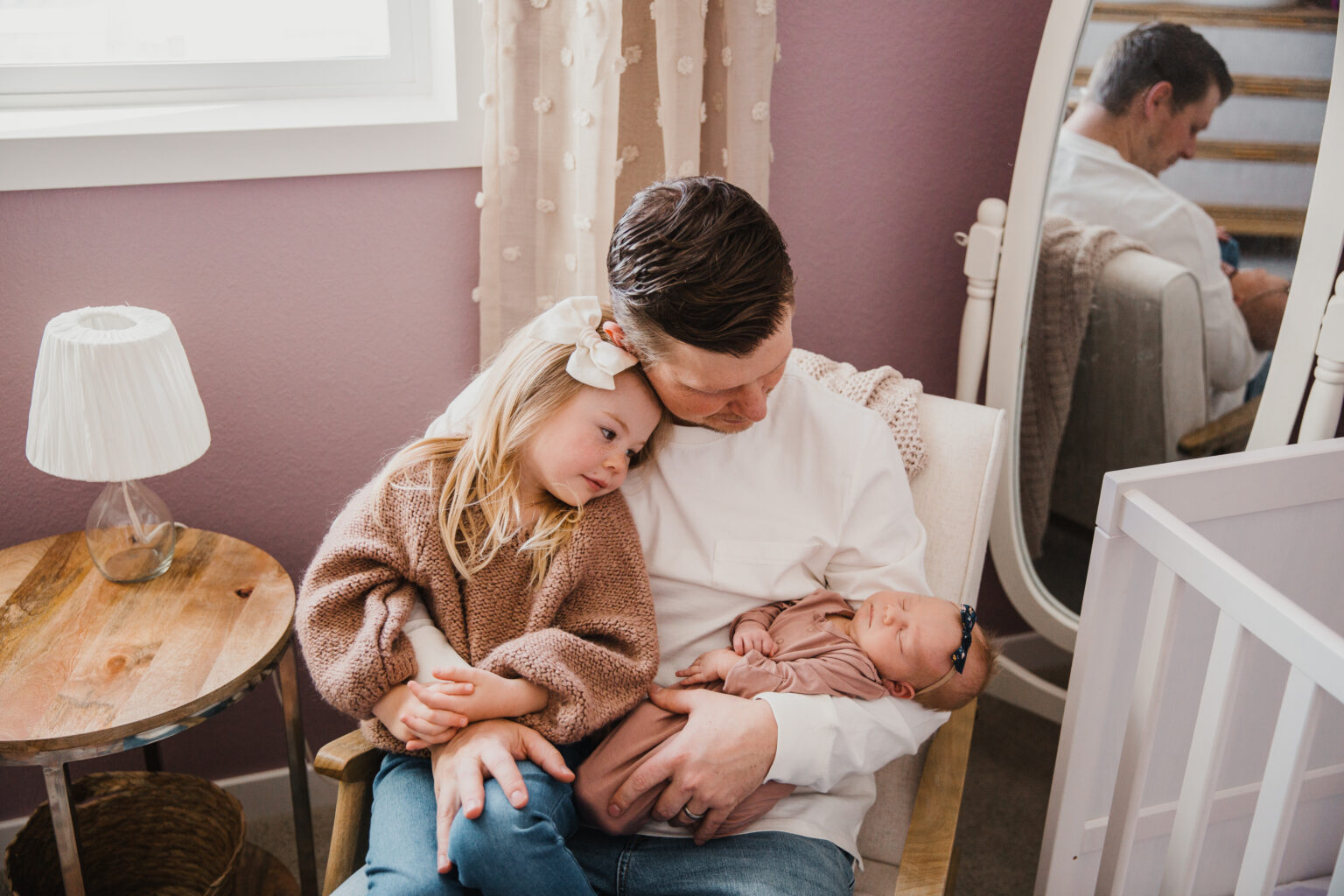 For example: if you are wanting a certain number of pictures from the photographer that will decide which package and pricing.
I personally like more than 20-30 images with any shoot we do. So I always opt to pay a little more to get more images! It is always worth it in my opinion!
Be sure to discuss this with the photographer you are looking into for your newborn shoot!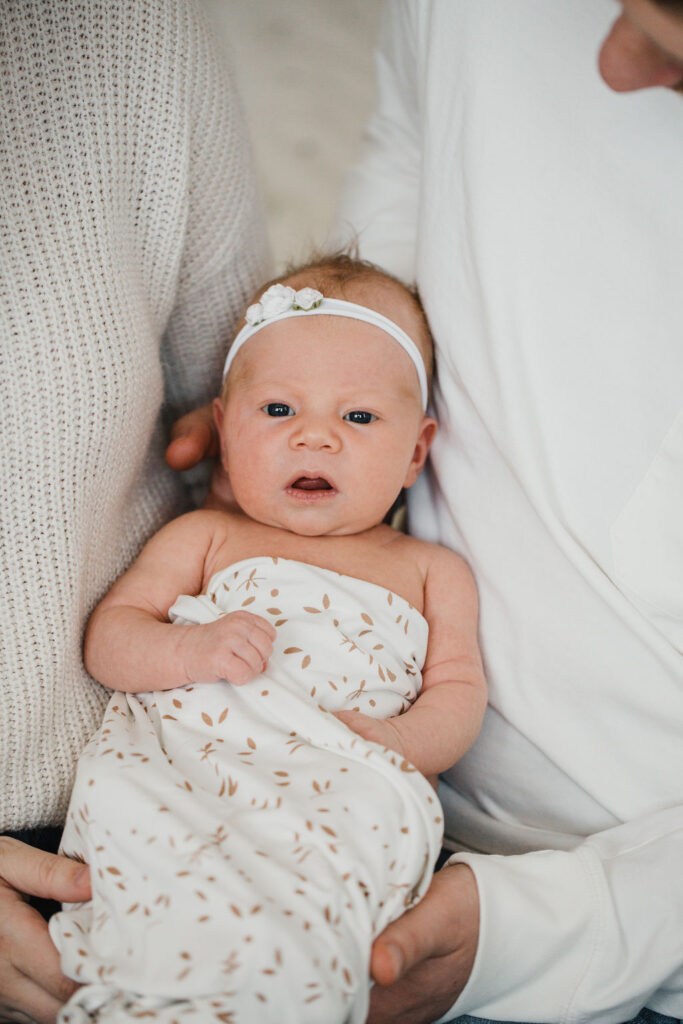 Photographer Personality:
If the photographer is someone you have never met before, I highly recommend chatting on the phone before deciding if it is the right fit! A quick call to chat about the photoshoot and asking a couple questions can tell you a lot about their personality and if flows with yours!
Since newborn photo shoots are hours long and in a close setting it is important that you and your family feel comfortable! Not only that, but they are in your home! So you want to make sure it is a good fit personality wise!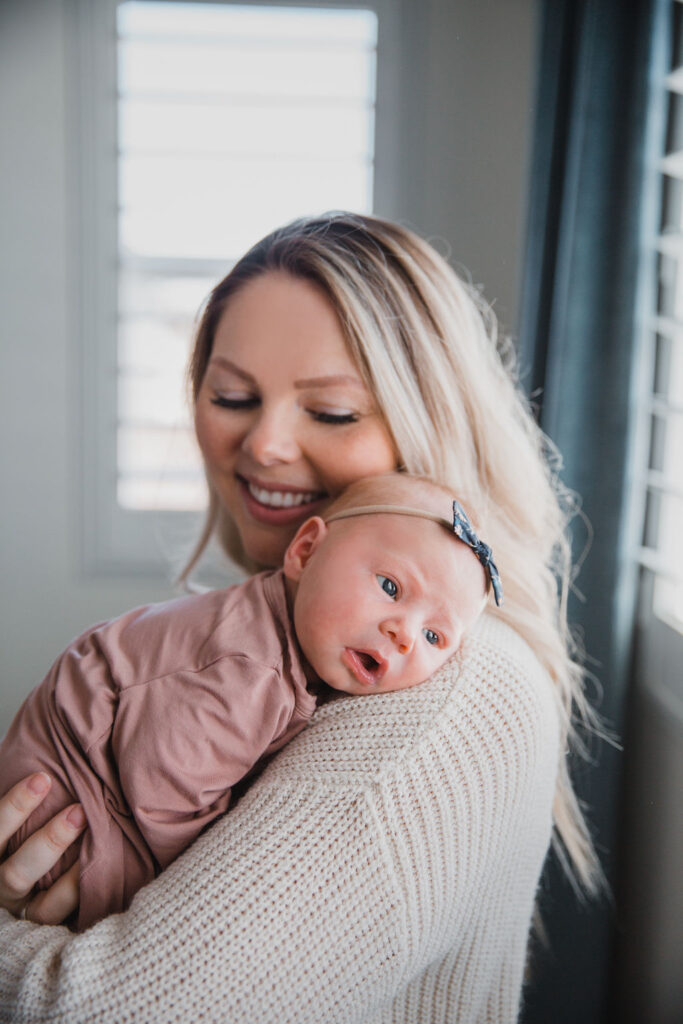 We were super lucky to have Amy. She has the best personality!
She is super easy to talk to and she makes you feel comfortable right away. By the time she left we all felt like she was apart of the family. My oldest daughter (who is 4 years old) ran up to give her a hug before she left and kept talking about how she missed her once she was gone – haha!
We all LOVED Amy! That is exactly how you want to feel about the photographer you choose!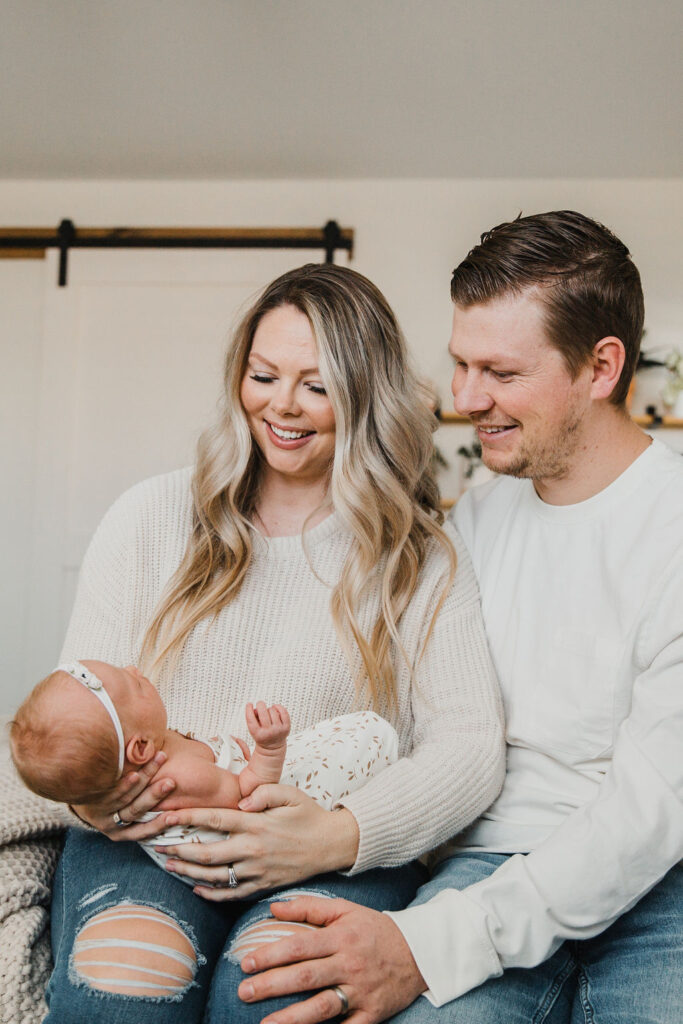 These newborn photography tips were so helpful for me and I hope they will be for you too!
If you are in Colorado definitely check out Amy Lacy Photography for all of your photography needs!
Amy does it all- wedding, family and newborn photography! Amy is incredibly talented and will do everything she can to make the process seamless. She made us feel so comfortable and her pictures are absolutely stunning!
She has an Instagram where you can see all of her latest shoots here. As well as a website that goes into all of her packages and details here. I highly recommend Amy and look forward to hiring her again in the future!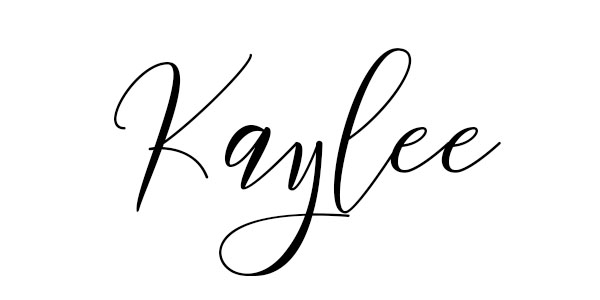 Click here to go to Amy's website and schedule a newborn photography session!
Shop This Post

This post shared helpful tips and tricks for parents on How to Prepare for your Newborn Photo Session!
---
Other Bedroom and Nursery Design articles that you may be interested in: