Tips for How to Create a Simple and Cozy Fall Fireplace look on a Budget!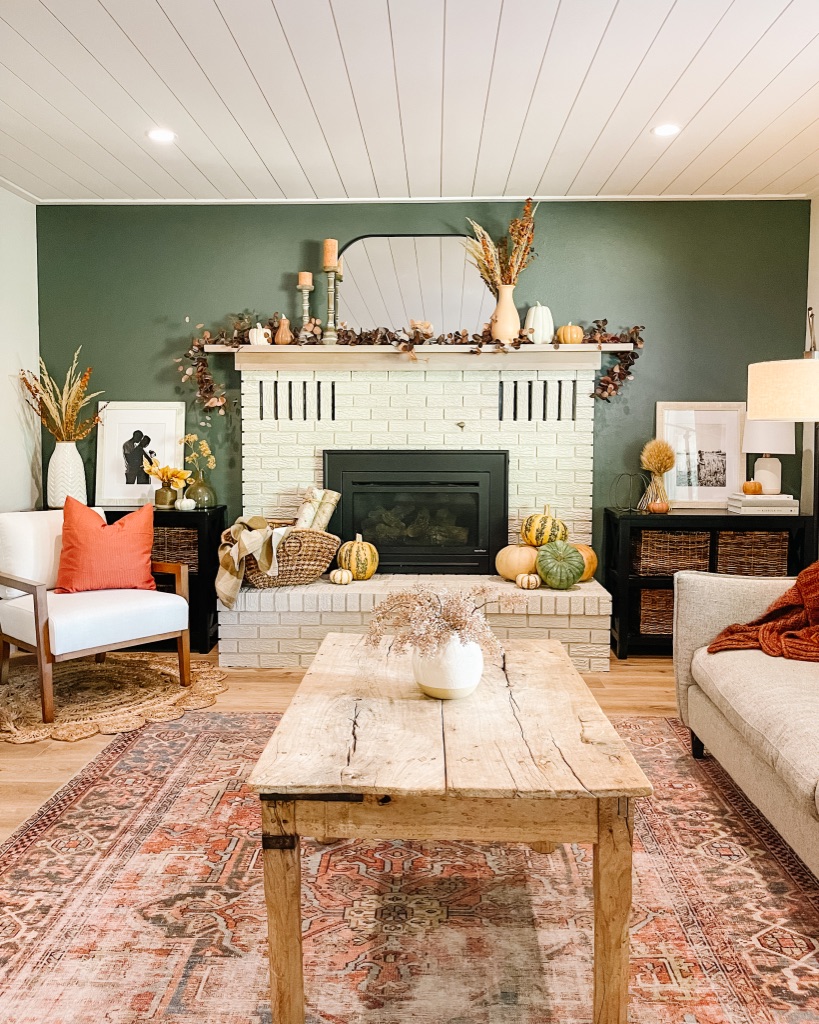 Last weekend I finally pushed myself to update our Family Room Fireplace for Fall! I mean I know I'm not that behind…it did just officially become Fall last week, but I felt behind in the world of Instagram. I think I was procrastinating because it felt overwhelming. I felt like I needed to go buy more Fall decor, but didn't necessarily want to spend more money on that. Below I'm sharing tips for how to create a simple and cozy fall fireplace on a budget!
This post contains affiliate links. See our Disclosure here.
Simple & Cozy Fall Fireplace Decor on A Budget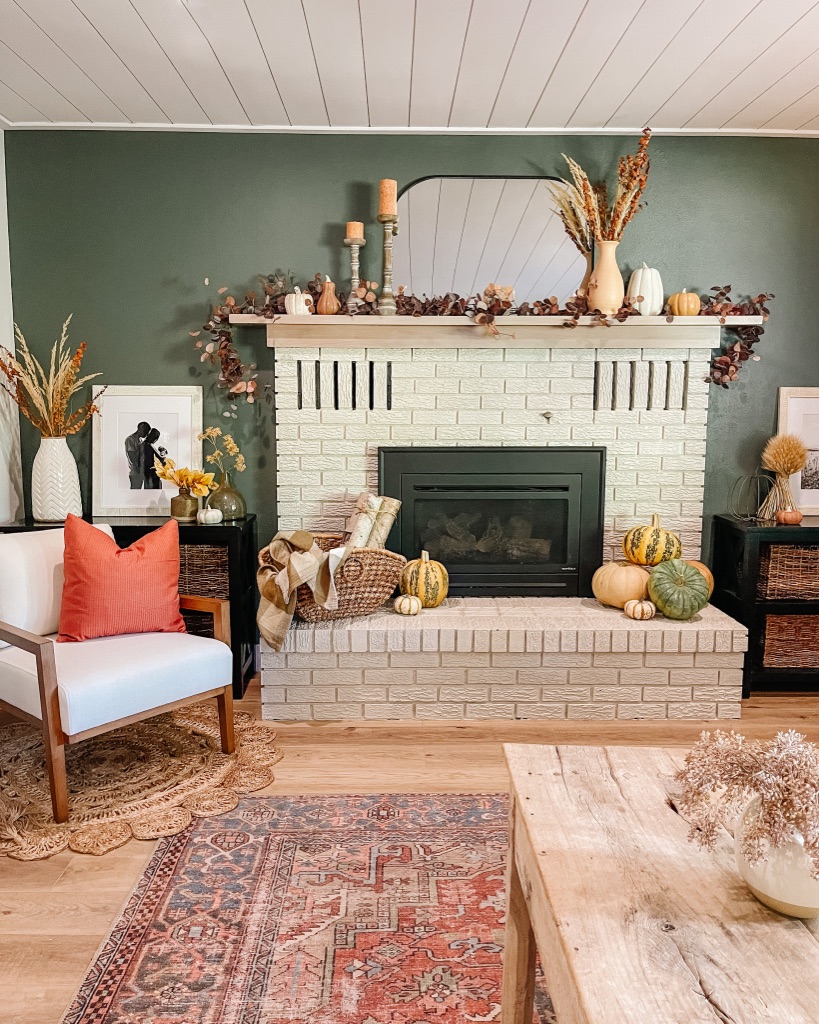 I love having a fireplace in our Family Room! It adds a cozy element to the space and is definitely the focal point of the room. The fireplace mantel is pretty high up, so we couldn't put our TV above the fireplace. I LOVE that because it gives me more freedom to style the fireplace mantel. I don't have to work around a TV and can add a larger item to the center, like a mirror or framed art.
Sometimes I do more elaborate fireplace decor, but this time I wanted to keep it pretty simple. Although it can feel overwhelming, you really don't need much to style your fireplace. Start with a few larger statement pieces, like a mirror or a large vase, and work off of that in layers!
I also try to invest in a few quality items that I can use throughout the year. For example, the large arched black mirror at the center of the fireplace mantel – this mirror is a simple a classic element that can be styled into any seasonal decor. By changing the items I place around the mirror, the mantel looks completely different! Even with the mirror in the same place as I had it for Spring and Summer.

The same goes for my large vases – they are neutral enough to work for any season, and by switching the stems and greenery I have in them they can look totally different!

By the way, I love how the Fall stems in those vases turned out, and it was so affordable! I bought a bundle of red eucalyptus from my local grocery store and was able to stretch that one bunch into three different vases by mixing it with some tall grass that I cut from our yard!

More Tips on How to Decorate your Fireplace Mantel –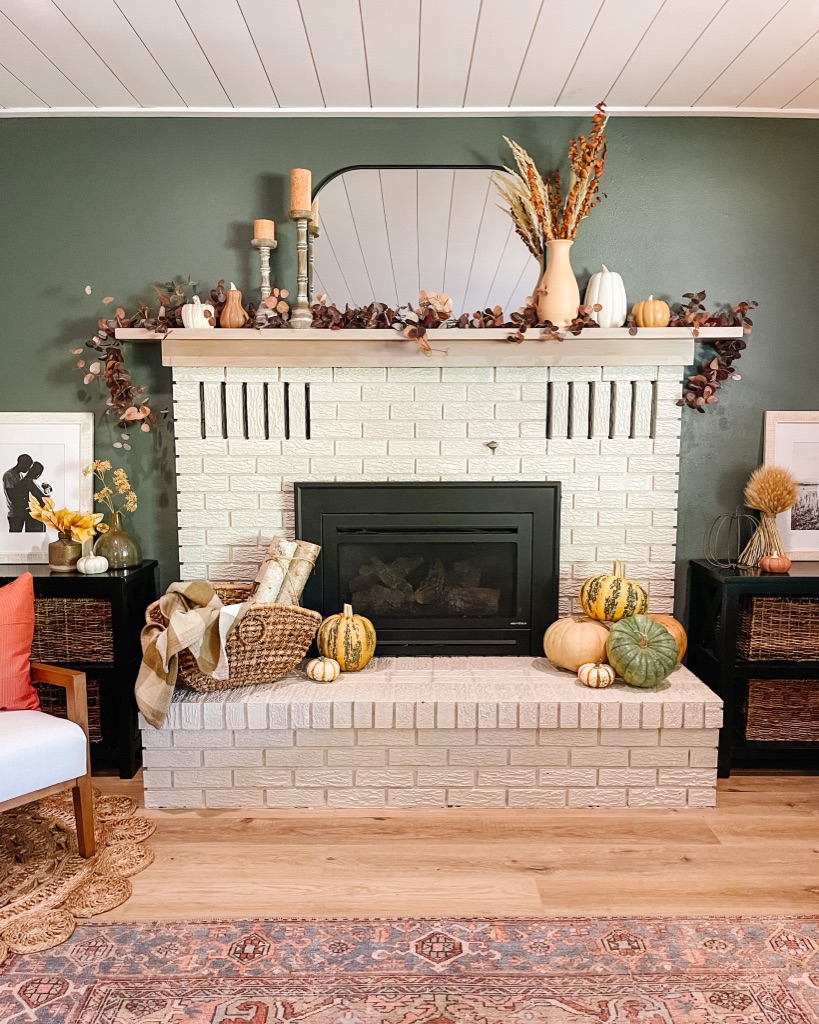 1 – Clean Everything Off
Clear everything off of your fireplace mantel and hearth. If you have tables or shelves on either side clear those off as well. It is so much easier to start with a clean slate! Even if I think I might put something back in the same exact spot, I still take it all off first. That way you can also dust and wipe down the shelves 🙂
2 – Put Away Anything from the Previous Season
So I was decorating my fireplace mantel for Fall, so I put away anything that felt too spring or summer-y. Like brighter colored or pastel florals, lighter greenery…anything that felt out of place with the new Fall decor.
3 – Shop Your Home
Walk around your house and pull items off of shelves or tables that you might want to use on the fireplace mantel. I am usually refreshing other shelves around the house at the same time so I don't worry about messing up another shelf. I like to switch things up. Sometimes moving one item to a different shelf is all you need for it to feel fresh. And that can save you from buying new decor!
I gather everything that I think I might use and bring it all to the room that I'm working in. I like to see every option I have in front of me when I'm working on decorating a shelf or area.
4 – Work in Layers
Start with the largest items first, like a large mirror or framed art at the center. Maybe a large vase with tall stems (wish we had a taller ceiling for something like that!).
After that I'll add in a garland, if I want to use one. For spring and summer I kept the mantel clean and simple without a garland. For Fall and the holidays I think they add in some extra warmth and coziness!
Next I add in the smaller items, like small vases, candle stick holders, and pumpkins! Make sure to adjust the garland around each item so it sits right. I like when the garland sort of wraps around the smaller items.
Keep the overall height and scale in mind when you are adding in each item. Typically I add in some taller/heavier items at the center, and then scale down from there. If you have a long mantel, you could add some taller items on each end as well.
If you have a TV over your fireplace mantel, I would keep the decor pretty simple. A small grouping of 2-3 vases or candlesticks on each end, and a garland is really all you need!
5 – Don't Forget About the Hearth
We have a pretty deep hearth at our fireplace so I love decorating that space as well! I'll usually add in a basket with a seasonal throw or two. I've also used large lanterns in the past. And of course – pumpkins! The hearth is a perfect spot to add in some groupings of pretty white or cinderella pumpkins!
The best place to buy your fancy white or cinderella pumpkins is Trader Joes or Sprouts! Both spots have a great selection and the pumpkins are only $6 each!
I also love the look of log bundles – I added this set to a basket on the hearth! It's so cute for fall and winter and was one of the most affordable options I saw.
Give the Rest of your Room a Quick Fall Refresh, too!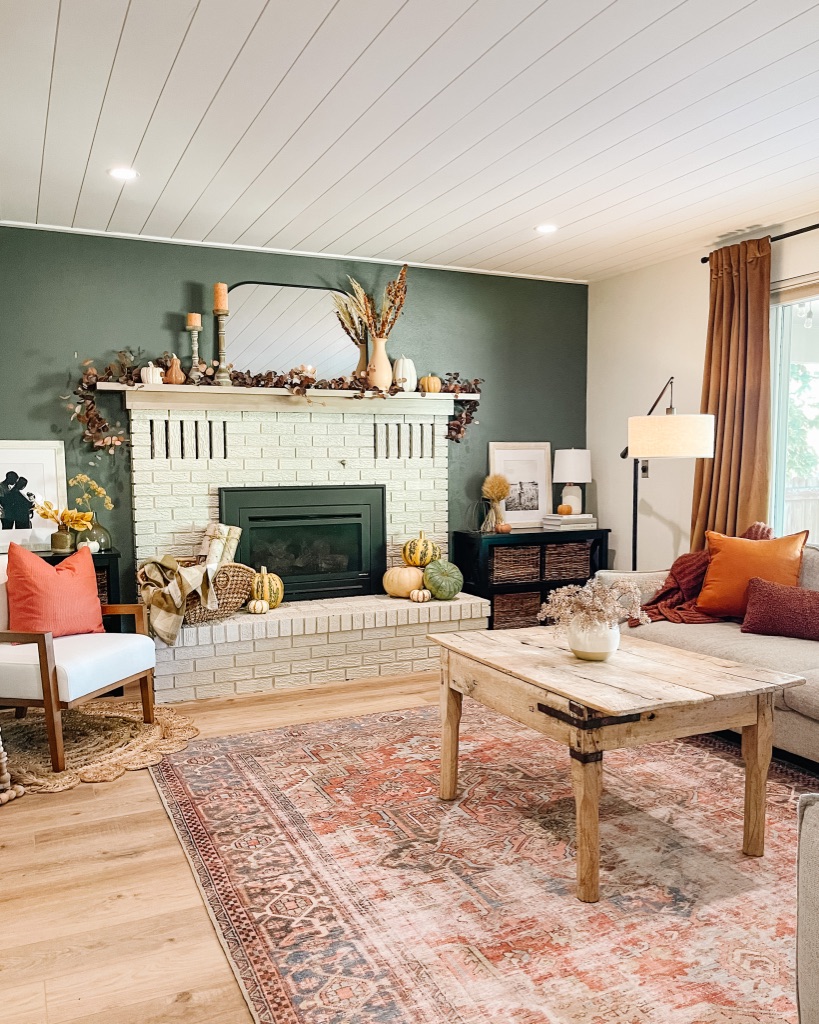 An easy way to update the rest of your Living Room for Fall is to switch out the throw pillows and throw blankets!
I always aim to buy throw pillows with removable covers. This way you can swap the insert for a nicer down/feather option (necessary to get that perfect pillow chop look). It's also more affordable because it is typically less expensive to buy a new pillow cover vs. a whole new pillow. Another perk is the pillow covers take up less storage space (no one wants to store 50 seasonal throw pillows).
SHOP AFFORDABLE PILLOW COVER OPTIONS HERE:
(click anywhere on photo to shop)
Swap out any lighter throw blankets that you had around for summer with thicker, chunkier knit throws in warm fall colors.
If you have any other vases around the room you can also add in some new stems or greenery that work for Fall!
Two more items you can easily swap for Fall to make a big impact, are curtains and area rugs! We actually swapped two of our area rugs (that are the same size) and it gave each room a fresh new look! If you have multiple area rugs in your home that could work in other rooms, this is a free way to change the room!
Same goes for curtains – move existing curtains around to different rooms. Or switch out lighter colored curtains for warm rich tones for fall!
For more tips on how to transition your home decor for Fall look HERE!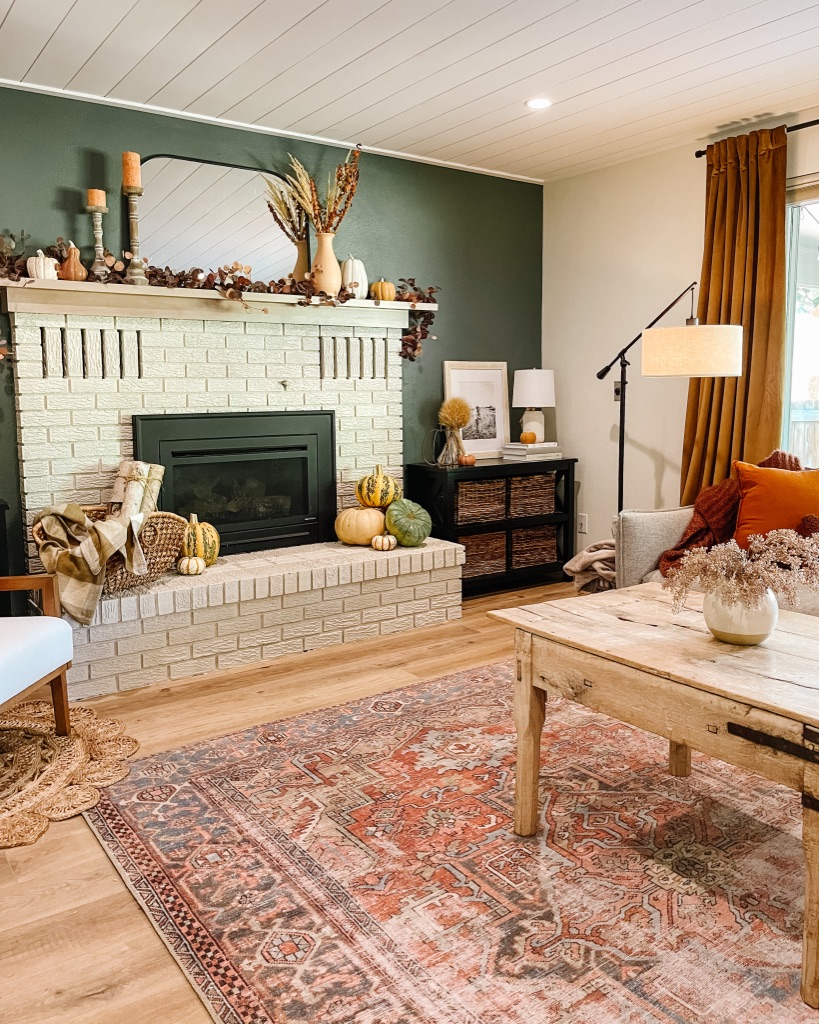 SHOP THIS POST:

This post was all about How to Decorate your Fireplace Mantel for Fall on a Budget!
More Fall Decor Articles: