Learn how to decorate your home for fall and easily transition from your summer home decor!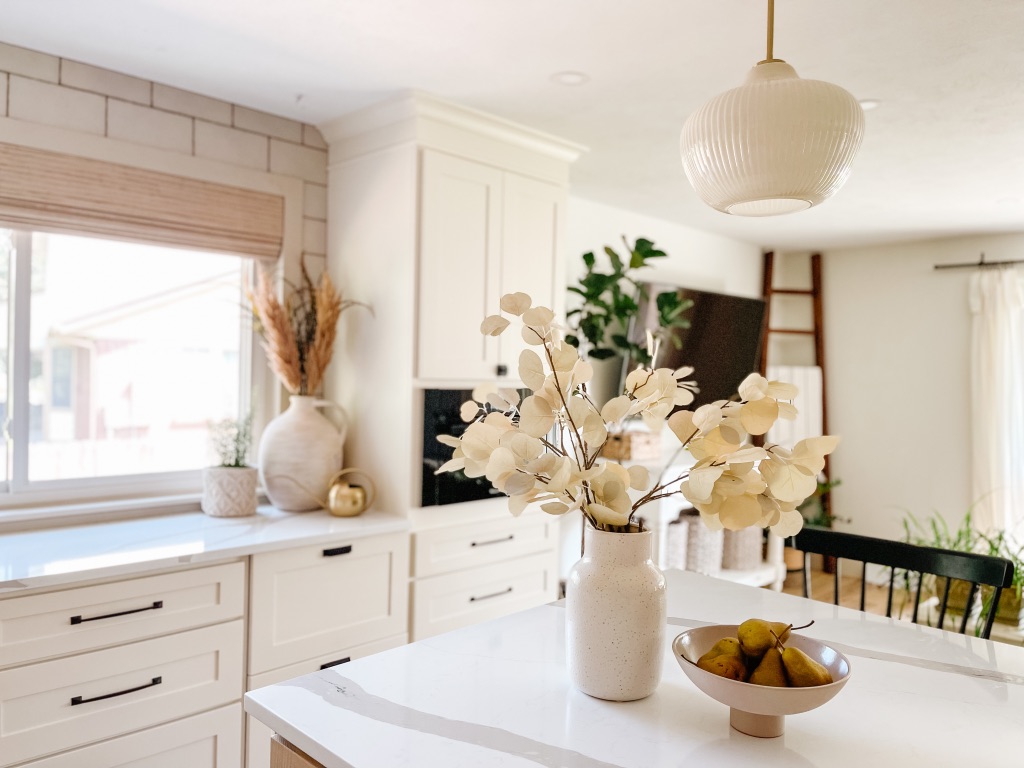 Ok, I'll admit I'm definitely not ready to decorate my home for Fall yet! I like to hold on to summer for as longggggg as possible – like until Halloween, haha! However, Fall does happen to be my favorite season to decorate for (kind of making this hard on myself, huh?).
I love the colors of Fall – the warm wood tones, rusty reds, burnt oranges, mustard yellows… It all feels so cozy and welcoming. I also love adding those Fall feels with warm and cozy textures throughout our home. Nothing beats a big chunky knit throw to cozy up with!
But, because I love Summer and don't want to rush into the cold weather seasons, it's important to me to slowwwly transition my home decor from Summer to Fall. I'm definitely not the type of person to throw a bunch of pumpkins around as soon as school starts!
Below I'm sharing 8 Easy Ways to Transition your Home from Summer to Fall, just in case you are ready to get started and need a little help!
8 Tips to Transition from Summer to Fall Home Decor
First, I want to say that Home Decor, especially Seasonal Home Decor, does not have to be overwhelming or hard. I really used to get so caught up in decorating for the seasons and holidays and it became a little overwhelming trying to keep up. Not to mention, EXPENSIVE wanting to buy all of those cute new seasonal items that Target comes out with each year!
Lately I've really been trying to be more intentional when decorating and shopping for items for our home. I try to "shop my home" as much as possible, re-use and re-purpose items that we already have, and only buy new home items if I really LOVE them and can see myself loving it for longer than one year/season. I can't tell you how many items I have in our basement that I thought that I needed and now no longer like.
So…all that to say, I'm trying to link items below that are more timeless, and can transition from season to season!!
One example – I will (almost) never buy a vase/wreath with permanent faux greenery or stems attached to it. I will buy a nice, good quality vase that I love, and separate stems that can be used and switched out each year.
1. Switch out Lighter Colored Decorative Bowls and Vases to Warmer Hues and Dark Metals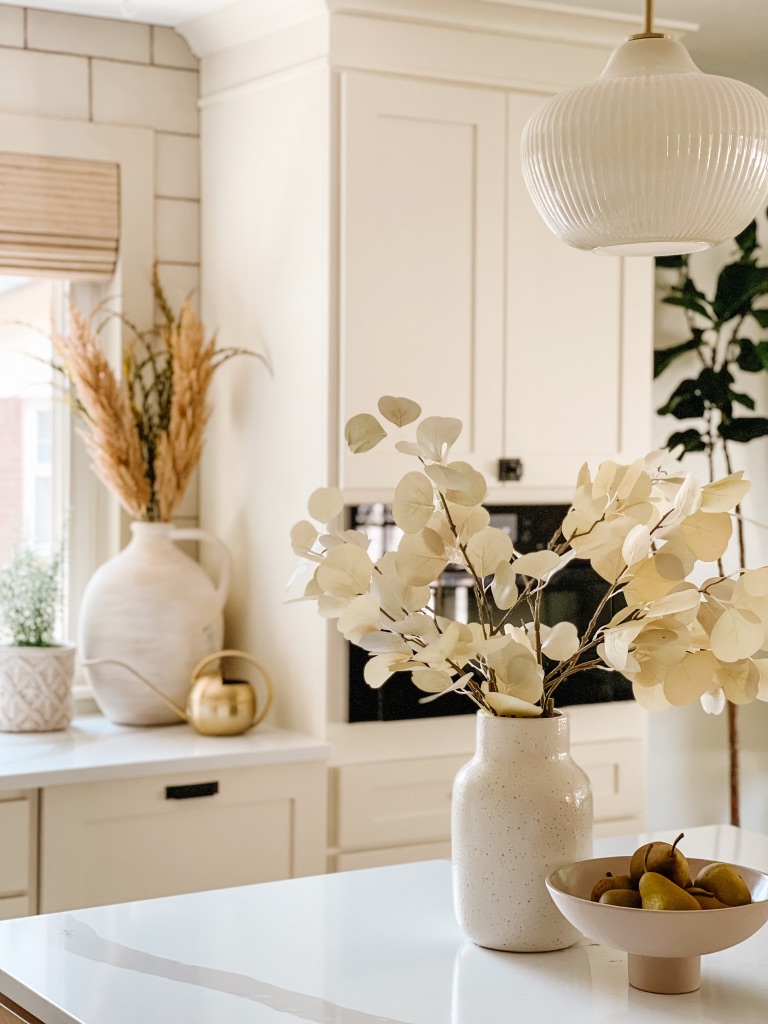 During the summer, I like to use lighter colored vases and bowls to brighten the space up. But for the transition to Fall, I love the feeling of a rich and cozy contrast.
Swapping out the vase that sits on your Kitchen counter or the bowl that sits on your Entry table for something that is a warmer or darker color, is a small and simple touch that can make a difference.
Think warmer and darker wood tones, creamy whites instead of bright whites, amber glass bottles, and dark bronze or iron accents!
Check out this Kitchen Decor post for more styling ideas!
SHOP VASES & DECORATIVE BOWLS:

2. Update Faux Stems and Greenery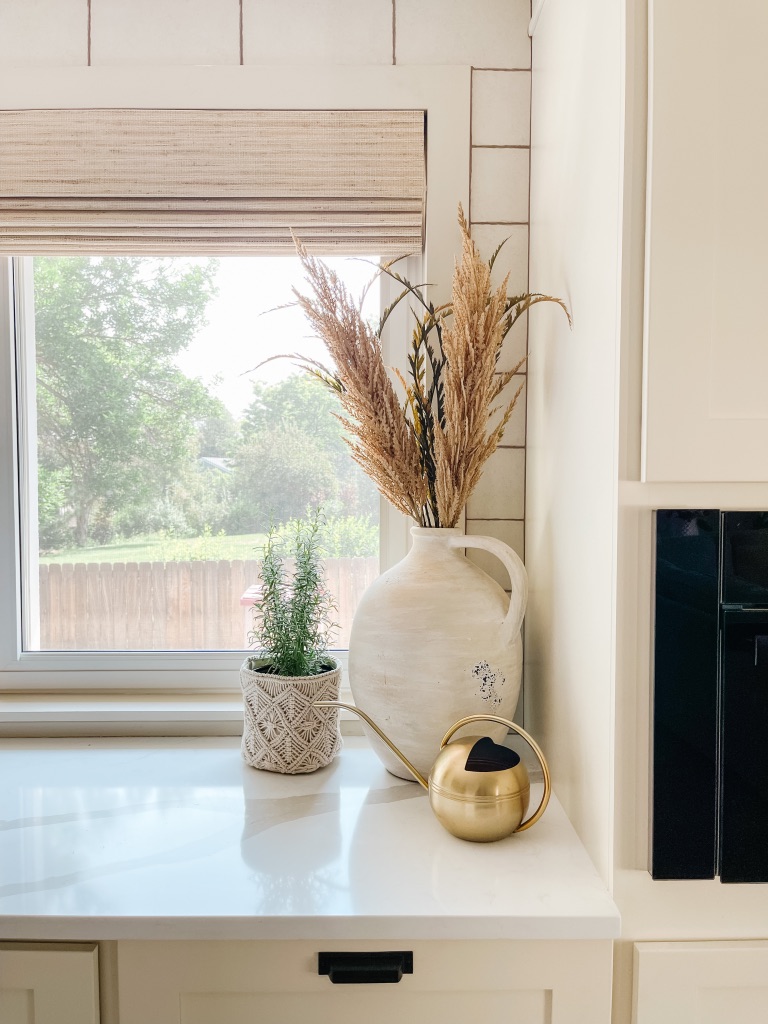 Switching up the stems and greenery that you have in vases throughout your house is a really quick and easy way to update your house for Fall!
For the transition from Summer to Fall, try to stick with warm neutrals and earthy colors. Remove any bright colored florals and replace with textural accents of wheat, pampas grass, and darker greens.
I have a pretty big collection of faux stems that I have added to throughout the years, which really comes in handy when changing up the look of a room for a new season!
I try to buy good quality stems that will last for years. That doesn't mean that they have to be expensive; I have many great options that I've boughten on sale from Hobby Lobby, Michaels or Target. But, pay attention to the materials and quality. If you pick it up or shake the stem a little bit and pieces fall off, it's probably not going to last. I also try to buy stems that are as life-like as possible!
Another very inexpensive (or even FREE) option are fresh cut stems of wheat grass! We have a few of these plants in our yard and they look great in a Fall vase arrangement!
Also, as I mentioned above, I try not to buy home decor items with faux greenery attached to it. If you can buy a nice vase and separate stems your money will go further because you can use the stems differently each year and the vase for other seasons as well.
Something like amber glass bottles and vases of varying sizes are beautiful and warm for the Fall. They are also simple and timeless, and will last you for many years!
SHOP FALL FAUX FLORAL STEMS:

3. Swap Out Throw Pillows and Blankets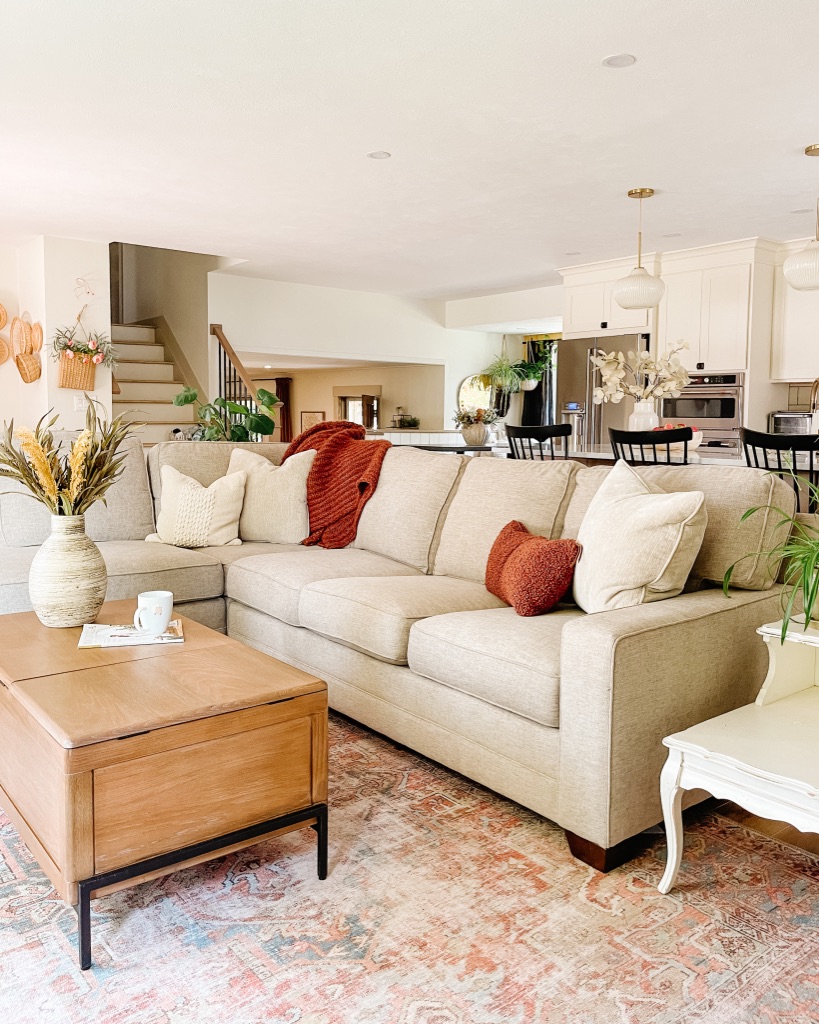 In the Spring and Summer I tend to like bright, colorful and floral throw pillow covers! But in the Fall, I like to switch out the throw pillow covers for warmer colors, like rusty reds and olive greens. Mustard yellow is another color that works well for the Summer to Fall transition!
I'll also switch out any lighter accent throws with heavier knit blankets to add a cozy texture. For a transitional throw blanket, something in a lighter color, like a creamy white, but with a heavier chunky knit is perfect!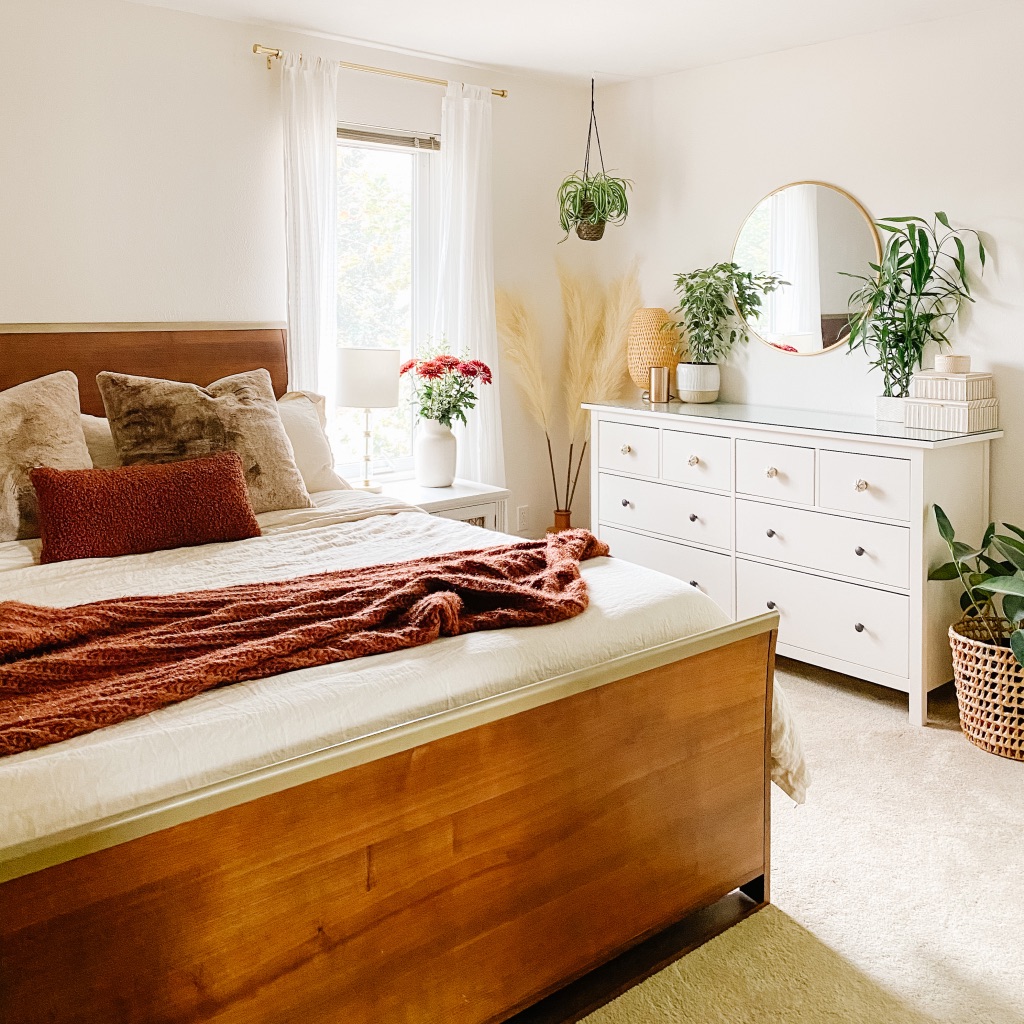 Same can go for your bedroom! I love the dark rust color of this throw mixed with our linen duvet cover!
One tip that I highly recommend when shopping for throw pillows, is to buy a nice down insert, and then separate throw pillow covers! This will save you money, and takes up less storage space! If you see a throw pillow with an insert that you love in a store, at least make sure the cover has a zipper. This way you can take the cover off to wash it, and either replace the insert of it isn't great quality, or re-use it with a different cover if it is good quality.
Check out How to Pick Out the Best Throw Pillows on a Budget for more tips!
SHOP FALL THROW PILLOWS & THROWS:


4. Add Touches of Seasonal Fruit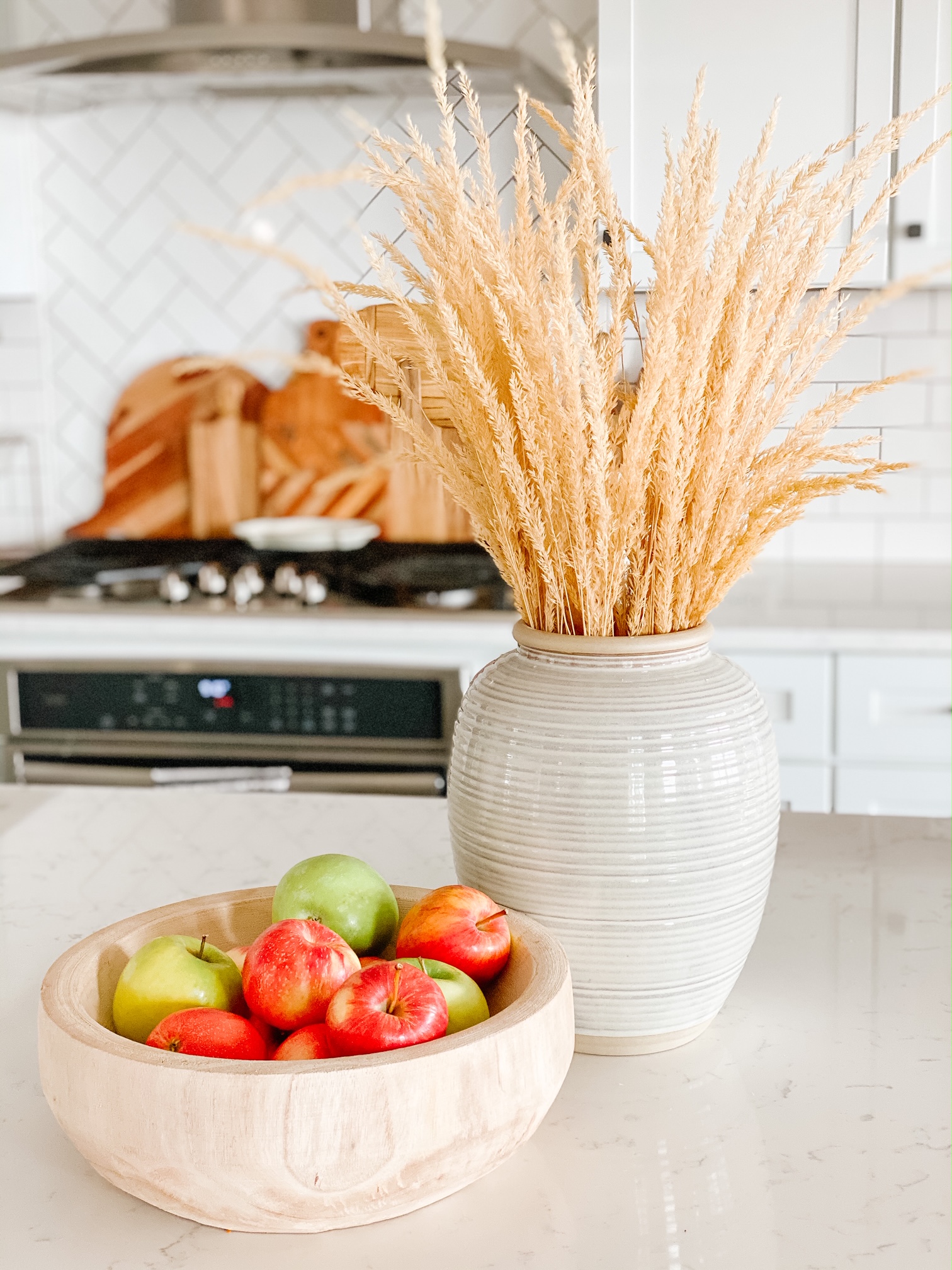 I usually wait until closer to the end of September to add in any pumpkins, but you can play around with other seasonal fruits and vegetables during the summer to fall transition!
Something like a bowl of apples or pears on the Kitchen counter is an easy way to add a pop of color to the Kitchen. Artichokes are also one of my favorite veggies to decorate with because they have a great color and texture.
5. Update Frame Prints and Photos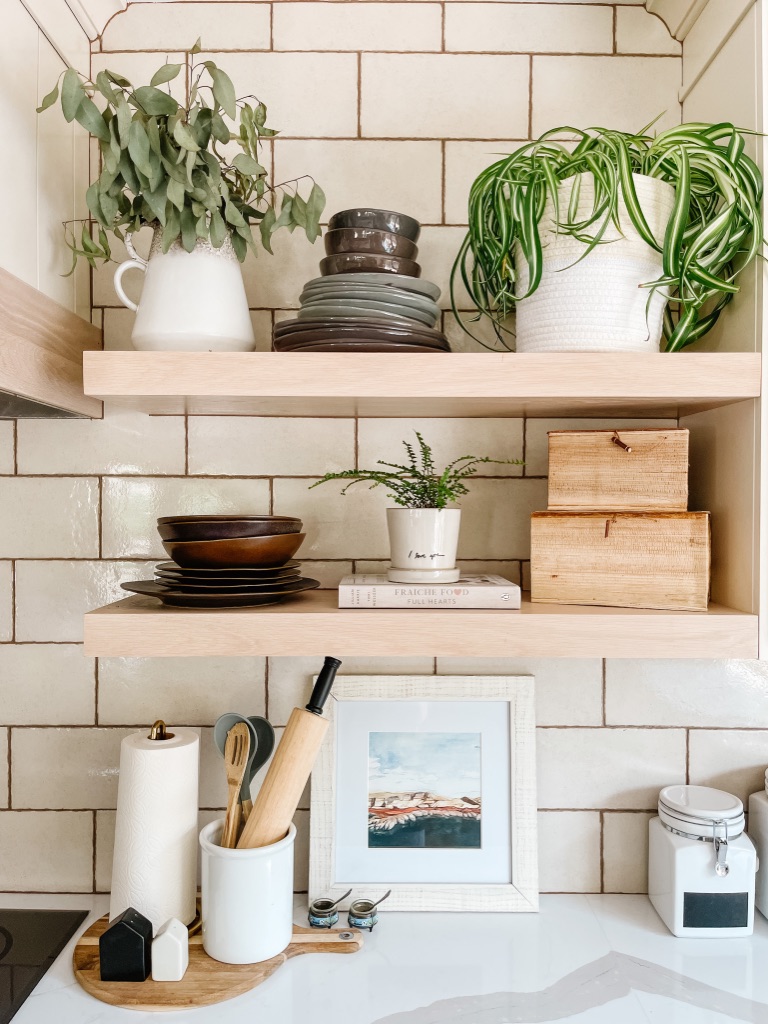 If you have any frames with prints in them around your home (on walls, tables, your fireplace mantel…) now is a good time to update the print or photo! I recently added this cute frame to our Kitchen counter and like that I am able to print out a new art print seasonally!
Here are a few of my favorite websites to download art prints from:
If the frame is small enough, I just use our home printer to print these out. I use a cardstock to print on so it's sturdier and not transparent.
6. Add a Fall Wreath to your Door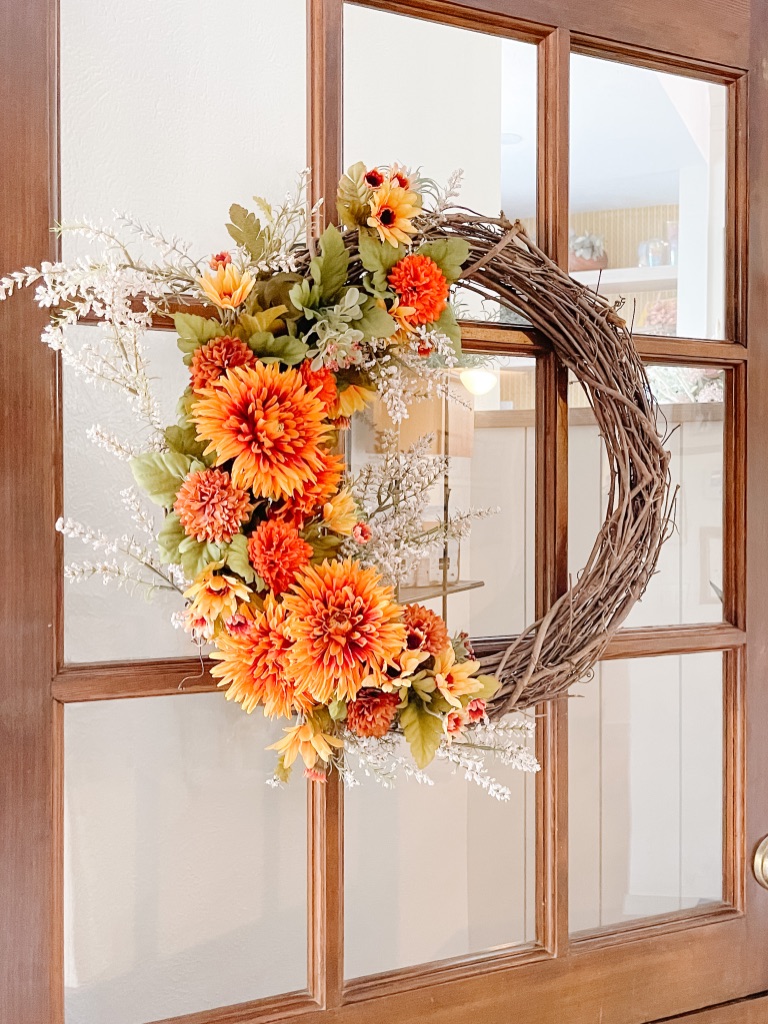 I love making these simple DIY wreaths! They are simple and affordable to make, and you can easily reuse the Grapevine Wreath base with new greenery and florals too! I have made one for each season so they are easy to swap out! A cute seasonal wreath on your front door is an easy way to dress up your porch and add some color.
Check out more details on How to Make a DIY Wreath here!
7. Add a Simple Fall Tablescape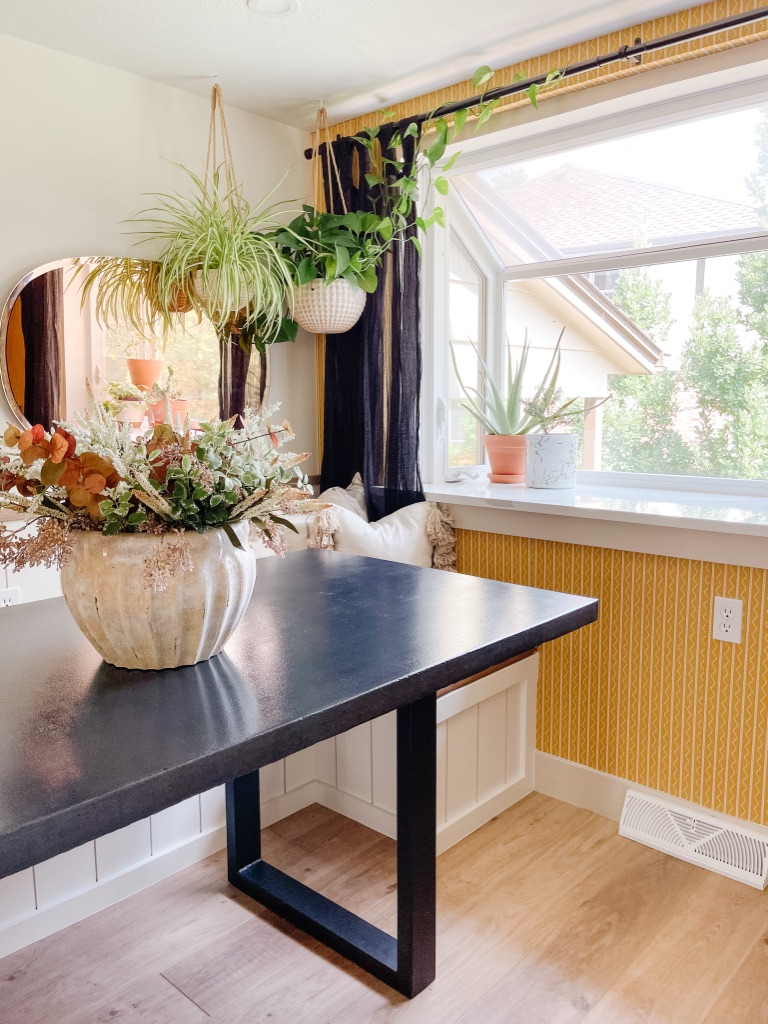 Another way to add some seasonal decor to your space is to create a simple Fall Tablescape on your dining table, or even a small version at your Kitchen Island. You can go all out with a runner, candlesticks, and multiple vases, or you can keep it simple and add one large statement piece to the center of the table!
Lately I have been keeping it simple, since I have two young boys that like to get into everything! I recently updated this low rustic bowl that I keep on our Dining Table with some new faux greenery. I removed the white and pink flowers that I had in it for Spring and Summer, and added more muted neutral stems with a lot of texture.
If you want more of a classic Fall look, check out Kaylee's Simple Fall Centerpiece post! I also shared a few Fall & Thanksgiving Tablescape options a couple years ago that are classic and neutral and could work for early Fall.
8. Fall Fireplace Mantle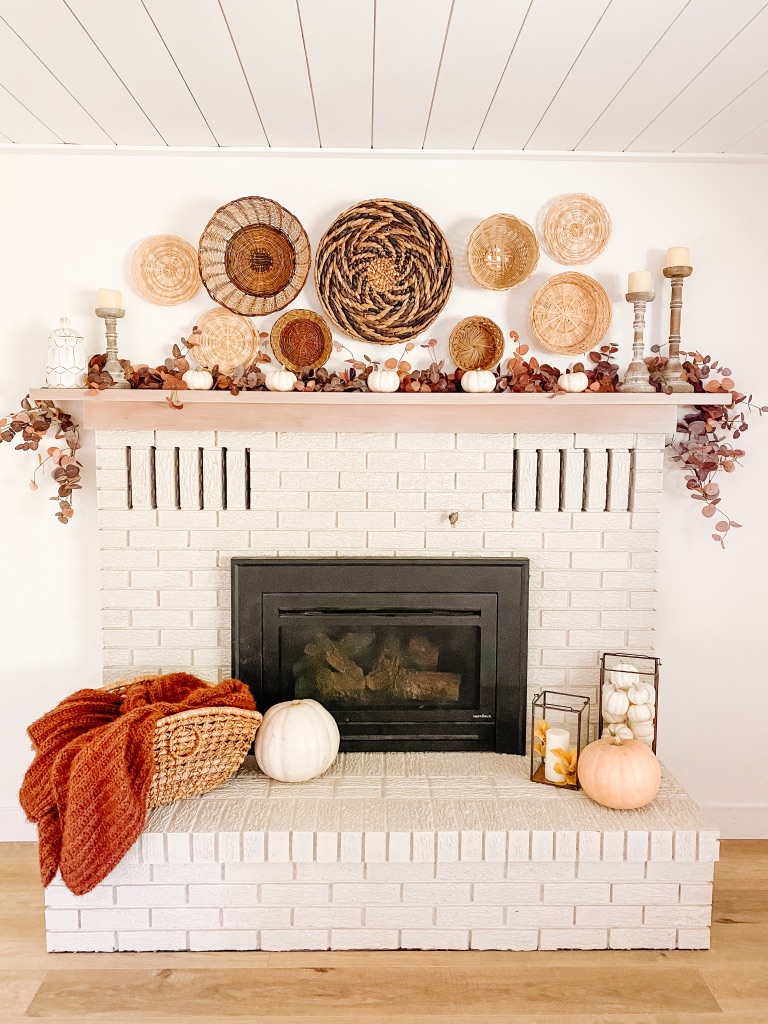 The last spot, and one of my favorite places to decorate, is your fireplace mantel! We don't have a TV above our fireplace in this house, which I love because I can add taller items like art or a mirror to our mantel! Again you can keep this more simple, with a mirror and a few candlesticks, or you can go all out with a garland and pumpkins!
If you have art above your fireplace, this is another spot where you can pick out new prints or photos for Fall!
Last year we updated our fireplace by painting the brick and staining the wood mantel! I shared about the process and How we Decorated our Mantel for Fall HERE!
This post shared my top 8 Simple Tips to Transition your Home from Summer to Fall Decor!
More Fall Decor Articles: